Introducing Milk Road's On Chain Toolkit
Published: Nov 17, 2023
Introduction:
If you've been following along with our public wallet journey, you should now be more than comfortable navigating the blockchain on your own. But no matter how confident you are, everyone can benefit from the help of a friend.
So we wanted to provide those venturing out on their own with the same helpful tools that the Milk Man uses to get an edge in crypto. That's right Roaders, we got your back.
Our toolkit breaks down into 4 categories (with some overlap):
On-Chain Data (ONC): Through the transparency of blockchains, you can access all data and transactions in real time. However, this data can be hard to organize, read, and interpret without tools.
Security (S): Protection of your assets should be a key consideration when exploring the blockchain.
Opinion Tracking (OP): Sentiment, attention, and social presence all play a role in the performance and success of crypto projects.
Fundamentals (F): While tokens should not be viewed too similarly to stocks, considering the fundamentals behind crypto projects is still important.
The best part? All of these tools are completely free and are sufficient for most crypto user's journeys.
Note: There are a ton of tools out there, and it is impossible to know and cover them all. These are all tools that are free to use and we have experience with personally.
The Milk Road On-Chain Toolkit
Etherscan is the official block explorer for Ethereum, meaning that it serves as an open ledger for everything happening on the network at any given time. It allows you to see what transactions are currently occurring, as well as the details of any past transaction.
While the layout isn't very user friendly at first, learning a few basic tricks within Etherscan can pay serious dividends down the road.
Here's a few popular ways to utilize Etherscan:
You can paste in any token's address to find valuable information such as the amount of holders and their positions, the creator of the token and their history, and other up-to-date metrics on the project.
Individual wallet addresses can be searched as well, allowing users to track whale wallets and other users in real time.
The mass amount of data from Etherscan can be uploaded to other platforms, serving as the foundation for research and analysis.
DeFiLlama is one of the most powerful tools in crypto research, covering almost every area and constantly launching new features. DeFiLlama acts as a premium research tool that has remained completely free and is powered only by donations.
DefiLlama's focus is on-chain research, but there is no shortage of valuable information across the site. The platform is intuitive and we recommend readers check it out on their own as everyone finds different data valuable.
Over here at Milk Road, here are our favorite things to do on the site:
Track the total value locked (TVL) of different chains and protocols to see where money is flowing in DeFi.
Compare projects competing in a sector such as liquid staking by key metrics like active users, value locked, and market share.
Analyze upcoming token unlocks that could cause selling pressure on our holdings, or open up a buying opportunity.
See which companies are raising money so that we can add interesting ones to our radar.
Evaluate which projects in each sector are paying the highest yields, as well as how credible these projects are.
If you've transacted on Ethereum before, you must be familiar with gas fees. If not, you may have heard the stories of people paying hundreds of dollars to mint an NFT or buy a token last bull run.
While it is hopeful that over time gas fees will be mitigated, the sad truth is that they are very relevant today and make it difficult to use Ethereum. These fees are completely dependent on network congestion, so during times of peak interest they can really add up.
As a result, we recommend checking the current price of gas before transacting on the Ethereum network. By doing so and avoiding busy times, you can lower gas costs by 50%+ and have more funds to transact with.
Note: From our experience, gas is much cheaper on the weekends and in the morning for EST users.
Crypto Twitter can be full of memes and a lot of fun, but a lot of people don't realize the amount of valuable information flowing through the site. (Yes, we still call it Twitter over here at Milk Road).
A lot of the brightest minds in the space are active on the platform, sharing detailed threads of upcoming narratives or project research. Lastly, Twitter can serve as a great place to build a network of other users with similar interests and goals.
One overlooked feature of the platform is the ability to search cashtags, and implement advanced searches. Users can search any ticker symbol after a dollar sign and see what others on the platform are saying about it. Advanced search allows you to refine your search with criteria around the author or post metrics.
While this can provide you a lot of helpful info, Twitter is also still plagued with bots and bad actors. We recommend always verifying links that are posted and never taking a stranger's recommendation without conducting your own research.
Unfortunately, the complexity of surfing the blockchain makes it a prime target for scammers and hackers. In addition to protocols being hacked, on-chain users face threats in the forms of phishing links and fake websites.
Recently, scams have even gone as far as mimicking the user interfaces of sites and hackers paying Google for better search placement. In today's crypto world, you can never be too safe. And that's why we rely on tools like WalletGuard.
WalletGuard serves two main purposes:
1/ They offer a clean dashboard where you can view your wallet's "health" and ensure that your wallet is not connected to any malicious sites or other risks.
2/ When transacting on-chain, WalletGuard will integrate with your wallet and provide you insight into transaction details. If you are about to connect to a fake site or sign a malicious transaction, WalletGuard warns you in big red font.
Dune is a tool that takes a mass amount of blockchain data and turns it into fun and easy to understand dashboards. These dashboards are all user generated and vary greatly from one another.
You can also utilize the "trending dashboards" section of the site to spot new trends and see what others find interesting. And these dashboards cover everything.
We personally use Dune to track our wallet's airdrop progress, compare protocols and chains, and find emerging narratives. For readers, we highlighted three of our favorite dashboards to track:
1/ Comprehensive overview of the ETH staking landscape
2/ Real-time analysis of MakerDAO
3/ LayerZero airdrop progress checker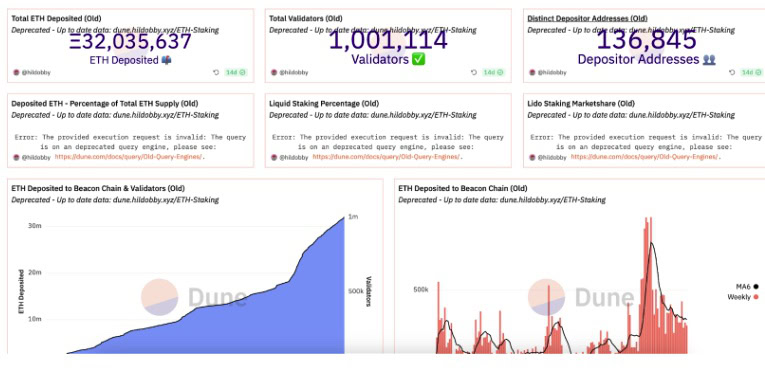 We're a fan of Cryptofees because they keep it simple. By simple we mean it's literally a list of the top revenue-generating blockchains and protocols in the industry. Additionally, users have the ability to filter data by date or other parameters.
The site is very straightforward and helps give people a sense of which chains and protocols are actually generating revenue. Even though fundamentals and metrics are treated much differently in crypto, it is important to have a pulse on which projects have potential to be profitable businesses.
We'll wrap up our toolkit by showcasing the Milk Man's go to platform when it comes to being a degen on-chain: DEXTools.
First off, DexTools allows you to view the charts and important information on any token on the blockchain. Even if a token only launched a minute ago, you can view its information and price action here. Additionally, it provides you with details on all trades, public sentiment, and also helps you find new, trending tokens.
Another beneficial feature of the platform is the score assigned to tokens. While it will not make you invincible, this information can help you determine if the project is safe, audited, or contains any red flags. There's a lot going on within DEXTools, and the team continues to deliver cool features.
Note: Always research new tokens and projects you see. A lot of these can be driven by hype and the "score" is far from a perfect indicator of a project's potential. Newly launched tokens also carry a lot of risk.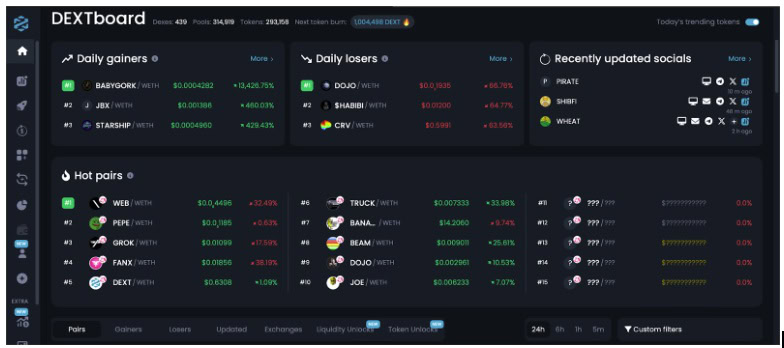 Wrapping Up:
The above tools should help you greatly as you continue your on-chain adventure. At this time there are a lot of very helpful tools that are completely free, so unless you are an advanced user or need something specific, we recommend not paying for any premium offerings.
Now we want to hear from you! We will be using the results from the poll in our newsletter to do a full tour of one of these tools.