How To Refer The Milk Road Newsletter
Tips for raking in referrals to score the most Milk Road swag.
Last Updated:

July 6, 2023
GM Milk Road devotees, did you know you can take your love of the Milk Road to the next level by sharing our newsletter with your friends (and anyone else you meet outside)?
That's right, Milk Road has a sweet referral program that includes things like access to exclusive industry cheat sheets from whales ("The Next 10x Opportunity in Crypto for 2023", for example) and a bunch of milky-smooth merch!
Oh yeah, we're talking sweatshirts, stickers, shirts, and hats…they can all be yours just by getting your friends to sign up for the Milk Road newsletter using your referral link!
Here's the rewards breakdown:
Send 5 referrals and get exclusive Milk Road stickers.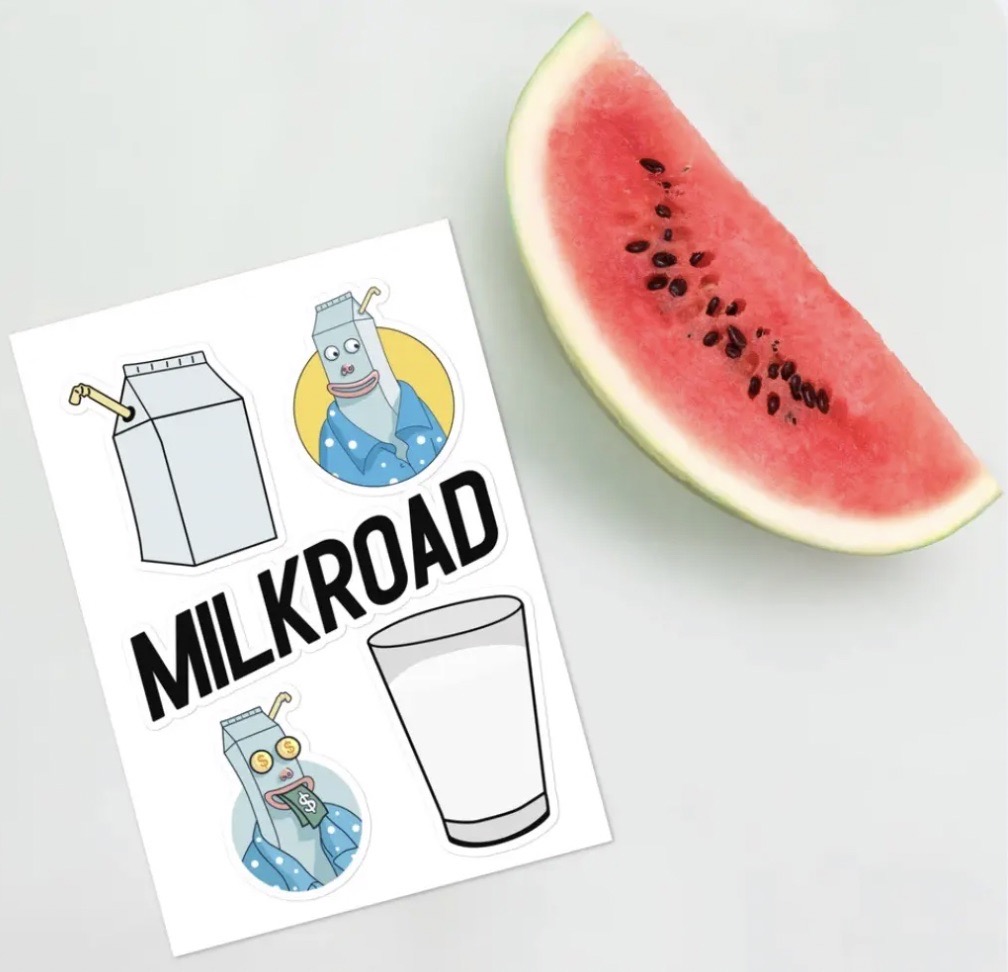 Send 20 referrals for a rad Milk Road T-shirt.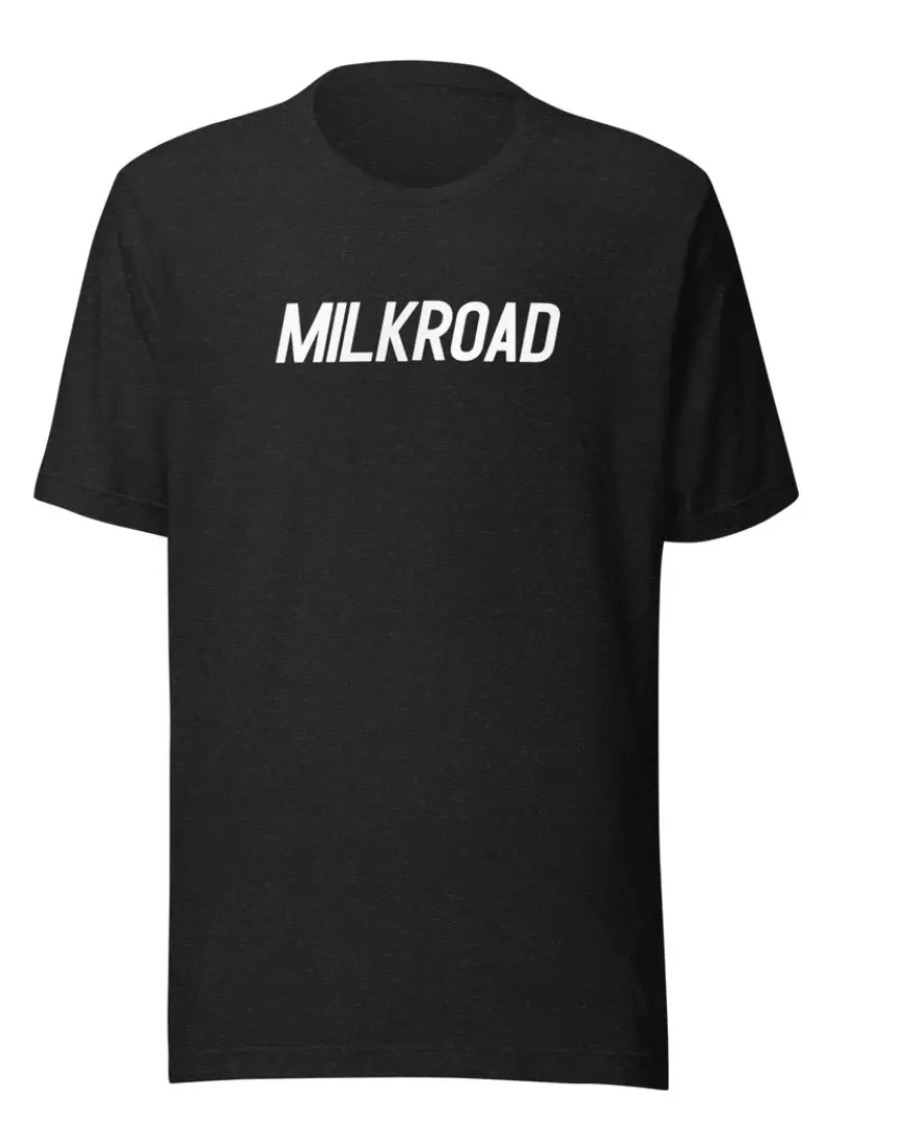 Send 40 referrals for a sweet Milk Road hat.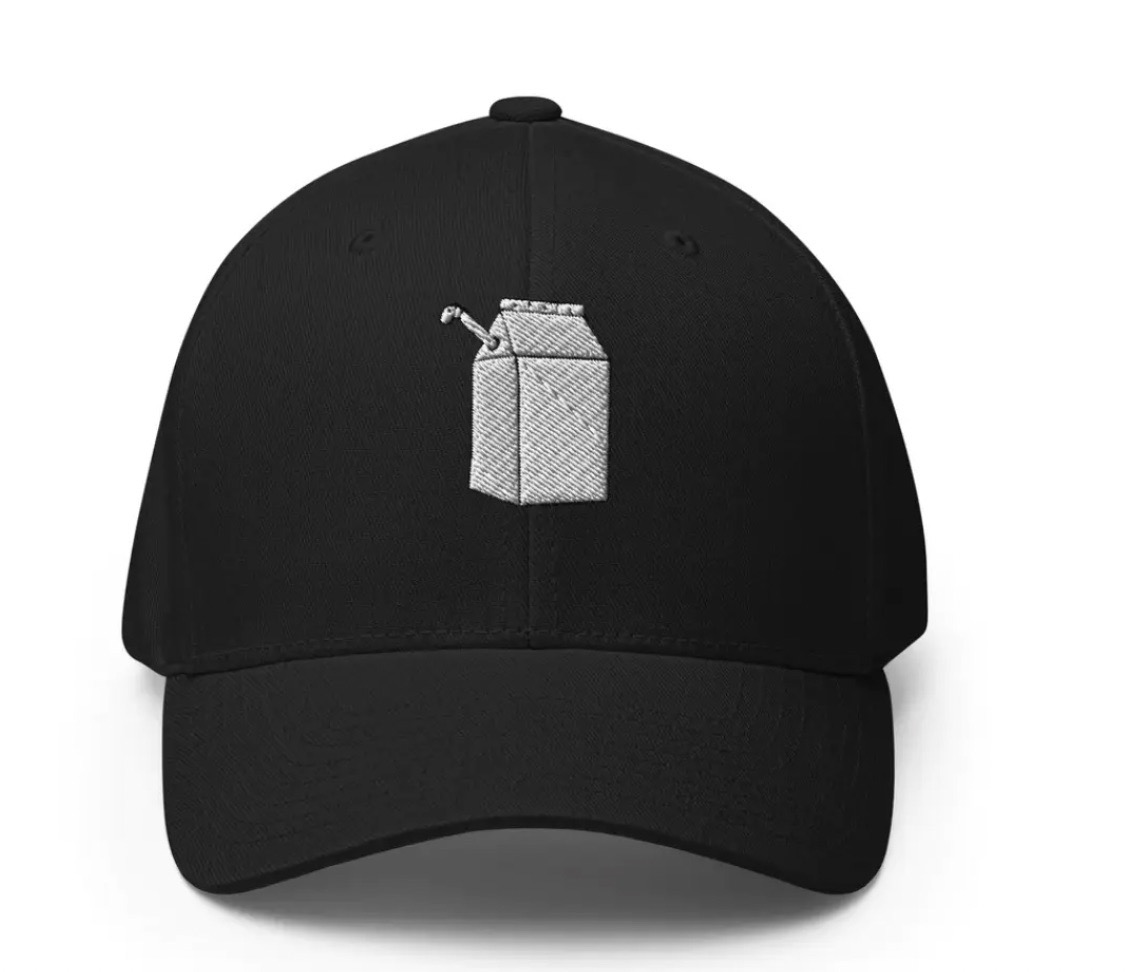 Send 100 referrals for a super cool Milk Road sweatshirt.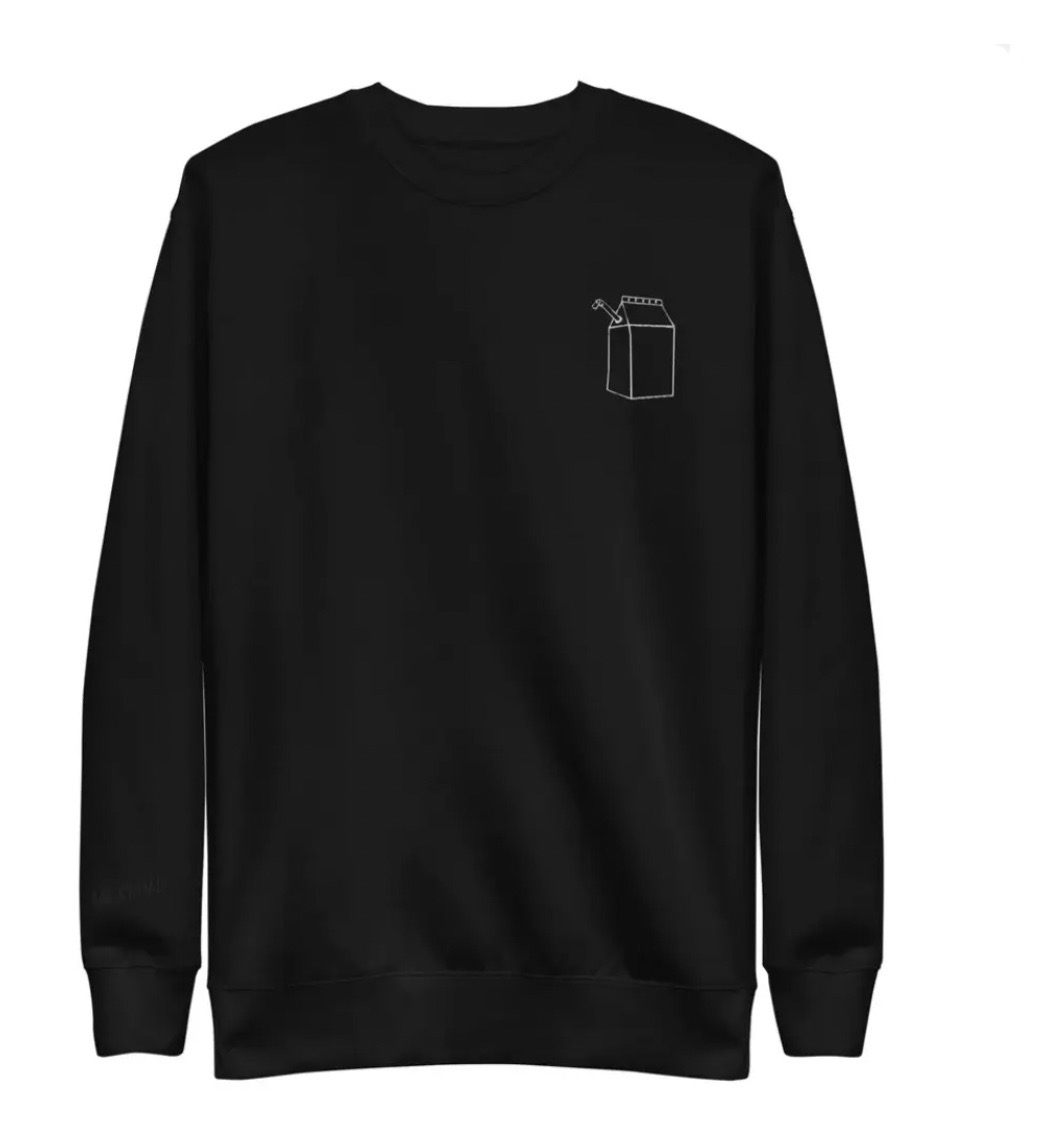 You can find your personal referral link at the bottom of the daily Milk Road newsletter that you receive. Make sure your friends sign up with this link, so we know who to send the swag to.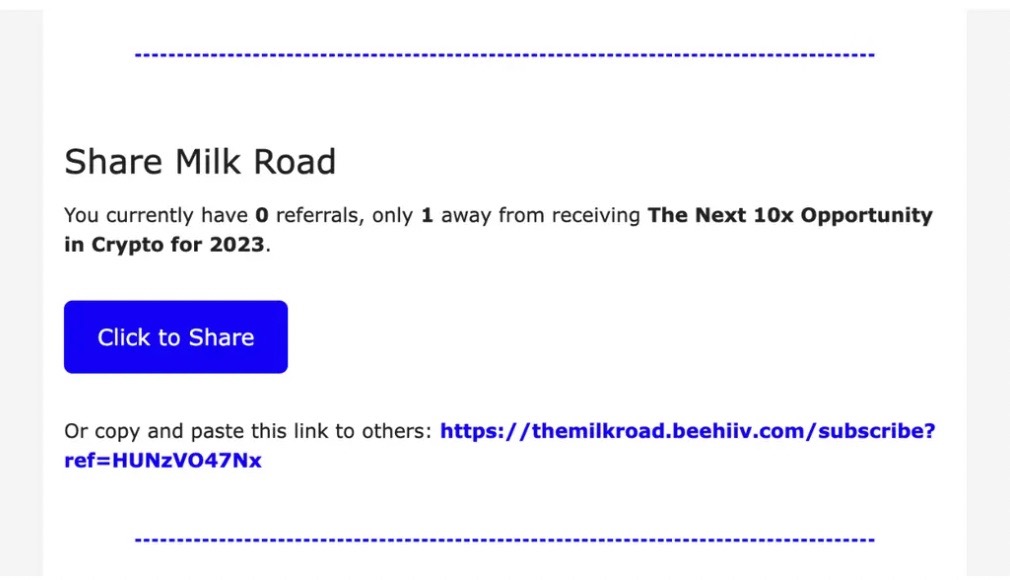 Alright, now that we have logistics out of the way, let's do some brainstorming.
Here are the top 5 ways you can get your friends to sign up for the Milk Road newsletter and score yourself some sweet merch.
1. Forward The Milk Road To Their Inbox
There's so much crypto news these days that it's practically a sure thing we're talking about the same things you and your crypto friends are talking about.
SBF tweeted? It's in the newsletter. Forward it to your friends.
Balaji made a crazy bet? It's in the newsletter; use that forward button!
Bitcoin is pumping? Friends don't let friends miss out on generational wealth. And dope merch.
When you're forwarding, make sure to include your referral link and tell them to sign up using it. That way we'll know you've been repping for us and we can keep track of your signups.
2. Text Them Individually
Forwarding emails is cool, but let's be honest — how often do you read emails? I know I have more unread emails than the price of Bitcoin in dollars. So to "go direct" why don't you just text 'em?
Maybe even make a group-chat! Even if your friends have Androids, make a green bubble groupchat. It's a great way to let everyone know they should sign up for the Milk Road newsletter using your referral link.
And who knows? Maybe your friends will become huge fans of the Milk Road, send out their own referral links, and you guys can all rock matching merch!
3. Post on Twitter
Ahh Twitter… The modern-day Library of Congress. In Ancient Greece we had Thucydides to record what happened in the war between Sparta and Athens. Today, we can watch what happens when CZ attacks SBF right from our phones. All on the bird app!
Twitter (and social media in general) is, of course, a great place to post your referral link. Now, you don't want to spam it… You'll need some tact here. Here are some good strategies for getting people to actually want to click your link and sign up:
Practice good reply game: Find a crypto tweet that relates to something that we've covered in our newsletter and add a comment under it! Don't shill your referral link immediately, get a conversation going and then end by name-dropping us and adding your link. I'm told this strategy also works when trying to pick up people at the bar. You're welcome.
Write a thread: I've even got the first tweet ready for ya: "10 reasons why the Milk Road is my favorite newsletter 👇🧵". People love to make fun of twitter threads, but the Twitter algorithm actually loves them. Give it a shot and add your referral link at the end!
Take it to the DMs: If you've had DM conversations with crypto twitter friends in the past, DMing them again is one of the best ways to get their attention. Make some conversation and ask if they've heard about the Milk Road. I promise we have enough milk to go around.
4. Link in Bio
If you have an active Twitter, Instagram, or even Facebook account, and you're not utilizing the "link in bio" feature, you're missing out. You can leave the VSCO links to the travel influencers, and you can use a service like Linktree to make your own set of custom links. When people click on your Linktree link, they'll see your whole list, including *ding ding*, your Milk Road referral link!
Here are some ideas for what else to put on your linktree:
An album with photos of your dog
A link to your TikTok
Your Milk Road referral link (this is where the magic happens)
Your buddy's DJ mix (gotta promote him too)
A GoFundMe campaign that you like
5. Print Some QR Codes
Back in the day, rappers got famous by passing out mixtapes. Now they do it by sticking their QR codes on boards around town! If you really want to take it up a notch and stock your whole closet full of Milk Road merch, printing QR codes with your referral link is a guerilla strategy unlike any other.
If it works for political canvassers, it can't not work for the most entertaining newsletter in crypto.
You can use websites like QR Code Generator to turn your referral link into a swanky QR code for free. You can then order some custom stickers and hit the town. A word of caution here — make sure you're not sticking them on private property or polluting your city. Bulletin boards and chic burrito spots where there are already a ton of stickers are good choices.
To Sum It Up
Here at Milk Road, we love taking care of our Milk Road fam, and we've got a room in the office full of the slickest merch you'll find anywhere except ETH Denver (there was so much merch at ETH Denver…)
So grab that referral link from the bottom of any Milk Road email in your inbox and get to typing!