Marinade Review 2023: Marinade SOL Staking Options
With Marinade, users are able to stake their SOL and earn interest for validating the network, all while remaining liquid with mSOL if they choose. Users benefit from automatic rebalancing of their staked assets and the ability to earn additional interest on their mSOL.
Published: October 9, 2023
|
Last Updated:

October 10, 2023
Regularly Seen On:
Our Take On Marinade
THE BOTTOM LINE:
Marinade offers a convenient way for users to validate the Solana network and earn an attractive yield by staking. They also offer liquid staking, where they issue stakers mSOL, which can be used to earn additional yield in DeFi.
Pros
Optimized Validator Automation ensures your staked assets are generating competitive interest
The ability to instantly unstake gives users maximum flexibility over their assets
Offers the ability to stake for locked tokens and without the need to interact with a smart contract
mSOL is widely used in DeFi, giving users lots of flexibility in earning additional yield
Cons
Smart contract risk when liquid staking and engaging in DeFi
Wallets and ledger haven't yet integrated Marinade Native so you have to do it in the dApp directly
Users pay fees on rewards and instant unstaking (Similar across all liquid staking providers)
Via Marinade's Website
Token
Marinade Overview
Expected Interest
Platform Fees
Amount of SOL Staked
Active Users
Number of Validators
7.31% APY
6% of all staking rewards
Variable fees for instant unstaking
8M SOL
~74,800
170
What Is Marinade?
Marinade was founded in 2021 after garnering a lot of interest at a Solana hackathon. Since then, Marinade has established itself as the most used staking platform on Solana. In addition to offering a convenient way for users to validate the Solana network and earn yield, Marinade is also a market leader in liquid staking.
Liquid staking has become extremely popular because it solves a major problem brought by staking: Locking up your tokens. Liquid staking providers issue tokenized receipts of staked assets, allowing investors to remain liquid and earn additional yield.
As a result, Marinade issues stakers mSOL, which can be used in DeFi applications. Additionally, it is directly swappable for other tokens such as SOL, and helps stakers stay liquid.
These are just a few of the reasons that Marinade just crossed 8M SOL staked on its platform. While the liquid staking sector on Solana is still in the early stages, Marinade is showing promise.
Key Features
Marinade has been able to establish itself as a market leader in Solana staking due to its unique features and offerings:
Marinade Native: While Marinade began as a liquid staking solution, they introduced their native staking offering two months ago. This initiative has already attracted over 2M of staked SOL as it brings a lot of unique benefits.
First off, native staking removes smart contract risk, saving users from the risks of exploits or not being able to access their assets. This is an especially attractive feature to institutional investors, who put crypto security at the forefront.
And unlike liquid staking, native staking is available to investors with locked SOL such as VCs and grant recipients. This opens Marinade up to a market that was completely untapped prior.
To wrap it all up native staking benefits from automated validator designation. In plain English, this allows investors to optimize their staking yield without having to lift a finger.
Liquid Staking: Marinade's liquid staking offering is the largest on Solana's network, with over 5M SOL staked. When you liquid stake with Marinade, you are issued mSOL tokens in return.
mSOL can be used in DeFi in various ways to earn an additional yield on top of the staking rate. It could be used as collateral in DeFi, or swapped for other tokens on a DEX.
Instant Unstaking: One disadvantage of staking is losing immediate access to your tokens. However, Marinade offers a unique approach to allow you to instantly unstake, at any time.
Users are able to convert any amount of SOL with no prior notice, and always receive the best market price at that time. This feature allows you to reap the benefits of staking while knowing you will be able to access your funds.
Solana Validator Monitoring: Marinade offers users an intuitive and attractive dashboard to track validators on the Solana network. Users are able to see historical performance, APY and commissions, and stake distribution.
Marinade takes it a step further and utilizes a scoring system for validators. This gives users of any knowledge level full transparency into the platform.
Marinade Earn: Marinade earn is Marinade's incentive program that launched on October 1st and will be running through the end of 2023. This program rewards users of Marinade's platform for staking SOL and referring friends. Rewards are paid in native token MNDE, which controls and governs Marinade's DAO. Those interested can learn all about Marinade Earn here.
Our Expert Review of Marinade
Marinade boasts a diverse range of offerings and competitive fees when compared to the rest of the industry. And they cater to retail investors and institutions.
While DeFi protocols and staking do not come without risk, Marinade has done a solid job of covering its bases through audits, bug bounties, and utilizing a multi-sig wallet. They are also backed by an experienced team and have formed a strong community around themselves.
When you pair this all up with a sleek interface and exciting roadmap, it's no surprise that Marinade has been able to acquire so much market share in the Solana staking sector.
Staking Interface
Marinade offers an intuitive dashboard to stake your Solana through. They estimate your rewards for you, show your current staked holdings, and also introduce their earn program.
Marinade also offers up education on their different offerings so you can make the appropriate choice. They list the pros and cons of each and allow you to see your current holdings and earnings so far.
Marinade Native
Marinade Native is their traditional staking offering. While this comes with a higher APY, stakers do not receive a liquid token in return. The interface for staking is very straightforward and looks similar to other DeFi platforms such as Dexes or bridges:
The top box is where you select the amount of tokens that you want to stake. Marinade will let you know what your current balance is and what the value of those assets is.
In the bottom box, you are provided two options. First, Marinade allows you to select how validators are delegated for staking. Marinade allows you to manually choose your own, or automate the process among their set of 100 validators.
The second option allows you to choose the type of staking you want to engage in. If you are looking to liquid-stake your SOL, this is where you would indicate that.
Liquid Staking
The interface for liquid staking is identical to native staking. You are provided with the exact same options, the only difference is the estimated APY you will receive. After you stake your tokens, the real difference between native and liquid staking becomes prevalent.
Instant Unstake
Instant unstaking is a valuable feature that helps solve one of the core issues of staking: access to your funds. And the interface to unstake is very similar to the above.
Marinade gives you the flexibility of choosing your unstaking period. While anyone can unstake immediately, this is accompanied by fees.
Providing Liquidity On Marinade
Not only does Marinade provide stakers with mSOL, but they also offer a convenient way for mSOL holders to earn yield directly on their platform.
The yield that mSOL holders receive comes from providing liquidity to Marinade's platform. This screen can be accessed through the toolbar at the top and also provides you with information such as the expected APY, your current position, and the amount of funds in the pool.
Validator Dashboard
Another cool feature Marinade provides is a scoring system and live tracker for Solana validators. This helps users who want to choose a validator manually and also assures stakers that they are receiving a competitive APY.
If you scroll over the score heading, you can see the formula Marinade uses to rank these validators. Additionally, you can search by a validator or see which ones your staked tokens are currently utilizing.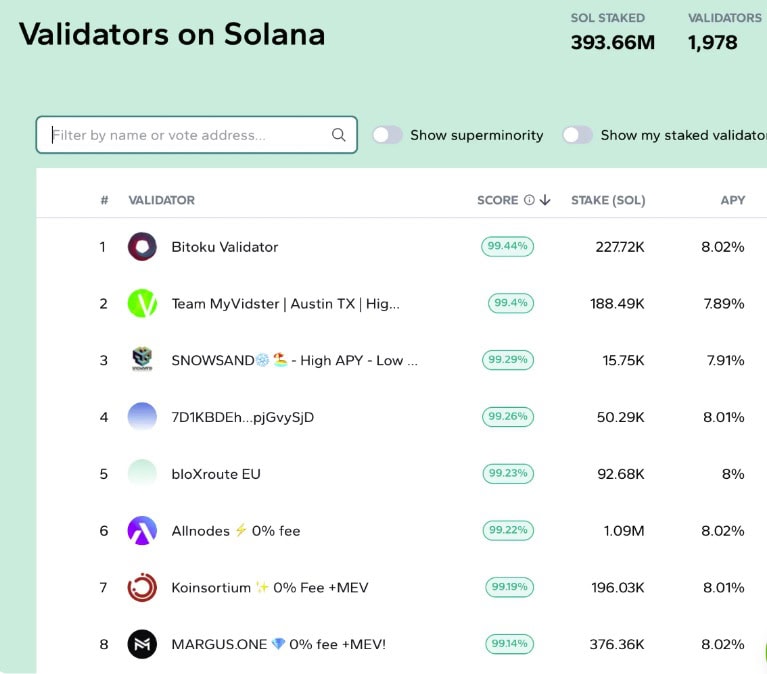 Customer Service
Marinade offers customer service through a chat widget on its website. While this support is not live 24/7, Marinade will email you back promptly if they are unavailable at that time.
Additionally, Marinade has a strong community and presence on social media. Users can follow them on Twitter for updates, or join their Discord to get in touch with the team and community.
Who's Marinade For?
People who self-custody SOL: Those who self-custody their assets are required to interact with dApps. While this adds an extra step to the staking process, it allows you to truly control your assets and pay lower fees.
People who want to stake and remain liquid: Whether it's through Marinade's liquid staking offering or the ability to unstake instantly, those who value immediate access to their funds are a great fit for Marinade.
People who engage with Solana DeFi: mSOL is widely used around Solana DeFi, making it an attractive asset for those who are comfortable interacting with DeFi.
Who's it Not For?
People who don't have a crypto wallet: Marinade is a decentralized protocol, so if you only use centralized exchanges you won't be able to access the platform.
People who don't interact with the Solana ecosystem: If you are not active in the Solana ecosystem, you may face a learning curve getting started with Marinade. Additionally, you may miss out on opportunities using mSOL across DeFi.
People who are brand new to crypto: Staking can be a complex topic for those who are new to the space. We recommend becoming comfortable with a wallet, DeFi, and the terminology before engaging.
Marinade Alternatives
Staking on Solana is still in the early innings. While Marinade has become the most popular solution to date, it is important to be aware of the other players in this space.
Marinade Vs. Lido Finance
Lido is the biggest name in liquid staking when it comes to Ethereum. While Lido maintains the majority of the market share for Ether staking, they have not gained as much traffic on Solana. Additionally, they have recently voted to wind down their stSOL offering.
Even though Lido has been able to dominate the ETH staking market, their APY and amount staked have fallen short of Marinade. Additionally, Marinade charges a lower fee on staking rewards.
| | | | | |
| --- | --- | --- | --- | --- |
| | Current APY | Platform Fees | Amount Staked | Users |
| Marinade | 7.31% | 6% of staking rewards | ~8M SOL | ~75,000 |
| Lido Finance | 6.50% | 10% of staking rewards | ~2.8M SOL | ~15,000 |
Marinade Vs. Jito
Jito is another protocol that is native to Solana and focuses on liquid staking. Stakers on Jito receive jitoSOL, which can be utilized in DeFi and uniquely occurs interest through MEV.
While the APY is lower on Jito, it is important to note that they have a points campaign ongoing, likely hinting at a future token airdrop for their users.
| | | | | |
| --- | --- | --- | --- | --- |
| | Current APY | Platform Fees | Amount Staked | Users |
| Marinade | 7.31% | 6% of staking rewards | ~8M SOL | ~75,000 |
| Jito | 6.70% | 4% of staking rewards | ~2.4M SOL | ~13,000 |
Is Marinade Safe to Use?
Due to the ever-changing nature of crypto, we cannot accurately say how safe and secure a product is now or will be in the future. We have examined a variety of factors to determine how safe we believe Marinade is, but please always use caution and note that there are risks associated.
Below we listed the risks associated with using a platform such as Marinade:
Smart Contract Risk: Liquid staking removes assets from your wallet and puts them in the hands of a smart contract. This opens users up to the risks of exploits or mispractice.
Unpredictable Yield: The crypto yield from staking can be hard to predict and is constantly changing. While more tokens being staked over time can help make the network more secure, it can also take away from the yield stakers earn.
Regulatory Risk: Regulation on staking and staking providers is still a gray area in the United States. Additionally, if you are in certain jurisdictions, you may have limited options for using mSOL in DeFi.
What to Look For in Staking Providers
In general, there are a lot of considerations when it comes to choosing a staking provider. Here are some of the things that users should look out for:
Features
User Experience: Being able to easily access and navigate a platform is essential. The fewer steps it takes to utilize the platform, the more people will be able to utilize it.
Platform Transparency: Transparency is a core principle of blockchains. Projects should offer full clarity into audits, metrics, and other data.
Reward Calculators: It is helpful when platforms provide estimations of the rewards that you will receive for staking. While these are subject to change, it is nice to be able to make assumptions.
Educational Tools: Staking can be a complicated topic so it is important to inform yourself of the benefits and risks before doing so. We value platforms that educate their users while helping them transact.
Security
Audits: Having audits in place can add a lot of credibility and trust to protocols. While audits are not perfect, look for platforms that have multiple audits and have gone through trusted reviews.
Multi-Sig: A multi-sig wallet can lower the chance of bad actors transacting in ways that are not best for the overall community and protocol.
Doxxed Team: Knowing the identity of the team behind the project adds a lot of credibility and reduces the risk of scams or shady behavior.
Who's Used It?
Active DeFi Users: You can look at real-time blockchain data to determine how popular a protocol or platform is. In general, the more users that are on a platform, the less risky it may be.
Mentions From Thought Leaders: Influential people such as Vitilik Buterin constantly talk about innovative projects that are launching. It is important to keep a pulse on the projects that bright minds are watching. At the same time, it you should be aware of influencers and the incentives they may have.
Strategic Partnerships: Looking at a platform's list of partners can give you a good sense of their trustworthiness. In some cases, you will want to verify the credibility of these strategic partnerships.
Reputation
Community: It is worth seeing what people on Twitter and other social media are saying about a protocol. It is important to consider positive and negative viewpoints from the community.
Social Presence: You should ensure that a protocol is active and is providing updates to their following.
History: Look for a proven track record and positive history. If the protocol has made mistakes in the past, carefully evaluate how these mistakes were handled.
Final Thoughts On Marinade
Marinade has become the most popular liquid staking provider on Solana, and is well on its way to becoming one of the top protocols on the network.
Marinade has been able to attract a lot of users through its flexible offerings, competitive platform fees, and respected team. The platform does a good job of simplifying the staking process and educating users on what's happening.
If you are interested in checking out the platform, note that their Earn: Season 1 kicked off on October 1st, allowing mSOL users to be rewarded for their usage.
Marinade Review – FAQs
The Marinade team has close ties to the Solana Foundation and is backed by a seasoned team of engineers. The main engineer is Lucio Tato, who also serves as the CTO. 
The project also has many contributors from all over the Solana DeFi ecosystem. For example, any changes to the code of the protocol must be run through Marinades multi-sig, which is made up of 13 important protocols on Solana.
Marinade was founded in 2021 as a result of a Solana hackathon. They won $80,000 from the competition, and later launched a token exchange program worth ~$500k. As a result, Marinade currently has no VC investors and boasts a very strong community.
Marinade takes its platform security very seriously. They have been audited by two credible auditors: Kudelski Security and Ackee Blockchain.
In addition to audits, they also had their smart contracts reviewed by Neodyme. Lastly, they've implemented a multi-sig to distribute the governance power.
Marinade delivers yield to stakers by passing through staking rewards that are received for validating the network. Marinade takes a small cut of these rewards in order for their service. Marinade also automates their validator designation, so users can always be optimizing the returns that they receive.
Marinade is equipped with several offerings that can't be found at every staking provider. First off, Marinade allows users to stake and liquid stake their assets.
Additionally, Marinade allows users to instantly unstake their SOL, track validator metrics and earn additional yield in DeFi with their mSOL token.