Cheapest Way To Buy Ethereum
Best Places to Buy Ethereum for MetaMask October 2023
Last Updated:

July 7, 2023
Key Takeaways
Ethereum is the second-largest cryptocurrency, and it can be purchased at almost any crypto exchange.
You can use debit cards, ACH, PayPal, and even crypto ATMs to purchase ETH
The most prudent investors use dollar-cost averaging and store their ETH in cold wallets after purchasing
How To Buy Ethereum
You can purchase Ethereum on almost any crypto exchange, but not all exchanges are created equal. Below we take a look at the best places to purchase Ethereum, weighing fees, trading minimums, and more.
We also cover the safe storage and handling of your ETH.
Own Ethereum in 4 Steps
Buying ETH requires just a few steps.
Step 1: Choose an Exchange
Step 2: Sign-up and verify your account
Step 3: Pay for Ethereum
Step 4: Store Ethereum – Keep it on an exchange or transfer it to a crypto wallet like Metamask.
Cheapest Way to Buy Ethereum for Metamask
Ethereum is a popular cryptocurrency that's supported by nearly all crypto exchanges. Below we cover the top exchanges where you can buy ETH.
| Platform | Minimum Deposit | Transaction Fees | Margin Trading | Staking and Rewards |
| --- | --- | --- | --- | --- |
| Kraken | 0.00001 ETH | 0.26% taker fee and 0.16% maker fee | Yes | Yes, outside the US |
| Coinbase | $1 of ETH | 0.60% taker fee and 0.40% maker fee | No | Yes |
1. Kraken
---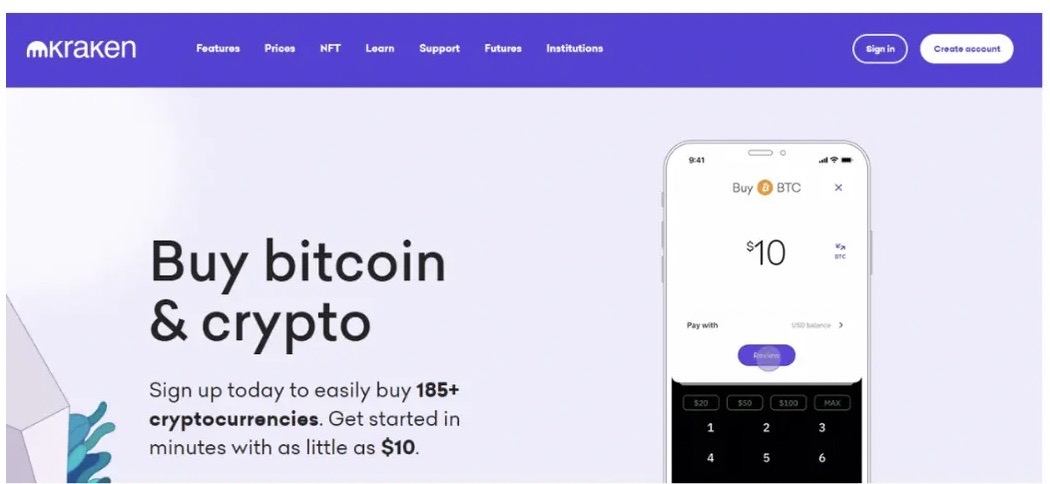 ---
| | |
| --- | --- |
| Trade Minimums | 0.00001 ETH |
| Trading Fees | 0.26% taker fee and 0.16% maker fee |
| Leveraged Trading | Yes |
---
Kraken is one of the largest crypto exchanges out there, so it offers plenty of liquidity for Ethereum trades. To purchase ETH through Kraken, you'll first need to create an account and fund your account balance. Once you've purchased your ETH, you can either store it on the exchange or transfer it to Metamask or another external wallet.
---
Pros
Low withdrawal fees compared to many other exchanges
Fully fledged trading exchange with features like margin trading and staking
Has educational materials to help new traders get up to speed
Cons
Kraken is not available in all states
ETH Staking not available in the US
Kraken can be complicated for beginners
---
3. Coinbase
---
---
| | |
| --- | --- |
| Trade Minimums | $1 of ETH |
| Trading Fees | 0.60% taker fee and 0.40% maker fee (Coinbase Advanced) |
| Leveraged Trading | No |
---
Coinbase is a popular US-based crypto exchange and one of the most regulation-friendly crypto trading platforms out there. This means that Coinbase is a safe and compliant choice for both new and experienced traders. Ethereum and many other popular cryptocurrencies are available for trading on Coinbase.
---
Pros
Easy and intuitive interface that's perfect for beginners
Low trading minimums
Coinbase Advanced offers institutional-grade trading solutions
Cons
High trading fees compared to other exchanges
ETH staking rewards are not as high as they are on other platforms
---
Buy Ethereum Through DeFi Exchanges
Ethereum uses its smart contract technology to power an entirely new way of trading financial assets known as "decentralized finance" (DeFi). Through DeFi, individuals can trade, lend, and borrow crypto without relying on centralized intermediaries but instead by utilizing automated programs that link buyers and sellers and facilitate transactions.
Below we look at the two largest DeFi platforms you can use to buy Ethereum.
1. Uniswap
---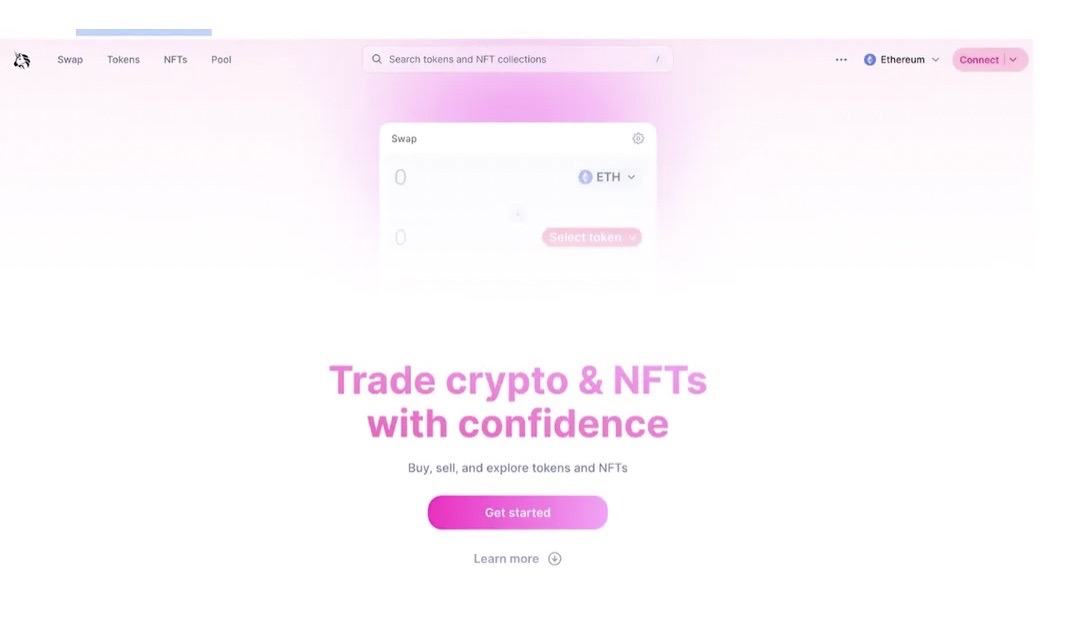 ---
| | |
| --- | --- |
| Swap Fees | Between 0.1% and 1% depending on how stable the pairs are |
| Network Fees | Highest on ETH, lowest on L2 chains like Polygon |
| Supported Cryptocurrencies | ETH, MATIC, LINK, USDC, + more |
---
Uniswap is the most popular DeFi exchange. The application provides trading pairs for hundreds of cryptos, meaning you can swap most cryptocurrencies for ETH. In addition to purchasing crypto, users can earn a return on their tokens by funding liquidity pools using their assets.
---
Pros
Low trading fees compared to centralized exchanges
Lots of liquidity for ETH trades
No identity verification requirements
Cons
Trading on DeFi can be complicated for beginners
You need to practice good wallet security; phishing attacks are very common
During times of congestion, ETH gas fees will be high when using the Uniswap app
---
2. dYdX
---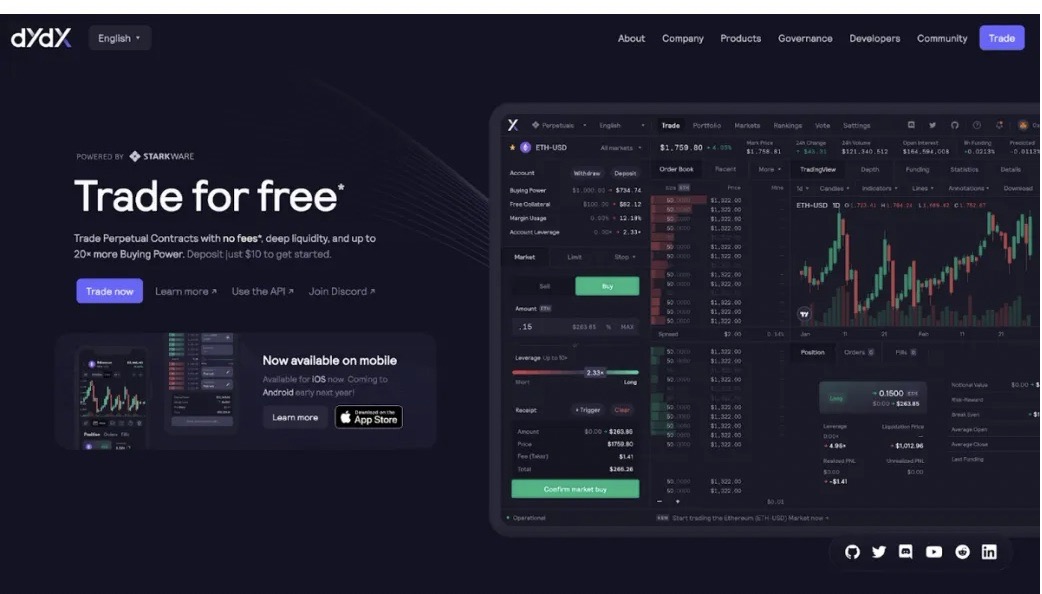 ---
| | |
| --- | --- |
| Swap Fees | 0% if your 30-day trading volume is under $100k |
| Network Fees | Highest on ETH, lowest on L2 chains like Polygon |
| Supported Cryptocurrencies | ETH, MATIC, SOL, AVAX, + more |
---
dYdX is the second most popular DeFi exchange by trading volume after Uniswap. The exchange supports a wide range of trading pairs and offers a hard-to-beat 0% trading fee on all trades up to $100k per month. The exchange also offers advanced trading mechanisms like perpetual futures trading.
---
Pros
No fees on trades up to $100k in monthly volume
Lots of supported trading pairs
A fully-fledged exchange that supports lending
Cons
Complex to get up and running for beginners
High fees during times of network congestion
Beginners may be vulnerable to scams and phishing attacks
---
Payment Methods Accepted
Credit Cards: Most major exchanges no longer support purchasing ETH and other cryptocurrencies using a credit card. However, debit cards are widely accepted on exchanges, including Coinbase and Kraken.
Debit Cards: For many, debit cards are the default way to buy Ethereum. Leading exchanges like Kraken and Coinbase support crypto purchases made through debit cards. Be sure to compare fees against using ACH, which is often more cost-effective.
ACH: Automated Clearing House (ACH) is a popular method for sending money directly between bank accounts. ACH is a great way to purchase Ethereum in bulk, but keep in mind that clearing times may be several business days, and exchanges may assign spend limits.
PayPal: The online payment provider supports purchasing Ethereum through their website and mobile app. You will need a PayPal account to complete your purchase. Coinbase also supports PayPal funding for ETH and other crypto purchases.
Crypto ATMs: The on-the-go method for purchasing Ethereum is to use a crypto ATM. These ATMs have locations all around the world, just like traditional ATMs, and provide a quick and easy way to top up your crypto balance. The downside is that crypto ATMs charge significantly higher fees than most exchanges.
We will use Kraken for this example.
Step 1: Log in to your Kraken account
Step 2: In the "Explore" section, select "Ethereum"
Step 3: Click the "Buy" button and enter the amount of ETH you'd like to purchase
Step 4: Add your debit card as a payment method and complete your purchase
You can buy Ethereum either directly through PayPal, or by using PayPal to fund your account balance on a website like Coinbase. Below is a step-by-step process for buying ETH on Coinbase by using PayPal.
Step 1: Log in to your Coinbase account
Step 2: Add your PayPal account as a funding method for your Coinbase balance
Step 3: Select "Ethereum" and enter the amount you'd like to purchase.
Make sure you have selected "PayPal" under the "Pay with" option.
Step 4: Click "Preview Buy" to preview your purchase.
When you're ready, click "Buy now" to complete your ETH order.
When To Buy ETH
Ethereum, along with the broader crypto market, moves in cycles known as "bull" and "bear" markets." Bull markets are when the price of crypto goes up, and investors are optimistic (bullish), while bear markets are when the price of crypto goes down and investors are pessimistic (bearish).
Ethereum had an initial bull run in 2018, where the price reached $1,385 per ETH. A bear market set in later in 2018, and the price started dropping, bottoming out at less than $90 per ETH in 2019. The second large bull market started at the end of 2020 and reached an all-time high of $4,811 in 2021 before bottoming out at under $1,000 in June 2022.
When it comes to crypto investing, you should attempt to buy low and sell high. Of course, no one knows where the market will go, so you will have to learn about Ethereum's fundamentals, research upcoming changes, and listen to investor sentiment to decide when to buy.
Dollar-Cost Averaging
If you know you want to own some Ethereum, but you're not sure which exact moment you should make your purchase, you can use dollar-cost averaging (DCA). Dollar-cost averaging is the practice of spreading out your investment into several smaller investments over several days, weeks, or months.
This allows you to "average" out the price of your overall purchase and helps even out spikes and dips in price. DCA has several benefits:
DCA lowers your investment risk
You don't have to worry about timing the market
DCA can provide peace of mind to investors
The major downside of DCA is:
Having to pay higher transaction costs due to multiple purchases
Where To Store ETH
Your Ethereum, and all your other cryptocurrencies, are stored in a crypto "wallet." This is a software program that authenticates your private credentials and gives you access to your funds. Wallets can be either online "hot" wallets or offline "cold" wallets.
| Wallet Type | Best For | Security | Loss Protection | Ease Of Transfer | Price |
| --- | --- | --- | --- | --- | --- |
| Hot Wallets | Short-term storage | Not very secure since they're always online | Some providers have many recovery options including passwords and customer assistance | Easy to transfer | Generally free |
| Cold Wallets | Long-term storage | Very secure, only vulnerable if they're physically stolen | Recovery options are available for a lost password but not a lost device | Requires plugging the wallet USB into a computer connected to the internet | $50 and up |
Hot Wallets
A "hot" crypto wallet is a software wallet that is connected to the internet. Hot wallets allow you to easily store, transfer, and receive cryptocurrencies and authorize transactions.
Despite the convenience of a hot wallet, there are significant drawbacks. Here's the main one: Your wallet is always vulnerable to attack. If someone knows your seed phrase, which is your password, they can access your wallet and steal your funds. Additionally, if you authorize any hacked applications to access your wallet, your funds can be stolen.
Some popular Ethereum hot wallets include:
Pros
Accessible funds
Easy to use
Free to set up
Cons
Prone to malware attacks
Some wallets are specific to just one cryptocurrency (such as ETH or Solana)
Cold Wallets
A "cold" crypto wallet is a wallet that is not connected to the internet. Most "cold" wallets are physical USB drives that look similar to a traditional USB file storage flash drive but are used to store your crypto instead.
To use a cold wallet to transfer your funds, you'll need to plug in the physical USB device to a computer and enter a password in order to access the wallet. This means, of course, that anyone who has access to the physical USB device and knows your password will also have access to the funds inside. Additionally, if you lose your physical USB device, you will also lose access to your wallet.
Popular Ethereum cold wallets include:
Pros
Safest way to store crypto
Cannot be hacked unless they are plugged into a computer
Cons
Anyone who has access to the physical device may have access to the funds inside
If you lose your physical USB device, your funds are likely gone forever
To Sum It Up
Ethereum is one of the most well-supported cryptocurrency assets out there, so there is no shortage of ways to purchase ETH. For beginners, sticking to large exchanges like Conbase or Kraken is probably your best bet, while intermediate traders can get a better deal on their ETH trades by navigating DeFi options like Uniswap and dYdX.
It's important to keep in mind that the world of crypto is still riddled with scams and malicious attempts to steal your hard-earned crypto. Remember never to open links you don't recognize, never share your wallet seed phrase with anyone, and always double-check the URLs of the websites you visit.
Frequently Asked Questions
You can purchase Ethereum at most crypto exchanges.
Our top picks for crypto exchanges are Kraken and Coinbase. You can also purchase ETH at DeFi exchanges like Uniswap and dYdX.
Most exchanges will have some minimum requirement for each purchase.
While it varies by exchange, this minimum is usually no more than a few dollars worth of ETH.
Ethereum has had several bull cycles and is currently in the midst of a bear market.
While there are many crypto skeptics who say Ethereum will never again reach its all-time high, there are also many crypto champions who point to the ballooning number of ETH use cases as evidence that the next bull run will be even better for ETH.
Ultimately, however, there is no way to tell if Ethereum will be a good investment long-term.
All centralized exchanges, such as Kraken and Coinbase, are required to run identity checks before allowing you to purchase Ethereum or any other crypto.
You can benefit from more anonymity by using a decentralized exchange such as Uniswap or dYdX. These DeFi exchanges don't perform identity checks and simply execute your trade and send the funds to your wallet.