MetaMask Wallet Review: What It Is & How To Use It
Last Updated:

June 26, 2023
Our Take On MetaMask
THE BOTTOM LINE:
MetaMask brings a wealth of features to its popular crypto wallet, which supports Ethereum and several Ethereum-compatible networks. Advanced token detection and fine-tuned control over transaction costs make MetaMask a powerful tool for holding crypto or managing DeFi positions. I found MetaMask easy to use and feature-rich. In my day-to-day transactions, MetaMask quickly became my wallet of choice for ERC-20 tokens, DeFi, and NFTs.
Pros
User-friendly interface
Chrome extension and mobile app
Support for multiple ETH-compatible networks
Enhanced token detection
Ledger/Trezor hardware wallet support
Adjustable gas fees
Cons
Only supports Ethereum-based ERC-20 tokens and ERC-721 NFTs
No 2FA (two-factor authentication)
Token detection doesn't always work

Via MetaMask's Website
Cryptocurrencies
ETH, ERC-20
Platforms
iOS, Android, Chrome extension
Blockchains
Ethereum, Polygon, Arbitrum +More
Expert Review: MetaMask Wallet In Transactions
Crypto wallets are serious business, but MetaMask makes it fun. When you first install the extension, the fox icon follows your cursor movements. The well-known fox icon represents an anonymous identity. Your wallet becomes your sign-in for web3 apps rather than a username and password.
I tested the MetaMask extension as well as the mobile app, looking for undiscovered features and evaluating everyday usability.
MetaMask Wallet Chrome Extension Review
Wallet
Sending crypto on MetaMask is intuitive. To receive crypto, you'll need to copy the wallet address to the clipboard or click on the three-dot menu to get a scannable QR code from the account details screen.
When sending crypto using the extension, I was offered the option to change the gas fee. Higher fees typically provide faster transfers. Lower-fee transactions can get stuck for a while if the network is busy.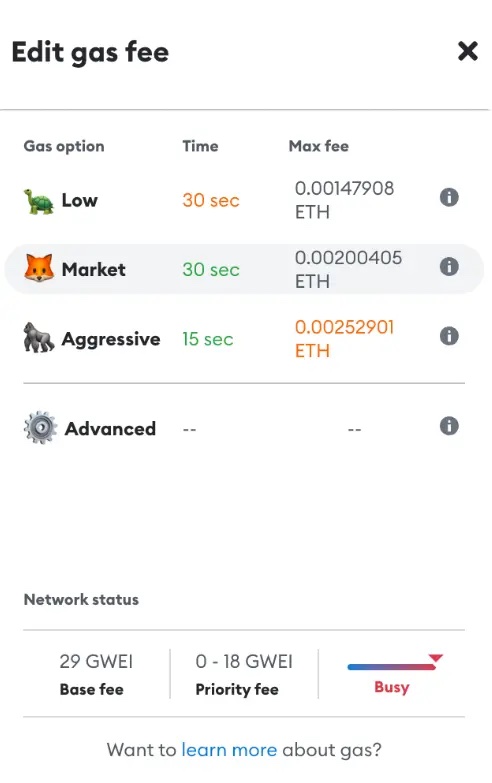 I did encounter one problem with the wallet: A token I sent to the wallet wasn't detected. I had to add the token manually, which can be done from the home screen (import tokens).
Buying Crypto
MetaMask lets you buy crypto through several providers:
Coinbase Pay (not available on Polygon)
MoonPay
Transak
Coinbase Pay connects your Coinbase account and some (but not all) payment methods you have saved in Coinbase. You can send ETH from your Coinbase exchange wallet or buy ETH with your bank account or cash you have on the exchange. I didn't find an option to send other tokens, just ETH.
MoonPay, another crypto provider, offers six tokens, including ETH and three stablecoins. The minimum purchase is $30 with a $3.99 minimum fee.
Swaps
MetaMask provides a swap feature, which works like an aggregator and compares exchange rates from liquidity pools, including:
Swap fees are 0.875% and help fund MetaMask's development.
dApp Connections
MetaMask's Chrome extension doesn't include an app browser, but it runs in a browser – so everything is just a new tab away.
Support
MetaMask offers support through two channels: a chatbot and a community support forum.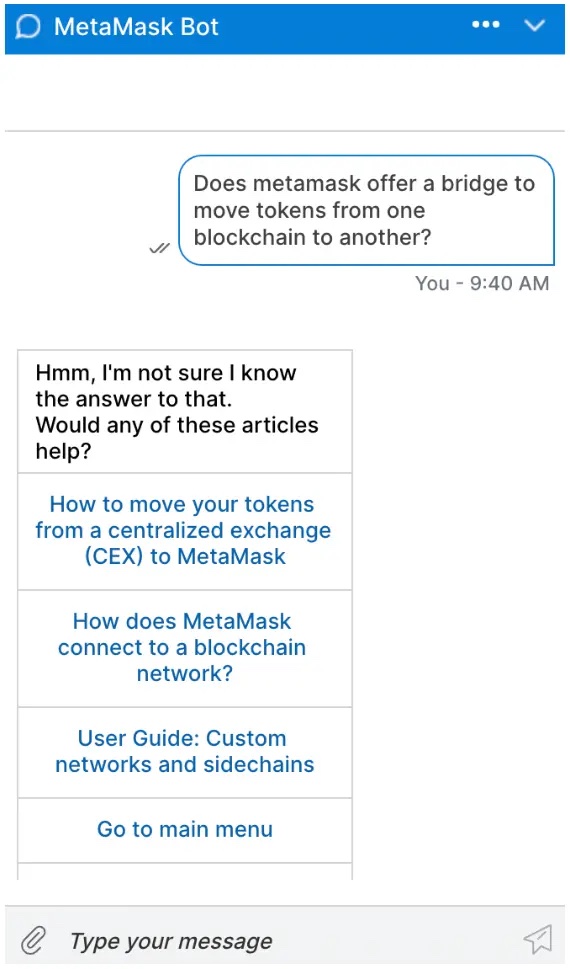 The chatbot was able to point me in the right direction but didn't answer the question directly. The linked article I selected from the suggested list didn't answer the question directly either but was helpful in that it discussed using trusted bridges.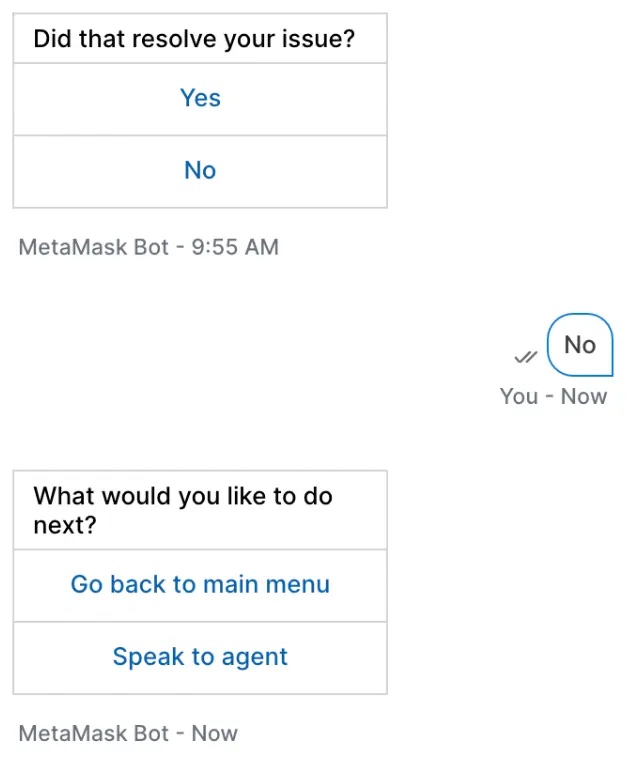 If the chatbot can't help, you'll be able to speak with an agent. In my case, I spoke with Danny, who was very helpful and did answer my question: To bridge tokens from one block to another, you can connect your MetaMask wallet to the portfolio site dApp linked on the main page of the extension.
Portfolio Site
An easily overlooked link on the main page of MetaMask's extension points to the portfolio site dApp, from which you can see an overview of your assets on all blockchains you added to MetaMask. (Assets locked in smart contracts won't show, however.)
From the dApp, you can also make swaps or use a bridge to move assets from one blockchain to another. A watchlist lets you track token prices.
I used the bridge, still marked as Beta, to move MATIC from the Ethereum blockchain to Polygon.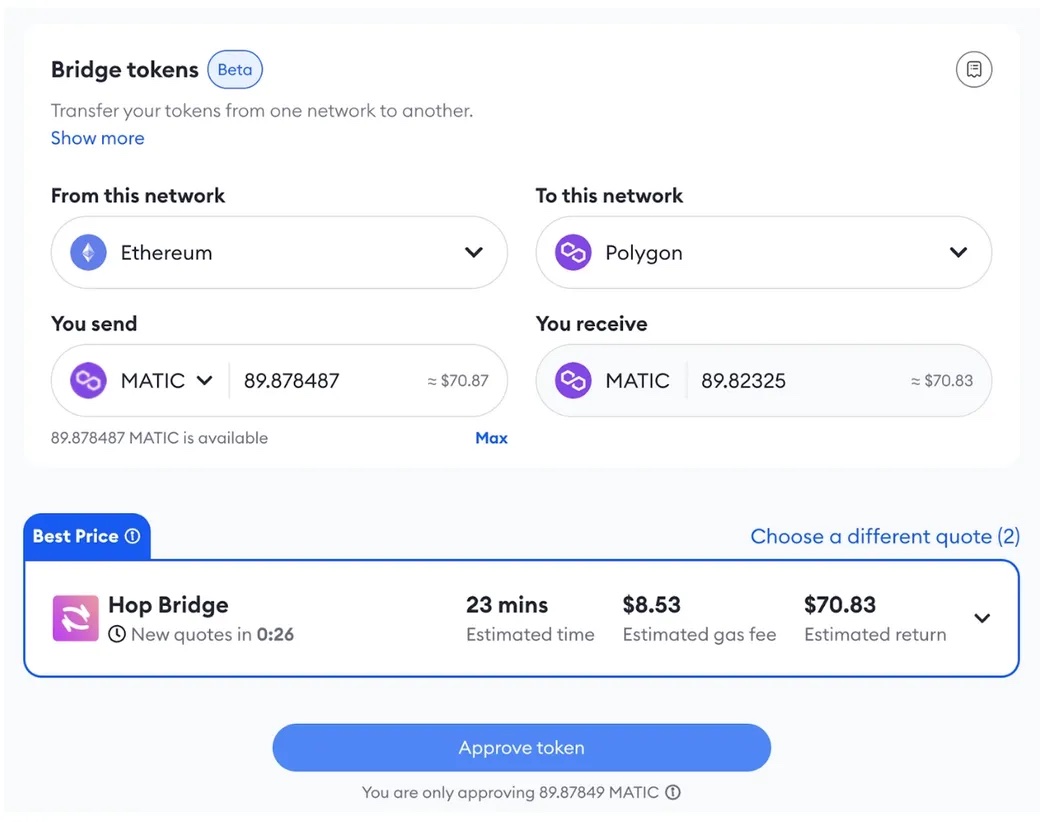 The actual cost of the transaction was $1.33 compared to the quoted fee of $8.53. Thanks, MetaMask!
MetaMask Wallet Mobile App Review
MetaMask ran poorly at startup on my octa-core Android phone. Once up and running, the app worked smoothly.
The mobile app supports fingerprint authentication or password authentication for login, protecting your crypto from phone thieves and snooping phone fiddlers.
I synced the mobile wallet with the Chrome extension using the 12-word recovery phrase to explore its features.
Wallet
Sending and receiving worked as expected on mobile. However, I didn't find a setting to enable adjustable gas fees like on the extension.
Switching networks just takes a click but can only be done from the network listing on the wallet home screen. This is something to keep in mind if you wander off to explore dApps on a network not supported by the dApp (like I did).
Buying Crypto
MetaMask mobile offered fewer options for buying compared to the extension. Notably, Coinbase Pay was missing in my region.
Other options include:
dApp Browser
Connecting blockchain apps with crypto wallets can be a challenge on mobile devices, so MetaMask includes a dApp browser. Coinbase wallet offers a similar feature.
Apps are sorted by category, including decentralized finance, decentralized exchanges, collectibles, etc.
Popular dApp Browser Apps:
Using the MetaMask app browser, I stopped by Uniswap to check on my liquidity pool. Uniswap didn't see my MetaMask Polygon wallet, instead suggesting I connect with my Coinbase wallet.
I'll stick to the MetaMask browser extension for dApps, but the mobile app is great for sending and receiving on the go.
What Is MetaMask Wallet?
MetaMask is a DeFi cryptocurrency wallet initially built by ConsenSys for the Ethereum network. Since its inception in 2016, support for additional networks has been added, including Polygon, BNB Smart Chain, Avalanche C-Chain, and many others – all just a click away.
The growth of decentralized applications (dApps) helps fuel MetaMask's popularity; ETH-compatible dApps commonly offer MetaMask as the top option to connect a wallet.
With decentralized apps, MetaMask acts as both a wallet and a signing key to approve smart contracts. When an app needs permission to perform actions, the app passes a request over to your wallet. MetaMask then shows you the details, prompting you to accept or reject the request.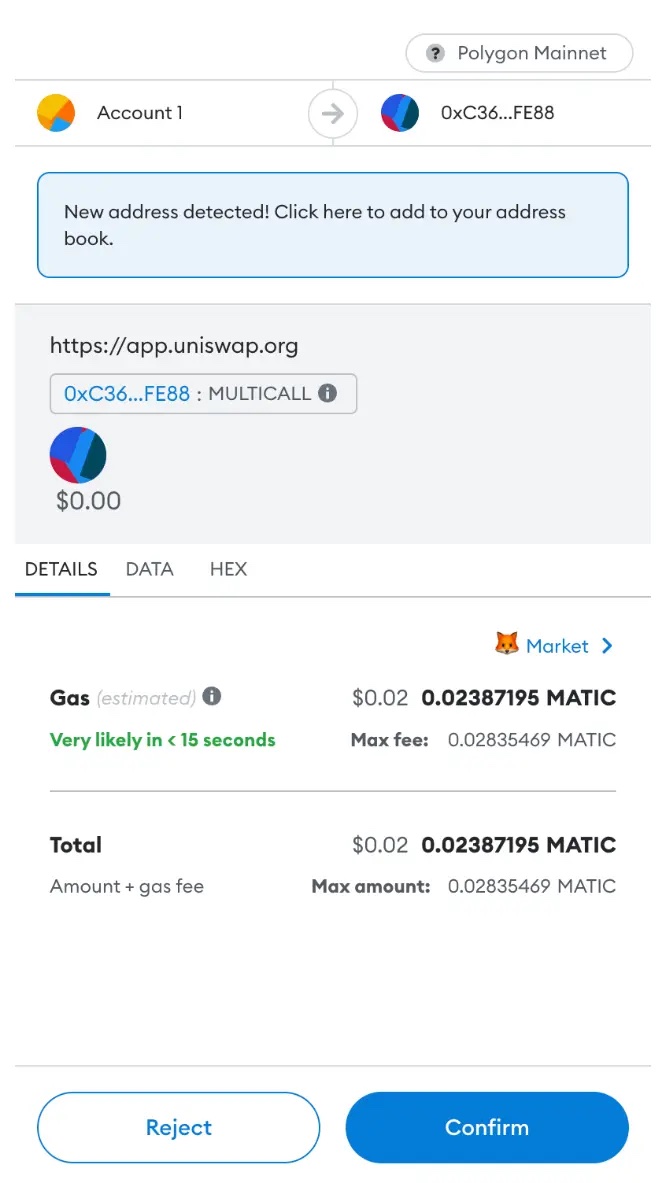 Above, the decentralized exchange Uniswap is asking MetaMask's Chrome extension to sign a smart contract I initiated. MetaMask also provides a mobile app for Android and iOS.
How Does MetaMask Wallet Work?
MetaMask is a hot wallet, meaning it's connected to the internet, and the private keys are generated on an online device. Most wallets use two keys: a public key and a private key. The latter is what lets you spend or transfer crypto and approve transactions.
Nothing leaves your MetaMask wallet unless the transaction is signed with the private key generated when you set up your wallet for the first time.
The private key is a long string of numbers and letters that's nearly impossible to memorize, so most wallets use a recovery phrase of 12 to 24 words that lets your wallet re-generate the private key if needed. MetaMask uses 12 words. You'll also secure your wallet with a (required) password.
MetaMask uses Ethereum as the default network, but the wallet supports multiple Ethereum-compatible networks, such as Polygon and Optimism. While visible in the same wallet app, assets on each blockchain remain separate. You'll have to switch networks to access the assets on each chain.
MetaMask lets you connect to popular dApps like Uniswap, the leading decentralized exchange, or games and metaverse projects like Axie Infinity or Decentraland.
The alternative to hot wallets like MetaMask is cold wallets, typically hardware wallets – devices that store your private keys offline and can connect to a computer or phone when needed. MetaMask can pair with hardware wallets like Ledger, adding an extra permission layer if an app wants to access your wallet. This step can help protect against scams and allows you to confirm each transaction on your hardware device.
MetaMask provides a near-perfect solution if you're exploring the ETH-based world of crypto. But if you need to store Bitcoin, Litecoin, or Cardano, you'll need a separate wallet.
MetaMask Wallet Notable Features
| Feature | Explanation |
| --- | --- |
| Enhanced token detection | MetaMask can automatically detect new tokens added to your wallet. You can also add support for new tokens manually. |
| Support for hardware wallets | Pair MetaMask with Ledger or Trezor devices. Your hardware wallet provides a second signature for transactions. |
| Multiple blockchain support | Easily add support for Polygon or other lower-cost ETH-compatible networks. |
| Adjustable gas fees | Adjust transaction costs with a slider to match the transaction's priority. |
| Swaps | Use MetaMask's smart transactions to reduce costs when swapping tokens within the wallet app. |
MetaMask starts out with a simple feature set, but you can add more functionality in the settings. Enhanced token detection, additional blockchains, and a gas fee UI based on EIP-1559 are just a few clicks away.
Multi-Asset Support
MetaMask supports ERC-20 tokens, including the tokens listed below, as well as ERC-721 NFTs.
Ethereum (ETH)
Tether (USDT)
Binance (BNB)
Uniswap (UNI)
Aave (AAVE)
Chainlink (LINK)
Wrapped Bitcoin (WBTC)
Matic (MATIC)
And many more.
MetaMask's token detection attempts to identify new tokens you add to your wallet. Most of the time, it works. You can add the token manually in the rare case where MetaMask misses one.

Security
MetaMask asks you to set up a password as a first step. After that, the wallet generates a private key and provides you with a 12-word recovery phrase so you can restore your wallet if needed. This is standard fare for hot wallets. The 12-word passphrase can also be used with other wallets, such as Coinbase wallet or Brave wallet, so guard it carefully. Anyone who finds your recovery phrase won't need MetaMask to access your wallet.
I connected my MetaMask wallet to my Ledger hardware wallet, a simple process that creates up to five new accounts in your MetaMask wallet.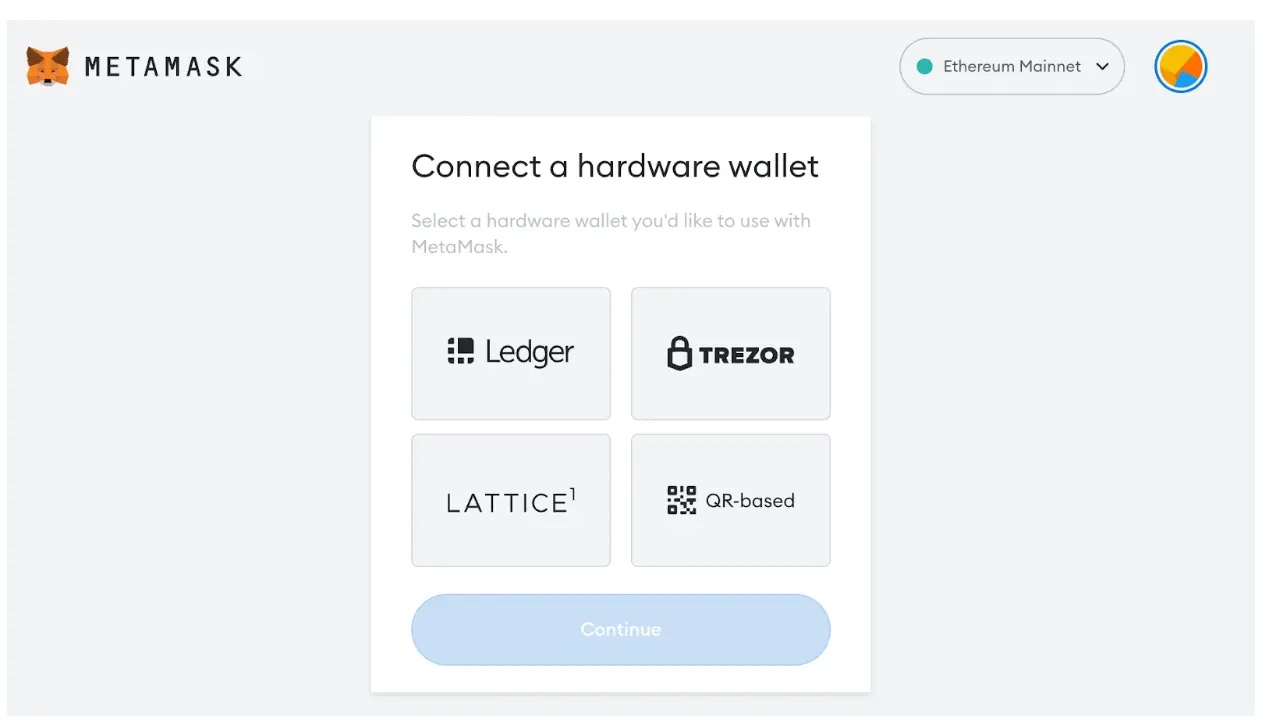 Funds in these new accounts can only be accessed with the hardware wallet but other accounts in MetaMask won't require your hardware device.
How To Set Up Your MetaMask Wallet
MetaMask offers a Chrome extension and mobile app. Here's how to set up the Chrome extension.
Step 1: Download And Install MetaMask.
Go to MetaMask to get the official download link for the extension. MetaMask is open-source software, so it's easy to make a copy of the app modified for nefarious purposes. Get the real thing.

Step 2: Open MetaMask And Agree To The Terms.
The Chrome extension should open automatically after it's installed. You can also find the extension in the extension manager at the top right of Chrome or Chromium-based browsers.
Agree to the terms to get started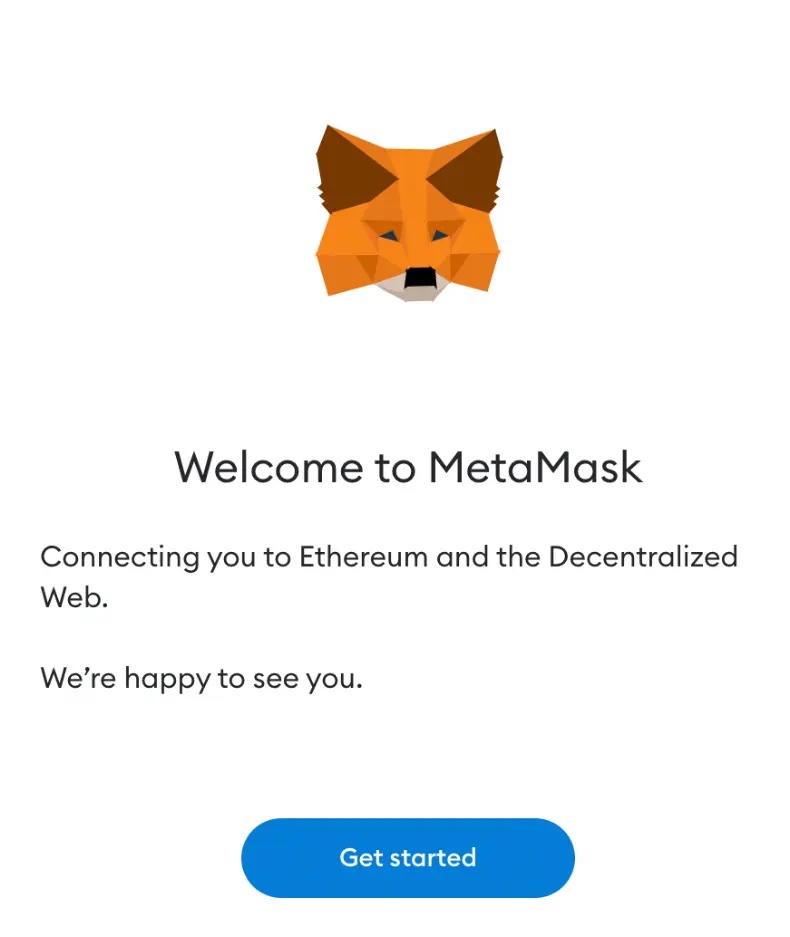 Step 3: Create A New Wallet.
If you're new to MetaMask, choose the option on the right to create a new wallet. You can use the (recovery phrase) option on the left to add your wallet to additional devices later.
As a first step, MetaMask will ask you to create a password (write it down). The next screen provides a helpful video explaining how MetaMask works and the role of your secret (recovery) phrase.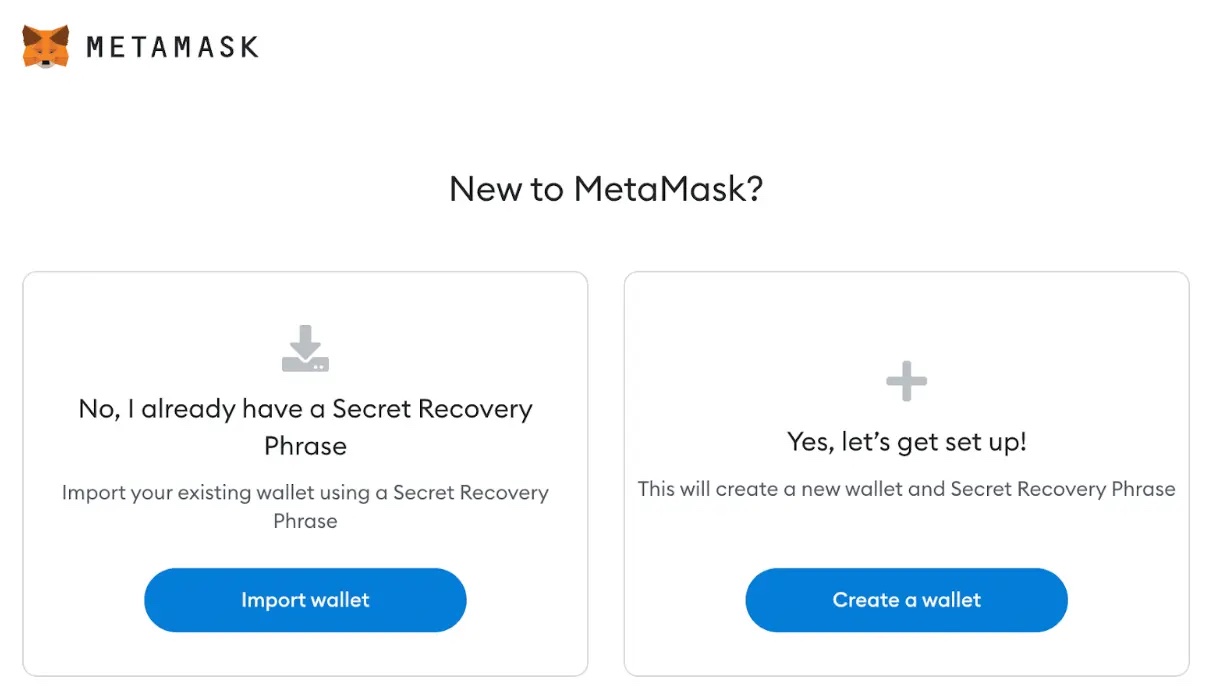 Step 4: Write Down Your Secret Recovery Phrase.
MetaMask automatically generates a 12-word recovery phrase. You'll need this phrase to use your wallet on another device or if you need to restore your wallet. Keep your recovery phrase somewhere safe. If someone finds it, they can access the funds in your wallet.
You'll need to verify the 12-word phrase in the extension.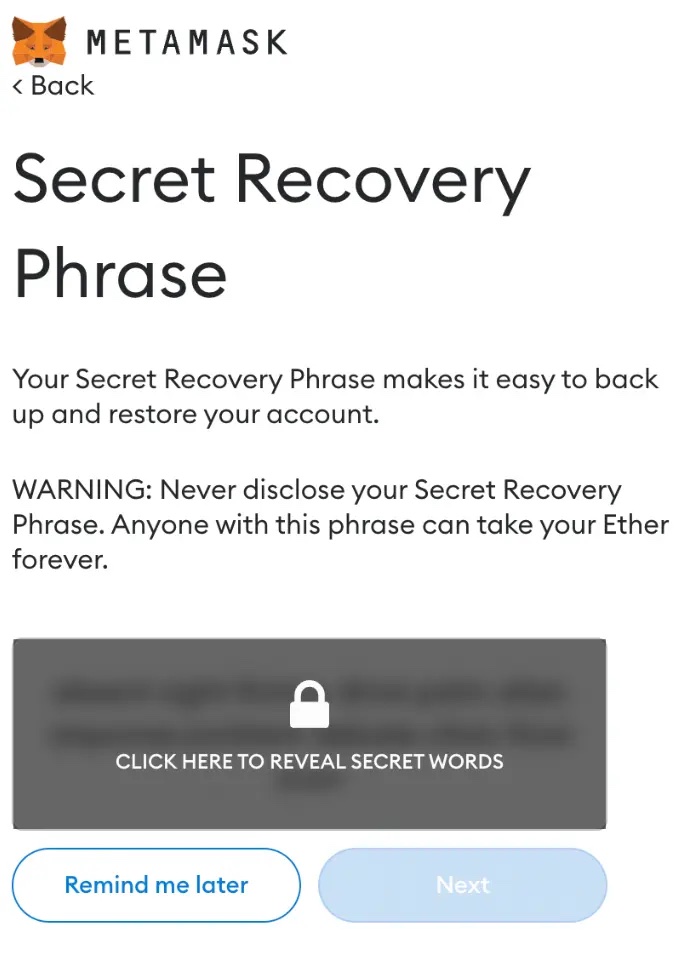 Step 5: Add Networks (If Needed) And Add Funds.
MetaMask defaults to the Ethereum network. You can add networks by clicking on the Ethereum Mainnet dropdown menu.
After adding the networks you want, you can transfer ETH-compatible tokens from another wallet or from an exchange like Coinbase. Be sure to use the correct network when making transfers and only transfer compatible tokens.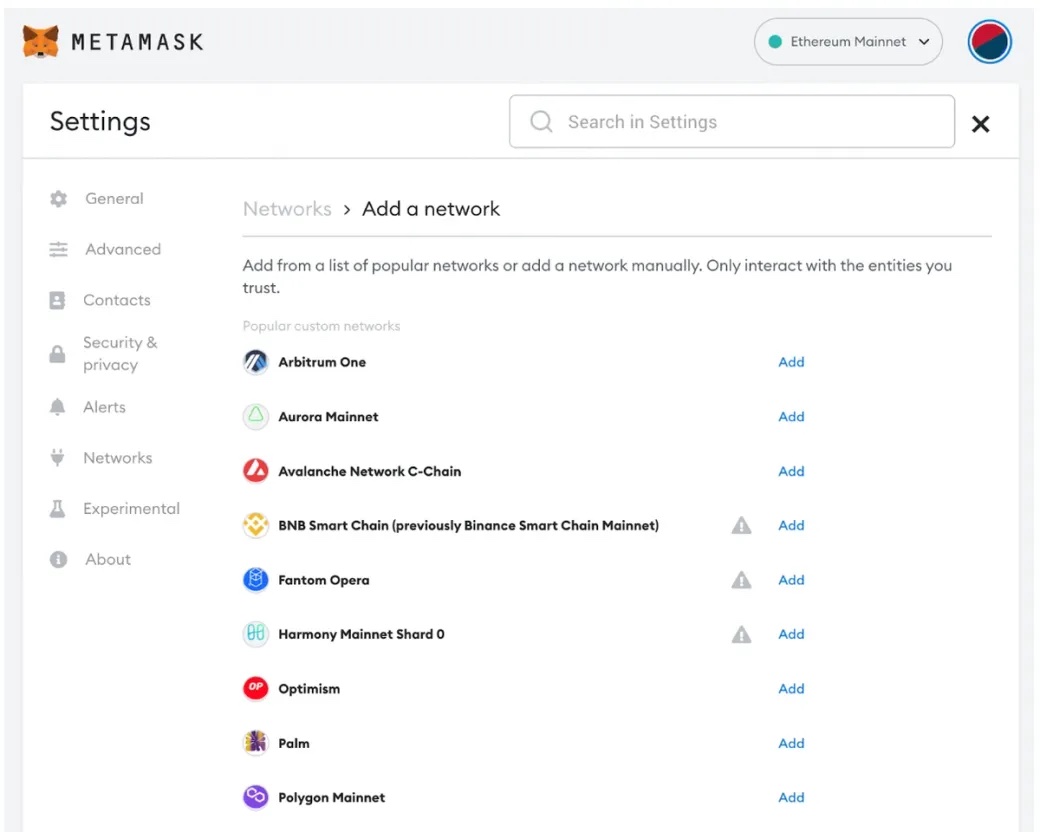 To Sum It Up
MetaMask offers powerful functionality in a fun-to-use browser extension with plenty of customization options available in settings. The mobile app may be better suited to simple transactions, like sending some crypto to a friend when you're splitting the cost of a pizza.
Hot wallets bring risks, such as bugs or hacks, that can expose your private key. But Ledger integration can make MetaMask a safer choice.
Frequently Asked Questions
MetaMask is a hot wallet, which can expose your private key due to exploits or coding bugs. However, you can pair MetaMask with a hardware wallet like Ledger or Trezor to add another layer of security.
Each wallet has its advantages and disadvantages. Coinbase's mobile wallet can hold Bitcoin as well as ETH tokens, whereas MetaMask is easier to use. Many people use both wallets.
MetaMask is free to use, but some activities within the wallet come at a cost. Sending crypto or signing smart contracts both cost fees. Additionally, buying or swapping crypto in the wallet comes with fees.
MetaMask was started in 2016, so the wallet has had a lot of time to gain acceptance and refine features. It's also easy to use, supports several ETH-compatible networks, and automatically detects new tokens in your wallet.
When buying crypto through MetaMask, you can use your bank account in some cases. But there is no way to withdraw crypto or USD from MetaMask to your bank account.