Top Smart Contract Audit Companies 2023
Last Updated:

July 10, 2023
Smart contracts are tremendously powerful tools, but they often bring hidden risks as well. Smart contract audit companies help mitigate risk, offering peace of mind to both users and the development (DEV) team.
These companies comb through smart contracts looking for bugs and stress-test decentralized apps (dApps) for vulnerabilities. Smart contract audit firms put contract code through a rigorous assessment and then pass the test results back to the DEV team to address any potential issues.
Not sure which crypto audit company would be right for you? We break down our top picks below.
Top Smart Contract Audit Companies
Company
Services
Audits/Clients
Headquarters
CertiK
Smart contract audit
Security advisory
Penetration testing
Bug bounties
The Sandbox, Aptos, Binance, Aave, Yearn, Polygon
New York, USA
Hacken
Smart contract audit
Proof of reserves
dApp audit
Penetration testing
Blockchain protocol audit
Binance, 1inch, DAO Maker, Metis, Kyber Network
Tallinn, Estonia
ConsenSys Diligence
Ethereum smart contract audits
Blockchain security audits
0x, Rocketpool, Gamma, 1inch, Aave, Balancer
New York, USA
OpenZeppelin
Smart contract automation
Blockchain security audit
Compound, Convex, Optimism, Bancor, Coinbase, Celo, Forta
Islas Baleares, Spain
Certora
Smart contract audit
Maker, Syndicate, Aave, Balancer, Compound, Silo, Morpho
Tel Aviv, Israel
Quantstamp
Blockchain security audit
Maker, Ethereum 2.0, Idle Finance, Lido, Compound, Chainlink, SushiSwap
Delaware, USA
ChainSecurity
Smart contract audit
Compound, Circle, Bancor, Yearn, Lido, Maker, Oasis, 1inch, Uniswap, Morpho
Zurich, Switzerland
PeckShield
Smart contract audit
Blockchain transaction monitoring
Sushi, Solidly, dYdX, 1inch, Convex, Curve, Maker, Yearn, ParaSwap
Hangzhou, Zhejiang, China
Trail of Bits
Smart contract audit
Software hardening
Curve, Ethereum 2.0, MakerDAO, Chainlink, Compound, Matic, Uniswap, Algorand
New York, USA
Halborn
Smart contract audit
Penetration testing
Security advisory
BlockFi, ApeCoin, Avalanche, THORChain, Polygon
Florida, USA
1. CertiK: Best Full Security Auditing Service
---

---
CertiK, or Certified Kernel Tech, is a web3 security firm founded in 2018 by professors of Columbia University and Yale University. The company has become one of the most reputable security firms in the blockchain sector through successful smart contract audits and security verification for well-known clients, including Polygon, Binance, Yearn Finance, and Aave.
---
Audit Services
Smart contract auditing to identify vulnerabilities and recommend ways to fix problems once detected
Bug bounties for ethical hackers to test the security of a blockchain platform
Rapid response for cyber incidents
Penetration testing
Crypto due diligence and advisory services
Wallet tracing and visualization
---
Pros
Strong reputation and top-project experience
Backed by leading companies like Coinbase, Binance, and SoftBank
Advisory services to complement security audits
Cons
---
Why We Like It
CertiK uses a thorough process to evaluate code. Two separate code inspectors work independently to identify potential issues. These independent code audits are then sent to a third senior auditor who verifies the results. This three-tiered smart contract audit process helps ensure more secure code before your smart contract goes live.
---
2. Hacken: Best For Penetration Testing
---

---
Hacken is a blockchain security company founded in Ukraine in 2017. In just six years, the firm expanded to over 100 employees and more than 1,000 customers, including crypto exchanges, tokens, and decentralized apps. The company has audited 1,200 projects to date, including security work completed for some of the biggest names in crypto, like The Sandbox, Aptos, Binance, Aave, Yearn, and Polygon.
---
Audit Services
Smart contract audits to find vulnerabilities and improve functionality
Proof of Reserves audits and verification for crypto exchanges
Blockchain protocol audits to eliminate hacking risks
Decentralized app (dApp) audits to identify bugs
Penetration testing by security experts
Bug bounty program for crowdsourced penetration testing
---
Pros
Experienced security team of over 100 people
Massive portfolio of proven success
Broad range of security services
Cons
---
Why We Like It
Hacken provides clean easy-to-read audit reports posted to their website that detail issues found and issues addressed by the dev team. For end users, audit reports are key — and easy-to-understand audit reports are essential to user growth for dApps. Hacken also offers bug bounties, attracting talented minds from across the globe and crowdsourcing dApp security.
---
3. ConsenSys Diligence: Best For Ethereum-Based Projects
---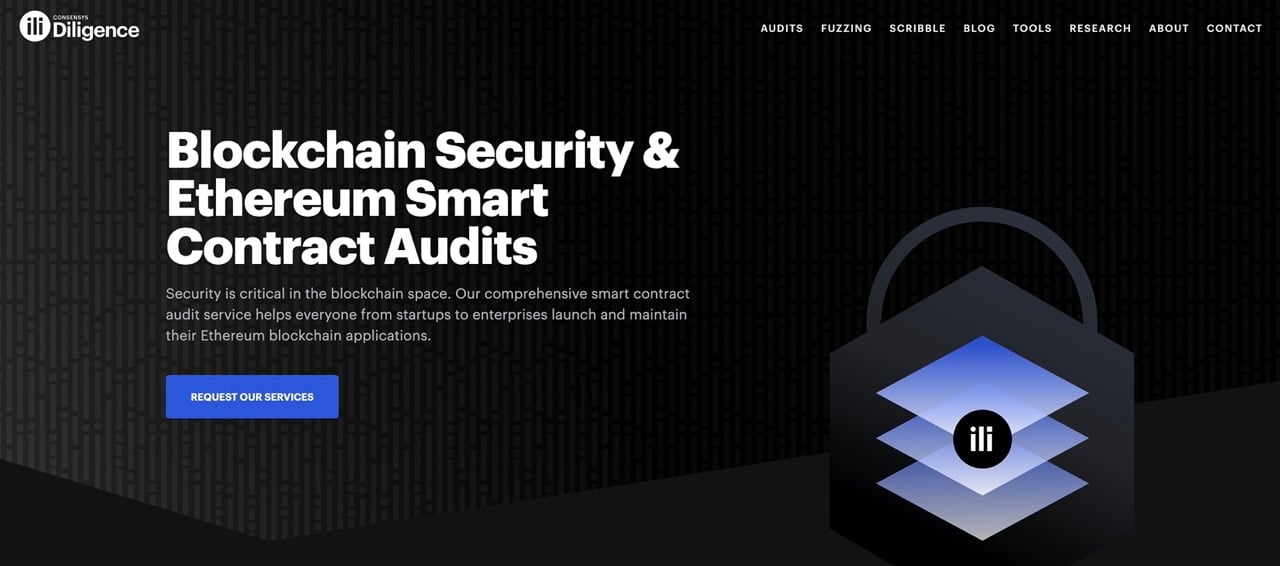 ---
ConsenSys, the team behind MetaMask, is also among the most accomplished blockchain smart contract audit companies. The company was founded in 2014 by Joseph Lubin, a major contributor to Ethereum at its inception. ConsenSys offers smart contract audits, along with other services for blockchain businesses, and boasts a growing portfolio of security work, including blue-chip DeFi projects like Aave, Rocketpool, 1inch, and Balancer.
---
Audit Services
Smart contract audits for Ethereum-based projects
Automated bug testing
A platform for developing and deploying smart contracts
---
Pros
Provides easy-to-use tools
Automatic scanning
Easy integration with third-party tools
Cons
Little support for non-Ethereum-based projects
---
Why We Like It
Automated checks and an intuitive API give Ethereum-based and Ethereum-EVM projects a cost-effective way to scan code for potential issues and access detailed analytics reports. Expert review by seasoned ConsenSys Diligence auditors provides an informed "second opinion" with actionable insights before your project goes live on the network.
---
4. OpenZeppelin: Best For Smart Contract Automation
---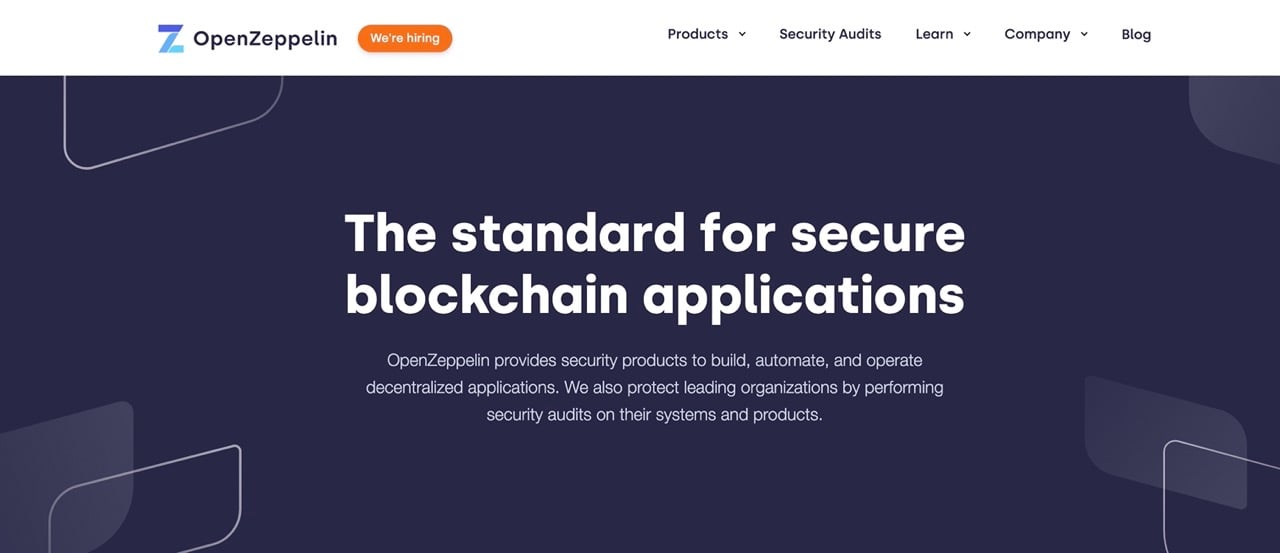 ---
OpenZeppelin provides security audits for decentralized projects. This smart contract audit company brings a transparent process and has built an extensive portfolio ranging from payment networks to governance systems. Name-drop clients include Optimism, The Ethereum Foundation, and Compound, among many others.
---
Audit Services
Full security audits. OpenZeppelin's engineers review your blockchain system's architecture and codebase and provide feedback and thorough reports
A platform to automate smart contract operations with solid security
---
Pros
OpenZeppelin also develops smart-contract code (open-source library)
Experience with leading projects like Compound V3
Thorough platform audits
Cons
Lacks complementary services such as bug bounties and incident response
---
Why We Like It
OpenZeppelin makes the audit process clear from the start, giving you a roadmap and a way to know what to expect at each step. Published audit reports are optional (but recommended) and only published after your audit is complete and your team has had time to make code changes.
---
5. Certora: Best For Smart Contract Verification
---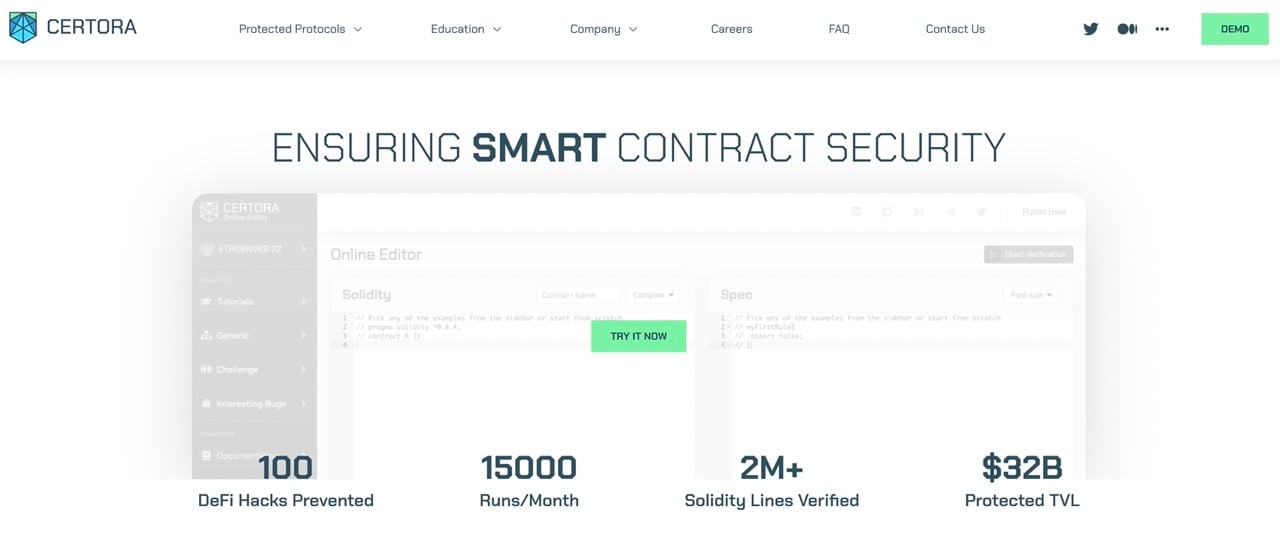 ---
Certora is an Israeli company specializing in smart contract security. Unlike others on this list, it offers a self-serve automated platform that focuses on formal verification, ensuring code meets specifications. Top-tier DeFi projects like Aave, Balancer, and Maker have used Certora's tools to safeguard against security flaws. To date, Certora has verified over 2 million lines of Solidity smart contract code, protecting more than $32 billion in total value locked (TVL).
---
Audit Services
Certora Prover: A software platform that compares smart contract code to a formal specification and accesses its properties. It then automatically locates bugs or mathematically proves their absence.
---
Pros
Automated, instant audits
Cost-effective process
Cons
Smart contract verification only; no complementary services
---
Why We Like It
Certora Prover is easy to use and deploy. You can get instant and automated bug reports instead of waiting on a lengthy manual audit. This approach helps speed development in an industry where time is of the essence and (secure) first-mover advantage can be make or break for DeFi projects.
---
6. Quantstamp: Best For 24/7 Monitoring
---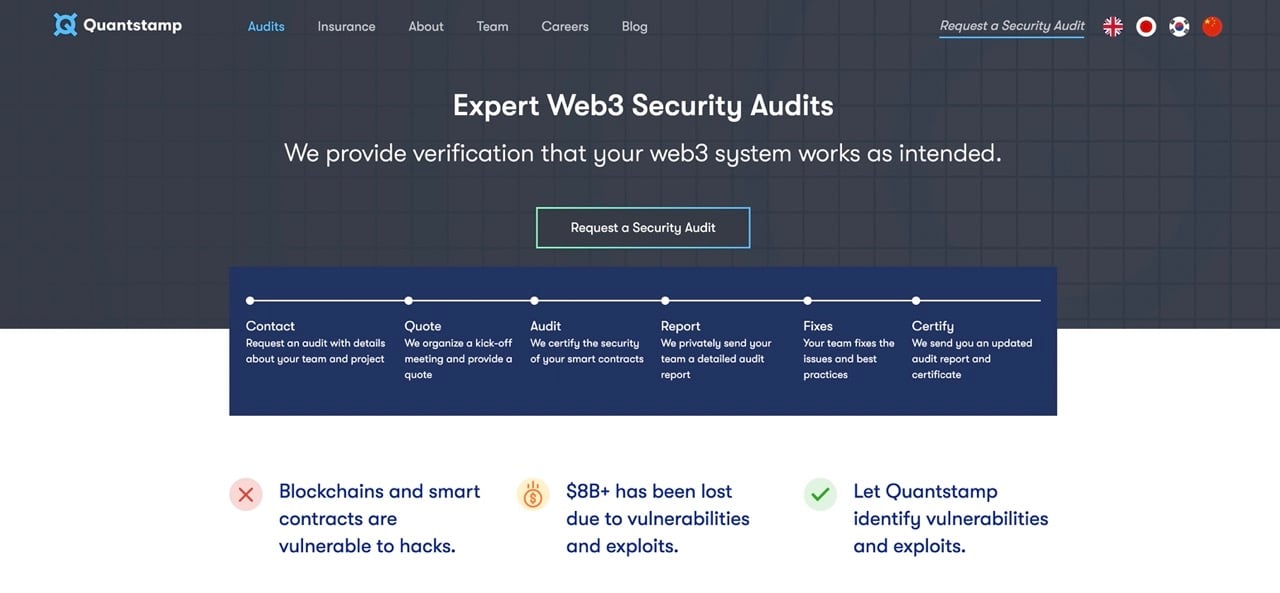 ---
Quantstamp is a well-established smart contract audit firm with clients across the globe. Though headquartered in the US, it maintains local subsidiaries in Canada, Japan, Germany, and China to serve clients in those regions. The company has worked with over 250 clients, including household names like Solana, OpenSea, Curve, and Compound.
---
Audit Services
Smart contract audits by security experts
Wallet tracing
Decentralized app (dApp) audits
---
Pros
Quanstamp has deep experience and expertise from working with global blockchain clients
Works with non-fungible tokens (NFTs) projects
Cons
Focused primarily on the Ethereum blockchain
---
Why We Like It
Quantstamp focuses on one thing and does it well: extensive smart contract audits. As its one added service, this smart contract audit company also offers regulated smart contract insurance (Chainproof), an industry first. Protect your project from exploits while also insuring against potential exploits that may not have been discovered.
---
7. ChainSecurity: Best For Crypto Exchanges
---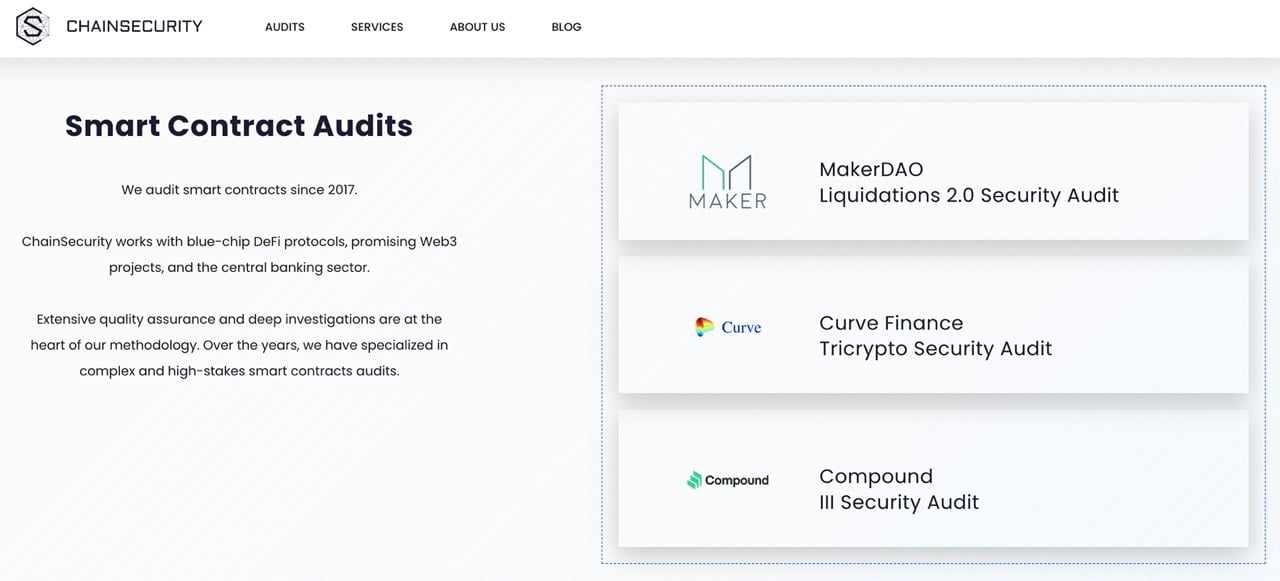 ---
ChainSecurity's team of Master's Graduates and PhDs make this smart contract audit company a top contender in blockchain security. Stunning credentials aside, ChainSecurity brings an impressive portfolio of leading projects, including Paxos, Curve, Yearn Finance, Rarible, and Uniswap. This Zurich-based team provides a 4-step process that ends with an audit report your users will respect and an opportunity for your team to fix issues before the final audit is verified.
---
Audit Services
Smart contract audit services and verification
---
Pros
Extensive experience with DeFi and high-value projects
Battle-tested results with complex contracts
Enterprise experience
Cons
Lacks complementary security services outside smart contract audits
---
Why We Like It
ChainSecurity is staffed by experts from academia and professionals who formerly worked at one of the "Big 4" audit firms. As the firm grows, all new training is done in-house to ensure continuity of methodology and accurate audits. We also like ChainSecurity's singular focus on smart contract audits.
---
8. PeckShield: Best For DEX Audits
---
---
PeckShield is one of the most respected smart contract audit firms, but the company also offers total solutions customized to your needs, including threat monitoring and more. If you follow crypto topics on Twitter, you've probably seen the name in one of their many callouts on live smart contract vulnerabilities that others missed. The team is headquartered in China and is known worldwide.
---
Audit Services
Smart contract audits
Threat detection
Asset movement monitoring
---
Pros
Bounty program to crowdsource security efforts
Extensive experience with DEX audits (ParaSwap, Sushi, dYdX)
Cons
Limited blockchain support (Ethereum and EVM supported)
---
Why We Like PeckShield
PeckShield earned its reputation as a trusted watchdog in the crypto space, alerting projects and users to potential security issues and giving devs time to act before calamity befalls vulnerable protocols. The smart contract audit firm is also ranked in the top three worldwide in the Ethereum Bug Bounty Program.
---
9. Trail Of Bits: Best For DeFi Lending Protocol Audits
---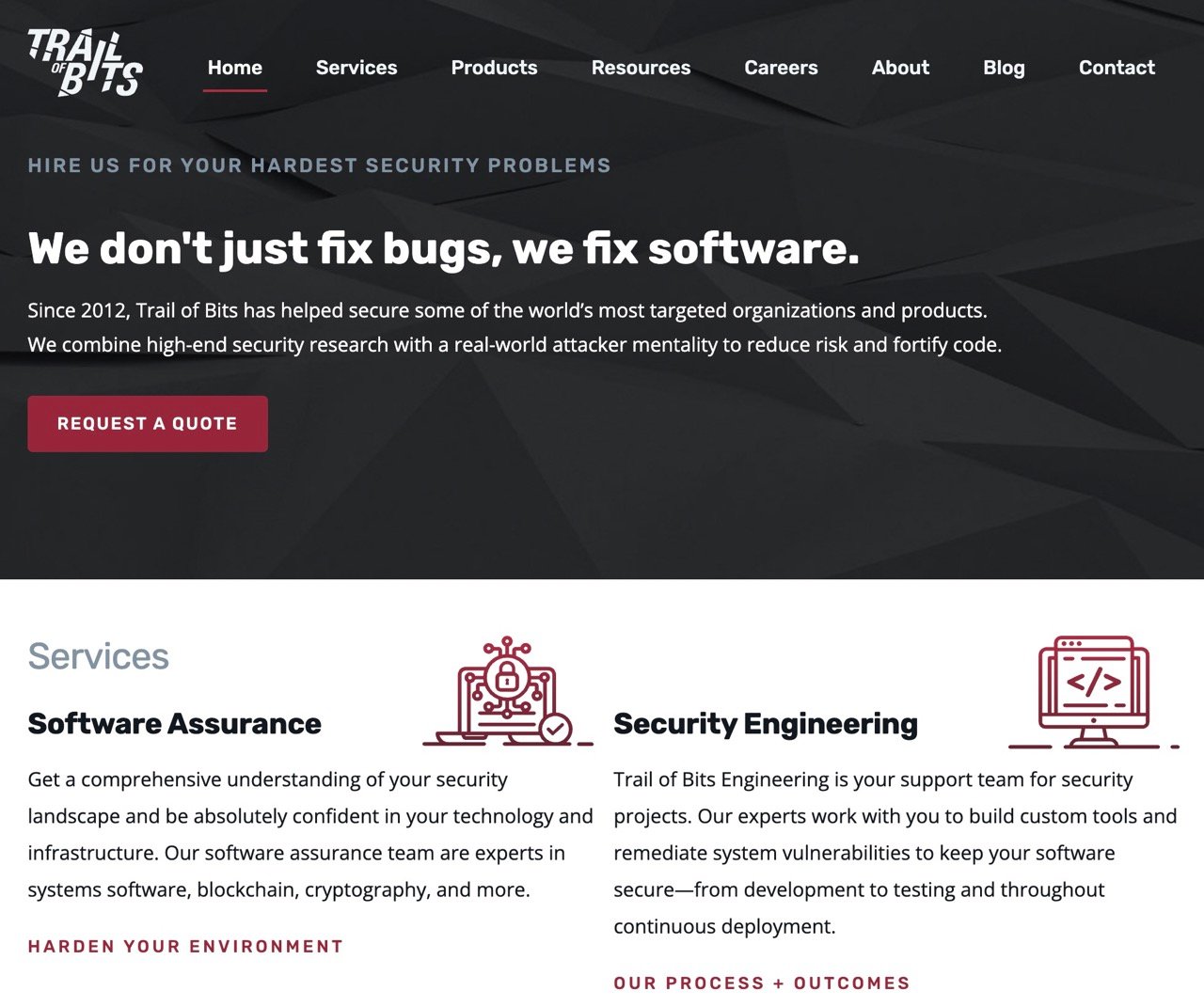 ---
If you're looking for a company that can do it all, from security engineering and software assurance to smart contract audits, consider Trail of Bits. Trusted by giants like Adobe, Microsoft, and Stripe, Trail of Bits has also worked with some of the biggest projects in crypto, such as Curve, Ethereum 2.0, MakerDAO, Chainlink, Compound, Matic, Uniswap, and Algorand.
---
Audit Services
Suite of open-source tools for security scanning
Smart contract audits
Security engineering
---
Pros
Full suite of security services
Decades of experience in software security
Cons
Primarily Ethereum and EVM focused
---
Why We Like Trail Of Bits
We were impressed with the portfolio of Trail of Bits, which includes some of the biggest DeFi lending projects in the crypto space. The company also offers a full suite of security services, making it useful for larger projects that may need support in multiple areas, including threat modeling and software hardening.
---
10. Trail Of Bits: Best For DeFi Lending Protocol Audits
---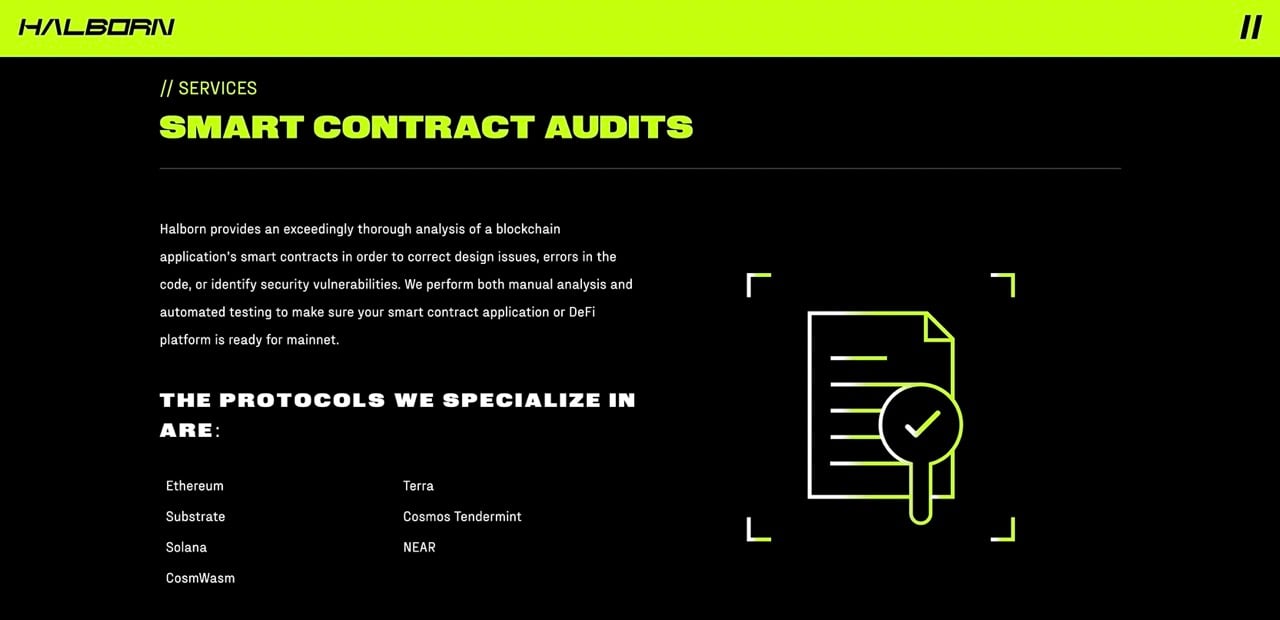 ---
Founded in 2019, Halborn has assembled a worldwide team of security and smart contract experts trusted by some of the biggest names in the crypto industry. The team boasts quick turnaround times of 2 to 4 weeks while performing in-depth audits ranging from code review as well as static and dynamic analysis to financial testing. Halborn's portfolio includes Solana, Polygon, Sushi, Phantom, and more.
---
Audit Services
Advanced penetration testing
Smart contract audits
Security advisory
---
Pros
Thorough audits with quick turnaround time
Experience with several protocols and programming languages
Security advisory services
Cons
Unknown experience with Cardano/Plutus
---
Why We Like Halborn
In just a few short years, Halborn has worked with some of the biggest projects in the crypto industry and discovered multiple vulnerabilities that affect other projects, including the "demonic vulnerability," which affected several popular crypto wallets. The security firm also acts as an educator, authoring the SANS SEC 554 Blockchain and Smart Contract Security Course and co-authoring a second course.
---
What Is A Smart Contract Audit?
A smart contract audit is an extensive evaluation of the code that powers dApps, how the contracts function, and how they interact with the blockchain or other smart contracts. Smart contract audits involve testing for potential vulnerabilities, unintended "features" (bugs), and access control (who has the keys and controls the funds).
Before launch, crypto projects and protocols usually enlist one or more companies to dig into the code and create a detailed report. Typically, you can find a link to audits on the project website, GitHub, or in the project's documentation.
In most cases, once a smart contract is deployed, it can't be changed. Not easily, anyway. It's better to get it right the first time — and it's always better to have a third party who has no investment in the project be the one that checks the code in question.
It's like checking the house (twice) before you leave for vacation to be sure you fed the fish, locked the doors, and didn't leave any kids behind. Except that someone else – who isn't stressed about catching the flight – does the double-checking.
What Is A Smart Contract Audit Company?
Smart contract audit companies are firms that specialize in smart-contract security. They test smart contracts and evaluate every function to find potential vulnerabilities or unintended behavior.
Why are smart contract audit services needed? Here's an example of what can happen without an audit.
In 2022, the stablecoin CASH fell to an exploit in which a user took $52 million. Reportedly, the code had not been audited prior to the exploit.
Many times, crypto losses reported as hacks are better described as exploits, meaning that someone figured out a loophole. Basically, if you press this button or pull this lever or sing Yankee Doodle Dandy — money pops out of the flawed contract. The code let it happen, but a smart contract audit company could have saved the day by finding the potential exploit before the contract went live.
Crypto audit companies also provide smart contract audit consulting, which can help identify areas of focus and the scope of a smart contract audit.
What Happens During A Smart Contract Audit?
Crypto smart contract audits are typically broad in scope and require several steps.
Identify the objectives (and scope) of the audit: Crypto auditing companies need to know what you want to accomplish with the audit. Do you need to test the smart contract under certain conditions? For example, a decentralized exchange or perpetual swaps contract might require special attention to risks for users, such as frontrunning (where bots steal profitable trades from users).
Collect functional requirements: Generally, this is the project's documentation, the how-to manual that explains how the protocol is supposed to work. Auditors will later compare this to how the code actually works, noting any differences in the report.
Collect technical documentation: Auditors often request any internal documents regarding the code. These aren't necessarily user-friendly directions but instead might document the intended function or how the contract is intended to interact with blockchains, tokens, and other contracts. Think design specs.
Plan the audit: Once the auditors have the code, the docs, and the scope of the audit in hand, then the planning phase begins. This step ensures that nothing is missed and the testing that happens next answers the audit's full scope.
Testing, testing, more testing: Crypto auditing companies run the code manually in a sandboxed environment or on a network testnet. Automated testing is often run as well, simulating actions of users and contract interactions. Crypto audit companies look for vulnerabilities but typically also document unexpected behaviors or complex code that aren't necessarily security issues.
Reporting: After testing is complete, the crypto audit company provides a detailed report specifying the number of issues found, their type, and any risks or performance problems. Reports typically go well beyond bugs and vulnerabilities. The Uniswap V3 audit evaluated a range of areas.

General code assessment: This step evaluated structure and syntax.
Entity usage analysis: Auditors looked at Internal calls to other functions and external calls.
Access control analysis: Auditors checked who has access to what, as well as which assets the system should protect
Code logic: Did the code run like a well-oiled machine in testing? If not, why — and were any external libraries the code used up to date?
After the report is complete, project developers usually have a chance to fix errors and have a second evaluation of the code. Fixed errors are marked as "fixed" in the final report.
Benefits Of Using An Auditor
Error checking: The obvious benefit for crypto projects is that auditors will catch mistakes the dev team misses. It's not that one coder is better than another. It's another set of eyes on the code — another team with no emotional or financial investment in the project.
Security: Many crypto protocols involve tokens or transfers of value, like NFTs. It's essential that the code functions as intended and doesn't put user (or treasury) assets at risk.
Efficiency: On the Ethereum network and Layer 2 networks, gas fees pay for network usage. Needlessly complex code leads to higher transaction costs for users. Costly protocols can lose users to more efficient protocols.
Reputation: Seasoned crypto veterans won't even link a wallet without reading the docs and looking for an audit report first. And if they don't find one, other users will hear about it through social media, including Telegram, Twitter, and Discord. If your project wants to reach savvy users and have them become ambassadors rather than detractors, an audit from a reputable company is in order.
Risks Of Using An Auditor
The audit might miss something. Most protocol hacks are really exploits. The code wasn't changed by a hacker. The code just allowed something unexpected to happen. Testing for every possible situation is impossible. Smart contract audits and targeted dApp audits are important tools, but they can't guarantee the security of the smart contracts used by a protocol.
Audits can cause delays in launch. A crypto audit might take days or weeks. In other cases, you might be waiting months. And if the audit finds flaws (likely), those have to be addressed before retesting and a final audit report. Be sure your project has enough runway to cover delays before you can go live and begin generating revenue.
Audits cost a lot of money. While the investment in a crypto audit limits risk, the cost in time and money can be considerable. For a simpler token audit, the cost may be $5,000 to $10,000, with a short delay of a few days. More complex contracts, like those found in DeFi, can cost much more — sometimes up to $70,000, with a months-long waiting period.
How Much Does A Smart Contract Audit Cost?
Smart contract audit costs vary by complexity. It's like when you take your car in for service. Tire rotations are cheap. Diagnosing a performance problem for a 12-cylinder Lamborghini Aventador is expensive. And you probably wouldn't take your Lambo to a shop that works on Fords and Hondas. Ditto for smart contract audits.
Find the experts in your niche.
Token contracts are among the most affordable types of contract audits, often ranging from $5,000 to $15,000. More complex contracts, like those found in DeFi, can cost much more. You can spend $30,000 to $70,000 to audit a smart contract that performs several functions or interacts with other protocols.
Price also varies by the smart contract auditing firm you choose. However, it's likely worth the extra investment to work with a smart contract audit company that's experienced with similar projects.
Lastly, the scope of the audit plays a role in cost. How much testing is enough? That's something you'll have to decide as you discuss your needs with your crypto audit company. This is one of those areas where cost savings can cost much more in the long run.
Who Needs A Smart Contract Auditor?
Companies that transact in cryptocurrencies: If your company buys, sells, trades, or trades crypto — or if your company accepts crypto payments, it makes sense to have the top smart contract auditors review your procedures, apps, and wallets you use.
Exchanges: Both decentralized and centralized exchanges benefit from a crypto audit to ensure funds are safe. Audit scope can range from code testing to processes used to move or secure funds.
Wallet providers: In a recent security incident, the Edge multi-currency wallet exposed the private keys of over 2,000 users. Ouch. A crypto audit from an experienced team can uncover potential vulnerabilities before you launch your product.
Companies that build blockchain protocols: A blockchain protocol is a set of rules for confirming transactions on the blockchain. Having an auditor evaluate the code can prevent future problems by revealing bugs, inefficient code, or potential exploits.
Companies that develop decentralized apps: DeFi apps are becoming increasingly complex. That means more room for error and opportunities for exploits. A dApp audit puts the smart contract code through rigorous testing and provides a detailed report on efficiency and vulnerabilities.
Crypto custodian firms: The companies we trust to secure larger amounts of crypto become targets for hackers and exploits. A crypto auditing company can go through the processes and code to look for weaknesses that should be addressed.
Tips For Choosing Smart Contract Audit Companies
Consider cost: Price matters, but this is one area where cutting costs can be more expensive in the end. Consider additional fundraising if needed rather than choosing the cheapest Blockchain security audit company you can find. Compare the cost to the value they're providing. As Uncle Warren (Buffett) once said, "Price is what you pay; value is what you get."
Weigh features: This is where the value part comes in. What types of audits do they offer? Do they have what you need? Are there complementary services such as smart contract audit consulting and efficiency tuning? Lastly, are you paying for services you don't need?
Consider past experience: The clients an auditor has worked with in the past signal their reputation for quality work. If the auditor has worked with reputable crypto companies, that's a good sign. But you also want a company that's experienced in your particular area. In short, check their resume. The best blockchain audit company for your specific needs may not be the biggest player in the space. Specialization matters in many cases.
Certifications: One common certification, Certified Cryptocurrency Auditor (CCA) — awarded by the Blockchain Council, indicates that the auditor has completed training specifically for crypto audits and processes to do complete audits. Some certified auditors focus on the path of transactions, giving a forensic view of money flow, while others examine the code itself. Experience and track record are likely more important, but the best smart contract auditors often have specialized certifications to show they have the right training for the job.
To Sum It Up
It's essential for crypto projects to hire independent smart contract auditing firms to review their codebase and architecture. The audit process helps ensure apps and protocols are free from bugs and vulnerabilities — but can also find areas where efficiency can be improved. Experience also matters. Look for smart contract audit companies that have experience with apps similar to yours and a proven track record overall.
Frequently Asked Questions
There are many experienced crypto auditing companies out there. We did the research and identified the best ones that you can choose from. They include the likes of CertiK, Hacken, Chainsulting, and others you can spot on this list.
Smart contract auditors focus on the underlying smart contract of a blockchain project while blockchain security auditors focus on both that and some external aspects such as user interface, code optimization, social engineering, and anti-phishing.
OpenZeppelin, Hacken, and Consensys Diligence are some of the best DeFi auditors you can choose.
CertiK does not just offer smart contract auditing but instead a broad range of security services for blockchain companies. We can't call it the absolute best but it's one of the best out there for sure.