Best Crypto Jobs
Check out our curated list of the top crypto jobs in Web3.
Published: June 5, 2023
|
Last Updated:

November 29, 2023
The blockchain field is growing at a breakneck speed, and job opportunities are available for people of all talents. Despite recent crashes in crypto prices and layoffs, more projects are building in the space than ever before and many are still hiring. The industry is poised to grow significantly over the next decade and emerging fields such as DeFi, NFTs, DAOs, and more are pushing the boundaries of blockchain tech.
As with other tech jobs, crypto salaries vary widely depending on the particular skills you have — programmers, lawyers, and traders are compensated the best, while roles like customer success, marketing, and product design are considered more entry level. While much of the work in blockchain is still technical, there is a growing number of non-technical roles emerging which are great for beginners and experienced professionals in non-technical fields.
Crypto Job Boards
While traditional job search websites like Indeed have the largest selection of jobs, the best way to find out about the latest blockchain positions is to browse crypto-dedicated job boards. Several big job boards provide the most up-to-date look at the crypto job market, and many of them even have daily or weekly job alerts that will notify you whenever new jobs are posted.
Crypto Job Boards For Hiring: If you are looking to hire crypto professionals, posting a job opening on a crypto job board is a great way to get in front of potential candidates. Each of the three job boards outlined below charges a fee to post a job. These boards also provide different tiers of job posts, and the more you pay, the more visibility and promotion your job post receives.
| | Open Positions Listed | Companies Available | Talent Portal Available | Newsletter Available | Standout Feature | Base Fee to Post a Job |
| --- | --- | --- | --- | --- | --- | --- |
| Cryptocurrencyjobs.co | 500+ | 1000+ | Yes | Yes | Best selection of jobs | $299 |
| Cryptojobslist.com | 200+ | 2000+ | Yes | Yes | Best selection of companies | $69 |
| Pompcryptojobs.com | 250+ | 48 | No | No | Best recruiting options available | $300/month |
1. Cryptocurrencyjobs.co
---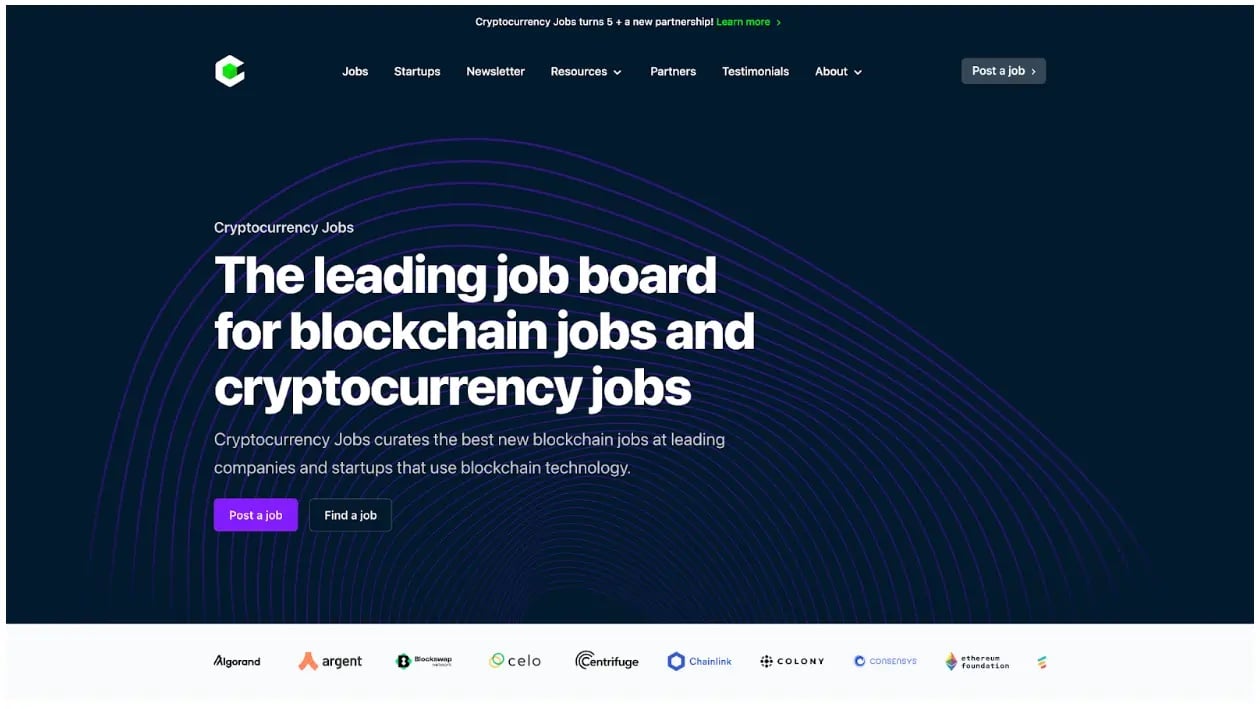 ---
As one of the biggest crypto job boards, cryptocurrencyjobs.co has a large selection of the latest job openings in crypto. To get started finding a job at cryptocurrencyjobs.co, simply enter the keyword of the job you are looking for, along with your location, and you'll be treated to a list of open positions.
The website partners with big names in the crypto space such as Aave and Gitcoin to bring you the latest job openings. You can subscribe to their weekly newsletter, which will deliver new job postings directly to your inbox. Cryptocurrencyjobs.co also provides a "Web3 Talent Collective" program which allows you to create a profile, add your relevant work experience, and get noticed by recruiters and partners from the site's network who may reach out to you based on your experience.
Job Board Link: https://cryptocurrencyjobs.co/
---
Cryptocurrencyjobs.co For Hiring: Posting a job on cryptocurrencyjobs.co costs a flat $299. This includes a job post live for 30 days, top placement on the front page, a newsletter feature, and top placements in search results. You can also buy additional job promotion for $149. The website also offers package deals where you can save by buying multiple job posts at once.
2. Cryptojobslist.com
---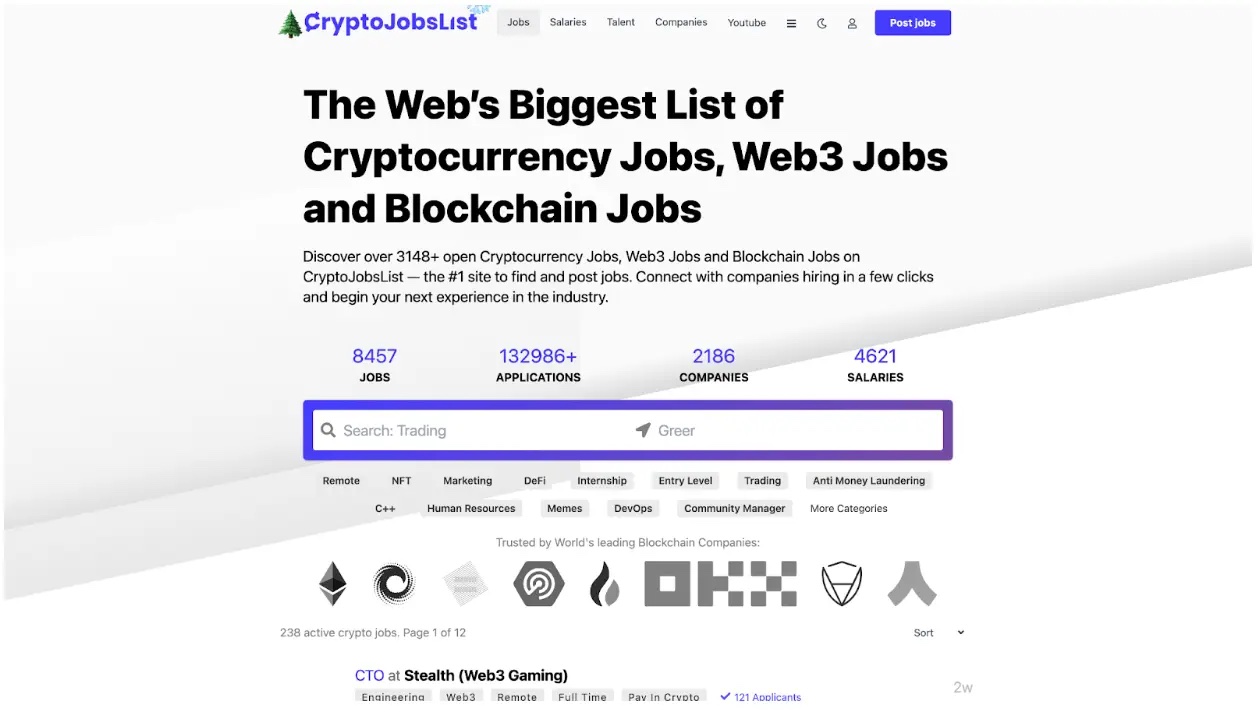 ---
Cryptojobslist.com touts itself as "the #1 site to find and post [crypto] jobs" and its wide selection of roles and companies lives up to that title. As with other job-hunting sites, the main interface consists of a keyword search box and a location input field. You can also sort job openings by clicking on the listed categories such as "Marketing", "Trading", and "DevOps".
The job board has a "Companies" tab that lets you browse through various cryptocurrency companies and see what positions they are currently hiring for. Cryptojobslist.com also has a "Talent" feature where you can create a profile, upload your resume, and be included in a list of available candidates for hire.
Job Board Link: https://cryptojobslist.com/
---
Cryptojobslist.com For Hiring: Hiring through cryptojobslist.com is straightforward. To get started, you have to fill out the job details form on their website. You will then be asked to select a budget for your job post. Unlike other job boards, which charge a fixed posting fee, cryptojobslist.com allows you to select how much you would like to pay for your job posting. The minimum cost is $69 and the more you pay, the higher up in search results your job posting will be, and the more promotion it will receive.
3. Pompcryptojobs.com
---
---
Pompcryptojobs.com was founded by Anthony "Pomp" Pompliano, one of the biggest personalities in the crypto space. The job board uses keywords and locations to sort through hundreds of available positions. While the site does not have as large of a database as some other job boards, it's still worth keeping an eye on or signing up for their newsletter. The website includes a list of companies looking for talent that you can browse through, in addition to searching for jobs by keyword.
Pompcryptojobs.com has partnered with Proof of Talent, a web3 recruiting agency, to provide recruiting services to job seekers and hiring managers. Recruiting services are often a great way to get your foot in the door for your first job in a new field.
Job Board Link: https://pompcryptojobs.com/
---
Pompcryptojobs.com For Hiring: The website has an "employers" section where companies looking for talent can purchase a job posting. Packages start at $300 per month for one job post per month, and go up to $2,500 per month for unlimited job posts. Employers can also boost a job for $200 per month, or become a "featured company", which highlights their company at the top of the job board, for $1,000 per month.
How To Get A Crypto Job
You can find a crypto job by browsing traditional job-hunting websites such as Indeed.com, applying directly through the websites of companies that are hiring, or by using a job board.
Job boards are a common way to learn about open positions, particularly in the crypto industry, and often showcase the newest open positions. You can use traditional job search methods to find cryptocurrency jobs as well. Websites like Indeed.com and ZipRecruiter.com allow you to search for positions using keywords. To find crypto or blockchain-related roles, include those terms in your search. Keep in mind that many of these jobs are remote, so you can look for opportunities with companies located anywhere in the world
Top Crypto Companies To Work For
Sometimes you don't want just any crypto job — you want a crypto job at a specific company. Thankfully, there are many high-level crypto companies that are hiring, even during the crypto winter.
1. Binance
The largest crypto exchange in the world by trading volume is hiring for hundreds of roles, including developers, marketers, and customer representatives. Check out the Binance careers page to find a role that fits you.
2. The Sandbox
The Sandbox is one of the most popular Metaverse games. You can be a part of pushing the future of the Metaverse and NFTs forward by joining their team. The Sandbox is a perfect place for artsy & creative types and they are hiring for close to 100 roles.
3. Gemini
This US-based exchange provides a work environment that's a blend of Wall Street finance and hip tech startup. The company is hiring for several dozen roles that you can check out on their website.
4. Protocol Labs
Protocol Labs is billed as the open-source research & development lab of the internet. Their crypto contributions include Filecoin and IPFS — two of the most popular storage solutions for decentralized files. They are directly hiring for dozens of roles and also provide a job board for companies within the Protocol Labs Network.
Top DeFi Companies
1. Chainlink
Chainlink is one of the most successful and popular DeFi projects. They build blockchain oracles — which are programs that provide off-chain data to on-chain apps. Chainlink is currently hiring for a range of technical and non-technical roles.
2. Uniswap
When it comes to decentralized exchanges, Uniswap is on top. The protocol facilitates billions of dollars of transactions each day; they're so big, in fact, that they're one of the biggest contributors to ETH gas fees for the Ethereum protocol. Uniswap is hiring for multiple positions.
3. dYdX
dYdX is a forward-thinking decentralized exchange that has pioneered a number of novel trading concepts such as off-chain orderbook trading, and they've even created their own blockchain dedicated to their exchange. Join the dYdX team by applying to one of their open roles.
4. De.Fi
De.Fi is a wallet management and analytics tool that helps users keep track of their positions, investments, and overall portfolio performance. They integrate with most major chains and have over 600,000 users. Join the De.Fi team here.
Top NFT Companies
1. OpenSea
As the most popular NFT exchange, OpenSea is the undisputed leader of the field. Glassdoor ratings indicate that the company is a great place to work at, and they are backed by the most recognizable names in venture capital. Browse their open job listings on their website.
2. Sorare
Sorare is a collection of soccer digital trading cards that is one of the most successful NFT projects to date. The platform has sold over $250 million worth of cards and is backed by a slew of big-name investors. Sorare is hiring for a few dozen positions through their website.
3. Sky Mavis
Sky Mavis is the company behind the most popular NFT video game: Axie Infinity. The team has built out innovative web3 technologies including their own blockchain and wallet to power their games, and they're already working on future titles. Join Sky Mavis here.
4. Azuki
The Azuki collection of NFTs is an iconic profile-picture (pfp) style NFT series. Their digital collectibles feature a manga/skater aesthetic and regularly fetch tens of thousands of dollars per NFT. Azuki is currently hiring.
Small Crypto Startups
1. Utopia Labs
The proliferation of Decentralized Autonomous Organizations (DAOs) has been a major part of the blockchain movement over the last few years. Utopia Labs is a DAO tooling startup that provides payroll and expense management software to DAOs. They're also currently hiring.
2. Neon Labs
The blockchain space has fragmented into various chains, which has opened up a market opportunity for startups to bridge blockchains and connect services. Neon Labs is doing just that by bridging Solana applications with an Ethereum virtual machine. They're hiring for several roles through their website.
3. Manta Network
Ethereum and Bitcoin may be the biggest blockchain protocols, but many of the fastest growing startups are building infrastructure for newer chains. Manta Network is building privacy tech for apps running on the Polkadot and Kusama ecosystems. They are growing their team and open positions can be found on their website.
4. Parity Technologies
Parity is the new startup of legendary crypto founder Gavin Wood. Wood is the co-founder of Ethereum and also the creator of Polkadot. Parity technologies is hiring for dozens of roles as they work to build a shared protocol that enables blockchains to operate together at scale.
A crypto job board is a resource that showcases open positions in the crypto and blockchain field. Due to the fact that many crypto companies are nascent startups, crypto job boards help to increase the visibility of job openings from a variety of companies.
Blockchain jobs offer an opportunity to use your knowledge of the technology and learn more about the industry while gaining experience and earning a salary. While much of the work in blockchains is still technical, there is a growing number of non-technical roles emerging which are great for beginners and experienced professionals in non-technical fields.
Blockchain Developer
Front-End and Back-End Developer
Product Designer
Product Manager
Analyst
Crypto Trader
Legal Counsel
Business Development and Sales
Community Manager
Social Media Marketer
Content Writer
Customer Success Representative
Blockchain Salaries
Like with all fields, the jobs you get in crypto will vary in salary range depending on what skills the job requires. Additionally, the salary range strongly depends on how much experience you have in your role. Below is a summary of these factors that can help you get an idea of the expected compensation for each role.
| Title | Recommended Experience | Salary Range |
| --- | --- | --- |
| Developer | 2+ years | $70k – $200k |
| Product Manager | 2+ years | $90k – $150k |
| Analyst | 1+ years | $70k – $120k |
| Trader | 1+ years | $50k – $500k+ |
| Legal | 3+ years | $90k – $300k |
| Business Development | 1+ years | $90k – $150k |
| Community Manager | 1+ years | $80k – $120k |
| Customer Success Rep | 1+ years | $55k – $100k |
Frequently Asked Questions
A crypto job is a paid position at a crypto or blockchain company.
As the world of crypto grows, so do the job opportunities. Many of these opportunities are high-paying compared to traditional fields, so it may be worth learning about crypto and looking into crypto jobs.
Yes, compared to their non-crypto counterparts, traditional roles like developer, marketer, or salesperson in crypto pay better.
Salaries range from about $50,000 for junior customer representatives to $500,000 for the top traders, legal counsel, and developers.
Getting hired as a full-time trader at a hedge fund, bank, or other financial institution is the holy grail for many crypto enthusiasts. Most of these roles require a strong financial background and at least a bachelor's degree. If you are looking to transition to finance from a related field such as accounting, the tried and true ways to break in involve earning certifications, getting a finance degree on the side, and attending industry networking events.
As with any other job, finding a role in crypto may take some time. The best way to maximize your chances is to keep your resume updated, submit your information to as many job boards and recruiters as you can, and use your social media profiles (such as LinkedIn and Twitter) to indicate that you are looking for work.
Yes, there are a variety of crypto roles that require little to no experience.
These roles include customer success representative, crypto analyst, and some marketing positions, among others. Keep in mind that these jobs will pay entry-level salaries, however they're a good way to get your foot in the door for larger roles in the future.
Fortunately, most crypto jobs are remote by default.
Unless a crypto job specifies that you have to be present at an office somewhere, it can usually be done remotely. Browsing crypto job boards is a great way to find crypto jobs, most of which will be remote.
Yes, there are many part-time crypto jobs.
The most common part-time roles are in marketing, product, and sales. These roles are often independent contractor positions, which means they're freelancer-friendly. Most job boards will have a search filter that you can use to view just part-time jobs.
Yes, the majority of crypto customer service jobs will be remote.
Most crypto companies use "customer success" or similar jargon to refer to what are traditionally known as "customer service" jobs. These are a great entry-level option for those with little experience or a limited education background.
There are lots of entry-level crypto jobs. Roles like customer success, account management, and some marketing positions are often open to candidates with little to no experience.
If you're not bringing a wealth of experience to the table, focus on your resume, cover letter, and first impressions during your interview as those factors will determine your success in getting the role.
Yes, almost every crypto company offers at least a few remote roles.
Crypto companies bring people together from all over the world to work on a single vision, and crypto is one of the most remote-friendly fields to work in. Job websites and job boards will usually allow you to filter your search for remote-only jobs.