Top 10 Crypto Browser Extensions – 2023
A list of crypto browser extensions for wallets & security, + the top choices for Bitcoin & Ethereum.
Published: June 15, 2023
|
Last Updated:

June 28, 2023
Crypto browser extensions can save you time and effort while making the crypto world just a bit more secure. You can use these extensions to access crypto wallets safely, track market movements in real-time, and more. There are lots to choose from, but we have done all the heavy lifting for you, so check our list of the best crypto browser extensions for Chrome, Firefox, and more.
Let's get started!
Top Crypto Browser Extensions
| Extension | Type | Users | Available On |
| --- | --- | --- | --- |
| MetaMask | Wallet | 10,000,000+ | Chrome, Firefox, Brave, Edge, Opera |
| Coinbase | Wallet | 1,000,000+ | Chrome |
| Exodus | Wallet | 60,000+ | Chrome, Brave |
| Crypto.com | Wallet | 80,000+ | Chrome |
| Ledger | Wallet | 10,000+ | Safari |
| Nami | Wallet | 200,000+ | Chrome, Brave, Edge |
| JoinFire | Security | 20,000+ | Chrome |
| Nifty Scanner | Security | 790 | Chrome, Firefox, Opera, Brave |
| MinerBlock | Security | 100,000+ | Chrome |
| CryptoTracker | Market Data | 2,000+ | Chrome, Firefox |
Crypto Wallet Browser Extensions
Crypto wallet browser extensions are a convenient way of accessing crypto wallets on a browser. With a single click on the top right corner of your screen, you can access your crypto assets or even connect to other Web3 portals like OpenSea.
We've compiled a collection of top crypto wallet browser extensions to help you securely store and manage your digital assets.
1. MetaMask Wallet Extension: Best for Ethereum-Based Tokens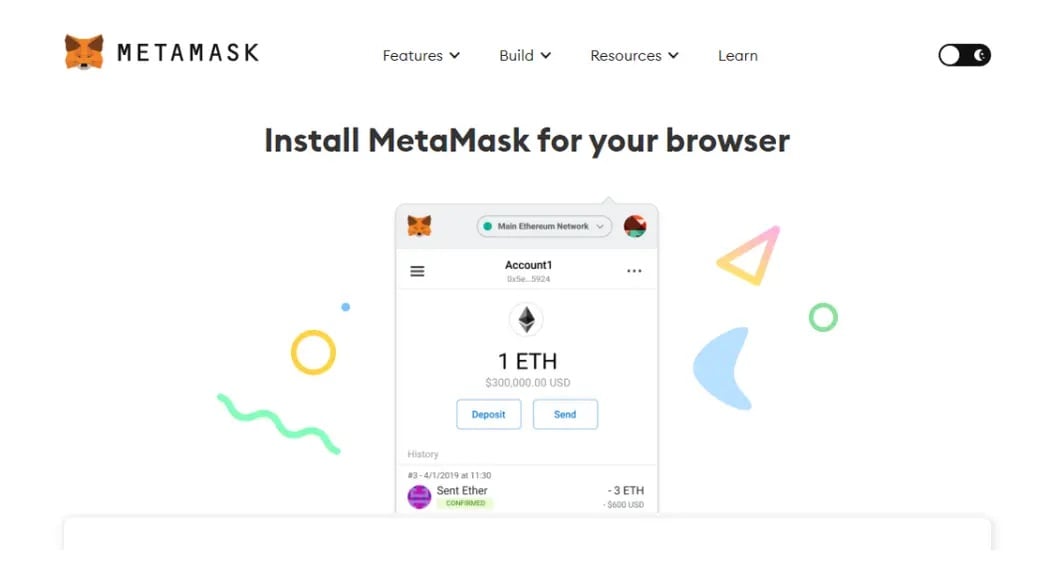 ---
Users: 10,000,000+
Available On: Chrome, Firefox, Brave, Edge, and Opera
---
If you're looking for an Ethereum crypto extension you can use without leaving your tokens in the custody of a centralized exchange, try the MetaMask Wallet extension.
While MetaMask does not support Bitcoin, you can use it with a wide range of Ethereum-based tokens, including Tether (USDT) and Ethereum (ETH). It also offers an opportunity to earn rewards on staking.
MetaMask stands out because it warns you when you visit sites popular for engaging in phishing or whose names closely resemble well-known phishing targets.
---
2. Coinbase Wallet Extension: Best for Users New to Non-custodial Wallets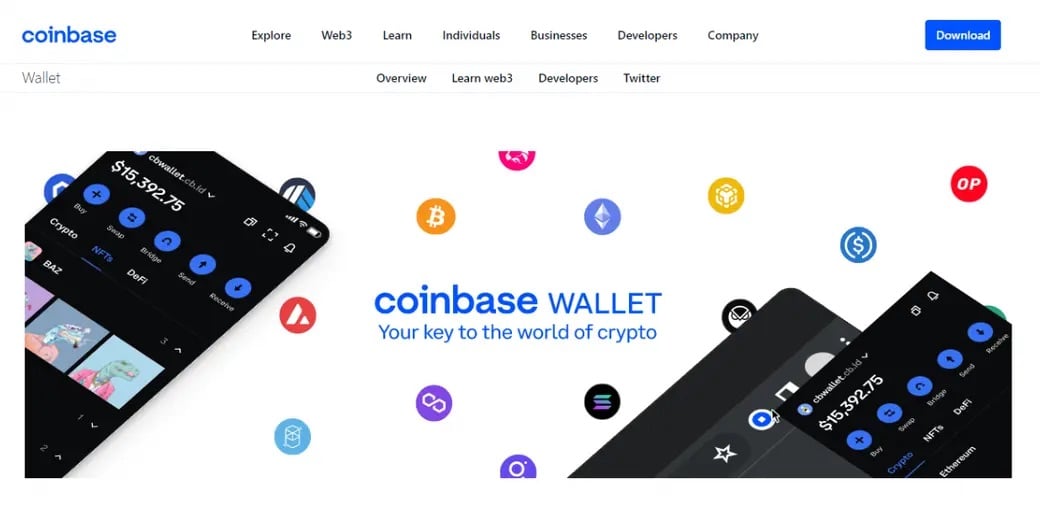 ---
Users: 1,000,000+
Available On: Chrome
---
Coinbase, the largest crypto exchange in the U.S., operates a separate product – the Coinbase Wallet – to let you have total control of your crypto assets.
The wallet integrates easily with the Coinbase exchange, allowing you to connect your exchange accounts to the wallet and send or receive 100,000+ cryptocurrencies. This is a great crypto browsing extension for Bitcoin, Ethereum, and Polygon.
---
3. Exodus Wallet Extension: Best for Beginners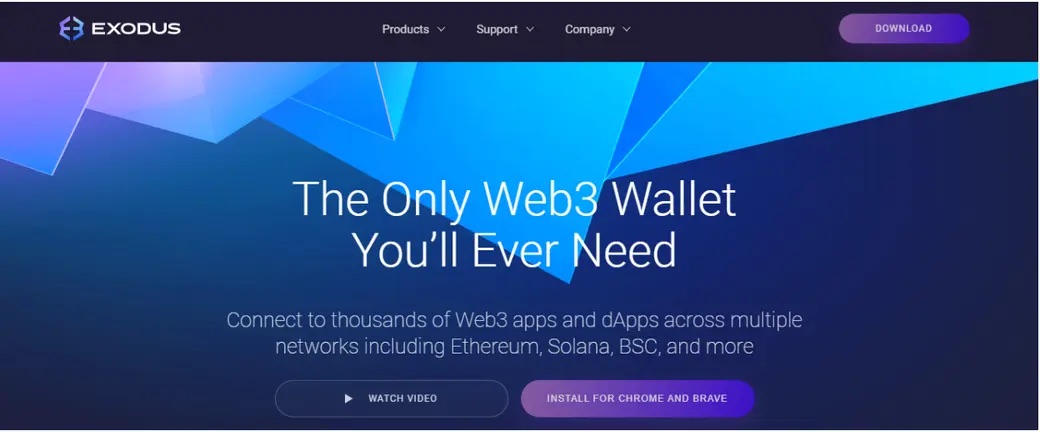 ---
Users: 60,000+
Available On: Chrome and Brave
---
Alright, this one only supports 291 cryptocurrencies, but it's a game-changer, especially for beginners. With user-friendly features and cross-platform support, Exodus is an excellent wallet if you're just starting your crypto journey.
Users can access decentralized applications (dApps) and non-fungible tokens (NFTs) through the extension. Exodus Wallet supports blockchains like Ethereum, Algorand, Solana, and more.
---
4. Crypto.com Wallet Extension: Best for Storing DeFi Crypto Assets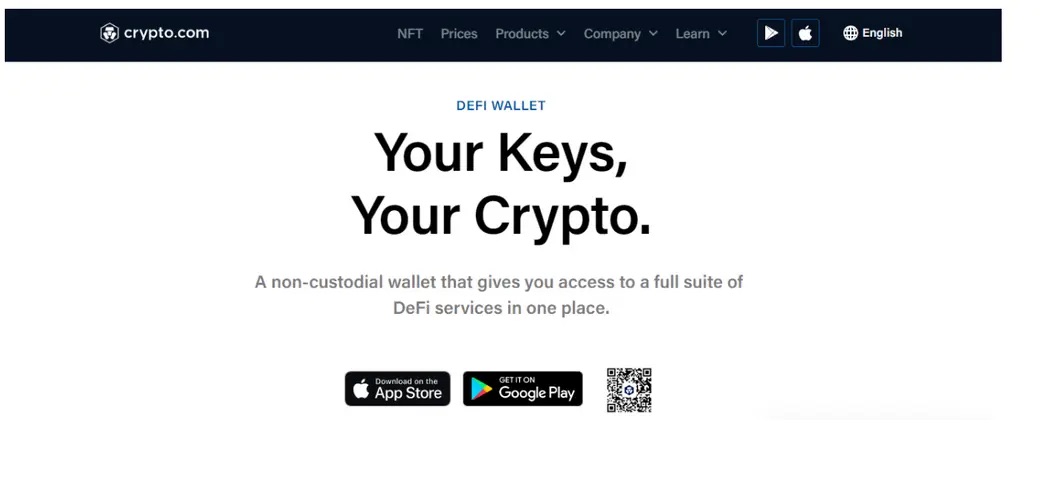 ---
Users: 80,000+
Available On: Chrome
---
Like Coinbase, Crypto.com is another crypto exchange with its own wallet. The Crypto.com wallet is popular for storing decentralized finance (DeFi) assets. While using this extension, you can park all your crypto under one roof.
Have you heard of people losing their digital assets after hacks and wondered if the same can happen to you? That's the world we live in. Its security features include password encryption, two-factor authentication (2FA), and biometric authentication.
---
5. Ledger Wallet Extension: Best for Uncompromising Security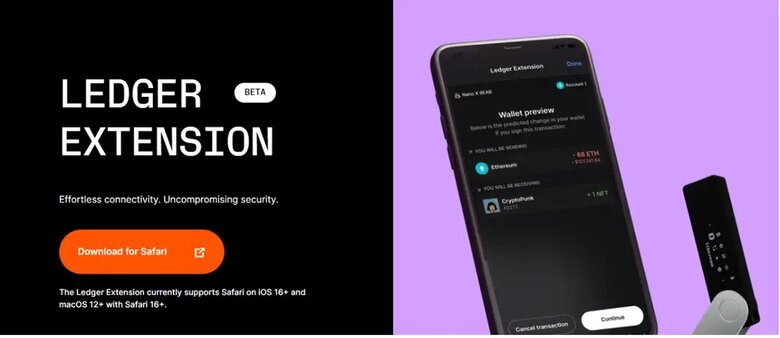 ---
Users: 10,000+
Available On: Safari
---
Ledger, a cold storage cryptocurrency wallet, has emerged as the most secure way to store crypto. It gives you peace of mind knowing your assets are safe offline while at the same time letting you access your crypto with the help of the physical device.
The Ledger extension is helpful on the browser, as it provides connectivity and online security for crypto assets.
The extension offers similar functionality and experiences to wallet extensions like Coinbase and MetaMask. However, it's less susceptible to online attacks because it's a cold wallet and can only connect to dApps through Bluetooth.
---
6. Nami Wallet Extension: Best for Cardano Blockchain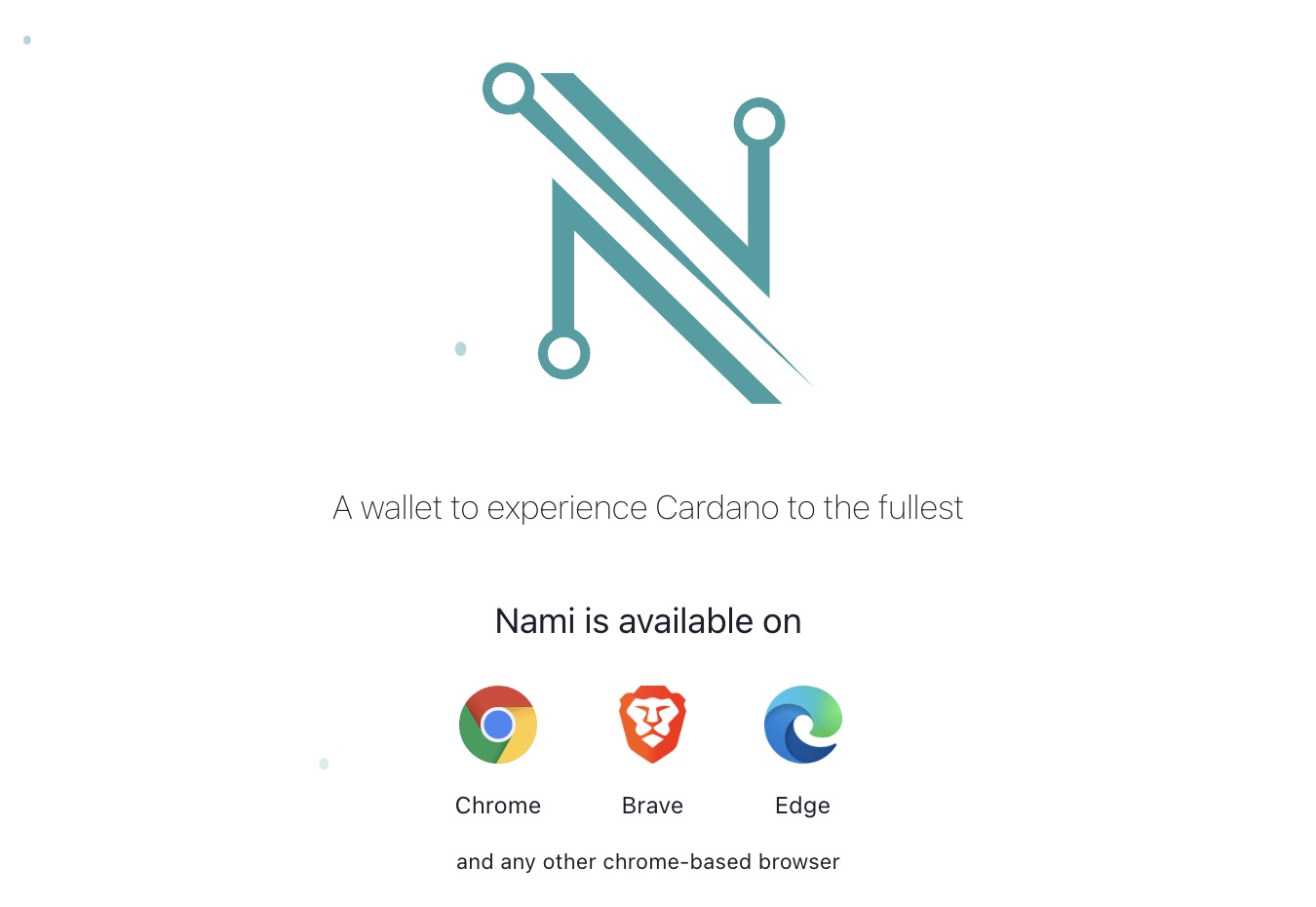 ---
Users: 200,000+
Available On: Chrome, Brave, Edge
---
Nami is the perfect crypto wallet extension for interacting with the Cardano blockchain. With it, you can store and send various digital assets, delegate, mint tokens, and more. Best of all, this wallet can be injected into the browser, making it easy to connect to any website and interact with dApps.
---
Crypto Security Browser Extensions
Browsing the internet can be risky, meaning you must find ways to protect your privacy. The good thing is that there are security browser extensions to help you with that.
From blocking ads and pop-ups to storing passwords, security browser extensions can help you enhance your online security. There are a variety of these extensions – for streamers, gamers, writers, and more.
For now, let's explore various security browser extensions suitable for crypto users.
1. JoinFire: Best For Safer Transactions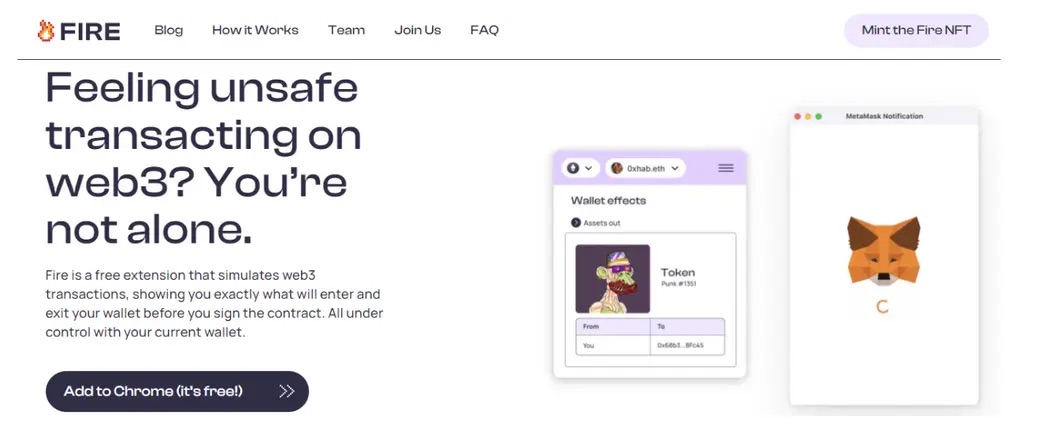 ---
Users: 20,000+
Available On: Chrome
---
Before signing a contract in real life, the first step is understanding its contents to determine what you're getting into. Why would you sign a smart contract, where you're transferring your hard-earned cash, without knowing what's in it for you?
JoinFire simulates a transaction to give you a sneak peek of what you're signing. In other words, this extension translates what happens within the smart contract into a form that can be read and understood by humans.
---
2. Nifty Scanner: Best for NFT Holders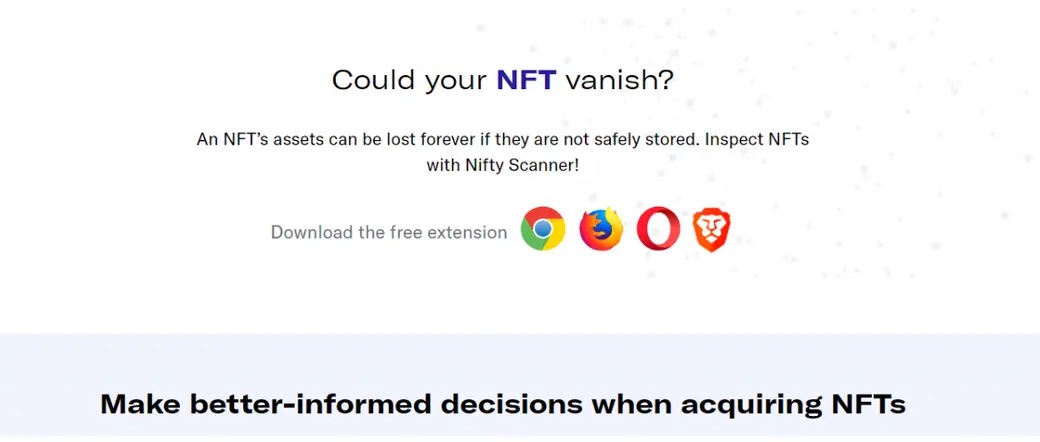 ---
Users: 790
Available On: Chrome, Firefox, Opera, and Brave
---
Ever wonder if an NFT is on the blockchain? Is its media stored on centralized servers? When you have the Nifty Scanner, you won't have to.
This extension will show you:
Where the NFT media and metadata are stored
The confidence score of an NFT before acquiring it
If the smart contract is verified on Etherscan
Use Nifty Scanner to help you make better decisions when buying NFTs.
---
3. MinerBlock: Best for Blocking Cryptocurrency Miners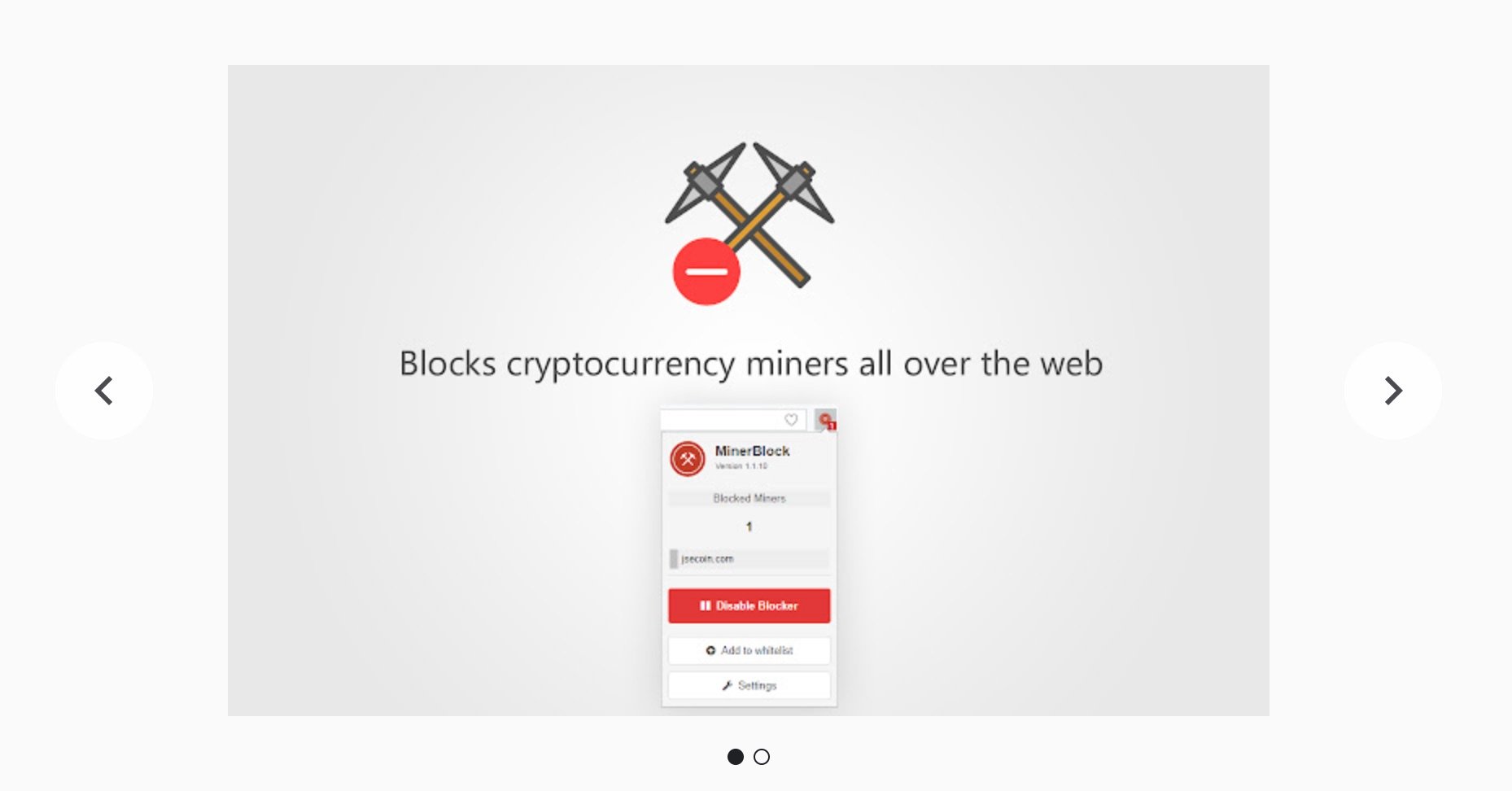 Users: 100,000+
Available On: Chrome
MinerBlock is a browser extension that blocks browser-based crypto miners on the web.
It blocks scripts loaded from a blacklist or detects any mining activity in loaded scripts and destroys them immediately. Whether it's an inline script or a miner operating through proxies, MinerBlock handles them all for you.
Crypto Browser Extension for Market Data
A vital part of an investor's success is the ability to track market data, for instance, the price behavior of various assets.
With a market data browser extension, you can follow the movements of your favorite investments, which is necessary for making informed investment decisions.
1. Crypto Tracker: Best for Tracking Cryptocurrencies Movement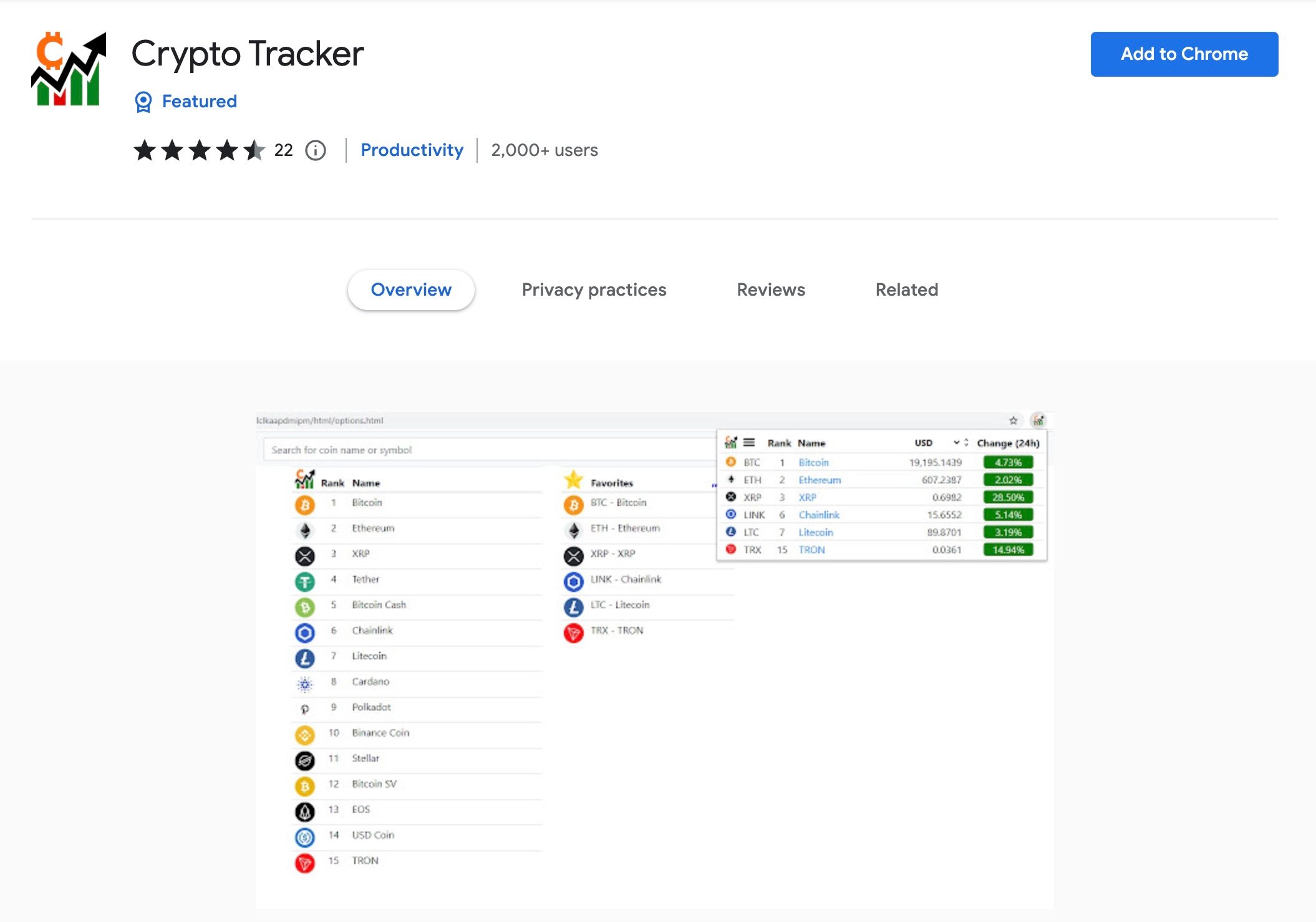 ---
Users: 2,000+
Available On: Chrome, Firefox
---
If you're like me, that means you often want to keep an eye on your crypto assets. Tracking your favorite cryptocurrencies is easy when you have the Crypto Tracker browser extension, as it displays their every movement.
---
How We Chose
Here are the key variables used to score the above crypto browser extensions:
Security. Security is critical when it comes to storing and transferring crypto, so we weighted security heavily. The factors assessed include previous security breaches, whether the software provides security measures (for instance, password encryption), and more.
Top Cryptocurrencies. The extensions support major cryptocurrencies. We mainly focus on top cryptocurrencies by market capitalization.
Reviews. Customer reviews are also vital because they give an evaluation of the product from a user's perspective. All the above extensions have excellent customer reviews.
Number of Users. The extensions were measured for the total number of users, which shows they have excellent usability.
More Features. Other areas considered include support for NFTs, availability of educational resources, and more.
What is a Crypto Browser Extension?
Browser extensions are software units designed to offer extra browser functionality. Besides providing additional functionality to a website, browser extensions can also remove features you wouldn't want to have, such as annoying pop-up ads.
Crypto browser extensions are commonly used extensions, with users aiming to access crypto-related tools without leaving their browsers. These browser extensions include portfolio trackers, and wallets, among others.
There are many crypto browser extensions for Chrome, as well as other browsers like Firefox and Microsoft Edge.
Risks of Crypto Browser Extensions
There are plenty of benefits to crypto browser extensions, but using them can have its downsides.
Serious security risk. Sometimes you may unknowingly install extensions from unofficial sites. And because these extensions can request to see everything you do online and also communicate with their developers, your data and resources might land in the hands of malicious people.
Slow down your browser. Extensions can slow down browsers a lot. If that's the case for you, disable extensions you use less often or don't need anymore.
We're not discouraging you from using your favorite extensions, but we recommend you ensure the ones you use are safe.
Benefits
Sometimes called plug-ins, crypto browser extensions for browsing can boost your internet experience in a variety of ways.
More features. Extensions add more features and improve the functionality of the tools you're using.
Save you time. You can set the extensions to block distracting online ads, enabling you to go about your business uninterrupted.
Even so, download extensions only from your browser's web store!
The Bottom Line
You can use crypto browser extensions to enjoy more functionalities and features. Some extensions may be unavailable depending on your browser, so that's something you need to check first. And, for your safety, download extensions from trusted sources and update them regularly.
Frequently Asked Questions
Yes, there are several Ethereum browser extensions available for various web browsers. These extensions allow users to interact with the Ethereum blockchain, manage their Ethereum wallets, and perform various Ethereum-related tasks directly from their web browsers.
One popular Ethereum browser extension is MetaMask, which is available for Chrome, Firefox, Opera, and Brave browsers.
Yes, there are several Bitcoin wallet browser extensions available for various web browsers. These extensions allow users to manage their Bitcoin wallets, send and receive Bitcoin, and perform various Bitcoin-related tasks directly from their web browsers.
One popular Bitcoin wallet browser extension is the Ledger Live extension, which is available for Chrome, Firefox, and Opera browsers. The Ledger Live extension is designed for use with Ledger hardware wallets and allows users to manage their Bitcoin and other cryptocurrency assets, check balances, and perform transactions directly from their browser. It also offers features such as multi-currency support, secure PIN protection, and the ability to switch between different cryptocurrency networks.