Best Crypto Accounting Software 2023
Last Updated:

July 6, 2023
Key Takeaways
Top crypto accounting software choices often integrate with popular business accounting software.
Crypto accounting software can track crypto payments made to your business.
Monthly and annual plans are available.
You know how you have to keep track of your regular money so you know what's what during tax time? The same goes for crypto. Regulators keep a close eye on cryptocurrency trades. That means individuals and large companies need to track their crypto transactions and file their taxes accordingly.
Organizing and filing tax information isn't usually considered fun. When it comes to crypto, it's definitely no walk in the park. Between the ever-fluctuating prices, countless exchanges, and fees for every transaction, trying to do crypto accounting manually can be a drag.
Enter tax software for crypto. This type of software can ease the pain of doing taxes on crypto, and let you breathe easy come tax time.
We'll give you the TL;DR on a few of the top options below.
Best Crypto Accounting Software
Company
Monthly Price
Exchange Integrations
Tax Software Integrations
Bitwave
Contact for pricing
Binance
Coinbase
Gemini
Kraken
+ more
Quickbooks
Oracle
Netsuite
Xero
Sage Intacct
Workday
Ledgible
$49/mo – for 200 transactions, and $100 for each set of 2,500 transactions after the first
1,000 Enterprise plan also available
Binance
Coinbase
Gemini
Synthetix
+ more
Quickbooks
Oracle Netsuite
Xero
TurboTax
TaxSlayer
Cryptio
Basic – $299/month
Pro – $750/month
Enterprise – contact for pricing
Binance
Coinbase
Gemini
Kraken
+ more
Quickbooks
Oracle Netsuite
Xero
Accointing
Free up to 25 transactions
Hobbyist – $79/year
Trader – $199/year
Pro – $299/year
Binance
Coinbase
Gemini
Uphold
+ more
None
Cryptoworth
Free up to 100 transactions
Tier 1 – $285/month
Tier 2 – $555/month
Tier 3 – $910/month
Enterprise – contact for pricing
Binance
Gemini
Coinbase
Deribit
+ more
Quickbooks
Oracle
Netsuite
Xero
1. Bitwave: Best Overall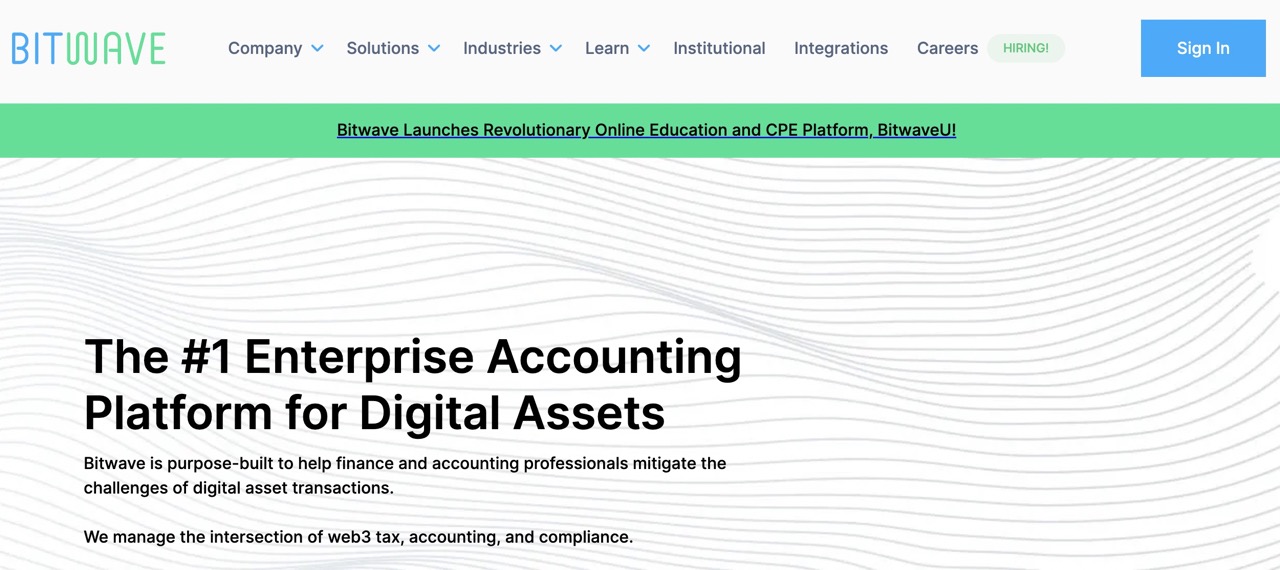 ---
Pros And Cons Of Bitwave
Pros
Automatically sync your entire transaction history any time you connect a wallet or exchange
Easily send bulk crypto payments to multiple addresses when paying invoices or processing payroll
Cons
Pricing is unclear and you have to arrange a demo if you want to use the software
---
Key Features
Bitweave provides a full suite of accounting, bookkeeping, and tax tracking solutions for practically any crypto use case.
Automatic tax reports for cryptocurrency swap transactions — which is when you trade one cryptocurrency for another, effectively selling the first one and purchasing the second one
Provides IRS-compliant reports from your imported transaction data
Tracks tax liabilities on profits earned from crypto lending
Trusted as the go-to crypto tax solution by large organizations like OpenSea
---
Who Should Use It?
Institutions: The company offers a Bitwave Institutional suite of enterprise tools and services for crypto custodians, exchanges, wealth managers, and liquidity providers. You can generate independent contractor forms for employees, track and report on client funds, and produce financial statements separated by subsidiary.
Crypto Miners: For those who mine crypto, Bitwave automatically tracks mining profits and tax liabilities, and also has special customization features for tasks such as writing off certain costs.
Nonprofits: Crypto donations have grown more popular in recent years. Bitwave provides nonprofits with the tools they need to manage their crypto donations, including automatic categorization and appraisal of donated tokens, NFTs, and other digital assets.
---
2. Ledgible: Best for Tax Professionals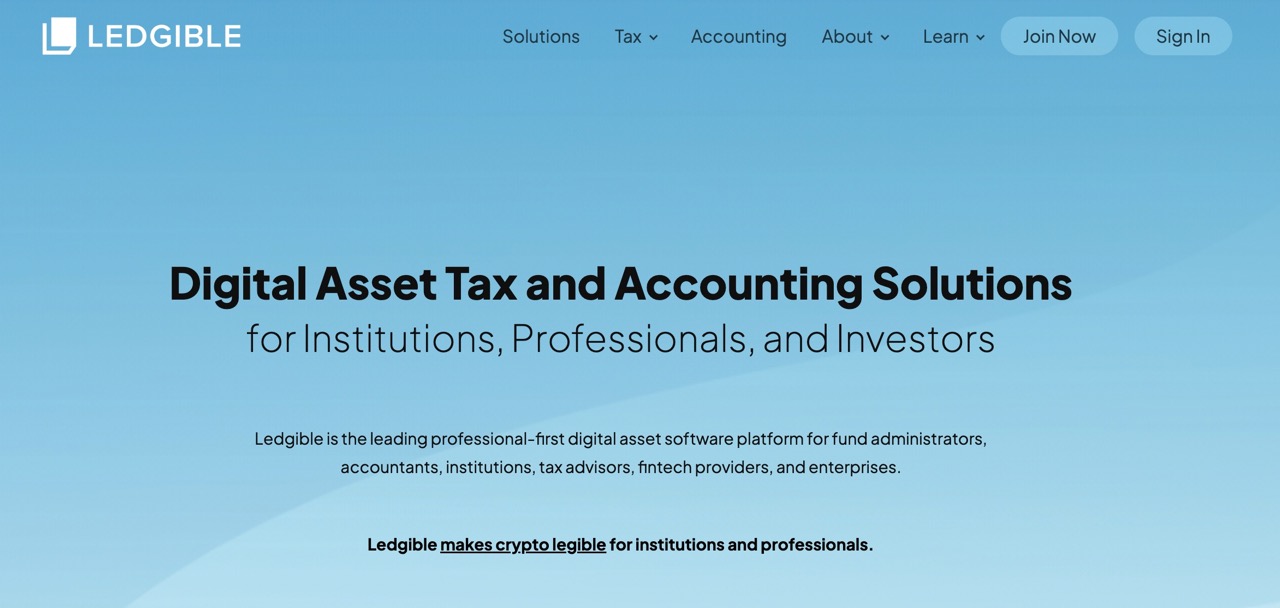 ---
Pros
Integrates with over 200 exchanges
Integrates with over 200 exchanges
Allows for real-time collaboration on tax documents with your clients or team
Can generate reports for lending, staking, and DeFi trading
Cons
Doesn't offer a free version
More focused on CPAs than individuals
---
Key Features
Ledgible is a crypto accounting and tax software that provides services for individuals, as well as a complete suite of client management tools for tax professionals and accountants.
Comes with tax advisory and planning dashboards that help you plan out your future spending and tax liabilities
Provides services for individuals, but it was built with CPAs, tax professionals, and accountants in mind
Provides client and team management portals that allow tax professionals to work on behalf of clients
Accounts not only for gains and losses, but also for fees charged when making transactions
---
Who Should Use It?
Ledgible provides three tax products. Each serves a different market niche when it comes to tax preparation:
Ledgible Crypto Tax: Ledgible's tool for consumers looking to file their own taxes
Ledgible Crypto Tax Pro: Ledgible's solution for accountants and CPAs which integrates with popular software like UltraTax CS and GoSystem Tax RS
Enterprise Accounting: Made for large businesses that require custom features such as user accounts, special exchange connections, and large transaction volumes
---
3. Cryptio: Best For Companies and Institutions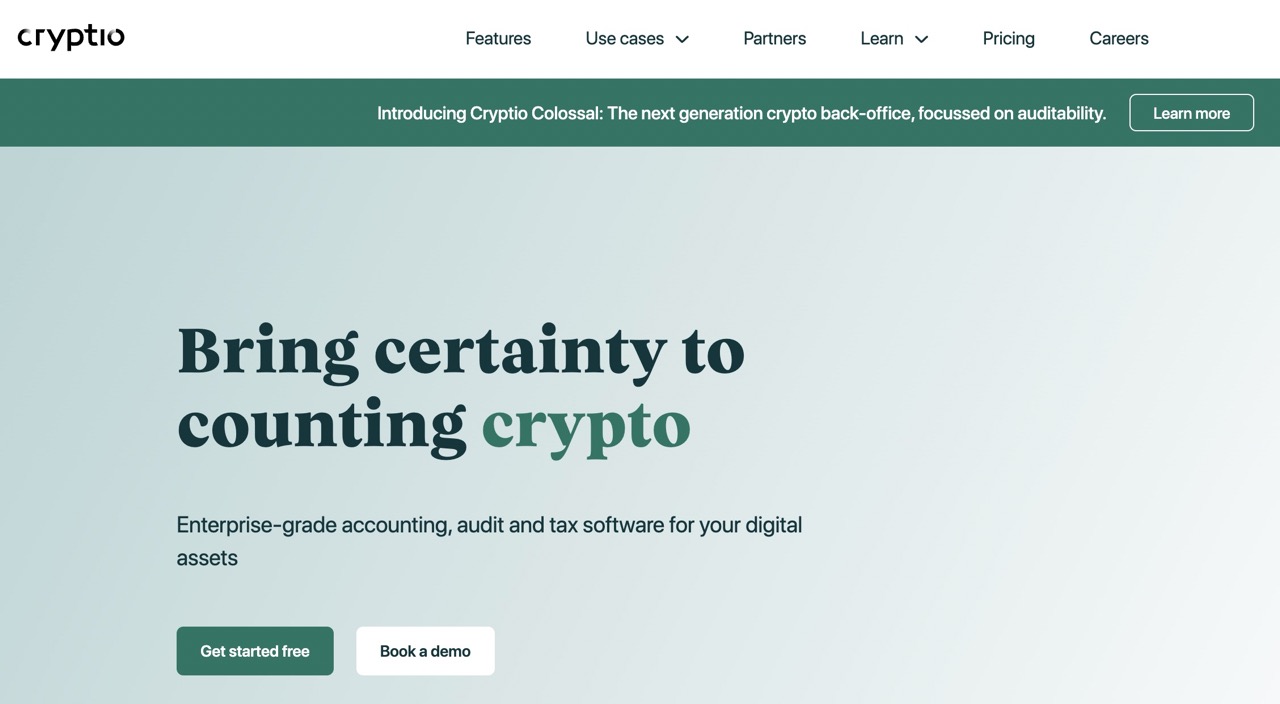 ---
Pros
Provides technical setup and onboarding for new users
Can join Cryptio's community of bookkeepers, accountants, and audit advisors
Comes with seven-day free trial of all Cryptio features
Cons
Basic plan starts at a pricey $299/month
Basic plan only includes 3,000 transactions and five sources of financial data
---
Key Features
Cryptio is a modern crypto accounting and tax software that comes with all the features you'd expect and then some:
Supports custom rules that automatically categorize transactions such as staking rewards and payroll expenses.
Allows the importing of an unlimited number of blockchain transactions, wallets, exchanges, and custodians
Once your data is imported, Cryptio can provide recommendations on what trades to make in order to maximize your tax refund
Includes an application programming interface (API) that can be used to program custom tax and accounting solutions on top of the Cryptio platform
---
Who Should Use It?
Crypto Native Companies: Cryptio is trusted by DeFi platforms, metaverses, and NFT marketplaces such as Aave, Consensys, and The Sandbox.
Financial Institutions: Cryptio's integrations with major trading desks, crypto custodians, and DeFi applications make it a good fit for hedge funds, asset managers, and family offices.
Treasury Managers: Cryptio's automatic bookkeeping process converts data from exchanges into traditional accounting reports. This prepares enterprise accountants for audits and ensures compliance with regulations.
---
4. Accointing: Best Affordable Accounting Software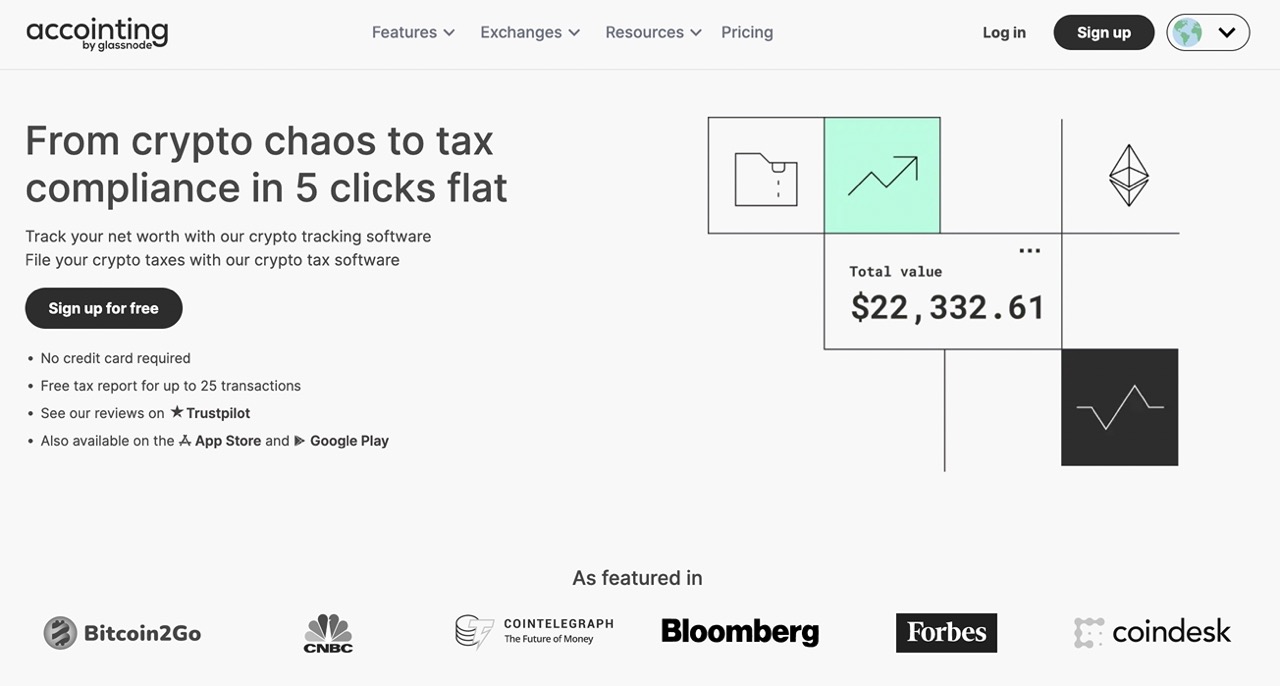 ---
Pros
Accointing is free up to 25 transactions
File up to 50,000 transactions for only $299/year
Generating a compliant, custom crypto tax report takes only 5 clicks
Cons
No official integrations for tax software like Quickbooks and NetSuite
---
Key Features
Accointing is an affordable crypto tax and accounting software that gives the big players a run for their money. Some standout features include:
A mobile app available on the App Store and Google Play
Tax loss harvesting features for both cryptocurrencies and NFTs that help you maximize your tax return
Daily balance report feature allows you to retroactively view all of your wallet and exchange balances on a day-by-day basis
Market "sentiment" tool uses AI to analyze how traders are feeling about the crypto markets in real time
---
Who Should Use It?
Accountants On A Budget: While many other tools start at $300+ per month, Accointing's top tier is $299 per year. That makes it a very appealing choice, considering that for all but the most specific use-cases Accointing's services are just as good as the big names.
Traders Of Less Popular Cryptocurrencies: Accointing tracks prices for over 20,000 cryptocurrencies. If you've traded some more obscure tokens and need to generate a tax report for them, there's a good chance Accointing will be able to help.
Accountants On The Go: Accointing is one of the few crypto tax and accounting programs that provide a mobile app for making accounting adjustments on the go.
---
5. Cryptoworth: Best For DeFi Traders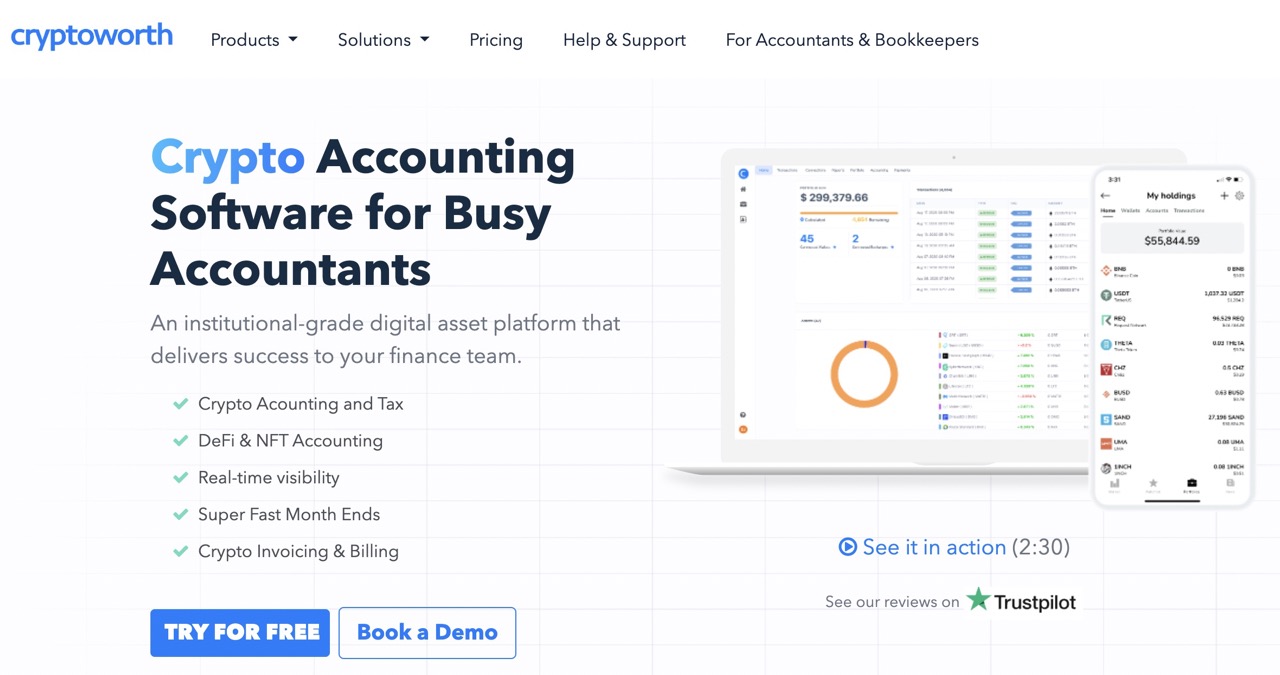 ---
Pros
Has a free version which includes unlimited exchange and wallet connections and up to 100 transactions
Tons of crypto-native integrations including DeFi, GameFi, and NFTs
Cons
Free version does not support integrations with tax software like Quickbooks and Xero
---
Key Features
Cryptoworth's tax and accounting services include the basics like automatic transaction reports and tax prep, but the service also includes the following extra features:
Integrations with top NFT marketplaces OpenSea and Rarible for NFT accounting and tax calculations
Integrations with over 100 decentralized finance (DeFi) protocols including Uniswap, Curve, Yearn, and others
Support for tracking tax liabilities from staking on chains such as Ethereum, Solana, and Polygon
Streamlined integrations to GameFi (Gaming Finance) ecosystems for tracking taxes from blockchain video games like Axie Infinity
---
Who Should Use It?
DeFi Traders: Cryptoworth supports native integrations with over 100 DeFi protocols, so importing your DeFi trades and transactions is a breeze if you're a DeFi trader.
Crypto Gamers: Cryptoworth is among the few tax and accounting software solutions that offer native GameFi integration. Simply search for your GameFi token and, if it's supported, you will be able to import your data as easily as for any other cryptocurrency.
---
Why Use Crypto Accounting Software?
You wouldn't use a hammer to pound screws, right? There's a proper tool for every job, as Grandpappy used to say, and crypto accounting software is the right tool for businesses that use crypto.
Sure, there are more affordable crypto tax software options out there. But consumer-market software often misses the mark when it comes to business use.
If you've ever used a consumer crypto tax service, you already know you'll never get a detailed expense report out of some of these tools. For the most part, they spit out tax reports you can send to the IRS (but which nobody else understands). Grandpappy was right again.
Accounting
As the old business saying goes, you'll never save your way into a profit. The top line sets the course of the ship. But you can increase profits by understanding the numbers. Whether you use in-house accounting or outsource to a firm, crypto accounting software gives you easy access to more data.
Need to know how much you spent on fees on a given platform? Export a report. Want a breakdown of your crypto loan interest? Export a report. Getting the tax numbers right is essential. But access to data that can help increase the bottom line is often worth the added investment.
Bookkeeping
How long would it take your bookkeeping staff to keep up with your business's crypto escapades? And how many bookkeepers understand how to categorize a liquidity pool swap? This is new territory, folks.
If your business has more than a few crypto transactions per year, the payroll hours (and potential mistakes) can add up quickly. Crypto accounting software makes everyday crypto transactions painless. Many services also let you export to popular business accounting software like Quickbooks, Oracle Netsuite, or Xero.
Paying With Crypto
Legitimate business expenses are tax-deductible, but what if you pay with crypto? Heck, even Newegg takes crypto these days. A 1.5 ETH purchase on your books won't make sense to anyone–least of all, the IRS. For tax and accounting purposes, crypto-funded purchases have to be converted to the equivalent value in dollars at the time of the expense.
Crypto accounting software does the heavy lifting here, tracking your cost basis and the value in USD when you make the crypto payment. Cool. Now, you probably won't go to jail. At least not for that.
Getting Paid In Crypto
Just like paying in crypto, receiving crypto as payment requires some accounting gymnastics. Your crypto accounting software can convert a 0.6 Bitcoin payment to its value in USD, so you're compliant. It'll track the crypto asset as well, just like other business property. If you eventually convert your crypto to cash, you'll already have an accurate cost basis. No more guessing and praying.
Connecting Traditional Tools
Crypto doesn't have to be like the weird mumbly guy that nobody remembers at the family reunion. Your business crypto transactions can mingle (but not co-mingle) with your other business transactions.
Crypto accounting software connects to popular accounting software, joining the big family picture. Cryptio can talk to Xero. Bitwave and Ledgible can both talk to Oracle Netsuite and Quickbooks. You get the idea. Everyone's part of the family now.
To Sum It Up
Whether your accounting or tax business is just starting out or you have large enterprise clients, you'll want to use crypto accounting software to keep track of your clients' finances and tax liabilities.
Frequently Asked Questions
Cryptocurrency accounting software is used to analyze crypto transactions, track losses and gains, and determine how much you owe in taxes from your crypto trades throughout the year.
Crypto accounting software integrates with large exchanges and crypto wallets in order to automatically sort and organize your transactions. This way you don't have to manually track down every trade you made.
This software also automatically generates tax reports that can be submitted to the IRS.
Yes, Accointing and Cryptoworth both have free versions up to 25 transactions and 100 transactions, respectively.
QuickBooks does not provide crypto accounting as a part of its product. Instead, you can use crypto accounting software such as Bitwave, Ledgible, Cryptio, and Cryptoworth to do your crypto accounting and export the results to QuickBooks.