CoinTracker Review 2023: Pricing, Plans, & Features
Published: June 1, 2023
|
Last Updated:

October 31, 2023
Our Take On CoinTracker
THE BOTTOM LINE:
CoinTracker is a good fit for people who primarily use centralized exchanges like Coinbase or those who use larger DeFi protocols like Curve. Like most crypto tax software, if you use less popular tokens or protocols, you may need to make manual corrections in CoinTracker before you can file your taxes.
Pros
Supports 500+ exchanges and wallets
Export to popular tax software or download IRS forms
Free portfolio tracker with daily updates
Cons
Incorrect identification of some tokens
Tax-loss harvesting analysis requires a $99 monthly plan
Via CoinTracker's Website
For this CoinTracker review, I took the popular crypto tax software for a test drive — and while there were a few expected bumps along the way, CoinTracker provides intuitive tools to get the numbers right. On my own, the process would take weeks. CoinTracker completed the work in minutes.
CoinTracker Overview
| | |
| --- | --- |
| Pricing | $0–$199/year (custom plan available) |
| Sign-up Bonus | 10% off any plan using our CoinTracker discount link. |
| Integrations | 500+, including Coinbase, Gemini, and Binance |
| Cryptocurrencies | Over 2,500 cryptocurrencies supported |
| DeFi Support | Yes, all tiers |
| NFT Support | Yes |
| Tax Loss Harvesting | With a monthly subscription to Portfolio Tracking |
| Tax Integration | TurboTax, TaxAct, and H&R Block |
What Is CoinTracker?
CoinTracker is a crypto portfolio app that can prepare the tax forms you'll need to file with the IRS. The IRS sees crypto as property. Simple enough — until it's time to do your taxes. Every time you spend crypto or make a trade, there's a taxable event. If you make more than a handful of crypto transactions yearly, you'll want to use an app like CoinTracker to make sense of it all.
Even if you are trading one crypto for another crypto, the IRS sees the transaction as a sale (which has to be accounted for in US dollars) followed by a new purchase, with a cost basis in US dollars. Sound confusing? It is!
But CoinTracker takes care of the heavy lifting by doing all those calculations for you.
How Does CoinTracker Work?
CoinTracker connects to the crypto exchanges you use and your crypto wallets, pulling all the data to follow the money trail. Then, it marks each transaction as a gain or loss (or income). In the end, you'll have tax-ready reports (IRS Form 8949 and 1040 Schedule D).
CoinTracker and TurboTax work together too. Alternatively, you can export to TaxAct or H&R Block. There's even a way to file all your taxes with CoinTracker.
Key Features
Easy account import from exchanges and wallets: Import your transactions from Coinbase, MetaMask, or hundreds of other sources.
Export to H&R Block, TaxAct, or TurboTax: Export your crypto transactions to the leading tax software apps — or download completed tax forms to file on your own.
NFT support: Track your NFT purchases and sales for accurate tax reporting.
CoinTracker Review – A First-Hand Experience
A big part of my job is testing out new protocols and crypto apps, so I have more weird transactions than the average crypto degen. If you want to see if a crypto tax app will break under pressure or send a server into a red-alert meltdown, throw my wallet addresses at it — and that's exactly what I did.
Overall, I was impressed with the clean layout and people-friendly UI. However, CoinTracker isn't perfect for every situation.
Here's my experience with CoinTracker.io. Let's dig in, shall we?
Adding Exchanges And Wallets
CoinTracker starts with Zen-like nothingness, but that's easy to fix. Add your wallets and the exchanges you use.
This part might not be super clear for newbies, though.
Wallets and exchanges are added from the same menu named "Wallets." Some other apps, like Koinly, label this as "Wallet/Exchange" for more clarity. But either way, the app is doing the same thing: pulling data from the blockchains and the exchanges you connect to the app.
In total, CoinTracker supports over 500 exchanges and wallets.
I added my Coinbase account and a wallet address from MetaMask to get started. If you use multiple networks, like Polygon and Arbitrum, you'll need to add the wallet address for each blockchain. CoinTracker won't pull all the networks you use automatically.
And if you're using a wallet other than MetaMask for Ethereum-compatible networks, you can still add your address through the MetaMask dialog box. Or — you can use the Coinbase Wallet dialog box if you use that.
What's really going on behind the scenes is that CoinTracker is checking the transactions on the blockchain for your wallet address (regardless of which wallet you use).
During this step, be sure to add EVERY exchange and wallet you've used. You can add wallets, exchanges, and blockchains later if you forget one or two.
But if there's data missing when you file, it can be costly.
Here's an example:
I have a small ETH staking balance on Coinbase. However, because I haven't added all my wallets and exchanges, CoinTracker can't follow the money trail. The result is that I show a HUGE unrealized return. The cost basis is wrong because it looks like the ETH just fell out of the sky. (It didn't.) If I never add the source account, I'll show much higher profit than I really have and pay more taxes than I need to pay when I sell the ETH.
It's up to me (or you) to be sure CoinTracker has ALL the information it needs. Gaps create errors.
The other asset shown above (ACS) came from the free crypto quizzes Coinbase runs when launching a new token. For tax purposes, those tokens are treated similarly to airdrops or staking rewards: taxable as income at the time they were received. CoinTracker calculates the $3 I initially received as regular income and sets $3 as my cost basis for ACS. If I ever remember to sell my ACS, CoinTracker will compare the $3 cost basis to the actual selling price to calculate my capital gains (or losses, going by the current numbers).
The good news: I don't need to track all these fiddly transactions for taxes. CoinTracker takes care of it all.
Note: Some exchanges, like Binance.US and Gemini, require that you set up an API (application programming interface) key. This lets CoinTracker access your transactions in a secure way. Don't worry. It sounds more complicated than it is. CoinTracker points you to the right page for each exchange API, where you'll find instructions.
Wallet, Exchange, And Protocol Support
In total, CoinTracker supports more than 500 wallets, and exchanges. Top DeFi protocols are also supported. Here's a sampling:
| | |
| --- | --- |
| Exchanges | Coinbase, Binance, Gemini, eToro, Nexo |
| Blockchains | Bitcoin ,Ethereum, Polygon, Arbitrum, Optimism, Avalanche, Solana, Tron, Cardano |
| Hot wallets | Coinbase Wallet, MetaMask, Exodus, Trust Wallet, Phantom |
| Hardware Wallets | Ledger, Trezor |
| DeFi Protocols | Uniswap, Compound, 1inch, dYdX |
CoinTracker mentions support for over 8,000 blockchains on their blog. I found far fewer, but perhaps I didn't scroll far enough. Rest assured; the largest blockchains are covered.
CoinTracker Pricing
CoinTracker offers a free tier. But here's the catch: It's limited to 25 transactions. If you don't trade much, you might be able to do your crypto taxes for free, including IRS Form 8949 and 1040 Schedule D. If you earn staking rewards, the free plan also includes $25 of staking earnings before dipping into your transaction allotment.
This makes CoinTracker's free or lower-priced plans a good fit for people who primarily use exchanges and who trade infrequently.
If you're like me, however, 25 transactions might get you through lunchtime. People active in decentralized finance (DeFi) will need a higher transaction allowance.
The CoinTracker pricing involves three tiers — as well as a customizable plan.
| Plan | Price | Transactions Limit | Additional Features | Customer Support |
| --- | --- | --- | --- | --- |
| Free | Free | 25 | FIFO, LIFO, HIFO, AS, ACB (Cabda), portfolio tracking, cost basis & capital gains, portfolio tracking | Forum Support & Chat |
| Starter | $9 | 25 | Cost basis, capital gains, error reconciliation, download tax forms | Forum Support & Chat |
| Hobbyist | $59/year | 100 | Same as Free Account | Forum Support & Chat |
| Premium | $199/year | 1,000 | Margin Trading, DeFi Functionality, Tax Summary by Wallet | Forum Support & Chat |
How does CoinTracker's cost stack up against the competition? At the lower tiers, it's close — and CoinTracker offers a free tier, which is rare in the crypto tax software segment. And It's not just a preview. You can download the tax reports you'll need — assuming you have 25 or fewer transactions.
CoinTracker's pricing page suggests that I need to pay $9 to download the forms, but I was able to do it for free. To test the theory, I used a Bitcoin wallet that had just a handful of transactions.
Once you have more transactions, however, you'll have to upgrade to be able to view the tax results and download the completed forms. Here's how CoinTracker's pricing compares to other popular options:
| Platform | Free Tier With Reports | Tier 1 | Tier 2 | Tier 3 |
| --- | --- | --- | --- | --- |
| CoinTracker | Yes, 25-transaction limit | $9 / 25 transactions | $59 / 100 transactions | $199 / 1,000 transactions |
| Koinly | No | $49 / 100 transactions | $99 / 1,000 transactions | $179 / 3,000+ transactions |
| CoinLedger | No | $49 / 100 transactions | $99 / 1,000 transactions | $199 / 3,000 transactions |
Error Reconciliation
To err is human, and this is doubly true for tax software. The problem isn't necessarily that the code is buggy or the blockchain tracking is wrong. That could be true, but another challenge is that there are about two bazillion crypto tokens out there.
It's easy for the software to become confused — and it did.
In my case, someone had dusted my Polygon wallet with some tokens that masqueraded as genuine AAVE tokens. I know I only have about $0.15 worth of AAVE — and it's on the Ethereum blockchain because that's where I staked AAVE to earn a yield. I later sold my AAVE. Gone.
So, imagine my surprise when CoinTracker told me I owned over $8,000 worth of AAVE tokens on Polygon.
"Dusting" is when someone sends a small value of tokens to your wallet. There could be a number of reasons for doing this, such as tracking, deanonymizing the wallet, or luring me to a scam website.
Nefarious intentions aside, the main issue in my case was that I now had these worthless tokens showing as real AAVE tokens.
Hmmm. That's a problem.
The solution: CoinTracker lets you tag the transaction (handy for future review) or even ignore individual transactions.
There were several such transactions that I set to "Ignore." Once safely hidden, my portfolio balance was accurate to the penny. You can also edit the transaction if you're absolutely certain of the token details. (Be careful with this feature; the IRS has no sense of humor at all.)
CoinTracker Review For DeFi
Tracking Bitcoin transactions shouldn't be a challenge for tax software. Ditto for well-known DeFi applications like Compound. But — I was curious to see how well CoinTracker.io handled transactions for smaller Layer 2 DeFi applications. You know, the weird stuff.
Let's see what breaks.
For basic tokens, CoinTracker was able to track the transactions with ease.
However, when I poked around in the tokens I had in DeFi vaults, the results were less promising — at least in regard to tracking gains and losses.
You may have better luck with well-known protocols. Newer or less-popular protocols might require manual inputs to determine your cost basis.
CoinTracker Support
With the exception of the top tier, you won't have access to concierge support on CoinTracker. The good news is that the support available was better than expected.
There's a searchable knowledge center and a friendly AI bot called Chatoshi.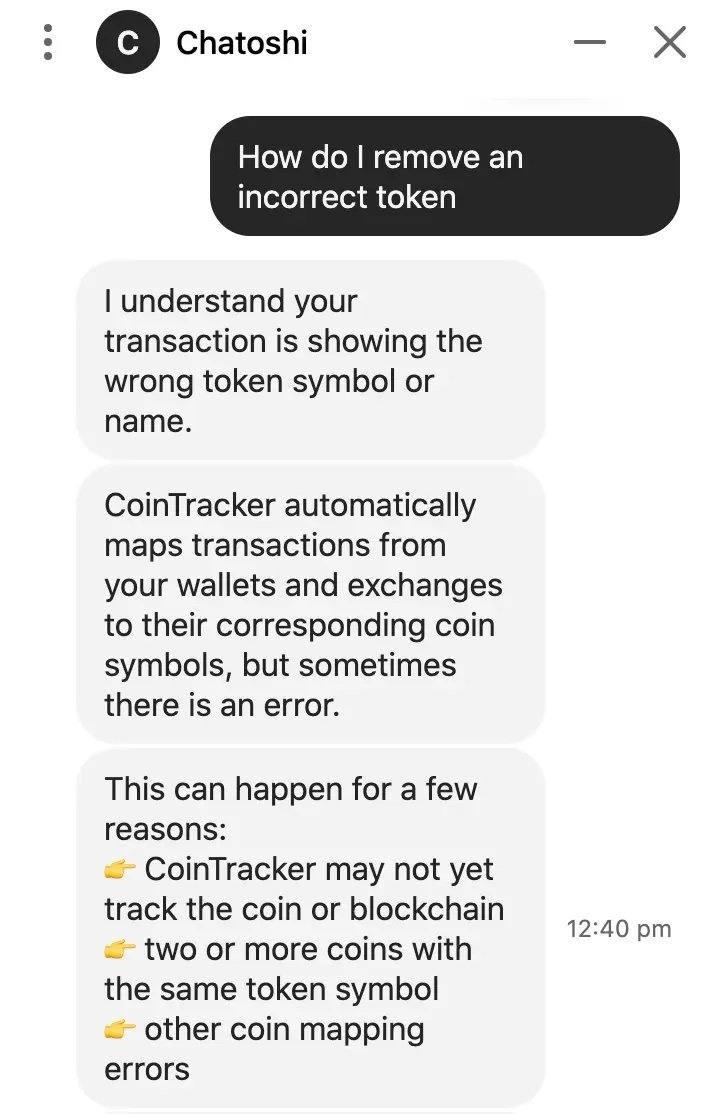 Chatoshi was fast, but not as fast as Google. A quick search in another tab brought up a forum post that pointed me in the right direction. CoinTracker is widely used, so chances are good you aren't the first person to have your particular question.
Expect competent answers to general questions from the chatbot. Chatoshi also provided a link to a related article. Google is a good backup plan.
Once you get into the DeFi weeds and more complex topics, you may have to use your own resourcefulness to find a solution. If you're a DeFi degen, you're already used to that, right?
Reports And Export Integrations
CoinTracker supports several ways to help you file your crypto taxes.
Form 8949: This is the form to report sales and dispositions of capital assets, crypto in this case. CoinTracker gives you a completed form separating long-term gains and losses from short-term gains and losses.
Schedule D: IRS form 1040 Schedule D summarizes your capital gains and losses. CoinTracker completes this form for you as well, so you can download it to file with the rest of your tax forms.
CSV export: Some tax applications, like OLT (the free one offered by the IRS), require an upload in CSV format for crypto transactions. CoinTracker provides a spreadsheet so you can upload it in the required format.
H&R Block, TaxAct, and TurboTax: Export your crypto tax data in the format required by all of these providers.
Tax-loss harvesting: If you have a monthly Portfolio Tracker Pro subscription, CoinTracker tax loss harvesting can help you identify potential crypto tax-loss harvesting strategies. This lets losses from trades offset certain gains, resulting in lower overall capital gains taxes. Pricing for Portfolio Tracker Pro is $99 per month.
Portfolio Tracking
The Portfolio Tracking feature gives you a detailed view of your crypto assets. On the base plan ($14 monthly), you can track up to 30 wallet addresses. Pro traders can track up to 100 wallet addresses, but you'll have to pony up $99 per month for the Pro subscription.
Regardless of the plan you choose, you'll get detailed tracking for over 10,000 crypto assets and daily portfolio updates. There's even a free plan that can track 5 wallet addresses.
Note: You don't need a portfolio tracker subscription to do your taxes with CoinTracker. These two products work well together, especially if you have a Pro account and use the tax-loss harvesting analysis. But you can use them independently as well.
Who Is CoinTracker For?
This CoinTracker app review shows that it has strengths that make it a better fit for certain situations. These include:
People who trade on exchanges: If you do your crypto trading on centralized exchanges like Coinbase, you'll probably have smooth sailing with CoinTracker. The app connects to well-known exchanges to pull transaction data for trades and staking income.
People who use well-known DeFi apps: If you get too far off the beaten path, you'll end up with some weird tokens that few apps can handle well. But if you stick to blue-chip DeFi projects, like Uniwap or Compound, CoinTracker should provide accurate reporting for supported tokens.
People with fewer crypto transactions: CoinTracker's pricing tiers are competitive for lower amounts of transactions (up to 100).
CoinTracker Alternatives
Our CoinTracker review compares several top crypto tax software options. Here's how CoinTracker compares to other popular choices.
CoinTracker Vs. Koinly
In our testing, Koinly was a bit better at correctly identifying obscure coins and tokens, cutting down on the manual fixes needed for accurate transaction data. This is subjective, of course, and your results may differ. Pricing for the two crypto tax products is close at the lower end, with CoinTracker offering a plan for $59 with 100 transactions and Koinly coming in at $49 for 100 transactions.
| Software | Price Per Year | Transaction Limit | Integrations | Tax Software | DeFi/NFT Support |
| --- | --- | --- | --- | --- | --- |
| CoinTracker | $0 – $299, custom plan available | 100 – Unlimited | 500+ | TurboTax, TaxAct, H&R Block | Both |
| Koinly | $49 – $279 | 100 – Unlimited | 300+ | TurboTax, TaxAct, H&R Block, and Wealthsimple | Both |
CoinTracker Vs. CoinLedger
CoinLedger brings support for additional tax apps, including TaxSlayer. Pricing for annual plans is similar for both apps. CoinLedger provides tax-loss harvesting support for all paid plans. By contrast, this feature is only available with Pro portfolio tracking on CoinTracker — a $99/monthly plan that's separate from the annual tax plan.
| Software | Price Per Year | Transaction Limit | Integrations | Tax Software | DeFi/NFT Support |
| --- | --- | --- | --- | --- | --- |
| CoinTracker | $0 – $299, custom plan available | 100 – Unlimited | 500+ | TurboTax, TaxAct, H&R Block | Both |
| CoinLedger | $49 – $299 | 100 – Unlimited | 400+ | TurboTax, TaxAct, H&R Block, Tax Slayer | Both |
CoinTracker Vs. TokenTax
TokenTax brings more integrations and higher transaction limits but offers fewer tax export integrations. Currently, TokenTax only supports TurboTax Online. However, the TokenTax premium plan ($199) includes 5,000 transactions as well as an IRS audit trail transaction report.
| Software | Price Per Year | Transaction Limit | Integrations | Tax Software | DeFi/NFT Support |
| --- | --- | --- | --- | --- | --- |
| CoinTracker | $0 – $299, custom plan available | 100 – Unlimited | 500+ | TurboTax, TaxAct, and H&R Block | Both |
| TokenTax | $65 -$3,499, custom plan available | 500 – 30,000 | 85 | TurboTax | Both |
CoinTracker Vs. TaxBit
TaxBit offers a novel pricing strategy: they made it free for consumers. However, TaxBit isn't a perfect fit for everyone. Support for wallets and exchanges is limited compared to other providers, but large exchanges like Coinbase, Kraken, and Binance.US are all supported. If you use a self-custody wallet, you may need to upload a CSV file — or choose tax software built for the task.
| Software | Price Per Year | Transaction Limit | Integrations | Tax Software | DeFi/NFT Support |
| --- | --- | --- | --- | --- | --- |
| CoinTracker | $0 – $299, custom plan available | 100 – Unlimited | 500+ | TurboTax, TaxAct, H& R Block | Both |
| TaxBit | Free | Unlimited | 80 | TurboTax, TaxAct | Spotty |
Final Thoughts On CoinTracker
In the crowded field of crypto tax software, CoinTracker stands out for its intuitive UI and wide support for exchanges. There's also good support for common tokens, well-known DeFi apps, and NFTs. Where the CoinTracker app stumbles is with lesser-known tokens and newer DeFi apps. But CoinTracker isn't alone in this regard. It's a big crypto world out there, and we need to give these apps time to add support for newer tokens and protocols.
Crypto taxes aren't a DIY project. You'll want the right tools to automate the process — and if you do most of your crypto transactions on exchanges, CoinTracker deserves a closer look.
For a detailed analysis of how CoinTracker stacks up against the competition and how other products performed, check out our crypto tax software comparison, where we put 7 of them to the test.
Frequently Asked Questions
The CoinTracker platform was established in 2017 and has become one of the most widely used tools for crypto tax reporting. CoinTracker has partnered with more than 300 companies, including crypto exchanges and tax preparation software firms.
The company's Trustpilot score is 3.1 out of 5 stars, and CoinTracker has replied to 27% of negative reviews from users on the platform. In fairness, people doing their taxes might be a tough crowd. CoinTracker's mobile app received 4.1 and 4.7 stars out of 5 on Google Play and Apple's App Store, respectively.
CoinTracker does offer a free version. Free? Is CoinTracker legit? Yes, it is — but the free version is limited to 25 transactions. For example, you might have 12 transfers in and 12 out, putting you under the limit and eligible to use the software for free. If you exceed the limit, the totals in your tax summary will be obscured, giving you the opportunity to upgrade to a paid plan — starting at $59 for 100 transactions.
There are currently no promo codes available for CoinTracker. However, you can save 10% by following our exclusive CoinTracker.io link; thanks to our partnership with them, we can offer new users a discounted rate.
CoinTracker is a crypto tax tool that helps you prepare your crypto taxes. There is an option to file all your taxes with the IRS through the platform — or you could export to your preferred tax software, such as TurboTax or TaxAct. If you use another method to complete your taxes, CoinTracker provides Form 8949 and 1040 Schedule D populated with your crypto transactions, so you can file on your own.
CoinTracker also monitors your portfolio and provides daily updates, but this information is not sent to the IRS unless you file through one of the methods mentioned above.
CoinTracker can be a fantastic tool for crypto taxes — but how well CoinTracker fits your needs depends on how you navigate the crypto market and which tokens you trade.
You'll find the best support for coins and tokens sold on major exchanges, such as Gemini, Coinbase, or Binance. Support is more limited for less-popular tokens and smaller DeFi protocols.
CoinTracker gathers the pricing and transaction information to complete Form 8949 and IRS Form 1040 Schedule D as needed — or you can export the data to your preferred tax software, like TaxAct or TurboTax.
While CoinTracker is not owned by Coinbase, users have the option of registering for the platform using their Coinbase and Coinbase Pro accounts. Coinbase, along with Intuit Ventures and Kraken Ventures, are investors in CoinTracker.
CoinTracker offers a number of different subscription plans. The most basic type of account is free. Step-level plans priced at $59 (100 transactions) and $199 ($1,000 transactions bring additional features. There's also a customizable plan that's priced individually.
The CoinTracker mobile app is available for Android and iOs devices and can be used to monitor returns on crypto investments, keep track of balances, and prepare tax returns.