Crypto Custody For Individuals October 2023
You can pay these third-party companies to store your crypto safely.
Last Updated:

June 28, 2023
Key Takeaways
The storage and safekeeping of your crypto assets are known as crypto "custody."
Third-party custody comes at a cost and is usually reserved for institutional investors, but companies like Gemini provide institutional-grade custody to retail traders.
Self-custody means that you are responsible for keeping your assets safe and secure, while third-party custody means that a licensed institution keeps your assets safe on your behalf.
The secure storage and protection of cryptocurrencies like Bitcoin and Ethereum, known as "custody," is a critical aspect of cryptocurrency ownership. Cryptocurrencies are typically stored in digital wallets, and certain security measures can be taken to ensure that the credentials for these wallets, known as "seed phrases," are kept secure.
For individual investors who are well-versed in blockchain technology, or those looking to store smaller sums, self-custody is a free option available to everyone. For investors looking to store large amounts of crypto, third-party custody services provide institutional-grade security that ensures your assets are safe and sound.
Below we explore the top solutions for crypto custody.
3 Best Crypto Custody Providers for Retail Clients
| Provider | Best For | Fees | Availability | Supported Assets | Insurance Fund |
| --- | --- | --- | --- | --- | --- |
| Gemini Custody | Retail traders | No setup fees, pricing varies based on needs | Retail and institutional traders | BTCETHSOL+ more | $200 million in custody insurance coverage |
| Casa | Hybrid of self-custody and third party custody | Starts at $120/year | Retail and institutional traders | BTCETH (coming soon) | None |
| Etana | Retail, business, and institutional traders | Price varies by needs of client | Retail and institutional traders | BTC, ETH, SOL, NFTs, + more | Customizable insurance |
The vast majority of institutional crypto custody providers reserve their services for institutional traders, funds, and crypto exchanges. Certain providers such as Gemini Custody and Casa, however, make their services available to everyday retail traders.
This means they don't have large account minimum requirements, and they offer competitive pricing that makes their services accessible to most traders. For institutional traders, custodians like BitGo provide white-glove custody service.
1. Gemini Custody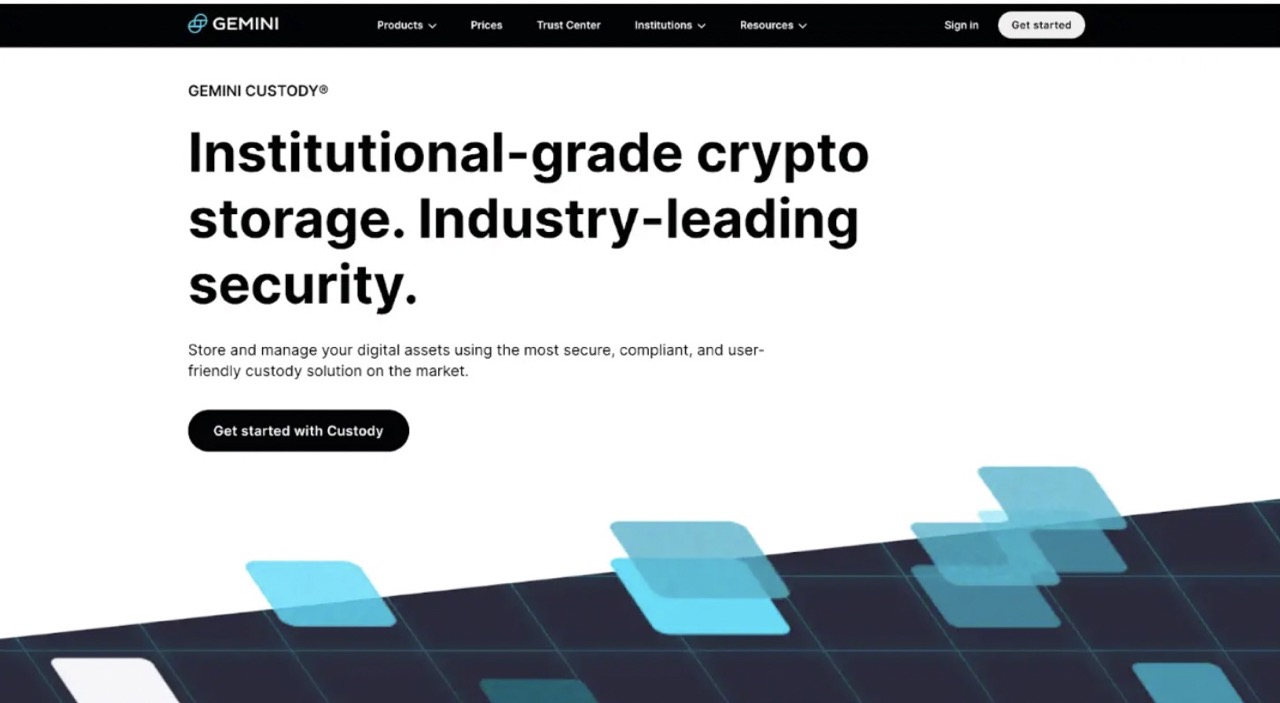 ---
Crypto exchange Gemini provides custody services for retail clients. Unlike the custody services of other crypto exchanges such as Coinbase, Gemini Custody provides a free setup and has no minimum deposit requirements. The company is touted as one of the most regulated exchanges in crypto, so your assets are safe in their vaults.
While not all cryptocurrencies are supported by third-party custody providers like Gemini, the company offers a wide range of supported assets, listed on their website. In addition to personalized account management and 24/7 customer service, assets held in Gemini Custody accounts are backed by $200 million in insurance protection.
---
2. Casa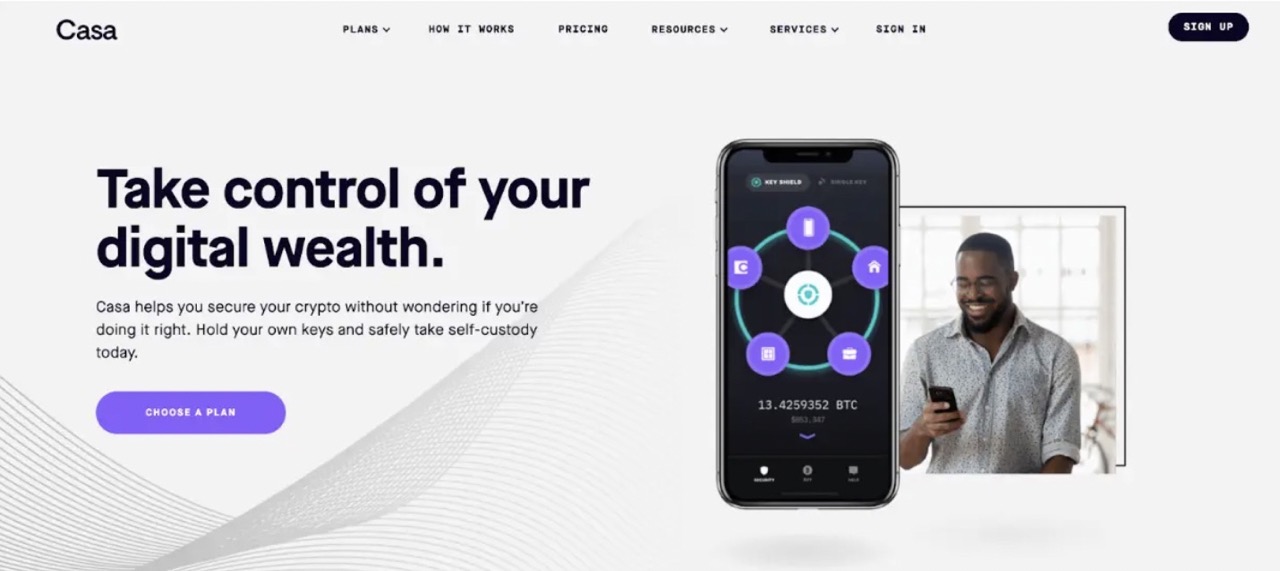 ---
Casa is a blend between self-storage and third-party custody. The service uses a "multi-signature" or "multisig" model for storing your crypto wherein you are provided with a software mobile key, a hardware key device, and a Casa recovery key. In order to spend your crypto, you only need to have access to two of the three keys. This means that if you lose one of your keys, you can still recover your funds by contacting Casa.
Casa's multisig security system is offered through an annual subscription starting at $120. Higher tier subscriptions are also available, offering increased security through the use of five or six multisig devices rather than three, as well as premium customer service and 24/7 emergency support. The Casa wallet currently only supports Bitcoin, but they are adding support for Ethereum in the near future.
---
3. Etana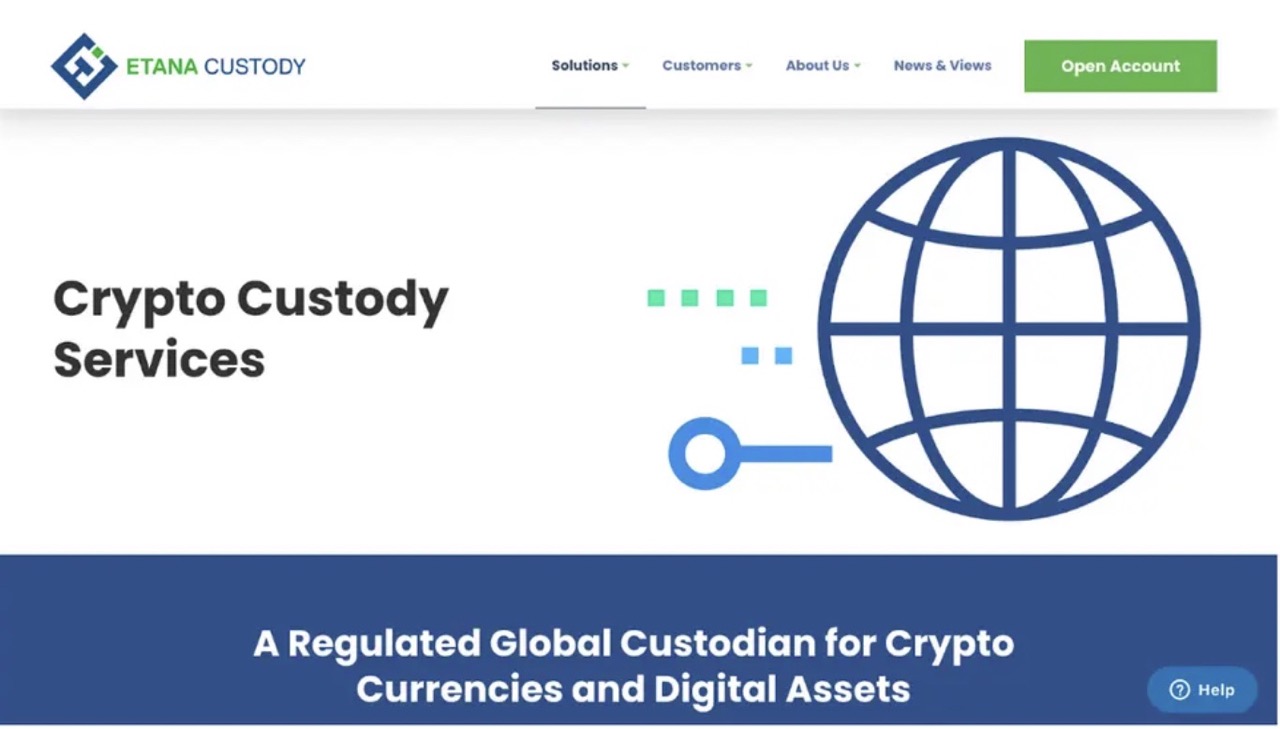 ---
With support for over 400 digital assets, Etana lets you invest in a wider range of cryptocurrencies without sacrificing security. The company works with both individuals and institutions, customizing crypto custody solutions for customers in over 100 countries.
Etana offers secure crypto storage while still giving the ability to trade easily through connected exchanges. This registered and regulated crypto custodian also provides NFT storage and the ability to tokenize real-world assets as NFTs, including real estate, stocks, bonds, and currencies.
Many of Etana's custody solutions are made possible through partnerships with industry leaders like Bitgo and Coinbase Custody, bringing institutional-level security to the retail crypto world.
---
Self-Custody vs. Third-Party Custody
| | Best For | Security | Fee | Complexity | Assets Supported | Minimum Assets Required |
| --- | --- | --- | --- | --- | --- | --- |
| Self Custody | Casual crypto traders with small balances | Lower — entirely depends on you keeping your assets safe | Free for software wallets, small fee for hardware wallets | Complex — storing your seed phrase safely and ensuring your wallet is not compromised can take a lot of work | Most wallets support most crypto assets | None — you can get started with $0 in crypto |
| Third Party Custody | Storing large sums of crypto or digital assets | High — certified custodians use state-of-the-art security to keep your assets safe | Comes at a cost — fees vary case-by-case | Simple — the custodian takes care of all the complexity on your behalf | Usually provides storage services only for the most popular cryptocurrencies | Usually has minimum balance requirements |
When it comes to custody, there are two options: self-custody or third-party custody. Self-custody refers to using your own crypto wallet provider and managing the safe keeping of your own wallet keys. Third-party custody, on the other hand, involves using a third-party provider to store your crypto through their own crypto wallets, whose security is ensured by the institution.
Each crypto wallet has a security key, called a "seed phrase" that is used to access the funds in the wallet. The seed phrase works similarly to a password for a traditional account on a website.
Unlike traditional passwords, however, there is no "reset" option for your seed phrase. This means that if you lose your seed phrase, you will not be able to log in to your wallet, and there is no one who can recover your seed phrase for you — not even the wallet provider. On the flipside, unless you have enabled the use of a secondary authentication method, anyone who knows your seed phrase can log in to your wallet.
Most crypto wallets are software apps, accessed via wallet applications such as MetaMask. There are, however, physical crypto wallets as well. These wallets come in the form of a USB device which, when plugged into a computer, authenticates the credentials needed to access the wallet. In the case of physical wallets (referred to as "cold storage" wallets), your funds cannot be stolen easily.
However, they pose another problem: You must guarantee the physical safety of the device at all times. In theory, anyone who gets ahold of the physical USB device can access your wallet's funds.
In short, when it comes to self-custody, the safety of your crypto funds depends on how well you can safeguard your seed phrase or the physical USB wallet. This is easily done when your wallet does not have a large sum in it, but as your crypto holdings grow, you will likely be exposed to phishing attempts to reveal your seed phrase, sign fraudulent transactions with your keys (thereby giving compromised apps access to your wallet), or other attempts to hijack your funds.
Best self-custody options:
Pros
Get 24/7 access to your funds without having to verify your identity or share any of your credentials with anyone else
Self-custody setup is easy and free
Self-custody wallets generally support more types of crypto assets compared to third-party custodians
Cons
You are solely responsible for your seed phrase and likely will not be able to recover funds if you lose access to your wallet
Funds are not insured against hacks or losses
Self-custody setup can be technically challenging when compared to the one-click setups of third-party custody
If you're looking to safeguard your crypto without having to worry about maintaining the security of your wallet, you can turn to third-party custodians. These custodians are licensed financial institutions that maintain a high level of security for all of their stored assets.
There are several types of third-party crypto custodians, depending on your needs.
Crypto Exchanges: Crypto exchanges such as Coinbase, Gemini, and Uphold store client funds in wallets that guarantee some level of security. These wallets are either the exchange's own wallets or those of an institutional partner.
Custodian Banks: Traditional custodian banks, such as BNY Mellon and JPMorgan Chase, which provide custody services for traditional financial assets, can now act as crypto custodians. These institutions were cleared to provide crypto custody services in 2020 thanks to an updated policy from the Office of the Comptroller of the Currency (OCC).
Digital Asset Managers: Firms dedicated to the custody of digital assets like cryptocurrencies have emerged over the last few years. Companies like NYDIG provide third-party custody services for cryptocurrency.
While third-party custody is an easy and attractive option, it does come at a cost. Many of these custodians require some minimum amount of crypto in order to provide their services. Additionally, custodians charge fees on the deposited crypto and may also require you to pay withdrawal and storage fees.
All custodian services are also required to perform Know-Your-Customer (KYC) and Anti-Money Laundering (AML) checks on all clients — a process that takes time and makes the setup more complicated than self-custody.
Pros
Your funds are stored in institutional-grade secure vaults
Custodians often have an insurance policy that protects your funds even in the case of a hack
Many custodians offer simple one-click setups that require no technical expertise on your part
Cons
Third-party custody comes at a premium since many of these providers charge significant fees to store your crypto and require a minimum crypto deposit
Each custody provider has a list of crypto assets that they support and, while most providers support major assets like Bitcoin and Ethereum, less popular coins may not be available for custody by all third-party custodians
While it's rare, these large institutions can sometimes be subject to hacks and insolvencies
Frequently Asked Questions
Crypto custody refers to the safekeeping and storage of cryptocurrencies such as Bitcoin and Ethereum.
Crypto can be stored in self-managed crypto wallets or delegated to third-party custodians. Self-custody is often cheaper and more accessible, but if you lose the private keys to your wallet, you run the risk of losing access to your crypto. Third-party custody comes at a fee but guarantees the security of your crypto.
Everything in crypto safety comes down to the wallet your crypto is stored in. If you lose the keys to that wallet, there's a good chance that you won't be able to access your funds.
Deciding between self-custody and third-party custody is a choice between taking on the responsibility of safeguarding your own keys or entrusting the security of your funds to professionals.
A qualified custodian is a licensed company that securely stores money, assets, and digital goods like cryptocurrencies on behalf of clients.
These institutions are heavily regulated and operate under the supervision of government agencies like the SEC. This ensures compliance and helps clients have faith that their assets are safe.
Self-custody is generally free — you simply download a crypto wallet like MetaMask and write down your seed phrase. Self-custody in the form of hardware wallets comes at a price, but it provides better security.
Third-party custody options also come at a price. Multi-signature solutions like Casa start at $120/month, while services from qualified custodians like Gemini are priced based on the individual needs of traders.