Top 5 Crypto Security Companies To Reduce Risk
Keep your crypto secure with companies that monitor suspicious activity and send you alerts.
Published: June 5, 2023
|
Last Updated:

September 21, 2023
It's not unusual to hear crypto referred to as "The Wild West." That's because it kind of is. A lack of regulation is somewhat the point of cryptocurrency, but this leaves room for vulnerabilities. Enter cryptocurrency security companies. Crypto security companies provide software tools to detect hacks, trade funds safely, and audit existing code to prevent vulnerabilities. However, there are smart contract audit services that can be conducted separately.
If you're a biz working with blockchains, you're going to want to ensure the code is solid, and you may also want enterprise-grade software to store your crypto. Below we take a look at a few crypto security companies and explore what roles they play in keeping crypto funds safe.
Top Blockchain Security Companies 2023
| Company | Services Provided | Price | Free Trial? |
| --- | --- | --- | --- |
| HyperNative | Custom alerts for suspicious activity or contracts and protocols suffering exploits | Contact for pricing | Yes |
| Fireblocks | Secure custody for digital assets24/7 transaction settlementSupport for over 400 cryptocurrencies | Contact for pricing | No |
| Chainalysis | Trace funds across blockchains and protocolsStay safe from interacting with compromised or illicit addresses24/7 support and a customer success rep assigned to every account | Contact for pricing | No |
| Consensys Diligence | Smart Contract AuditsAutomated Security AnalysisSmart Contract TestingAutomatic Property CheckingEnterprise Security CounselingThreat ModelingIncident Response Planning | Contact for pricing | No |
| CertiK | Smart Contract AuditsOn-Chain MonitoringKYC ServicesPenetration TestingBug BountiesWallet Tracing and Visualization24/7 Incident Response | Contact for pricing | No |
1. HyperNative: Best Vulnerability Alert Service
---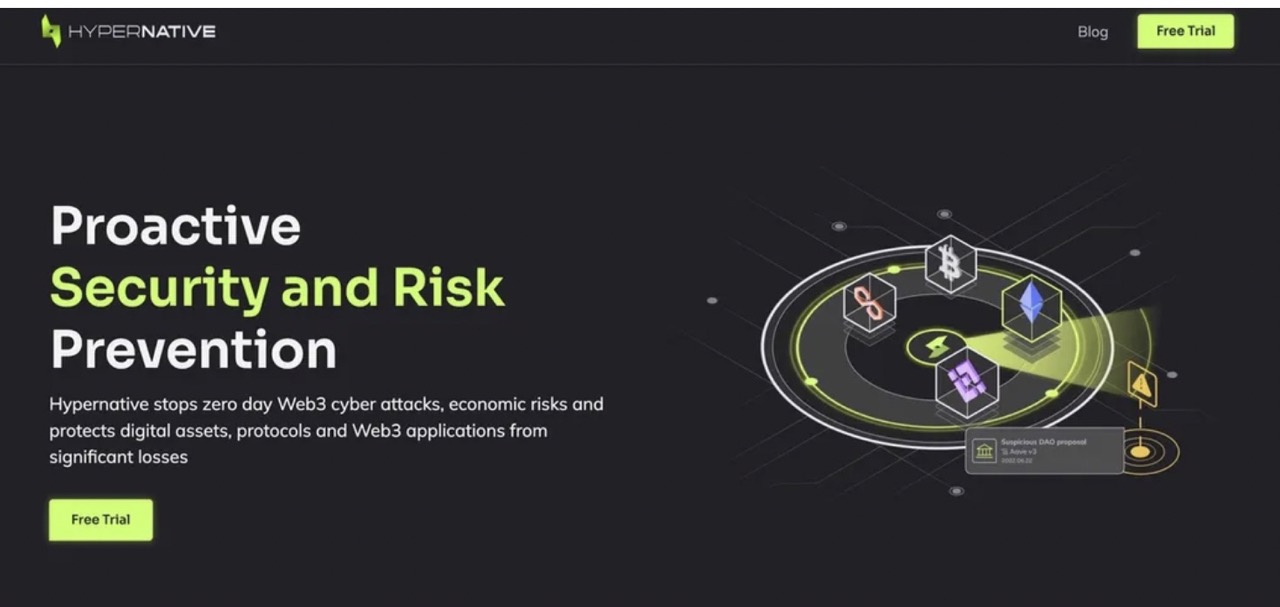 ---
Pros
Customizable alerts for all aspects of blockchain security
Application programming interface (API) support that allows companies to program
Custom solutions on top of HyperNative
Cons
Relatively new product that just launched in 2023
Have to contact them to find out free trial length and pricing terms
---
Key Features
HyperNative is a monitoring platform for smart contracts, protocols, and DAOs that sends you alerts whenever anything suspicious is going on. Examples of suspicious activity include large withdrawals from exchanges, suspicious DAO proposals, and program hacks that steal client funds.
Provides analytics tools for monitoring wallets, contracts, protocols, DAOs, and more
Features custom alerts for a range of categories, including financial, technical, governance, community, and suspicious activity
Custom integrations can be programmed through an API and exported to Slack, Email, or Telegram
Real-time notifications for any suspicious activity
---
What Sets It Apart
HyperNative is a one-stop, end-to-end monitoring and alert service. It integrates with a wide range of protocols, wallets, and smart contracts so you can monitor any potential vulnerabilities.
---
2. Fireblocks: Best Custody Solution
---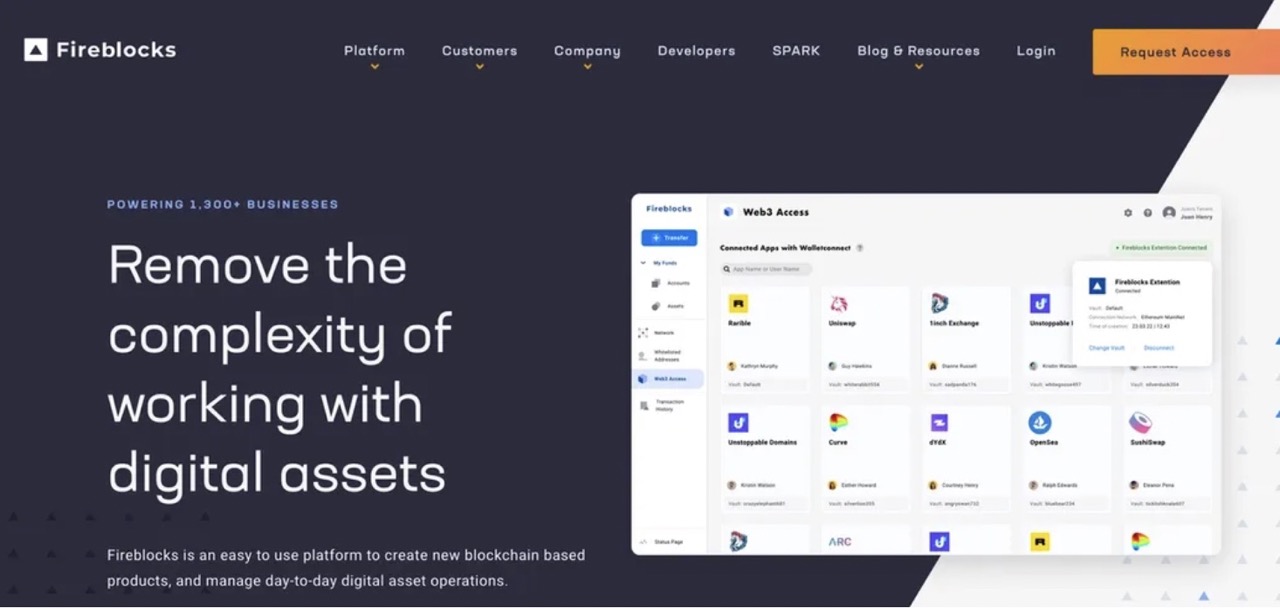 ---
Pros
Advanced security features like multi-party computation (MPC) wallets that increase resistance to hacks
Support for over 400 tokens, including those following the ERC-20 protocol used on the Ethereum network
Settle transfers 24/7 without leaving the platform
Cons
Access is restricted to select clients and large businesses — contact Fireblocks to learn if your organization is a good fit for their services
No free trial
---
Key Features
Fireblocks removes the complexity of working with digital assets by providing custody, transfer, and analytics services. The platform allows individual traders and institutions to withdraw, deposit, and securely store funds.
Allows clients to connect any major trading desk, lender, or counterparty to the software
Supports transfers for over 400 supported tokens with instant, 24/7 settlement
Single interface allows you to view digital assets across vaults and exchanges.
Custody solution features industry-grade security that includes multi-party computation (MPC) wallet standards which rely on several distributed wallet keys in order to access funds — making hacks and exploits much less likely.
---
What Sets It Apart
Fireblocks is a powerful enterprise custody and transfer solution. Its 24/7 settlement services and all-in-one dashboard make the service a good solution for businesses.
---
3. Chainalysis: Best Blockchain Analytics
---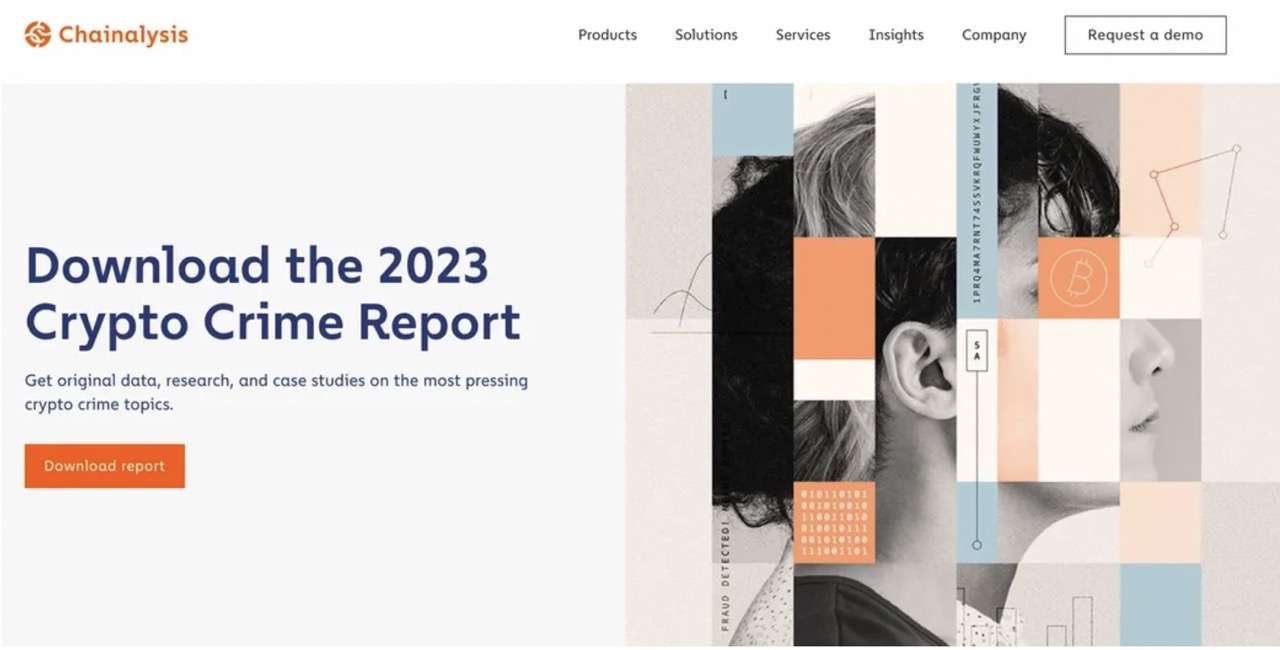 ---
Pros
Keeps you safe from interacting with compromised addresses and illicit protocols
Used to track down the trail of illegal funds by tracing back blockchain transactions to suspicious addresses and protocols
Navigate DeFi and NFT trading safely
Cons
Tools primarily for businesses and government entities
Unclear pricing and trial terms
---
Key Features
Chainalysis is a blockchain explorer and analytics tool that detects fraudulent and illicit blockchain activity. Individuals, businesses, and government authorities can use Chainalysis to trace the trail of compromised funds across multiple tokens and chains. The service also helps protect you from transacting with malicious actors on DeFi — both as an individual and a business.
Comprehensive analysis and databases that are admissible as evidence in court
Application Programming Interface (API) access to all analysis data allows companies to program custom solutions that rely on Chainalysis information and services.
Autonomous wallet and transaction screening, along with real-time alerts
Access to industry experts, 24/7 service, and a dedicated account manager
Suspicious wallet addresses are marked to prevent exchanges and individuals from making trades with them and putting their funds at risk.
---
What Sets It Apart
Chainalysis is a comprehensive blockchain explorer that allows individuals, businesses, and authorities to trace the trail of any funds. This provides peace of mind when using protocols, interacting with certain addresses, and trading on DeFi.
---
4. Consensys Diligence: Best Smart Contract Auditing Service
---
---
Pros
Provides tools to find bugs and vulnerabilities in Ethereum smart contracts
Consensys team has done audits for large crypto projects like Aave, Notional Finance, and 1inch
Provides audit services for every step of development cycle
Cons
Have to contact to get a quote
---
Key Features
Consensys Diligence is a smart contract auditing service. The company has done work for large DeFi projects like Aave, 0x, and over 100 other blockchain companies. Consensys Diligence provides the following services:
Smart contract audits and comprehensive code reviews
Automated security analysis using an API that scans for vulnerabilities
Smart contract testing can translate an outline for how a service should work directly into code
Automatic audits can detect vulnerabilities in code before features are launched in order to prevent potential hacks
Enterprise security counseling for enterprises of all stages
Threat modeling to zero in on entry points for malicious actors
Incident response planning provided by a "Diligence" team
---
What Sets It Apart
There are many smart contract auditing services out there, but only a few have the reputation necessary to work with the really big players. Consensys Diligence ticks this box several times over due to its work with Aave, 0x, Notional Finance, 1inch, and many other flagship crypto companies.
---
5. CertiK: Best Full Security Suite
---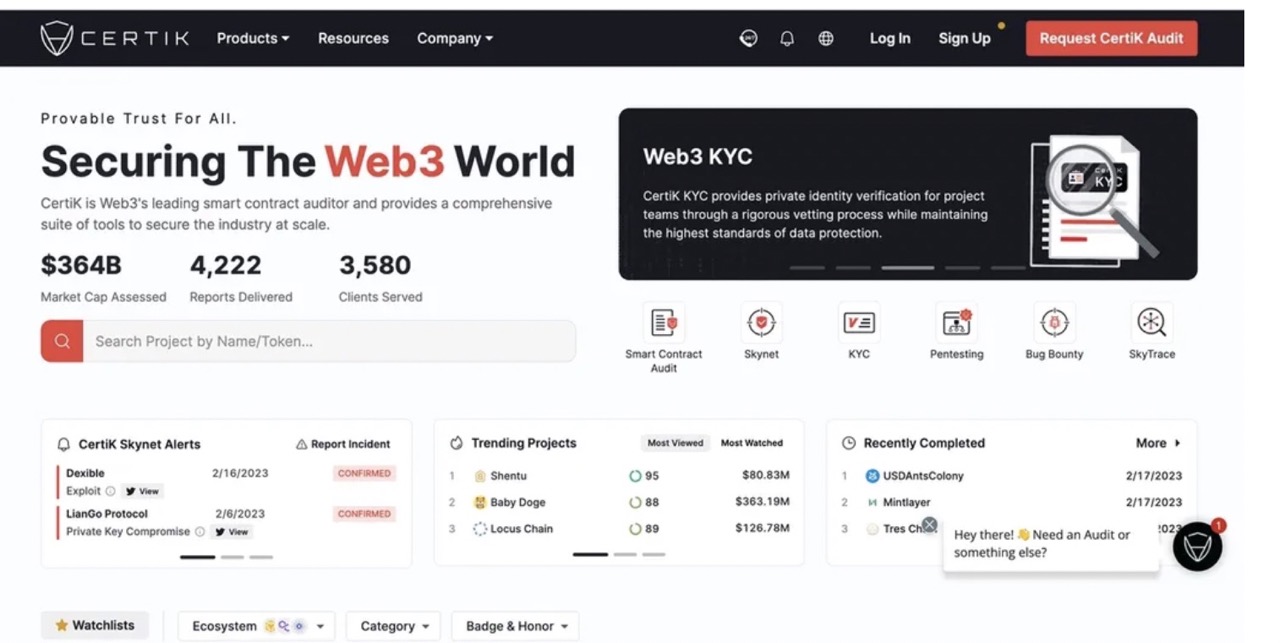 ---
Pros
All-in-one suite of security products
Services include both crypto-specific security features and also traditional web security features
Touted as leading web3 security company
Cons
Must contact to get quotes for services
---
Key Features
CertiK provides a wide range of security services for blockchain companies. The company is one of the leading blockchain security service providers.
Smart contract audits that assess the security of code and blockchain protocols
On-chain security monitoring to detect risk and fraud using on-chain data
Know-Your-Customer (KYC) identity verification services
Penetration testing and attack simulations for exchanges, wallets, and decentralized apps
Crowdsourced bug bounty projects
Wallet tracing and visualization technologies to follow the trail of transactions
24/7 incident response teams
---
What Sets It Apart
CertiK's holistic approach to security makes the company a clear choice over many competitors that provide piecemeal security options. Getting your smart contract audits, KYC, wallet tracing, and other security services from a single company is a good way to ensure all aspects of your business are secure.
---
Why Do We Need Crypto Security Companies?
Just like you need good physical security to guard a bank safe, or good security cameras to guard the cash under your mattress, good crypto security is important in protecting your funds.
While cash can only ever be physically stolen, there are many ways your digital funds can be compromised:
Smart contract hacks and exploits
Wallet hacks and credential leaks
Government seizure of funds traced back to illicit wallet addresses
Lost funds while transferring from one exchange to another
To Sum It Up
Any time you're dealing with large sums of money, it's important to have dependable security. Everyday traders and non-technical business owners may not even know all of the different ways their funds can be stolen. This is why it's important to use security solutions like the ones outlined above for effective protection.
Frequently Asked Questions
To protect your crypto assets, always store your wallet passwords securely, and consider buying a hardware wallet.
You can also use third-party custody on exchanges like Coinbase to keep your assets safe or take advantage of hybrid custody solutions like Casa. There are also crypto browser extensions to help you keep assets secure while browsing.
Write down your seed phrase physically and store it in a safe location.
Never give your wallet seed phrase out to anyone.
Use two-factor authentication for exchanges.
Always check the URL of websites to avoid phishing.
Don't sign any transaction you don't recognize.
Blockchains are built to be secure by nature, but every once in a while, certain exploits will be found. Hacks can happen through exchanges, wallets, smart contracts, bridge protocols between chains, and even through social engineering tactics like phishing.