Yield App Review 2023: What To Know About Yield App's Digital Wealth Management
Yield App allows users to earn yields of up to 11% APY on 8 different cryptocurrencies.
Published: September 29, 2023
|
Last Updated:

September 29, 2023
Regularly Seen On:
Our Take On Yield App
THE BOTTOM LINE:
Yield App is a centralized crypto-earning platform offering up to 11% APY on popular cryptocurrencies. Users can easily swap between crypto and fiat, with options to lock in assets for higher yields. Yield App is not available to residents of the US, Canada, and some other countries, and it offers limited cryptocurrency options. The platform is ideal for new and intermediate investors, prioritizing security and market-neutral yield generation strategies.
Pros
Yields up to 11%
Platform does not use leverage or lend out user assets to generate yield
No swap fees
Cons
Not available to US residents
Limited number of supported crypto assets
The highest rates require staking the native Yield App token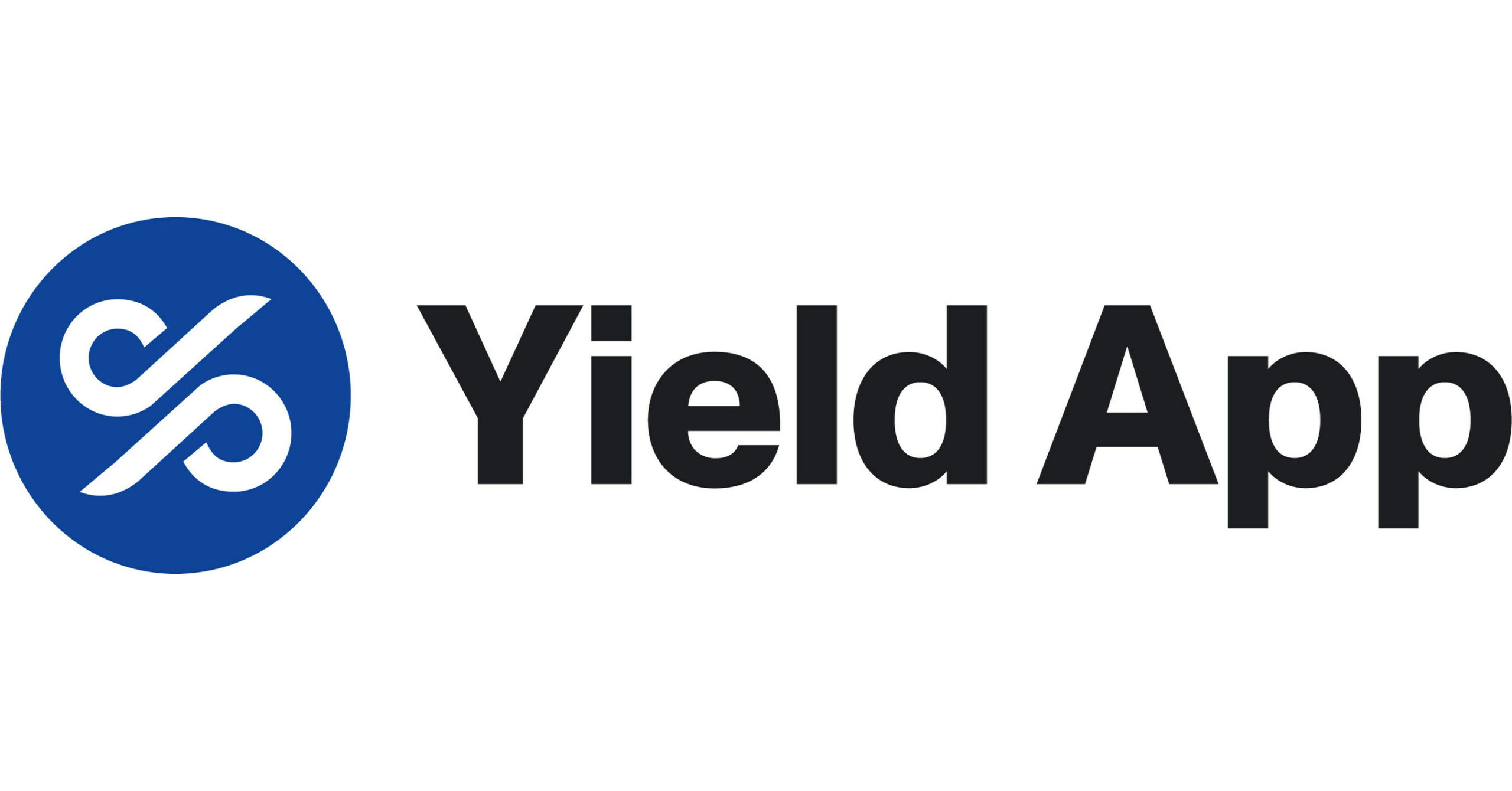 Via Yield App's Website
Cost
No swap fees, 0.1% withdrawal fee for fiat
Support
BTC, ETH, USDC, USDT, DAI, BNB, AVAX, YLD
Availability
Worldwide, Europe, Australia, New Zealand, Middle East, UK
Token
Yield App Overview
Supported Assets
Yield Rates
Restricted Regions
Security
Customer Asset Safety
BTC
ETH
USDC
USDT
DAI
BNB
AVAX
YLD
BTC: 2.5% – 5%

ETH: 1.5% – 7.5%

Stable-coins: Up to 11%
United States, Canada, Russia + more
256-bit encryption

MPC protection for client assets

Blockchain-based smart contract security for key storage

No leverage trading

No lending

What Is Yield App?
Yield App is a crypto earning platform that generates yield on popular cryptocurrencies. Rates go as high as 11% in annual percentage yield (APY) for certain assets. The platform makes it easy to put crypto to work directly from a bank account with a seamless fiat-to-crypto swap function. Users also have the option to withdraw assets at any time or, alternatively, keep them locked for a fixed period in order to get higher yields.
Beginners and advanced investors alike can feel at home on Yield App. For businesses and larger investors, the platform provides business accounts that can earn yield through more sophisticated strategies like structured products trading.
In addition to generating returns, safety and security are core focuses for the platform. All customer assets are secured by military-grade encryption, multi-party computation, and a host of other advanced security features. In order to guarantee asset safety, Yield App does not lend out user assets or use leverage. Instead, the platform focuses on market-neutral strategies such as liquidity providing.
Yield App Key Features
The Yield App platform is built to get users the most yield for their assets. This includes easy onboarding by converting fiat to crypto directly from a bank account, keeping user assets safe, and providing a one stop shop for everything yield-related. For advanced users, Yield App even offers structured products trading to generate enhanced yields.
One stop shop for earning crypto yield: It's in the name, so it's no surprise that Yield App's main feature is earning users yield on their crypto holdings. The platform makes it easy to convert EUR and GBP from a bank account directly into crypto and put it to work earning interest right away.
Strict risk controls and military-grade security: Today, customers are more concerned about the safety of their funds than ever before. Yield App doesn't skimp out when it comes to security and features 256-bit encryption, MPC protection, and more. Customer funds are never lent-out and the company does not use leverage to generate returns, further ensuring safety.
Direct on- and off-ramps for EUR and GBP: Yield App makes acquiring crypto very easy. Users can convert EUR and GBP fiat directly into crypto from their bank accounts or even just through a virtual IBAN number. Once users want to cash out their crypto earnings into fiat, the withdrawal process is the same, but in reverse.
Structured products trading: For advanced users with a risk appetite, Yield App makes higher yields available through their structured products. Using blended trading strategies that include derivatives trading, structured products can net enhanced yield. Investors should keep in mind, however, that this product carries more risk for the invested capital.
Yield App Fees
Yield App has a straightforward rate sheet for withdrawal and refund fees. These are the only two fees that the platform charges. Unlike many other crypto swap products, Yield App does not charge swap fees; the price that users see on the swap page is the price they pay. There are also no transfer fees for fiat currencies.
The fees for fiat withdrawals and refunds are below:
| | | |
| --- | --- | --- |
| Currency | Withdrawal Fee | Withdrawal Fee |
| EUR | 0.1% with a minimum of 15 EUR | 15 EUR |
| GBP | 0.1% with a minimum of 15 GBP | 15 GBP |
The fees for withdrawing crypto assets vary by the cryptocurrency. Here they are for each asset:
| | | |
| --- | --- | --- |
| Asset | Withdrawal Fee | Minimum Amount |
| BTC | 0.0007 BTC | 0.0008 BTC |
| ETH | 0.01 ETH | 0.03 ETH |
| USDC/USDT/DAI | $10 | $100 |
| YLD | 20 YLD | 100 YLD |
| BNB | 0.005 BNB | 0.01 BNB |
| AVAX | 0.05 AVAX | 0.1 AVAX |
Our Expert Review Of Yield App
Yield App provides user-friendly interfaces for converting fiat to crypto, putting that crypto to work earning yield, and cashing out earnings in crypto and fiat currencies. We take a look at each of the platform's major features below.
Earn Interest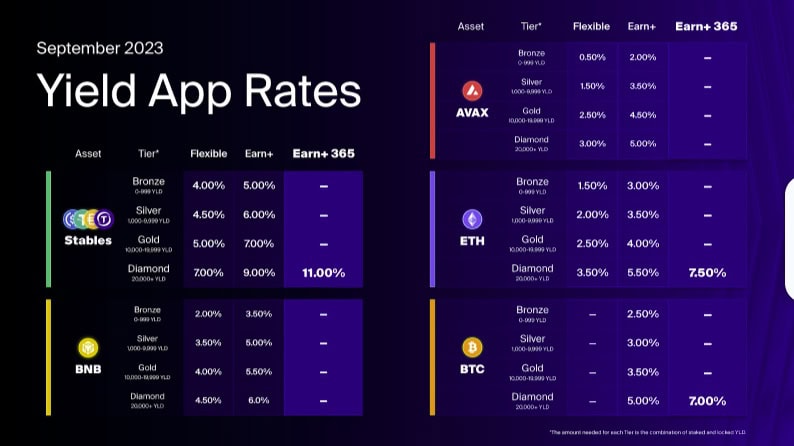 The core of Yield App is all about enabling users to earn yield on their crypto assets. Rewards are compounded daily and distributed each 24 hours. The platform splits their earn product into three different earning programs, each with a different annual percentage yield (APY) and lock-up period:
Flexible: Crypto staked under the "flexible" program can be unstaked at any time with no lock-up period. As a result, however, the APYs are lower. Flexible staking is available for ETH, AVAX, BNB, and stablecoins on the Yield App platform.
Earn+: The "Earn+" program provides higher rates than the flexible program, but it requires that assets stay locked for a period of 30 days. Earn+ is available for all assets on the Yield App platform.
Earn+ 365: The highest APYs are reserved for "Earn+ 365" clients who lock up their assets for an entire year (365 days). Earn+ 365 is available only for ETH, BTC, and stablecoins, where the program nets a whopping 11% APY. However, Earn+ 365 has a catch: users must be in the "Diamond" tier members, which requires staking at least 20,000 Yield App tokens (YLD) on the platform.
Yield App emphasizes that their yield generation strategies are market neutral, preserving client capital and generating returns in all market conditions. The company does not provide a wealth of information on how they actually generate these returns, but their website alludes to exposure to risk-assessed DeFi products and arbitrage trading.
Swap Assets
Unlike many other yield-earning services which require transferring crypto from a wallet or exchange, Yield App has a built-in crypto on-ramp that enables purchasing crypto directly through the platform in EUR or GDP.
Swaps are instant and come with no swap fees — the price that users see is all they pay to turn their fiat into crypto. Yield App allows for up to $100k in daily crypto purchases, so the on-ramp process is also friendly to large traders. The Yield App swap feature is used for cashing out crypto by converting it to fiat for withdrawal from the platform.
Yield App has partnered with several fintech companies to enable more seamless swapping for its users. Their first partnership is with Volt, a real-time payments gateway, which allows users to transfer money directly from their bank accounts into Yield App. With support for over 1,800 different banks, all users have to do to get their money into Yield App is approve the transfer through their banking app. Volt allows for GBP and EUR transfers using FPS and SEPA Instant.
Easy fiat onboarding doesn't end there, however. Yield App has also partnered with Fiat Republic, a disruptive fiat-as-a-service platform that provides clients with virtual International Bank Account Numbers (IBANs). In practice, this means that Yield App users can make and receive payments in multiple currencies without the need for a physical bank account.
Yield Pro
For sophisticated clients, Yield App has created Yield Pro — a suite of structured products that use advanced trading strategies like derivatives to earn yield. Yield Pro has a number of highly customizable structured products, each with a different risk profile, that allow users to earn higher yields.
Each of the structured products involves compound crypto trading strategies. Some examples:
Sell-high dual currency and buy-low dual currency — which involve buying and selling both BTC and ETH simultaneously to boost yield.
Range — which allows an investor to bet on a cryptocurrency remaining within a predetermined price range.
Sharkfin — which nets a substantial profit whenever a cryptocurrency appreciates within a certain range, but does not exceed it.
Target — which nets a profit whenever the price of a cryptocurrency remains above a certain target for an extended period of time.
The Yield Pro structured products have a variety of use-cases including mitigating risk during choppy markets and maximizing returns for clients with a risk appetite. It's important to keep in mind, however, that these strategies come with the potential for losses, so they're best suited for users who are already familiar with advanced crypto trading techniques.
Digital Asset Business Treasuries
Crypto yield generation isn't just for retail users. In fact, most institutions and treasury managers use some combination of yield-bearing assets to maximize the potential of their assets under management.
For digital asset treasuries, Yield App provides institutional grade security and a wide variety of exclusive services. These include a dedicated onboarding team & relationship manager and market-leading rates of up to 9% annual interest on major digital assets. Digital asset investment funds, VCs, fintech firms, and asset managers of all types can start earning yield on their treasuries by simply completing a KYB (Know Your Business) check through the Yield App website.
Yield Token
The Yield token (YLD) is Yield App's membership token that allows users to get the highest yield rates for crypto assets on the platform. Benefits are unlocked by staking the YLD token and the highest membership tier comes with exclusive benefits including VIP support, a VIP chat room, and priority access to the upcoming Yield App card program.
YLD can be purchased directly on Yield App, or through a third party cryptocurrency exchange. Once obtained, users unlock higher yield rates on crypto assets through staking the YLD token. Staking over 1,000 YLD tokens also enables a staking return on YLD, while locking up YLD tokens for 12 months enables even higher YLD yields of 12%.
| | | | | | | |
| --- | --- | --- | --- | --- | --- | --- |
| Membership Tier | YLD Staked | Free Withdrawals | VIP Chat | Yield Rates on Crypto Assets | Staking Base Return | Yield on YLD lock |
| Bronze | 0-999 YLD | No | No | up to 5% | 0% | 0% |
| Silver | 1,000-9,999 YLD | No | No | up to 6% | 4% | 12% |
| Gold | 10,000-19,999 YLD | No | No | up to 7% | 5% | 12% |
| Diamond | 20,000 YLD + | 3 per month | Yes | up to 11% | 6% | 12% |
Interface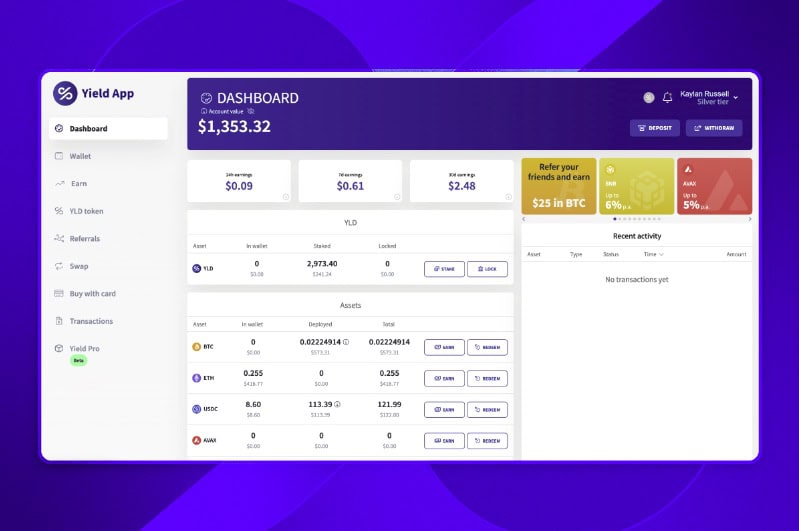 The Yield App interface is simple and straightforward. Users can see an overview of their portfolio from the app dashboard that includes their total account value and a breakdown of each asset they own.
On the left-hand side is a navigation menu that covers all relevant account information in one place.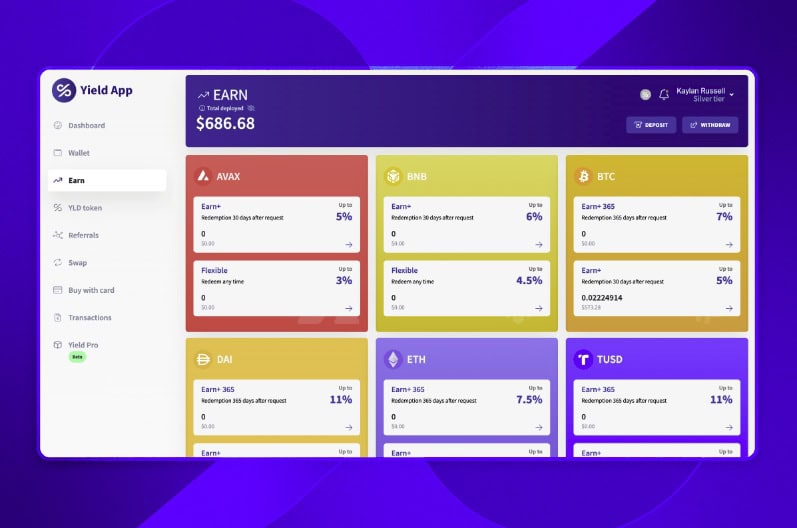 The "Earn" section displays the different assets that Yield App supports along with the current APYs for each asset by lockup period.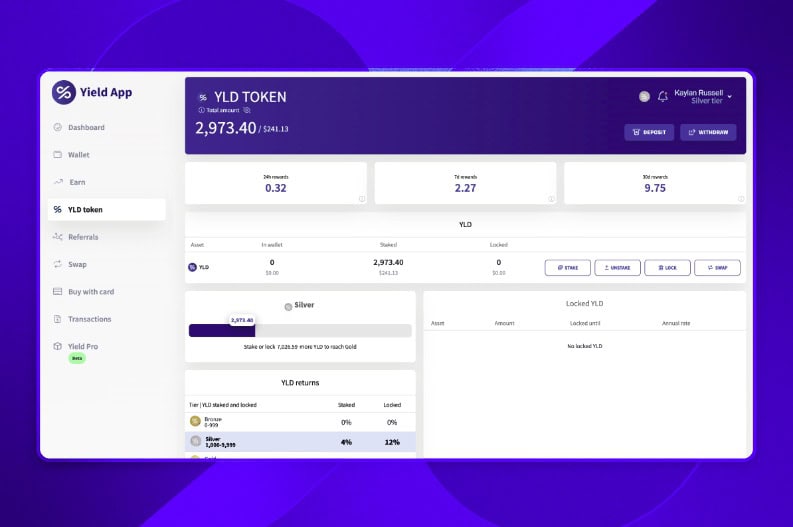 Users can use the "YLD Token" window to view their current YLD token holdings, see what membership tier this puts them in, and stake, unstake, lock, & swap YLD tokens.
The "Swap" section enables easy swaps between crypto and fiat currencies based on the user's balance.
Customer Service
The easiest way to get support from the Yield App team is through the chat widget on the Yield App website. I tried this approach and got a quick answer to my question within 1 hour, even on a Saturday.
For users who may be unable to access the chat widget for any reason, Yield App also provides a support ticket submission form and a support email at support@yield.app.
Who's Yield App For?
People who want high yields: It's what we're here for: yields! It should come as no surprise that Yield App is a great choice for crypto holders looking to earn yield on their crypto assets. With APYs as high as 11% on stablecoins, the platform is a solid choice for retail investors and crypto-savvy businesses alike. Remember to stake YLD tokens to unlock the highest possible yields.
People who manage institutional capital: While retail earning platforms are in the crypto headlines daily, it's actually institutions and treasury managers who benefit from these services the most. Yield App caters to enterprise clients as well. With dedicated onboarding and relationship management teams, businesses can get started earning yield on their digital assets in just a few days.
People who need a fiat on-ramp: Many yield-earning services require users to already have their crypto on-hand. On Yield App, users can deposit and convert their EUR or GBP fiat directly to crypto in seconds, with the option to automatically allocate newly swapped funds to earning. Through Yield App's partnerships with Volt and Fiat Republic, users can send their fiat to the platform directly from their bank account or from a virtual ISBN.
Who It's Not For? 
People who need lots of crypto assets: One of the main drawbacks of Yield App is its limited roster of crypto assets. While the majority of users will probably be using BTC, ETH, or a stablecoin like USDC to earn, some users may want to generate yield on a particular altcoin. With support for just 8 assets, Yield App may not be suitable for heavily diversified holders.
People who are in the US: Another downside of Yield App is its limited geographical availability. When it comes to crypto, many companies stay away from the US due to the country's stringent financial regulations, so Yield App is certainly not alone in this regard. US residents on the hunt for yield products, however, will have to look elsewhere.
People who want more than just yield: Outside of yield-generating services and a fiat/crypto on-ramp, Yield App does not have an extensive suite of features. Crypto holders looking for exchange services, borrowing, DeFi wallets, or other features won't find these services on Yield App. 
Yield App Alternatives
Crypto yield generation is one of the oldest services in the blockchain world so it's natural that there are several respected names in the space. Below we compare crypto ecosystem Nexo and crypto earning platform YouHolder to Yield App. Let's see how they stack up.
Yield App Vs. Nexo
Nexo is a crypto exchange that also provides services like crypto loans and an earn product. As one of the largest exchanges, Nexo is able to offer competitive yields on assets — as high as 16%. The catch, however, is that earning the top tier of yield requires client portfolios to consist of at least 10% NEXO tokens, which can become quite significant when dealing with large amounts.
Platform
Supported Assets
APYs
Lock-up Period
Platform Services
Nexo
BTC
ETH
USDC
USDT
+ more
Up to 16%
Flex (withdraw any time) and 3 month lockup periods are available
Earn Yield, Trade Crypto, Borrow Funds
Yield App
BTC
ETH
USDC
USDT
DAI
BNB
AVAX
YLD
Up to 11%
Flexible, 30 day, and 365 day
Earn Yield, Fiat to Crypto Swaps, Structured Products
Yield App Vs. YouHodler
YouHolder is a yield-focused platform that supports major cryptocurrencies and provides up to 15% APYs. The top APY tiers require monthly transaction volume in the millions of dollars, however, so for retail traders and smaller corporate treasuries, Yield App is still a better choice.
Platform
Supported Assets
APYs
Lock-up Period
Platform Services
YouHodler
BTC
ETH
USDC
USDT
+ more
Up to 15%
None – all assets are available for withdrawal at any time
Earn Yield, Fiat to Crypto Swaps, Crypto Loans
Yield App
BTC
ETH
USDC
USDT
DAI
BNB
AVAX
YLD
Up to 11%
Flexible, 30 day, and 365 day
Earn Yield, Fiat to Crypto Swaps, Structured Products
Is Yield App Safe To Use?
Due to the ever-changing nature of crypto, we cannot accurately say how safe and secure a product is now or will be in the future. We have examined a variety of factors to determine how safe we believe Yield App is, but please always use caution and thoroughly investigate the platform for yourself before using it.
Yield App Security
According to the platform, Yield App protects user assets through a variety of means including:
Military-grade 256 bit encryption for asset storage
State-of-the-art DDoS protection
Internal physical control and blockchain-based smart contract security for key storage
MPC (multi-party computation) as an institutional grade protection for assets
A two-man rule for sensitive operations regarding user data
Asset Safety With Yield App
Beyond the technical safekeeping of user assets, an even more relevant safety consideration is what companies actually do with your money. This is especially important to consider with earn products that utilize various market strategies to generate yield.

Yield App takes several important steps to ensure that user assets are safe and put to work only within a reasonable risk profile:
No leverage: According to Yield App, the platform does not use leverage products to boost returns on user assets. On their website, they unequivocally state 'We never use leverage."
No lending: One of the main ways that financial service providers generate returns is by lending out their clients' money. Yield App does not use any lending strategies — collateralized or otherwise — to generate yields.
Market-neutral strategies: There are many ways to earn returns on capital beyond speculative trading. Yield App employs liquidity providing and large-scale market making to generate returns. These methods usually do not expose funds to the whims of the market. As an added safety measure, all Yield App trading strategies are checked against a 135-point proprietary risk model or vetted using enhanced due diligence.
Yield App Founders
Yield App was founded by Tim Frost and Justin Wright.
CEO Tim Frost grew the company to 75,000 users and $500 million in assets under management in the first year of operations. His background is in fintech startups, and he has held executive-level positions at EQIBank and WireX since first entering the blockchain world in 2015.
When Was Yield App Founded?
Yield App was founded in August of 2020 by Tim Frost and Justin Wright.
What's Their Reputation On The Internet?
Users report being happy with Yield App's services and the platform has been trusted by over 90,000 customers to date.
Yield App has a 4.4 star rating on Trustpilot from over 150 reviews. Users praise the platform's high yields and its beginner friendly interface. People are especially pleased with how the company managed to skillfully navigate the crypto contagions of 2022 and emerge without any affected customer assets.
Final Thoughts On Yield App
Yield App delivers up to 11% APY on various cryptocurrencies with minimal fees, a simple user-interface, and an emphasis on asset safety. The platform's structured trading opportunities for seasoned traders and its digital asset management for large treasuries make it a good choice for portfolios of all sizes, provided your country and desired trading assets are supported.
Frequently Asked Questions
No, Yield App is not regulated.

From Yield App's terms and conditions: "No Yield Service or entity (including, without limitation, Yield App Limited and Trofi Group Limited) is authorised or regulated by the United Kingdom Financial Conduct Authority ("FCA") for the purposes of crypto asset exchange, crypto asset custody, broader crypto asset services or for making payments in crypto assets within the Yield community. Your Digital Assets are not protected by the Financial Services Compensation Scheme or the Financial Ombudsman Service or any other consumer protections or similar schemes in any jurisdiction."
You can redeem your rewards at any time, as long as your assets have been locked up for at least 30 days in Earn+ or 365 days for the Earn+ 365 program. 
Head over to your dashboard and click the "Redeem" button next to an asset to initiate a transfer to your Yield App wallet.
According to the platform, all withdrawals are usually completed within a few minutes. 
Users having trouble with withdrawals can contact support through the live chat on the Yield App website or by e-mailing support@yield.app.
No, Yield App is not decentralized. 
Although the platform deals with decentralized currencies, Yield App users don't have transparency into where their money is going, and the company does not have a decentralized governance mechanism in place. An example of a decentralized alternative to Yield App that provides returns through staking is Yearn.Fi.