Nexo Review 2023: Interest Rates, Fees, & Is It Safe?
Published: October 4, 2023
|
Last Updated:

October 31, 2023
Our Take On Nexo
THE BOTTOM LINE:
The Swiss-based Nexo crypto exchange brings a unique mix of features, ranging from lending and borrowing to 3x leveraged trades to liquid ETH staking and even a rewards card. But the Nexo exchange's features vary greatly depending on your location. In my Nexo review, I found the exchange easy to use, packed with value, and reminiscent of an online bank in many ways — but a cool one — for crypto people.
Pros
No-fee trades (financed by spreads) make accounting easy
No-hassle access to the value in your crypto through Nexo Borrow
Nexo Pro for precision trading with low fees
Free withdrawals (limited by loyalty level)
Cons
High NEXO token buy-in requirements to qualify for the highest loyalty levels
The 12-month NEXO token price is down over 50% compared to BTC
Several key products not available in major markets such as the US
Minimum withdrawal limits (0.001 BTC, 0.01 ETH)
Via Nexo's Website
Cost
No trading fees + 0.30%-0.40% Maker/Taker fees
Token
Full Nexo Review
| Trading Fees | Nexo Interest Rates (Borrowing) | Trading Pairs | Nexo Staking | Nexo App | Availability | Insurance |
| --- | --- | --- | --- | --- | --- | --- |
| No-fee trading for standard swaps (Nexo uses a spread), 0.40% Taker 0.30% Maker fees for Nexo Pro (lower fees for 30-day trading volume above $10,000) | 0% to 13.9%, depending on loyalty level and LTV | 500+ trading pairs | ETH only, liquid staking with nETH token (not available in the US) | Nexo is available in over 200 countries, but some features are unavailable in the US and other jurisdictions | Nexo is available in over 200 countries, but some features are not available in the US and other jurisdictions | $125 million coverage through Bakkt Warehouse, which provides ETH and BTC custody for Nexo |
What Is Nexo?
Nexo is a crypto exchange that's more than an exchange, bringing borrowing, a crypto rewards card, and other niche features that set the Nexo exchange apart from competitors. The company has survived both bull and bear markets, with a history dating back to 2018. Throughout the years, Nexo continues to innovate, building a worldwide base of over 5 million users in more than 200 countries.
Most of Nexo's products are available in most jurisdictions the exchange serves, but a handful of products and services are not available in the US or other countries, depending on local laws and regulations. For example, Nexo no longer offers its Earn product in the US, a product first introduced in 2020. This follows a settlement with the SEC. Some similar restrictions affect the availability of select Nexo products in Canada, Australia, and other areas.
But even with these limitations, the Nexo exchange brings its own value proposition, with top-notch security, fee-free trades, and the ability to borrow against 60+ cryptos.
Nexo Key Features
Nexo is a small exchange compared to industry giants like Coinbase, but the Nexo crypto exchange packages a unique set of features and clever implementations that you won't find elsewhere.
Nexo Earn Product: Earn a yield on your crypto (up to 16%) with Nexo's easy-to-use Nexo Earn. (Not available in the US or Canada.)
Crypto Loans: Borrow against your crypto with the proceeds paid in stablecoins or cash. Nexo interest rates range from 0% up to 13.9%.
Nexo Card: Earn up to 2% back and access the value in your crypto without selling with the Mastercard Nexo card.
Nexo Staking: Earn a staking yield with your ETH using Nexo's nETH, a liquid staking token that lets you trade your staked ETH or use it as collateral.
Nexo Exchange: Trade a wide range of cryptos with over 500 trading pairs.
Nexo Booster: Trade with up to 3x leverage and higher LTV ratios. Availability varies by location.
Nexo Pro: Access advanced trading and deep liquidity with Nexo Pro.
Nexo Wallet: Access DeFi yields and popular dApps on 5 networks with Nexo Wallet.
Loyalty Levels: Save on borrowing fees and earn rewards by qualifying for higher loyalty levels based on the percentage of your portfolio comprised of NEXO tokens.
Nexo Fees
| | |
| --- | --- |
| Fee Type | Nexo Fees |
| Trading Fees (swaps) | Nexo swaps use a spread with no additional trading fee. |
| Trading Fees Nexo Pro | Up to $10K 30-day trading volume: 0.40% Taker 0.30% Maker, fees as low as 0% available for higher trading volumes. |
| Network Fees (withdrawals) | None for free trade allowance (up to 5 per month depending on loyalty level), free withdrawals on Polygon, Binance Smart Chain (BEP-20), and Arbitrum, and EOS. |
To their credit, Nexo tries to make your experience fee-free, but you might still encounter some Nexo fees if you exceed the free withdrawal limit for your loyalty tier, which we'll explain in more detail in a bit. I was able to withdraw ETH on the Abritrum network with no fees, as advertised.
Fees for Nexo Pro compare well with major exchanges like Coinbase's Advanced Trade.
| Exchange | Fees (base tier) |
| --- | --- |
| Nexo Pro | 0.40% Taker 0.30% Maker |
| Coinbase Advanced | 0.60% Taker 0.40% Maker |
Nexo's no-fee trades use a spread, which you can think of as a small buffer between the market ask price and the price you pay. It's accurate to say there's no trading fee for standard swaps on Nexo, but it would be inaccurate to say there's no cost to trading. You're paying the spread.
Expert Nexo Exchange Review
Nexo is among the best-looking exchanges you'll find. The mobile app looks great too. Nearly everything you'll need is a click or two away — and if you're looking for it (like I was), the button to add funds is right on the main dashboard (scroll down a bit, it's below the fold on many monitors).
Once I figured out how to add funds, I was firing on all cylinders and ready to do a full Nexo review.
Here's how it went:
Nexo Loyalty Levels
Nexo uses what they call Loyalty Tiers to drive additional benefits like lower fees or higher interest rates. The loyalty tier structure is key to making sense of this Nexo business, so let's cover that first.
All users start out at the base loyalty level. To qualify for a higher loyalty level, you must own a certain amount of NEXO tokens relative to your total portfolio on Nexo.
The tiers work as follows:
| | | | |
| --- | --- | --- | --- |
| Base | Silver | Gold | Platinum |
| 0% up to 1% of your portfolio in NEXO | 1% up to 5% of your portfolio in NEXO | 5% up to 10% of your portfolio in NEXO | 10% or more of your portfolio in NEXO |
So, if you had $9,000 worth of crypto on Nexo, you would need to buy $1,001 in NEXO — and hold it on the Nexo exchange — to qualify for the top tier, Platinum.
The reward for reaching the Platinum tier comes with several benefits.
Lower borrowing rates: 6.9% for Loan to Value (LTV) of 20% or higher, 0% Nexo interest rate for lower LTV loans
Exchange rebates: Get 0.50% exchange cashback on trades
Additional free withdrawals: Get five free withdrawals per month compared to just one on the base tier.
Higher interest on deposits: Where available, you can earn an additional 25% on most interest-bearing deposit types compared to the base rate. For example, on crypto, the base Nexo interest rate is 4%, whereas Platinum Nexo users earn 5%.
The caveat: You have to invest in NEXO tokens, which brings some volatility risk. The price of NEXO is unpredictable, but it's something to consider when buying NEXO to qualify for the top tiers. It could be worth the investment if you're borrowing or lending in large amounts.
Another thing to keep in mind is that if the value of NEXO falls (or the rest of your portfolio gains value), you may need to top up your NEXO allocation to remain qualified for your desired loyalty tier.
Nexo Earn
Nexo's earn product is one of the most attractive parts of the offering — but it's not available in the US. This follows a similar pattern in which interest-bearing crypto lending in the US was pulled from exchanges like Gemini. But if you live in a jurisdiction that's more forgiving, Nexo Earn lets you lend BTC and other crypto assets easily with over 60 lending assets supported.
Upon deposit, you'll start earning a base rate, but if you commit to a longer lending period, your Nexo rates will be higher depending on the lock duration you choose. You can also earn up to a 2% higher rate by taking your interest earnings in NEXO tokens rather than the crypto you're lending.
To take your yield in the same coin you're lending, just click a toggle switch. This lets you earn BTC for lending BTC or ETH for lending ETH. Your choice.
Access lending terms and payment options through the Savings Hub:
While it appears that the yield on lending is coming from interest paid by borrowers, it's worthwhile to familiarize yourself with the Nexo Earn terms and conditions in which you grant Nexo the right to rehypothecate the crypto you deposit. Rehypothecate, in this case, may mean the assets can be used as collateral for Nexo's own trading, borrowing, or business activities. This, by the way, is exactly what banks do, so it's not necessarily nefarious.
Nexo rates for Earn vary by crypto asset and can reach as high as 16% paid out daily, with higher interest rates going to those who choose to lock their funds for longer. You'll also get higher rates by qualifying for a higher Nexo loyalty tier.
To earn the highest rates, you'll want to increase your loyalty level with NEXO tokens, as shown below.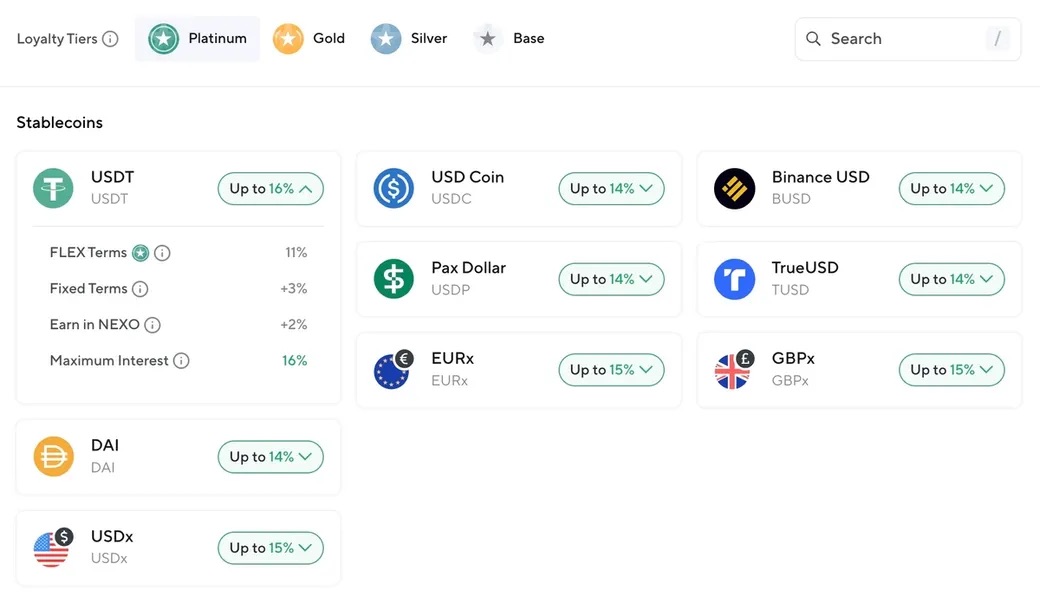 Best of all, earnings happen on autopilot if you don't want to lock up your funds. Just buy or deposit one of 35 interest-bearing cryptos, and you'll start earning compound interest without lifting a finger.
Borrowing On Nexo
Another big perk on Nexo is the ability to borrow against your crypto — and it's super simple to do. No applications, no credit checks. You automatically qualify based on the assets you deposit.
However, borrowing does come with some limitations. For starters, you have to borrow $50 minimum for stablecoin loans or $500 if you want to borrow in fiat (USD, in my case).
On the other end of the spectrum, borrowing limits are capped at $2 million per day.
Nexo interest rates for borrowing can be as low as 0% for Platinum users with under 20% LTV or as high as 13.9% for base users with a higher LTV.
Nexo borrowing in a nutshell:
Borrow up to 90% LTV, depending on collateral assets (more volatile assets are capped at 30-33% LTV or lower).
No prepayment fees — however, if you repay within 30 days of your withdrawal, you'll pay the 13.9% interest rate even if you qualify for a lower rate based on loyalty level. It might be cheaper to wait.
No fixed payment schedule (interest accrues, which can affect your LTV).
Higher Nexo loyalty tiers earn lower interest rates for borrowing.
See your available credit at a glance on your dashboard.
Nexo Card
I don't have a Nexo card yet, but in many ways, it seems better than a crypto credit card.
Cards offered through exchanges like Gemini and Crypto.com are actual credit cards. That means they have actual credit card rates, often over 20%. It also means that applying (or not paying on time) will ding your credit score.
By contrast, Nexo's Mastercard is simply a way to borrow against your own crypto held on the Nexo exchange. That means there's no credit check and no fixed payment schedule. The one thing to watch is that your borrowed funds are secured by your crypto. If the value of your crypto falls, your balance could exceed the max LTV, and Nexo could start selling your crypto to pay down the balance.
Here's a quick overview of the Nexo card:
Earn up to 2% cash back on purchases (paid in NEXO tokens).
Order your Nexo card through the Nexo mobile app.
Add your card to Google Pay or Apple Pay.
Order a physical card if needed.
No monthly, annual, or inactivity fees.
APR is based on your loyalty tier and LTV.
Easily repay through the app or Nexo's website or the Nexo app.
Nexo Staking
With Nexo, you can stake any crypto you want — as long as it's ETH.
The good news is that Nexo does ETH staking the right way by offering a liquid staking token. Staking is a great way to earn a yield on proof-of-stake cryptos by pledging your crypto to help secure the network. The issue with ETH, in particular, is that staking requires 32 ETH. That's a lot of ETH, and it makes unstaking difficult in some cases because validators need to maintain that 32 ETH to qualify for rewards.
Enter liquid staking. With liquid staking, you're issued an equivalent token that represents your staked ETH and earns staking rewards. The liquid bit refers to your ability to sell your staked ETH or use it as collateral.
Nexo's ETH staking uses the nETH token, allowing you to earn an estimated 4% to 12% annually — paid in nETH.
The idea is similar to Lido's stETH token or the newly launched cbETH (Coinbase staked ETH). However, unlike those tokens which increase in value to account for yield (rebasing), the nETH token can be exchanged 1:1 for ETH through Nexo, with the yield paid separately.
Nexo calls this feature Smart Staking, and it's a clever solution to liquidity concerns for ETH stakers.
Note: Smart Staking is not available in the US or Canada.
Nexo Exchange Vs. Nexo Pro
If you need to buy or swap cryptos, Nexo gives you three ways to get the job done, the first two of which are Nexo Exchange and Nexo Pro. (The third is through the DeFi wallet, covered in a bit.)
Nexo Exchange (Buy/Convert): This is where the no-fee trades happen. You can trade BTC to ETH with no trading fees. How can Nexo afford this? Well, they use a spread. You can think of a spread as a "padded" price, and it's common on crypto exchanges like Coinbase.
Nexo Pro: With Nexo Pro, you're interacting directly with trading books, so you can set limit orders or buy at the asking price (with no spread). But — you'll pay trading fees. Fortunately, they aren't too bad. Nexo trading fees get lower as you reach 30-day trading volume tiers. The base tier charges a 0.4% taker fee (for market orders) and a 0.3% maker fee (for limit orders).
Traders who value charts will want to use Nexo Pro rather than the simpler interface found on the dashboard. To do so, you'll need to move funds to your Pro account. There's no charge for this transfer, but it's less convenient compared to Coinbase, which lets you trade on either the simple or advanced interface using the same pool of crypto.
There's also a cool screener tucked away in the Insights menu of the Pro dashboard. I spent some time digging around to see which tokens are trending on Twitter. You can search for a specific token as well, but not all tokens are supported.
Nexo Booster
Leverage lets you move larger objects with less effort, and that's what Nexo Booster does as well, but with crypto. To be clear, you're borrowing to trade larger amounts. Nexo's booster works in concert with its other "Instant Crypto Credit Lines" lending products, sharing the same credit mechanics.
For example, with a $1,000 investment of USDT, I could control up to $3,000 worth of ETH or another supported crypto. But… if the price of ETH falls, Nexo can sell my collateral to keep my LTV in line.
Up to 3x leverage: Using Nexo's newbie-friendly dashboard, you can set the leverage amount you want, ranging from 1.25x to 3x. Lower leverage is safer, but with a 3x max, Nexo's leverage tool is already one of the safer choices you can make if you're going to use leverage. Some platforms allow 50x or higher.
Boosted LTV: With Nexo's other lending products, the LTV for popular assets like BTC and ETH is capped at 50%. Booster boosts the allowed LTV to 70%.
Profit projection: Use a handy slider to see your potential profits from the leveraged trade.
Earn cashback: Earn a half percent in cashback for using Nexo Booster, which is handy, because there's a cost as well, ranging from 1% to 3% as a flat fee (plus interest).
Nexo Booster is easy to use, combining several steps into one. You borrow and buy with just a few clicks. But unlike Nexo's other lending products, Nexo Booster comes with a one-time fee for each boost based on the LTV. Higher leverage will cost you more.
Nexo Booster Fees:
Lower than 50% LTV: 1%
50-60% LTV: 2%
60-70% LTV: 3%
You'll also pay interest on the borrowed amount, determined in part by your loyalty tier. And similar to other Nexo loans, if you repay within 30 days, you'll pay the max Nexo interest rate of 13.9% regardless of your loyalty tier.
Note: Nexo Booster is not available in the US or Australia.
Nexo Wallet
Nexo now offers a web3 wallet, giving you access to the world of DeFi and a unique web3 identity. Among other features, you can import your MetaMask or Coinbase wallet.
Nexo Wallet is a smart contract wallet, a bit of clever software that lives on the blockchain. It works with five Ethereum-compatible networks, including Polygon and Avalanche, but it won't hold your Bitcoin or Cardano.
Here are the benefits you'll get with Nexo wallet:
Aggregated wallets: View your wallets in one place so you can see your NFTs and tokens.
Batched transactions: Save money by "bundling" transactions, like in that insurance commercial.
More payment options for transactions: If you've ever needed to pay for a transaction with ETH but only had USDC, you'll appreciate this one.
More efficient DEX trading: Nexo Wallet aggregates pools from several decentralized exchanges to help reduce price impact and get you the tokens you want at the best price.
Earn DeFi yields: Interact with popular dApps like Compound to earn a yield.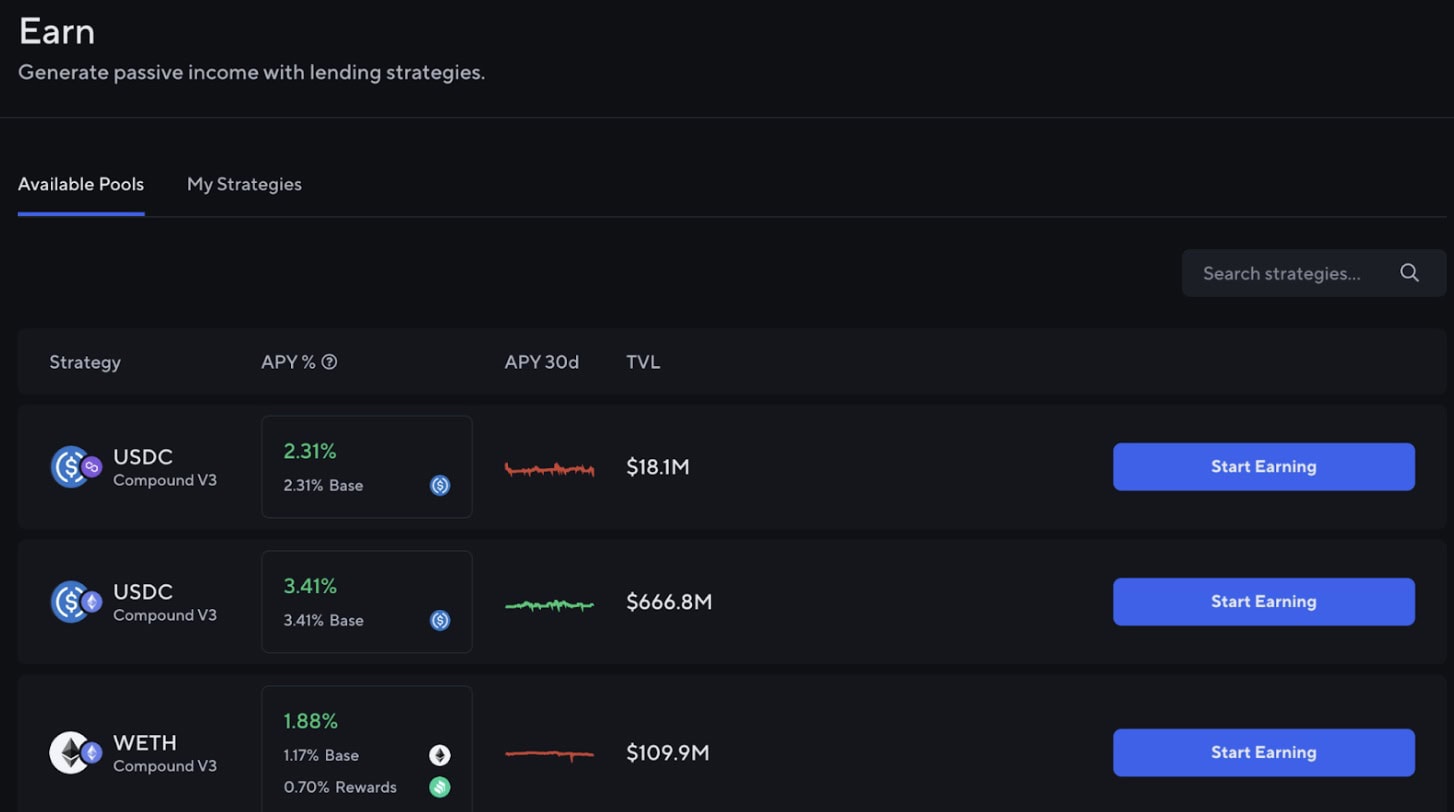 The Nexo wallet does bring some benefits, with the standouts being batched transactions and transaction fee payments in other cryptocurrencies. But if you're accustomed to using MetaMask or a similar full-featured wallet for DeFi, you might feel a bit constrained.
Note: Nexo Wallet is not available in the US.
Mobile Nexo App
Nexo's attention to detail shows in its mobile Nexo app as well, available for Android and iOS. You'll find all the features you love in the web app just a swipe and click away in the mobile app. On mobile, security is enhanced through biometric authentication on supported phones.
Customer Support
I reached out to Nexo when I was setting up my account because I was getting an error message. The problem was quickly resolved via chat.
Apparently, I already had an account — and there can only be one. Whoops. Nexo support deleted the second account for me, and I was all set.
Nexo's help pages are also extremely useful, many with video walk-throughs on common stumbling blocks.
Who's Nexo For?
People who want to borrow against their crypto: Nexo makes it super easy to borrow against your crypto in three ways: take a crypto loan, use your Nexo Card, or use leverage in trading with Nexo Boost.
People who want to earn a yield on crypto: Earning a yield is also a breeze. Just buy or deposit crypto to start earning automatically or set a lending term to earn a higher rate. Staking offers an additional way to earn a yield if you hold ETH on Nexo.
People who are new to crypto: Nexo brings some advanced features but is also welcoming to newbies. Extensive help pages and videos help you navigate Nexo's features and get the basics down if you're new to crypto.
People who invest in major cryptos: You'll find some less common crypto assets on Nexo, but don't expect the selection you'll find on Coinbase.
Nexo Alternatives
Nexo Vs. Coinbase
Nexo and Coinbase both serve as a people-friendly onramp to the crypto world. Each has its advantages, however.
| Exchange | Trading Fees | Notable Features |
| --- | --- | --- |
| Nexo | 0.3% maker fees 0.4% taker fees | Pro platform, Crypto loans, Leverage trading |
| Coinbase | 0.4% maker and 0.6% taker fees | Staking for several assets, Advanced trading platform, Wide crypto selection |
Nexo vs. Crypto.com
Nexo and Crypto.com both use their own token to up the benefits for users on the platforms. However, Nexo makes it a bit easier. You just have to hold NEXO tokens of sufficient value. Crypto.com's CRO token must be staked to earn rewards.
| Exchange | Trading Fees | Notable Features |
| --- | --- | --- |
| Nexo | 0.3% maker fees, 0.4% taker fees | Pro platform, Crypto loans, Leverage trading |
| Crypto.com | 0.0750% maker and taker fees, additional withdrawal fees | Higher staking rewards when staking CRO, Rewards credit card, 250+ cryptos to trade |
Is Nexo Safe To Use?
Nexo offers several confidence-inspiring safety features, but no crypto platform is completely safe.
Two-factor authentication (2FA): I couldn't make a move on Nexo without entering a text code — and that's a good thing. If someone has my login info, 2FA would prevent unauthorized transactions.
Real-time reserves attestation: Verify that Nexo has the crypto it says it has. We checked. At press time, Nexo had more than 100% of the crypto needed to satisfy customer liabilities.
Overcollateralized lending: Nexo limits LTV to conservative limits to help ensure the safety of lender assets on the platform.
Secure storage: Nexo partners with Ledger Vault to keep crypto funds secure.
Insurance: Nexo also works with Bakkt, a leading provider of secure storage, and maintains a $125 million insurance policy to protect crypto assets. Both Ledger and Bakkt insure funds on Nexo.
Global licensing: Nexo has obtained licenses to operate in jurisdictions worldwide. Where needed to meet local regulations, Nexo blocks access to certain features.
However, you'll also want to consider some risks, some of which you'll find with other exchanges as well.
Lending risk: While Nexo requires over-collateralization for borrowers, dramatic moves in price could create a situation in which assets might not be sold quickly enough to pay off or pay down loans.
Centralization risk: Like other centralized exchanges, users don't always know what's going on behind the scenes. As we've learned with other crypto lending platforms like Celcius and BlockFi, the financial health of lenders and exchanges can turn south quickly.
Rehypothecation: Much like a bank, Nexo has the right to use your funds for various purposes, including other investments or as collateral for borrowing by Nexo itself. This isn't unusual for crypto lenders, but it's not universal. Some lenders don't rehypothecate funds — or at least they say they don't.
To Sum It Up
Other crypto exchanges look like, well, exchanges. Nexo takes a different approach, bringing bank-like features and services to crypto investors. The beginner-friendly platform makes the right moves in regard to keeping funds secure and making the platform easy to use. Experienced users, especially those interested in DeFi, may feel a bit limited — but don't overlook Nexo if you're an advanced user. The Nexo Wallet has some attractive features that might impress the most seasoned crypto traders — like bundled transactions and the ability to pay for your transactions on another cryptocurrency.
Frequently Asked Questions
Yes, you can use Nexo in the US. However, some of the features of the platform won't be available. For example, Nexo Earn, Nexo Booster, Nexo Smart Staking, and Nexo Wallet are all unavailable in the US.
Yes. You can buy NEXO tokens on the Nexo Exchange or through a number of other exchanges, such as Coinbase.
Nexo is a good fit for both beginners and intermediate crypto investors and offers a wide range of services ranging from lending and borrowing to staking (ETH only). Many of these features are restricted in the US, and as a result, Nexo offers more value to users in Europe and other parts of the world.
Nexo is based in Zug, Switzerland but has licenses to operate in over 200 countries throughout the world.
Nexo and Coinbase both provide a user-friendly interface designed to onboard new crypto users. You'll find a wider selection of cryptos on Coinbase, whereas Nexo offers more services, such as lending and leverage trading.
One exchange isn't necessarily better than another. Instead, one exchange might be better suited to your trading needs. To learn more and decide which is best for you, read our full Nexo review above and then check out our Coinbase review.