Lido Finance Review: Lido Crypto Pros, Cons, & Features
Last Updated:

June 22, 2023
Our Take On Lido Finance
THE BOTTOM LINE:
Lido does everything right, offering better staking services for different cryptocurrencies with an easy-to-use interface, charging reasonable fees, rewarding generous referrals, supplying liquidity to many cryptocurrencies, and being supported by major players in DeFi. With its staking model, users can stake their tokens, and receive an equivalent in tokens pegged to their staked funds to use for yield farming in the DeFi ecosystem.
Pros
Simple, sleek interface makes it easy for staking beginners
stETH is liquid and can be used while you stake ETH
Maximizes decentralization and has governance tokens available
Cons
It's a semi-custodial service
Staking rewards fees apply
Staking rewards may be taxable, but with no reporting help

Via Lido's Website
Investors have become increasingly interested in staking crypto assets as a way to generate passive income in recent months. And right now, staking as a service is so popular that the crypto-verse views it as a separate sector of the economy. Additionally, a rapid increase in this sector is widely anticipated.
According to a JP Morgan report, the staking industry currently generates $9 billion in revenue annually on Ethereum's current proof-of-work consensus. However, after Ethereum's update to proof-of-stake protocol, that revenue is projected to increase to $40 billion by 2025.
Here's where DeFi staking protocols like Lido Finance come in, allowing users to stake their tokens while still maintaining custody and liquidity. Lido Finance — a decentralized autonomous organization (DAO) that allows you to stake your crypto assets in a non-custodial, decentralized manner that is safe, dependable, and would typically give you better staking rewards.
Lido Finance Pros And Cons
Lido Pros
Here are a few of the reasons why Lido has become the go-to staking platform for hundreds of thousands of ETH stakers.
User-Friendly
Lido Finance uses a simple, sleek interface for ETH holders to stake their crypto. With a few clicks, you can have your ETH staked and stETH in your wallet. Furthermore, the fee structure and transaction costs are transparent before you even connect your wallet, making it easy to choose whether or not you want to stake with Lido.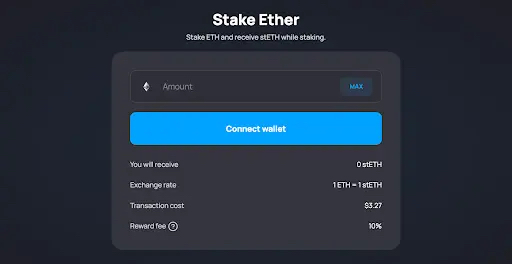 Liquid stETH
While your ether is staked and earning passive rewards on Lido, you have the equivalent in stETH (staked ETH) for use across the DeFi ecosystem. With stETH, you can provide liquidity to exchange pools on Lido or other platforms or lend it out on certain platforms.
Decentralized Structure
Lido actively uses the DAO governance structure for its operations. Crypto enthusiasts and believers in Lido can use the LDO token to vote on proposed updates to the platform and steer the overall direction of the organization.
Lido Cons
Lido naturally has some drawbacks that you should know of if you're someone interested in generating the best returns with your staking. They include:
Semi-custodial Service
We would call Lido's staking pool service at least semi-custodial since it is distributing users' ether across its validator nodes. However, stETH acts as a placeholder for a user's staked ETH, so they can exchange at any time.
Fees
While staking rewards fees aren't uncommon in staking services, Lido charges 10% of staking rewards on whatever you earn. This 10% fee is split between the node operators and the protocol's treasury.
Taxes
Depending on your personal situation and location, the ether rewards from staking with Lido may be taxable. While tax regulations aren't Lido's fault, its decentralized finance nature means you probably won't get the tax forms needed to easily report income from staking ETH.
Who Is Lido Finance Best For?
Lido Finance is a great option for many people who have been eyeing ETH as a way to potentially earn in crypto. Instead of buying and holding ETH in hopes that the price increases, you can stake as much or as little as you want while still using a derivative token elsewhere.
Crypto investors who are new to staking and want a user-friendly platform where they can stake their ETH.
Crypto enthusiasts who want to learn more about the potential of the staking-as-a-service model.
Investors who feel confident staking and who want to be able to freely move their staked ETH across different DeFi protocols.
Key Features Of Lido
Lido has become one of the go-to choices for stakers and investors due to its industry-leading features. Some of them include:
Easy Staking. By staking their assets, Lido users can earn daily staking rewards. The smallest number of tokens that users can stake is unrestricted.
Maximized Earning Potential. All users of the platform are permitted to use their tokens as collateral for lending, yield farming, and other activities. These assets can also be used to increase the yield already received.
Native Token. Lido has a token called LDO that is traded on a number of exchanges, including SushiSwap, Uniswap, Hoo, 1inch, Hotbit, DeversiFi, and Bilaxy.
Quality Audits. Lido smart contracts are audited by Quantstamp and Sigma Prime.
Wallet Variety. Although Lido doesn't have its own wallet, it does let users use some of the most well-liked ones on the market, including DeFi wallets like TrustWallet and MetaMask.
Cryptos Listed On Lido
You can stake more than just ether on Lido. Chains that work with Lido include the following:
Solana (SOL) can be staked for stSOL. APR is around 5.5%. Your staked SOL is still functional throughout the Solana ecosystem in the interim.
Kusama (KSM) can be staked for stKSM. The APR is 21.1%. Take advantage of the daily stake rewards from your KSM. Your stKSM works in DeFi on the ecosystems of the Kusama and Moonriver.
Polkadot (DOT) can be staked for stDOT. 16.5% is the average APR. Get DOT staking rewards every day. Let the Polkadot and Moonbeam ecosystems receive DeFi work from your stDOT.
Polygon (MATIC) can be staked for stMATIC. APR stands at 8.7%.
Fees For Using Lido
The DAO, node operators, and an insurance fund all receive a portion of the staking rewards, which are subject to a 10% fee by the system. After a successful vote, the DAO may alter the fee. With this fee structure, Lido staking should be more profitable than what is provided by the majority of exchange staking alternatives.
Furthermore, Lido still operates on the Ethereum blockchain, so gas fees do apply, and can vary based on network traffic volume. Lido does not collect Ethereum gas fees.
Alternatives To Consider
Lido is one of the most trusted staking-as-a-service platforms for both traders and investors. But in case you feel it's not right for you or you're looking for more centralized options, consider the following alternatives:
ByBit: Good For Crypto Traders Who Want To Maximize APYs
ByBit offers flexible staking, DeFi mining, and APYs reaching as high as 400%.
KuCoin: Good For Centralized Staking
KuCoin is a centralized exchange that supports dozens of cryptocurrencies, multi-staking options, high interest, and even crypto lending.
Nexo: Good For Long-Term Stakers
Nexo supports over 35 cryptocurrencies, offers compounding interest for long-term investors, and provides up to 16% in annual interest.
Is Lido Right For You?
With solid fundamentals, a robust ecosystem, and a trusted community, Lido is becoming one of the go-to ETH staking platforms for traders and investors alike. If you're looking for a user-friendly platform where you can stake your ETH, earn daily rewards, and do it all while having the freedom to move your staked ETH across different DeFi protocols, Lido might be exactly what you're looking for.
Final Thoughts On Lido
The road to ETH 2.0 is merged together with DeFi by Lido, calmly situated in Ethereum's sweet spot. Lido offers users a novel way to stake ETH on Ethereum's new beacon chain while maintaining access to their ETH's value.
But even though Lido has been raising eyebrows around the DeFi world, it's one project everyone in crypto should have their eyes on. With its friendly interface, ease of use, sustainable APYs, and community of loyal supporters, it's safe to say Lido raises the stakes and is here to stay.
Frequently Asked Questions
For anyone wishing to take part, Lido has made the process of staking ETH as simple as possible. It only takes a few clicks or taps on your phone, whether you're using a desktop or a supported mobile wallet.
No, any ETH that is staked on any staking service, Lido or otherwise, cannot be unstaked until the Ethereum merge, expected in late 2022. You can, however, currently exchange your stETH balance back for standard ETH.
As with any smart contract, there is a chance that Lido has a smart contract flaw or vulnerability. That being said, the Lido code is open-sourced, reviewed, and subject to a thorough bug bounty program. Throughout hundreds of user reviews, it's generally ranked as very safe.
Depending on your local jurisdiction, the conversion of ETH to StETH might be considered a taxable event. It's best to consult with a tax professional to understand how staking ETH on Lido may affect your taxes.
No, there's nothing to indicate that Lido reports transaction data to the IRS. Yet, any staking income you make from the platform is taxable, and you should self-report it to the IRS.