Phemex Review 2023: Pros, Cons, And What To Know About Phemex CEX
Published: September 5, 2023
|
Last Updated:

September 11, 2023
Regularly Seen On:
Our Take On Phemex
THE BOTTOM LINE:
The Bottom Line: Phemex is a popular centralized exchange that supports spot trading, contract trading, earning and more. Unlike other centralized exchanges, Phemex has a hybrid CeFi & DeFi model that puts a decentralized twist on a classic formula.
Pros
Popular exchange that supports lots of cryptocurrencies
"Semi-centralized" hybrid model that incorporates DAO governance
On-chain proof of funds
Cons
Restricted in certain countries, such as in North America
Limited stablecoin markets

Via Phemex's Website
Support
BTC, ETH, XRP + more
Availability
Europe, Australia, New Zealand, Middle East
Token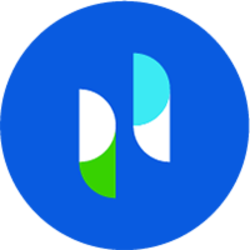 Phemex Overview
Supported Crypto Assets
Types of Markets
Restricted Countries
Leverage
Fees
Deposit Methods
BTC, ETH, XRP, ADA, USDT + 210 more
Spot
Contracts
Buy & Sell

US, UK, Canada, Cuba, Crimea, Sevastopol, Iraq, Yemen, Iran, Syria, North Korea, South Korea, Sudan, China, Hong Kong, Republic of Seychelles, and Bermuda
Up to 5x on spot markets

Up to 100x on contract markets
Spot Markets: 0.1% maker & 0.1% taker 

Contract Markets: 0.01% maker & 0.06% taker 

Withdrawal Fees: Different for each coin (see full list here)

Deposit Fees: None

ACH, Credit Card, Crypto Transfer
What Is Phemex?
Phemex is a centralized exchange founded by Jack Tao, a senior executive from Morgan Stanley, with the goal of bringing professionalism and trust to the crypto ecosystem. The exchange is based in Singapore and supports over 200 countries, but is, notably, not available in every jurisdiction. Traders turn to Phemex for its ease of use, highly liquid markets, and a breadth of ecosystem features.
Phemex Key Features
When it comes to centralized exchanges, Phemex is up against some stiff competition from industry giants like Binance, Coinbase, Crypto.com and countless others. Phemex holds its own, though, thanks to a host of innovative features — some of which you won't find anywhere else.
Lots of Supported Tokens: Phemex makes it easy to buy, sell, trade, and speculate on almost every type of well-known crypto token. The exchange allows you to deposit funds using a number of fiat currencies through both direct transfers and credit card payments.
"Phemexia" Web3 Ecosystem: As the first "Semi-Centralized" exchange, Phemex is creating an entire web3 world complete with DAO governance, an identity NFT, a crypto wallet, and much more. Phemex blurs the lines between DeFi and CeFi in a unique and refreshing way.
Innovative Platform Features: On Phemex you can do a lot more than just trade crypto. Copy the profitable strategies of other traders, set up trading bots, and even swap your assets peer-to-peer. There are also prediction markets, high-APY staking pools, a Launchpad for early supporters of new projects, and even a "Learn & Earn" program where you get paid to learn about crypto.
Contests & Prizes: As Phemex is gearing up for the release of their Phemex Token in late 2023, they're sweetening the pot for new members by offering large giveaways of ETH and rewarding users in xPT tokens for referring their friends.
Phemex Fees
Centralized exchanges have two main types of fees: maker fees & taker fees. Whenever you are adding liquidity to the orderbook, you are considered a market "maker" and whenever you are taking liquidity out of the orderbook, you are considered a market "taker".
Most exchanges charge higher taker fees than maker fees, as they want to incentivize traders to add liquidity rather than take it away. Phemex does this for its contract markets, but it charges a flat fee for makers and takers in their spot markets, which is a benefit that many competitors don't offer.
The Phemex fees themselves are relatively straightforward:
Spot Markets: 0.1% maker & 0.1% taker fees
Contract Markets: 0.01% maker and a 0.06% taker fees
Withdrawal Fees: Relatively low, but different for each coin (see full list here)
Trading fees can be reduced by taking part in the Phemex VIP program where traders get a discount on fees based on trading volume. The VIP program is split up into different discounts for spot trading and for contract trading.
| | | | |
| --- | --- | --- | --- |
| VIP Level | Last 30-Day Volume (USD) | Maker Fee Rate | Taker Fee Rate |
| Standard | 0 – 10,000 | 0.1000% | 0.1000% |
| VIP 1 | 10,000 – 500,000 | 0.0900% | 0.1000% |
| VIP 2 | 500,000 – 2M | 0.0500% | 0.0500% |
| VIP 3 | 2M – 4M | 0.04500% | 0.06500% |
| VIP 4 | 4M – 6M | 0.0400% | 0.0600% |
| VIP 5 | 6M – 10M | 0.03500% | 0.0550% |
| STAR VIP | 10M+ | 0.0000% | 0.0400% |
Contract Markets VIP Program:
| | | | |
| --- | --- | --- | --- |
| VIP Level | Last 30-Day Volume (USD) | Maker Fee Rate | Taker Fee Rate |
| Standard | 0 – 5M | 0.01% | 0.06% |
| VIP 1 | 5M – 10M | 0.01% | 0.055% |
| VIP 2 | 10M – 25M | 0.0055% | 0.050% |
| VIP 3 | 25M – 50M | 0.0045% | 0.045% |
| VIP 4 | 50M – 150M | 0.0020% | 0.0400% |
| VIP 5 | 150M – 300M | 0.0010% | 0.0375% |
| Star VIP | 300M+ | 0% | 0.03% |
Our Expert Review of Phemex
Phemex provides all of the services you may have come to expect from large exchanges, including a number of ways to buy and sell crypto, spot markets, perpetual contracts markets, and yield-bearing savings accounts.
Phemex stands out in important ways, however. The platform's biggest differentiator is its "Semi-Centralized" hybrid model that borrows web3 features like DAO governance, an identity NFT, and cryptographic proof of reserves.
Let's start at the basics and take a look at everything the exchange has to offer.
Buy Crypto
Buying crypto on Phemex is straightforward through a one-click buy and sell process. You can pay in over 80 different fiat currencies. Please note that credit card purchases only allow you to purchase USDT. The minimum and maximum purchase amounts using a credit card are below:
You can also purchase crypto through a fiat balance on the platform. You can buy USDT, BTC, USDC, and ETH through your existing balance and the minimum purchase amounts are:
Please note: The Buy & Sell options on Phemex require you to go through a "Know Your Customer" (KYC) identity verification process in order to use them.
Spot Trading
Phemex's "spot" markets allow you to trade 263 token pairs with up to 5x leverage. Fees on spot trading are relatively low at 0.1% for both market makers & market takers. These fees can be decreased by participating in the Phemex VIP program.
Contract Trading
The second major set of markets on Phemex is their "contract" trades. Contracts are perpetual future markets that allow you to trade the price of a cryptocurrency without having to actually hold the asset (speculators rejoice!)
Contract markets are available in three flavors: USD-denominated, USDT-denominated, and COIN-M denominated. This means that you can use either USD, USDT, or cryptocurrencies as collateral for your margin. Note that for COIN-M denominated markets, the only margin available is BTC and ETH.
Phemex contracts come with a 0.01% maker fee and a 0.06% taker fee, which can also be improved by joining the Phemex VIP program. Remarkably, Phemex contracts offer a whopping 100x leverage on many assets including BTC and ETH!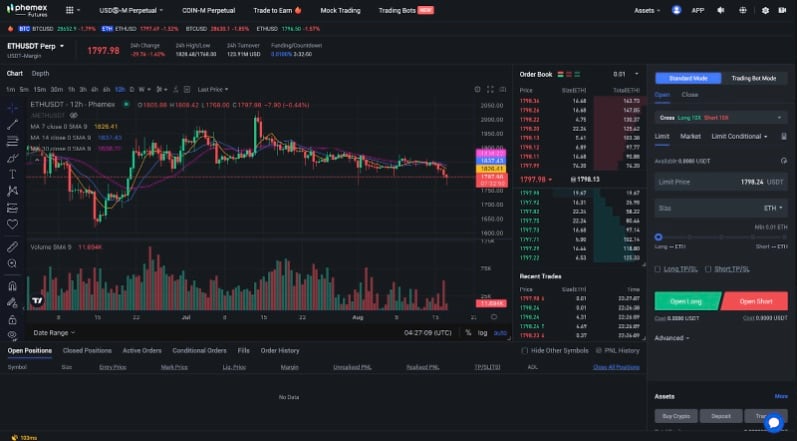 Earn
You can put your crypto to work earning interest for you through Phemex. Annual Percentage Yields (APYs) range from 0.35% to 4%, depending on how long you lock your assets up. You can either choose a "flexible" deposit, which allows you to withdraw your money at any point, or a "fixed" lockup period of either 7 days or 14 days. The 14 day periods give you the best APYs. The exchange supports a number of assets for their Earn program.
| | | | |
| --- | --- | --- | --- |
| Asset | Flexible APY | 7-Day Lockup APY | 14-Day Lockup APY |
| ETH | 0.30% | 0.35% | 0.50% |
| USDC | 8% | 2% | 4% |
| USDT | 10% | 2% | 4% |
| BTC | 0.80% | 1% | 1.20% |
| SOL | 0.75% | 0.80% | 0.85% |
| XRP | 0.30% | 0.40% | 0.50% |
| ADA | 0.30% | 0.40% | 0.50% |
| APT | 0.30% | — | — |
| MANA | 1% | 0.40% | 0.50% |
| DOT | 0.30% | 0.40% | 0.50% |
| LINK | 0.30% | 0.40% | 0.50% |
| FTM | 0.30% | 0.40% | 0.50% |
Copy Trading
Phemex allows users to set up bots that automatically make the same trades as certain "top" traders on the Phemex platform. According to the exchange, "top traders" are traders with a proven track record that includes a PNL sheet of over $20,000 and and ROI above 200% in the last 30 days. This helps ensure that top traders are dependable (and worthy of mimicking.)
To get started with copy trading, users first need to select a trader to copy through the Phemex "Copy Trading" interface. Each trader has a limit of 100 users copying their trades, in order to ensure that market price impact is limited. The interface also provides stats on trader performance including their total balance, their overall PNL and their monthly PNL.
Once you find a trader you'd like to copy, simply press the "Copy" button to copy their trades.
The Phemexia Web3 Ecosystem
Phemex takes a step beyond traditional centralized exchanges by introducing an entire web3 ecosystem complete with a utility token, a governance token, and an identity-bound NFT. This ecosystem is still in the works, but in the future, users will be able to use their governance tokens to make decisions in the Phemex DAO and have a hand in determining the future of the platform — something not many other exchanges can say.
It's called "Phemexia" and it has three main elements.
The Phemex Token
The Phemex "PT" token will serve as a utility token for the Phemex platform. While the exact details on how PT will be used are still sparse, the token is expected to provide similar benefits as the tokens of other large exchanges like Binance (such as trading fee discounts).
According to the Phemex website, the PT token will "offer a diverse array of benefits and use cases including staking yields, trading rewards, and Phemex DAO governance." Here, Phemex does a little twist on classic governance — you won't actually be using your PT tokens to vote, instead, you can stake your PT tokens to earn "vePT" governance tokens that you use to vote. This is an interesting model that provides a means of governance while generating staking demand for the platform token. It will be exciting to see how this model plays out!
PT is currently in a "pre-minting" phase and is set to fully launch by the end of 2023. A total of 1 billion PT tokens will be issued, and the exact token vesting schedule can be viewed on the website.
The Phemex Soul Pass
Your access to the Phemexia ecosystem begins with the Phemex Soul Pass — a non-transferrable NFT that acts as your identity in Phemexia. Based on Vitalik Buterin's idea of "soulbound" NFTs, the Phemex Soul Pass (PSP) stays in your wallet and acts as your on-chain passport.
According to Phemex, the PSP will give access to special privileges within Phemexia, and it will also hold on-chain achievements and store credentials based on your contributions to the ecosystem. Most importantly, the PSP is required in order to mint xPT tokens (covered in the next section).
To be eligible for claiming a PSP through the Phemex website, traders must have a 30 day trading volume of at least $10,000 through the platform (combined spot + contract markets). If you fit the bill, claiming your PSP is free through the Phemex website.
The xPT Token
Ok, I know all these tokens and NFTs are getting confusing, but this is the last one — we're almost there!
The final piece of the Phemexia ecosystem is the xPT token. xPT is the pre-mining version of the PT token which will be the eventual utility token of Phemex.
Once you've claimed your Phemex Soul Pass, you become eligible to mint xPT tokens which will automatically be converted into fully-fledged PT tokens once the final token is released. And all xPT will be automatically converted 1:1 into Phemex tokens once their token launches.
xPT mining happens in stages, progressively unlocking 20,000,000 tokens with each stage. Each stage has an increasing crypto mining "difficulty", meaning that you will receive fewer xPT tokens during later stages. For example, during the first stage, $10,000 in trading volume gave you 10.24 xPT, meanwhile in the current (second) stage, $10,000 in trading volume only nets you 5.69 xPT tokens.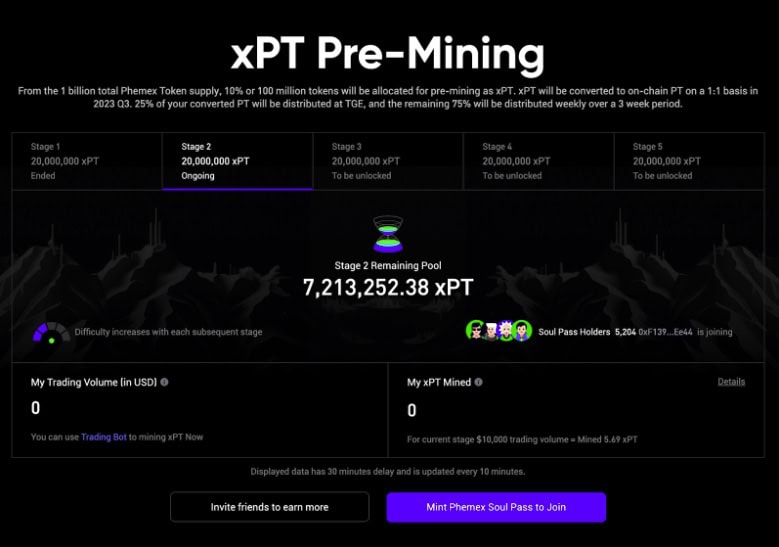 Customer Service
Phemex offers customer service through a chat widget on their website and also via email at support@phemex.zendesk.com.
Both options work, however I personally recommend using the chat widget as it's instantaneous. I used it several times in my research and always received fast and thorough answers to my questions.
Who's Phemex For?
People who want a blend of CeFi & DeFi: Phemex provides all of the good of centralized exchanges — including fiat on-ramps, deep liquidity, and instant swaps — while using DeFi to mitigate some of the trust-related downsides. If you like the convenience of CeFi, but want the trust guarantees of DeFi, Phemex is a good middle ground.
People who don't want to go through KYC: Currently, Phemex only requires KYC verification in order to buy, sell, & deposit money into your account. You can use the rest of the exchange completely anonymously.
People who want more than just an exchange: Whether it's the Learn & Earn initiative, the prediction markets (that are basically crypto sports betting), or the bustling Discord of over 20,000 people, Phemex feels a lot more like an ecosystem than just an exchange.
Who's it Not For?
Geo Restrictions: Perhaps the biggest disappointment about Phemex is the fact that their services are not available to residents of the US as well as a host of other countries including the UK, Canada, Cuba, Crimea, Sevastopol, Iraq, Yemen, Iran, Syria, North Korea, South Korea, Sudan, China, Hong Kong, Republic of Seychelles, and Bermuda. So if you live in these countries, you'll have to pick a different exchange to make your trades.
People who need lots of derivatives: While Phemex provides derivatives in the form of their perpetuals contracts, true options and non-perpetual futures trading is not available on the platform. If derivatives are your thing, Phemex is probably not your exchange.
People who are DeFi maximalists: Discord or not, Phemex is, at its core, a centralized exchange. This means that many token pairs won't be available, trading fees may be higher than on DeFi AMMs, and, of course, you sacrifice the decentralized ethos. While Phemex is moving in the direction of decentralization, the DeFi degens among you may not find a home here.
Phemex Alternatives
When it comes to crypto exchanges, traders have a ton of different options. Phemex offers competitive rates, a strong assortment of tradeable tokens, and a hybrid decentralized/centralized model, but let's see how all that stacks up against some of the leaders in the space.
Phemex vs. Binance
Binance is the largest exchange in the world. Boasting billions in trading volumes every day, Binance offers it all — spot markets, derivatives markets, an NFT marketplace, as well as its own token and chain (the Binance Smart Chain). Phemex keeps up though, and it's a close call between these two blue chip exchanges.
| | | | |
| --- | --- | --- | --- |
| Platform | Fees | Leverage | Notable Features |
| Binance | Between 0.01% and 0.04% on market trades | Up to 125x | Binance Pay, BNB token, Binance Smart Chain ecosystem |
| Phemex | Between 0.01% and 0.06% on market trades | Up to 100x | 215 supported crypto assets, "Semi-Centralized" model, proof-of-reserves |
Phemex vs. Coinbase
Coinbase is the leader in cryptocurrency trading for US residents. When it comes to international markets, however, Phemex takes the lead. Phemex also offers perpetuals contracts, and a broad web3 ecosystem, unlike Coinbase.
| | | | |
| --- | --- | --- | --- |
| Platform | Fees | Leverage | Notable Features |
| Coinbase | Between 0% and 0.60% on market trades | None | Highly regulated and supports US residents, liquid ETH staking, over 500 crypto pairs |
| Phemex | Between 0.01% and 0.06% on market trades | Up to 100x | 215 supported crypto assets, "Semi-Centralized" model, proof-of-reserves |
Is Phemex Safe to Use?
Due to the ever-changing nature of crypto, we cannot accurately say how safe and secure a product is now or will be in the future. We have examined a variety of factors to determine how safe we believe Phemex is, but please always use caution and get a sense for the platform yourself.
Below we examine a list of factors that contribute to the security of Phemex and the peace of mind of the traders on the platform.
Semi-Centralized Exchange Model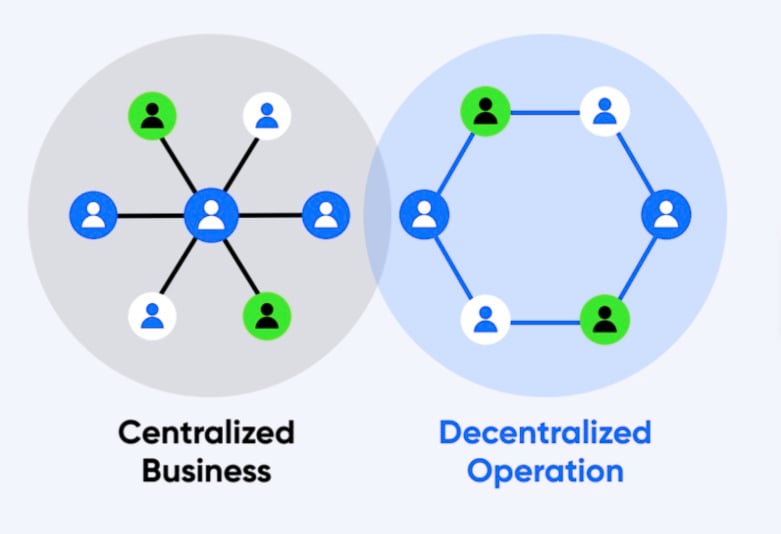 One of the main things Phemex does differently when it comes to the architecture of the platform is its "semi-centralized" design. Phemex is technically a centralized exchange but it also has DeFi elements incorporated into it that help provide a true blockchain-level security guarantee.
The actual orderbook and exchange operations are centralized for efficient execution and better liquidity routing. Phemex goes a step further, though, by providing proof-of-reserves using blockchain-native Merkle tree technology. This makes the platform much more transparent, especially when compared to the black box operations of exchanges like the now-defunct FTX.
In the future, Phemex plans to add a wallet with a private key, an AMM-style system of liquidity providing, a web3 credential and reputation system based on the Phemex Soul Pass, and uncollateralized lending. This push to decentralization will bring Phemex much closer than other exchanges to the excellent standards of security that decentralized systems are known for.
Phemex Founders
Phemex was founded by Jack Tao, a former senior executive at Morgan Stanley.
According to Phemex, Tao & his team were motivated to create the exchange after witnessing the inadequacies of traditional finance and seeing a solution in blockchain technology. The website is relatively vague about who exactly the founders are, but it says that they were previously involved in Bitcoin mining and working at reputable crypto exchanges.
Where Is Phemex Headquartered?
Phemex is headquartered in Singapore.
The exchange, like many others, takes advantage of the opportunities offered by countries outside the US to set up their operations. Their location allows Phemex to offer their services to traders all around the world without being bound by the often draconian financial regulations in the US and Europe.
Does Phemex Have Proof-Of-Reserves?
Yes, Phemex uses a blockchain-based "Merkle tree" system that allows you to pinpoint exactly where your funds are at any time.
Using the platform's proof of reserves tool, you can see where your funds are by entering the unique "Hashed Client ID" that you find in your Phemex profile. Once you enter this Client ID into the tool, you will see a screen like the one below which will show you a cryptographically-verifiable Merkle proof that proves your funds are indeed within the Phemex wallets.
In fact, Phemex even shares the addresses of their cold wallets so you can check for yourself that their assets exceed their liabilities on-chain.
An impressive feat for an otherwise centralized exchange!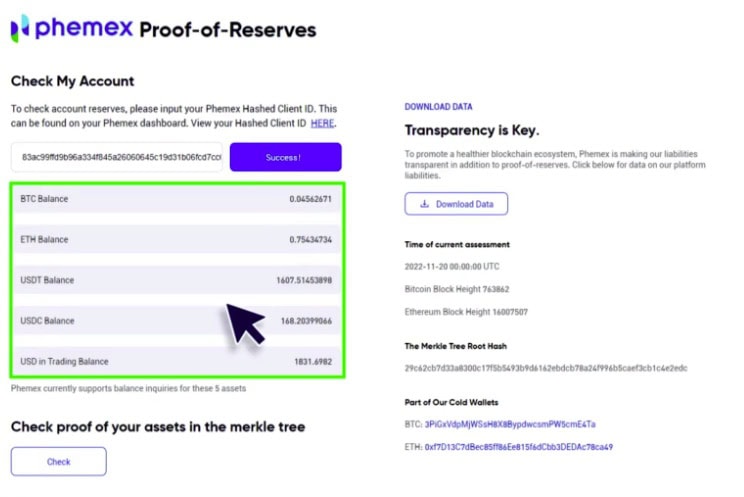 Final Thoughts On Phemex
Overall, Phemex is a reliable and easy to use exchange with a promising future for its budding web3 ecosystem. It offers buy & sell, spot, and contracts trading but goes a step further with unique features like prediction markets and a hybrid "Semi-Centralized" model.
If you trade over $10,000, don't forget to mint your Phemex Soul Pass to get more access to the Phemex ecosystem.
Frequently Asked Questions
No, Phemex is not available for residents of the US. 
The exchange supports over 200 countries, but unfortunately, the US does not make the cut due to its stringent financial regulations.
No, Phemex has never been hacked or suffered any exploit. 
That's a big plus in an industry where seemingly every exchange or protocol has had at least one run-in with hackers. Props to the Phemex security team!
Yes, Phemex is a popular change that consistently ranks in the top 20 crypto derivatives exchanges.
According to data from the platform, Phemex has 5 million active users and has seen daily trading volumes of up to $10 billion at peak.
The Phemex Soul Pass (PSP) is a special type of NFT that cannot be transferred once it's minted. 
On the Phemex platform, the PSP serves as your web3 credential that accrues reputation, allows you to earn achievements, and gives you access to a pre-mint of the xPT platform token.