Funding A Crypto Wallet & Keeping Track Of Your Crypto
The next step in how to invest in crypto includes how to fund a crypto wallet. This includes the various ways for funding a crypto wallet, including funding a wallet from a centralized exchange, buying crypto in a Portfolio dApp, and sending crypto from one wallet to another.
Last Updated:

September 13, 2023
It's been a slow start to the summer in the crypto markets. Bitcoin's volatility just reached its lowest level since March 2020.
But it's never a slow day over at Milk Road, and this week is no exception.
Last week we re-introduced and set up the Milk Road public wallet. And now, we're just a few days away from taking the training wheels off.
The final step before diving in head first? Getting our wallet funded.
We loaded our wallet with $10,000 of stablecoins last week. We call it the calm before the storm.
And now we're showing you the 3 most common ways to fund a wallet for yourself.
Powered by

.
Experience the power of real-time market data with MetaMask Portfolio
here
Funding A Wallet From A CEX
While trust in centralized exchanges (CEX) has declined this year, they still act as an important onramp for crypto wallets. This is due to their wide range of funding options and overall ease of use.
For the purpose of this guide, we are going to walk you through purchasing crypto on Coinbase and transferring it to a MetaMask wallet.
Step 1: Getting Set Up
Signing up for Coinbase or another exchange is just like signing up for a brokerage account. You'll need to enter your personal information, verify your identity and link a payment method.
Most exchanges are accessible by website or mobile app, and we recommend setting up 2FA when getting started.
Milk Road rule #34: Never cut corners when it comes to security.
Step 2: Buying Crypto
The wide range of accepted payment methods is one of the main reasons people onboard with CEXes. For example, Coinbase lets you buy crypto with a bank account, wire transfer, debit card or Apple/Google Pay.
Coinbase has two options to buy crypto, simple and advanced trade. While advanced trade is meant to be their interface for pro traders, we recommend all users go this route. This is because advanced trade offers better fill prices and lower fees.
Don't let the interface intimidate you, the only part beginners need to pay attention to is the right column: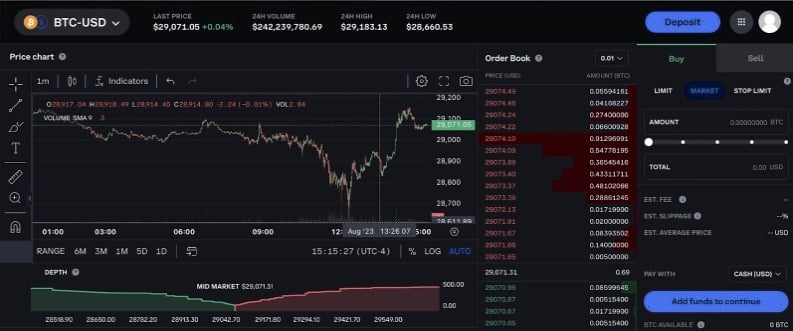 Simply select buy or sell and choose the amount and crypto that you want to exchange.
Here's everything else that you need to know:
A market order is an order that will fill immediately at the best current price
A limit order allows you to set a price for your order to fill at, although you may not be guaranteed to fill that order
A stop limit order is a more advanced trade that initiates a limit order after triggering a certain "stop price"
If you are simply looking to buy some crypto on advanced trade, a market order is the straightforward way to do it
And if you're trading a lot, you can enter a lower fee tier based on your last 30 days of trading.
Below is the breakdown of how advanced trade fees are calculated:

Maker Fee: An order at the market price that is immediately filled.
Taker Fee: An order you create that needs to be matched with another trader on the order book.
You can also convert one crypto to another directly. While this may save you platform fees, you will not get a good fill price on the trade and may end up paying more through the conversion rate.
Step 3: Transferring Crypto
Once you have your crypto, you're ready to transfer it to your own self-custody wallet. This is where the real magic happens.
Simply go to your holdings and select the coin you want to transfer (we will be using ETH). You will be brought to a screen that looks like Venmo shown here: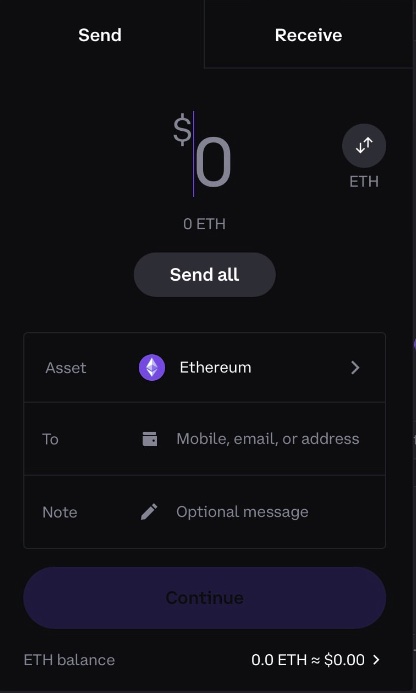 First, choose the amount of funds that you want to transfer denominated in either dollars or the token. Your balance will be shown at the bottom and you can send all of your tokens by selecting "Send all".
The most important part is where the funds are being sent. Every wallet has its own identity, called a wallet address. As we mentioned in our setup guide, it's a long string of numbers and letters completely unique to your wallet, but they all begin with 0x.
A transfer to the wrong address will be lost forever. As a result, we would recommend two things:
Directly copy and paste the wallet address from your wallet every time.
If you are transferring from a mobile app, utilize the QR code of your MetaMask wallet to ensure it is being sent to the right place. You can access that by clicking on "account details" on the dropdown from the 3 dots in your wallet:
If you're nervous about sending funds, never be afraid to send a small test transaction before sending all of your funds. The Milk Man's been doing this for a while and he still gets the chills when sending crypto around.
Note: There may be a hold on your funds for several days before you can transfer them out. Depending on the exchange you use or the age of your account, you may avoid this.
Buying Crypto Directly In MetaMask Portfolio
If you don't want to get started with centralized exchanges, MetaMask also allows you to buy crypto directly to your wallet through their Portfolio dApp.
You can find all of their Portfolio offerings in the middle of the wallet's interface: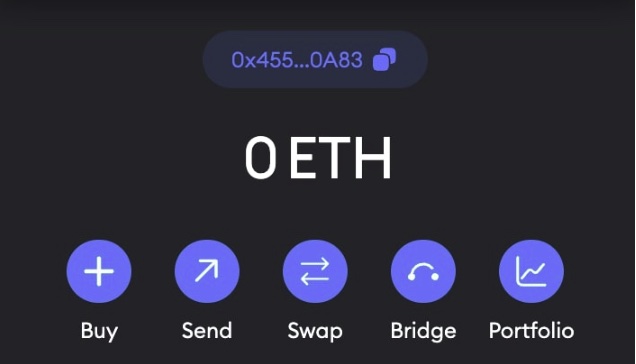 Once you press "Buy", you will be brought to a screen similar to purchasing on an exchange: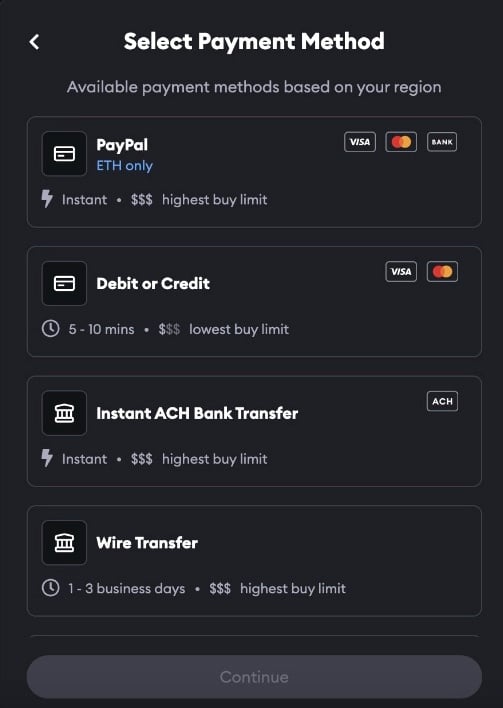 After your purchase is approved, the funds will immediately arrive in your wallet!
Buying directly in your wallet is very convenient, although it is important to note that fees and purchase limits will be different across all platforms. If you have the time and are set up, it might be worth it to compare some options.
Learn more about MetaMask Portfolio.
Transferring Crypto To Or From Another Wallet
Sending and receiving crypto is a simple process, but not one that should be taken lightly.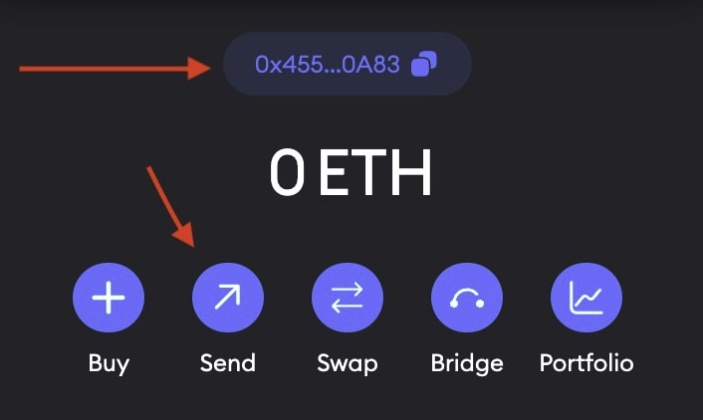 When receiving crypto from another person or wallet of yours, simply make sure the sender is on the same blockchain network as you and has your wallet address. To ensure it is correct, you can copy/paste it by clicking on the wallet address itself.
When sending crypto, simply press the send button to be prompted to a screen just like the send screen from Coinbase above. Ensure you have the correct address and confirm the transaction by paying a small network fee for the transfer.
There you have it, Roaders. Your wallet is now set up and funded with crypto!
Next Steps
Now that we're all set up and funded, we're ready to get our feet wet. We got some awesome feedback from our readers and there's a lot of interest around staking ETH.
But before we can stake, we need to get our hands on some Ether. So later this week we'll be showing you how to swap any token that is launched on Ethereum's network and all of the considerations around using decentralized exchanges (Dexes).
For now, we want highlight how you can follow our journey:
We will be posting everything we do in our guide on how to invest in crypto. These will be longer walk throughs for those who want the full experience.
Each time we do something with the public wallet, we will be summarizing what we did and why we did it in a newsletter segment to follow.
Readers can track our wallet on their own through DeBank. Simply go to their site, paste in our wallet address and follow our journey in real time under "portfolio".
Here is the Milk Road Public wallet address:
0x455419210c0E31cC1aDEF14e1c8db81f1Dc80A83
Additional Resources
---
This report is for informational purposes only and should not be relied upon as a basis for investment decisions, nor is it offered or intended to be used as legal, tax, investment, financial or other advice. You should conduct your own research and consult independent counsel on the matters discussed within this report. Part performance of any asset is not indicative of future results.
It should also be noted that the writer(s) of this report may hold assets mentioned in the article at the time of writing.