What Is MetaMask Portfolio: How's The Portfolio dApp Different?
Sep 11, 2023
Although MetaMask is a household name in the crypto world, they recently launched MetaMask Portfolio, a portfolio dApp. We thought it would be helpful to understand what the two products are, how they differ, and how you can use MetaMask Portfolio.
Intro To MetaMask's Wallet
MetaMask is the leading decentralized crypto wallet by usage and has been around since 2016. It currently has over 30M active users and is backed by Consensys, one of the most respected companies in the sector.
The wallet supports Ethereum and many Ethereum-compatible networks. And the list of supported blockchains is ever growing.
MetaMask's wallet supports many tokens, stores NFTs and is connected to almost every dApp across the world of Web3. It looks like this: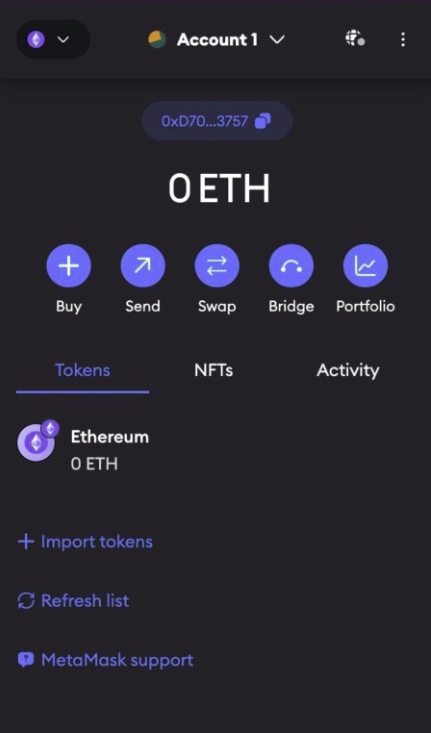 But it is also important to note that MetaMask is a hot wallet, meaning it's connected to the internet, and the private keys are stored on an online device.
If you want to take security a step further, you can pair MetaMask with a cold storage provider, such as Trezor.
Ways To Utilize MetaMask
MetaMask's wallet can be accessed in 3 ways:
Browser Extension: The main way that people utilize their wallet is through the browser extension. This offers a convenient way to access dApps and transact efficiently without leaving your browser. We provided a full guide to setting up a wallet extension below.
Mobile App: The mobile app allows you to access your wallet and interact with dApps on the go. However, the mobile app can be buggy and is not the most ideal way to explore the decentralized web. We prefer to stick to the wallet extension over here at Milk Road.
Portfolio dApp: We cover this fully in the next section!
If you are interested, you can read our step-by-step guide on setting up a wallet here.
What Is MetaMask Portfolio?
MetaMask Portfolio is a suite of tools built into a wallet that provides users a direct path to popular activities such as staking, swapping and bridging.
The tools in the portfolio can conveniently be accessed from directly within the wallet itself: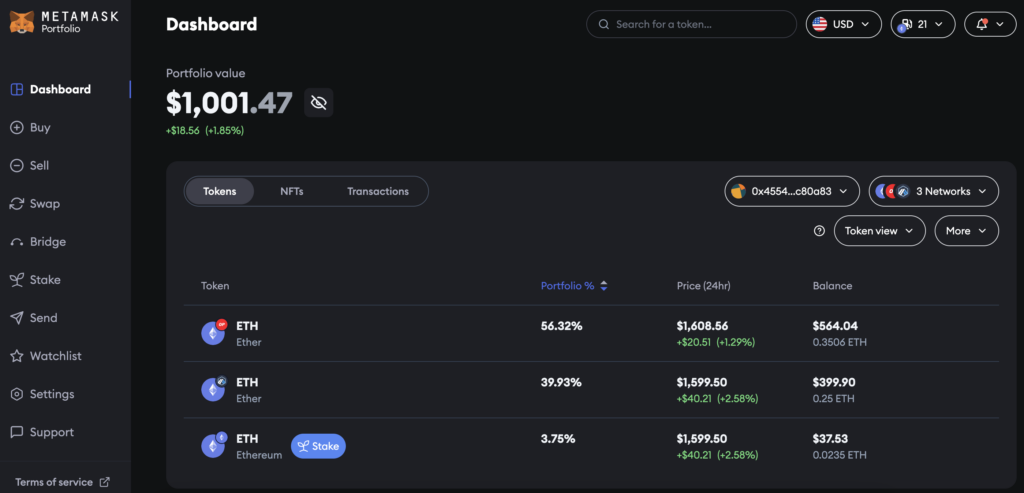 MetaMask Portfolio Features
MetaMask Portfolio offers the following tools:
Buy: This feature allows you to buy crypto with Fiat, to be deposited directly into your wallet. You can currently buy crypto with a Debit card, Paypal or your bank account.
Sell: Immediately convert your crypto holdings to Fiat and off-ramp them with one transaction.
Send: This is a feature of the wallet that allows you to send tokens to any other wallet address. Simply copy and paste the receiving address, select the token and amount, and confirm the transaction.
Swap: Swapping allows you to use Ethereum or stablecoins to purchase any other token on the blockchain. This feature is an aggregator, meaning it finds the most efficient trading route for you across all decentralized exchanges (DEXes).
Bridge: The bridge feature in the portfolio dApp offers a convenient way to find the best route to transfer your assets to a new blockchain, by aggregating all available bridges.
Stake: This feature provides a convenient way for users to stake their holdings with top liquid staking providers.
Dashboard: See your whole financial picture in one place, as well as wallet analytics. There is also an ever growing list of integrations in the portfolio, such as the ability to stake directly with a liquid staking provider.
Comparison
MetaMask serves to store your digital assets, including tokens and NFTs in a secure and self-custodied wallet. It offers a sleek and easy to use interface and connects to almost every dApp in crypto.
The wallet extension can be used to send and receive tokens, explore DeFi protocols and protect your assets. And it complements well with the portfolio dApp.
This is because the portfolio dApp offers a convenient way to use your wallet to interact with Web3. It has DeFi applications built in, and also allows you to see everything in one place. Lastly, it offers unique insights and analytics to wallet holders.
MetaMask Wallet
Pros
Backing of Consensys
Large amount of supported dApps and tokens
Wide adoption and funding to implement improvements
Easy to use interface
Cons
High fees to purchase crypto directly in the wallet
Not as secure as cold storage (same for all hot wallets)
Sometimes you need to manually import tokens and networks
MetaMask Portfolio
Pros
Offers a convenient way to engage with DeFi, with the ability to see everything in one attractive dashboard
Aggregates providers to get users the best route
Portfolio analytics and settings are directly accessible
Cons
Above industry fees for built-in services
Does not pick up on some holdings that are less popular or more complex