Introducing The Milk Road Public Wallet
We want to share our tips and tricks for how to invest in crypto, starting with how to create a wallet, including how to link a MetaMask wallet with Trezor.
Last Updated:

September 13, 2023
There's some big news brewing over at Milk Road: We're re-introducing the Milk Road public wallet.
That's right, Roaders. The Milk Man is gonna be getting his hands dirty in the Wild West of crypto, while teaching our readers how to invest in crypto.
If you're an OG reader you may remember our last on-chain journey:
And while the overall crypto markets have been quiet recently, there's been a ton of action coming from the world of DeFi.
We know DeFi can be intimidating but don't worry. We're like a test dummy, we try stuff out so our readers don't have to learn the hard way themselves.
The best part? We walk you through it all and show you to do cool sh*t in crypto.
What To Expect From The Milk Road Public Wallet
Here's a few examples of what readers can expect:
Lending, borrowing and providing liquidity in DeFi 💰
Bridging to new blockchains and exploring early-stage protocols ⚛️
Staking and using our staked ETH to unlock additional yield 🔐
Exploring the world of tokenized real world assets, such as T-Bills 🗒️
We're gonna start with the basics of creating and funding a crypto wallet and get to the crazy stuff in the future. But before we dive in, here's our three rules of the Milk Road:
1/ We're gonna let you see everything we do, but remember this is the farthest thing from financial advice. We are here to have fun and are playing with money we can afford to lose, not advice we think anyone else should follow.
2/ We're measuring our performance against two things: ETH and USD. Because crypto often moves in the same direction, we want to see if we can "beat the crypto market" by trying things on-chain. We feel ETH is a good benchmark for the crypto market.
We also want to see how we compare to simply leaving our money in cash, or dare I say it, the bank.
3/ Our two focuses are on security and having fun. We'll be using a Trezor wallet paired with MetaMask, so we know we will be sleeping well at night.
Now let's set up our wallet!
Powered by

.
Experience the power of real-time market data with MetaMask Portfolio
here
Getting Started With MetaMask
Creating a wallet is the first step to entering the world of Web3. While setting up a wallet is quick, it requires attention to detail.
And because MetaMask is the leading Web3 wallet by users and track record, they are going to be our wallet of choice for the public wallet.
But everyone has different tastes, so we recommend finding the wallet that is best for you. A lot of new wallets have emerged offering different user experience and interfaces.
Rabby and Coinbase Wallet are two that have started to get a lot of traction. (And the setup and usage are very similar)
Step 1 – MetaMask Wallet Creation
MetaMask is a browser extension that can be downloaded on Firefox or Google Chrome, as well as a portfolio dApp. There is also a mobile app, but it can be harder to navigate and many prefer the user experience of their extension.
Once you download the extension, you will be prompted to create an account. Instead of a username and password, MetaMask accounts are protected through two ways: a seed phrase for a normal password.
Seed Phrase
Seed Phrase: This is the master key and is the MOST important part of the process. Whoever has access to the wallet's seed phrase is in control of the wallet's assets.
A seed phrase is a combination of 12 random words that can be input into MetaMask to recover a wallet. If you use a new device or lose your previous one, you will need this phrase to access your tokens. Just as importantly, if someone else accesses this phrase, all of your assets are at risk.
As a result you need to lock this thing down like an at home security system. We recommend writing the phrase down on a few separate notecards and hiding them in multiple places that are safe. DO NOT store this phrase on your computer, phone or email it around, this could open you up to data leaks.
If you take security as seriously as we do over at Milk Road, check out this awesome thread.
Normal Passwords
Normal Password: This is the same as a password on any site and acts as your wallet's second layer of protection. When a wallet is already set up on a device, this is what you will need to access it on a going forward basis.
NOTE: A seed phrase is needed to get you to this point where you are prompted for the password.
Now that we have the scary stuff behind us, we can start getting familiar with our wallet.
Step 2 – MetaMask Wallet Interface
Once your phrase and password are set, you will arrive at your new wallet's home screen.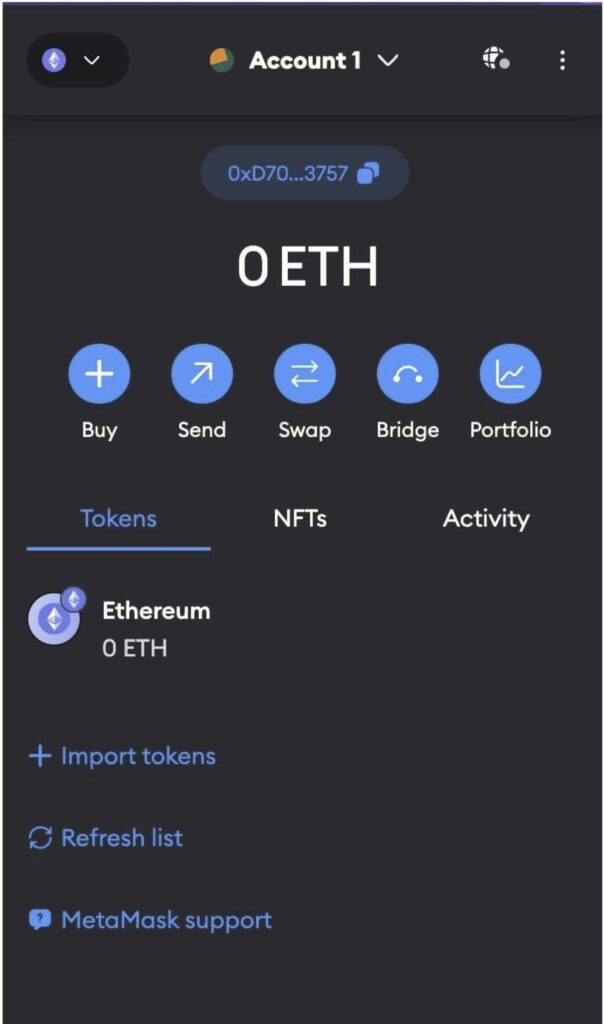 One of the first things you'll notice is a long combination of random numbers and letters towards the top. This is your wallet address and acts as your "username" or "identifier".
This address allows anyone to send you crypto, see your history on the blockchain and acts as your digital passport for Web3.
Here's everything else you need to know:
1/ The top bar is mostly your settings and configuration:

The top left allows you to switch between different blockchain networks. While the default is ETH Mainnet, MetaMask supports a wide range of chains. We'll be showing you how to add a network and bridge funds in the near future.
The middle dropdown allows you to switch between different accounts within the same wallet. For our public wallet, we will only be utilizing one account.
The top right dots are your wallet settings, most of these are advanced and we will come back to them in the future.
2/ The middle area shows your network token balance and offers up a suite of tools: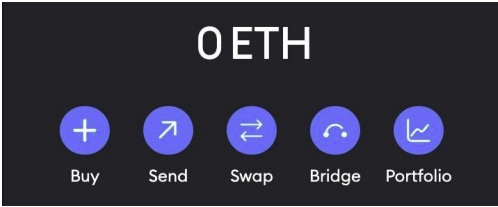 Since we are on Ethereum Mainnet, the token balance it shows us is Ether (ETH). If we switched our wallet to Binance's blockchain, the token balance would reflect BNB.
The five blue circles represent MetaMask's built in offerings. They allow you to purchase crypto directly from a card or bank, send it around and swap it for other tokens.
They also offer up a one-stop shop to view your portfolio holdings and analytics across all blockchains.
3/ The bottom half represents your wallet holdings and activity: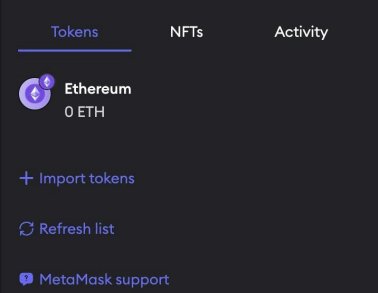 Every token that you hold on the chosen network will show up here. If the token does not show up immediately, you can use "import token" to add it yourself by pasting the token's contract address.
You can also view NFTs you have collected and all of your past activity on the network.
Lastly, you can expand on transaction you have made to see all of the details, the timestamp and the status on Etherscan.
Step 3 – Setting Up A Trezor Wallet
While setting up a decentralized wallet is a great step towards truly owning your assets, it is not a perfect system. Wallets like MetaMask are referred to as "hot wallets", because they are connected to the internet and still contain risks by having your private keys stored "online".
We mentioned above we're all about security, so we are gonna take things a step further and protect our assets with cold storage as well. Cold storage is a way to store private keys and assets completely offline, through devices that look like pendrives.
For our public wallet journey, we are going to be using a Trezor wallet and integrating it with MetaMask. This allows us to utilize the functionality of MetaMask, while maintaining the security of cold storage. A true win-win.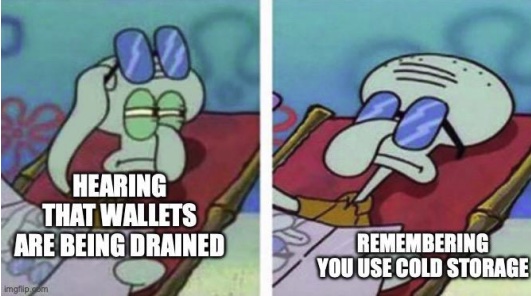 And while the inner workings are complicated, getting started with a Trezor is just as easy as our wallet.
One big difference is that the Trezor is a physical device. Instead of quickly downloading MetaMask, you have to purchase a Trezor and physically plug it into your computer.
Just like you downloaded MetaMask as a browser extension, you need to download the Trezor Suite Desktop App to pair with the device. This allows you to get set up, as well as manage your portfolio from the dashboard.
Once it is downloaded, it will walk you through a simple setup process similar to any new device. You will need to install firmware, set up a recovery phrase and password and confirm details on the device itself.
You want to ensure you have written down the recovery phrase and stored it in a safe location. Trezor also takes security a step further and gives you the option of also adding a PIN.
Once you are all set up, you will arrive at a dashboard similar to MetaMask's: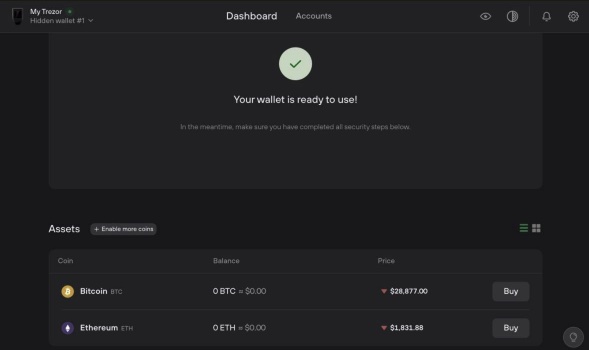 The functionality and terminology are very similar to MetaMask. The biggest differences come from actually using and transacting with the devices. Don't worry Roaders, you will be getting a full hands on tour of both!
Step 4 – Linking MetaMask With Trezor
Now that we are all set up, the final step is to link our wallet with the cold storage device. And this one's a doozy.
All you have to do is go to your MetaMask extension and select the account dropdown we mentioned above. This will bring you the following screen where you select "Hardware wallet".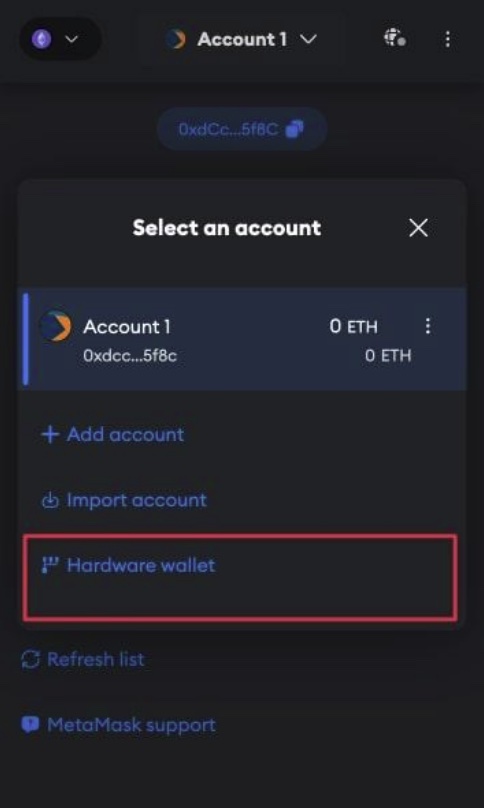 You will be prompted to approve this through your Trezor device and then simply need to select the account you want to integrate. And boom, you're all set up!
When you interact with dApps through MetaMask, you will also be prompted to approve and sign the transaction on your Trezor device afterwards. And now that the Milk Man has his training wheels off, you will see this all first hand through our public wallet journey.
Next Steps In The Milk Road Public Wallet

Next week, we'll be showing you all how to fund your newly created wallets, as well as funding our own. And the week after is when the fun really begins.
We'll be exploring the decentralized web on a weekly basis and sharing two of our key findings with Roaders each week. These will be guided write ups on our website that we also highlight as daily newsletter segments.
We have a lot planned such as staking, lending, and exploring new protocols. And we also hope to get involved with crazy sh*t that pops up, like the recent launch of $BASE.
MetaMask is a decentralized wallet, allowing you to self-custody digital assets and take true ownership of your crypto. Using MetaMask's wallet or browser extension allows you to engage with dApps and send and receive money in a permissionless manner.
MetaMask Portfolio is a suite of tools built into your wallet that provides users a direct path to popular activities such as staking, swapping and bridging. MetaMask Portfolio also provides users with a dashboard to see their whole financial picture in one place, as well as wallet analytics.
On our public wallet journey, we will be using MetaMask's wallet to explore the world of Web3 and engage with dApps. Over time, we will also be utilizing MetaMask Portfolio's attractive dashboard and getting familiar with the built-in tools it has to offer. Learn more about MetaMask Portfolio and how it compares to their traditional offering.
But we also value our readers and want to hear all of your ideas. In the world of crypto, no idea is a crazy one.
Additional Resources
---
This report is for informational purposes only and should not be relied upon as a basis for investment decisions, nor is it offered or intended to be used as legal, tax, investment, financial or other advice. You should conduct your own research and consult independent counsel on the matters discussed within this report. Part performance of any asset is not indicative of future results.
It should also be noted that the writer(s) of this report may hold assets mentioned in the article at the time of writing.
@ 2023 MilkRoad.com. All rights reserved.