Coinbase Wallet Review 2023: What It Is And How To Use It
Last Updated:

June 26, 2023
Our Take On Coinbase Wallet
THE BOTTOM LINE:
The easy-to-use Coinbase wallet brings support for Ethereum-based tokens and Solana in a convenient Chrome extension. The mobile app adds support for Bitcoin and several other popular cryptocurrencies. I found Coinbase wallet to be a good fit and offer a similar feel for those coming from the Coinbase exchange with a mix of assets, including Bitcoin, Ethereum, Solana, and NFTs. I thought Coinbase wallet could use a bit of polish in a few UI areas, however.
Pros
Easy-to-use NFT and crypto storage
Compatible with other BIP39 wallets
Link to Coinbase account or use independently
Free ENS-compatible wallet name
Cons
Internet-connected hot wallet
No Bitcoin support for Chrome extension
Not open-source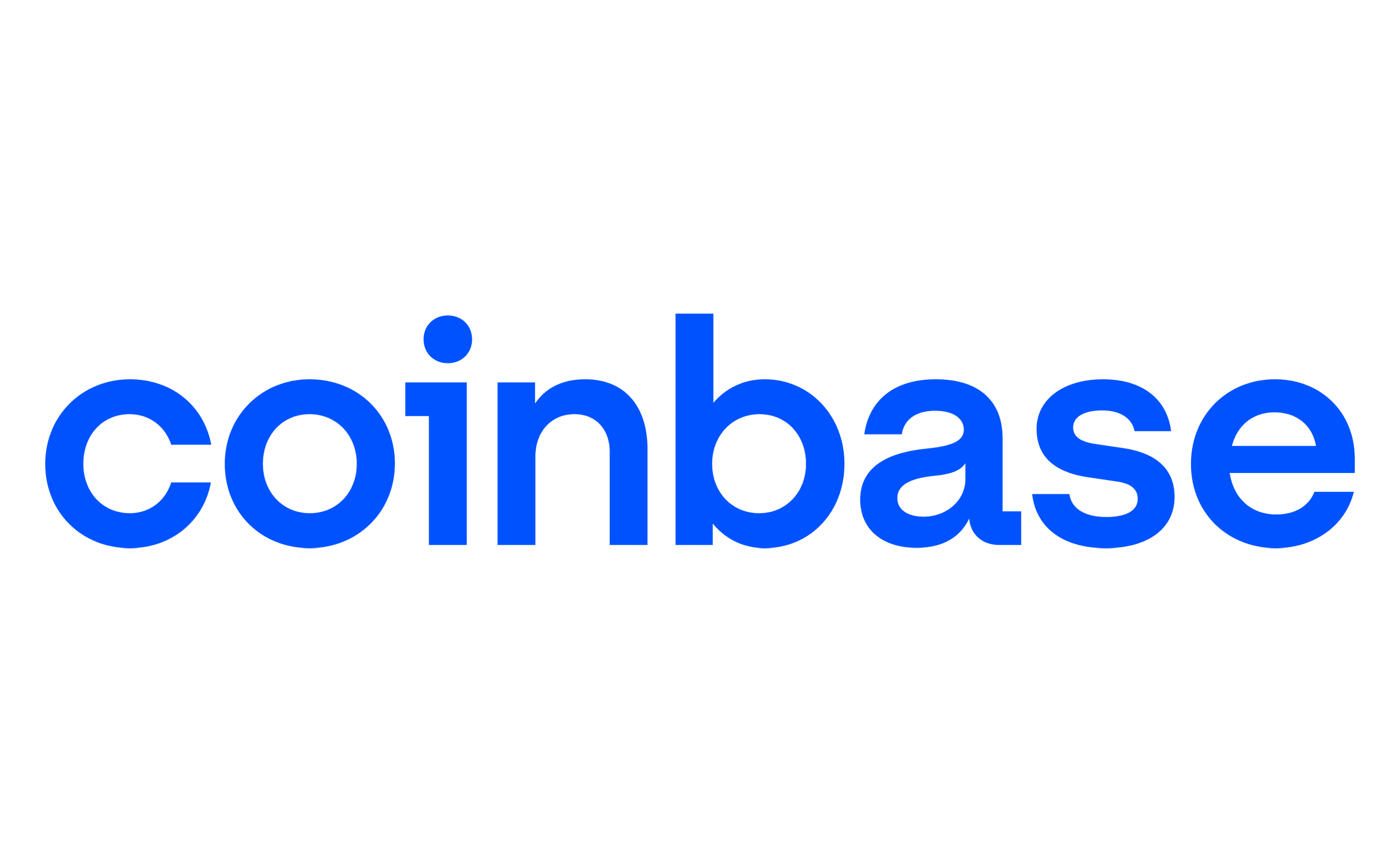 Via Coinbase 's Website
Cryptocurrencies
ETH, SOL, BTC +More
Platforms
iOS, Android, Chrome extension
Blockchains
Bitcoin, Ethereum, Polygon, Solana +More
What Is Coinbase Wallet?
Like similar wallets, Coinbase Wallet provides a way to send and receive crypto assets on the blockchain. And because the wallet supports the Ethereum blockchain as well as Ethereum-compatible networks, like Polygon and Optimism, you can use Coinbase Wallet works as a DeFi crypto wallet, so you can connect to a growing number of decentralized applications (dApps).
For example, you can connect to Uniswap, the leading decentralized exchange, or Opensea, the leading NFT marketplace.
Coinbase Wallet also supports self-custody storage for the Solana network and Bitcoin. The latter is only available on the mobile version of the wallet, which also brings support for the following:
Bitcoin Cash (BCH)
Dogecoin (DOGE)
Ethereum Classic (ETC)
Litecoin (LTC)
Stellar (XLM)
Ripple (XRP)
Key Features
| Feature | Explanation |
| --- | --- |
| Buy | Connect to your Coinbase exchange account's payment methods, allowing you to buy several types of cryptocurrency within your wallet |
| Swap | Exchange ETH-compatible tokens from within your wallet |
| Bridge | Lets you transfer supported tokens between blockchains |
| Send/Receive | Send to contacts or any address; receive using your address, scannable QR code, .eth address, or your Coinbase Decentralized ID (cb.id) |
| dApp browser (mobile) | Connect to decentralized applications to trade, buy NFTs, or explore metaverse worlds |
Coinbase Wallet Fees
Sending or receiving between Coinbase wallets
Sending or receiving from Coinbase Wallet to another wallet
Trading fee
Swap fee
None
Network fee (varies)
0.5% to 4.5%
1%
There are no fees for transactions conducted between two Coinbase wallets. For other wallets, you will pay only network fees, which vary depending on the token and the network demand at that particular time.
If you connect your Coinbase Wallet to your Coinbase account to trade, expect to pay a fee of between 0.5% and 4.5% on trades depending on the token, volume, and payment method.
You will pay a flat fee of 1% if you want to swap one token for another in your Coinbase wallet.
Our Expert Review Of Coinbase Wallet
I took Coinbase Wallet for a test drive, trying out the Chrome Extension and mobile app to give you our Milk Road opinion. Here's my experience with each.
Wallet
When I sent MATIC from my wallet, Coinbase automatically chose the Polygon network where I had my MATIC tokens stashed. No surprises there and no settings to change.
What was surprising is that Coinbase Wallet shows sending amounts in USD as well as the crypto token quantity. MetaMask, the most popular competitor, shows these values in crypto tokens. Score one for Coinbase Wallet; after all, we still think in USD (or our local currency).
To get the receiving address, you can scan a QR code, copy/paste the address, or use the ENS-compatible name for the wallet described in the how-to later in the article.
Coinbase Wallet lets you adjust the network fee for ETH-compatible network transactions, a feature made possible by EIP-1559, an improvement to the Ethereum network that allows fee adjustments.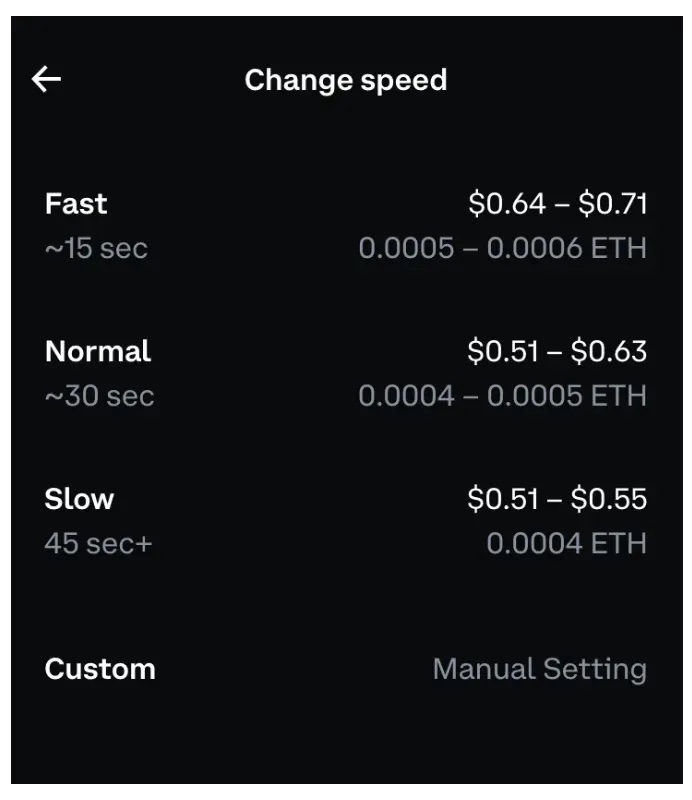 Buying Crypto
Although Coinbase is a standalone app, you can connect it to your Coinbase (Pay) account to fund purchases. However, purchases are limited to assets supported by the Chrome extension (Solana and ETH-based tokens). On the Coinbase exchange, you'll find a wider selection – but not all are supported by the wallet.
MetaMask, which we've also reviewed, offers four ways to buy crypto (including Coinbase Pay).
Swaps
I used Coinbase Wallet to swap MATIC for USDC stablecoin. The wallet app compared exchange rates from 21 different sources (liquidity pools) and gave me the best price possible from these markets.
However, I couldn't adjust the slippage (acceptable price range) like I can on MetaMask or Uniswap.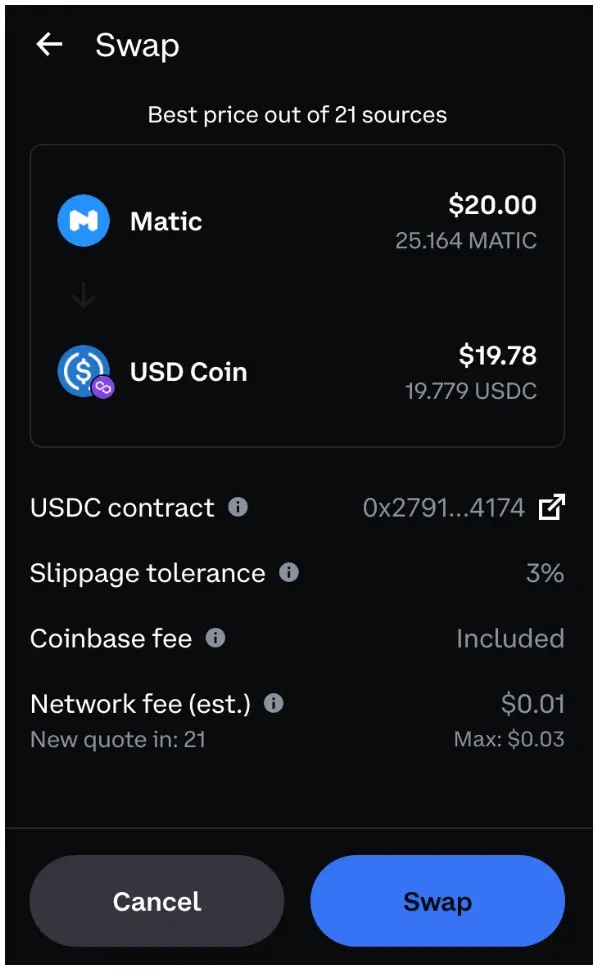 Bridge
Sometimes, you need to move assets from one blockchain to another, such as when I sent a bunch of MATIC from my Coinbase account over the Ethereum network rather than the Polygon network.
Coinbase Wallet offers a cross-blockchain bridge for these situations.
The bridge fee was $6.20 for the transaction due to network traffic. In a few minutes, the MATIC tokens arrived on the Polygon network.
Ledger Support
I connected my Ledger to the Coinbase Wallet extension (mobile isn't supported). One downside to using a Ledger with Coinbase Wallet is that you have to start with a new Coinbase Wallet. With MetaMask, you can connect to an existing wallet (but Ledger adds new accounts).
Community
Coinbase's ENS-compatible name system lets you search for users by their .eth or cb.id name. This makes it easy to send crypto to someone you know – or just peek at their activity.
Vitalik.eth is going bonkers with the BONK token, it seems.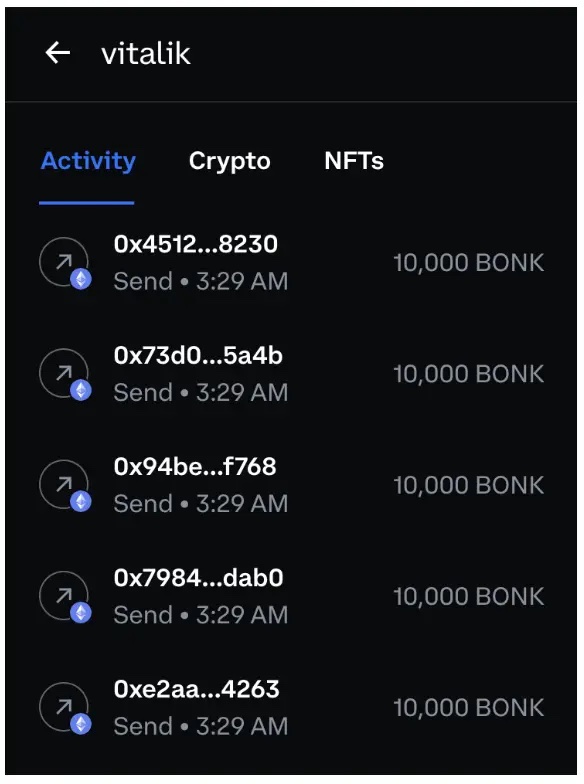 Support
Coinbase offers chatbot support (Coinbase Assistant) and email support. You can find both on the help page.
I reached out to Coinbase with a setup question but didn't get far with the chatbot.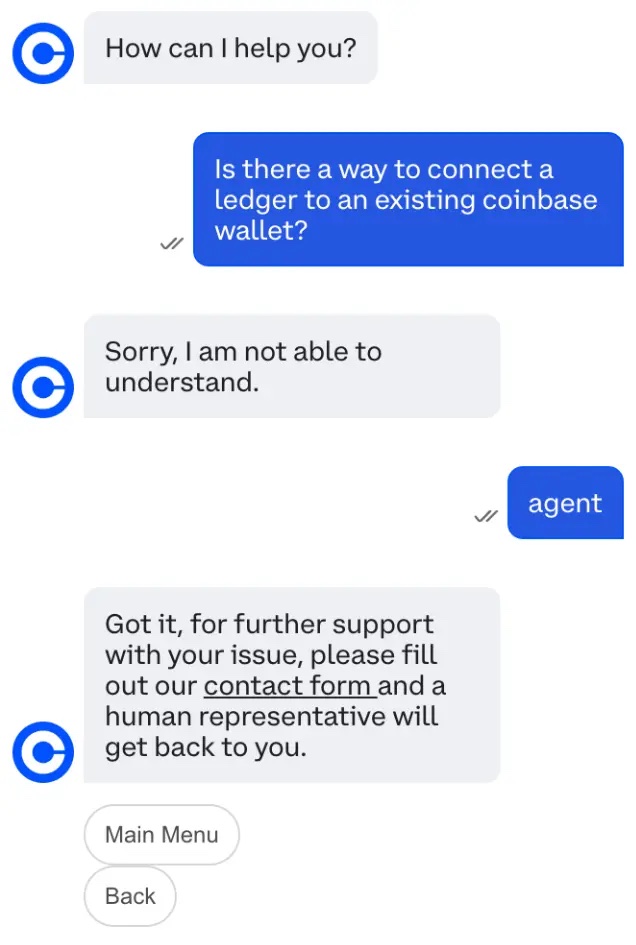 I also used the contact form to inquire. Three hours later, I received a cordial reply, but my specific question remained unanswered.
However, I did reach a live agent through chat on a separate issue after Coinbase restricted my account for 24 hours. I could buy crypto, but my crypto was trapped on Coinbase.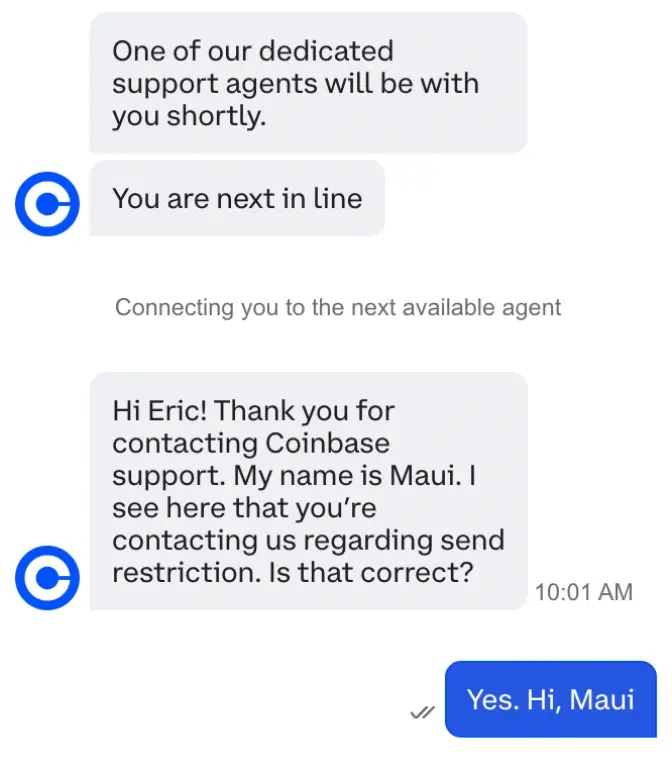 After some friendly discussion, I was told there was no way to override the system and to wait 24 hours for the restriction to be lifted.
Coinbase Wallet Mobile App Review
Wallet
Coinbase's mobile wallet performs sending and receiving tasks well. I sent BTC, ETH, and MATIC to another wallet without any surprises. The mobile wallet uses a built-in QR code scanner to read the receiving address of other wallets quickly.
When sending, I was able to adjust the fee for ETH transactions. Lower fees may mean slower transactions, whereas higher fees can speed up transactions.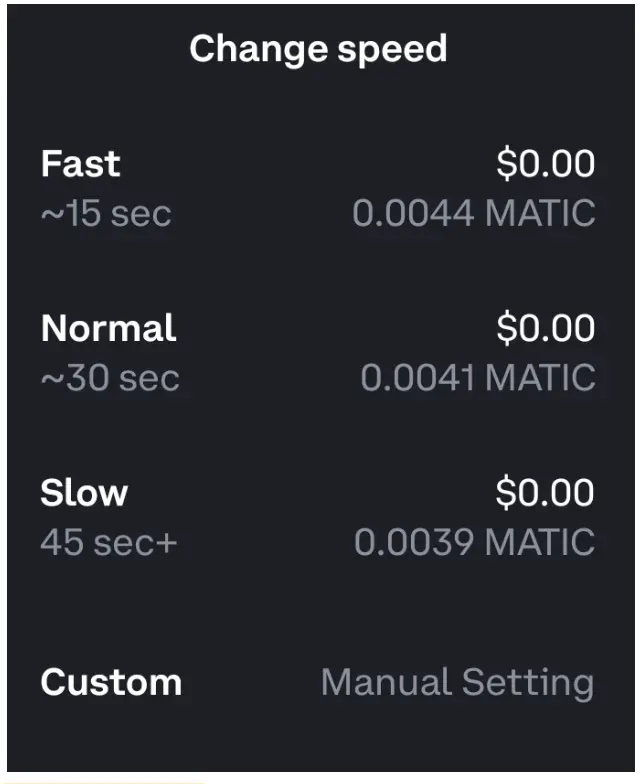 Buying Crypto
The buy feature in Coinbase Wallet connects to the payment methods you use on the Coinbase exchange. Coinbase uses Plaid to connect to your bank. Users with multi-factor authentication on their bank account might run into trouble, like I did. If you use PayPal with Coinbase, PayPal isn't available with Coinbase Pay.
Once you're connected, you can use a bank account or debit card to buy any cryptocurrency supported by the mobile wallet. Fees for buying crypto through Coinbase wallet follow Coinbase's basic fee structure (which is costlier than Coinbase Advanced).
| Purchase Amount | Coinbase Fee |
| --- | --- |
| Under $10 | $0.99 |
| $10 to $25 | $1.49 |
| $25 to $50 | $1.99 |
| $50 to $200 | $2.99 |
Fees ranges can vary from these figures, however. I was quoted $1.99 for a $24.84 purchase. You'll also pay about 4% for card-funded purchases. You can preview the transaction cost before finalizing your purchase.
In this example, my fee is $1.49, plus a $0.17 network fee to transfer the Bitcoin to my wallet.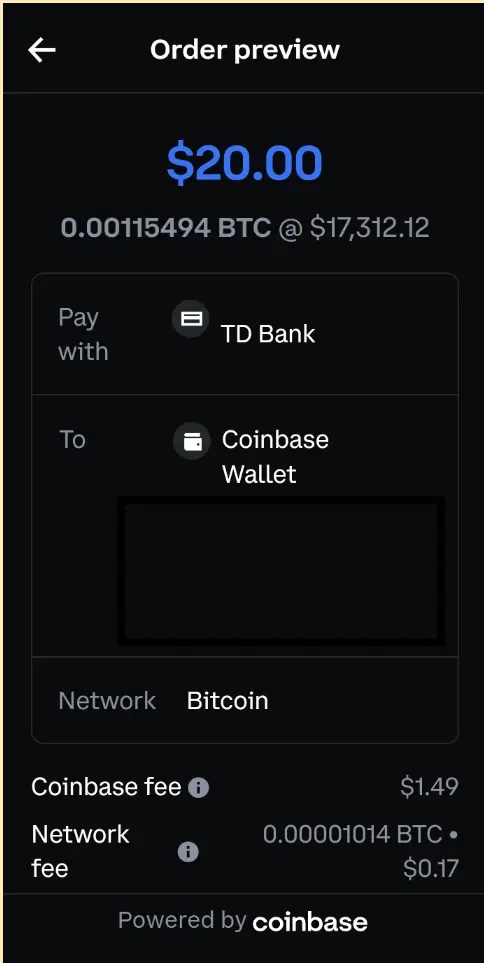 Balances for mobile-only cryptocurrencies (like Bitcoin) won't show in the Coinbase Wallet Chrome extension.
Swaps
The experience for swaps (exchanging one token for another) works just like on the Chrome extension. There's no adjustment for slippage, but swaps execute smoothly.
In the example below, I was offered the best price from 21 decentralized exchanges. However, Coinbase charges 1% on top of any DEX fees. You can go directly to your favorite DEX in Coinbase wallet's dApp browser to compare prices and skip the 1% fee from Coinbase.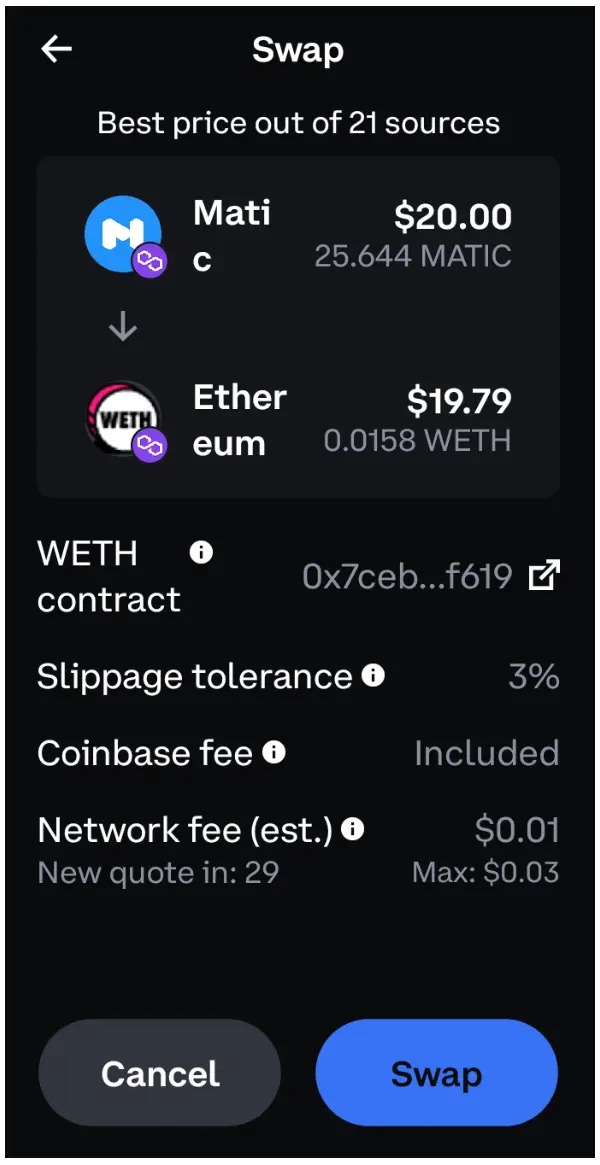 Bridge
Coinbase's bridge lets you move cryptocurrency across blockchains. Transactions take several minutes.
Here you can see some of the interface issues in which the app doesn't scale to the device screen properly. In some cases, I wasn't able to read the blue button at the bottom to preview or execute transactions.
dApp Browser
Ethereum and compatible cryptocurrency networks support smart contracts (computer programs that run on the blockchain), making decentralized applications possible. Swap tokens, play games, or shop for NFTs.
Coinbase's mobile wallet provides a built-in dApp browser featuring popular dApps like Opensea and Quickswap. I visited both and found my Coinbase Wallet was already connected to these dApps. Quickswap warned that I was on the wrong network (Ethereum) and provided an option to switch to Polygon. Uniswap did not connect automatically, however.
The dApp browser is slow, but for simple DeFi tasks on the go, Coinbase Wallet gets the job done.
Who's Coinbase Wallet Good For?
Existing Coinbase Users. If you already use Coinbase to trade and need a wallet to store your tokens, the Coinbase Wallet is an ideal solution because it integrates seamlessly with the trading platform. You can also cut trading fees by transferring money easily between your Coinbase Wallet and Coinbase account compared to other wallet apps.
People with a diversified crypto portfolio. The Coinbase wallet supports thousands of tokens ranging from popular ones like Ethereum and Solana to less popular ones like Zora. If you have a crypto portfolio spread across different assets, Coinbase Wallet may be a solid place to store your tokens.
People that want to be in control of their assets. The Coinbase Wallet is a self-custody wallet, so users retain control of their tokens and keys. No third party can tamper with the funds without your permission.
NFT traders. Coinbase Wallet makes it easy to buy non-fungible tokens (NFTs) using your debit or credit card.
Who's It Not Good For?
People wary of self-custody risks. The Coinbase Wallet is a self-custody wallet that gives users full control over their tokens. However, if you lose your wallet keys and recovery phrase, you won't be able to recover your tokens.
People who prefer cold storage. Coinbase Wallet is a "hot wallet," meaning it is connected to the internet and vulnerable to hacking attacks. Some people prefer "cold wallets" that are offline to reduce the risks of compromise.
Coinbase Wallet Alternatives
Here's how Coinbase wallet compares to other popular wallets.
| | Coinbase Wallet | MetaMask | Trust Wallet |
| --- | --- | --- | --- |
| Platform | Chrome extension, iOS & Android mobile app | Chrome extension, iOS & Android mobile app | Chrome extension, macOS, iOS & Android mobile app |
| Supported cryptocurrencies | ERC-20 tokens and Solana (Chrome extension), ERC-20 tokens, Solana, Bitcoin, Dogecoin, Litecoin, Ripple, and more (mobile) | ERC-20 tokens | ERC-20 tokens, Bitcoin, Dogecoin, Tron, Solana, Stellar, and more |
| Crypto purchase fees | $0.99 to $2.99, 3.99% for debit card purchases | $1.85 to $3.50, depending on payment processor | Up to 4.5% or $3.99, whichever is higher |
| NFT support | Yes | Yes | Yes |
| Swaps supported | Yes, ERC-20 tokens | Yes, ERC-20 tokens | Yes, ERC-20 tokens |
| Bridge | Yes, ERC-20 tokens | Yes, ERC-20 tokens | No, external only |
| Hardware wallet support | Ledger (browser extension only) | Ledger and Trezor (Chrome extension) | Ledger (browser extension only) |
Coinbase's wallet app is available as a Chrome extension or as a mobile wallet (iOS and Android) and can connect to your Coinbase exchange account to buy crypto (but not sell).
How Does Coinbase Wallet Work?
Coinbase Wallet uses BIP39, the industry standard, to generate a 12-word recovery phrase. This recovery phrase is the key to your wallet. Anyone with the recovery phrase can re-create your wallet and control your crypto assets, so you want to be very careful storing this.
In the background, the 12-word phrase is linked to a private key (a long string of letters and numbers) that allows you to control your wallet assets on the blockchain.
Wallets also use a public key, which creates the wallet address. Coinbase Wallet supports multiple networks (on mobile) and multiple accounts, so you might have several addresses.
All your Coinbase Wallet assets share the same 12-word recovery phrase.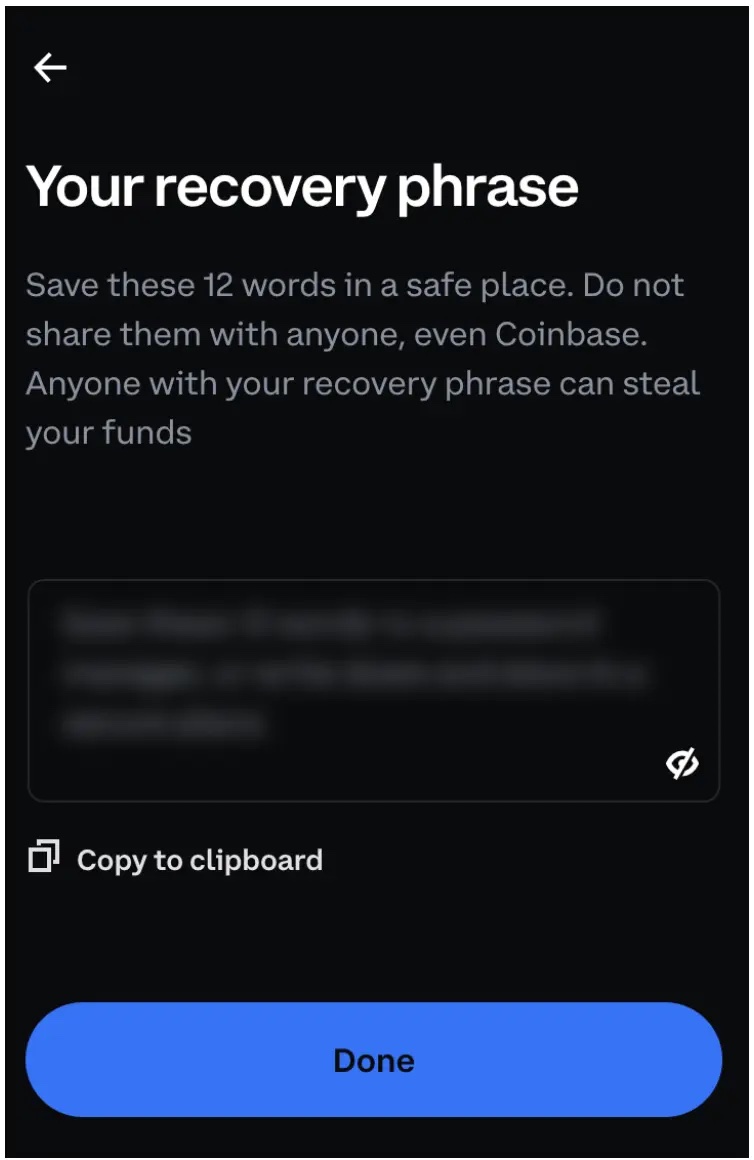 Coinbase Wallet is a hot wallet, meaning the wallet's keys were generated and stored on a device connected to the internet. You can connect a Ledger hardware wallet (a cold wallet that generates a private key offline) to a Coinbase Wallet to further secure your assets. However, you need to do this with a new Coinbase Wallet using the Chrome extension. You can find instructions to connect your Ledger here.
When you send crypto or connect to a decentralized application, your wallet asks permission to "sign" the transaction using your private key. In simple terms, your wallet works as an authenticator.
Multicoin Support
Coinbase Wallet supports several popular Ethereum-compatible blockchains, including Binance Smart Chain, Polygon, and Avalanche C-Chain. The wallet also supports Solana.
On mobile devices, you'll find support for additional crypto assets, such as Bitcoin, Litecoin, and Stellar.
However, some popular cryptocurrencies, such as Cardano and Polkadot, are not supported by the extension or the mobile app. If you have a diversified portfolio, you may need more than one wallet.
How To Set Up Your Coinbase Wallet
I set up a new wallet using the Coinbase Wallet Chrome extension. Here's a step-by-step guide.
Step 1: Download And Install The Coinbase Wallet Extension.
Visit Coinbase for the official download link. The link takes you to the Chrome extension installation page. Add the extension to your Chrome or Chromium-based browser.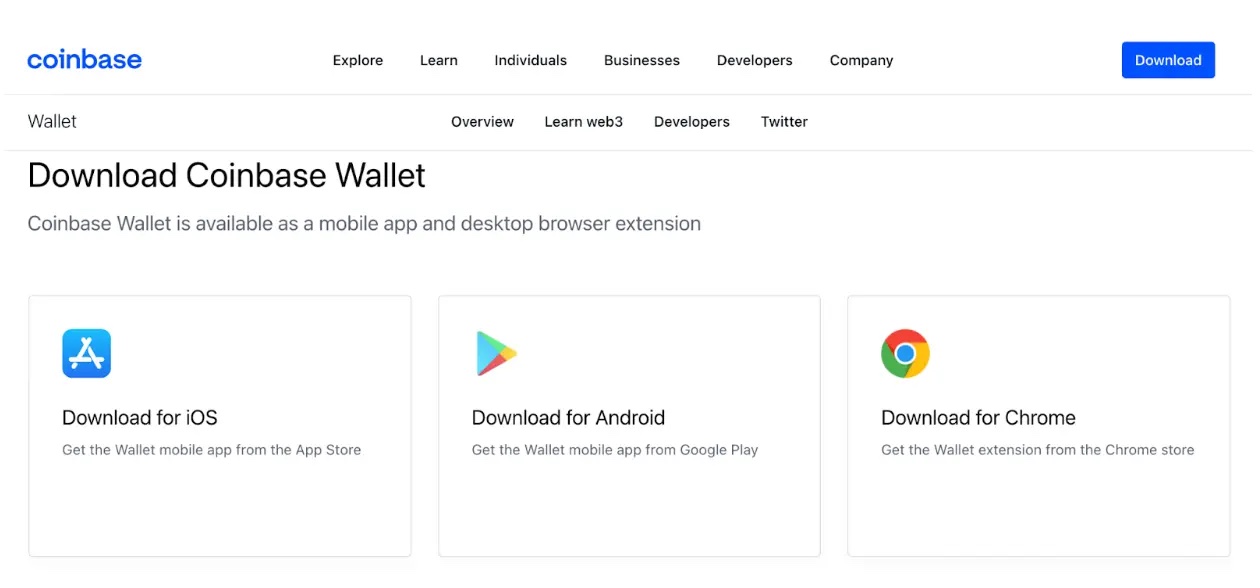 Step 2: Create A New Wallet.
Click on create new wallet. You can use the second option to install your wallet on additional devices later if needed.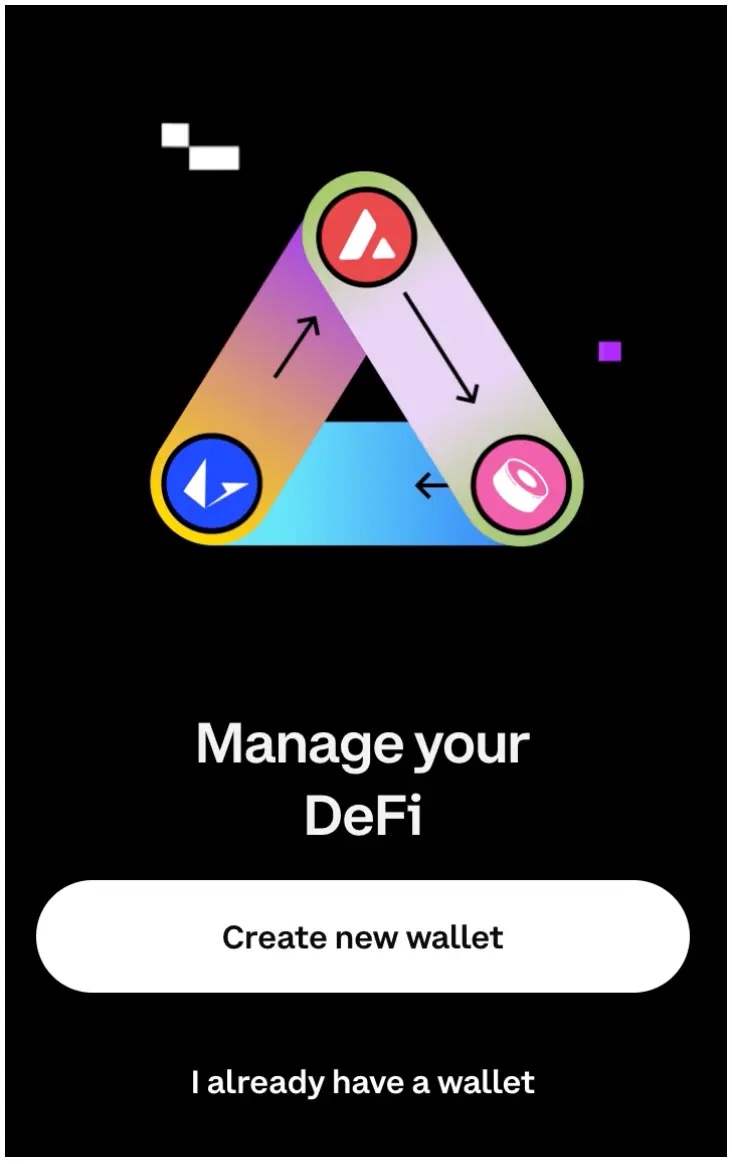 Step 3: Write Down Your Recovery Phrase.
Your wallet will generate a 12-word recovery phrase as well as a hidden private key. Write down the recovery phrase and store it safely. Although Coinbase Wallet offers the option to copy the seed phrase to your clipboard, for security reasons, this isn't recommended.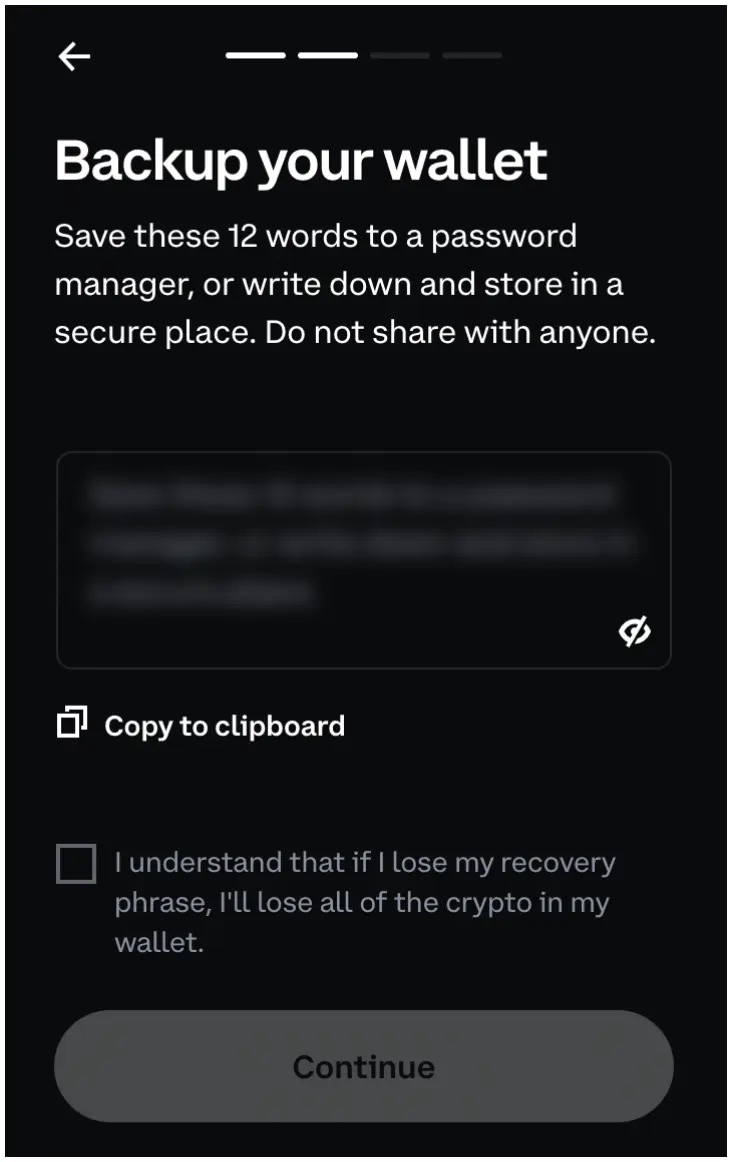 Step 4: Verify Your Recovery Phrase And Choose A Password.
Choose the first and last word from your recovery phrase. On the next screen, you'll also choose a password to protect your wallet while away from your computer.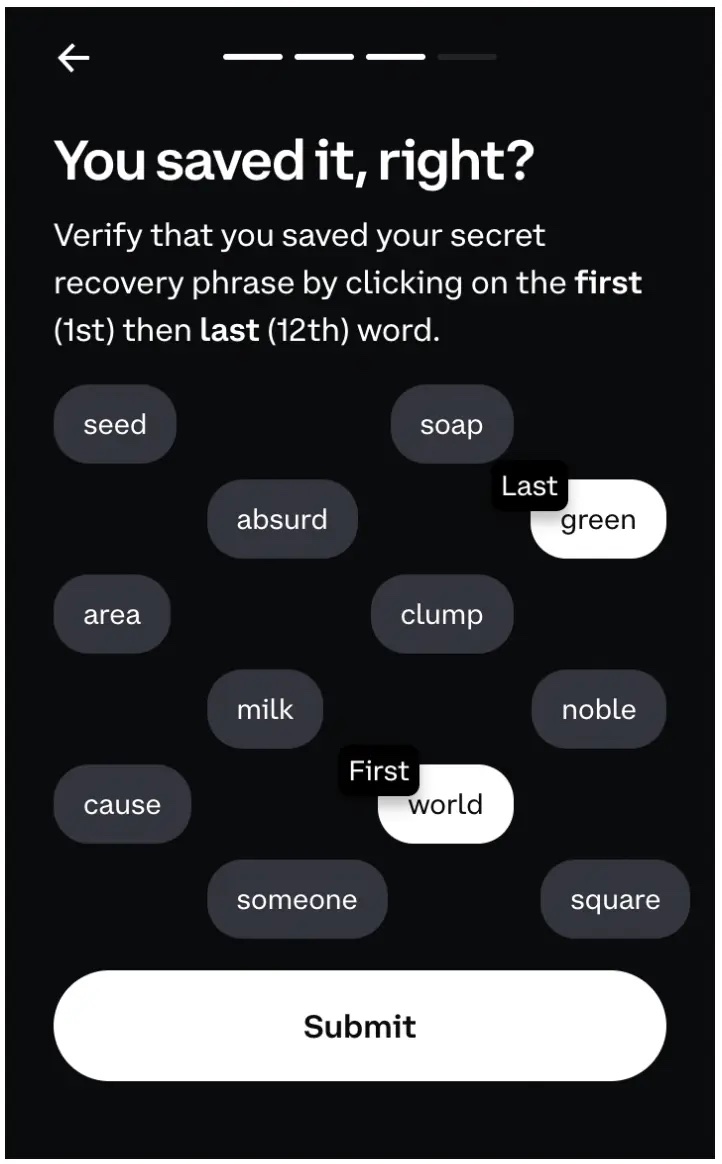 Step 5: Claim Your Username.
Coinbase Wallet offers a free Ethereum Name Service (ENS) username using this format: yourname.cb.id. Others can send supported crypto tokens directly to your username, which maps to your wallet address. You can also import a .eth name if you have one.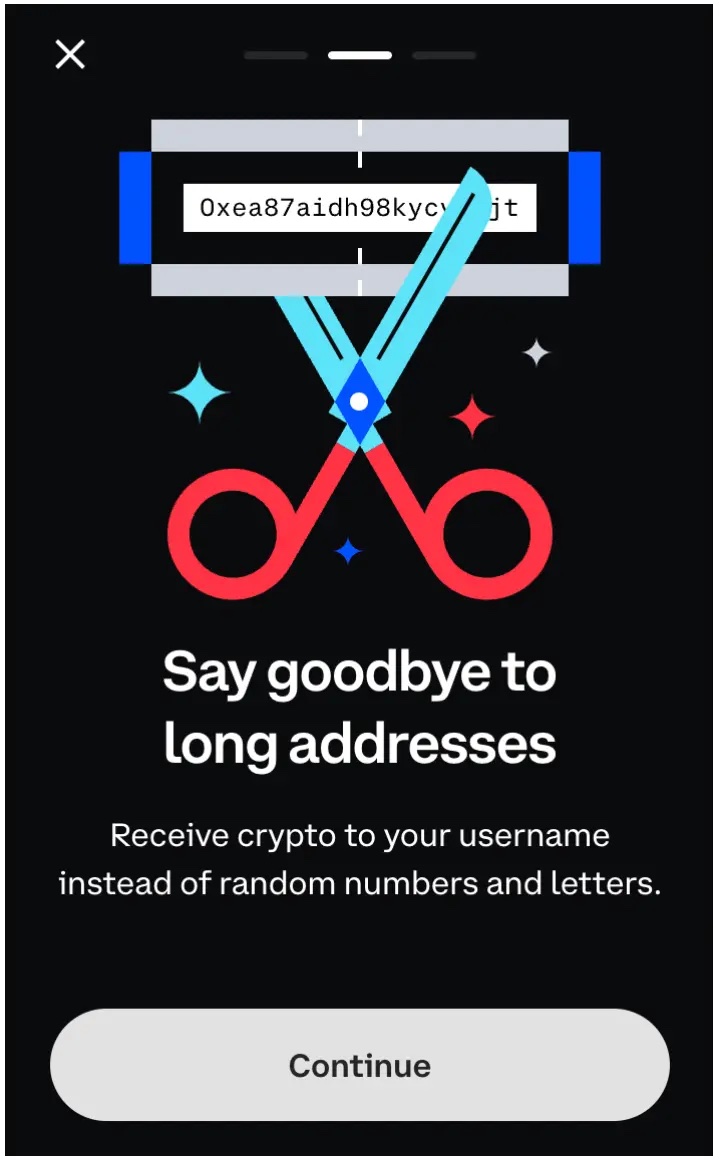 That's it. Click on the Buy button to connect to your Coinbase Pay account if needed.
To Sum It Up
Coinbase Wallet brings some advantages compared to its main competitor, MetaMask, by offering support for Bitcoin, Litecoin, and several other cryptocurrencies. However, these additional cryptocurrencies are only accessible through the mobile wallet, which feels a bit clunky at times.
For basic sending and receiving as well as problem-free swaps, Coinbase's mobile wallet makes a solid choice, while the Chrome extension provides a reliable way to explore web3 on the desktop.
Frequently Asked Questions
Yes. Coinbase Wallet offers a reliable way to store supported coins and tokens or connect to decentralized applications.
Coinbase Wallet is a hot wallet, meaning the wallet's private key was generated and stored on a device connected to the internet. You can reduce risk by limiting how much you keep in your wallet or by pairing the Coinbase Wallet Chrome extension with a hardware wallet to enhance security.
No. Coinbase Wallet lets you buy or swap crypto, but there is no way to transfer money to your bank account from your wallet.
Coinbase Wallet doesn't charge a fee to use the wallet, but some actions require a fee. Swaps can cost $6 and up. Buying crypto through Coinbase Wallet comes with fees of up to 3.99%.
A crypto wallet lets you control your crypto assets on the blockchain. A standalone wallet can connect to web3 applications and provide an off-exchange way to manage your cryptocurrency or NFTs.
It appears pretty safe. Coinbase Wallet gives you full control over your crypto keys, so no third party can tamper with your funds without permission. If you download the mobile app, you can also control access to it with biometric authentication (fingerprint or Face ID). Keep in mind that it's impossible to know if this wallet will always be safe in the long run.