Kraken Review 2023: What To Know About The Pros, Cons, Fees, & Features
Published: June 1, 2023
|
Last Updated:

June 28, 2023
Our Take On Kraken
THE BOTTOM LINE:
Kraken is an ideal exchange for new crypto traders because of its relative ease of use. It allows you to trade a broader range of cryptocurrencies than most other exchanges. However, the fees are relatively high, and Kraken is notorious for unsatisfactory customer service.
Pros
Supports 160+ crypto assets.
User-friendly interface
Advanced features (futures trading, stop-loss orders, etc.)
Cons
High trading fees (up to 0.26%)
High withdrawal fees (up to $35)
Poor customer support
Via Kraken's Website
Support
ETH, ADA, SOL +More
Token
We'll start with a brief introduction of Kraken, then consider its pros and cons and what customer profile this exchange is best suited for. We'll also dive deep into its features, fees, security, and how it stacks up against rival crypto exchanges like Coinbase.
What Is Kraken?
Kraken is a U.S.-based crypto exchange founded in 2011. It started by letting users trade just Bitcoin and Litecoin and added many more crypto assets over time.
You can access Kraken through their web interface or mobile apps for iOS and Android. Its user-friendly interface, top-notch security, and proof of reserves, make it a good exchange for people who are new to crypto trading.
Minimum Trading Amount
No. of Supported Crypto Assets
Trading and Transaction Fees
Mobile App?
Wallet Service?
Customer Service
Crypto Trading Pairs
Kraken
1 unit of currency for:
USD
EUR
GBP
CAD
AUD
CHF
and 110 JPY
BTC
ETH
USDT
+ More
0.9% for buying stablecoins and 1.5% for any other coin.
3.75% + $0.25 for card and digital wallet payment processing 0.5% for online banking/ACH processing. 0.01% to 0.02% for margin
0.01% to 0.05% for futures.
Yes, for iOS and Android.
No
Email
Live chat Phone
BCH-BTC
ETH-USDT
USDC-USDT SOL-BTC
ETH-USDC
+More
Who Kraken Is Best For
Newbie Traders: The interface looks minimal, uncluttered, and is easy to navigate, making it ideal for new traders learning how to trade and transact with cryptocurrencies.
Experienced Traders: Kraken offers advanced trading features like futures, margin trading, shorting, and OTC desks.
Day-traders: Kraken makes it easy to trade actively with its mobile apps.
Kraken offers many noteworthy features to users, including:
Spot Trading
You can buy cryptocurrencies with cash or exchange one cryptocurrency for another. For instance, you can deposit $100 and get the equivalent in BTC and, in turn, exchange the BTC for another cryptocurrency like ETH or USDC. You can also sell your crypto holdings for cash at any time.
Kraken moves hundreds of millions of dollars daily, implying high liquidity. Hence, you'll likely find a match for any buy or sell order you place.
Margin Trading
Margin trading entails using borrowed money to trade while depositing cash to serve as collateral for the loan. Kraken lets you trade with up to 5x leverage, that is, you can borrow up to five times the amount you deposit. Leverage can multiply your profits (or losses) when trading.
Kraken charges between 0.01% and 0.02% of the order value to open a margin trade and another 0.01-0.02% as rollover fees every 4 hours.
If the value of your borrowed assets falls below 80% of the original value, Kraken will make a margin call notifying you to close some of your positions or deposit more collateral to cover the shortfall. If the value drops further to below 40% of the original value, Kraken will sell your collateral to avoid more losses on its end, so beware.
Futures Trading
Crypto futures are an agreement between two parties to buy or sell an amount of crypto for a set price at a predetermined date. They allow you to get exposure to cryptocurrencies without actually owning them. You can trade futures contracts for many cryptocurrencies through Kraken.
Kraken offers traditional futures with expiry dates and perpetual futures with no expiry date. To keep perpetual futures tied to their base asset prices, the platform requires a 0.0003% funding rate exchanged between traders every hour.
Kraken lets users trade futures with leverage of up to 50x, unlike margin trading where it tops out at 5x.
Staking
Kraken lets you earn money on your crypto assets by staking. Staking entails locking up your coins for a set period to help validate transactions on a blockchain. In return, you get additional tokens. You can earn up to 23% annual yield by staking different assets including:
BTC
ETH2
ATOM
ADA
SOL
MATIC
DOT
TRX
XTZ
Kraken doesn't take fees for staking or unstaking your assets.
Kraken NFTs
Kraken has announced that it's building a marketplace for users to trade non-fungible tokens (NFTs). The company says its marketplace will support NFTs across multiple blockchains like Ethereum and Solana and allow users to pay with cash or crypto from their Kraken accounts.
This NFT marketplace isn't yet available to the public, but you can provide your email and join the waitlist.
Cryptos Listed On Kraken
Kraken lets you trade over 160 cryptocurrencies– the full list is on their website. It also lets you stake some cryptocurrencies and earn annual yields of up to 23%, including:
Bitcoin (BTC), Ethereum 2.0 (ETH2), Cardano (ADA), Algorand (ALGO), Cosmos (ATOM), Flow (FLOW), Kava (KAVA), Kusama (KSM), Mina (MINA), Solana (SOL), Secret (SCRT), Polygon (MATIC), Polkadot (DOT), Tezos (XTZ), Tron (TRX).
Kraken Fees
Kraken takes commissions on customer transactions to earn revenue. Different types of transactions have different commissions:
Action
Deposit fee
Stablecoins instant purchase
Other cryptos instant purchase
Trading fee
Card and digital wallet payment processing
Online banking/ACH processing
Margin fee
Futures fee
Kraken Fee
0%
0.9%
1.5%
0% to 0.26%
3.75% + $0.25
0.5%
0.01% to 0.02%
0.01% to 0.05%
Withdrawal Fees
Kraken doesn't charge fees for deposits but does charge fees for fiat withdrawals.
| Transaction | Minimum | Fee |
| --- | --- | --- |
| SWIFT (Etana Custody) | $150 | $25 |
| SWIFT (Signature Bank) | $20 | $4 |
| SWIFT (Silvergate Bank) | $100 | $20 |
| FedWire (Signature Bank/MVB Bank) | $20 | $4 |
| FedWire (Silvergate Bank) | $100 | $20 |
| FedWire (Etana Custody) | $150 | $35 |
| FedWire (Synapse) | $20 | $5 |
Maker-Taker Fees
The fee schedule for crypto pairs depends on your 30-day rolling trading volume. Maker fee is what's incurred if your trade order doesn't automatically match against an order already on the order book, thus you are adding liquidity to the exchange in the short-term.
Taker fees are incurred when your trade order immediately matches an order on the order book, thus removing liquidity from the exchange. Exchanges want to incentivize users to increase the exchange's liquidity, so Taker fees are almost always higher than Maker fees.
Kraken has higher fees than comparable platforms like OKX and Bitfinex but lower fees than the likes of Coinbase and Gemini.
| 30-Day Volume (USD) | Maker Fee | Taker Fee |
| --- | --- | --- |
| 0 – 100,000 | 0.0200% | 0.0500% |
| 100,001 – 1,000,000 | 0.0150% | 0.0400% |
| 1,000,001 – 5,000,000 | 0.0125% | 0.0300% |
| 5,000,001 – 10,000,000 | 0.0100% | 0.0250% |
| 10,000,001 – 20,000,000 | 0.0075% | 0.0200% |
| 20,000,001 – 50,000,000 | 0.0050% | 0.0150% |
| 50,000,001 – 100,000,000 | 0.0025% | 0.0125% |
| 100,000,001 + | 0.0000% | 0.0100% |
Stablecoin and FX Pair Fees
Kraken charges different fees for stablecoins and currency pairs.
| 30-Day Volume (USD) | Maker Fee | Taker Fee |
| --- | --- | --- |
| 0 – 50,000 | 0.20% | 0.20% |
| 50,001 – 100,000 | 0.16% | 0.16% |
| 100,001 – 250,000 | 0.12% | 0.12% |
| 250,001 – 500,000 | 0.08% | 0.08% |
| 500,001 – 1,000,000 | 0.04% | 0.04% |
| 1,000,000+ | 0.00% | 0.00% |
Kraken Security And Safety Features
Kraken has various security features to keep users' funds as secure as possible. They include:
Two-factor Authentication: This feature requires an extra form of identification in addition to a valid email and password before granting access to your account.
Withdrawal Confirmations: Kraken sends an email request to authorize any withdrawal on your account.
No Phone/SMS Account Recovery: Kraken doesn't accept SMS as a method to recover an account. This condition prevents hackers from using SIM swap attacks to take over your account.
Session Monitoring: You can view a list of every sign-in session tied to your account, with details including the specific time, IP address, and user agent.
Global Settings Lock: If your account gets compromised, you can activate a lock to hide sensitive information and prevent any transaction from occurring.
Kraken Availability
Kraken isn't available in two states in the U.S. – New York and Washington – due to regulatory issues. It's also not available in countries sanctioned by the U.S., such as Iran, North Korea, and Afghanistan, alongside a few others like Congo and Libya.
Yet, Kraken geographically restricts some of its features. In some countries like South Sudan and Yemen, you can create an account, but there are restrictions on funding it. Kraken also doesn't support futures trading in many countries, including the U.S., due to regulations.
How Does Kraken Compare To Other Exchanges?
Let's see how Kraken compares against one of its most heated rivals: Coinbase.
Kraken Vs. Coinbase
Kraken and Coinbase are both US-based exchanges. Although we talked about Kraken having high fees, Coinbase has even higher fees of up to 0.6% for a trade, making Kraken the more economical option. However, Coinbase offers a personal wallet service, while Kraken doesn't, which gives it a competitive edge.
| | No. Of Supported Currencies | Daily Deposit/Withdrawal Limit | Trading Fee | Futures Trading | Maximum Leverage | Wallet Service |
| --- | --- | --- | --- | --- | --- | --- |
| Kraken | 160+ | $100,000 (Intermediate) | 0% to 0.26% per trade | Available | 5x | No |
| Coinbase | 170+ | $25,000 | 0 to 0.60% per trade | Not available | 3x | Yes |
How To Sign Up For Kraken
Step 1: Visit the official Kraken website and tap the Create Account button in the upper-right corner.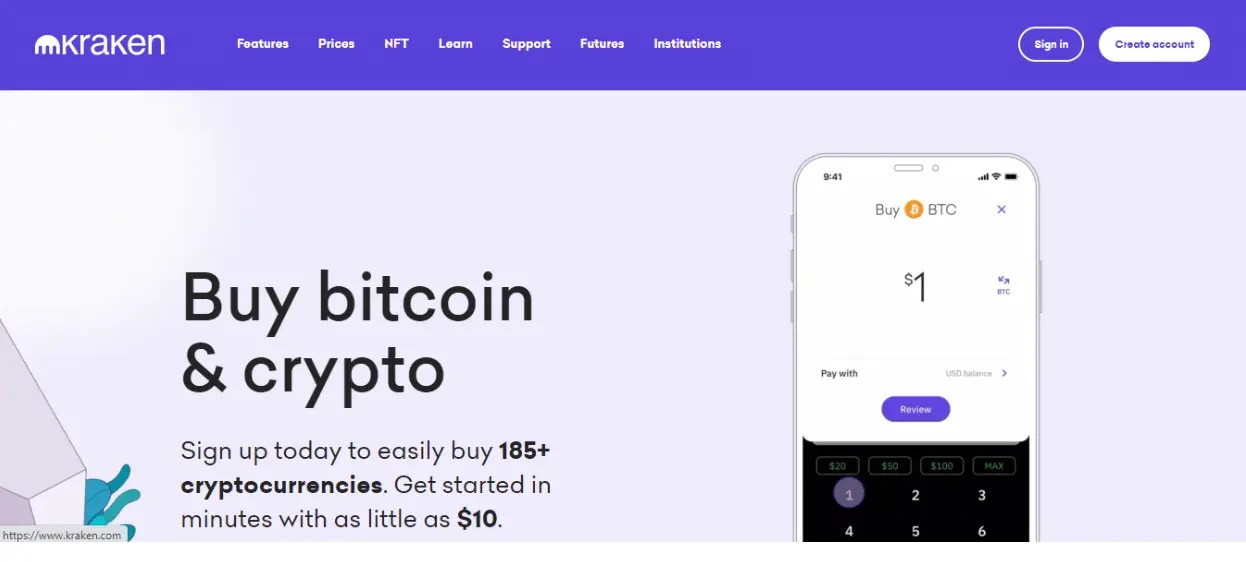 Step 2: Enter your email address, username, and password on the signup form.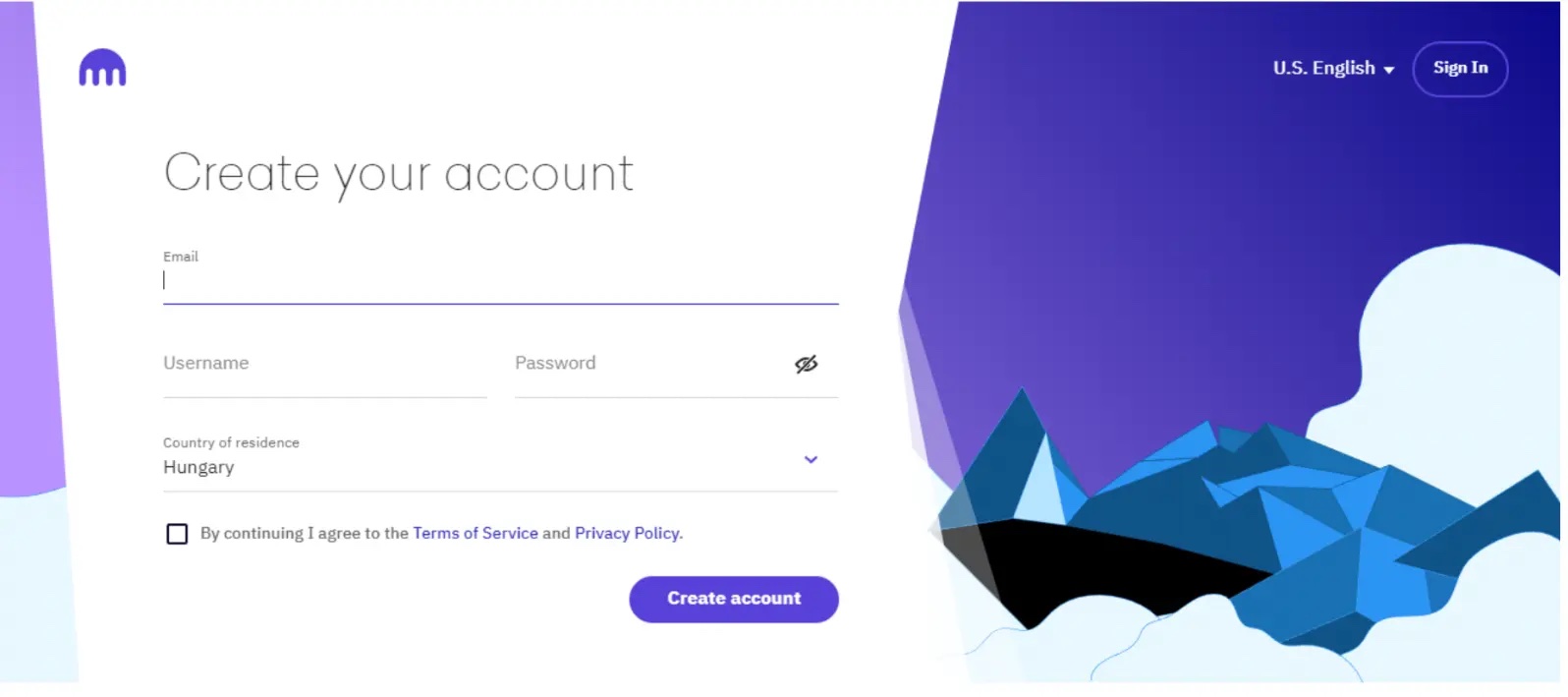 Step 3: Look for an activation email with an activation key on the email address you provided. Enter your activation key on the account activation form or click the link in the email.
Step 4: Confirm your password and complete the captcha if asked. Then, you can access your account.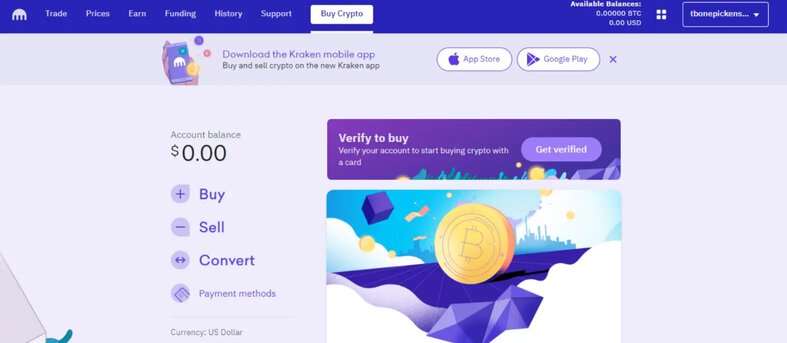 Final Thoughts On Kraken
Kraken offers one of the broadest selections of cryptocurrencies and advanced features like margin and futures trading. It also offers one of the most user-friendly interfaces you can find on a crypto exchange. The platform is available in most countries, although some features, like futures trading, are geographically limited due to regulations. Yet, it's not without its drawbacks, such as having no crypto wallet service. It also takes higher transaction fees than some rivals like OKX.
Frequently Asked Questions
Yes, Kraken is one of the longest-running and most reliable cryptocurrency exchanges available in over 170 countries.
Yes, Kraken sends reports on users with more than $20,000 in transaction volume to the IRS.
Kraken has lower fees and more advanced trading features than Coinbase. However, it doesn't offer a crypto wallet service, unlike Coinbase.
Yes, Kraken is good for beginners because of its uncluttered and visually appealing interface that makes the app easy to navigate on desktops or mobile phones.
No. Kraken Pro offers lower trading fees and advanced features such as stop-loss and take-profit orders.
Yes, Kraken is an incorporated company based in the U.S. and available to all residents except people living in New York and Washington.
Kraken is a cryptocurrency exchange. It doesn't offer a crypto wallet service.