OKX Referral Code: MILKROAD For 20% Off Trading Fees
Last Updated:

June 28, 2023
Our Take On OKX
THE BOTTOM LINE:
A lot of exchanges trade features for ease of use. OKX tackles the missing-feature dilemma by giving traders more doodads than they'll know what to do with. Spot trading, swaps, futures, perpetual swaps, and trading bots — what more could a trader want? I enjoyed my romp on OKX, especially playing in the sandbox. Yeah, they have demo trading, so you can test trading strategies without losing the mortgage money.
Pros
Multiple leverage trading options
Trading bots to automate trades
Built-in swaps and DeFi for connected wallets
Cons
Not available in the US or Canada
Busy interface can be tricky for newbies
Limited staking options

Via OKX's Website
Support
BTC, ETH, USDT +More
Token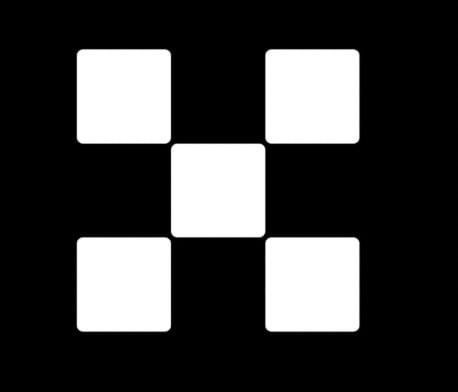 OKX Referral Code September 2023
Use our exclusive OKX referral code, milkroad, to get 20% off trading fees, and a mystery box worth up to $10,000. Make sure to use this code at signup to claim your OKX bonus. You can also use our OKX promo link.
Click to get your 20% OKX promo today.
| Name | Details |
| --- | --- |
| OKX Referral Code | MILKROAD |
| Sign-Up Bonus | 20% off and a mystery box worth up to $10,000. |
| Terms & Conditions | New traders who sign up in countries accepted. 18+ |
| Last Verified | March 2023 |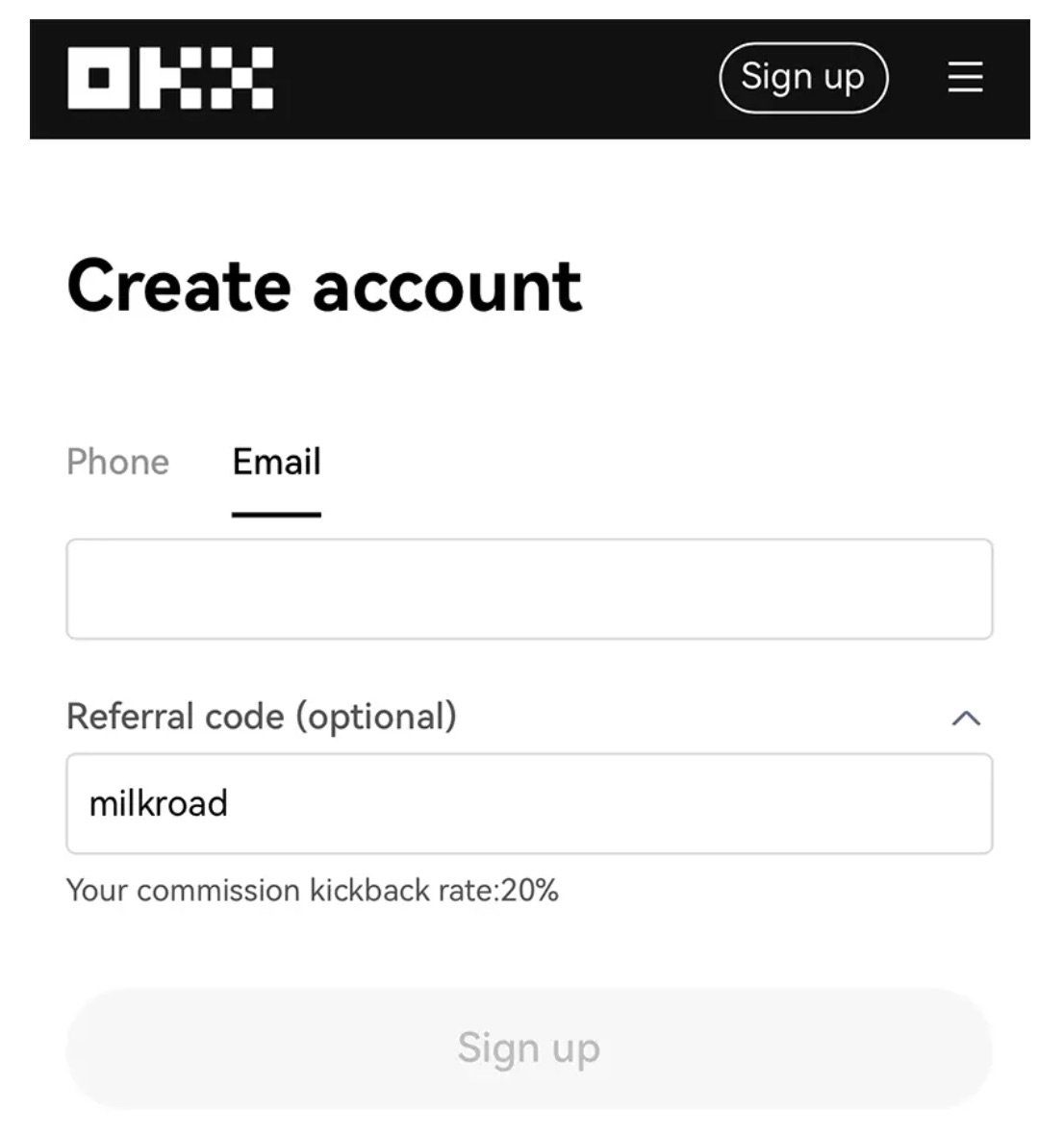 What Is OKX?
OKX is a centralized crypto exchange headquartered in Seychelles. (The beaches there look amazing!). Because the exchange isn't headquartered in the US, you'll find a heap of features that most US exchanges don't have, like futures, margin trading, crypto options trading, perpetuals, and swaps.
The downside: You can't use OKX from the US or Canada. Rats. You'll get a message based on your IP address, inviting you to show proof of residence in a non-restricted area.
Okay, that's not so surprising. Regulations imposed by the US are why Binance has a full-featured exchange at Binance.com and a pared-down exchange (Binance.US) for US traders. The OK Group does something similar, making the okcoin.com exchange available to US traders for spot trading.
But it's a big world out there, and most of the planet can use OKX without restriction.
Centralized exchanges like OKX have a management team working behind the scenes.
Decentralized exchanges (like Uniswap or GMX) are governed by community votes and computer code.
OKX blurs the lines by bringing features more commonly found on decentralized exchanges, like the aforementioned perpetual swaps (bets on the future price of an asset). The end result: you won't have to wander all over cyberspace to make trades. OKX has it all in one place. Groovy.
Key Features
Spot trades: Buy and sell over 340 cryptocurrencies.
Demo trading: Learn your way around the place and test your trading strategies without risking any real money. You'll need a (free) account.
DeFi wallet: Use the OKX wallet to connect to web3 projects on 29 blockchains. The OKX wallet is available as a Chrome browser extension or a mobile app.
Futures, perpetuals, and options: Choose from three ways to bet on the future price of dozens of cryptos. Futures and perpetuals offer up to 125x leverage.
Margin trading: Trade six trading pairs with up to 10x leverage.
Trading bots: Clone an existing trading bot or design your own to scoop up profits automatically. Watch out: Bots can scoop up losses too.
Copy trading: Follow the moves of profitable traders with the click of a button. Look, Ma, no hands!
Mobile app: Make trades anywhere you can get enough bars.
Our Expert Review of OKX
I put on my hard hat and went digging for gold on OKX.
The TL;DR: If you're an active trader, you'll probably dig the platform and enjoy the low trading fees (up to 75% lower than Coinbase Advanced). Newbies will need some time to learn their way around. There are A LOT of features tucked away in menus, so OKX can seem overwhelming. All things considered, it's worth learning how to put OKX to work for you.
Demo Trading
OKX offers a demo trading mode. As someone new to the exchange (and prone to losing money on leveraged trades), I appreciated this. Cool. I can lose money without losing money.
In fact, I'm rolling in it, at least in make-believe crypto.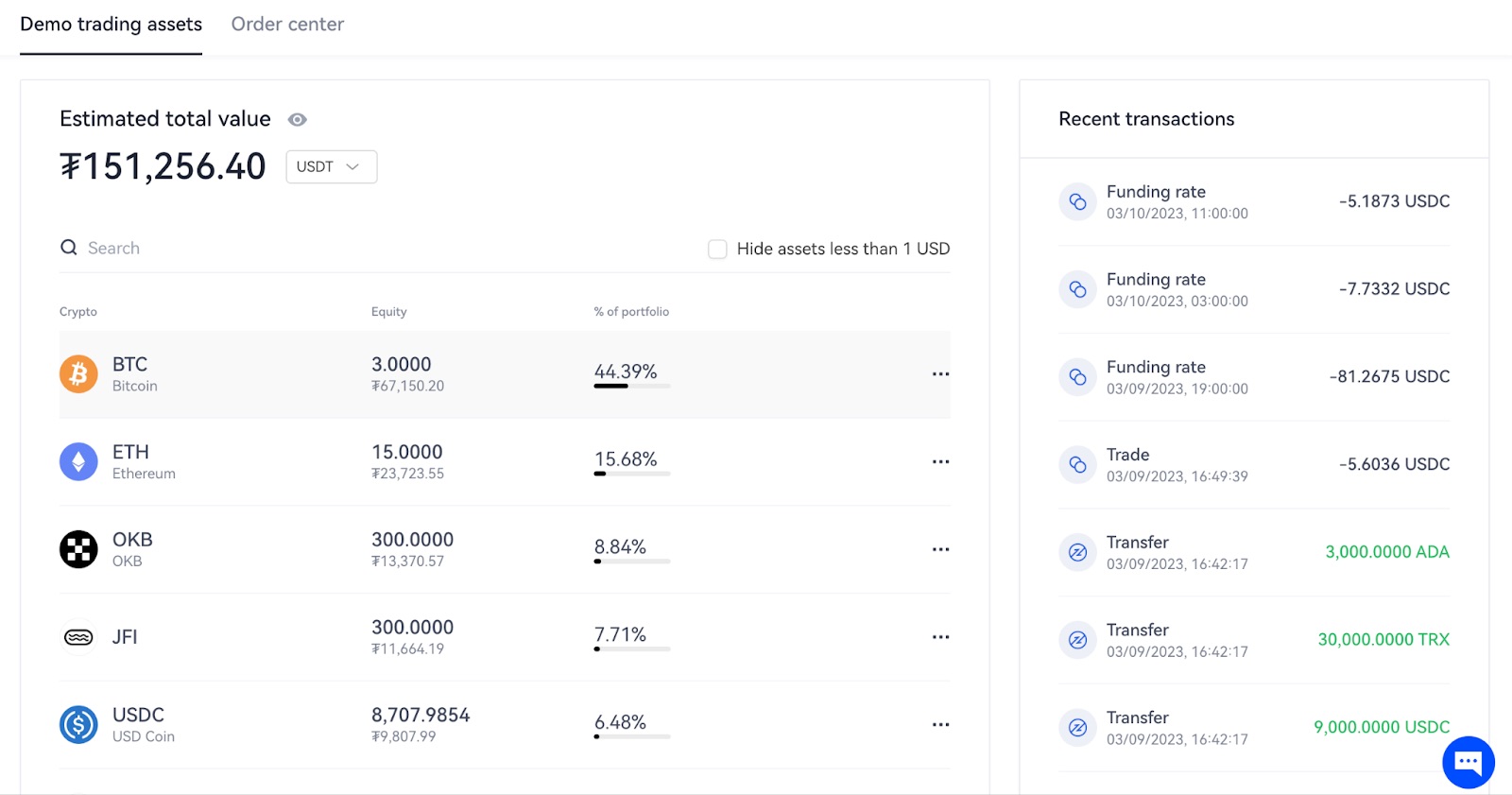 You'll get a healthy mix of virtual assets to play with, and demo trading lets you experiment with all of the following:
Spot trades
Customized trading bots
If you're like me, the bots caught your attention. Yeah, I played with those too. I named mine Spot and set it up to fetch some profitable Dogecoin trades. Bots can go long or short. More on that later.

Spot Trading
If you're a buy-and-hold type or just like to keep things simple, OKX has you covered. Spot trading means the same thing in the crypto world that it means in stocks: immediate delivery. You paid for it, now you own that stinker.
OKX shows you a default list of tradable cryptos, but there are many, many more. For example, I wanted to trade some Tron (TRX). A quick search brought up the trading pairs (TRX/USDT and TRX/BTC). Simple enough. OKX has XRP as well, another difficult-to-find crypto.
All the expected order types are supported. OKX lets you trade with sniper-like precision.
Limit orders: A limit order lets you set the exact price for your buys and sells.
Market orders: Market orders pull from the order book of limit orders. You're buying or selling against the available inventory at a price set by other buyers and sellers.
Stop orders: Take profit and stop loss orders safeguard your trades by closing all or part of your trade at a price you define. OKX also offers trailing stops that let you enjoy the profit ride while protecting your downside.

OKX Fees
Trading on OKX is cheap. I mean really cheap. And you don't have to trade whale-worthy amounts to save money on fees. Here's a quick comparison of the lowest trading volume tiers:
| Exchange | Fees |
| --- | --- |
| OKX | Maker 0.08%, Taker 0.1% |
| Coinbase Advanced | Maker 0.4%, Taker 0.6% |
| Uniswap | 0.3% (all trades) |
As you trade more, fees get lower based on your 30-day trading volume. Good news: Perpetual and futures count toward your trading volume, bumping the numbers up quickly.
Note: Bots trade like The Terminator hunting John Connor, so the fees can pile up.
Trading Bots
OKX provides traders with two ways to puts trades on autopilot. The first is trading bots. These digital critters can do just about anything but make a ham sandwich. The cool thing is that OKX backtests these ready-to-use bots. You can see the real-world performance based on historical prices. Or, if you're a mad scientist, you can create your own bot with the parameters you define. Good luck, Dr. Emmett Brown.
I set up a bot to dollar cost average Bitcoin. Various pre-built bots range from conservative to aggressive. I chose a notably chill "moderate" bot with a backtested annual yield of about 180%, which is much better than I usually do on my own. Go get 'em, Bitcoin bot.
To be thorough, I let my other bot (Spot the Dogecoin bot) run over the weekend. Spot lost the scent for a bit but then brought it home. C'mon boy, fetch dad even more profits.

Copy Trading
The other way to automate trades is with copy trading, which does exactly what it sounds like. You can copy the trades of other traders on OKX.
This one comes with some caveats.
First, you can only dedicate $1,500 to copy trading. Bots suffer no such limitation.
Second, you have to wait for the trader you're following to make their next brilliant move, which might never happen. Your allocated funds could be dead money.
Third, the trader you're following might make a move that loses your money. Technically, you lost it, but it's a lot of reliance to place on another trader who may or may not be drunk the next time they trade. Bots never drink, and they never, ever get emotional about trades.
Copy trading is cool, in concept, but bots win the day for me. Copy someone else's back-tested bot or make your own, and start trading immediately.
Perpetual Swaps
What if you could bet more money than you have on the future price of Bitcoin or other cryptos? Wonder no more. OKX has perpetual swaps that let you do exactly that.
When I started writing this review, Bitcoin was leading the entire crypto market over a jagged cliff because a bank failed. The market reaction looked overdone, so I opened a leveraged long position on Bitcoin using perpetual swaps.
A perpetual swap is a bet on the future price (of whatever) that doesn't require you to take delivery of whatever you're betting on. In Vegas, you can bet it all on red, but you don't have to haul the roulette wheel out to your car when you're done. Same idea.
OKX encouraged me to share my perpetual swaps trade with my friends. That's you, friends.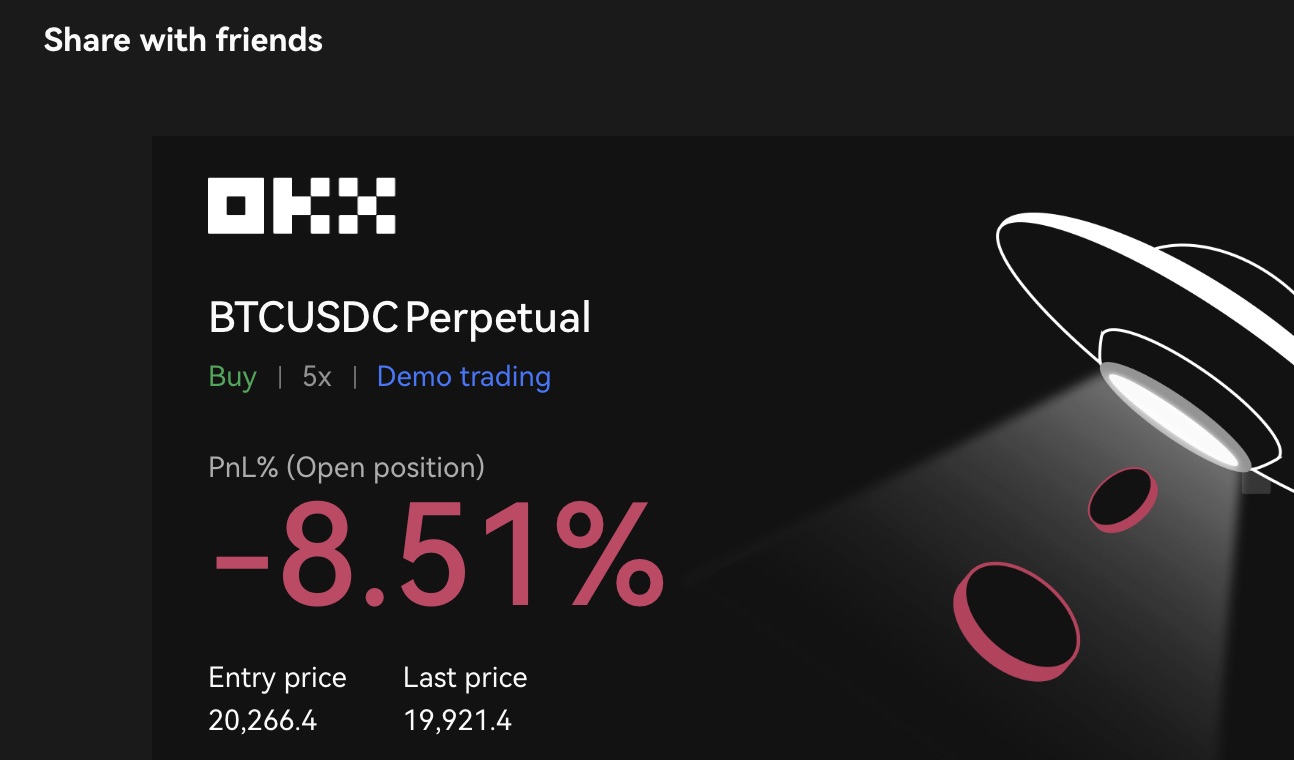 Is red good? My market optimism might have been premature.
But the OKX perpetuals trading experience is stellar otherwise. Setting up a perpetual trade is super easy and happens from the same page as spot trades. Just click on the perpetuals tab, and Bob's your uncle. You can choose up to 125x leverage (probably a bad idea). At 125x leverage, a butterfly landing on the Bitcoin chart would liquidate my position. Leverage amplifies both profits and losses.
Or—you can choose a safer amount of leverage, like the 5x position I have open. The advantage of lower leverage is that your position is less likely to get wiped out instantly. My position is getting wiped out slowly, which I very much prefer. There's still hope. In fact, Bitcoin would have to fall to about $4k to liquidate my position.
But that brings up the topic of funding fees.
Like other perpetual trading platforms, OKX charges a funding fee for the privilege of betting more money than you have. The structure is similar to what you'll find on dYdX, another perpetuals exchange. Short and long traders pay this fee to traders on the other side of the trade. Funding rate formulas look like that stuff you forgot you learned in Algebra, but just know there's a cost to carrying a trade for longer durations.
Over time, funding fees chew away at your margin (collateral) and bring you closer to liquidation. That's when the exchange sells your collateral to close some or all of the trade. Yeowch.
OKX also offers futures trading (also with up to 125x leverage). The difference between futures and perpetuals is that futures have an expiration date and require delivery. Perpetuals are a synthetic version of the asset and can be held open as long as you have enough collateral to back the trade.
OKX Staking and Other Yields
The "Grow" menu on OKX is where you want to look for yield, including staking, lending (or borrowing), and a nebulous category called DeFi that had some sort of deal on APE tokens. I passed. If you connect your wallet to OKC (or use the OKC crypto wallet), you can access additional DeFi opportunities to earn yield from liquidity pools and such. Watch out for impermanent loss.
Staking is likely the safest of OKX's "Grow" options, but the higher yields require a longer commitment (up to 120 days). There are just a handful of tokens with staking deals, which in on par with Coinbase.
OKX does offer liquid ETH staking, though, using a similar strategy to Lido, in which you deposit ETH and get an equivalent token called BETH.
Thus far, OKX's strength is in trading tools. OKX is really good for trading.
Who's OKX For?
People who want to trade futures and perpetuals: OKX is one of the few places on the internet where you can trade crypto futures and perpetuals in the same place.
People who want to put trading on autopilot: Trading bots are one of the standout features of OKX. Customize your bot to your needs or unplug it at any time if it's on the fritz.
Advanced traders: OKX is a traders platform. Other exchanges are user-friendly. OKX doesn't quite hit the mark there, but the exchange offers more powerful trading tools than you'll find on Coinbase, Uphold, or similar platforms that aim for user-friendly.
Who's It Not For?
People who live in the US or Canada. No Seriously. You can't do anything at all—not even deposit crypto. But don't blame OKX. Write your congressperson. It's US regulations that keep us from using powerful trading platforms like OKX.
Newbies: OKX can be intimidating for newer traders. However, the demo trading feature lets newbies learn the ropes with no real risk and lets traders of all levels test their trading strategies against live market prices.
People who want a wide range of staking options: At press time, we counted six staking options. That's it. While staking yields are high in some cases, you'll have to lock up your crypto for longer than the protocols themselves require to earn those higher yields.
OKX Alternatives
Every exchange has a target market. OKX caters to trading nerds. Bots, Perpetuals. Yeah, that's nerd stuff, and I enjoyed it all thoroughly. Other exchanges cater to newer traders or the broad market.
OKX vs. Gemini
Gemini goes for the broad market but brings support for some tokens you won't find everywhere else, like BAT, the token used by the Brave Browser.
| | OKX | Gemini |
| --- | --- | --- |
| US Traders? | No | Yes |
| Number Of Cryptocurrencies | 340+ | 100+ |
| Margin Trading | Yes, up to 10x | No |
| Perpetual Swaps | Yes, with leverage of up to 125x | No |
| Trading Bots | Yes | No |
| Ease Of Use | 4.0 (out of 5) | 4.5 (out of 5) |
| Fees (Low Volume) | Maker 0.08%, Taker 0.1% | Maker 0.20%, Taker 0.20% |
OKX vs. Coinbase
Coinbase is the first stop on the crypto journey for millions of crypto holders. The exchange is easy to use and the addition of Coinbase Advanced helps counter the reputation Coinbase has for high fees. (The quick-buy box is still expensive, though.)
| | OKX | Coinbase |
| --- | --- | --- |
| US Traders? | No | Yes |
| Number Of Cryptocurrencies | 340+ | 100+ |
| Margin Trading | Yes, up to 10x | No |
| Perpetual Swaps | Yes, with leverage of up to 125x | No |
| Trading Bots | Yes | No |
| Ease Of Use | 4.0 (out of 5) | 4.7 (out of 5) |
| Fees (Low Volume) | Maker 0.08%, Taker 0.1% | Maker 0.4%, Taker 0.6% |
Final Thoughts On OKX
OKX rocks as a trading platform. Leverage, futures, perpetuals, hard-to-find cryptos, trading bots — this exchange is awesome at all those things. But with great power comes great difficulty in finding all the fiddly bits hidden in menus and tucked behind tick boxes. This one isn't for beginners, folks, but it'll challenge you to learn and give you a demo trading account to get started. Overall, OKX was a great experience, and Spot the trading bot did a fabulous job fetching a profit. Good boy, Spot.
Find More Crypto Exchange Referral Codes
Frequently Asked Questions
OKX restricts users from the US and Canada. If you can provide a government ID that shows you live in one of the over 200 countries served by OKX, you can make deposits and trade. US users can use okcoin.com.
OKX uses the same tech used by banks to secure the site. And just as with most banks, you can secure your account with two-factor authentication (2FA). You can also set up withdrawal codes to lock down your funds.
If you can provide proof of identity from a country supported by OKX, you can deposit and withdraw at will. OKX does impose withdrawal limits within a 24-hour period, but there are no fees for withdrawals aside from normal network fees.
OKX does not support trading in the following jurisdictions:
The United States
Canada (some provinces)
The United Kingdom (derivatives restricted)
Hong Kong (derivatives restricted)
Additionally, trading services are not available in Singapore, Cuba, Iran, North Korea, Crimea, Malaysia, Syria, Bangladesh, Bolivia, and Malta.
US and Canadian customers can use okcoin.com.