Introducing Friend.Tech
Aug 21, 2023
There's a new app sweeping through the world of crypto. If you've spent any time on Twitter (X) the last few weeks, you've likely heard of Friend.Tech. Let's break it down and how you can get started below:
What is Friend.Tech?
Friend.Tech created a market for investing in the likeness of creators & influencers, while giving these influencers a way to tokenize their followings and offer unique membership perks to their "shareholders". Anyone with a Twitter account and 0.01 ETH can sign up and begin trading other's shares, as well as their own.
Once a user buys a share, they are given access to that influencer's gated chat room. This chat room is currently a one-way street: user's can send messages directly to the influencer like a DM, but the influencer can only send messages to the entire group of shareholders. While the functionality of member rewards is currently limited, the potential the app has shown is massive.
There are rumors that media and a lot of other features will be rolled out soon. And aside from within the app, creators are finding unique ways to reward their shareholders and are offering unique insights and Q&A sessions within their chat rooms.
The last thing to note is that creator shares are priced using a bonding curve. Simply put, the more shares that are purchased and outstanding, the higher the price will be for a new user to buy a share. And vice versa.
What Makes Friend.Tech Unique?
Creator tokens are not a completely new concept. It has been attempted with many times, and even showed some promise in the past through projects like Bitclout and Rally.
While Friend.Tech's app has had some issues along the way, the project in general is showing a lot of promise and just raised an undisclosed funding round from Paradigm. This recent funding and an in-app rewards system has also accelerated hype with talks of an airdrop now surfacing.
But the biggest standout from Friend.Tech versus other attempts is their explosion of initial users. As of writing, the app has surged to 80,000 active users, over 1 million shares traded and ~$50M of volume in its first few weeks.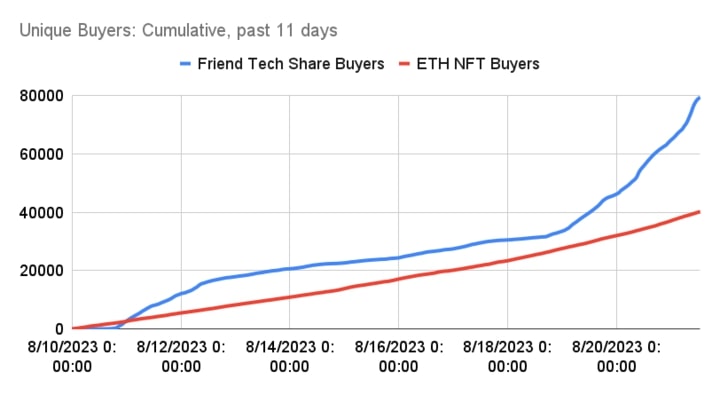 And with non-crypto users like Faze Banks recently joining the fun, this growth is showing no signs of slowing down.
How Do You Sign Up?
To sign up for Friend.Tech, you will need to start by visiting https://www.friend.tech on a mobile phone. This page will give you instructions for copying their web app onto your phone and bypassing the Apple Store download.
Once you have the web page on your phone:
You will need an invite code from a friend or other user to get started. There are many being posted on Twitter, and the Milk Man may be handing out a few in the near future also.
Once you sign up with the code, you will need to link your Twitter account. Friend.Tech receives permissions to your Twitter account as a result, which we would recommend revoking in your Twitter Settings.
The last step is to fund your Friend.Tech wallet with some ETH. They require you to deposit at least 0.01 ETH and the funds must be transferred from a wallet on Base's blockchain.
What Are The Risks?
While the concept is exciting and money is flying around, there are a few things to be aware of with Friend.Tech:
Even though it is an app, it is not installed from the App Store and bypasses all of the requirements apps need to be listed. This means users may be put at risk.
There is not much info on where user data is stored, and many people have been concerned with the lack of privacy brought by the app.
All shares are very volatile and mostly dependent on the creator and their actions. If the creator decides to not use the app anymore or the hype dies down, prices will likely drop very quickly.
Friend.Tech has high fees on buying and selling shares, which are unavoidable.