Cake DeFi Review 2023: Know The Pros, Cons, & Features
Published: June 1, 2023
|
Last Updated:

July 6, 2023
Our Take On Cake DeFi
THE BOTTOM LINE:
Cake DeFi facilitates a variety of investing strategies with generous returns. The platform has user-friendly products and low-risk options. Cake DeFi is also extremely transparent and has ample educational resources.3
Pros
High transparency
Guaranteed rewards
Variety of earning opportunities
Cons
Long freezer time for high APYs
Can only borrow in DUSD
Can not convert DFI rewards to other coins

Via Cake DeFi's Website
One million active users enjoy the many investment services provided by Cake DeFi. It's an investment platform and centralized exchange that connects users to DeFi ecosystems.
Charmingly referred to as bakers, users can generate returns from their cryptocurrencies in a number of ways. You can loan your assets, freeze them, provide them to liquidity pools, stake them, or borrow more assets.
New users can take advantage of a welcome bonus of $30 after investing $50. If you want to make your crypto assets work for you, consider Cake DeFi.
What Is Cake DeFi?
Cake DeFi is a crypto exchange and investment platform that helps users earn income from their digital assets. It's a Singapore-based company run by Julian Hosp, which was founded in 2019. The founders prioritize transparency and disclose information about business performance, goals, initiatives, and strategy in quarterly reports.
Users can sell, swap, borrow, lend, freeze, and invest in liquidity pools. Cake DeFi's interface is simple to navigate and makes it easy to customize the way you invest your assets. Each service will walk you through choosing where your assets are invested and clearly outline the potential returns and/or fees.
The platform prides itself on creating ways for users to earn passive income on their crypto assets. Several of its services even guarantee returns, like lending. In Q2 of 2022, Cake DeFi paid out $58 million in rewards to users.
Cake DeFi also connects users to the DeFiChain ecosystem, and its default coin is DFI. The founders have plans to expand the service into the metaverse, trade NFTs, and explore esports.
What Cake DeFi Offers
Cake DeFi offers a wide range of financial services including methods to invest your digital assets. Each service may require varying levels of familiarity with crypto investing. Learn more about each Cake DeFi product below:
Lending
The Cake DeFi lending service allows users to lend their assets in 28-day cycles. It's a beginner-friendly option on Cake DeFi—your assets and returns are guaranteed. When lending your assets, you'll be locking them in lending contracts for four weeks.
You can lend Bitcoin, Ether, USD Coin, or Tether, in any amount you choose. Each lending batch has a different APY, and there are no fees for lending. You can see guaranteed returns from lending up to 7%. Lenders may receive bonus returns of up to 2.5% if the spot price of the invested currency finishes above the expected batch expiry price.
At the end of each 28-day run, you can choose to withdraw just the returns or both the returns and your principal amount. If you choose to continue loaning your funds in the next lending batch, you'll generate compound interest. In the lending settings, you can turn on auto-compound to roll your funds into the next lending batch, as default behavior.
Liquidity Mining
Users can earn rewards from the liquidity mining service by allocating assets to liquidity pools. You'll essentially be providing liquidity to a decentralized exchange so trades between two different token pairs can occur. In order to invest, you will need to deposit both tokens in the pair of the liquidity pool you choose. You'll receive your rewards in both tokens as well.
Liquidity pools are available for currency pairs like BTC-DFI, ETH-DFI, UST-DFI, LTC-DFI, BCH-DFI, and DOGE-DFI. You'll need both coins in your wallet to invest in the pool. Cake DeFi is also very transparent about how those coins are invested in the pools. You can view the node addresses and current liquidity on Cake DeFi's transparency page.
Investors can earn around 25% in annual returns. Liquidity miners also get a share of the exchange fee (0.2%.) Rewards are paid out every twelve hours to your Cake DeFi account.
Keep in mind there is always a risk of impermanent loss when providing liquidity to liquidity pools, as you are not guaranteed to receive the same quantity of each token back when you withdraw your assets. As an example, you could deposit to the BTC-DFI liquidity pair, and when you withdraw later, you may only get DFI back. But BTC could have increased substantially during that period, creating what is referred to as "impermanent loss" as you missed out on the BTC price increases.
Earn
Cake DeFi's newest feature is called Earn and is only available on the mobile app. Users can generate cash flow in a similar manner to liquidity mining, but with just one crypto instead of investing pairs. Essentially, you'll earn rewards for investing your crypto in liquidity pools, without needing to provide both sides of the trading pair.
Cake DeFi describes the feature as a one-sided liquidity mining service. You can currently participate in the Earn feature with DFI or BTC, and the current returns rate is 10% APY for both tokens. Returns can also auto-compound, unlike with regular liquidity mining.
Earn also has a volatility protection pool. This feature is intended to cover your volatility loss from the Earn program. Once you begin participating in Earn, you'll receive 1% volatility coverage every 24 hours. After 100 days, you'll be provided full protection. The volatility protection is dependent on the balance in the liquidity pool—even if you have 100% coverage, it's not guaranteed.
The volatility protection feature is intended to protect user's assets from market volatility and impermanent loss. Cake DeFi claims to cover losses if crypto prices go down. If you've invested $100 in Earn, after your first day, 1% or $1 of that investment is covered for loss. After 100 days, the full $100 is covered by the volatility protection feature.
Returns are deposited in the native coin to your Cake DeFi account every 24 hours.
Staking
The staking service on Cake DeFi allows investors to receive rewards for committing their coins to validator nodes and helping the security of proof of stake blockchains. Staking is when you dedicate your assets to supporting the blockchain network—the coins are used to verify transactions via a proof-of-stake consensus.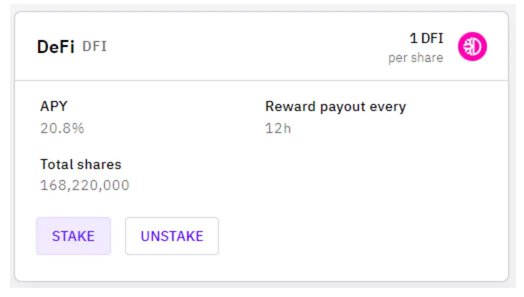 There is no minimum amount required to participate in staking, and you can pull your assets out at any time. You will need either DASH or DFI coins to stake and will receive reward payments about every twelve hours. Users can receive up to 22.9% in yearly returns. Cake DeFi does collect a 15% fee on each reward and $10 per node per month.
Borrowing
The borrow feature is only available on the Cake DeFi mobile app. Users can take out loans in decentralized USD (DUSD) to purchase anything or invest in more crypto. You can convert any borrowed DUSD into USDC or DFI for free.
Users can borrow DUSD coins in order to use other Cake DeFi products like staking or liquidity mining. Although, you don't have to use the loan for investing on the Cake DeFi platform.
The current interest rate for borrowing is 5% APR. Borrowers will also pay a one-time 0.5% origination fee, deducted directly from the borrowed DUSD. There are no loan terms, you can hold the load for as long as you want. If you wish to borrow, you'll need to provide some assets as collateral. Your collateral can partially be Bitcoin, Ether, Tether, or USD Coin, but at least 50% of the collateral must be DFI.
The collateral must be 200% of the value you wish to borrow. For example, if you had $200 worth of collateral, you could borrow $100. If your collateral drops below 200%, then it will be liquidated and used to repay your loan. You'll need to top up your collateral or pay on your loan to ensure the ratio remains at 200%.
The Freezer
Cake DeFi's freezer feature is designed to reward users for dedicating their funds long-term. It allows you to lock your shares in for longer periods of time in order to receive higher rewards. You can choose to freeze your shares for as little as one month and for as long as ten years. You can earn double the rewards for choosing to freeze your assets for 10 years.
Warning: If you do choose to lock assets into the Freezer, you cannot withdraw them until the freeze time is up!
Any rewards you earn will be issued directly to the user's Cake DeFi account every twelve hours. Although you may not be able to access frozen funds, you will immediately receive the benefits.
The freezer supports DFI and Dash staking. And your frozen assets will count towards the Confectionery Score in the Cake DeFi VIP program.
Learn
The learn program is an incentive for users and prospective users to learn about Cake DeFi's variety of services and how to use them. Courses are designed to educate and welcome more people into the crypto space.
In the first course, you can learn about the DeFiChain and earn $5 in DFI. The course takes about 10 minutes to complete and has a quiz at the end of each section. You'll be paid directly into your Cake DeFi account once completing the course.
Cake DeFi also offers a course on Bitcoin where you can earn $5 in BTC-DFI tokens. An Ethereum course is coming soon. Any rewards you earn from the learn and earn program will be sent to the Freezer for one month before you can withdraw them.
Cake DeFi VIP Program
Cake DeFi has a special VIP program for avid users. Each member gets a Confectionery Score that determines their VIP level.
Confectionery Scores are calculated based on the total amount of assets you hold in your account. Assets held across products (Staking, Lending, Freezer, and Liquidity Mining) will count towards your VIP status. Some products will even carry more value towards your VIP calculation—assets held in the Freezer are worth 2x as much.
Assets are measured in bitcoin for the purposes of VIP status. The first level, Sweet Tooth Edition, requires 0.1 BTC (around $20,000.) Holding 500 BTC makes you a Master Baker and unlocks the full suite of VIP benefits—including a call with the CEO.
VIP benefits include a Cake DeFi swag box, VIP Telegram group, a monthly market analysis, one free withdrawal every three months, discounted DFI and DASH, a dedicated account manager, airport lounge access, and an invite to the annual company event.
Overall, Cake DeFi offers a long list of flashy VIP benefits but few that really benefit traders from an investing standpoint. Competitors like Crypto.com, for example, offer VIP rewards like fee deductions for spot trading. Crypto.com's VIP perks include lower trading fees, increased API rates, and a virtual private link.
Cake DeFi Tokens
Cake DeFi doesn't exactly have its own coin. Instead, it partners with DFI Coin (the native token of DeFiChain.) Cake DeFi is partnered with DeFiChain for R&D and staking. You can purchase DFI from Cake DeFi if you need the token to participate in some of its services.
Most rewards on Cake DeFi will be given out in DFI. Most of Cake DeFi's products are also compatible with DFI. When borrowing, for example, at least 50% of your collateral must be DFI. You'll also earn the most rewards when freezing DFI coins for ten years.
You can not currently convert DFI to another cryptocurrency on Cake DeFi. If you'd like to swap your DFI rewards for another coin, you'll need to withdraw it to another wallet and conduct the swap on a different crypto exchange, such as PancakeSwap.
Cake DeFi also defaults to Decentralized USD (DUSD) stablecoin. You can only borrow on Cake DeFi in DUSD. You can also convert your borrowed DUSD to DFI tokens for free.
How To Sign Up For Cake DeFi
You can sign up for Cake DeFi with its mobile app or website. It's a straightforward process with just a few simple steps. Once you've created an account, you'll need to complete the Account Verification (KYC) process to begin trading on the platform.
1. Create An Account
To create an account, you'll click on the signup button. You'll need to provide an email address and create a password. Then you'll receive an email prompting you to confirm your email address.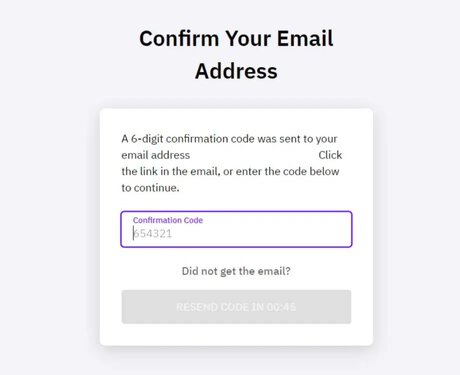 2. Verify Mobile Number
After you've created an account, you'll need to verify your identity. You can find the "verify now" button on your dashboard or go to the identity verification tab in your profile. Then you'll be asked to verify a mobile phone number.
3. Provide An Identity Document And Selfie
Cake DeFi will then ask you for two things in order to verify your identity. First, you'll need to upload either a photo of your passport or ID card. Then you'll need to take a selfie on the app or website.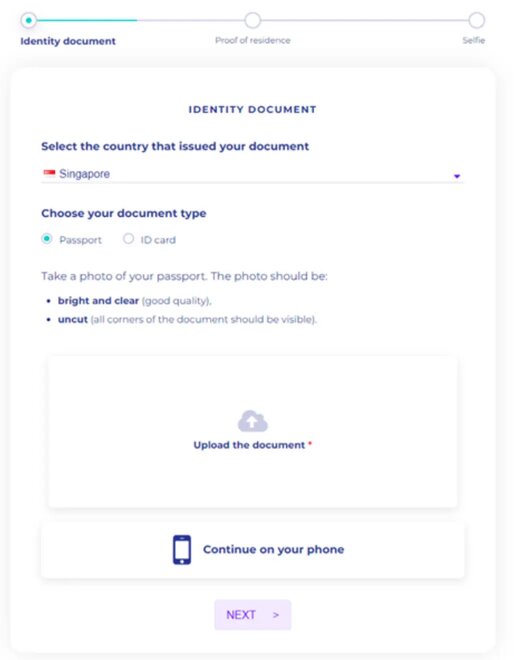 4. Upload Proof Of Residence
The last step to verifying your account is uploading proof of your address. Cake DeFi will accept bank statements, tax returns, certificates of residence, utility bills, and internet/cable bills as proof. You must upload a PDF or original copy of the document. Screenshots, medical bills, and insurance statements will not be accepted.
Cake DeFi will then process all the information, and your account will be verified.
Cake DeFi Pros And Cons
Cake DeFi Pros
There are a lot of reasons to love Cake DeFi and its products. We've highlighted three ways the platform stands out.
High Transparency
Cake DeFi provides an ample amount of information about the company's performance and status of its services. You can read quarterly reports on the Cake DeFi website that details customer growth, payouts, funded accounts, team strategy, investment plans, and business developments. The latest report highlighted the addition of the borrow product, $58 million in customer payouts, and plans to hire a CMO, VIP of People, and VP of Design.
In the liquidity mining feature, you can view the blockchain contract addresses for the pools your crypto is invested in. This helps you understand exactly where your tokens are going and how they're being invested.
Guaranteed Rewards
Several of Cake DeFi's products, like lending, have guaranteed returns. In the first quarter of 2022, Cake DeFi announced that over $317 million had been paid out in rewards since the company started in 2019. You can invest your crypto assets knowing you'll earn passive income.
As such, many may consider investing with Cake DeFi to be on the low side for risk. However, you should always proceed with caution when using products like lending, even with a guaranteed return. Similar products with other lending platforms (like Celsius) have declared bankruptcy due to "extreme market conditions." Users were promised an APY that Celsius couldn't deliver.
Variety Of Earning Opportunities
The many products offered on Cake DeFi mean users can participate in many different earning opportunities. You can try lending, staking, liquidity mining, or the freezer. Some products are riskier, while others are more beginner-friendly. Cake DeFi can appeal to different levels of crypto expertise and a variety of comfort levels with investment risk.
Cake DeFi Cons
There are a few things to take into consideration before you start investing your assets with Cake DeFi. Cons include limitations on the types of coins you can use for some services and opportunities to convert them.
Long Freezer Time For High APYs
In order to unlock significant APYs for the freezer feature, you have to lock in your assets for ten years. Users who freeze their tokens for ten years can receive double the returns. Lower timelines won't earn as significant rewards, and you may be better investing your assets in other ways.
Can Only Borrow In DUSD
If you'd like to borrow funds from Cake DeFi, you can only borrow DUSD tokens. For most purposes, you'll likely want to convert those coins. On Cake DeFi, you can convert borrowed DUSD to DFI or USDC for free. For any other coin, you'll have to withdraw the funds and convert them on another exchange.
Can Not Convert DFI Rewards To Other Coins
Most of the rewards you earn from Cake DeFi's services will be paid out in DFI coin. The platform doesn't offer the option to convert those rewards from DFI into another token. You'll have to withdraw your funds from Cake DeFi and convert them on a different crypto exchange or wallet platform.
Who Cake DeFi Is Best For
Beginners can explore Cake DeFi's educational material and learn-to-earn program to become more crypto savvy.
Trades who have a low-risk tolerance will enjoy investing with services like the freezer and lending.
Adventurous crypto users will have fun trying the many different ways to invest assets and earn rewards.
Laid-back investors will like earning passive income and rewards from Cake DeFi's products.
Cryptos Listed On Cake DeFi
Cake DeFi supports a wide variety of cryptocurrencies across blockchains. Each Cake DeFi service has different coins compatible with the feature. For example, you can only participate in staking with DFI or DASH. Keep in mind that the APY for each coin is subject to change. Here's a list of cryptos listed on Cake DeFi:
Cake DeFi Cryptos
Bitcoin (BTC)
Ethereum (ETH)
DeFiChain (DFI)
Tether (USDT)
USD Coin (USDC)
Bitcoin Cash (BCH)
Litecoin (LTC)
Dogecoin (DOGE)
Dash (DASH)
Apple Tokenized Stock Defichain (dAAPL)
Amazon Tokenized Stock Defichain (dAMZN)
ARK Innovation ETF Defichain (dARKK)
Alibaba Tokenized Stock Defichain (dBABA)
Dcoin (dCOIN)
REDEEM Token (dEEM)
DGLD (dGLD)
GameStop Tokenized Stock Defichain (dGME)
Google Tokenized Stock Defichain (dGOOGL)
Nvidia Tokenized Stock Defichain (dNVDA)
PDBC Defichain (dPDBC)
Palantir Tokenized Stock Defichain (dPLTR)
Invesco QQQ Trust Defichain (dQQQ)
iShares Silver Trust Defichain (dSLV)
Dopple SPY (dSPY)
iShares 20+ Year Treasury Bond ETF Defichain (dTLT)
Tesla Tokenized Stock Defichain (dTSLA)
iShares MSCI World ETF Tokenized Stock Defichain (dURTH)
DefiDollar (DUSD)
Vanguard Real Estate Tokenized Stock Defichain (dVNQ)
Fees For Using Cake DeFi
Trading on the blockchain is no free endeavor. Many transactions will incur fees. These fees are usually used to validate transactions on the blockchain or are a commission for the service provider. Cake DeFi, for example, earns its profit from a fee on the rewards it distributes to users. You'll also encounter a deposit fee for some assets, a withdrawal fee, and a swap fee.
| Action | Cake DeFi fee |
| --- | --- |
| Deposit | One-time $10 fee for ETH, USDT, USDC, or ERC20 token |
| Withdrawal | Varies by currency and network |
| Swap | 0.5% (less for VIP bakers) |
| Staking Rewards | 15% and $10 per node per month |
Alternatives To Consider
Cake DeFi is one of many crypto exchanges and investment platforms. Compare its offerings to these three other popular options.
PancakeSwap: Good For Users On The BNB Chain
PancakeSwap is a crypto exchange platform on the BNB network. Users can deposit in liquidity pools, trade assets, earn passive income, and buy NFTs. Cake DeFi offers similar features but does not currently have a marketplace feature to purchase NFTs.
PancakeSwap offers products like swap, yield farming, staking, IFO, lottery, and prediction. The lottery feature is particularly interesting and one you won't find on Cake DeFi. PancakeSwap runs four lotteries each day, and users can buy a raffle ticket to participate. Winners can receive rewards and an NFT.
Some users complain about network congestion on PancakeSwap, and in its prediction product, you can lose funds quickly. But overall, the platform offers some unique and exciting ways to earn returns on your crypto assets. If you want to invest on the BNB chain, it's a good alternative to Cake DeFi.
Coinbase Exchange: Good For Beginners
Coinbase Exchange is one of the largest exchanges in the world and is U.S. based. It has a $2 account minimum to begin investing and over 170 currencies supported. By comparison, Cake DeFi supports around 30 different coins. And to get started on Cake DeFi, you'll need to deposit $50 worth of crypto. On Coinbase Exchange, you can trade, stake, and open a Coinbase debit card.
Beginners will enjoy participating in Coinbase Earn (similar to Cake DeFi's learn and earn feature), where you can complete educational modules in exchange for free crypto. Coinbase Exchange has a whole library of educational content that covers the crypto market, trading tutorials, and general tips. While Cake DeFi offers robust transparency documentation and FAQ support, it's general learning material is not quite as extensive for beginners.
The fees for Coinbase Exchange are on the complicated side, and you won't know exactly what you're paying until it's calculated in the transaction. Fee structures change depending on whether you're using the simple or advanced trading services. Cake DeFi is abundantly clear on the fees you'll incur for each service.
Is Cake DeFi Right For You?
Cake DeFi will appeal to crypto users who are excited by the idea of investing in new ways. Services like lending, liquidity mining, staking, and freezing allow investors to grow their assets with a variety of strategies.
If you're newer to crypto trading, Cake DeFi has options that guarantee returns, like lending and freezing. You can also earn crypto by learning about the blockchain.
And for users who want to grow their assets but don't want to spend too much time moving things around or actively trading, you'll enjoy Cake DeFi's passive income products. Locking funds in the freezer or lending coins won't require much active participation.
Final Thoughts On Cake DeFi
Cake DeFi is a one-stop DeFi destination for all digital asset management. The platform allows users to earn rewards and returns on their crypto assets by lending, staking, freezing, and liquidity mining.
It's easy to use and allows users to earn passive income on their crypto assets without selling them. Crypto holders with a variety of experience levels can try their hands at a Cake DeFi service with guaranteed returns.
Frequently Asked Questions
Cake DeFi employs a lot of measures to ensure the security of its platform and communicate those efforts to its users. The company also conducts regular vulnerability tests.
One such measure is asset segregation—customers' assets are stored separately from the operating accounts for Cake DeFi. The majority of coins are also stored in cold wallets, which are more secure than hot wallets.
Cake DeFi also uses multi-signature approvals for transactions and holds collateral in secure private wallets.
If, for any reason, Cake DeFi was compromised, they maintain an emergency fund called "the Secret Cookie Stash," which would protect user funds.
The Cake DeFi security team is super accessible, you can email security@cakedefi.com if you have any concerns regarding security.
Regardless of the platform you use to invest your crypto, you will have to pay taxes on your earnings. Depending on the transaction, you may owe income tax or capital gains tax. You'll need to pay taxes on crypto transactions like selling, swapping, spending, yield farming, mining, and staking. Taxes will also apply if you receive a salary in crypto, receive a referral bonus, and for any DeFi interest you earn.
Cake DeFi will not send you a 1099 or specific tax form at the end of the year to help you file your crypto taxes. You will need to export your transactions on the platform. When you do so, Cake DeFi does have the option to download those transactions as a tax report or a CSV file.
There are several ways to earn crypto on Cake DeFi. You can make money by investing your crypto assets in ways that generate interest or returns. If you lend your assets on Cake DeFi, you'll earn returns from the interest. If you freeze your assets, you'll earn interest in the same way you might be storing your money in a CD or savings account. Each Cake DeFi product has different levels of risk and guarantees that you'll earn money.