Top 8 Crypto Banks: Risks, Benefits, & Regulations
We break down the crypto banks offering traditional banking services for crypto holders.
Last Updated:

June 28, 2023
What is a Crypto Bank?
Crypto banks allow you to safely store your firm's crypto assets, just like traditional banks do for your normal fiat money. A crypto bank is a lot like a normal bank, but instead of holding fiat currencies like USD, your business account holds cryptocurrencies like Bitcoin.
Crypto banks have a leg up over traditional banks in several areas. For example, sending and receiving money (known as "settlement") is usually almost instantaneous, rather than taking three to five business days, like in traditional banking.
These banks are heavily regulated, just like normal banks, so there is still only a handful of them available, but more are popping up every day. Below we take a look at our picks for the top five crypto banks. Let's take it away.
Top Crypto Banks
| Bank | Account Fees | Debit Card | Based In | Regulatory Certifications |
| --- | --- | --- | --- | --- |
| FV Bank | Starting at an opening fee of $25 and an account fee of $25/month | Yes | Puerto Rico | Licensed by the Puerto Rico Office of the Commissioner of Financial Institutions |
| Arival | $100/mo service fee for starter accounts | No | Puerto Rico | Licensed by the Puerto Rico Office of the Commissioner of Financial Institutions |
| BCB Group | Contact for pricing | Contact for information | United Kingdom | Regulated by the Financial Conduct Authority of the UK |
| Mercury | Free to use (no setup or monthly fee), but advanced features may incur fees. | Yes | USA | Regulated by the Office of the Comptroller of the Currency (U.S. Treasury Department). |
| Customers Bank | Contact for pricing | Yes | USA | Licensed and regulated by the Office of the Comptroller of the Currency. |
| BankProv | No monthly fee for starter plan | No | USA | Licensed and regulated by the Office of the Comptroller of the Currency. |
| Kraken Bank (Upcoming) | Not yet announced | No | USA | Regulated by The Wyoming Division of Banking. |
1. FV Bank: Best for Bitcoin Accounts

---
Pros
Provides a Visa debit card that allows you to spend your bank balance anywhere Visa is accepted
FV Bank has plans to roll out a Visa credit card in the future
Cons
Accounts only support Bitcoin assets (more cryptocurrencies are expected in the future)
---
Key Features
FV Bank is an enterprise-focused bank for financial technology (FinTech) and blockchain companies that are based in Puerto Rico. The bank features:
Checking accounts that allow you to hold both fiat and Bitcoin in the same account
Business bank accounts that allow multiple account managers to access and manage a single joint account
Application programming interface (API) that allows other businesses to offer banking services to their clients through FV Bank's banking infrastructure
While FV Bank only supports Bitcoin, account holders can receive payments in USDC, which are converted into fiat USD the moment they are received
---
What Sets It Apart
FV Bank is headquartered in Puerto Rico, a US commonwealth, which allows the bank to serve US customers as well as international customers. US clients can send money to international clients of the bank 24/7 with instant settlement.
---
2. Arival: Best for Crypto Small Businesses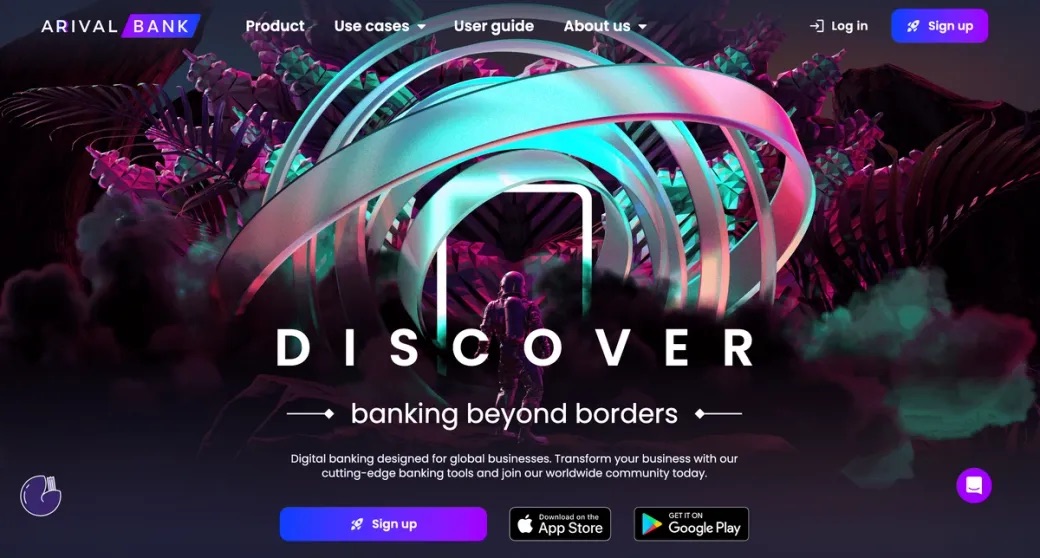 ---
Pros
Features integrations with Quickbooks, Shopify, Square, and other small business SaaS tools
Add teammates and give them various roles to manage all your accounts
Arival automatically upgrades your account to premium after you reach a certain account balance
Cons
Starting at $100/mo., Arival is pricey
---
Key Features
Arival is another crypto bank based in Puerto Rico that has standard banking features, including USD bank accounts, international payments, and ACH payments, plus:
For accounts over $100,000 in average balance, Arival waives all monthly account fees and gives you a dedicated account manager
One dashboard is provided that manages all accounts, even if they're for multiple businesses and multiple currencies
Mobile app for iPhone and Android
Allows you to automate your accounts by setting up schedules for automatically authorizing recurring payments
What Sets It Apart
Arival is an innovative blockchain bank that allows clients to manage multiple accounts with different fiat and cryptocurrencies all in one dashboard — either on desktop or through its fully-featured mobile app.
---
3. BCB Group: Best for Enterprise Businesses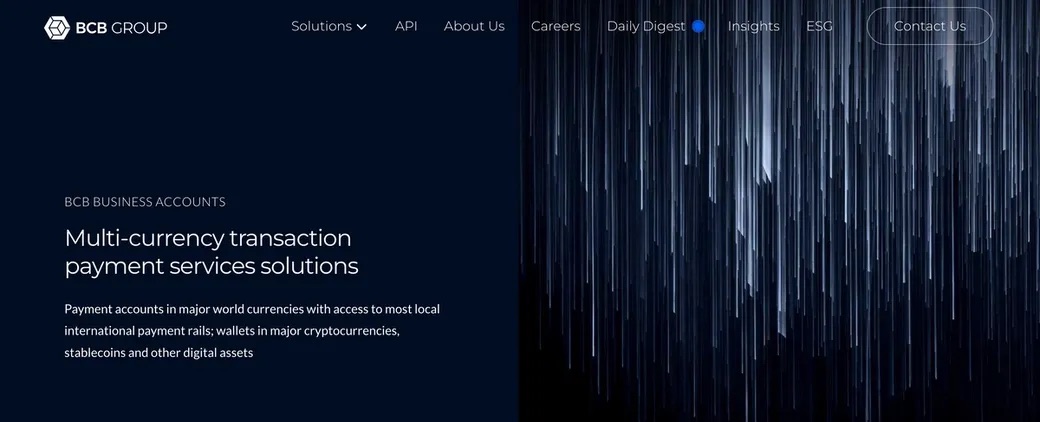 ---
Pros
Includes a foreign currency exchange for instant conversions between different fiat currencies
Business accounts have dedicated IBAN numbers that allow for international transactions
Cons
BCB Group provides lots of enterprise services, but you have to contact them to get details on all their services
---
Key Features
Crypto and fiat bank BCB Group caters to large institutions and enterprise clients out of its United Kingdom offices. Some of the bank's most important features include:
Support for over 29 fiat currencies
Support for enterprise-level crypto trading orders, including OTC (over-the-desk) orders for large, institutional trades
Accounts that generate interest (or, as it's known in crypto, "yield") return between 2% – 6% by loaning out your crypto
BCB's "BLINC" payments network allows the instant payment and settlement of fiat currencies between client accounts within the BCB network
---
What Sets It Apart
Most of BCB's services are "high touch" and include one-on-one help with trading, banking, transfers, and more.
---
4. Mercury: Best For Ease Of Use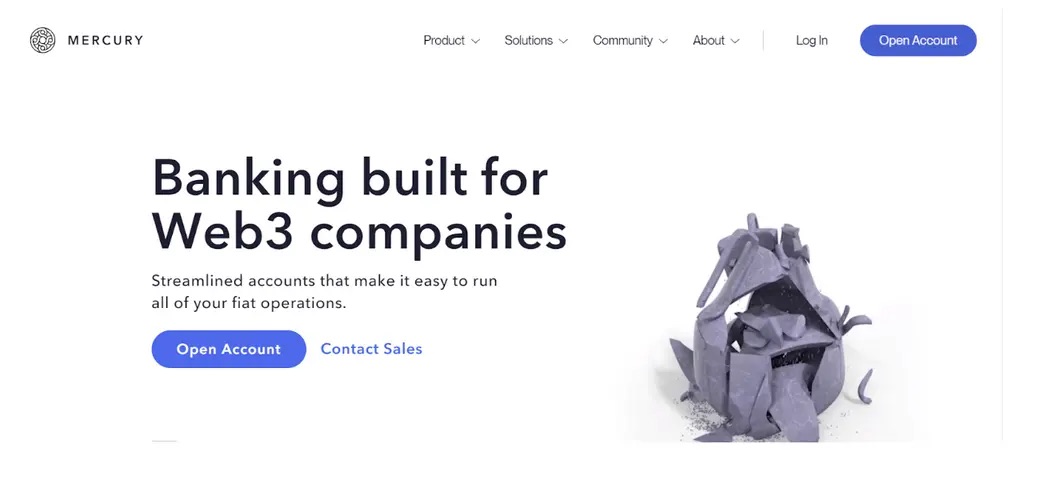 ---
Pros
Easy onboarding
Seamless card issuing (physical or virtual cards)
A very secure platform
You can open an account for a U.S.-registered company even though you're not present in the U.S.
Cons
Your business can't hold crypto in its accounts.
Not available for sole proprietors.
---
Key Features
Mercury is not a bank itself but instead partners with two licensed U.S. banks (Choice Financial Group and Evolve Bank & Trust) to offer its service. Its key features include:
You can apply and open an account entirely online.
You can transfer corporate funds using ACH, check, or wire in a few clicks. You could even set up automatic recurring payments for vendors.
You can issue physical or virtual cards for your staff with ease. Virtual cards can be issued within seconds.
---
What Sets It Apart
Mercury is famous for its easy onboarding. It is very noticeably easy to apply and open an account. Founders that already have their articles of incorporation and a valid EIN number issued by the IRS can complete the online application in a few minutes. Afterward, the application won't take long to be reviewed and approved if you meet the requirements.
---
5. Customers Bank: Best For Loans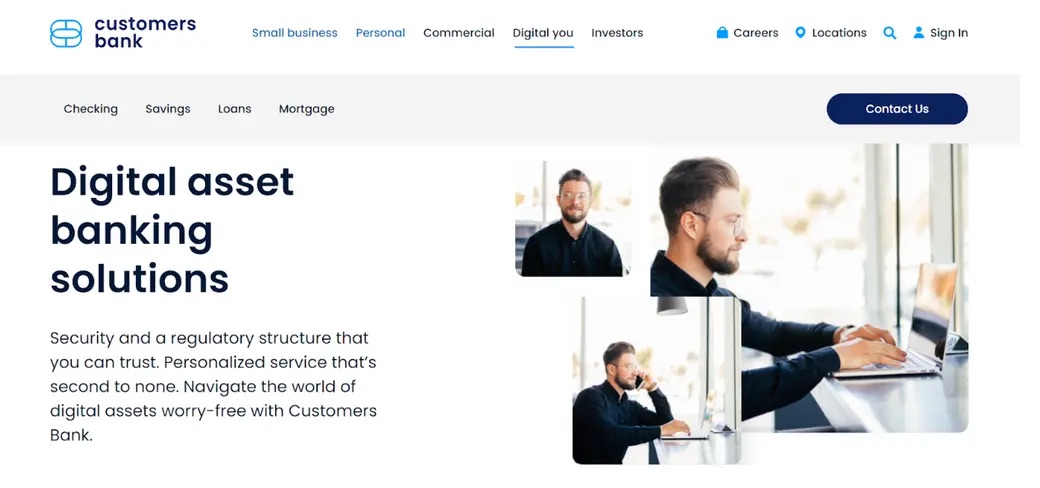 ---
Pros
Cash management tools
Provides a real-time business-to-business payments platform
Low transaction fees
Competitive interest rates
Cons
---
Key Features
Customers Bank offers access to features including:
You can make instant payments from one business account to another, thanks to the Customers Bank Instant Token (CBIT). This feature is accessible 24/7 and is helpful for crypto trading funds, exchanges, market makers, and institutional investors.
APIs that developers can connect to build extra features for their business accounts, e.g., payment APIs to schedule recurring payments.
Checking or savings accounts that you can manage with ease.
---
What Sets It Apart
Customers Bank provides specially packaged loans to venture-backed companies. Crypto companies can access these loans to expand their business.
---
6. BankProv: Best For Bitcoin ATM Operators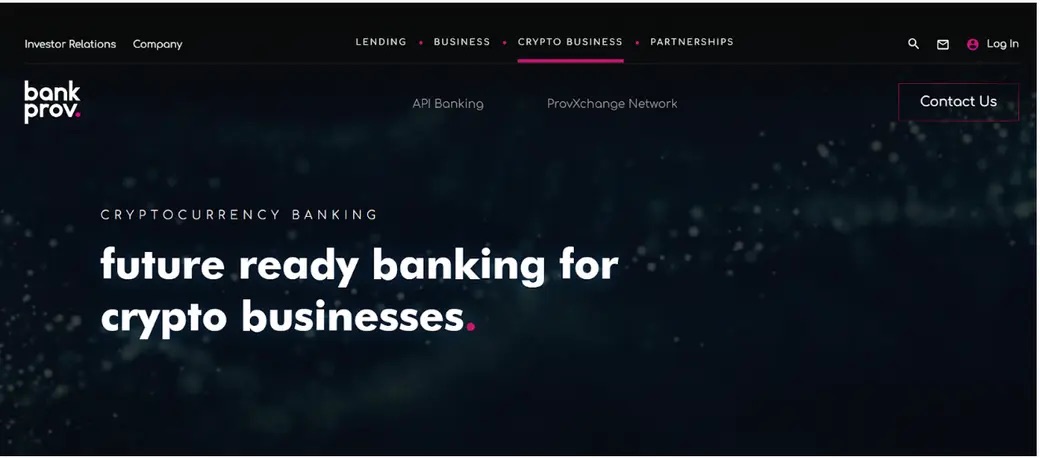 ---
Pros
Fully-insured deposits.
APIs that make it easier to manage your finances and send or receive money.
Low transaction fees
No monthly fee on the starter plan.
Cons
Does not offer debit cards.
You can't deposit crypto directly.
---
Key Features
BankProv was previously known as The Provident Bank but rebranded in 2020 to reflect its technology focus. Its key features include:
ProvXchange, a payments platform that allows businesses to send or receive money instantly.
APIs that let developers interact with their bank accounts beyond what is offered by the bank.
---
What Sets It Apart
BankProv offers a special service for Bitcoin ATM operators to secure their deposits and transfer money easily. For example, they can get armored couriers to move money around securely.
---
7. Kraken Bank: Best For Existing Kraken Users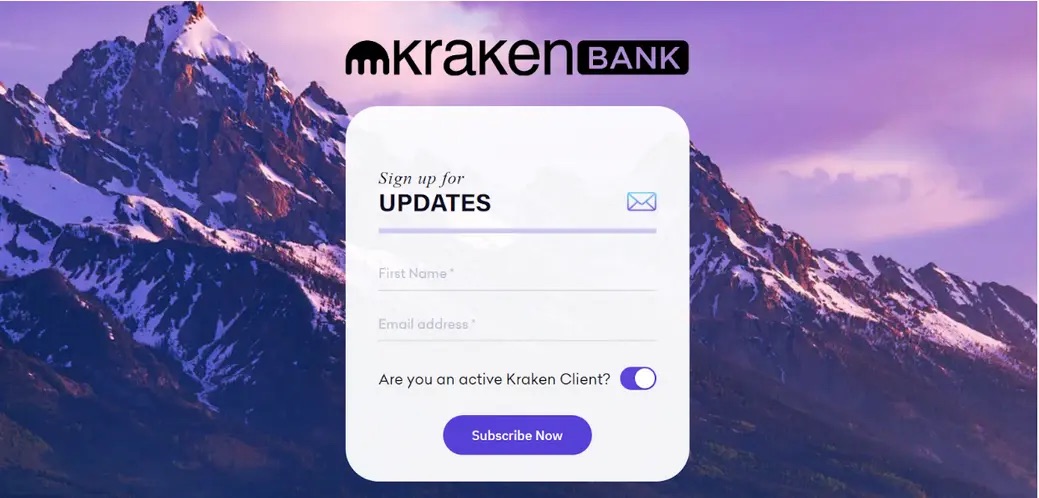 ---
Kraken is a popular American crypto exchange. In March 2023, the company talked about launching its own bank "very soon," although it initially planned to do that in 2021 and postponed it multiple times.
While most U.S. banks are insured by the Federal Deposit Insurance Commission, this bank will operate under a framework created by the State of Wyoming called "Special Purpose Depository Institutions" (SPDIs). With this framework, banks must maintain full reserves, unlike FDIC-insured banks that maintain fractional reserves and lend out deposits or use them to purchase securities.
For now, we can't say much about this service, but we assume it will be best suited for businesses that already use the Kraken exchange to store and move tokens.
What Happened To Silvergate Bank?
Silvergate Bank was one of the two biggest U.S. banks catering to crypto customers (the other was Signature bank). However, on Wednesday, the 8th of March, 2023, the bank announced that it was ending operations and returning deposits to customers.
Silvergate Bank shut down because of heavy financial losses. After the spectacular implosion of FTX, crypto firms needed greater token liquidity and rushed to withdraw their fiat assets from the bank at an unusually high rate. This caused Silvergate to sell assets to fund withdrawals and incur a loss of over $1 billion. It also had to borrow billions of dollars from another bank to fund withdrawals (which was repaid shortly after). After much deliberation, the bank's executive team decided that the best course of action was to liquidate and return customer deposits rather than risk incurring more losses.
What Happened To Signature Bank?
Signature Bank was shut down by state regulators on Sunday, the 12th of March, 2023. The bank was taken over by the New York Department of Financial Services (DFS) to "protect depositors," according to a statement from the agency. Signature Bank had over $80 billion in deposits, making it one of the biggest bank shutdowns in U.S. history.
Signature Bank's shutdown seems related to another bank that was taken over by regulators; Silicon Valley Bank (SVB). SVB experienced a bank run, which is when many clients rush to withdraw their money based on fears that a bank is insolvent. Depositors rushed to withdraw $42 billion from SVB in one day, and the bank couldn't fulfill them all, which led the Federal Deposit Insurance Commission (FDIC) to take over to make depositors whole.
It seems that state regulators anticipated a similar bank run for Signature Bank and stepped in to take over before chaos ensued. The good part is that all deposits with Signature bank are safe. The bad part is that with Silvergate Bank and Signature Bank now shut down, cryptocurrency companies will have a hard time moving money in and out of the traditional finance system.
Why Do We Need Crypto Banks?
Rather than keeping your crypto in your (proverbial) mattress, crypto banks store your gains safely in a digital vault somewhere with virtual guys in suits standing out front.
Many choose to keep their crypto in their own wallets, but doing so puts you in danger of hacks, phishing attacks (where someone pretends to be someone they're not), and other scams. Keeping your funds in a crypto bank is a good way to make sure you are protected against hackers and scammers.
Cryptocurrency Bank Vs. Traditional Bank
Crypto Bank
Transfers are almost instant.
Some crypto banks provide checking accounts that store your crypto right alongside your USD.
Some crypto accounts, such as those from BCB Group and Cashaa, earn lots of interest.
Most crypto banks do not provide insurance on your assets. If they were to go bankrupt, you'd be at risk of losing your money.
Traditional Bank
Money transfers take three to five business days.
Your checking account usually only holds one currency.
Your checking accounts usually earn only a percentage point or two in annual interest.
US banks are FDIC insured up to $250,000.
Crypto Banking Regulations
Banking, especially in the US, is heavily regulated. Crypto banking is no exception. Some of the main US regulations regarding crypto banking include:
The Bank Secrecy Act: The Bank Secrecy Act requires financial institutions such as banks and cryptocurrency exchanges to implement anti-money laundering measures (AML). Institutions also must keep compliant, auditable records of their clients' funds that can be submitted to authorities.
OCC Letter #1170: In 2020, the Office of the Comptroller of the Currency issued guidance that permitted nationally chartered banks to start providing custody services for cryptocurrencies. The letter outlined security and safe storage measures which must be taken in order to store crypto assets safely.
Federal Reserve's 2022 Notice to Banks: The US Federal Reserve announced in August 2022 that banks that are considering providing crypto services are required to notify the Federal Reserve Board of such intentions before beginning to provide these services.
To Sum It Up
As crypto gets increasingly popular, crypto banks have become necessary for storing your crypto safely. Crypto banks also allow you to instantly transfer your cryptocurrencies between accounts. Some even provide interest-bearing crypto accounts and trading services.
Much better than keeping your Bitcoins in your bed.
Frequently Asked Questions
Yes, US-chartered banks like Silvergate, as well as some banks based in Puerto Rico, provide crypto banking services to US residents.
Yes, crypto banks are generally safe, especially when based in heavily regulated countries like the US.
But note that most crypto banks don't provide FDIC insurance, which protects your funds if the bank were to go bankrupt.
Just like traditional banks provide interest on your account balance, some crypto banks provide interest (known as "yield") on your stored cryptocurrencies.
Banks such as Cashaa lead the way in this regard, with yields as high as 36% for some cryptocurrencies.
The future of crypto banking looks bright. The largest obstacle to the creation of new crypto banks is getting the necessary regulation in place.
As regulators get more familiar with cryptocurrencies, however, they are providing better guidance. This allows more banks to enter the space and provide service to crypto HODLers.