DeFi Insurance: Providers & How To Get Insured
Protect yourself against hacks and insolvencies with these DeFi insurance companies.
Published: June 15, 2023
|
Last Updated:

July 6, 2023
Key Takeaways
You can purchase DeFi insurance as protection from adverse events such as hacks, exchange insolvencies, and stablecoins losing their value (de-pegs)
DeFi insurance protocols use an innovative peer-to-peer model to crowdfund insurance pools and to asses insurance claims.
While decentralized finance (DeFi) is one of the most promising blockchain fields, the space isn't without its shortcomings. According to on-chain data, as of 2023, over $2 billion have been stolen due to DeFi hacks, scams, and other losses.
This uncertainty has created a need for insurance to provide traders with peace of mind. DeFi insurance protocols provide just that by allowing you to take out policies that shield you from losses and help you recover lost funds.
Below we'll take a look at the top DeFi insurance providers and also dive into how DeFi insurance works.
How DeFi Insurance Works
DeFi insurance serves to protect you from unexpected losses such as hacks, halted withdrawals, and stablecoin collapses. These insurance products are highly customizable. Your coverage (and premiums) will depend on exactly what events you choose to be insured against.
In true DeFi fashion, the insurance pools are crowd-funded. The basic premise is that people come together to deposit insurance money that covers different events. This insurance money is set aside for those who buy insurance against that event. If a covered event occurs, such as an exchange hack, the money you pledged to cover that event gets sent to the affected parties. If the event does not happen, your money sits in the pool, earning yield over time.
Verifying Claims
While each protocol has a different deliberation process for claims, each has a decentralized decision-making model that's used to decide which insurance claims should be paid.
Below is an example diagram of what this process looks like for various products.
The claim is submitted.
An investigation is done by an advisory board, or the claim goes straight to voting.

Note: Voting is done by the token holders of the insurance protocol, whereas the advisory board is usually made up of trusted individuals, such as the founding team of the insurance protocol.

If a vote is inconclusive or an appeal is filed, the claim is decided by the advisory board.
Once the claim is accepted, the protocol releases funds from the protocol treasury in order to compensate the claimant.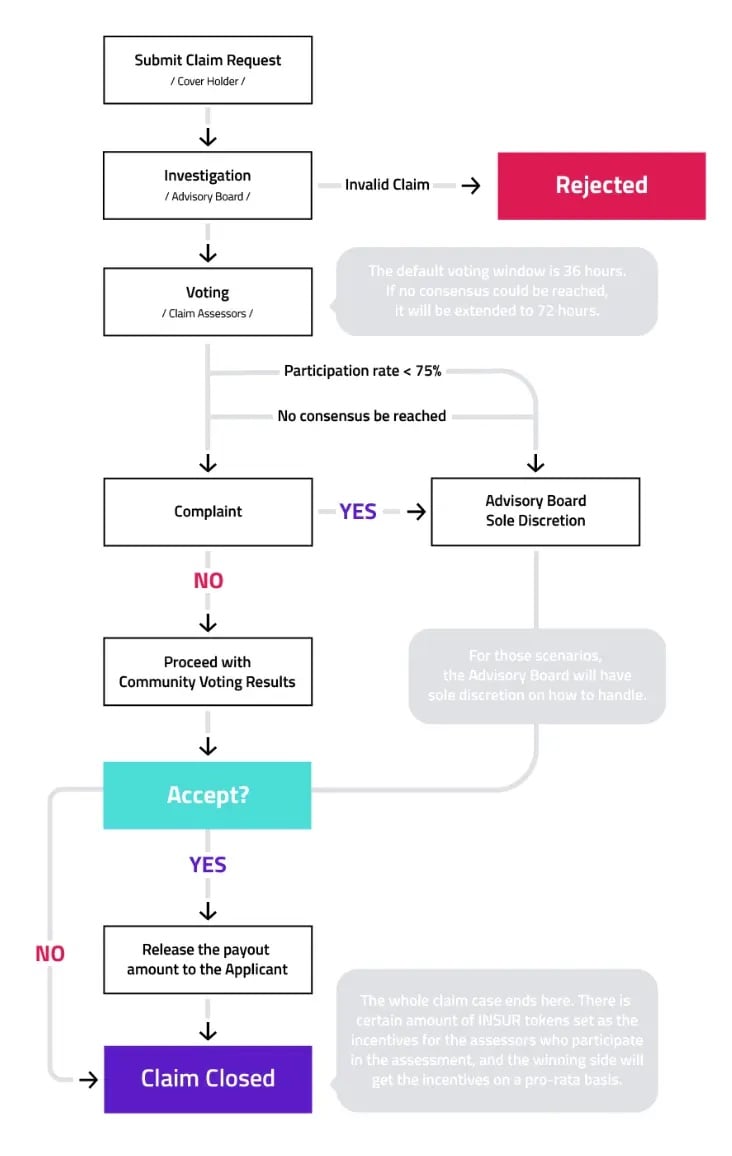 DeFi Insurance Vs. Traditional Insurance
While all insurance products are based on the same premise, DeFi insurance differs from traditional insurance in some important ways. Below we take a look at these differences.
| | | | |
| --- | --- | --- | --- |
| | Deliberation Process | Funds Origination | Community Ownership |
| DeFi Insurance | Done through a combination of community voting and advisory board deliberation | Insurance funds are crowd-funded. | Yes |
| Traditional Insurance | Done by the company behind closed doors. Claimants are then informed of the decision. | Insurance funds come from the private cash reserves of the insurance company. | In most cases, no, though some co-op insurance companies do exist. |
Is DeFi Insurance Right For You?
DeFi insurance is not always for everyone, and it has several pros and cons.
Pros
Peace Of Mind: The crypto world has suffered many hacks and insolvencies over the years. If you want to transfer money around DeFi platforms, DeFi insurance is a good way to give yourself peace of mind.
Earn Crypto For Providing Insurance: The peer-to-peer nature of DeFi insurance means you may be able to earn yield by providing cover for insurance funds. Just keep in mind that you may lose your provided funds if they have to be used to cover a claim.
Cons
It's Complicated: DeFi as a field is notoriously difficult for beginners. There are so many smart contracts, exchanges, and insured events that even picking the correct coverage option may prove to be convoluted.
The House Always Wins: Insurance companies (and protocols, in this case) wouldn't be in business if they didn't make money. Like with casinos, any time you buy insurance, you are betting against a risk model that says it will make money by providing the insurance policy to you. For some, setting aside their own funds for a rainy day can be a better insurance strategy than buying coverage.
Best DeFi Insurance Companies
| Company | Supported Chains | Types Of Protection Provided | Token |
| --- | --- | --- | --- |
| Nexus Mutual | Ethereum | Token de-pegGovernance attacksOracle failureCustodian hacksHalted withdrawals+ more | NXM |
| Etherisc | EthereumBinance Smart ChainPolygonAvalanche | Current:Crop insuranceFlight delay insuranceHurricane insuranceComing soon:Crypto wallet insuranceCollateral protection for crypto-backed loans | DIP |
| InsurAce | EthereumBinance Smart ChainSolanaPolygonFantom+ more | Smart contract vulnerabilitiesCustodian riskStablecoin de-pegs | INSUR |
| Bridge Mutual | EthereumSolana | Smart contract vulnerabilitiesStablecoin de-pegsCentralized exchange issues | BMI |
1. Nexus Mutual: Best Insurance Protocol Overall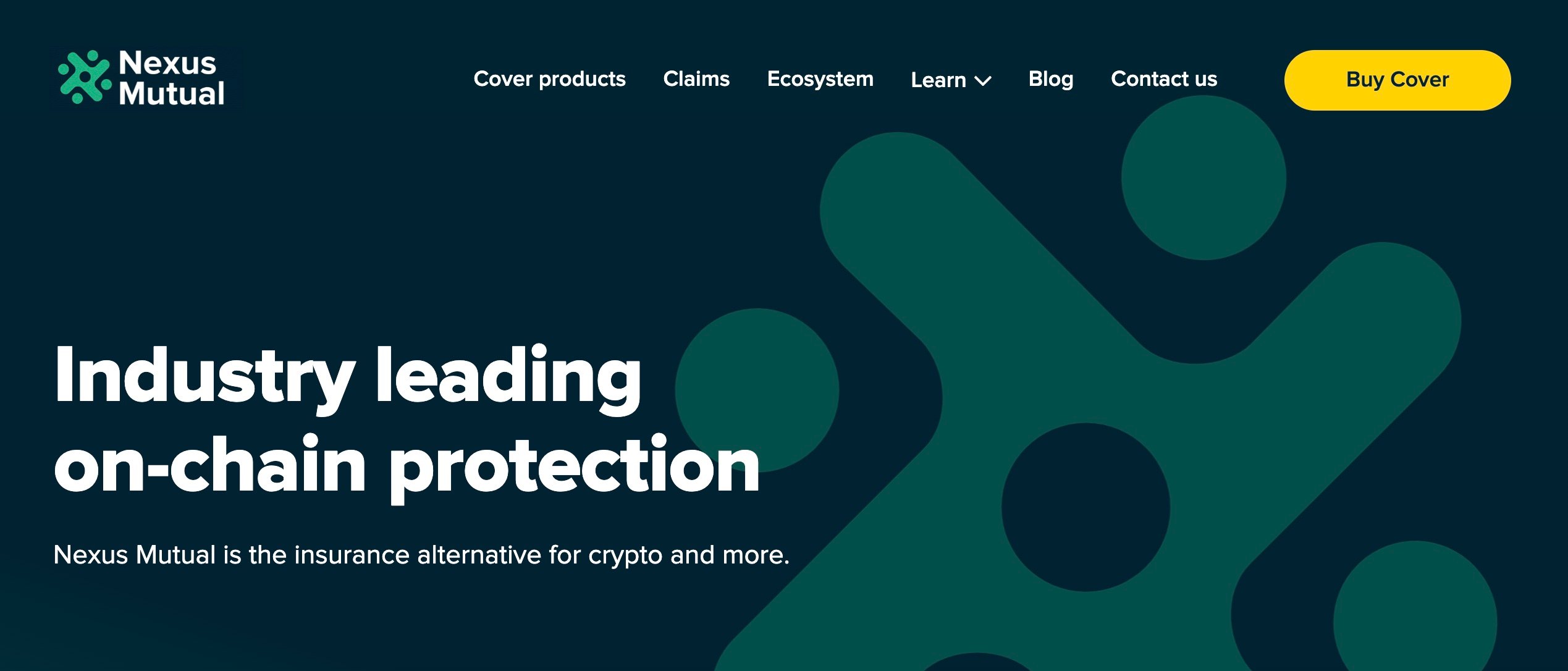 ---
Nexus is arguably the most popular DeFi insurance protocol. Featuring a $230 million+ capital pool and claims paid out to the tune of over $9 million, the service is community-owned and run by a decentralized autonomous organization (DAO).
The platform works by having risk assessors stake the platform-native NXM token on various platforms. This stake makes up the various insurance pools, known as "Cover," which will be distributed to claimants in the event that one of the covered scenarios (such as an exchange hack) occurs.
You can purchase insurance for different events by specifying which contract address you would like Cover for and specifying how much Cover you would like, as well as the period you'd like to be covered for.
---
2. Etherisc: Best for Traditional Disaster Scenarios
---
Etherisc has a grand vision of re-imagining the entire insurance field as a peer-to-peer network of insurers and claimants. The project provides peer-funded pools for a number of different insurance use cases, including more traditional uses such as crop insurance, flight delay insurance, and hurricane insurance. A host of crypto-specific insurance products like crypto wallet insurance and collateral protection for crypto-backed loans are also in the works.
Similar to other insurance protocols like Nexus Mutual, Etherisc crowdfunds pools which serve as funds for insurance payouts. Etherisc also has a native token, DIP, which can be staked to provide collateral for the insurance pools and to help keep the service online. According to Etherisc, DIP can be used for insurance licenses, claim processing, monetizing risk capital, and more.
---
3. InsurAce: Best Multi-Chain Insurance Protocol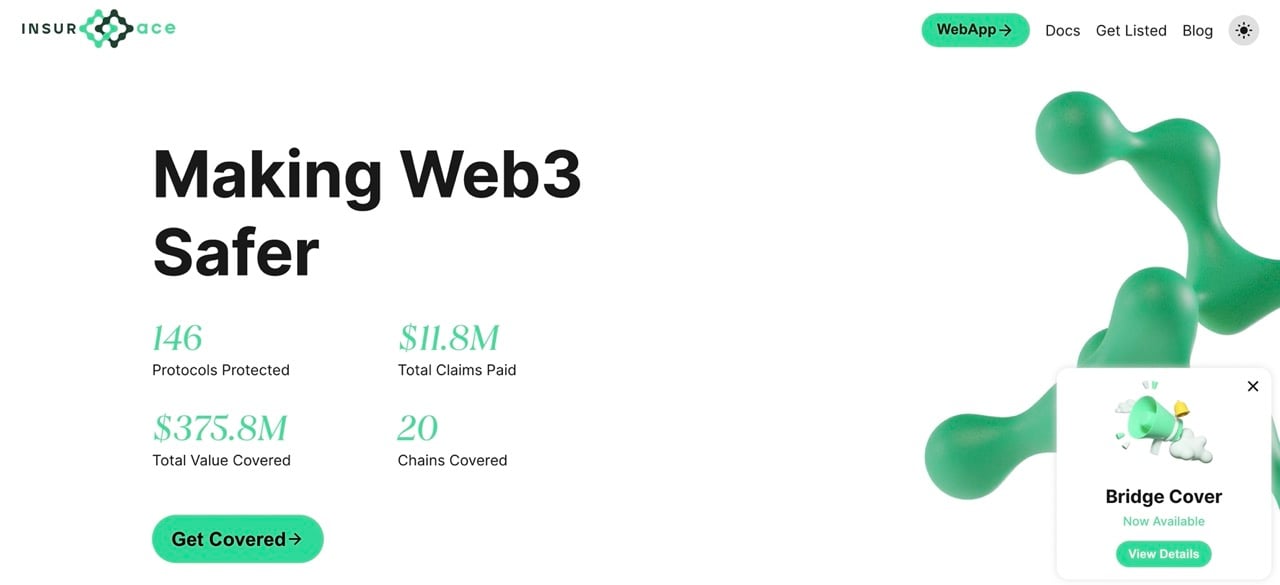 ---
InsurAce is a peer-to-peer decentralized insurance protocol that has made significant strides in recent years. Like Nexus Mutual and Etherisc, the protocol works by pooling funds from users and distributing them as payouts whenever adverse events like hacks or de-pegs occur.
InsurAce really shines in its cross-chain coverage. The protocol maintains contracts for more than 140 protocols across 20+ chains. This allows InsurAce to offer a single Portfolio Cover product that covers multiple protocols across various chains, despite their unique risk profiles.
The governance token of the InsurAce protocol is INSUR, and it allows holders to participate in community governance votes for claim assessment and new proposals for the protocol itself. Holding INSUR also nets you capital provision rewards and makes you eligible to earn fees generated by the protocol.
---
4. Bridge Mutual: Best For Anonymous Insurance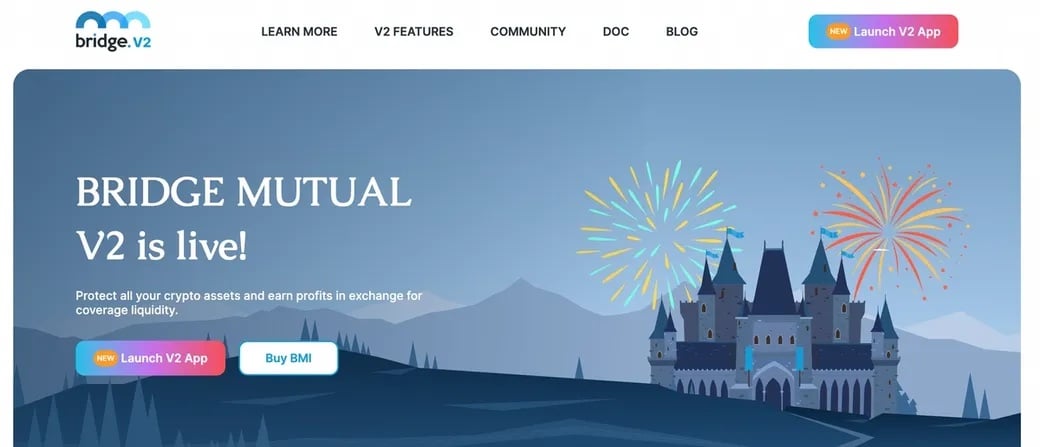 ---
Bridge Mutual is a DeFi insurance protocol that provides coverage for stablecoin de-pegs, smart contract exploits, and even issues with centralized exchanges. The platform allows anyone to pledge funds for the coverage of any smart contract or exchange, so it maintains thousands of coverage pools at any given time.
The native token of the Bridge Mutual platform is called BMI. You can stake BMI in order to help secure the protocol and to provide cover for insurance contracts. While your BMI is staked, you receive a derivative stkBMI token. This grows in value over time as yield from the unused contracts is awarded back to stakers.
---
Frequently Asked Questions
DeFi stands for "decentralized finance."
DeFi is a blockchain-enabled model for conducting finance that relies on peer-to-peer trading, lending, and insurance services. You can use DeFi to buy cryptocurrencies, borrow and lend money, and purchase insurance policies, just like in traditional finance (TradFi). However, all the funds in DeFi are peer-funded.
Most DeFi protocols are also community owned and governed by their token holders.
To purchase DeFi insurance, you must first find an insurance protocol that provides coverage for the event you want to be insured against — whether that be a specific smart contract exploit, a stablecoin de-peg, or anything else.
Taking a look at large insurance providers like Nexus Mutual, Etherisc, InsurAce, and Bridge Mutual is a good starting point.
It is not always clear whether DeFi insurance is worth it. If you are concerned about the safety of a certain smart contract, exchange, or stablecoin, and you are dealing with a lot of money, insurance may be a good investment.
On the other hand, if you are dealing with small sums of cash or using large established platforms, DeFi insurance may be an unnecessary cost. Ultimately, the choice to use insurance is up to your personal risk tolerance.