Can Blur Find A Path To Sustainability?
Mar 31, 2023
Launched in October 2022, Blur has shot up the ranks and become the #1 trading platform for NFTs by volume.
Over the past 4 weeks, it's seen ~$1.1B worth of NFTs traded on its platform vs. OpenSea's ~$270M. That's ~4x more than OpenSea – a company that was valued at $13B in its most recent funding round.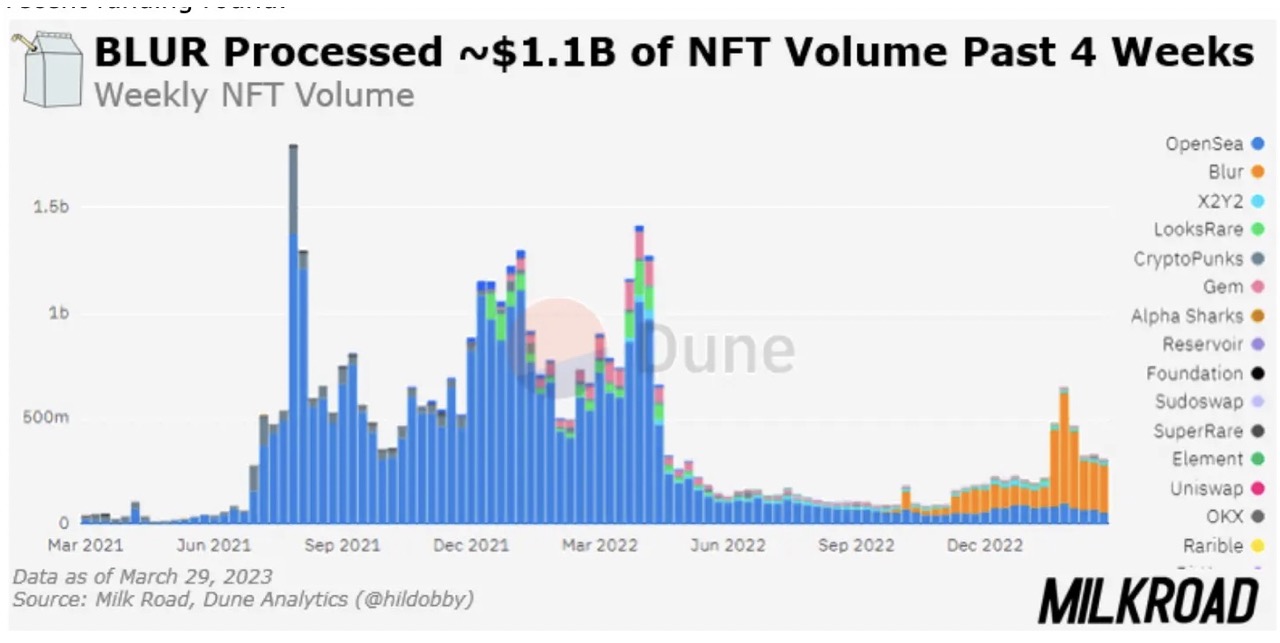 How you may ask?
In short, airdrops.
BLUR Season: Growth Via Airdrops
Thus far, there have been two "seasons" of BLUR airdrops. They have caused trading volumes, the vast majority of which are related to wash trading, to surge on Blur's NFT platform:
"Season 1" kicked off with the launch of the Blur trading platform in October 2022.
Qualifying addresses for the airdrop included those that used competing NFT marketplaces 6 months prior to Blur's launch (watch out OpenSea!), those that listed NFTs on Blur, and those that made bids for NFTs on Blur.
Over "Season 1," users earned 360M BLUR, which was distributed when the BLUR token went live in February 2023.
"Season 2" kicked off right after "Season 1" in February 2023.
"Season" 2 rewards will be based on a user's "loyalty score" and its listing volume.
Maximizing loyalty scores is pretty simple: it will be 100% as long as the user doesn't list NFTs on any other platforms (again, watch out OpenSea!).
Listing volume is just what it sounds like. The more a user lists, the more they should expect to earn (particularly if a user lists blue chip NFTs and active collections in "Season 2".)
"Season 2" is expected to culminate with an airdrop of 300M+ BLUR. It was initially scheduled to end in April 2023. But it got extended to May 2023.
Token Printer Go Blurrrrr?
There are currently ~420M BLUR tokens in circulation. Yes, 420M – that is not a joke 😉
With 300M+ more BLUR coming into circulation post- "Season 2," circulating supply should increase to (at least) ~720M BLUR.
That's a lot of new tokens … even for people like us that love tokens.
What to Expect Post "Season 2"
We wouldn't be so bold as to entirely rule out the chance of a "bullish unlock" at the end of "Season 2" – way crazier things have happened in crypto.
But realistically, we wouldn't be surprised to see a BLUR price slump following the "Season 2" airdrop. (Pretty much) doubling a token's circulating supply is not a recipe for "price go up." All else equal, issuing more tokens into circulating supply does not magically make a token's market cap go up. Absent a positive change in fundamentals, it just means that each token is (probably) going to be worth less.
We already know this, though.
Taking an 8-slice pizza pie (i.e., Blur's circulating supply today) and cutting it into 16 slices (i.e., doubling circulating supply) doesn't magically make the pie (i.e., Blur's market cap) bigger. It just means each slice is smaller, or each token is probably going to be worth less.
Who Stands to be Crowned "Season 2" Winners?
The most 'loyal' and active participants in "Season 2." Users that don't list on other NFT platforms and are most active on Blur should get the biggest airdrops. Even if the BLUR price slumps following "Season 2," these participants will likely still be "in the green" on account of their freshly airdropped tokens.
Who Stands to be "Season 2" Losers?
The least 'loyal' participants in "Season 2." Users that are not listing and trading on Blur probably shouldn't be holding BLUR. Any BLUR price slump as a result of "Season 2" airdrops would put them "in the red." Ouch.
What About Next Season? And the Season After That?
This is just "Season 2."
If we had to bet, there will be some sort of "Season 3." And some sort of "Season 4." And, hell, some sort of a "Season 5." You can't get users hooked on airdrops, take them away, and then expect them to continue paying for wash trades if there isn't another airdrop en route.
As anyone who's watched all 11 seasons of The Walking Dead (bless you, btw, we haven't) knows, later seasons can be real stinkers.
So, how can Blur avoid bombing in its future (expected) seasons? History can provide some good insight.
LOOK to LOOKS for Hard Lessons Learnt
LooksRare, one of Blur's NFT trading platform ancestors, embarked on a similar strategy with its rewards program last year. The more NFTs you traded on LooksRare, the more LOOKS tokens you got awarded. If you staked the LOOKS token, you got staking rewards paid out of new LOOKS tokens coming into circulating supply – even if you weren't trading NFTs.
It was a pretty similar idea to Blur. Think of LOOKS rewards as just a bunch of mini airdrops instead of a few big ones like Blur.
The Rise and Fall of LOOKS
Things worked out well for LooksRare for a while. Token rewards attracted users to the platform, and volumes were looking strong. At its peak in April 2022, LooksRare did ~$462M in volume over a 4-week period. That's still pretty far below OpensSea's ~$3.3B over that same period. But not bad.
Then things got out of hand.
Take a "LOOK" at the chart below. The yellow line is the circulating supply of the LOOKS token. The blue line is its price.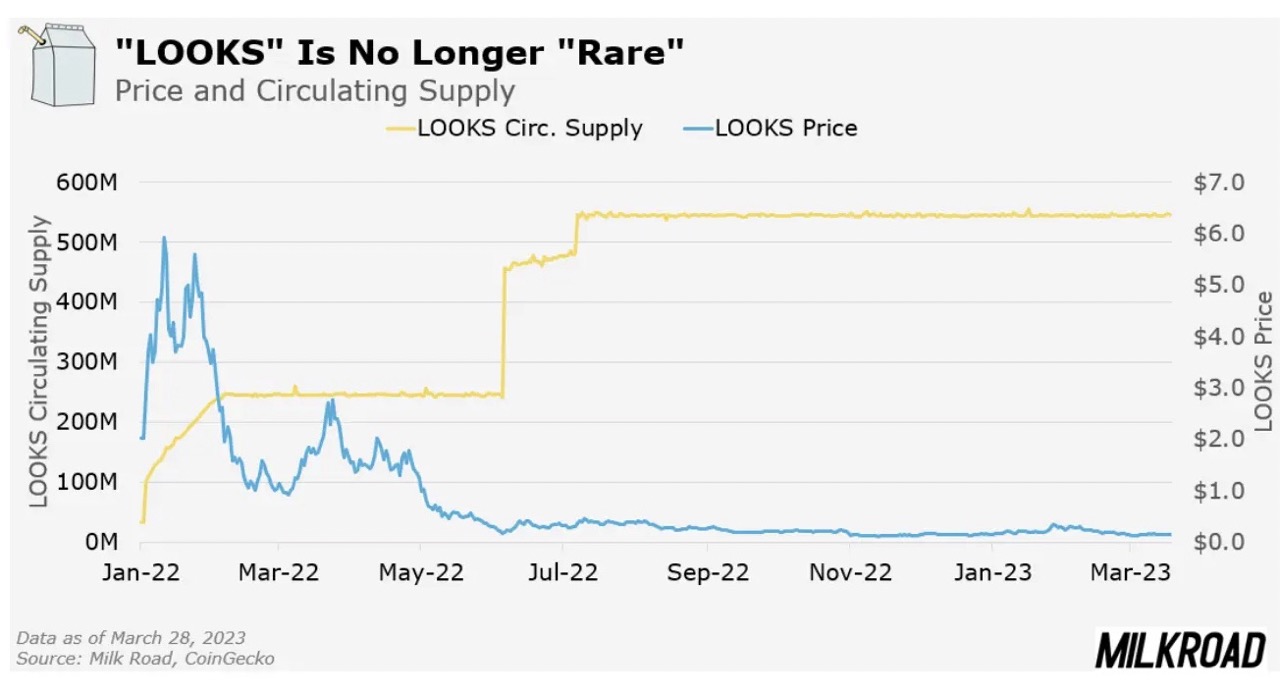 On account of all of these rewards being paid out, LOOKS circulating supply increased from ~100M to ~550M between January and July 2022. In that same time span, LOOKS price fell from an all-time high of ~$6.0 to ~$0.40.
It hasn't recovered since. LOOKS is currently trading at ~$0.13.
Due to these price declines, the real $ value of rewards that LOOKS traders and stakers were getting also declined. As pretty much anyone could have guessed, they picked up and sought greener pastures.
How do we know this? Not us (we swear), but someone we know used to stake LOOKS.
And now, trading volumes on LooksRare are in the dumpster – they totaled just ~$16M over the past 4 weeks. Who would keep wash trading when the payoff is a fraction of what it used to be?
What Could Make BLUR Different From LOOKS?
For starters, Blur is off to a way stronger start than LooksRare. Blur trading volumes (even if they are mostly wash trading) are much higher than they ever were on LooksRare. They have surpassed OpenSea's in 3 of the last 4 months. LooksRare never really came close to eclipsing OpenSea's volume.
Secondly, Blur has the benefit of having seen what happened with LooksRare. We wouldn't be surprised to see the project progressively reign in token airdrops over the coming seasons to avoid a similar situation to LOOKS. But, again, way crazier things have happened in crypto.
Hopefully, they have some ideas up their sleeve about how to keep traders on the platform for the long haul – without minting way too many BLUR tokens along the way.
Finally, Blur has some of the top VCs in the space advising it. Paradigm, the venture capital firm that pretty much put MEV on the map, led Blur's $11M Seed Round in March 2022. They should be well aware of how ugly it can get when incentive programs go off the rails … we hope.
Disclaimer
This report is for informational purposes only and should not be relied upon as a basis for investment decisions, nor is it offered or intended to be used as legal, tax, investment, financial or other advice. You should conduct your own research and consult independent counsel on the matters discussed within this report. Past performance of any asset is not indicative of future results.
© 2023 MilkRoad.com. All rights reserved.