Top 5 NFT Displays & Frames For Digital Art
A curated list of NFT frames & displays to show off your digital art.
Last Updated:

July 6, 2023
Whether it's photos of family, pets, or special moments, picture frames are reserved for our priceless memories. There's a new breed of photo frames, however, which are reserved for our most pricey possessions. … That's right, I'm talking about NFT digital frames.
There's no flex quite as in-vogue, yet classy, as a glowing digital photo frame of your Bored Ape, your Clone X, or your Milady NFT. In this article, we'll take a look at the top NFT digital photo frames you can buy and how you can turn your thousand-dollar JPEGs into posh home decor.
What Is An NFT Display / Frame?
NFT frames are digital displays in the shape of a photo frame that work like small TVs and display digital artwork. You can use NFT frames to physically showcase your digital NFTs around your house or office. They come in many shapes and sizes — from backlit photo frames all the way up to 90"+ displays.
Many frames allow you to change what NFTs are being displayed, while others come "pre-printed" from the manufacturer to only display a single NFT.
Best NFT Displays for June 2023
A wide range of NFT display frames is out there to showcase your treasured JPEGs. They'll run you anywhere from $120 all the way up to $10k+. Each has its own tradeoffs. Below we cover our top picks for NFT displays.
1. Tokenframe: Best Display Overall
Tokenframe allows NFT collectors to show off their works on a wide range of digital photo frames.
---
Pros
7 different sizes and 4 different frame materials
Affordable, with frames starting at just over $300
Can change what NFTs are displayed using a mobile app
Cons
Some frame sizes are back ordered and go out of stock often
---
Key Features
Four frame options, including birch, mahogany, solid white, and solid black
An NFT gallery app that allows you to cast any of your NFTs to the photo frames (support included for over 50 crypto wallets)
Automatic rotation depending on whether the frame is mounted in portrait or landscape orientation
Pay in crypto or with a credit card
---
What Sets It Apart
Tokenframe is great for the average NFT holder who wants to display multiple NFTs but doesn't want to worry about monthly subscriptions.
---
2. Atomic Form: Best for NFT Art Galleries
Atomic Form is known for top-of-the-line quality. The company's frames power galleries at auction houses like Christie's, Sotheby's, and Art Basel.
---
Pros
Can be used to display different NFTs and organize your collection
Use the Atomic Form Photon to turn any display into an NFT photo frame
Cons
Only one 27-inch frame size that comes in at $1,500
Caters more to galleries and large-scale showcases
---
Key Features
Lots of customizability, including size, aspect ratio, color of the matte, artist info, name, and NFT contract address
Portrait and landscape orientation tracking
4k playback with a slideshow option
Comes standard with WiFi, Bluetooth 5.0, Bluetooth audio, and a five-button user interface
---
What Sets It Apart
The Atomic Form Wave is a great choice for those looking to buy a professional NFT display that integrates with the Atomic Form desktop app.
---
3. Infinite Objects: Best Photo Frame Display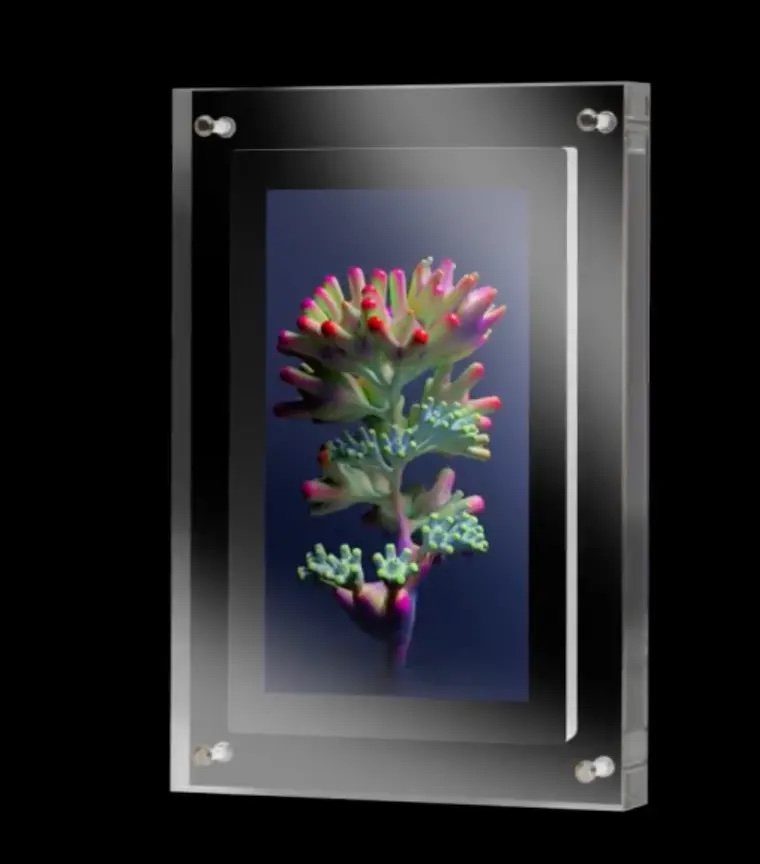 The Infinite Objects NFT Video Print is a photo-frame-sized NFT display.
---
Pros
Choose from three frame sizes that start at $120
Frames for non-NFT digital art are also available
Infinite Objects has an exclusive membership NFT available for purchase that gives you access to real-life events and first dibs on new artwork releases
Cons
Video-only plans for a single loop
No app or way to change what display shows
Only certain artist-approved NFTs currently available for print
---
Key Features
Choice of acrylic or bamboo frames
Partnerships with Top Shot and Chromie Squiggles make printing a breeze
Displays rated for minimum lifetime of five years always-on; come with battery so your artwork can display for two hours on a single charge
Infinite Objects also offers collection of non-NFT digital artworks for as low as $79 per video frame
---
What Sets It Apart
The small frame size makes the Infinite Objects NFT Video Print a perfect bookshelf or bedside table accessory.
---
4. NiFTy Displays: Best Affordable Display
NiFTy Displays are LED-backlit acrylic frames for your digital art that illuminate physical prints.
---
Pros
Start at $179
Purchase more prints for only $49
6+ hours of battery life
Cons
Not a true display, just a backlight illumination of a print
Not a true display, just a backlight illumination of a print
---
Key Features
Choose from a 12" square frame or a 16.5" portrait frame for your backlit display
Initial purchase comes with 1 NFT print; can purchase additional prints for $49 each
Magnetic mounting system for hanging on walls
Add a custom QR code to the backlit display that can be scanned to verify ownership of the NFT
---
What Sets It Apart
The NiFTy Display backlit frame is a great option for those who don't want to break the bank.
---
5. Blackdove Digital Canvas: Best High-End Display
The Blackdove Digital Canvas is our pick for the best high-end NFT display.
---
Pros
Premium display that can stay on 24/7 and comes with a three-year warranty
Display different NFTs through the Blackdove app
Cons
Expensive — setting you back as much as $14,700
Monthly subscription (starting at $19.99/mo) required to display your own NFTs
---
Key Features
Choose from three types of frame materials
Blackdove offers white-glove in-home installation of its displays
Mobile and web apps allow you to manage your displayed artwork across multiple Blackdove screens
All displays provide 4k, 60 frames/second playback
---
What Sets It Apart
The Blackdove Digital Canvas provides 4k, 60-frames-per-second playback that tops the 1080p HD resolutions of many other displays. The white glove installation and fully featured Blackdove app also help to set this display apart.
---
How To Resize Your NFT For A Display
Some frames require your NFTs to be in a certain aspect ratio to display properly. An "aspect ratio" is simply the ratio of the width to the height of your image. For example, square images have an aspect ratio of 1:1, while most widescreen images are 16:9.
Regardless of whether you're using a square, landscape, or portrait frame, you may need to resize your NFT to make it look as neat as possible. Here's how to do that:
Step 1: Pull up a high-resolution version of your NFT through your wallet application or a website like Opensea.com.
Step 2: Save your NFT as an image from your browser.
Step 3: Navigate to an image editing service like Canva or Photoshop and use the "crop" tool to resize the NFT to your desired size.
Step 4: Export your cropped NFT and send the new image to your NFT photo frame.
Love NFTs? Check out our guide to the top NFT newsletters.
To Sum It Up
NFT frames are a great way to bring your non-fungible JPEGs to life in your home or office. Grab an NFT frame to add a chic digital touch to any space while showcasing your digital assets.
Frequently Asked Questions
Yes, you can frame your NFT by purchasing an NFT digital display.
Upload your NFT artwork to the digital display and watch your image come to life!
You can display your NFT art by using an NFT digital frame. Choose from sizes that range from photo-print all the way up to 90"+ displays.
There are some frames, like the ones from NiFTy Displays, that provide a backlight that illuminates physical prints of NFTs.
You can print your own NFT, but it's recommended that you purchase a print made specifically for a backlit display so that you get the best effect.
You can display a 3D or animated NFT just like any other NFT.
In order to physically display your NFTs, you will need to purchase an NFT digital display. These support static images and also video animations, which may be better suited for showcasing your 3D NFT.
Acrylic is simply the type of material that the NFT frame is made of. It has a distinct, modern look to it.
The Qonos NFT frame is a premium NFT display that comes in several sizes and allows you to display different NFT images and video files. Qonos initially made waves in 2021 when its first 2,000 frames sold out in just 24 hours.