Alto CryptoIRA Review 2023: Features, Products, & Fees
Last Updated:

July 5, 2023
Our Take On Alto CryptoIRA
THE BOTTOM LINE:
The Alto Crypto IRA provides a way to invest in crypto while capturing the tax advantages of an individual retirement account. Roll over your existing IRA or 401(k), or begin a new IRA to jump-start your future with digital assets. We were impressed with Alto's simple fee structure and low cost, combined with Coinbase integration.
Pros
Tax-advantaged cryptocurrency accounts
Flat fee structure
Coinbase custody
Diverse alternative investment options
Option for private investments
Cons
Custodial wallet services
Unavailability of traditional investment options, i.e. stocks, ETFs
Staking not available
Extreme volatility of alternative investment options like cryptocurrencies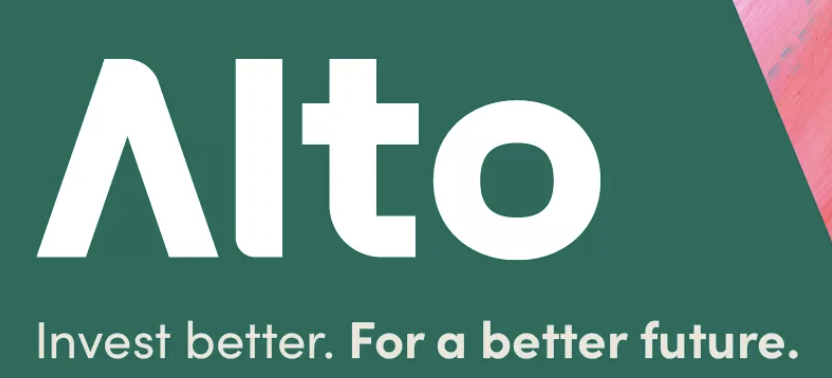 Via Alto CryptoIRA's Website
For years, the only available investing options in retirement accounts were mainstream products like stocks, mutual funds, and exchange-traded funds (ETFs). However, some platforms now offer a wider variety of alternative investment products to investors.
Particularly, investors can now use their IRAs to invest in cryptocurrencies. This allows retirees to benefit from tax-sheltered growth on their investments when they contribute to their crypto individual retirement accounts (IRAs).
Alto CryptoIRA is one of the few platforms that allows users to invest their retirement money in digital assets and other alternative assets. Through its partnership with Coinbase, the platform supports over 200 crypto assets and comes with no maintenance fees and relatively low trading fees.
What Is Alto CryptoIRA?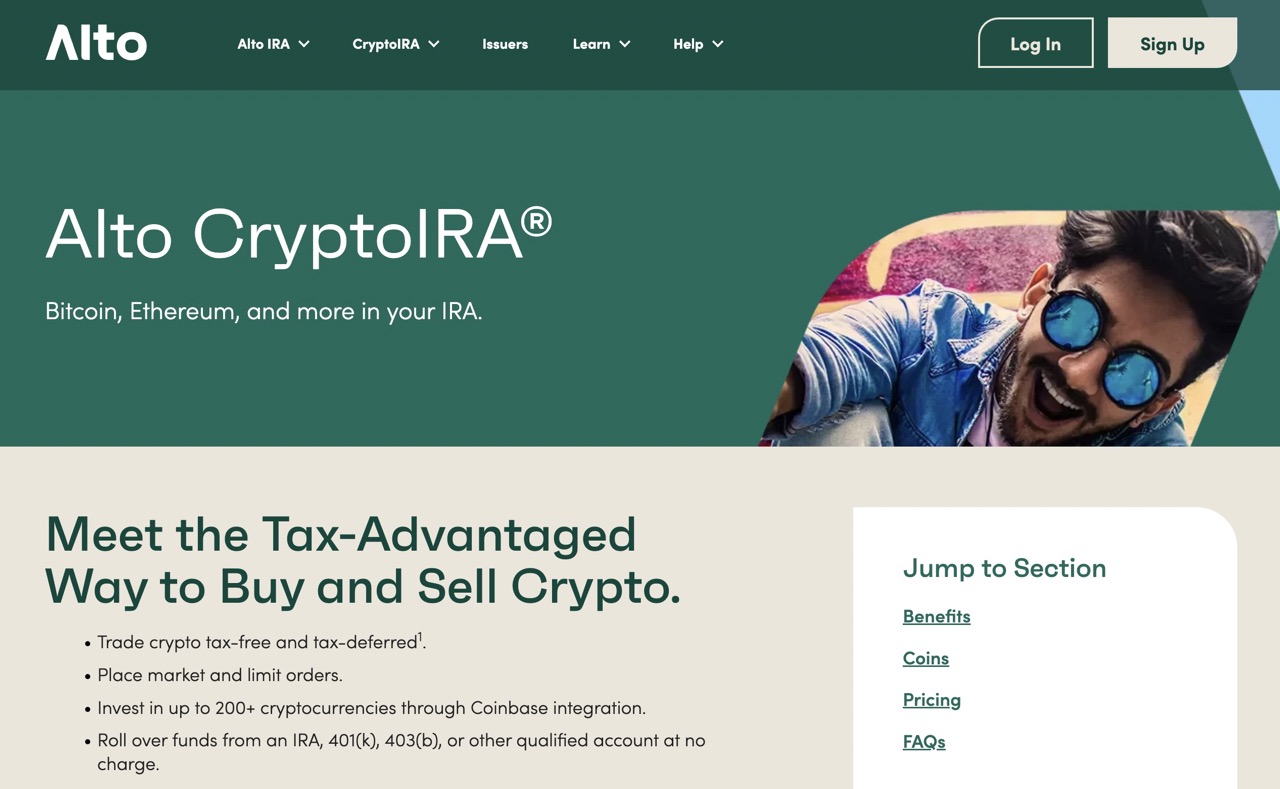 Alto CryptoIRA, founded in 2018 by Eric Satz, is a custodian of self-directed IRAs that allow investors to add a wider variety of assets to their retirement investments. Users can hold alternative investments such as crypto, real estate, IPOs, venture capital, and livestock, all within a self-directed IRA through the exchange.
Although self-directed IRAs have existed since the 1970s, firms like Alto IRA have only recently begun to arise. These companies have sprung up in response to the demand from investors looking to expand the portfolio of their retirement accounts.
How Alto CryptoIRA Works
Upon signing up on the Alto exchange, investors must choose between the Alto IRA and Alto CryptoIRA products. Then they select their preferred type of IRA. Alto provides SEP, Roth, and traditional IRAs.
Afterward, users will need to deposit funds into their account with cash or funds from another IRA. From then on, they can begin selecting their investment choices from the wide variety available on the exchange.
Alto CryptoIRA offers investors over 200 cryptocurrencies and 70 alternative investment options through which they can diversify their funds. The firm can offer this much variety due to its partnerships with partners like Coinbase, Grayscale, and AcreTrader, among others.

Products
The Alto exchange offers two products to users seeking to diversify their retirement investment portfolios. These products are Alto CryptoIRA and Alto Alternative IRA.
Alto CryptoIRA
Alto CryptoIRA is suitable for investors looking to invest in cryptocurrencies outside of a fund. Through a partnership with Coinbase, investors who choose this product have access to over 200 digital assets, which they can add to their IRA.
Through the Alto user interface, investors can trade cryptocurrencies on Coinbase without opening a Coinbase account. Virtual assets purchased are held in a digital wallet on Coinbase. Consequently, investors do not have access to the wallet, so they are unable to stake, transfer, or earn interest on their crypto holdings.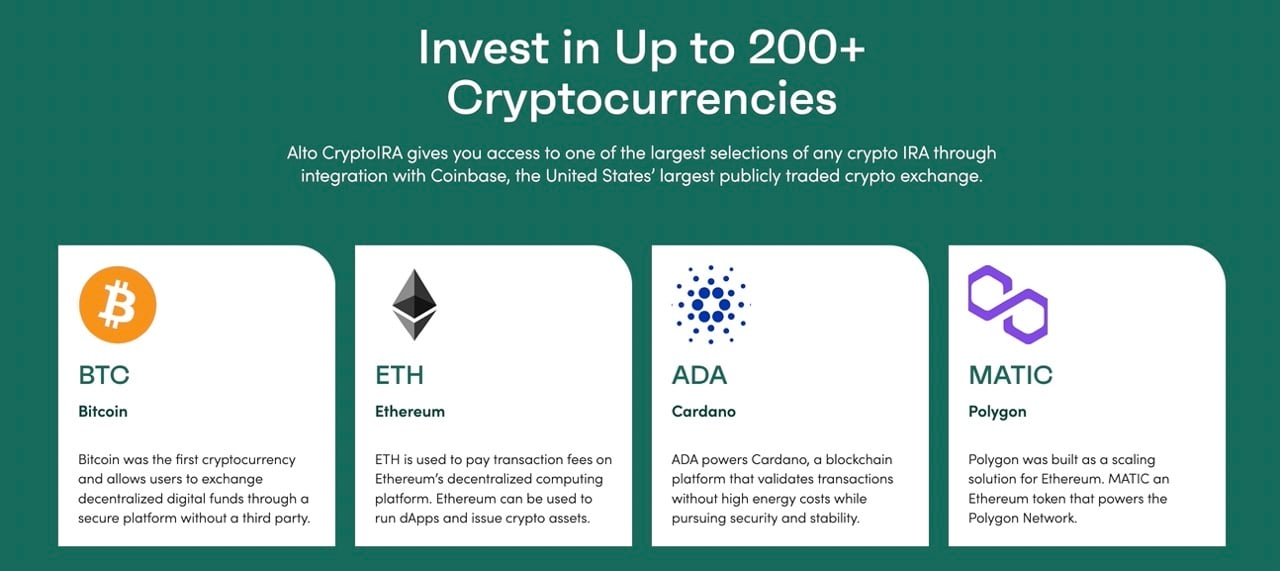 Alto Alternative IRA
Alto users can access over 50 Alto investment partners and their services through the Alto Alternative IRA product. These partners include managed crypto funds, private equity, venture capital funds, and crowdfunded real estate platforms. Consequently, investors can diversify their portfolios into alternative investments like art, farmland, private companies, real estate, and startups.
Two types of accounts are offered under this product. A Starter account allows for exclusive investments with Alto IRA's list of partners. Meanwhile, a Pro account enables investors to bring their assets to Alto IRA and leverage Alto's partners. Some notable Alto alternative IRA partners include: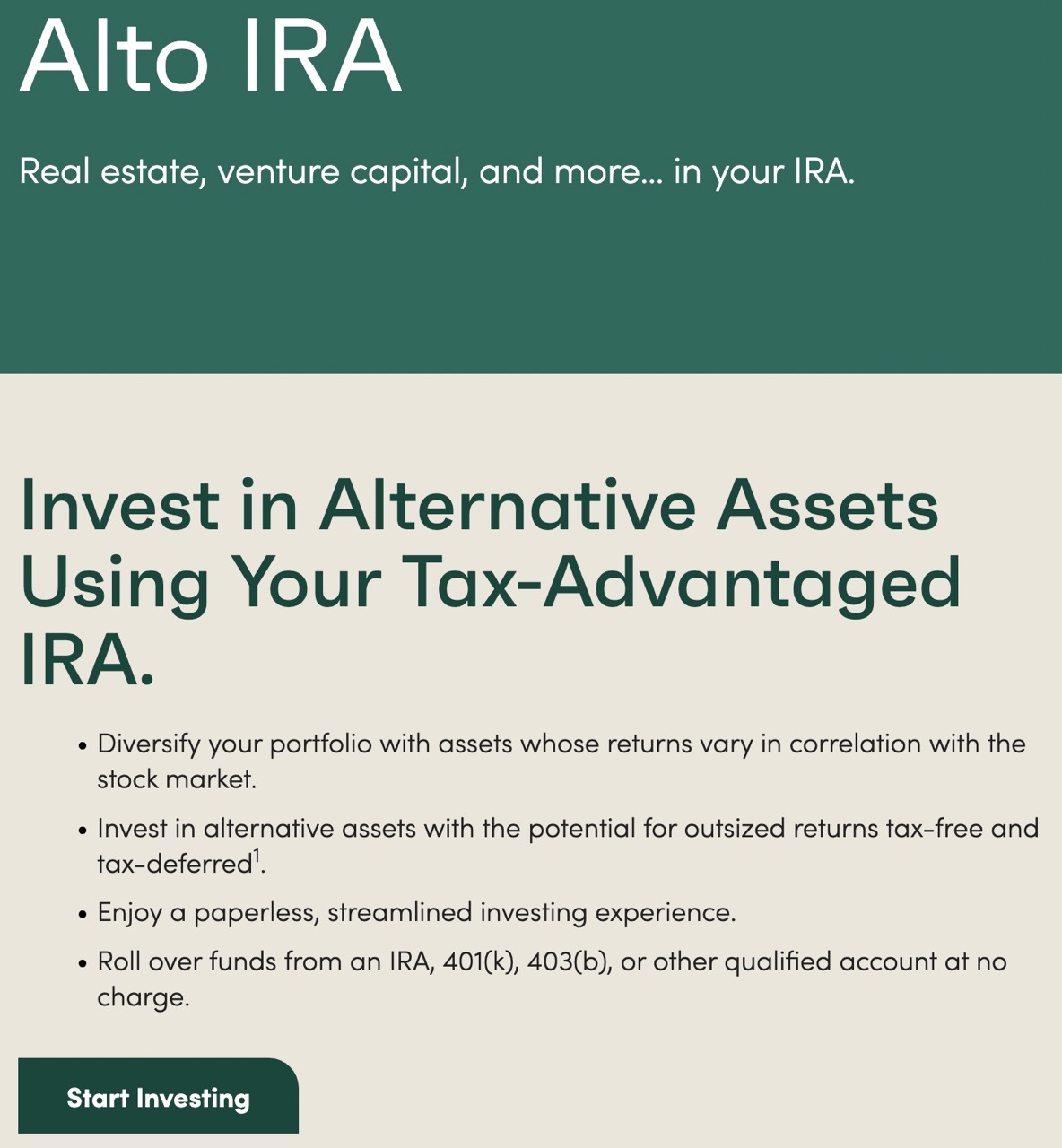 Equities are a significant exclusion on AltoIRA. Investors must establish another IRA account at a conventional brokerage to maintain sizable stock allocations, such as an index fund.
Features
Several features distinguish Alto from its competitors within the crypto IRA space. These features include:
Traditional, Roth, & SEP IRAs
Users can choose from several available IRA types upon opening an Alto account. The available options are traditional, Roth, and simplified employee pension (SEP). Investors can also set up multiple account types with Alto (traditional and Roth), but they would require different email addresses for each account.
Multiple IRA Products
The Alto exchange offers its users two different products based on their needs. The first is Alto CryptoIRA, where they can buy and sell over 200 different cryptocurrencies, including Bitcoin and Ethereum. Alto provides this service through its collaboration with Coinbase.
Secondly, Alto provides a self-directed Alto Alternative IRA that allows investors to add alternative assets to their retirement portfolio. Users can choose from different plans, including Starter and Pro. By using a Pro plan, investors can organize their own "deal" and ask potential investors to contribute money from their IRAs to the deal. The exchange is able to do this through its partnerships with over 75 alternative investment platforms.
Diverse Alternative Investment Options
Through Alto's numerous partnerships, investors have a wide range of investment options. The platform offers over 200 cryptocurrencies and over 75 alternative investment options. They can invest in farmland, startups, real estate, private equity, and venture capital.
Alto CryptoIRA Fees And Account Minimums
Alto charges different fees for its various products. There are no hidden charges, investment minimums, or commissions. Alto CryptoIRA charges a 1% fee for the order size of all crypto transactions. Investors looking to invest in an Alto CryptoIRA would find the fee structure among the lowest in this niche industry.
Account fee: $0
Custody fee: $0
Cryptocurrency trading fee: 1% of order size per transaction
Account closure: $50
Outbound wire transfer fee: $25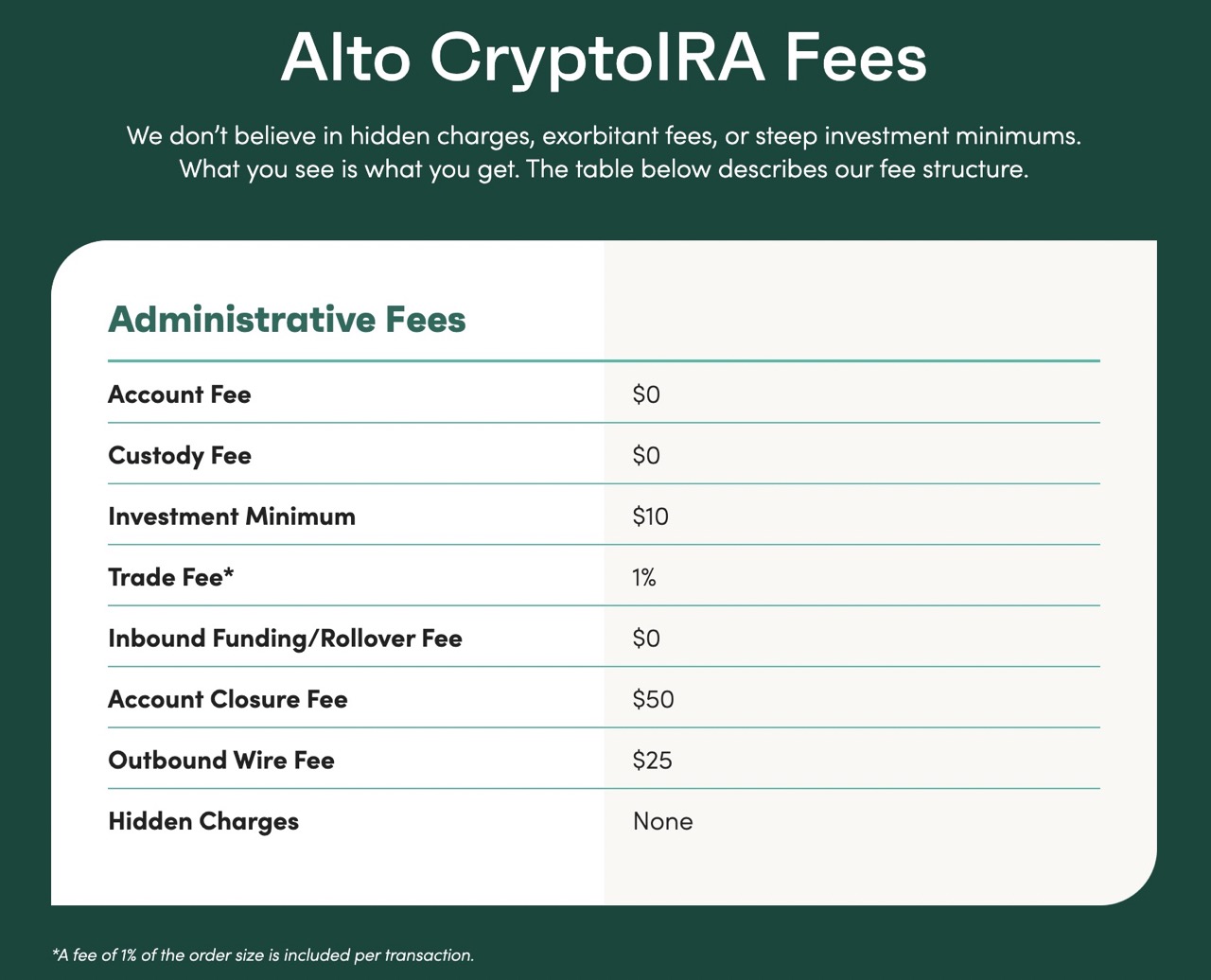 For investors interested in other alternative assets provided in the Alto IRAs, varying fees are charged. Two price tiers for the Alto Alternative IRA are Starter and Pro. Investors are automatically promoted to the Pro plan if their portfolio contains private investments. However, the Starter package is adequate if users use Alto's investment partners.
Starter account fees range from $10 per month to $100 per year, depending on your billing options. In addition, depending on whether users invest with one of Alto's preferred partners, Starter account users may incur partner investment fees ranging from $10 to $50. Additionally, there are fees of $50 for account closure and $25 for outgoing wire transfers.
Investors will pay $25 monthly or $250 annually for a Pro account. They will pay the exact partner investment fee as with the Starter plan, but if they decide to make a private investment, an additional $75 will be charged. The costs for account closure and outbound wire transactions are the same as the Starter account.
Cryptocurrencies Available
Alto CryptoIRA provides an easy way to trade cryptocurrencies and add them to a retirement investment plan with the added tax benefits. Through its partnership with Coinbase, the exchange offers over 200 digital assets ranging from popular coins and tokens to memecoins and metaverse tokens. Some of the tokens available are listed below.
Bitcoin, Ethereum, AAve, 1inch, Alice, Ape, Dogecoin, Jasmy, Chainlink, Axie Infinity, and Livepeer.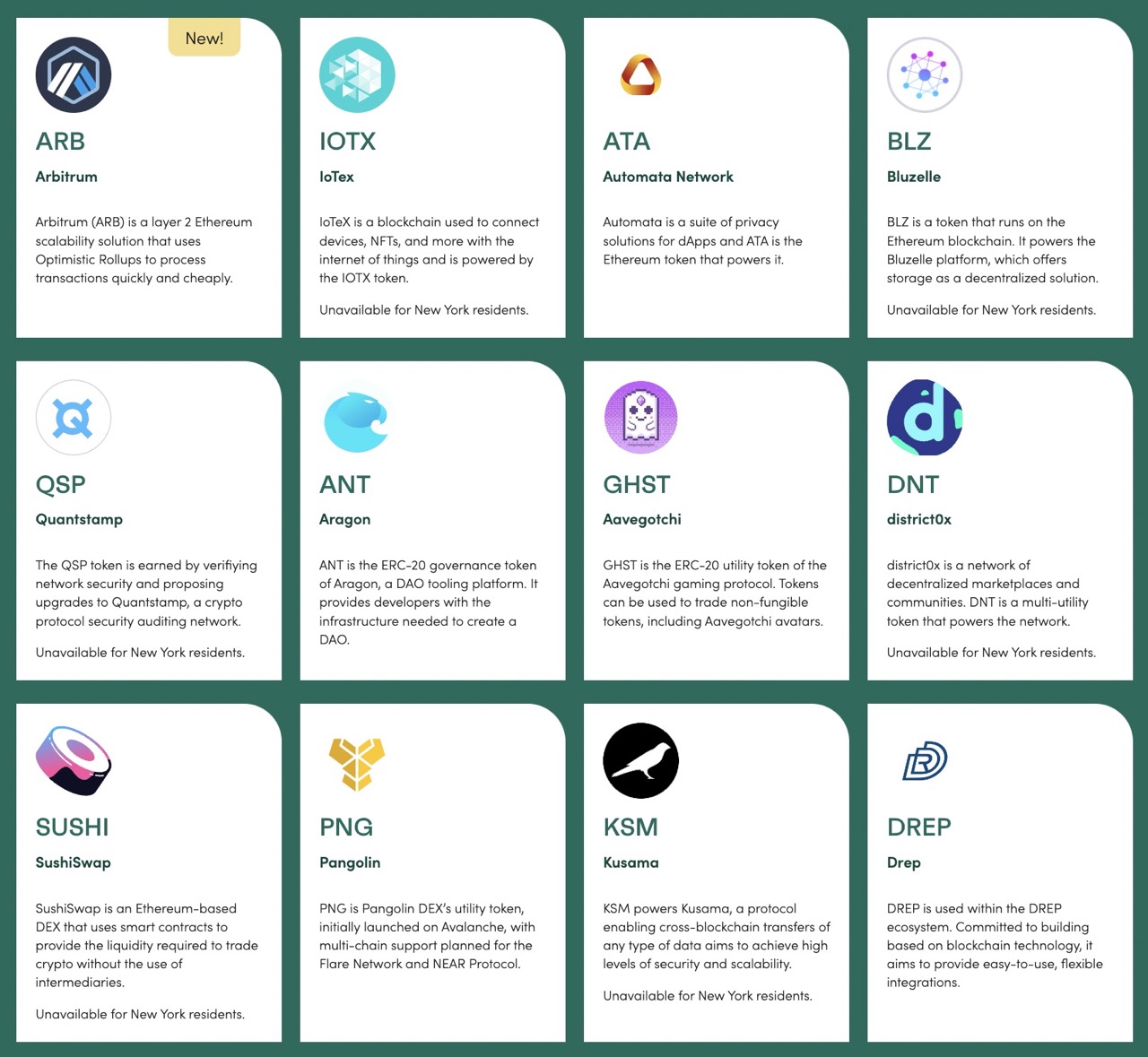 Alto Alternative IRA Assets
Alto Alternative IRA offers investors a broader range of alternative assets. This is facilitated through partnerships with over 20 alternative investment providers. Investors can source their private deals on Alto, including joining a startup's funding round or co-investing in regional real estate.
In all, over 70 assets are available to investors using the Alto Alternative Ira. Investor choices will vary depending on several variables, such as their minimum investment requirement, whether or not they are accredited, and their per-investment charge. These alternatives are broadly categorized into:
Securitized Collectibles, Crowdfunding, Crypto Fund, Farmland, Private Credit, Private Equity, Real Estate, Startup, and Venture Capital.
Alto CryptoIRA Pros
Tax-Advantaged Cryptocurrency Accounts
Cryptocurrencies can easily become part of an IRA using Alto CryptoIRA. The platform also allows investors to add alternative investment assets like real estate, farmland, private credit, private equity, and venture capital to their retirement accounts. They can choose a Roth IRA, a traditional IRA, or a SEP IRA for tax-free or tax-deferred gains on their cryptocurrency investments.
Flat Fee Structure
A flat fee rate is another advantage of using Alto CryptoIRA platform. Users are charged a 1% markup on all cryptocurrency transactions. Those who choose to invest in alternative assets are charged a flat monthly fee depending on their account choice. This is especially beneficial to large investors using the platform.
Relatively Low Fees
Alto CryptoIRA has a reasonable and uncomplicated fee structure. The fees are among the lowest in the industry, including a flat 1% fee for the order size of all crypto transactions. There is no setup fee. In comparison, BitcoinIRA has a transaction fee of 2% on top of a 3.99% setup fee.
Diverse Alternative Investment Options
Alto CryptoIRA gives investors over 200 cryptocurrencies and over 70 alternative investment options to explore. Users can also add their private investment options to the exchange.
Alto CryptoIRA Cons
Custodial Wallet Services
Most crypto IRA providers, including Alto CryptoIRA, manage investor funds in a custodial wallet (one where the exchange manages the user's crypto wallet and keys). This could be an issue for investors who wish to control their own private keys.
Unavailability Of Traditional Investment Options, i.e. Stocks, ETFs
Alto is solely focused on providing investors with alternative IRA investment options. Consequently, the platform does not offer traditional IRA options like stocks, mutual funds, and ETFs. Investors looking for these assets would need to open an account with a traditional brokerage firm.
Extreme Volatility Of Alternative Investment Options Like Cryptocurrencies
Digital assets can be extremely volatile and prone to sharp price falls. Therefore, investors opting into this asset class must be aware of the inherent risks of investing in them.
How To Set Up An Alto CryptoIRA Account
Setting up an IRA on Alto can be done in minutes by following these steps.
Step 1: Go to the homepage and click the "Sign Up" button in the upper right corner.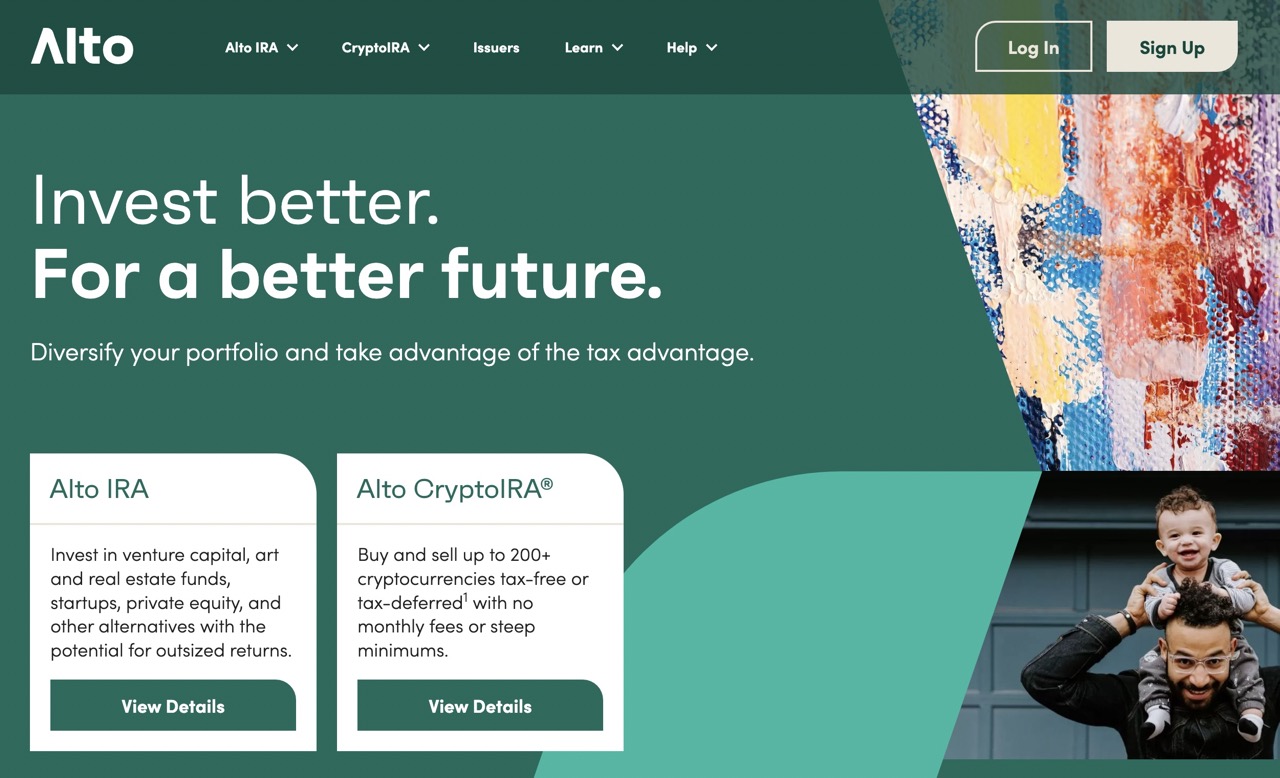 Step 2: Open Your Account
Enter your email address, create a password, and confirm it.
Click the "E-Sign Consent" link and review it.
Check the "I Accept" box.
Click "Open my account"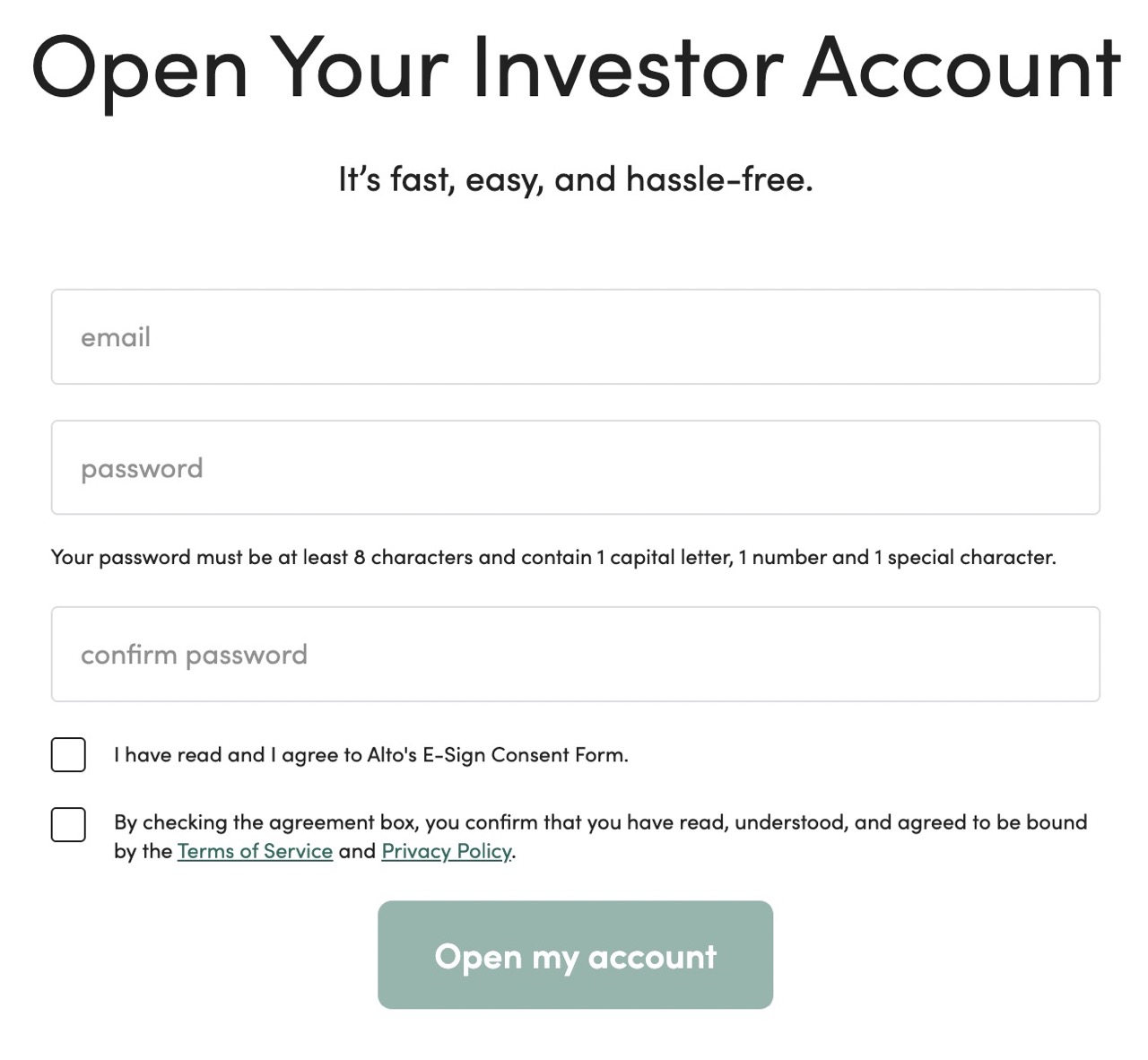 Step 3: Email Verification
You will receive a verification email from Alto.
Verify your email by following the instructions in the email.
You'll be forwarded to the "Select an Account" page after the verification process is completed.
Step 4: Select An Account
Select the type of account you want to set up: Alto IRA or Alto CryptoIRA.
Step 5: Account Information
Click on the "Choose Type of IRA" dropdown menu and select from available options: Traditional, Roth, or SEP IRA.
Enter the required personal and contact information.
Complete the signup process by clicking the "Sign Up" button.
You'll need to complete Alto's Know Your Customer/Anti-Money Laundering (KYC/AML) process upon account creation. The process is pretty straightforward and usually takes a few minutes.
Alto CryptoIRA Security
Alto CryptoIRA is reasonably secure. The FDIC insures all funds held by Alto up to $250,000. However, the platform is not regulated by Securities Investor Protection Corporation (SIPC), meaning SIPC insurance does not protect investments made using Alto due to the type of assets the exchange offers. Unlike conventional equities and bonds, alternative investments like cryptocurrency have a higher chance of loss and less liquidity.
Furthermore, the New Mexico Financial Institutions Division Regulation and Licensing Department is responsible for auditing and monitoring the exchange. And Alto's partnership with Coinbase custody means cryptocurrency investments are held in cold offline storage. Coinbase keeps a $320 million business crime insurance policy and a $3 million cybercrime insurance policy.
Alto CryptoIRA Alternatives
Alto isn't the only platform that lets you invest in crypto for your retirement. There are several alternatives you can consider, such as iTrustCapital and BitcoinIRA, and they each have their advantages and disadvantages.
Alto CryptoIRA Vs. iTrustCapital
iTrustCapital lets you set up an individual retirement account to invest in cryptocurrency just like Alto, but both platforms have some notable differences. iTrustCapital has a high minimum deposit of $1,000, while Alto lets you deposit as little as $10. iTrustCapital also supports a much lower number of tokens than Alto.
Both platforms charge a 10% fee if you withdraw from your IRA before clocking the age of 59 ½. They also charge the same 1% fee for executing trades.
| | Minimum Deposit | Number Of Supported Tokens | Supported Fiat Currencies | Digital Wallet? | Early Withdrawal Penalty | Countries Available | Trading Fee |
| --- | --- | --- | --- | --- | --- | --- | --- |
| Alto CryptoIRA | $10 | 200+ | USD | Yes | 10% | U.S. | 1% |
| iTrustCapital | $1,000 | 25+ | USD | Yes | 10% | U.S. | 1% |
Read our full iTrustCapital review.
Alto CryptoIRA Vs. Bitcoin IRA
Bitcoin IRA is another well-known alternative to Alto CryptoIRA. But, it requires a minimum deposit of $3,000, unlike Alto which lets you invest as low as $10. Bitcoin IRA also charges a higher trading fee of 2% compared to Alto's 1%.
Bitcoin IRA lets you buy over 60 types of cryptocurrencies for your IRA, which is extensive but much less than Alto's 200+ tokens.
| | Minimum Deposit | Number Of Supported Tokens | Supported Fiat Currencies | Digital Wallet? | Early Withdrawal Penalty | Countries Available | Trading Fee |
| --- | --- | --- | --- | --- | --- | --- | --- |
| Alto CryptoIRA | $10 | 200+ | USD | Yes | 10% | U.S. | 1% |
| Bitcoin IRA | $3,000 | 60+ | USD | Yes | 10% | U.S. | 2% |
Read our full BitcoinIRA review.
To Sum It Up
Investors can quickly and conveniently invest some of their retirement funds in private, alternative assets using Alto's online IRA platform. This is particularly effective for consumers looking to diversify their self-directed IRAs beyond investments with a large brokerage, typically invested in equities and ETFs. The wide range of investment options and its reasonable and transparent fee structure give Alto extra appeal to investors diversifying their retirement portfolios.
Frequently Asked Questions
Like several other crypto IRAs, there are no hidden fees, account minimums, commissions, or monthly fees. When trading cryptocurrency, investors must pay a 1% trade charge, which includes Coinbase fees.
The exchange offers over 192 digital assets, including the more popular Bitcoin and Ethereum. Meme coins, web3 tokens, and metaverse tokens are also available.
From more than 975 customer reviews, Alto currently has an "Excellent" rating on Trustpilot with a score of 4.4/5. The reviews show that the exchange is user-friendly and accounts are easy to set up. Furthermore, the customer service provided by the Alto IRA team is also rated excellent.