Binance US Review 2023: Get To Know The Pros, Cons, & Features
Published: June 1, 2023
|
Last Updated:

October 31, 2023
Our Take On Binance US
Important Note: Binance US has suspended cash deposits, leaving only crypto deposits available. This also means you won't be able to withdraw to your bank. In addition, the platform now encourages limit orders rather than market orders, suggesting that liquidity may be low for trading pairs.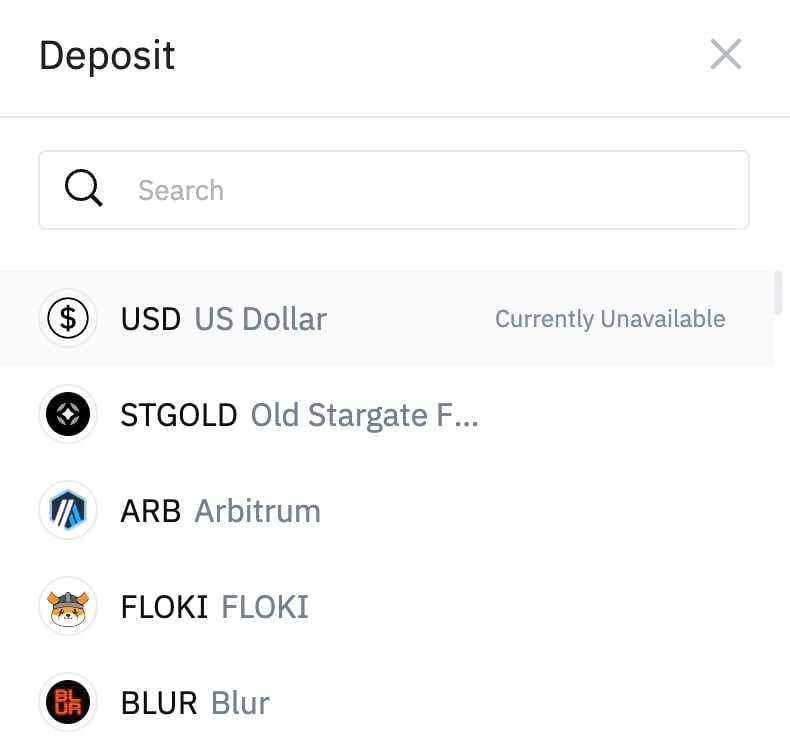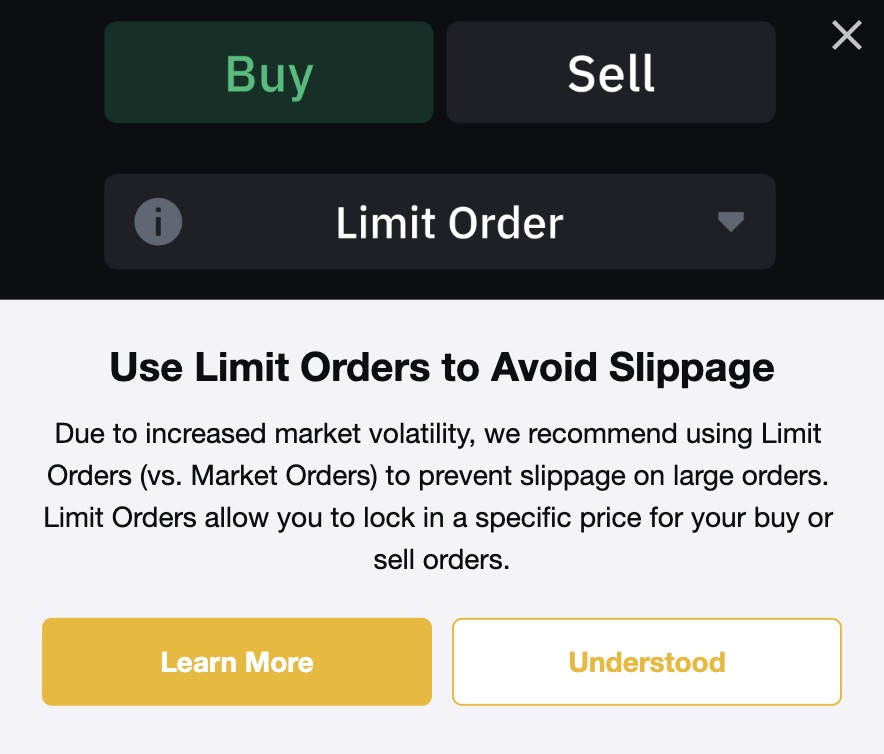 ---
THE BOTTOM LINE:
Binance.US offers a feature-rich trading platform with support for 130+ cryptocurrencies and some of the highest staking yields in the business. Traders can choose from a user-friendly front end or an advanced trading platform with charting and additional order types. I found Binance more welcoming compared to other popular exchanges. With low fees, a clean UI, and a wide selection, Binance delivers a winning combination.
Pros
Easy-to-use UI
Same features on web and mobile app
Low fees
SMS and Google Authenticator 2FA
Wide staking support
No fees for BTC and ETH (USD pairs)
Cons
No fee schedule for Instant Buy
No support for PayPal
Fewer crypto options than some exchanges
Not available in NY, TX, HI, and VT
Via Binance's Website
Support
BTC, ETH, SOL, ADA
Token
What Is Binance.US?
Binance is the largest centralized crypto exchange, but Binance.US is a US-only exchange built to comply with US regulations. A crypto exchange offers a way to buy cryptocurrencies with fiat money or to trade cryptocurrencies in trading pairs.
Centralized exchanges (CEXs) differ from decentralized exchanges, like Uniswap, in that centralized exchanges are run by a management team. CEXs also have to comply with Anti-Money Laundering (AML) and Know Your Customer (KYC) rules in many jurisdictions.
Binance.US lacks some of the features of Binance.com, including margin trading and futures trading, but these omissions are due to US regulations and don't affect everyday trading for most users.
| Features | |
| --- | --- |
| Instant Buy | Easily buy, sell, or convert supported assets right from the home screen. |
| Advanced Trading | Enjoy predictable trading fees, market, or limit orders, and access to advanced charting tools. |
| Staking | Stake 26 cryptocurrencies to earn yields of up to 15%. |
| Two-Factor Authentication | Secure your account with two additional verification methods. |
Expert Review: Binance.US For Trading And Staking
I tested Binance.US to see where the US-only exchange shines and where it could use a bit of polish.
One slight disenchantment centered on funding methods. PayPal isn't supported, and I had to use the slow method to add my bank account (two days). But if you're using a supported bank or debit card, the Binance trading experience is among the best you'll find in the crypto world.
Here's my hands-on review of the web UI. Binance also offers a mobile app for iOS and Android.
Account Setup
Similar to other crypto exchanges like Coinbase, you'll need to provide documentation of your identity for full access on Binance.US.
For basic access, Binance.US requires the following:
Full Name
Social Security Number
Address
Advanced verification requires a driver's license, passport, or similar ID, as well as a selfie. This unlocks wire transfers and higher limits for deposits.
I found the account setup process painless with Binance.
Funding
Setting up funding for my account wasn't quite as easy, though. Binance uses Plaid to verify bank accounts, but Plaid wasn't able to connect to my bank account.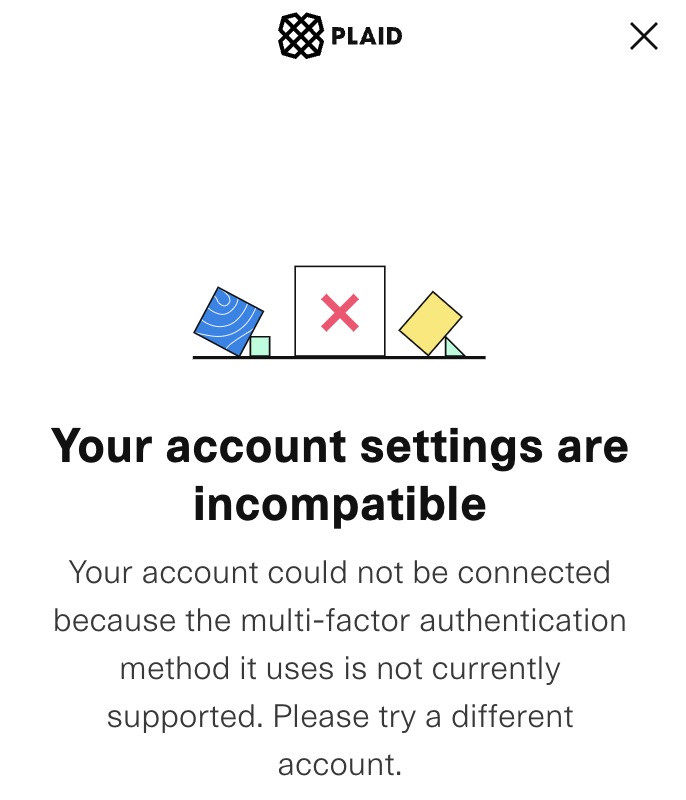 A second option takes a day or two, sending a small deposit to your account.
By contrast, adding a bank debit card took seconds.
With full verification, you'll have the following funding options:
| Funding Method | Fees |
| --- | --- |
| ACH Bank Transfer | None |
| Debit Card (credit cards not supported) | 3.75% |
| Apple Pay (debit only) | 3.75% |
| Wire Transfer | Deposits: none, withdrawals: $15 |
I already had MATIC in my MetaMask wallet, which I sent to Binance rather than deposit with my debit card.
Trading
Binance offers two ways to trade. You can buy, sell, or convert right from the dashboard, with an option to preview the trade, including fees.
Binance calls this Instant Buy.
Here's the preview of my trade, which includes a weekly recurring purchase (dollar-cost averaging).
The Instant Buy fee is 0.3% in the above example. I found several examples like this in the 0.25% to 0.3% fee range. Instant Buy also uses a small spread that allows Binance to "hold" the price until you complete the transaction.
The alternative is Advanced Trading, which brings support for market, limit, and stop-limit orders while removing the uncertainty over fees. I could view the fee for each pair by hovering over the "VIP" level in the top-right corner.
Advanced Trading also brings advanced charts, including trend lines and Fibonacci retracement.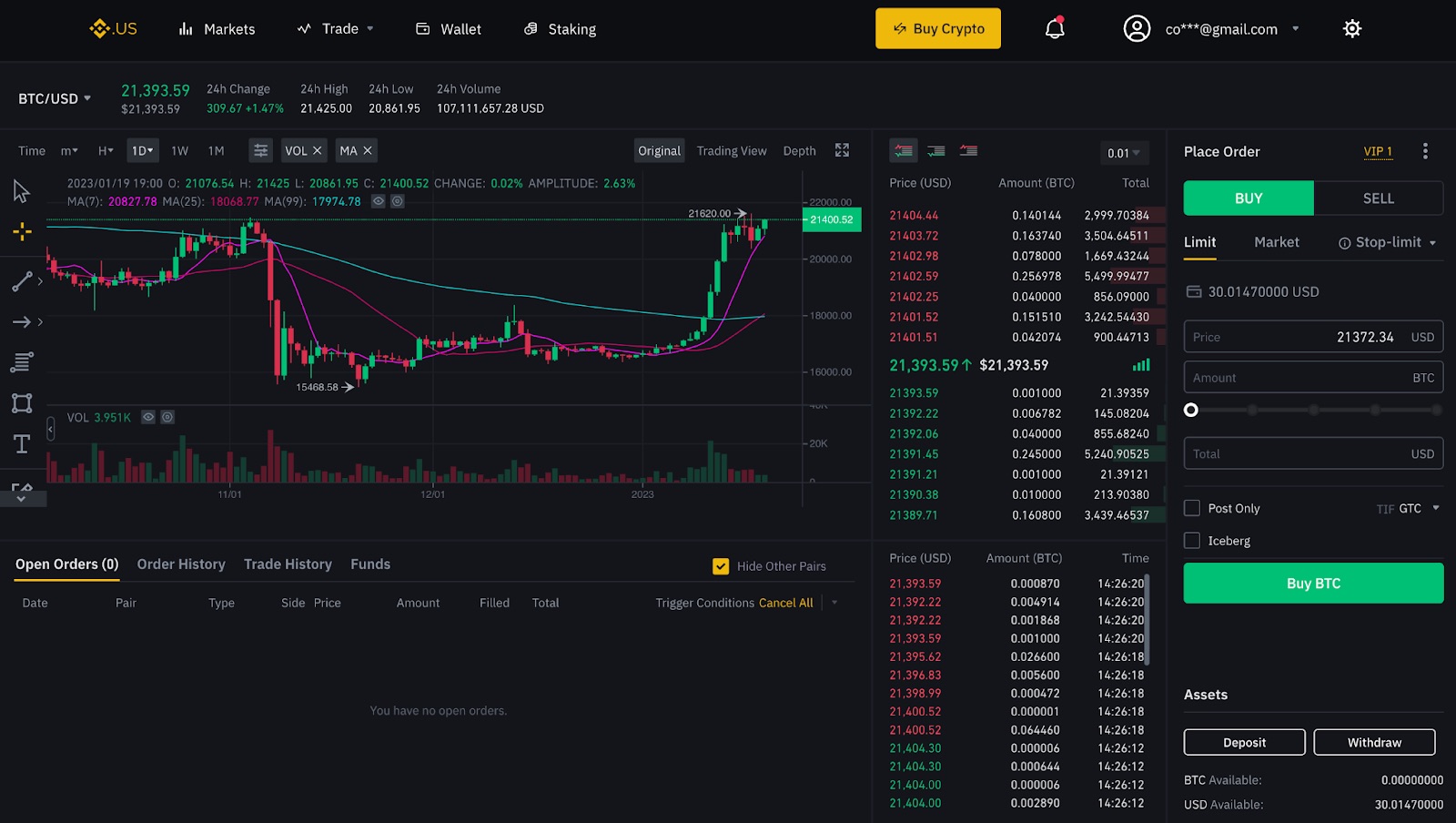 In general, I found Advanced Trading easy to use. Trading pairs were a bit difficult to locate, however. Binance offers four trading pairs for MATIC, but an initial search shows just one.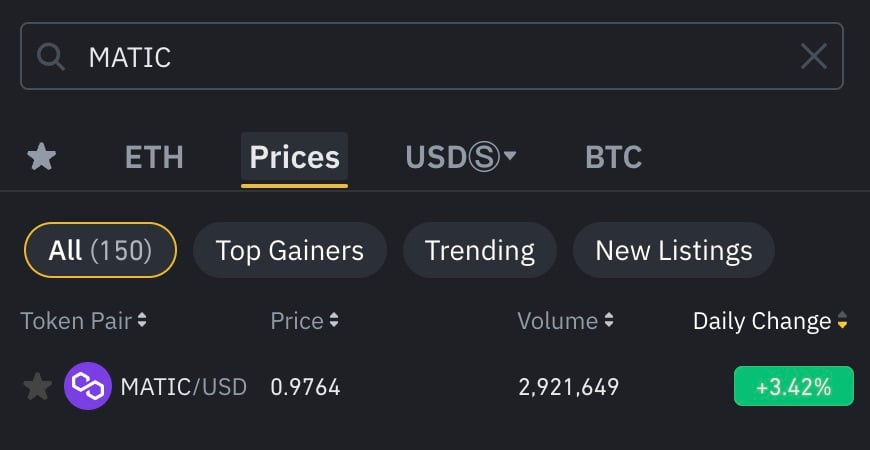 Trading Fees
Binance also impressed me with low trading fees. Currently, Binance offers free trades for eight trading pairs, which Binance calls Tier 0 pairs:
BTC/BUSD
BTC/USD
BTC/USDC
BTC/USDT
ETH/BUSD
ETH/USD
ETH/USDC
ETH/USDT
All other pairs on Binance are Tier I. Trades for Tier I pairs vary based on your trailing 30-day trading volume and whether you're placing limit orders or market orders.
Market orders use "taker" fees (you're taking orders off the market).
Limit orders use "maker" fees (you're making a market with your order).
You can save 25% by paying fees with BNB, Binance's utility token. This option was automatically turned on in my account settings.
Your 30-day trading volume determines your "VIP" level.
| VIP Level | 30-Day Trading Volume | Tier I Maker Fees | Tier I Taker Fees |
| --- | --- | --- | --- |
| VIP 1 | Less than 10K | 0.3% | 0.45% |
| VIP 2 | $10K – $50K | 0.1875% | 0.3% |
| VIP 3 | $50K – $100K | 0.1125% | 0.1875% |
| VIP 4 | $100K – $1M | 0.0750% | 0.1500% |
Beyond $1 million in 30-day trading volume, five additional tiers bring more savings as trading volume increases.
Staking
Binance lets you stake 26 cryptocurrencies to earn a yield as high as 15% (ATOM). I staked TRON with a few clicks.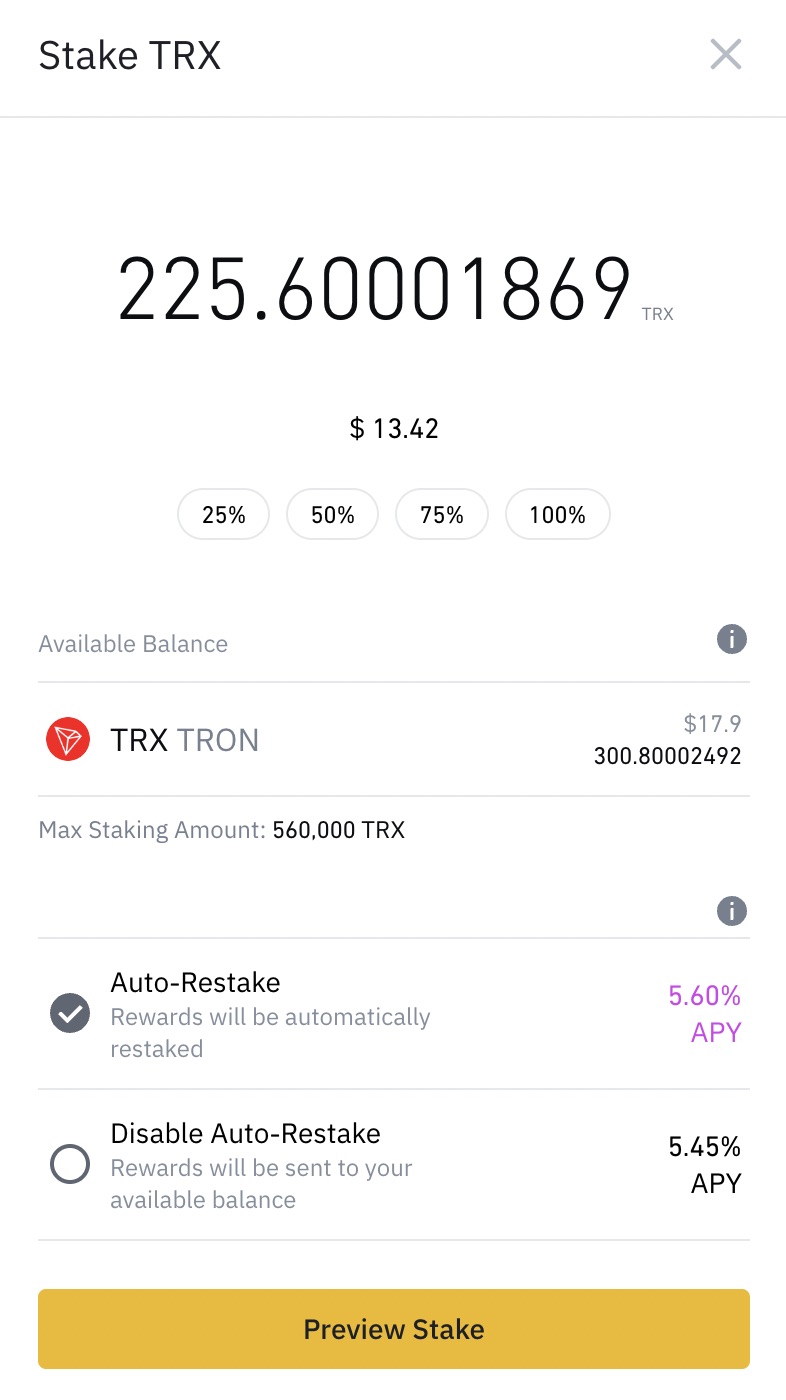 Unstaking proved to be hassle-free as well, but some tokens require an unstaking period. For example, when I staked BNB, I had to wait seven days to withdraw my staked tokens.
Security
Binance offers two ways to secure your account access in addition to a password. I added both SMS authentication and Google Authenticator.
The few extra seconds at login are worth the added security, particularly with my bank account associated with Binance.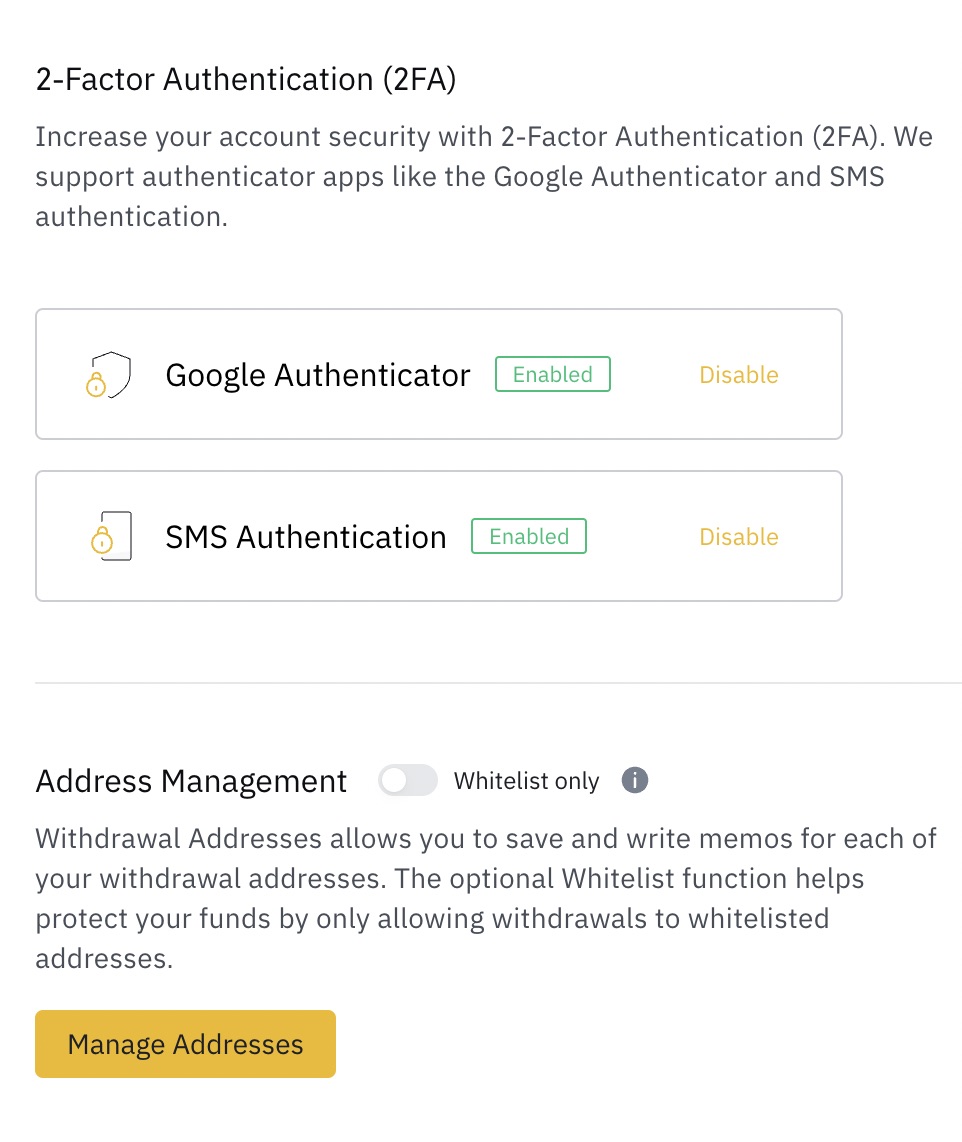 Withdraw
Binance doesn't charge for ACH withdrawals to your bank account, and there's a low $1 minimum withdrawal. However, withdrawals via wire transfer bring a fee of $10 to $15.
Sending your crypto to another wallet comes with a network fee for that transaction but no additional fees from Binance. I was impressed with the number of networks Binance.US supports.
Binance's minimum withdrawal to an external wallet amount varies by network. On ERC-20 (Ethereum), I had to withdraw at least 9 MATIC, whereas the minimum on the Polygon network jumped to 20 MATIC.
Binance first asked me to authenticate my withdrawal request with Google Authenticator and then sent me an email to confirm.
Support
Binance.US offers support via email or chat. I used both methods to inquire about fees for Instant Buys, which differ from Binance's published fee schedule.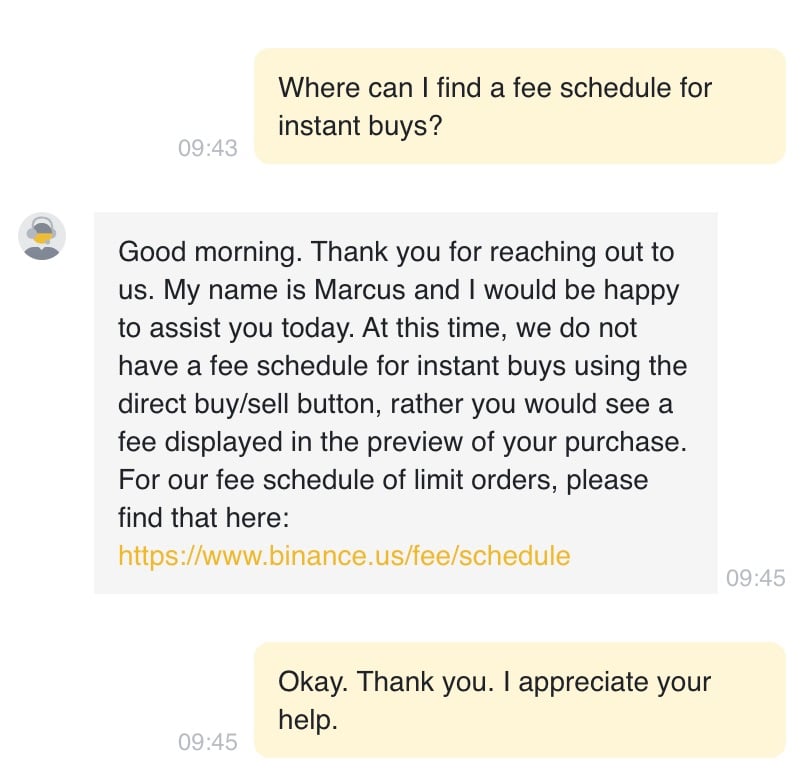 I learned that Binance does not publish a fee schedule for Instant Buys. However, you can preview the fees for each trade before confirming the trade.
In my experience, fees for Instant Buys (and sells) ranged from 0.25% to 0.3%.
In both support cases, Binance.US support was prompt and friendly. Nicely done, Binance.
Binance.US Mobile App Overview
For trading on the go, you can use the Binance.US iOS or Android app. I used the Android app, secured by fingerprint login. All the features of the web app were available with a few clicks within the mobile app as well, including staking, trading, and the option to set up an auto-buy.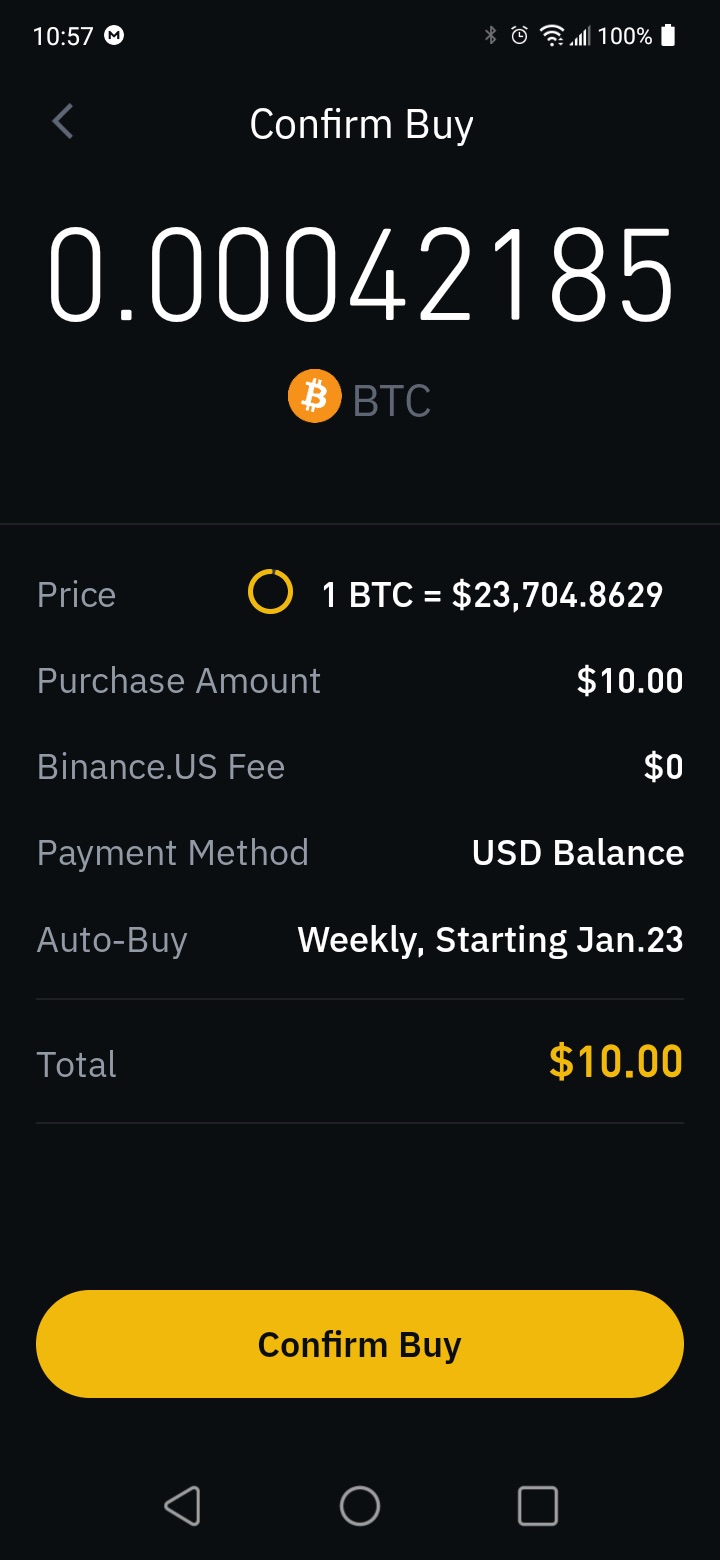 You may have to add tokens to the mobile interface. For example, my TRON balance didn't show in my wallet initially. A click on "Add Coin" restored my unseen balance.
Binance Pay (Mobile Only)
With Binance Pay, you can send or receive crypto to and from other Binance users with no fees (up to $1 million daily receiving limit).
I had some trouble finding the Binance Pay screen (hint: scroll the banner on the app's home screen), but then was able to search users by name, phone number, or email address. You can also grant Binance access to your contacts list.
Unlike the send feature, which sends crypto to an external wallet, Binance Pay transfers crypto from one Binance.US account to another user's account.
Binance.US Vs. Coinbase
For ease of use, staking options, and low fees, Binance comes out on top. But Coinbase offers more cryptocurrencies.
| Exchange | Binance.US | Coinbase |
| --- | --- | --- |
| Trading Fees | 0% to 0.45%, 0.25% to 0.3% on Instant Buy (plus spread fee) | Up to $2.99 (flat fee), or 0% to 0.60% (Advanced Trade) |
| Number Of Cryptocurrencies | 130+ | 200+ |
| Staking | 26 cryptocurrencies | 7 cryptocurrencies |
| Ease Of Use | 4.5 stars (out of 5) | 4 stars (out of 5) |
| Standout Features | Clean UI, easy staking, low fees | Learning rewards, web3 wallet, |
| Platforms | Web, iOS, Android | Web, iOS, Android |
To Sum It Up
Binance.US impressed me with its super-clean user interface and low trading fees. My only minor grumbles centered on setting up payment methods with my particular bank, which may not be an issue for other users. Overall, Binance.US offers a suitable trading experience for both beginners and experts but could benefit from an easy-to-reach learning center for those new to trading.
Frequently Asked Questions
Each exchange brings its own advantages and disadvantages. Coinbase makes more information available for beginners right from the home page, whereas Binance offers a cleaner interface overall, combined with lower trading fees.
Binance.com offers margin trading and futures trading, both of which face heavy regulation in the US. To comply with US regulations, Binance launched Binance.US, a separate exchange for US customers.
USD deposits are insured with pass-through FDIC insurance for up to $250,000. However, crypto assets, including USD-based stablecoins, are not insured through the FDIC.
Binance.US sends out 1099-MISC forms for accounts that earn more than $600 in a calendar year. The IRS receives a copy of these forms as well.
In most cases, fees trading fees on Binance.US are slightly lower than those on Coinbase Advanced. Binance's fees can be much lower when comparing against Coinbase's flat fees, which can be up to 10% or more on smaller purchases.
Binance offers a way to generate customizable tax reports on both the web and mobile apps. However, the date range is limited to 12 months, and there's a limit of six reports per month.