BitcoinIRA Review 2023: Pros, Cons, Products, & Features
Last Updated:

June 26, 2023
Our Take On BitcoinIRA
THE BOTTOM LINE:
BitcoinIRA gives you the freedom to invest in crypto through a self-directed IRA and handles all the behind-the-scenes account setup. Invest in Bitcoin, Ethereum, and much more while leveraging the tax-advantaged growth IRAs offer. We were impressed by the flexibility of Bitcoin IRA but found the initial setup fees on the high side.
Pros
Tax-deferred crypto investing
Extended list of available cryptocurrencies
Gold investing
Educational materials for beginners
IRA rollover service
Custody insurance
Cons
High fees
Absence of crypto deposits
Opaque fee structure

Via BitcoinIRA's Website
BitcoinIRA is a crypto IRA platform. Founded in 2016, the platform aims to push the frontiers of IRAs and offer everyone the chance to include crypto assets in their retirement plans. Operating out of Sherman Oaks, California, BitcoinIRA has garnered over 170,000 users and processed over $2 billion worth of transactions. With its sleek user interface and wide range of options, the platform has caught the attention of individuals looking to get started with investments in Bitcoin (BTC) and other cryptocurrencies as part of their retirement plan.
How BitcoinIRA Works
As the name implies, BitcoinIRA is a crypto IRA that allows users to include digital assets as part of their retirement plans using self-directed retirement accounts. Aside from digital assets, the platform also offers gold IRAs.
Users can access BitcoinIRA both through its mobile application and via its website. The platform boasts over 60 different digital assets, including major cryptocurrencies like Bitcoin, Ethereum, and Solana. It allows users to self-trade crypto 24/7, anywhere, making it possible to take advantage of rallies and market moves.
For users keen to learn more about crypto, BitcoinIRA offers educational content and instructional videos. Furthermore, its "one-of-a-kind" dashboard allows users to track the price of cryptocurrencies and the performance of their portfolio.
To open a cryptocurrency IRA in BitcoinIRA, a minimum investment of $3,000 is required. Users have the option to deposit cash or move this amount of funds from their existing IRA, 401(k), or 403(b) funds. However, the platform does not offer direct crypto deposits because of IRS regulations.
The platform typically executes a rollover from another retirement account within three to five business days. Users can begin trading crypto once they receive funds in their accounts. Since funds stay inside the tax-sheltered retirement account, they are not subject to capital gains or income taxes as users trade.
However, there will be penalties for early withdrawals, as with any IRA. Users will have to pay both income tax and a 10% early withdrawal fee if they choose to withdraw their money before they become 59 ½.
Products
BitcoinIRA offers several products, including Bitcoin IRA, Bitcoin 401K, Bitcoin Roth IRA, and Saver IRA.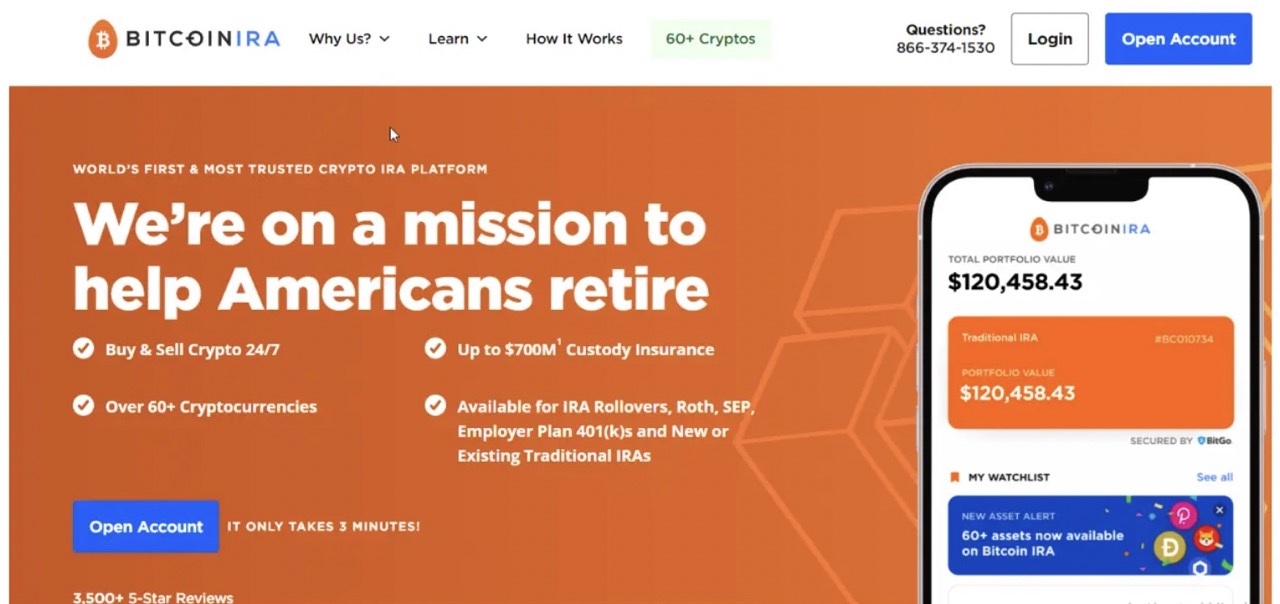 Crypto IRA
This is a tax-advantaged retirement account that allows users to buy and sell digital assets for retirement savings. Bitcoin IRA, Bitcoin 401K, and Bitcoin Roth IRA are the available crypto IRA types in BitcoinIRA. The differences between each of these IRA accounts relate to available investment options, tax treatment, and potential employer contributions.
A 401(k) is an employer-sponsored retirement plan that offers employees a tax break on money they contribute. On the other hand, a Roth IRA is set up by an individual directly. Roth IRA owners do not pay taxes if they withdraw their money after turning 59 ½.
Saver IRA
A saver IRA allows users to invest in cryptocurrencies as part of their retirement plan on a recurring basis. Individuals can use this type of account to automatically purchase a specific amount of cryptocurrencies every month. This type of IRA also allows for tax-deferred crypto investing.
Features
At the first glance, what stands out about BitcoinIRA is its long list of supported cryptocurrencies. However, there are also other features that make the platform an attractive option for investors.
Support For Over 60 Cryptocurrencies And Gold
BitcoinIRA allows users to choose from more than 60 cryptocurrencies, which includes emerging cryptocurrencies like Solana, as well as established coins like Bitcoin and Ethereum. In addition, individuals can purchase gold through their crypto IRA.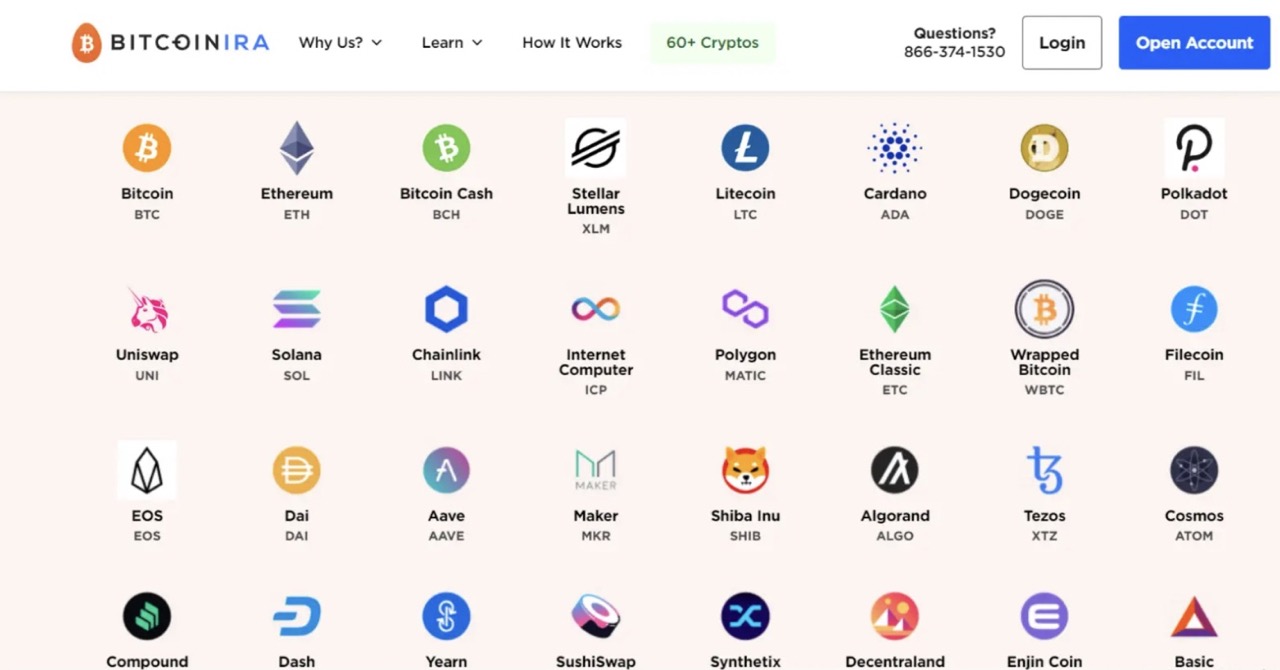 Numerous Funding Options
Opening an account with BitcoinIRA usually takes less than three minutes. The platform offers several ways to fund and transfer funds to accounts. Users can deposit cash and start investing in cryptocurrencies. They can also transfer funds from other accounts like an existing 401(k) or Roth IRA.
Sleek Interface And Price Dashboard
The platform's sleek and user-friendly interface makes it easy to navigate between different account types. Its price monitoring dashboard also improves the experience of trading and allows users to make instant decisions based on price fluctuations.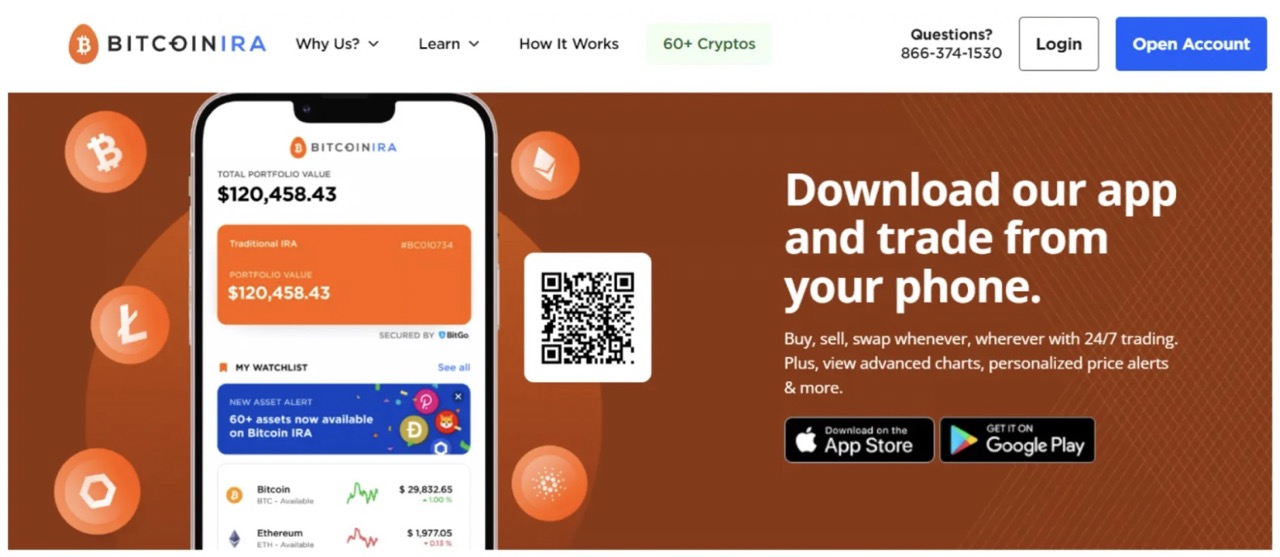 BitcoinIRA Fees And Account Minimums
As noted, a major downside of BitcoinIRA is that it does not publicly share a clear breakdown of its fee structure. Prospective customers who speak with a representative will find the below fees:
Set-up fee: Charged on the initial deposit amount, varies by investment size

Under $50k: 5.99%
$50k – $100k: 4.99%
Over $100k: 3.99%
Special discount rate when you call: 1.99%

Transaction fee: 2% on every trade
Maintenance fee: 1% of the total account balance each year (charged monthly at 0.83%)
Meanwhile, the minimum amount required to open a crypto IRA with BitcoinIRA is $3,000.
Cryptocurrencies Available
The platform offers users access to a wide range of cryptocurrencies, ranging from major coins like BTC and ETH to meme coins like Dogecoin and Shiba Inu, and DeFi coins like Chainlink and Uniswap. Here are the top 15 cryptocurrencies supported:
Bitcoin
Ethereum
Cardano
Dogecoin
Polkadot
Litecoin
Chainlink
Bitcoin Cash
Stellar
EOS
Uniswap
Compound
Aave
Maker
Filecoin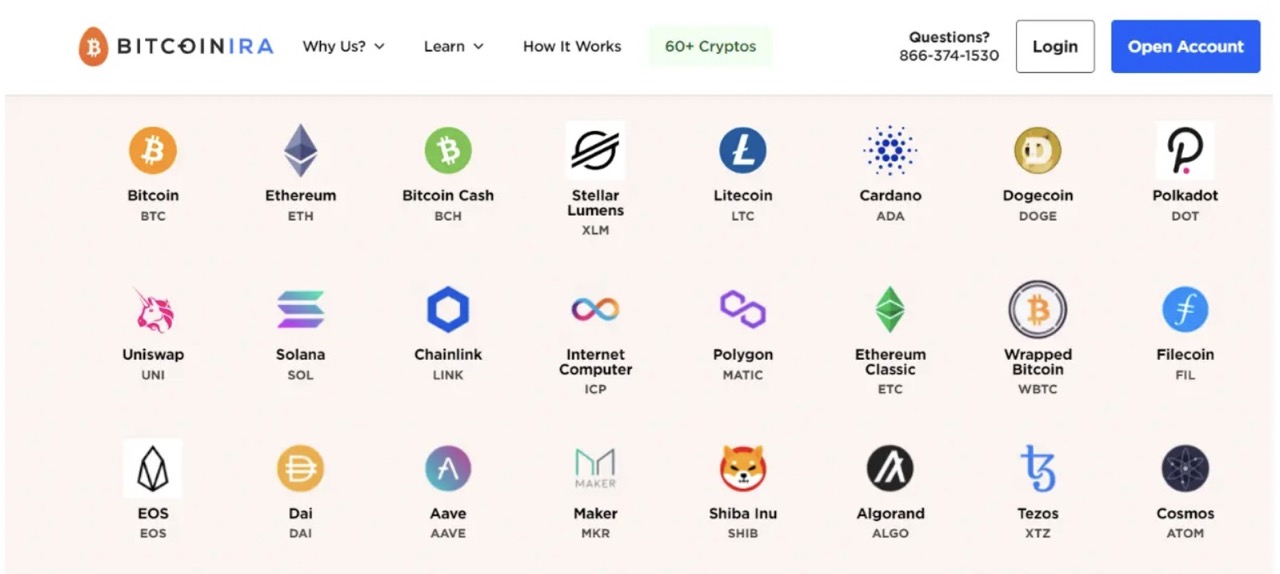 BitcoinIRA Assets
BitcoinIRA is largely concentrated on digital assets. Aside from cryptocurrencies, the platform only offers gold, which users can add to their IRA accounts. In other words, BitcoinIRA does not allow users to trade and invest in stocks or mutual funds.
Pros
Tax-Deferred Crypto Investing
The platform's self-directed IRAs provide tax advantages over purchasing digital assets via a crypto exchange or a broker. As with traditional IRAs, users will only need to pay taxes when they withdraw funds from their IRA in the future.
Extended List Of Available Cryptocurrencies
BitcoinIRA offers users a plethora of cryptocurrencies to choose from, which makes it stand out from its peers. Apart from major cryptocurrencies like Bitcoin, Ethereum, Solana, Dogecoin, and Cardano, smaller cap coins like Filecoin, EOS, Yearn Finance, and Horizon are also available.
Gold Investing
In regular IRAs, users cannot own physical gold. They do have the option to invest in gold ETFs or stocks of gold mining companies, but that might not be enough for all investors. BitcoinIRA allows users to buy gold through their crypto IRA and further diversify their holdings. Buying gold on BitcoinIRA gives the user ownership rights to US-certified gold bars that are stored in vaults.
Educational Materials For Beginners
Courtesy of the platform's "Learn" features, individuals getting started with cryptocurrencies can quickly get the hang of things. BitcoinIRA's "Knowledge Center" is equipped with a growing list of educational content that explains how digital assets work and how to make smart investment decisions.
IRA Rollover Service
One major advantage of BitcoinIRA is that it offers IRA rollover for clients with existing IRAs. The platform makes it simple for users to transfer funds from their existing IRAs into a crypto or any type of IRA.
Numerous Security Measures
In the world of digital assets, the safety of funds is a top concern. To ensure the safety of users' digital assets, BitcoinIRA employs a variety of security measures. The platform stores 100% of user funds offline with BitGo Trust, a US-qualified custodian. All wallets also deploy multi-sig (P2SH) for security and HD (BIP32) for privacy.
Custody Insurance
In the event of loss of funds, BitcoinIRA offers up to $700 million in insurance coverage. BitGo Trust and its insurance provider Lloyd's of London, a leading insurance company, cover the insurance.
Cons
High Fees
A set-up fee as high as 5.99% combined with another 2% trading fee makes the platform expensive. This is particularly true when compared to most crypto exchanges, which tend not to charge set-up fees, and its trading fee is typically around 0.5%. The platform charges a yearly maintenance fee of 1% amortized each month (0.083% per month).
Unclear Fee Structure
While BitcoinIRA's high fee is a major drawback, what makes it worse is that the platform doesn't provide details of its fee structure. Instead, it encourages users who are seeking more information to get in touch with a representative.
Absence Of Crypto Deposits
BitcoinIRA does not allow users to deposit funds using cryptocurrencies. This is because of Internal Revenue Service (IRS) regulations, which mandate that the funding of IRA accounts be in US dollars.
How To Set Up A BitcoinIRA Account
The procedure for creating an account with BitcoinIRA is quite straightforward. It requires users to enter their personal information, bank account details, and more. The process usually takes less than three minutes and also involves users funding their accounts. Here is a step-by-step guide for creating an account.
Step 1: Go to the BitcoinIRA website and select "Open Account" in the upper right corner.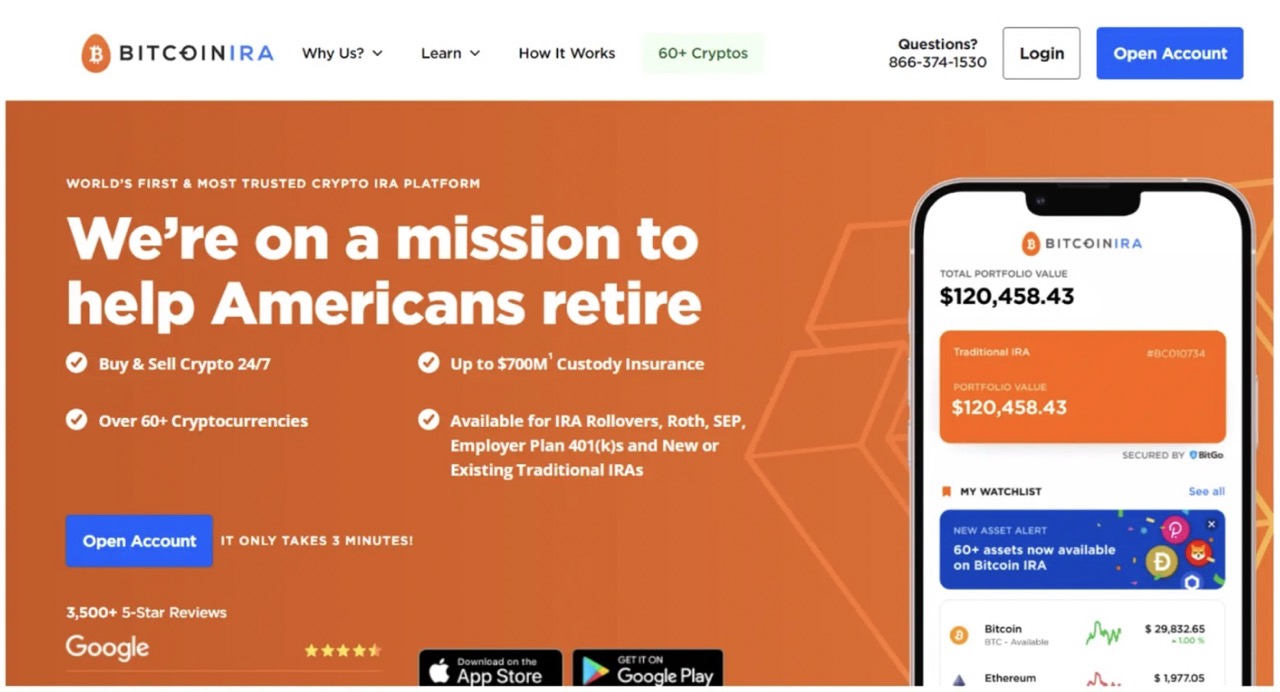 Step 2: Fill in the requested information, which includes first and last name, email address, phone number, and password.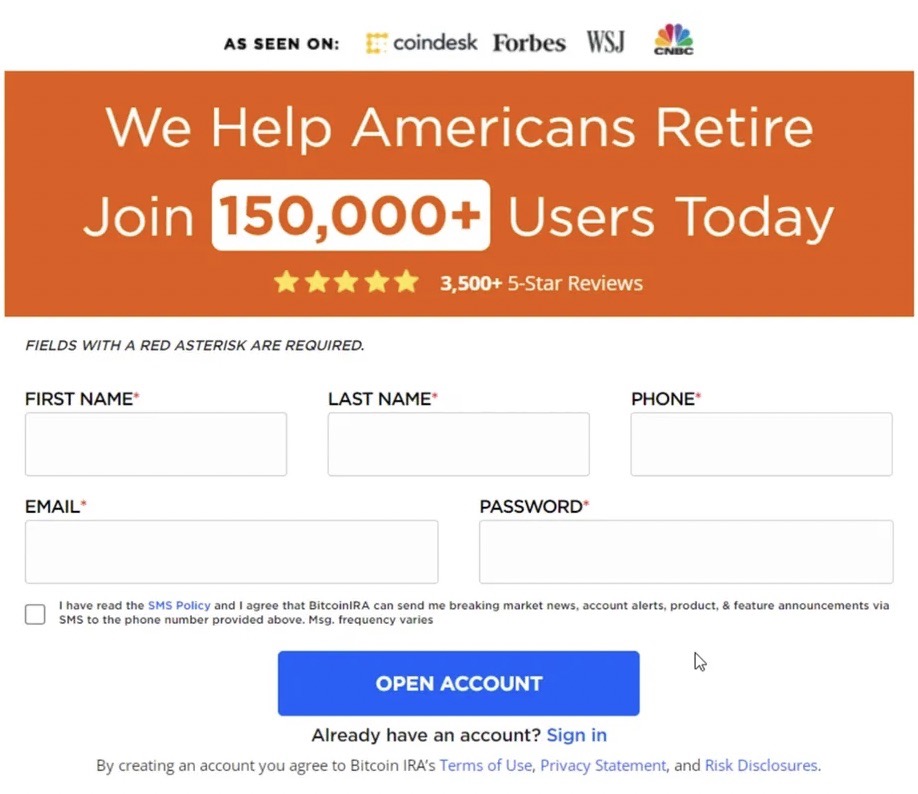 Step 3: You will be asked to "secure your account" by verifying your phone number. Confirm your phone number and click "send code."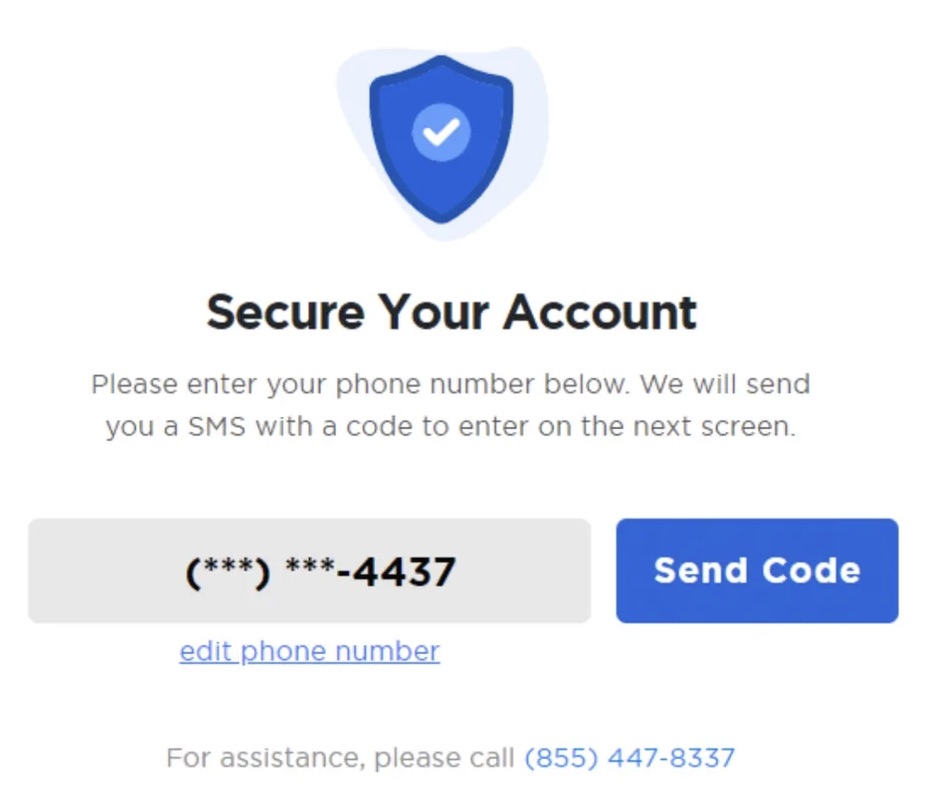 Step 4: Verify your phone number by entering the verification code you received.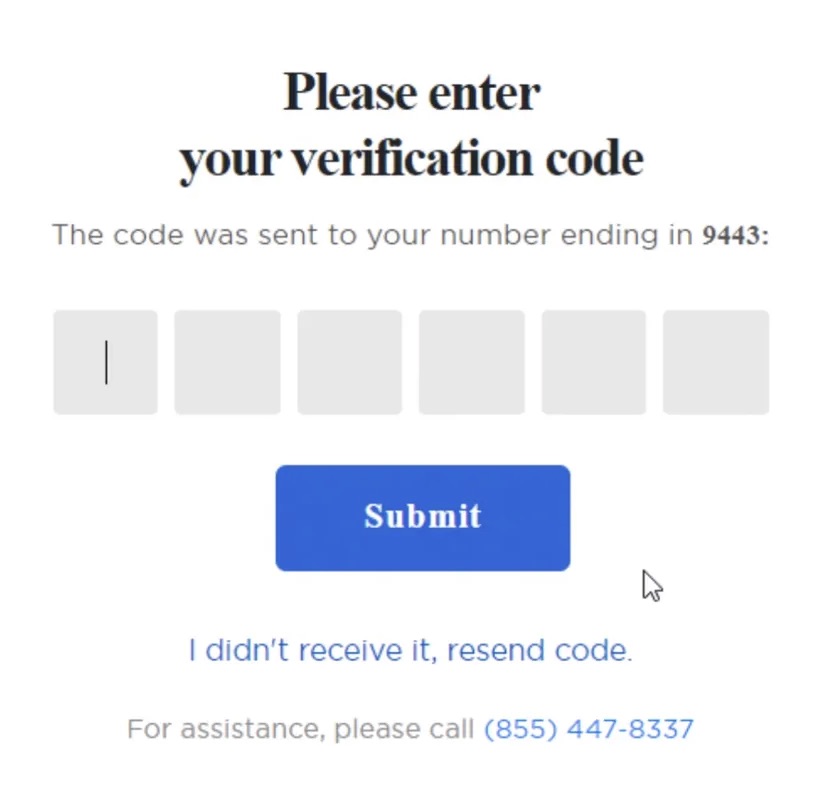 Step 5: You will be able to access the platform as soon as you verify your mobile phone. Then in the upper left corner, click on "Start My Account" and fill in all the necessary data.
Step 6: Choose the Type of IRA you want to open and how you will fund it. Then submit the application and wait for a confirmation email.
BitcoinIRA Security
The platform claims that security is its number one priority. To ensure the safety of user funds, BitcoinIRA stores all assets 100% offline and uses multisig wallets. It also offers up to $700 million in insurance, covered by Lloyd's of London.
BitcoinIRA Alternatives
There are other well-known platforms that let you set up an individual retirement account (IRA) to invest in cryptocurrency, such as Alto CryptoIRA and iTrustCapital. Let's see how BitcoinIRA compares with these two rivals.
BitcoinIRA Vs. Alto CryptoIRA
Alto CryptoIRA lets you invest as low as $10 into your account, while BitcoinIRA requires a high minimum deposit of $3,000. Yet, Alto gives you access to over 200 tokens, compared to about 60 for BitcoinIRA. Also, BitcoinIRA takes double the trading commission that Alto takes, making the latter the more economical option.
| | Minimum Deposit | Number Of Supported Tokens | Supported Fiat Currencies | Digital Wallet? | Early Withdrawal Penalty | Countries Available | Trading Fee |
| --- | --- | --- | --- | --- | --- | --- | --- |
| BitcoinIRA | $3,000 | 60+ | USD | Yes | 10% | U.S. | 2% |
| Alto CryptoIRA | $10 | 200+ | USD | Yes | 10% | U.S. | 1% |
Read our full Alto CryptoIRA review.
BitcoinIRA Vs. iTrustCapital
BitcoinIRA requires a minimum deposit of $3,000, triple iTrustCapital's minimum deposit requirement of $1,000. However, BitcoinIRA lets you purchase over 60 types of cryptocurrencies, while iTrustCapital makes do with just about 25.
iTrust Capital charges a 1% trading fee, half of what BitcoinIRA charges.
| | Minimum Deposit | Number Of Supported Tokens | Supported Fiat Currencies | Digital Wallet? | Early Withdrawal Penalty | Countries Available | Trading Fee |
| --- | --- | --- | --- | --- | --- | --- | --- |
| BitcoinIRA | $3,000 | 60+ | USD | Yes | 10% | U.S. | 2% |
| iTrustCapital | $1,000 | 25+ | USD | Yes | 10% | U.S. | 1% |
Read our full iTrustCapital review.
To Sum It Up
BitcoinIRA claims to be the world's largest and most secure cryptocurrency IRA. The platform allows users to invest in more than 60 different cryptocurrencies as part of their retirement plan. It also supports gold. Courtesy of its rollover feature, users can transfer funds from their prior retirement plans into a crypto IRA. However, the opaque fee structure is a major, and unusual, drawback.
Frequently Asked Questions
Yes. BitcoinIRA employs rigorous security measures like using multisig wallets and storing all assets 100% offline to ensure the safety of user funds.
You can choose from a long list of more than 60 cryptocurrencies, including Bitcoin, Ethereum, Cardano, Solana, and more.
Yes. Using BitcoinIRA, you can roll over your Roth IRA into a Bitcoin IRA.
BitcoinIRA offers more cryptocurrencies to choose from, while iTrustCapital has a lower minimum required investment and a better fee structure.
Yes. There is an app for both Android and iOS devices.