e

Toro Crypto Review: What To Know About The Pros, Cons, & Features

Last Updated:

September 20, 2023
Our Take On eToro
THE BOTTOM LINE:
eToro's selling points include easy-to-understand trading fees and social trading, a feature that allows you to mirror trades made by top investors on the exchange. While I see benefits to using eToro, particularly for beginning crypto investors, the platform is missing key features that would make me look elsewhere for certain crypto trades. Overall, eToro might be best suited for the crypto-curious rather than those deeply immersed in the crypto world.
Pros
Virtual Trading to test your strategies
Copy trading to follow successful traders
PayPal or bank funding
No deposit fees
Choose from crypto, stocks, ETFs, and options
Cons
Short & leveraged trades not available to US traders
Several cryptocurrencies not available in the US
Higher than average trading fees
Limited support for wallet transfers
What Is eToro?
eToro is a multi-purpose exchange where you can buy and sell stocks, crypto, ETFs, or options. The exchange brings some innovative features, including the ability to copy the moves of other traders and test your trades in a virtual portfolio.
eToro Notable Features
| Copy Trading | Virtual Trading | Web And Mobile Apps | eToro Money |
| --- | --- | --- | --- |
| Filter traders by performance and risk level and copy their trades. | Experiment with a $100,000 virtual wallet before putting real money at risk. | Make trades or do research on the go with eToro's full-featured mobile app. | Move select crypto assets off the exchange to eToro's wallet, which supports external payments. |
Expert Review: eToro For Trading
I took eToro for a test drive to see how it compares to other exchanges, which features worked well, and which didn't.
The good news is that eToro offers a clean, easy-to-navigate crypto buying experience that's inviting to newcomers. More good news: eToro takes PayPal, too, with no fees for deposit or withdrawal.
The bad news is that most of the cryptocurrencies you can buy on eToro, stay on eToro, much like things that happen in Vegas. eToro supports transfers to a dedicated mobile wallet, but only for a handful of crypto assets.
Here's my hands-on review of the web UI, mobile app, and the eToro Money crypto wallet (mobile only) from a crypto trading perspective.
Account Setup
eToro offers both stocks and crypto, so they'll need to know who you are to meet regulations. Expect to provide a photo ID, such as a driver's license or passport, as well as proof of address, like a utility bill.
I don't recall any trouble getting started on eToro. I set up my account months ago but didn't do much exploring on the exchange – until now.
Funding
Adding funds to my account was a surprisingly easy experience with eToro. The exchange supports bank accounts (ACH transfers) and debit cards, as well as wire transfers from your bank. Bank accounts use Trustly to connect, and I was set up in seconds.
Note: There's currently no way to transfer crypto to eToro from another wallet or exchange.
Recently, eToro added support for PayPal, making it one of three US-based crypto exchanges I've found to do so. The others are Coinbase and Gemini.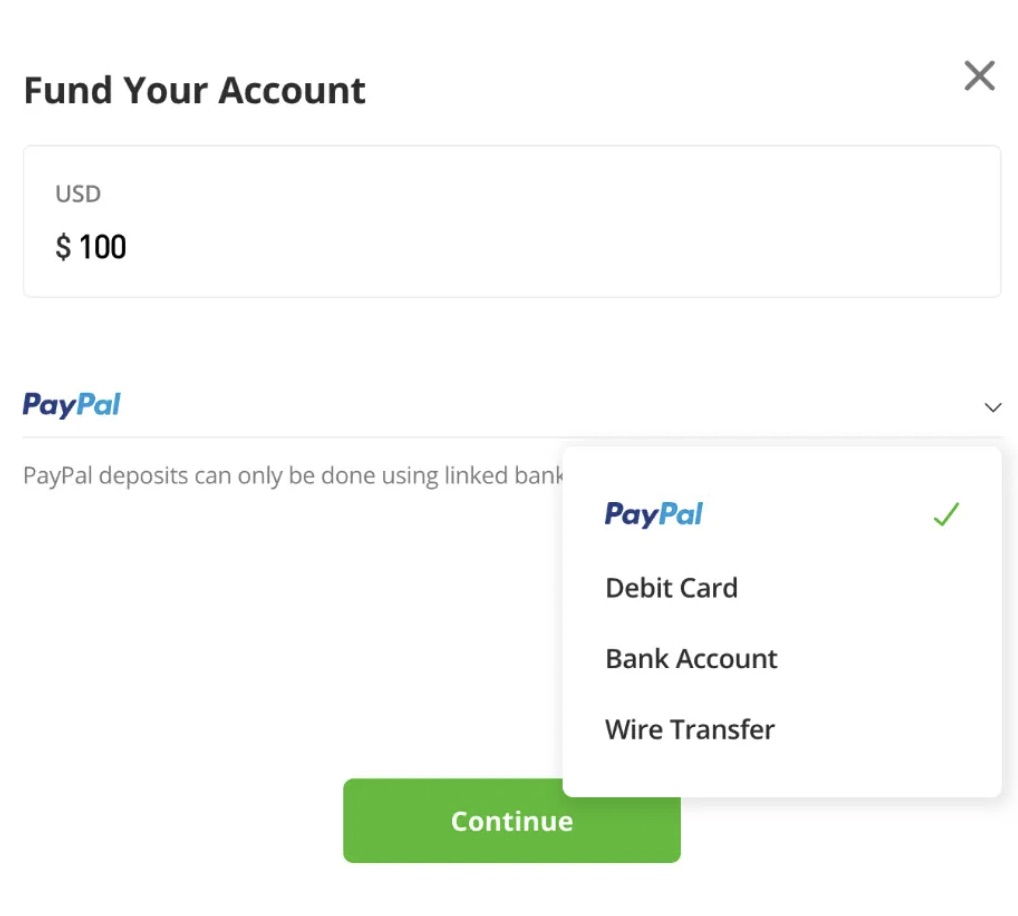 eToro's fees for bank and PayPal deposits in the US are $0. Yes, free, even for debit cards. The minimum deposit in the US is just $10, with a $500 minimum for wire transfers (also with free deposits).
eToro does charge a conversion fee for funds deposited in currencies other than USD.
When I withdrew through PayPal, that was free as well. But I found some verbiage that suggests there may be a $5 withdrawal fee in some cases. This fee might be limited to international withdrawals.

Trading
Buying and selling crypto on eToro proved intuitive, with big, easy-to-find buttons for basic trades. Just search for the asset you want to buy and select a limit order (wherein you set the price) or what eToro labels as Trade (a market order that fills from the limit sell orders for the asset you're buying).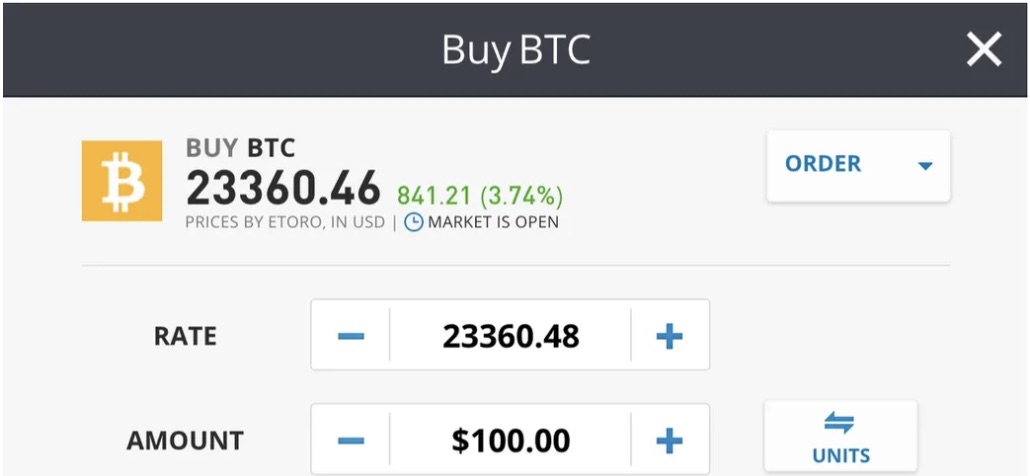 Auto Buy
eToro lets you deposit funds automatically on a fixed schedule, which differs from the Auto Buy feature found on other exchanges. eToro won't complete the purchase for you, just the deposit.
Once I set up my automatic deposit, I logged on to eToro to purchase crypto manually.
eToro Number Of Cryptocurrencies
eToro displays an impressive number of cryptocurrencies, most of which I couldn't actually buy. But the exchange does offer many of the most common crypto assets and a few surprises, like MANA, the Decentraland metaverse token.
I counted 26 tradable cryptocurrencies in my region (US).
e

Toro Tradable Cryptos
Bitcoin (BTC)
Ethereum (ETH)
Dogecoin (DOGE)
Litecoin (LTC)
Shiba Inu (SHIB)
Uniswap (UNI)
Chainlink (LINK)
Ethereum Classic (ETC)
Bitcoin Cash (BCH)
Stellar (XLM)
Algorand (ALGO)
Decentraland (MANA)
Aave (AAVE)
EOS (EOS)
Tezos (XTZ)
ZCASH (ZEC)
Dash (DASH)
Maker (MKR)
IOTA (MIOTA)
NEO (NEO)
Enjin (ENJ)
Compound (COMP)
Basic Attention Token (BAT)
Yearn.Finance (YFI)
Universal Market Access (UMA)
Cartesi (CTSI)
Outside the US, more cryptocurrencies may be available. For example, eToro supports XRP (Ripple), TRX (Tron), and ADA (Cardano) withdrawals to the eToro Money wallet. But in the US, I couldn't buy these three cryptocurrencies.
eToro Trading Fees
Whether you're trading crypto or stocks, eToro charges a flat fee of 1% for both market and limit orders. While trading fees on eToro are higher than some other exchanges, like Coinbase's Advanced Trading, I didn't have to do any math or decipher cryptic fee tables.
The price you see displayed in the trade confirmation is the price you pay, fees included.

Withdrawals
On eToro, each trade is linked to the original funding method (unless you withdraw to the eToro Money wallet). If you deposit with PayPal, you must withdraw from that trade with PayPal as well.
I made two types of withdrawals from eToro:
Withdraw to my PayPal account
Withdraw to my eToro Money crypto wallet
Neither method was instant. Instead, the withdrawal requests went into an approval queue.
My PayPal withdrawal was completed the same day (with no withdrawal fees).
The crypto withdrawal to the eToro Money wallet took an extra day, with a 2% fee to transfer LTC from eToro to the eToro Money wallet. On many other exchanges, a wallet withdrawal would typically take seconds.
Withdrawal Limits
I also encountered a minimum withdrawal limit when transferring crypto to the eToro Money wallet. Minimum withdrawals vary by cryptocurrency on eToro. When transferring Bitcoin, the minimum withdrawal was .0072 BTC, about $165 at the time. By comparison, Gemini, another well-known exchange, sets the minimum withdrawal at about $10 for BTC.
Self-Custody Wallets Not Supported
Lastly, and worth noting, eToro doesn't support withdrawals to other crypto self-custody wallets – unless you withdraw to the eToro Money first.
Experienced crypto traders might balk at the idea of asking permission to withdraw and waiting to withdraw. But in fairness, delays can happen on any centralized exchange, like when Binance held my Polygon withdrawal for three days due to wallet maintenance.
Copy Trading
eToro makes trading a social experience – if that's what you want. With Copy Trading, found in the "Discover" section, you can follow the moves of other traders, mirroring their portfolios and trades.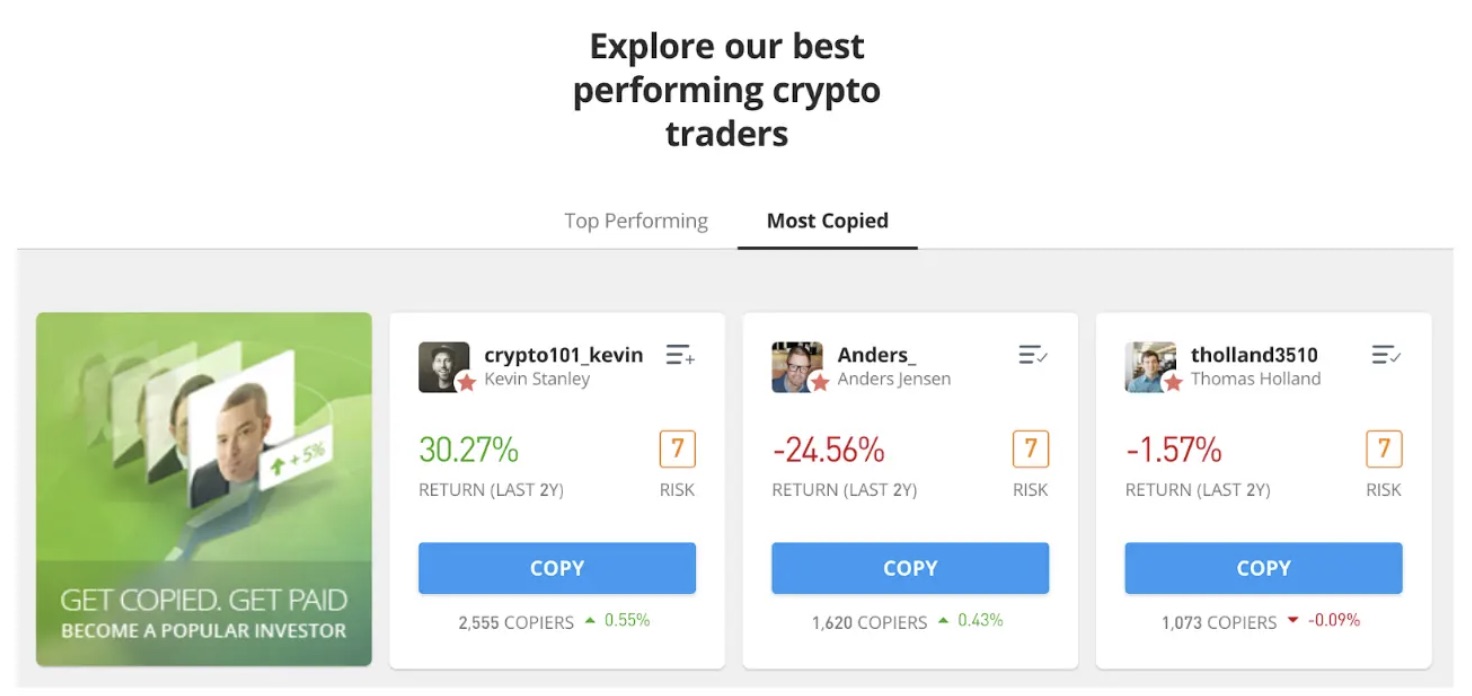 Clicking on a trader profile lets you see their investment mix and performance, as well as their thoughts on the market if they've shared any. I didn't copy any traders, but I can see the appeal if you discover someone who consistently beats the market.
There are no extra fees for Copy Trading.
Note: You can make your eToro investor profile private, but it's public by default.
Smart Portfolios
Deciding which cryptocurrencies to buy can be the most daunting part of trading. eToro's "Discover" section also offers a way to build a diversified portfolio that matches an investment theme with Smart Portfolios.
For example, you can choose Big-Crypto, an assortment of cryptocurrencies packed with market cap leaders.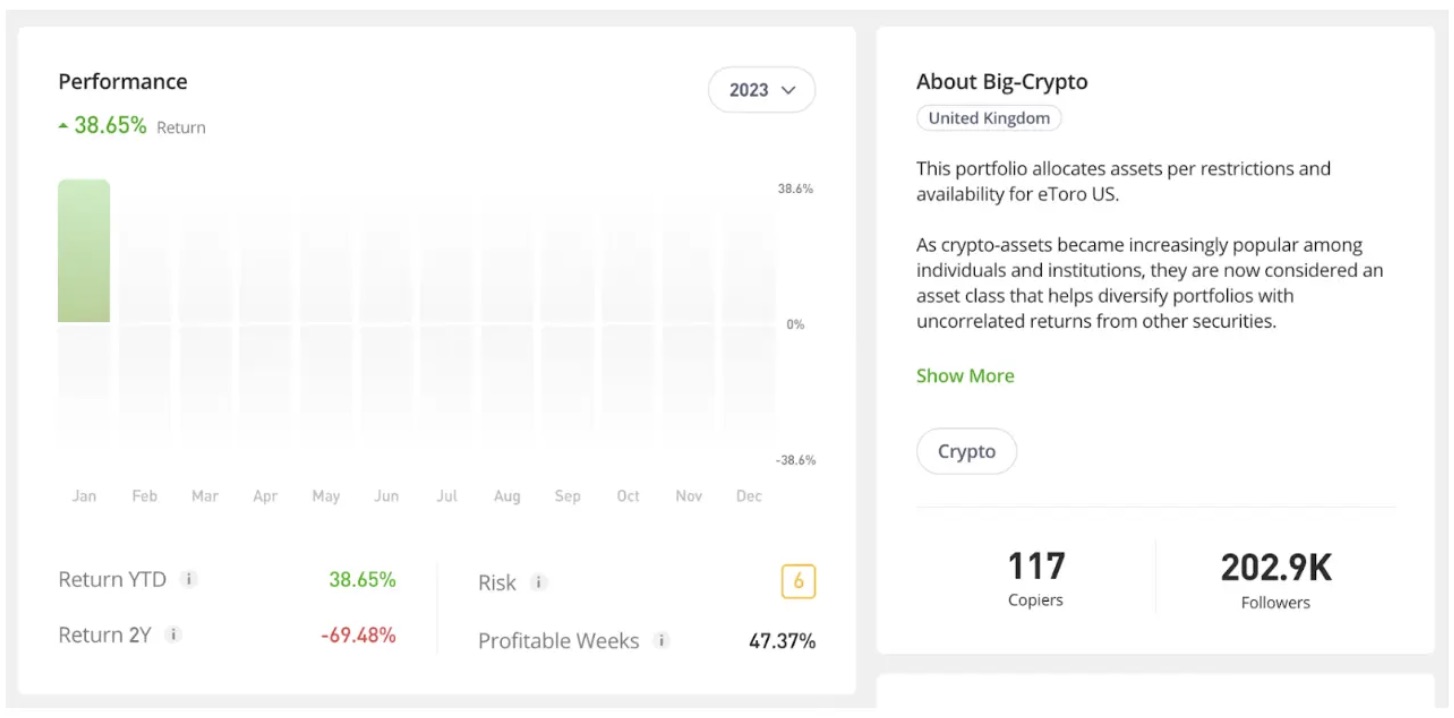 I'm not a theme trader, preferring to choose my own investments. But Smart Portfolios offer an easy way to automate a diversified portfolio, with the ability to set a limit that stops investments in your smart portfolio if the value drops below a certain threshold.
There are no extra fees to use Smart Portfolios.
Virtual Trading
If you want to test your crypto trading strategy before putting real money on the table, eToro lets you experiment with a virtual portfolio of up to $100,000.
I made a $100,000 BTC purchase, promptly losing an impressive amount of virtual USD (due to fees).

eToro's displayed P/L (profit/loss) accounts for the cost of selling the asset as well. In this example, I paid 1% to buy BTC, with another 1% fee expected when it's time to sell (2% total loss).
Security
eToro supports two-factor authentication (2FA). I secured my eToro web account with SMS text verifications. On the mobile app, I set up fingerprint authentication. The eToro Money crypto wallet only supports SMS verification.
However, there's no support for authenticator apps like Google Authenticator.
Support
eToro's support was stunningly fast. I used the chat to find an answer to a question I didn't see in the help center. Users also have the option of opening a support ticket, which can also serve as a complaint form.
Via chat, eToro resolved my question in less than one minute. Well done, eToro.
eToro Money Crypto Wallet (mobile only)
Currently, eToro supports trading in 26 different cryptocurrencies for US traders. But I quickly learned that only eight of these cryptocurrencies could be moved off the platform, three of which can't be purchased by US traders at all.
Note: There is currently no way to withdraw to a self-custody wallet without withdrawing to the eToro Money wallet first.
eToro Money Crypto Wallet Supported Assets:
BTC
ETH
XRP (not available in US)
LTC
BCH
XLM
TRX (not available in US)
ADA (not available in US)
Transfers to the eToro Money Crypto Wallet from your trading account are subject to a 2% fee, with a $1 minimum and $100 maximum fee.
Assets sent to your eToro wallet can then be transferred to another wallet. I sent LTC from my eToro wallet to my Ledger hardware wallet, paying just pennies in Litecoin network fees for the transfer. You can also receive supported cryptocurrencies in your eToro Money wallet sent from another crypto wallet.
eToro's wallet limitations are worth considering before making a crypto purchase. For most cryptocurrencies, you have to either keep your assets on the exchange or sell to withdraw fiat because the wallet only supports five cryptocurrencies available to US traders.
eToro Mobile App Overview
eToro's mobile app (Android or iOS) parallels the features of the web app, including Copy Trading and Virtual Trading.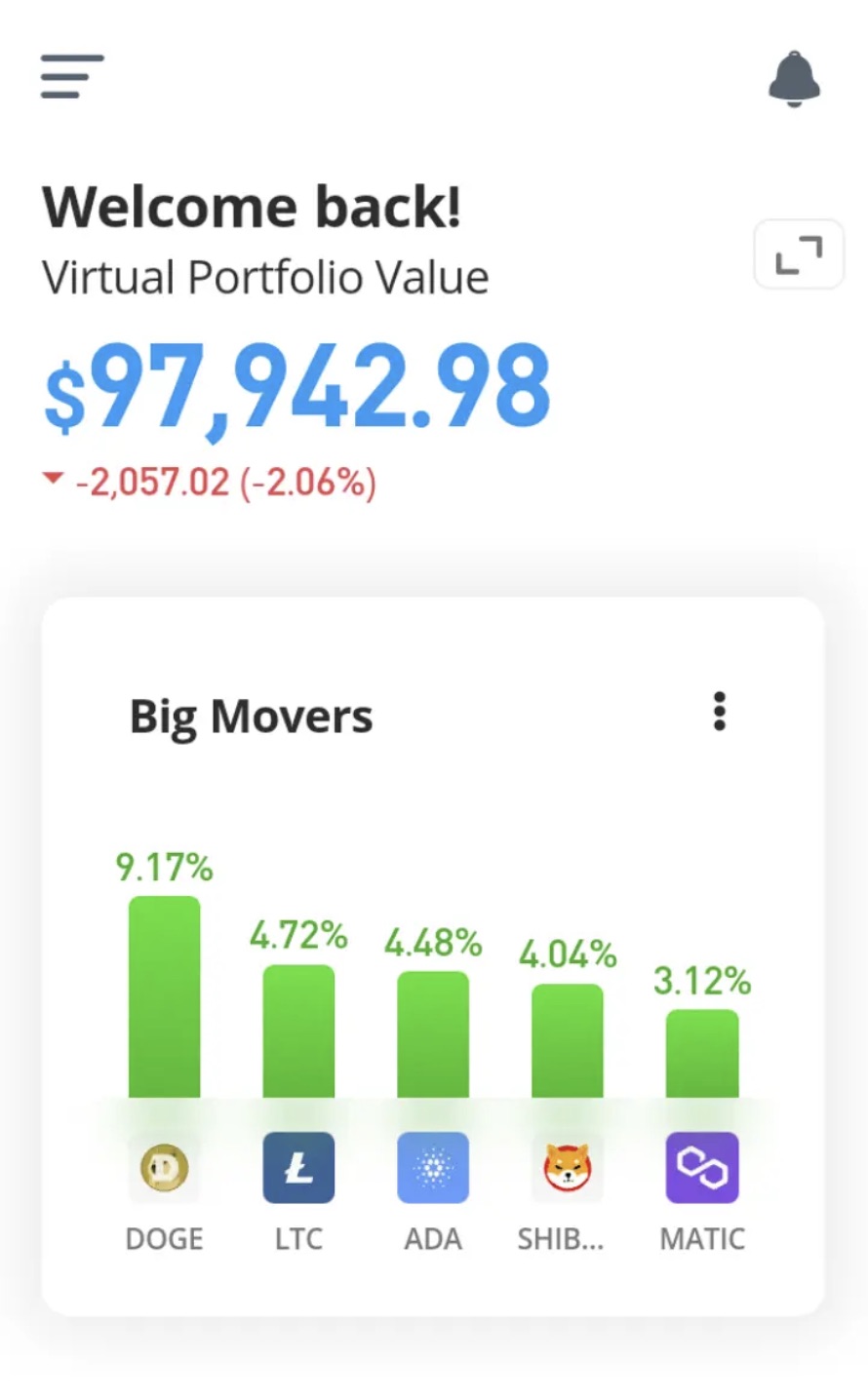 But I did encounter some display issues where tables didn't quite fit the screen, making numbers unreadable.
If you need to make trades on the go and don't mind occasional display glitches, the eToro mobile app gets the job done.
eToro Vs. Coinbase
Coinbase comes out on top when comparing the number of cryptocurrencies available on each exchange. Still, eToro's beginner-friendly features, like fixed fees and virtual trading, make eToro a solid choice for newer traders.
| Exchange | Trading Fees | Number Of Cryptocurrencies | Staking | Ease Of Use | Standout Features | Platforms |
| --- | --- | --- | --- | --- | --- | --- |
| eToro.US | 1% | 26 (US) | ETH only (not available in the US) | 4.0 stars (out of 5) | Virtual portfolio, copy trading | Web, iOS, Android |
| Coinbase | Up to $2.99 (flat fee), or 0% to 0.60% (Advanced Trade) | 200+ | 7 cryptocurrencies | 4 stars (out of 5) | Learning rewards, web3 wallet | Web, iOS, Android |
To Sum It Up
eToro finds its niche amongst those who enjoy the social aspect of trading and prefer the safety net of a virtual portfolio where they can practice and learn. Predictable fees make the exchange a beginner-friendly choice, but those same fees can take a big bite out of returns if investing in larger amounts. eToro's mix of stocks and crypto put the exchange in a unique space in a market that often makes investors choose between the two.
Securities trading offered by eToro USA Securities, Inc. ("the BD"), member of FINRA and SIPC. Cryptocurrency offered by eToro USA LLC ("the MSB") (NMLS: 1769299) and is not FDIC or SIPC insured. Investing involves risk, and content is provided for educational purposes only, does not imply a recommendation, and is not a guarantee of future performance. [website domain name] is not an affiliate and may be compensated if you access certain products or services offered by the MSB and/or the BD.
Frequently Asked Questions
eToro no longer supports staking in the US. However, customers in several countries outside the US can stake Ethereum (ETH) on eToro.
Yes. eToro supports PayPal deposits to buy crypto.
No, eToro doesn't support credit card purchases, but you can use a debit card.
In the US, you can start trading on eToro with a $10 deposit.
Yes. Many of eToro's features, including Copy Trading (following a successful trader's trades) and Virtual Trading (investing within a risk-free virtual portfolio), make eToro well-suited to beginning investors.