Ledger Wallet Explained: What It Is & How To Use It
Published: May 31, 2023
|
Last Updated:

June 22, 2023
Our Take On Ledger Wallet
THE BOTTOM LINE:
Ledger's lineup of hardware crypto wallets offers two popular models to meet the needs and budget of nearly any crypto investor. You'll find native support for top cryptos, like Bitcoin and Ethereum, but Ledger wallets can support over 5,500 coins and tokens all secured by a private key that always stays offline.
Pros
Support for up to 5,500 cryptocurrencies
Private keys always offline
Integration with well-known wallets and support for staking
Cons
High fees for Ledger Live crypto purchases
Limited app space
Non-replaceable battery (Nano X)
The Stax wallet is relatively expensive ($279).
Via Ledger's Website
Cryptocurrencies
ETH, SOL, BTC +More
Platforms
iOS, Android, Mac
Blockchains
Ethereum, Polygon, Bitcoin +More
Key Takeaways
Ledger's Nano hardware wallets bring affordable security and pair with popular software wallets.
Keep your private keys offline at all times — even when connected to an online device.
Rest easy with secure storage for a wide variety of crypto coins and tokens.
What Is Ledger?
Ledger is a leading maker of crypto wallets with nearly a decade of innovation in the space. Currently, Ledger offers three hardware wallets: the affordable Ledger Nano S Plus and the mobile-ready Nano X, and the interactive Stax.
While each wallet offers similar features, The Nano X brings Bluetooth support and an integrated battery that makes it well-suited for mobile use. The Nano X weighs in a bit heavier and is slightly larger than the S Plus, the Stax is portable and can be personalized with your favorite picture or NFT. Each device comes in pocket-size dimensions for easy transport.
You'll need to connect the Nano S Plus — or its older and soon end-of-life sibling, the Nano S — to a computer, while the Nano X and Stax can communicate via Bluetooth or by USB C.
Crypto wallets use two sets of keys: a public key can act as a receiving or watching address, but a private key is a key to your crypto kingdom. The benefit of using a Ledger hardware wallet is that the wallet can keep your private key hidden — even from devices that connect to the internet. This is called cold storage.
By comparison, software wallets and wallet apps are hot wallets if they store your private keys in a way that's exposed to the internet.
In effect, your Ledger hardware wallet acts as a gatekeeper for outgoing transactions, only allowing transactions that you authorize on your Ledger device.
To complement Ledger electronic hardware wallets, Ledger also offers The Billfodl, a nearly indestructible steel device that holds your 24-word recovery phrase, protecting it from disasters that would destroy paper backups, such as fires or water risks. If your Ledger is lost or becomes damaged, this 24-word seed assigned when you set up your wallet lets you recover your crypto.
How Does Ledger Work?
Ledger's hardware wallets work in conjunction with a multi-purpose app called Ledger Live. With Ledger Live, you can update your Ledger, install apps to support more cryptocurrencies, and even buy and sell crypto through in-app providers.
You can install Ledger Live on Android or iOS, as well as on Windows, Mac, and Linux computers.
Ledger wallets can also pair with well-known wallets, such as MetaMask, Coinbase Wallet, or Electrum. This structure locks down your crypto on connected wallets, requiring 'permission' from your Ledger before any crypto leaves your wallet. In a sense, Ledger hardware wallets work like two-factor authentication that requires a response on a device you physically hold.
Under the hood, Ledger wallets run a custom operating system called Blockchain Open Ledger Operating System (BOLOS), which isolates each crypto app from the others and is paired with specialized hardware to keep your crypto safe. Ledgers utilize Secure Element Chips, a tamper-resistant chip used to host apps and store keys. This choice offers more robust security compared to microcontroller units (MCUs) that some hardware wallets use.
Multicurrency Wallet: Ledgers can store up to 5,500 types of coins or tokens. However, the device itself can hold up to 100 installed apps, with each app bringing support for another type of crypto.
Offline Keys: Your private keys never leave your Ledger wallet, even when you connect to a computer or mobile device. However, if someone gains access to your 24-word recovery phrase, they can also access your crypto.
EAL 5+ Certification: Ledgers boast an Evaluation Assurance Level (EAL) of 5, which is a measurement of internationally recognized Common Criteria security testing.
Support For Staking: Stake crypto, including Polkadot, Tezos, Tron, Cosmos, Algorand, or Solana through Ledger Live, and keep control of your private keys. Ledger also supports liquid staking for Ethereum through Lido.
Ledger Pros And Cons
Ledger Pros
Ledger has got some tough competition now, including Trezor and Keepkey, but its iconic and time-tested Nano lineup still brings its best game. Features and specs for the Nano S Plus, Nano X, and Stax are similar, but the last two are built for mobile lifestyles, while the first takes a more basic approach.
Bluetooth And Battery Backup (Nano X And Stax)
Forget the fiddly cables. Ledger's Nano X and Stax wallets run on a rechargeable battery and communicate via Bluetooth with end-to-end encryption, making a perfect pairing with your smartphone. However, Bluetooth pairing isn't available for desktop machines. You can use USB C or an OTG cable to wire a connection to Android devices instead.
Support For Thousands Of Coins Or Tokens
Both the Ledger Nano S Plus and Nano X can support up to 5,500 types of crypto, while the Stax supports about 500 cryptocurrencies at this point. Real-world limitations interfere with that lofty goal, however. Storage space on Ledgers limits users to about 100 apps, each of which supports a different type of coin or token — but you can choose from up to 5,500 types. Still, your Ledger likely supports your next favorite cryptocurrency, even if you haven't found it yet.
Offline Cold Storage
Hot wallets like MetaMask and Coinbase wallet are built for exploring the newly hewn corners of the metaverse, Web3, and DeFi destinations. But the uber-connectivity that makes these wallets useful also invites danger. The Ledger Nano X and Stax wallets can connect to either of these hot wallets — as well as others — to ensure your crypto doesn't leave on an adventure without you. With your private keys stored offline, Ledger provides a secure cold-storage solution that won't slow you down.
Baanx Visa Debit Card (waiting list)
Among the more intriguing features in Ledger Live, the Baanx debit card lets you earn up to 2% cashback each month, paid in BTC, USDC, or BXX token.
Ledger Cons
For some, Ledger's hardware wallets may not fit the bill. Among the potential drawbacks are limited app space and a battery that can't be replaced (Nano X).
Limited App Space
The advertised support for 5,500 cryptocurrency may be technically accurate, while still being marketing-speak. In practical application, you can install up to 100 apps before the device is full. Fortunately, the dashboard in Ledger Live makes it a snap to visualize usage and add or remove apps according to your needs.
Non-replaceable Battery
When the battery goes on the Ledger Nano X, you'll need to buy a new Nano. The battery can't be replaced.
How To Set Up Your Ledger
Ledgers work in conjunction with the Ledger Live application. Download the app using the official download links from Ledger.
Step 1: Set Up Your Ledger As A New Device.
Turn on your Nano by connecting the USB cable, following the initial instructions on the Nano's screen. This basic walkthrough gets you familiar with the device controls.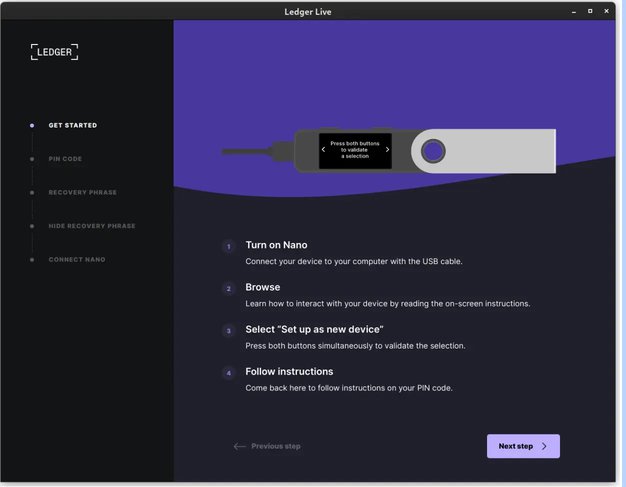 You'll also choose a PIN code of 4 to 8 digits.
Step 2: Write Down Your Recovery Phrase.
Your Nano will generate a 24-word recovery phrase. This phrase links to the private keys for your Ledger wallet, so never share it with anyone. Write down your recovery phrase and keep it someplace safe.
Ledger provides a few fill-in-the-blank recovery sheets in the Nano's package.
Prepare for a short quiz in the app. Don't worry. It's easy and helps ensure you know how your Nano works.
Step 3: Connect Your Nano And Install Your Apps.
As the last step, Ledger Live checks to be sure your Ledger Nano is genuine.
After this quick check, you're ready to install some apps using Ledger Live. You can store up to 100 apps on your Nano, but it might be best to start with a few apps to get acquainted with the process. A similar installation process applies to the Stax wallet.
If you need to connect your Ledger to your MetaMask Wallet, Electrum Wallet, or Coinbase Wallet, Ledger provides easy-to-follow instructions.
What Is Ledger Recover?
Ledger Recover is a paid service that lets you recover the seed phrase for your Ledger wallet. A lost recovery phrase means you also lose access to the crypto in the wallet, which can be a costly mishap.
With countless stories about recovery phrase cards going through the wash in a jeans pocket or Fido eating the recovery phrase card that fell off the desk, Ledger Recover is designed to prove peace of mind.
The service is a ~$9 monthly subscription offered through Ledger and Coincover.
Here's How Ledger Recover Works:
Ledger Recover only works with the Nano X (for now).
You sign up for the service through Ledger Recover (available on iOS or Android versions of Ledger Live)
Submit your ID (passport or national ID card) and a selfie video to Ledger.
Pay $9 per month for the service.
Your ledger private key is split into three parts on your device, and each of the three parts is encrypted.
The three encrypted files are sent to three different companies, Ledger, Coincover, and EscrowTech, with each company only having one of the three encrypted files.
If you lose your recovery phase and need to restore your device, you can restore the private keys through Ledger Recover.
Submit your proof of ID.
Two of the three companies will send encrypted files back to your Ledger device.
Your Ledger uses the encrypted files to rebuild your private keys.
Note: Ledger Recover does not restore or give you access to your recovery phrase, just the private keys for your device.
The idea is similar to Shamir's Secret Sharing, an encrypted split-file privacy technique dating back to the 70s, but given a modern twist — and a monthly subscription fee.
Ledger Recover is completely optional, and without the service, your Ledger works the way it always has, leaving you responsible for safeguarding your recovery phrase.
Is it worth ~$9 per month? That's up to you. Some people with large balances might think so.
Is it controversial? Yes. In the privacy-minded crypto community, the new Ledger Recover rollout has certainly made waves.
Update: Ledger now plans to pause the Ledger Recover rollout while open-sourcing the device firmware. The move provides more transparency and aims to resolve community concerns over privacy and potential backdoors via firmware updates. Ledger Live, the software paired with Ledger devices, is already open source.
Final Thoughts On Ledger
Free-to-use software wallets and wallet apps have their appeal. But as hot wallets, they can also introduce risk to your crypto holdings.
Ledger's time-tested hardware wallets provide affordable security that integrates with many of today's most popular online wallets. This two-step approach lets you explore the more innovative parts of the crypto-sphere while reducing the risk to your hard-won coins and tokens. Ledgers Nano wallets are priced well and just as well built, making your Nano a low-cost investment that can last for years.