Top 5 Institutional Crypto Custody Providers For Securing Crypto
Our picks for the top institutional crypto custodians.
Last Updated:

July 7, 2023
Key Takeaways
The storage and safekeeping of your crypto is known as crypto "custody."
A licensed institution, known as a "third party custodian," can keep crypto safe on your behalf.
Third-party custody comes at a cost and is usually reserved for institutional investors.
If you're dumping your money into crypto, you probably want to keep it safe. Right? Enter institutional crypto custody. The secure storage and protection of cryptocurrencies like Bitcoin and Ethereum is known as "custody." It's kind of like how a parent has "custody" over their kids—it's their job to keep them safe and secure. Make sense? Cool.
Typically, people store their crypto in a digital wallet, meaning the wallet has custody of their crypto. These wallets are protected by different security measures, like a "seed phrase" (which is basically a 12 or 24-word password) that keeps them secure.
If you're an investor looking to store major amounts of crypto, a wallet might not cut it. Enter the third-party custody service. These licensed services provide souped-upped security to ensure your crypto is safe and sound. Some even offer insurance if your crypto gets compromised.
Ready to hand your crypto over to one of these super secure custodians? Not so fast. You'll have to choose from a few different types of these crypto custody providers first.
We break it all down for you below.
Types Of Institutional Crypto Custody
There are several types of third-party institutional cryptocurrency custody providers, depending on your needs.
Crypto Exchanges: Crypto exchanges such as Coinbase and Gemini store your funds in wallets that offer security. These wallets are either the exchange's own wallets or those of one of their partners.
Traditional Custodian Banks: Custody banks, such as BNY Mellon and JPMorgan Chase, provide custodial services for traditional financial assets. However, some can now act as institutional crypto custodians too. These institutions were cleared to provide crypto custody services in 2020 thanks to an updated policy from the Office of the Comptroller of the Currency (OCC).
Digital Asset Managers: Firms dedicated to digital asset custody, like cryptocurrencies, have emerged over the last few years. Companies like NYDIG provide third-party custody services for cryptocurrency.
Third-party custody can definitely be an attractive option, but it does come at a cost. You may encounter deposit, withdrawal, and storage fees. Many of these custodians have minimum crypto storage requirements too. So, if you can't park enough crypto with them, they won't work with you.
There are a couple of hoops to jump through too. All crypto custodians are required to perform crypto Know-Your-Customer (KYC) and Anti-Money Laundering (AML) checks on all clients — a process that takes time and makes the setup more complicated than self-custody.
Feeling ready to dive into your options? We offer the TL;DR on a few top crypto custodians below.
Top 5 Institutional Crypto Custody Providers October 2023
1. Anchorage Digital
---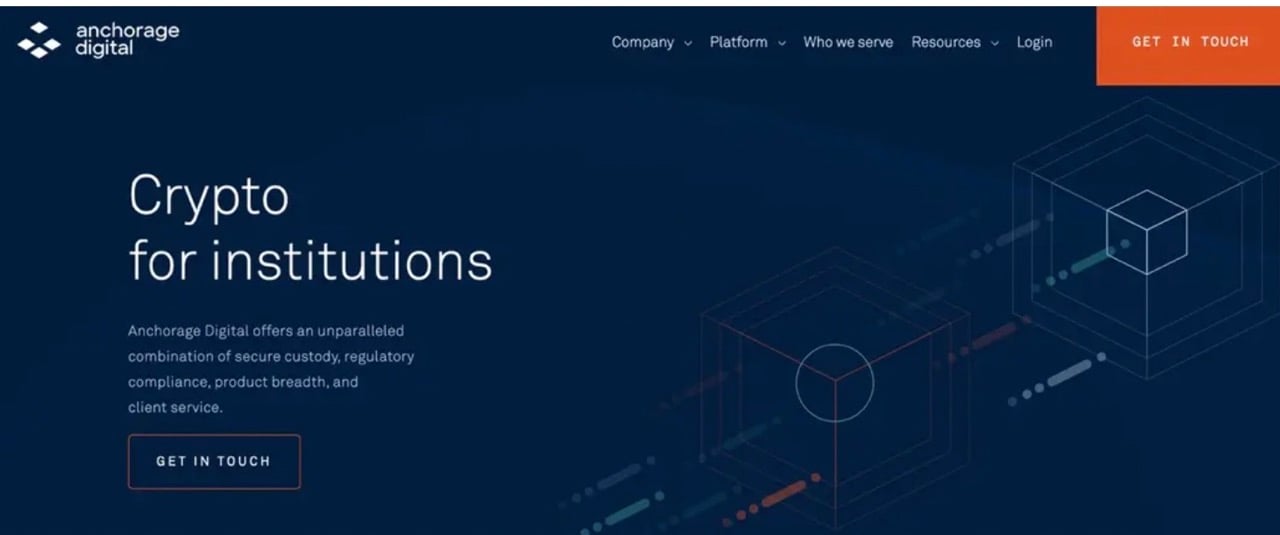 ---
Anchorage Digital is a regulated and compliant crypto management and custody platform. It was the first federally chartered crypto bank, and the platform provides services such as custody, staking, trading, financing, and more.
As part of its custody solutions, Anchorage provides support for new crypto projects in the form of pre-launch preparation. This ensures that newly created cryptocurrencies can be safely stored immediately after launch. This provider has an external transfer API, which allows you to customize your withdrawal methods for your stored funds.
Anchorage does not use hot wallets (software wallets that are connected to the web) for custody and processes 90% of transactions in under 15 minutes. Funds are insured, and custody contracts are easily auditable — so you can always provide proof of funds.
---
2. Coinbase Custody
---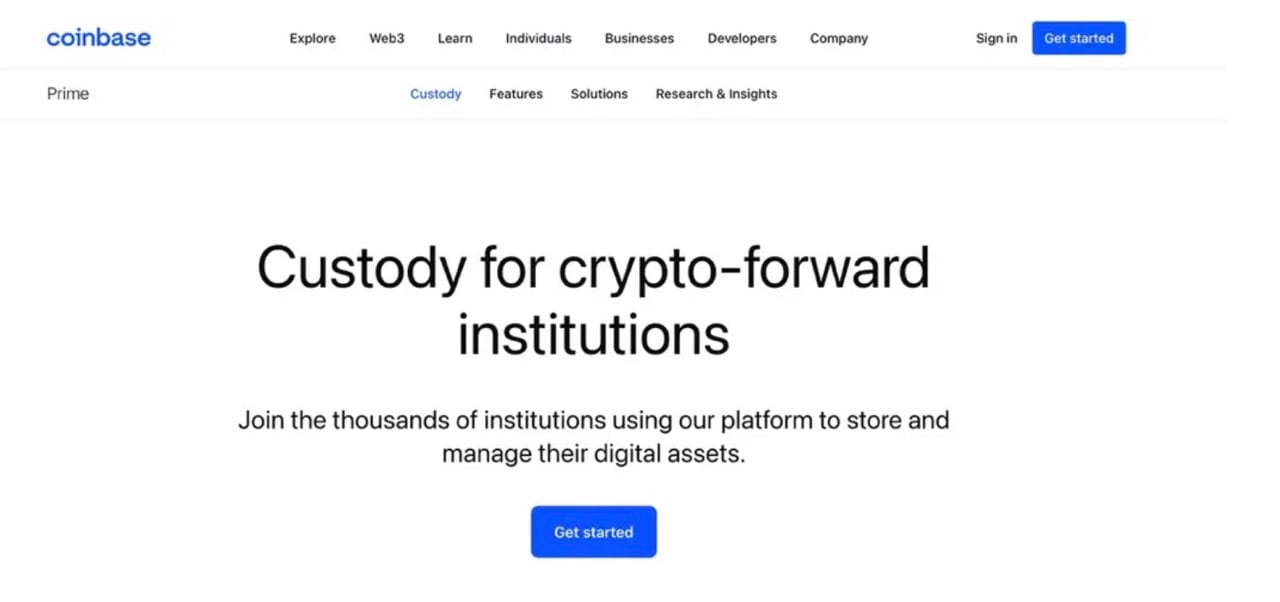 ---
The exchange giant Coinbase offers institutional custody solutions as part of its "Coinbase Prime" platform. The platform provides institutional Bitcoin custody and storage for over 360 digital assets, including Ethereum, Avalanche, Maker, and many more.
Coinbase custody allows clients to stake their crypto without their funds ever leaving cold storage wallets. This means that wallets are connected to the internet less often, which significantly reduces the risks of hacks.
Staking is available for Solana, Tezos, Cosmos, Polkadot, Celo, and Ethereum. The exchange also allows those who hold DAO (decentralized autonomous organization) governance tokens to vote on DAO proposals without their funds ever leaving cold storage.
When it comes to security and insurance, Coinbase doesn't skimp out. Coinbase Custody Trust Company uses System and Organization Controls (SOC), which are high-grade security measures that meet strict legal standards for keeping client funds safe. Client funds are also insured under a $320M coverage policy. Finally, Coinbase extends its custody services to select NFT collections as well, which are kept in safe cold storage vaults.
---
3. Fireblocks
---
---
Fireblocks is an institutional cryptocurrency custody and trading platform for large traders and institutions. The platform integrates with all major trading desks — including Binance, Coinbase, Gemini, and others — and allows you to securely transfer funds 24/7.
When it comes to custody, Fireblocks provides a "zero counter-party risk" environment. This means that they don't have access to the full private keys of your wallet, even as they provide custody of your crypto for you. Your assets can only be moved with your signature, and Fireblocks cannot block you from accessing (or "freeze") your funds. Fireblocks also guarantees that all customer assets are stored in unique, separate vaults and that funds are never commingled.
Fireblocks wallets rely on MPC (multi-party computation) principles, which conceal sensitive information such as private keys even while allowing custodians to actually use the wallets for transactions.
---
4. Fidelity
---

---
Fidelity is a household name in traditional finance. They've taken a big step into the world of crypto with their own institutional crypto custody service. The platform currently supports custody for Bitcoin and Ethereum assets, though more cryptocurrencies are expected in the future.
The institutional custody product from Fidelity stores client funds in offline, cold storage wallets with 24/7 on-site security and multi-person access controls. Unlike some other custody solutions, Fidelity uses an "omnibus" model, which stores all client funds together and only separates them out on the accounting level. This helps provide liquidity, but for some, it comes at the expense of security.
Fidelity certainly doesn't overlook security, though; all wallet keys are authorized by teams of associates in multiple geographic locations. There is also a partial authorization system in place that provides access to wallet funds even in the case that some geographical sites were to become unavailable.
---
5. BitGo
---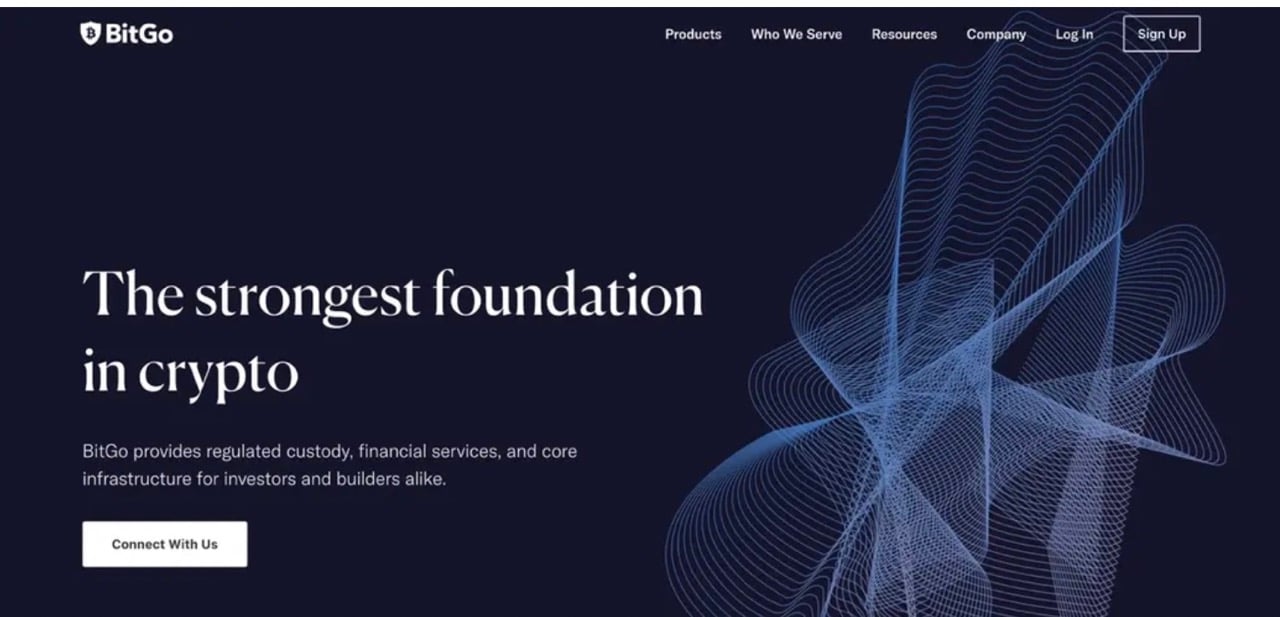 ---
BitGo is one of the leading providers of institutional crypto custody services. Exchanges such as eToro and service providers like BitcoinIRA entrust their client funds to BitGo as their qualified custodian. The company provides a range of products that include hot wallets, cold wallets, self-custody hardware wallets, and even NFT wallets.
BitGo's status as a qualified custodian means that they meet stringent regulatory requirements and undergo regular audits. They also maintain a $250 million insurance policy for client assets. BitGo's services are reserved for family offices, crypto exchanges, and other types of institutional investors, meaning that you won't be able to take advantage of their services if you're a retail trader.
---
Frequently Asked Questions
Crypto custody refers to the safekeeping and storage of cryptocurrencies such as Bitcoin and Ethereum.
Crypto can be stored in self-managed crypto wallets or delegated to third-party custodians. Self-custody is often cheaper and more accessible, but if you lose the private keys to your wallet, you run the risk of losing access to your crypto. Third-party custody providers comes at a fee but guarantees the security of your crypto.
Everything in crypto safety comes down to the wallet your crypto is stored in. If you lose the keys to that wallet, there's a good chance that you won't be able to access your funds.
With third-party custody, you are entrusting the security of your funds to professionals.
A qualified custodian is a licensed company that securely stores money, assets, and digital goods like cryptocurrencies on behalf of clients.
These institutions are heavily regulated and operate under the supervision of government agencies like the Security and Exchange Commission (SEC.) This ensures compliance and helps clients have faith that their assets are safe.
Third-party custody options usually come at a price. Most of the time, these prices aren't disclosed until you meet with a representative of the platform you're interested in working with. In general, though, the cost to provide institutional custody for crypto normally runs from several hundred to thousands or even tens of thousands of dollars, depending on your custody needs.