zkEVMs: Shaking Up The Ethereum L2 Landscape
Apr 1, 2023
You've probably heard the term "zkEVM" a lot. Historically, we'd classify it as an abused marketing term that was best ignored. But now it's probably worth paying attention to.
Here's why.
zkEVM: From Imagination to Implementation
To date, the zkEVM discourse has been laden with "announcements of announcements." But zk-Rollup dev orgs are starting to put their money where their mouth is.
Here's what's gone down just this past month:
Scroll launched its zkEVM rollup on Ethereum's testnet.
Polygon and Immutable announced a partnership to launch a zkEVM rollup in late Q2 2023.
Matter Labs launched the mainnet beta version of its zkEVM rollup, zkSync Era.
Polygon launched the mainnet beta version of its zkEVM rollup.
In short, zkEVMs can be used in production today. That's a big change compared to where they were ~6 weeks ago. And it's a big deal for the broader Ethereum Layer-2 (L2) ecosystem.
Before getting into why, let's take a step back and talk about where L2s are today.
Optimistic vs ZK-Rollups
Ethereum L2s come in two main flavors: Optimistic and zk-Rollups.
To date, Optimistic Rollups have stolen the L2 show.
They're compatible with the Ethereum virtual machine (EVM). That means that apps can (relatively) easily be "copy-pasted" from Ethereum Layer-1 (L1) to Optimistic Rollup L2s. zk-Rollups have historically not had EVM compatibility. So getting apps and users onto them has been challenging. It has required devs to work in new and/or less familiar smart contract development environments. That is changing with the launch of zkEVMs.
zkEVMs were only recently launched and are still in their early stages (so please take caution when bridging to and using them). But with them, zk-Rollups can now theoretically support any app which is deployed on Ethereum L1. What's more, is that zk-Rollups are arguably more secure and scalable than Optimistic Rollups.
Some have even referred to the zkEVM as "the holy grail" of scaling Ethereum.
That seems like a bit of a stretch.
But we think zkEVMs will make zk-Rollups a force to reckon with over the coming months. To date, Optimistic Rollups have seen far more adoption.
TVL: The Bird's-Eye View of Adoption
Total value locked (TVL) represents the dollar value of assets that have been bridged from Ethereum L1 to L2 networks. It provides a rough estimate of L2 adoption.
Based on a quick look at TVL, it's clear that Optimistic Rollups are off to an early lead in the L2 space: they have ~$8.0B in TVL compared to just ~$700M for zk-Rollups.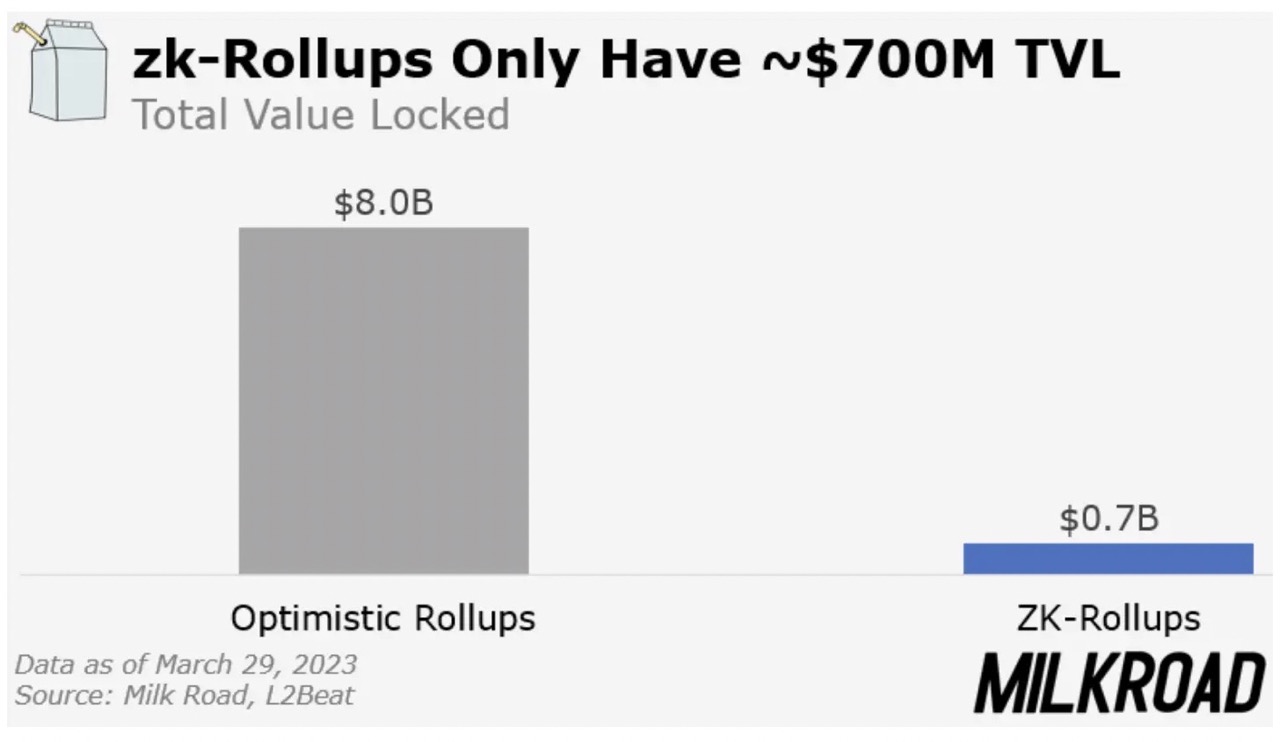 If all goes well (which we think it will), this chart above should look pretty different in a few months' time. zkEVMs are poised to bring users and applications to zk-Rollups in droves. So, TVL for them should be far higher a few months from now.
What Do We Have Our Eyes On?
In terms of user adoption, expect Polygon and zkSync to be among the fastest-growing zkEVM-based L2 networks.
Polygon
Polygon's PoS chain (which closely resembles a standalone L1) already has a massive application and user base.
It's been doing upwards of 2M transactions/day for 2 years. That's more than Ethereum L1. It's also more than top Optimistic Rollup L2s Arbitrum and Optimism.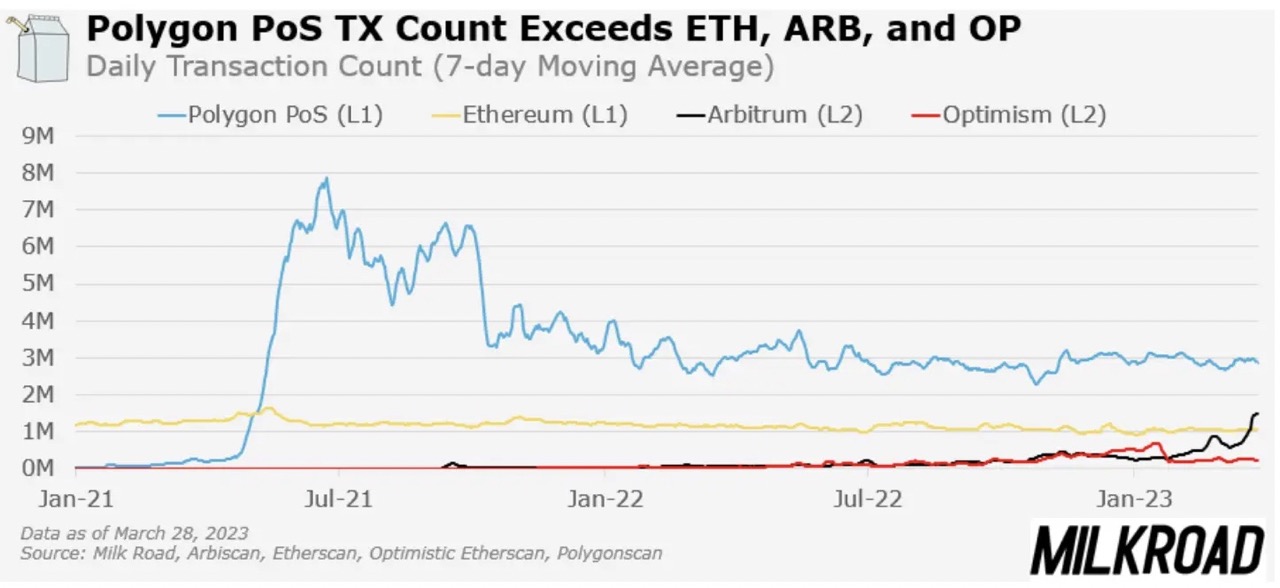 But how does the PoS Chain fit into the L2 discussion?
Following the launch of its zkEVM, Polygon is making a concerted effort to get apps and users off its PoS chain and onto its zkEVM-based Rollup, pronto.
Why, you may ask?
Let's just say Polygon's PoS Chain has had a few "hiccups":
It has had major security vulnerabilities. In December 2021, a $24B bug was discovered in PoS chain smart contracts. Luckily it was patched. But you could imagine how ugly things could have gotten if it wasn't.
It frequently sees "reorgs" or rollbacks of previously finalized transactions. Not good.
It has suffered sustained periods of downtime. In March 2022, it went down for ~11 hours. Not good.
So, getting people off the PoS chain and onto a more secure and scalable zk-Rollup makes sense. Think of the zkEVM as a much-needed facelift for Polygon.
In and of itself, we don't see moving apps and users from one chain to another as a bullish catalyst for Polygon. But if its new zkEVM-based L2 can draw in new users and applications, that would be a big win for Polygon.
zkSync
Matter Labs, the dev org behind zkSync, has been building in the zk space for quite some time now. Its zkSync Era network went live for developers about one month ago. And according to Matter Labs CEO Alex Gluchowski, there are already 200 projects lined up to deploy on it.
The company has raised $458M since its founding – including a $200M ecosystem fund to incentivize the adoption of zkSync. At the time of writing, zkSync ERA has already amassed ~$35M in TVL just ~8 days since it was launched. Not a bad start.
Wen Airdop(s)
Polygon already has a token – MATIC. Immutable already has a token – IMX.
While they could theoretically airdrop more tokens to their zkEVM users, that doesn't seem like the most likely scenario (to us, at least).
So, that leaves us with Scroll and zkSync.
Scroll
As far as zk-Rollups go, Scroll has flown a bit under the radar. The project launched in 2021, announced a $50M fundraising at a $1.8B valuation in March 2023, and recently launched a testnet version of its zkEVM-based network. Not too shabby.
The project has hinted that it's creating an "incentive mechanism" to encourage participation in the network. That sounds a lot like "token" to us. Here are some ways to participate in the network and (hopefully) qualify for an airdrop.
Let's not sleep on Scroll.
zkSync
The cat's been outta the bag for a while now – zkSync will have a token.
But wen airdrop?
Likely not for a while.
In an interview with Coindesk earlier this month, Matter Labs CEO Alex Gluchowski said, "there are no plans to launch a token for now." In an interview with Coindesk last year, Chief Product Officer at Matter Labs Steve Newcomb said the company would likely be "the last project" to launch a token.
So, both Scroll and zkSync airdrops appear to be a little ways away. Sorry.
But let's look at the milk glass half full. Most airdrops are typically only granted to users that use the network ~1 to ~2 months before the airdrop is actually announced. So, there should still be plenty of time to get funds bridged and start making transactions to qualify.
After all, there's no time like the present when it comes to putting in the leg work to qualify for an airdrop.
Friends don't let other friends skip (good) airdops.
Disclaimer
This report is for informational purposes only and should not be relied upon as a basis for investment decisions, nor is it offered or intended to be used as legal, tax, investment, financial, or other advice. You should conduct your own research and consult independent counsel on the matters discussed within this report. Past performance of any asset is not indicative of future results.
© 2023 MilkRoad.com. All rights reserved.