Top NFT Influencers On Twitter 2023
A curated list of NFT influencers with Twitter accounts worth following.
Published: June 8, 2023
|
Last Updated:

June 22, 2023
We decided to round up some of the top NFT influencers on Twitter and see what they're best at. You'll notice some familiar names and hopefully find someone—or something—new that piques your interest. Following the accounts listed below should bring you closer to what the industry leaders are up to, what art is being released, and when. To stay on the bleeding edge, check out our picks for NFT influencers to follow.
Top NFT Influencers On Twitter
1. Gary Vaynerchuk: Best For Top-down NFT Insights
Handle: @garyvee
Followers: 3.1m
---
Gary Vaynerchuk, or Gary V, is our choice for the best overall NFT influencer. In addition to having the most followers on his list, Gary has a long reach in not just the NFT space but internet marketing as a whole. He's a five-times New York Times Bestselling Author, Chairman of VaynerX, runner of VeeCon (which is an awesome business and crypto conference), CEO of VaynerMedia, and, if that isn't enough, he has his listed collection of NFTs—VeeFriends, which has done over $100m in sales.
---
Popular Twitter Threads
2. NFTstatistics.eth: Best For Techy Analysis
Handle: @punk9059
Followers: 86k
NFTstatistics.eth is a pretty useful page if you want to focus a bit more on the day-to-day trading moves of the NFT market. Not only that, but Kevin Rose (@kevinrose)—who runs the page and is also the host of @proofpodcasts—posts probably some of the best tech charts available on Twitter. If you want to consider the account as a sort of Web3 Bloomberg, that wouldn't be the worst idea.
Popular Twitter Threads
3. 6529: Best For Thoughtful Musings
Handle: @punk6529
Followers: 449.7k
---
6529 has some serious sway in the NFT Twittersphere. The mission statement on their website reads "The 6529 mission is to accelerate the development of an open metaverse," and this ethos is echoed in their posts and interactions online. The account owns an impressive collection of rare and highly-valued NFTs, which should have been obvious when you consider the use of a CryptoPunk as their brand identity image. 6529's Discord server is an interesting place to spend some time. Check it out.
---
Popular Twitter Threads
4. Pranksy: Best For Bird Memes and NFT-Enhanced Sports
Handle: @pranksy
Followers: 438.2k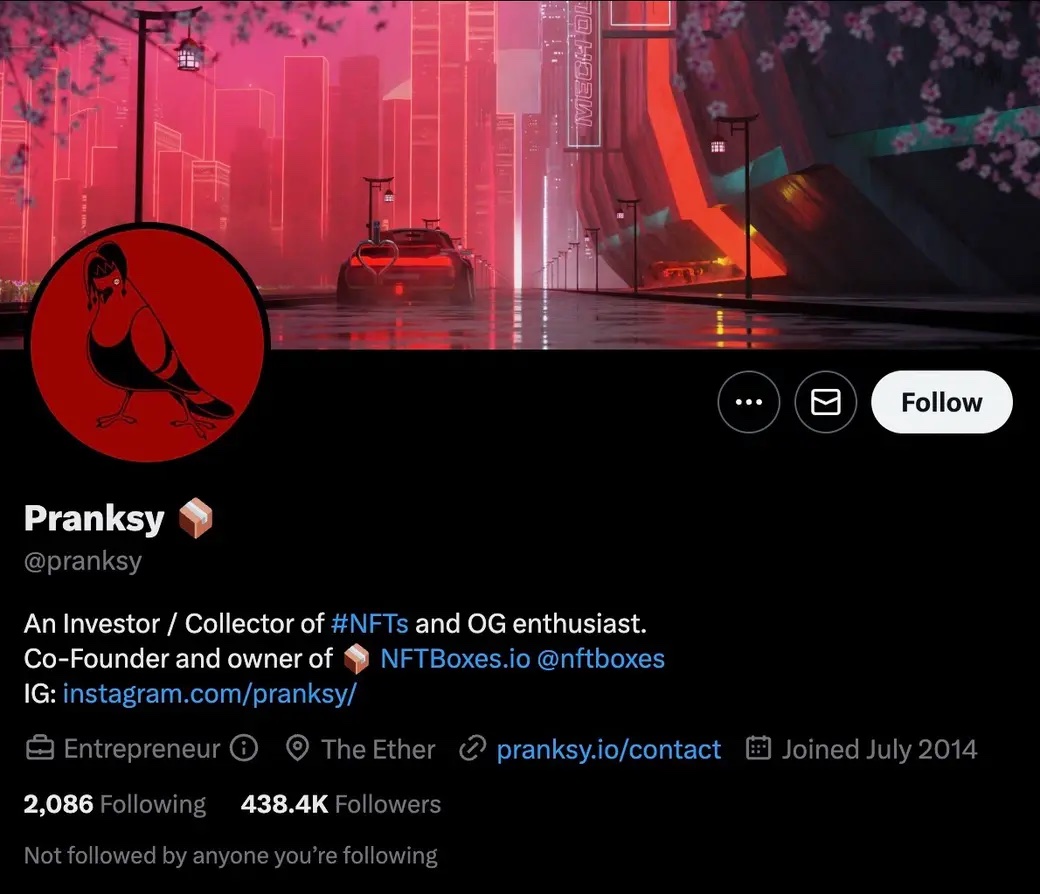 ---
Pranksy, lover of pigeons, is another big player in the space. Outside of the typical posts surrounding trading volumes or crypto news, Pranksy dishes out sage wisdom, warning traders of the risks of gambling addiction or overly wishful thinking. The page awards prizes through the hashtag #pranksyplays, where players can engage with online experiences that are enhanced by NFTs. Pranksy has a partnership with @Sorare, an online fantasy league.
---
Popular Twitter Threads
5. Cozomo de' Medici: Best For True Art Lovers
Handle: @cozomomedici
Followers: 287.3k
---
Cozomo not only takes their name from the famous Florentine dynasty but emulates their love for art as well, if not more so. If you doubt that, check out the enormous and rich interview given to Christie's. CDM would probably be our Number 2 if it weren't for Gary V due to their influence in the NFT art scene alone. The withdrawn owner of the account made headlines and fairly gained thousands of followers when they dropped over $2.5 million on a duo of CryptoPunk Zombies in 2021. Fortunately or unfortunately, Snoop Dogg is not CDM (we think.)
---
Popular Twitter Threads
6. Chris Cantino: Best For Food Pics and NFT Crossovers
Handle: @chriscantino
Followers: 129.6k
---
Chris is chill. Unlike many others on this list, he's pretty visible online. He travels well, plays pickleball, and loves his wife. Chris has some pretty good taste in his posts and makes insights that seem obvious after-the-fact, but haven't quite been said before. Forbes has knocked at Chris' door, digging into his background in entrepreneurship, investing, crypto plays, and brand building. Chris runs Color Capital and seems like an easy guy to hang with.
---
Popular Twitter Threads
7. Beeple: Best For Poignant Digital Pieces
Handle: @beeple
Followers: 748.2k
---
Mike Winkelmann is Beeple, and vice versa. The guy is, well, unique. His art is insanely good, and due to that fact—and his penchant for celebrity involvement—means his art is sold for a hefty sum as well. The guy is a true artist, and while some of his work could be considered unsettling, his talent is undeniable. Mike looks like a Boeing engineer, but his collections truly capture the zeitgeist of a generation many would consider him too old to thrive in.
---
Popular Twitter Threads
8. Frank III: Best For Honest Insights
Handle: @frankdegods
Followers: 187.7k
---
Frank doesn't seem to mess around. He says what he means, and he says it bluntly. Frank likes to party, monitor and foster the community @y00tsNFT and release art on DeGods. Many founders and celebrities sport DeGods arts as their digital identities. Frank is very, very well connected in the space, operating like a seasoned pro which, well, he is.
---
Popular Twitter Threads
9. Pak: Best For Arthouse Content
Handle: @muratpak
Followers: 382.8k
---
Nobody really knows who Pak is, which is probably how they want it. That way, the art speaks for itself, and of all the influencers on this list, Pak is probably the truest artist. Sotheby's launched their first NFT sale in collaboration with Pak. Check it out here. For those who don't click, the sale generated over $16.8 million over two days. Pak's work is clean, modern, and belies more than a first glance allows. You could scroll through their beautiful feed for days.
---
Popular Twitter Threads
10. Farokh: Best For Web3 Developments
Handle: @farokh
Followers: 345.5k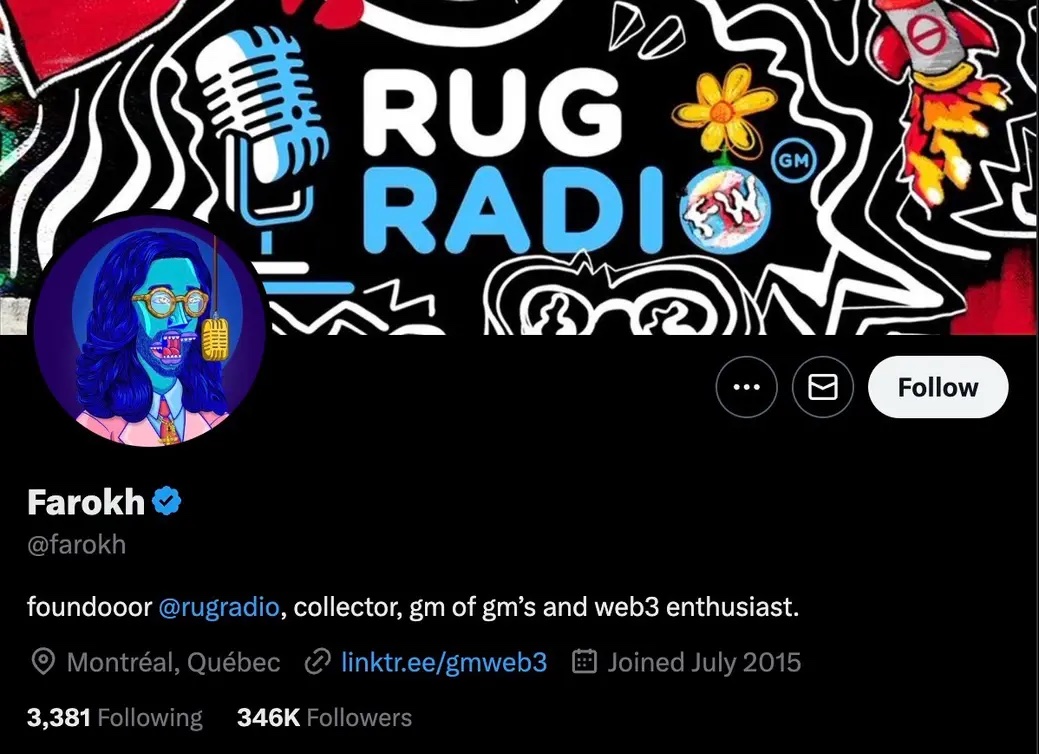 A self-described "web3 enthusiast," Farokh the Canadian is not only a massive presence on Twitter, boasting over 219k followers on Instagram and speaking at major events like VeeCon. Farokh Sarmad is no stranger to controversy, beefing with some big names on topics like web3 development and trade pricing. Some say this is to develop his brand. If so, it's working. Farokh is undoubtedly one of the biggest influencers in NFTs.
Popular Twitter Threads
How We Chose Our Top NFT Influencers
We compiled a list of some of the best NFT Twitter accounts and influencers based on popularity and engagement metrics. This list includes accounts and individuals that are known to be influential and active in the NFT community, have a large following, and share valuable insights and information related to NFTs.
Additionally, these accounts have been mentioned frequently in news articles, blogs, and other social media platforms. There may have been a large account or two that we missed, so this list shouldn't be considered exhaustive as much as it should be considered a roundup of the all-star team of top NFT Twitter accounts.
What Are NFT Twitter Accounts?
NFT Twitter accounts are Twitter accounts that are dedicated to the world of non-fungible tokens (NFTs). They often provide news, updates, and insights into the NFT market, including new NFT releases, auctions, and trading activity.
Many of the biggest NFT influencer accounts are run by collectors, traders, and creators in the NFT space, as well as platforms and marketplaces that facilitate the buying and selling of NFTs. Following NFT Twitter accounts can be a great way to stay up-to-date on the latest trends and developments in the NFT world or to just check out unique and interesting digital art.
What Are NFT Influencers?
NFT influencers are individuals who have built a significant following and reputation in the world of NFTs. These influencers typically have a deep understanding of the NFT market, including the various platforms, artists, and trends within the space. They may create content such as videos, podcasts, or social media posts that educate and inform their followers about NFTs, including how to buy and sell them, and what makes certain NFTs valuable.
Some of the biggest NFT influencers happen to be collectors themselves and may showcase their collections and share their thoughts on various NFT projects with their followers. They may also collaborate—which they often do—with NFT artists and creators to promote their work. Many mint their own work, with some of the above accounts being some of the most important artists in NFTs.
As the popularity of NFTs grows, the role of the NFT influencer is likely to become even more important, as they can help bring new users and collectors into the NFT space and help to shape its direction and growth. As the space develops and there is more overlap with traditional online spaces—such as digital sports and art auctions—these influencers should see their influence grow exponentially as they become involved in the crossover.
Benefits Of Following NFT Influencers On Twitter
Staying informed: NFT Twitter accounts allow you to stay up-to-date on the latest news, trends, and developments in the NFT space. You can learn about new projects, upcoming drops, and emerging artists.
Networking: NFT Twitter accounts can help you connect with other members of the NFT community. You can network with artists, collectors, and traders and build relationships that may lead to future collaborations.
Marketing: If you are an artist or collector, having a strong presence on NFT Twitter can help you market your work and reach a wider audience. You can showcase your art, announce new releases, and build a following of fans and collectors.
Learning: NFT Twitter accounts can be a great source of learning and education. You can learn about the technical aspects of NFTs, as well as the broader cultural and economic implications of this emerging technology.
Overall, NFT Twitter accounts can be a valuable tool for anyone interested in the world of NFTs, whether you are an artist, collector, trader, or simply a curious observer.
Looking For More?
Check out:
Frequently Asked Questions
If we're going by sheer number of followers, that would be Gary Vaynerchuk. As is written above, Gary V is a leader in not only the NFT space, but is a serial entrepreneur with an apparent Hand of Midas. Gary influences the NFT space, the entrepreneurship space—he has been featured on the famous podcast How I Built This—and anything web3 related.
The best NFT influencer will depend on what you are looking for. If you are searching for the influencer promoting the best art, that's subjective. Some of the influencers listed above, notably Frank III and Farokh, promote developments in web3 and have their finger on the pulse of anything happening in that space. Artists like Beeple and Pak absolutely own the original art space. There really is no hard answer to this question because each NFT influencer above has a different flavor and a slightly different target audience.
The answer to this question is similar to the one above—it depends. Is the best trader who is the most profitable? What about the one with the most listings? Or the deepest roster of collections? Many of these accounts often speak out against high-frequency NFT trading due to its low profitability and risk of gambling-style addictions. If you think about DaVincis and Gaughins, those aren't traded every week. The NFT Twitter accounts in this article are more of the buy-and-hold crowd versus the day trader crowd. After all, it's more profitable to make $3 million off one sale, than to scalp $500 a day.
We seem a bit like a broken record, but Gary V has the largest account. He's a genius marketer who has worked tirelessly to grow his presence and net worth which is, of course, enormous. Gary is so involved with other spaces, his influence grows exponentially. He has millions of engaged followers, and can direct big moves in the NFT space.
To give the obvious answer, that is @solana themselves. The account regularly posts commentary or news about NFTs. The second best would have to be @magiceden. The NFT platform and marketplace doesn't shy away from reposting interesting trades on Solana, and is a good starting point if you want to find new artists or influencers operating on the platform.
It's hard to overstate how important Twitter is for NFTs. Twitter and Instagram and the top two places for artists to share their work and comment on recent developments and news stories in the space. If an NFT artist or personality doesn't have a presence on Twitter, they are losing out on a massive market of potential buyers and subscribers.