8 Best Crypto Podcasts October 2023
A curated list of crypto podcasts on Spotify, YouTube & Apple Podcasts.
Last Updated:

June 28, 2023
In our 24/7-always-on world, finding time to sit down and read crypto news can be difficult. Thankfully, crypto podcasts allow you to consume the latest headlines and interviews while going about your day, on your commute, or during a workout.
There's no shortage of crypto podcasts, delivering news, discussion, and fun no matter your crypto interest.
The best crypto podcasts, in our opinion, provide in-depth industry coverage, host big-name guests from the crypto world, and even provide citizen journalism — asking the tough questions when things are going south and doing the legwork to find the latest developments in the space.
Below we take a look at the top crypto podcasts.
Our Favorites: 8 Best Crypto Podcasts June 2023
Bankless: Best For Top Guests
The Pomp Podcast: Best For Variety
The Money Movement: Best For The Big Picture
UpOnly: Best For Relatability
Unchained: Best For A Journalistic Take
Bloomberg Crypto: Best Crypto News Podcast
What Bitcoin Did: Best Bitcoin Podcast For News
The Bad Crypto Podcast: Best Crypto Podcast For Beginners
1. Bankless: Best For Top Guests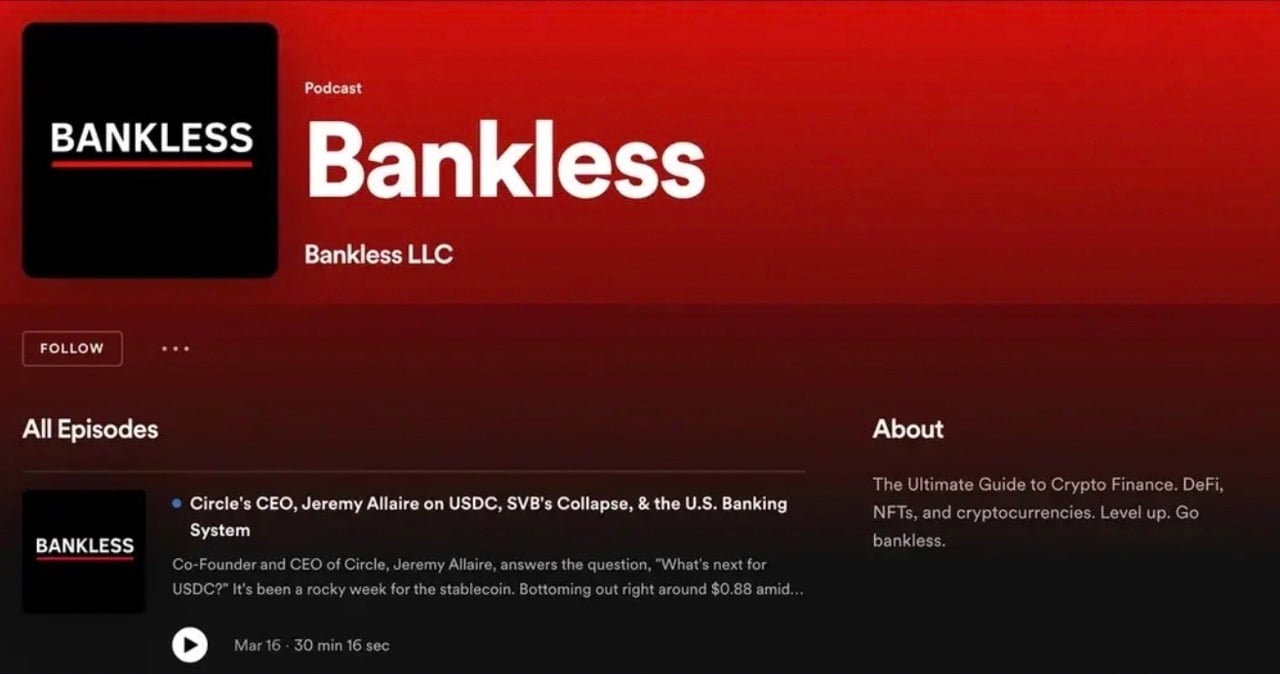 ---
Subscribers: 200,000
Episodes: 160+
Since: 2020
Most Popular Episode: "This is the Best Trade in Crypto Right Now – Raoul Pal"
---
The Bankless podcast is one of the most popular crypto podcasts, with over 200,000 subscribers.
Hosted by Ryan Adams and David Hoffman, it covers all sorts of crypto topics, from investing and trading to developments in the crypto ecosystem, new blockchains, and much more.
The "Bankless" name derives from their crypto-esque commitment to becoming free from banks and having full control over your finances. The hosts are fun and dynamic, and every episode has a different guest from the crypto community.
There's a reason we chose Bankless as the best crypto podcast for top guests. The guest lineup has been nothing short of mesmerizing. Notable guests from the show's episodes include the founder of Ethereum, Vitalik Buterin, and famous investors Raoul Pal and Cathie Wood.
Every week, Bankless does a "Rollup" episode summarizing the week's crypto events.
2. The Pomp Podcast: Best For Variety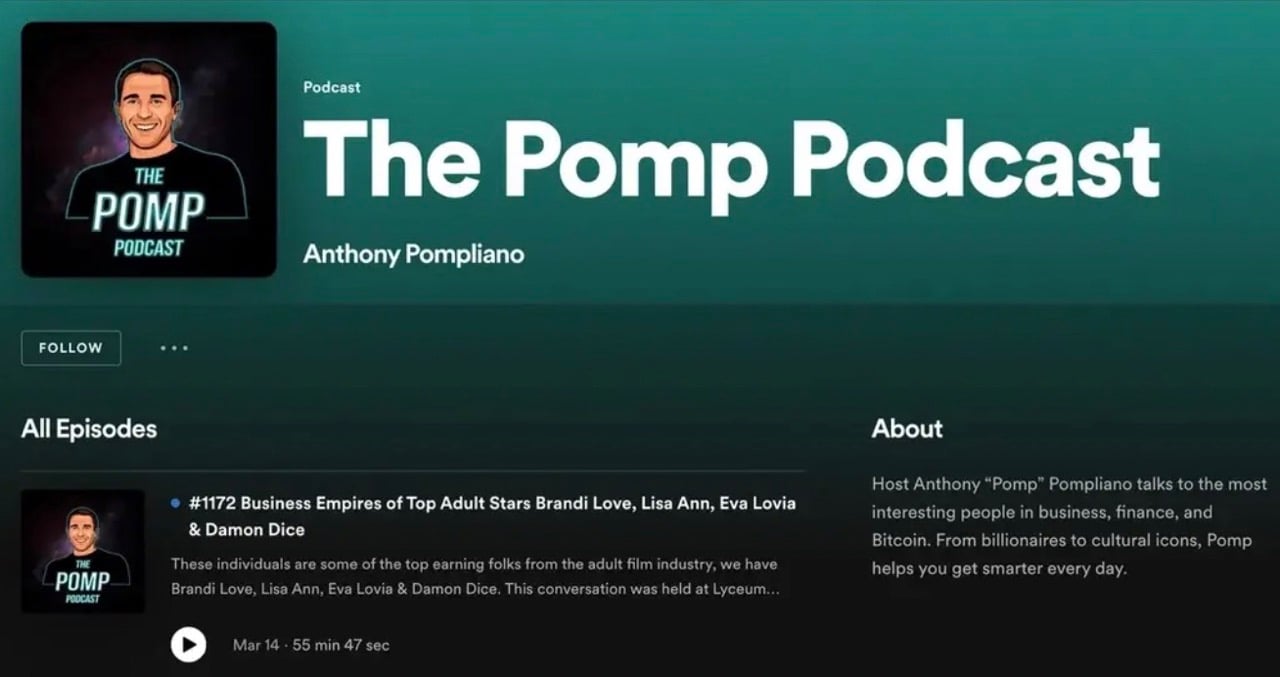 ---
Subscribers: 500,000
Episodes: 1,100+
Since: 2019
Most Popular Episode: "Pomp Podcast #256: Billionaire Chamath Palihapitiya on How To Invest in This Crisis"
---
No top crypto podcasts roundup is complete with Pomp. Anthony "Pomp" Pompliano is a big-name crypto personality and Bitcoin investor. On his show, "The Pomp Podcast," Anthony interviews crypto investors, developers, and even critics.
The show isn't strictly crypto, either, featuring guests such as US presidential candidate Vivek Ramaswamy, internet personalities like Jake Paul, and more. The Pomp podcast publishes new episodes daily, so if you're looking for a firehose of content, this is a good choice.
With over 500,000 subscribers, the Pomp Podcast is one of the most popular crypto podcasts on the planet.
3. The Money Movement: Best For The Big Picture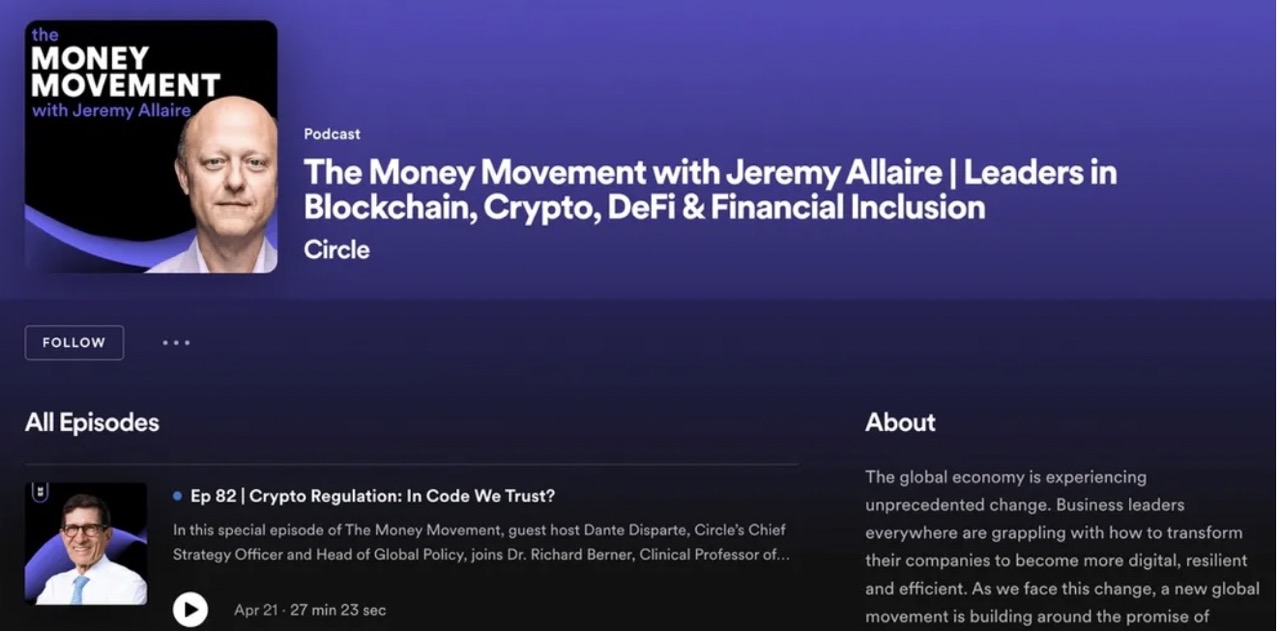 ---
Subscribers: 10,000+
Episodes: 82
Since: 2020
Most Popular Episode: Ep 77 – The Evolution of Money with Niall Ferguson
---
The Money Movement Podcast comes from Circle, the company behind the hugely popular USDC stablecoin you probably already use daily.
Jeremy Allaire, Co-founder and CEO of Circle, keeps listeners informed on the intersection of crypto and the world we live in. Jeremy's long history in tech makes him well-versed in a broad range of tech and crypto topics (well, in addition to heading up a top-ten crypto project).
Expect a mix of macro-finance topics that uncover how crypto fits into the big picture — and what could be in store for the industry next.
Guests on prior episodes include thought leaders from some of the biggest projects and companies in crypto and finance, including Grayscale, BlackRock, Microstrategy, and Coinbase.
And if you're an Ethereum fan, don't miss Vitalik Buterin in Episode 76.
4. UpOnly: Best For Relatability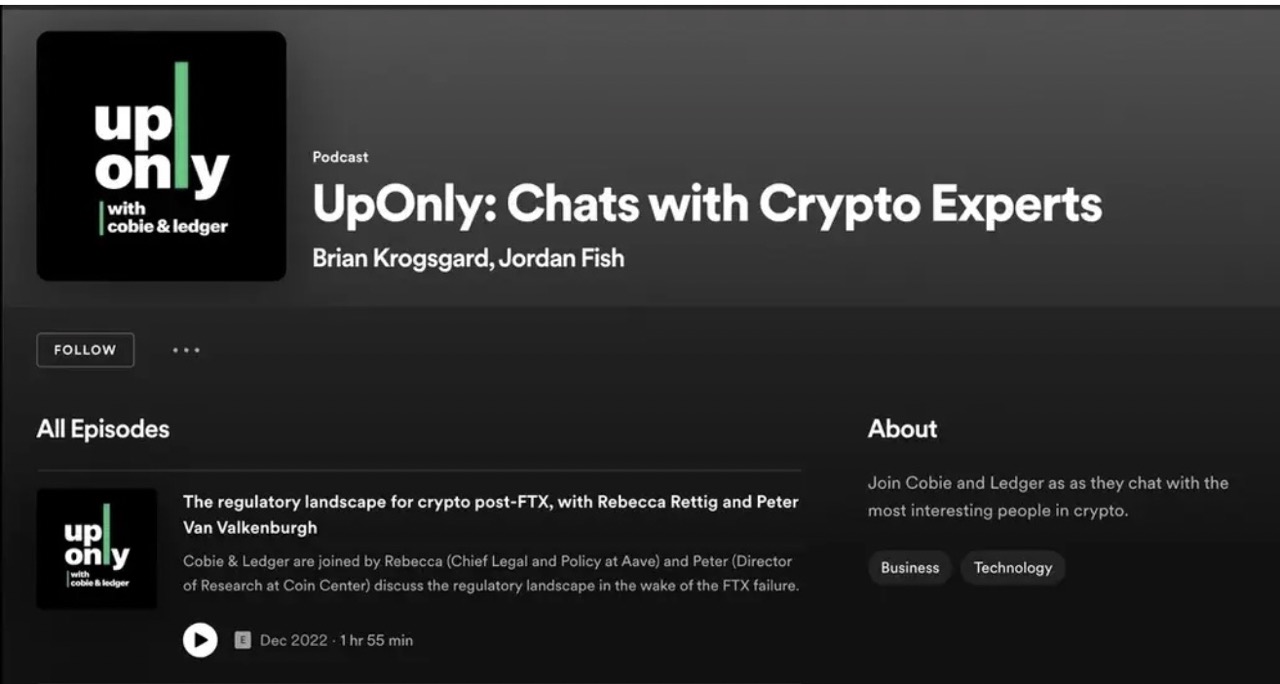 ---
Subscribers: 60,000
Episodes: 80+
Since: 2021
Most Popular Episode: "Mark Cuban: Present & Future Opportunity of Crypto"
---
UpOnly follows in the footsteps of several other crypto podcasts with its interviews of industry experts and overview of the news events.
This podcast, however, puts a spin on the familiar format through the force of the personalities of the hosts. Hosted by Cobie and Ledger, two infamous names in the crypto Twitter space, UpOnly brings a deep insider's look to the world of crypto.
The hosts (self-admittedly) don't always post regularly. However, UpOnly is a great way to hear the latest news and interviews straight from the traders and "degens" who make the crypto markets what they are. Down-to-earth straight talk makes UpOnly the best cryptocurrency podcast when it comes to relatability for everyday traders and crypto peeps.
5. Unchained: Best For a Journalistic Take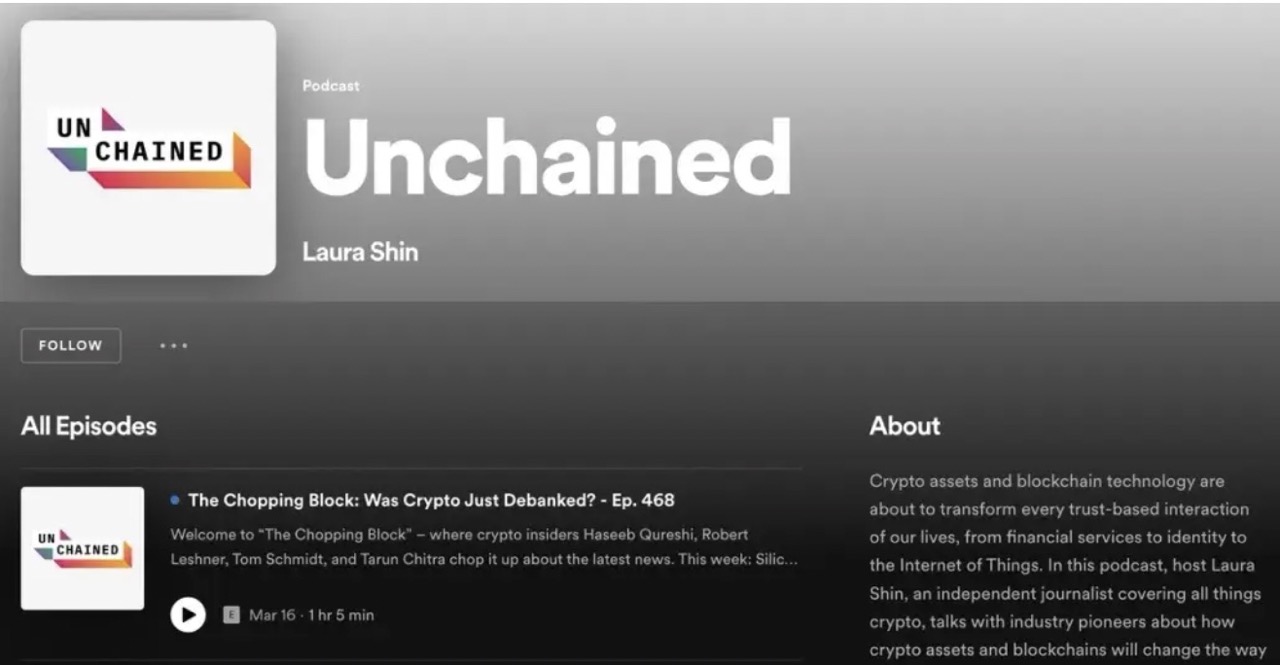 ---
Subscribers: 50,000
Episodes: 450+
Since: 2016
Most Popular Episode: "Chamath Palihapitiya: Why Bitcoin Will Be 'the Category Winner' – Unchained Ep. 178"
---
Hosted by former Forbes senior editor Laura Shin, the Unchained podcast is a buttoned-up, formal look at crypto: the headlines, figures, and events. New episodes of Unchained are published several times a week and feature interviews with industry leaders, as well as summaries of the week's top events.
Dating back to 2016, Unchained is a proven cryptocurrency podcast that has survived and thrived through several market cycles, bringing a wealth of insight. Host Laura Shin's background as a reporter for Forbes lends credibility to the program and makes Unchained a good choice for those looking to hear unbiased, serious conversations about the space.
If you're looking for the best crypto news podcast, give Unchained a listen, although you might also enjoy Bloomberg Crypto (up next).
6. Bloomberg Crypto: Best For International Crypto News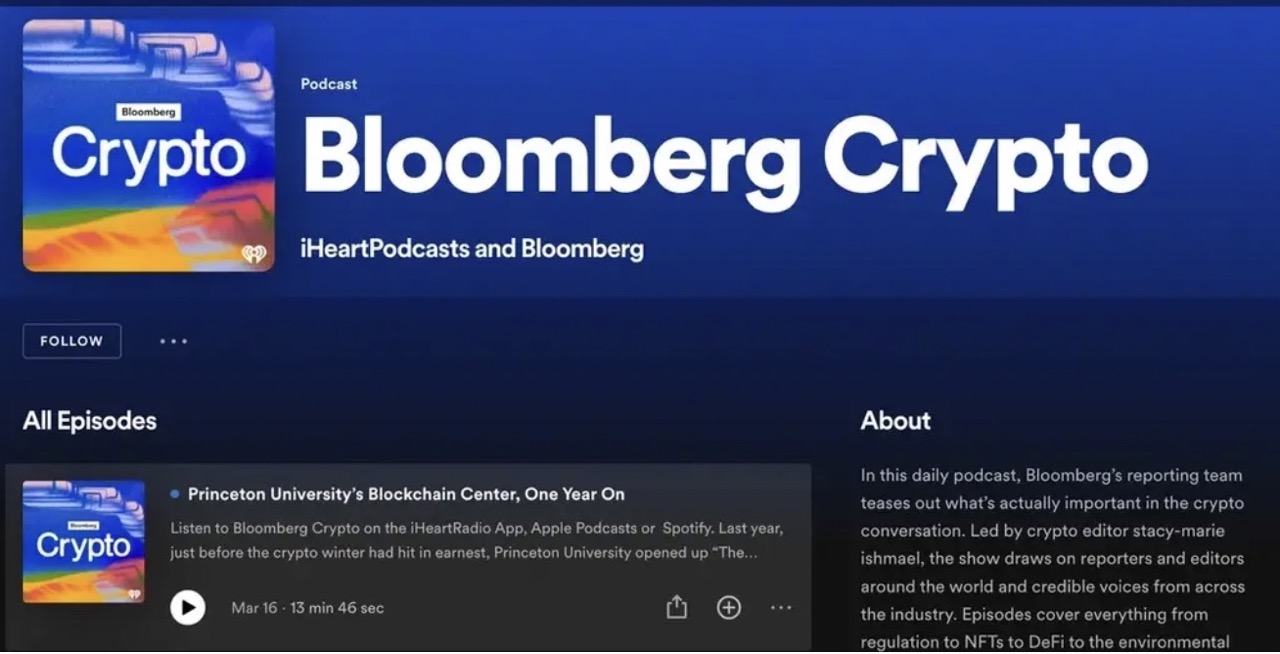 ---
Subscribers: Unknown
Episodes: 200+
Since: 2022
Most Popular Episode: Unknown
---
From the popular business news publication comes Bloomberg Crypto — a daily, 15-minute look at the news and headlines around crypto. Hosted by Stacy-Marie Ishmael, Bloomberg Crypto's managing editor, this is part podcast and part daily news program.
Unlike other top crypto podcasts, Bloomberg Crypto rarely does interviews, instead opting for an informative news show style. Bloomberg Crypto is also unique in that it pays special attention to crypto events outside the US and covers important crypto developments in Europe, South America, and other regions that are often overlooked by other crypto media.
Bloomberg Crypto, with ear-to-the-ground reporting and global takes, belongs on your list if you're looking for the best crypto news podcast.
7. What Bitcoin Did: Best For Bitcoin News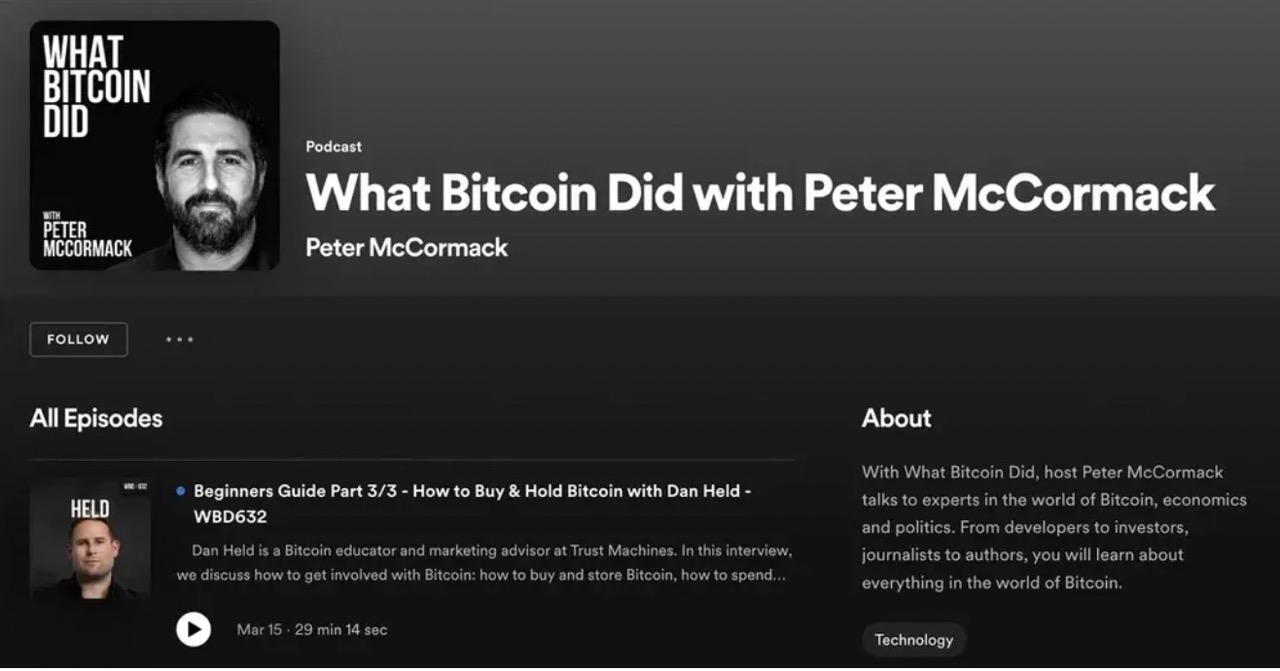 ---
Subscribers: 90,000
Episodes: 300+
Since: 2017
Most Popular Episode: "Bitcoin is Digital Energy with Michael Saylor"
---
The "What Bitcoin Did" podcast bills itself as "the #1 Bitcoin Podcast" and it doesn't disappoint. Hosted by Peter McCormack, the show publishes new episodes twice a week that cover all things Bitcoin and include interviews with Bitcoin developers, privacy advocates, investors, and more.
This focused-on-Bitcoin podcast has featured several high-profile guests, such as famous Bitcoin advocate Michael Saylor, and even the El Salvadoran President, Nayib Bukele — dubbed "the Bitcoin President" for using his country's treasury to invest in Bitcoin aggressively.
8. The Bad Crypto Podcast: Best For Beginners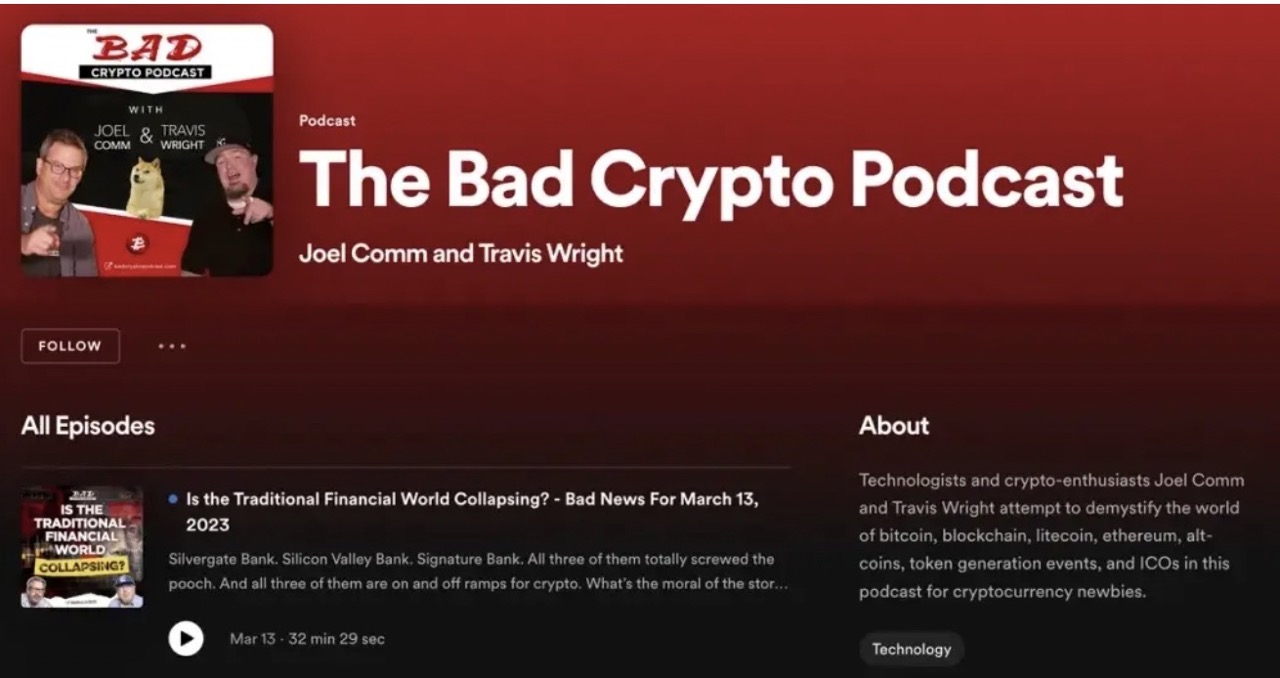 ---
Subscribers: Unknown
Episodes: 700+
Since: 2017
Most Popular Episode: "Mind Behind Hex, Pulsechain, & PulseX: Richard Heart Reveals What Hexicans Want to Know!"
---
The Bad Crypto Podcast, hosted by Joel Comm and Travis Wright is a beginner-friendly introduction to the world of crypto and blockchains. In a niche where topics and vocabulary can be complex, The Bad Crypto Podcast is, paradoxically, a great listen.
With a light-hearted style, the guys walk you through everything you need to know to go from novice to pro in the crypto world, making Bad Crypto one of the best crypto podcasts for beginners.
They recommend you start with episode 1 of the podcast since it's serialized. But, with over 700 episodes, they won't blame you for jumping right in at the latest episode.
What's A Crypto Podcast?
Crypto podcasts take two forms: video and audio-only, but most crypto podcasts are made available in audio form so you can listen anywhere.
Podcasts in the crypto space cover a wide range of topics but coalesce around cryptocurrency and blockchain topics, but you might mix in some extra flavor as well.
Crypto is a broad topic, so you'll find many podcasts with niche content that speaks to a specific audience. A crypto podcast like The Money Movement Podcast discusses the intersection of crypto and the world we live in, whereas Bad Crypto makes crypto accessible to crypto newbies.
The beauty of crypto podcasts is two-fold: there's something for everyone, and you can listen (and learn) anywhere. Crypto podcasts are fantastic for multitasking; just don't let your boss catch you listening when you're supposed to be working.
How To Know If A Crypto Podcast Is Worth Listening To
We listen to A LOT of crypto podcasts and gathered our top picks, so if you're looking for the best crypto podcasts, the list above is a good starting point.
But there are soooo many more out there to explore.
Unfortunately, podcast platforms like Spotify and Apple Podcasts don't offer much transparency on subscriber counts (unless you're the podcast owner). Many top crypto podcasts also have a YouTube channel, though, so you can get an idea of how many listeners the show has there. But, to be fair, there are some undiscovered gems.
Subscriber count isn't always a great indicator of show quality.
Most podcasts also come with a summary of each show's topics, so you can tell at a glance if you're interested in this one or if you'd rather listen to a different podcast when walking the neighborhood or on your morning commute. A good podcast player will show the details of each episode in the "show notes."
Podcast players like Spotify and Apple Podcasts are also searchable by keyword to find crypto podcasts easily. Keyword searches on both platforms bring up matching podcasts as well as individual podcast episodes that match the keyword.
You might also find some gems in the Charts section of Apple Podcasts. Here you can find the top podcasts by category. The best crypto podcasts often appear in the business or technology categories.

Looking For More?
Check out:
Frequently Asked Questions
It's impossible to say what the best crypto podcast is since that depends on what you're looking for.
If you're looking for a deep dive into this week's news and interviews with industry leaders, Bankless might be a good choice for you. If you want something that's a blend of crypto and other hot topics, The Pomp Podcast has what you need. How does a short daily summary of the state of crypto from a big-name news outlet sound? Bloomberg Crypto is just that.
There are many highly respected voices in the crypto space, however, it's difficult to determine a single most well-trusted crypto analyst. Investors like Cathie Wood, journalists like Matt Levine, and financial analysts like Raoul Pal are well-known and respected names.
Check out our crypto influencers list for a more detailed breakdown of movers and shakers.
Spotify has become the go-to place for podcasts, and the good news is that all of our picks for top crypto podcasts are on Spotify.
Just check the links and summaries in our roundup above, including:
Bankless: Best For Top Guests
The Pomp Podcast: Best For Variety
UpOnly: Best For Relatability
Unchained: Best For a Journalistic Take
Bloomberg Crypto: Best For International Crypto News
What Bitcoin Did: Best For Bitcoin News
The Bad Crypto Podcast: Best For Beginners