OpenSea Review: What To Know About The Pros, Cons, & Features
Published: June 6, 2023
|
Last Updated:

July 6, 2023
Our Take On OpenSea
THE BOTTOM LINE:
OpenSea is the largest NFT marketplace in the world, and for good reason. The marketplace offers extremely versatile collections that cater to a wide array of media enthusiasts and hobbyists, as well as a gas-free marketplace on the Polygon network. We like OpenSea because of its reasonable fees and easy accessibility to artists.
Pros
Competitive service fees and no gas fees for most transactions
Largest collection of NFTs
Easy artist account creation
Cons
10% royalty cap
Limited customer service
Via OpenSea's Website
OpenSea is the household name in non-fungible tokens (NFTs), with over 1.9 million users on the platform as of July 2022. Between the countless numbers of NFTs listed on the platform and the easy sign-up process for artists who want to mint their own NFTs, OpenSea has cemented itself as the leading NFT marketplace for both buyers and sellers.
On OpenSea, NFT enthusiasts can find domains, music, collectibles, trading cards, and more, which lends itself to its popularity. Furthermore, the vetting process is light for creators who want to mint their own NFTs. All it requires is a creator account and an upload of the art.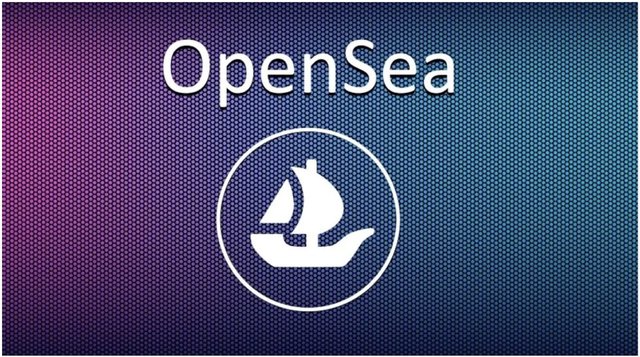 OpenSea Pros
There are plenty of advantages to using OpenSea as your main NFT marketplace, including:
Limited Fees
The service fee on OpenSea is a competitive 2.5% of the sale price, which is lower than the fees charged by many of the other NFT marketplaces. To avoid minting gas fees, OpenSea allows users to create NFTs with the Collection Manager tool — also called lazy minting. However, gas fees will apply when the NFT is purchased.
Largest NFT Collection
There's a wide variety of NFTs on OpenSea. You can explore different types of NFTs, including:
Artwork
Photography
Trading cards
Gaming
Sports
Music
Domain names
Virtual worlds
As the marketplace with one of the largest and widest-reaching NFT collection options, OpenSea has positioned itself to be the go-to source for enthusiasts.
Easy Artist Account Creation
Many NFT marketplaces have a thorough vetting process that artists and project collaborators must go through before they can quickly start minting NFTs, but OpenSea makes it easy for new creators to get started.
OpenSea Cons
Before you start sailing on OpenSea, here are a few disadvantages to consider:
A 10% Royalty Cap
On OpenSea, artists can set their NFT royalty charge for the re-sale of their art at up to 10%. While this may seem high, some NFT marketplaces allow artist royalties to cap at 50%, five times more than the limit on OpenSea. This can be detrimental to artists and stifle their growth. In May 2023, OpenSea was whitelisted by the developers of the ERC721-C standard. This standard allows NFT creators to take more control over their royalties. OpenSea will be able to support this if they choose to.
Limited Customer Service
Many NFT marketplaces have limited customer service and almost no live customer support to speak of. OpenSea is no exception. If you need help with your account, your only option is to submit a service ticket via email and await a response.
What Is OpenSea Pro?
In 2022, OpenSea acquired Gem, an NFT aggregator. Since then, the team has been busy building its newest version. Gem v2 has been renamed to OpenSea Pro, which the company describes as the most powerful NFT aggregator in the crypto space.
Can the new features of OpenSea Pro lure NFT enthusiasts back from upstart competitors like Blur?
One look at the Pro interface shows OpenSea has been paying attention to what made Blur a stunning success. And with NFTs from more than 170 marketplaces displayed in a bright, well-designed UI, OpenSea Pro brings the goods.
If you're a Blur user, many of the built-in features may look invitingly similar.
Live NFT data: Live updates ensure up-to-the-minute pricing and the latest NFT listings on 170+ marketplaces.
Filter by rarity or traits: OpenSea Pro isn't unique in offering the ability to drill down and find the best of the best. But the new interface is easier to use than some competitors and the original OpenSea platform itself. Want to find the top 1% of Bored Apes by rarity rating? It takes just two clicks. You can also filter results by traits and order the list by trait rarity.
Advanced sweeps: Sweep up to 100 NFTs in a collection. Competitor Blur limits sweeps to 30 NFTs per collection. But as on Blur, you can skip pending and flagged NFT listings on OpenSea Pro.
Cross-platform listings: List on OpenSea, LooksRare, and X2Y2 all from the listing page.
Sales activity charts: In Pro view, you'll get the full picture. See the sales trendline at a glance or hover over a sale marked on the chart to see what sold, when, and for how much.
Pro view and collector view: Pro view brings charts and listing details, while collector view bumps up the image sizes so you can see NFT collections in their full glory. Toggle between the views in one click.
Here's a 40-NFT sweep of the top 10% Azuki NFTs by rarity rating.
Customizable gas fees: Buying the best NFTs before someone else gets them is a competitive sport. OpenSea lets you choose from three gas fee levels so you can boost the speed a bit when the stakes are high — like for new mints.
One thing missing from OpenSea Pro is the ability to see bids and asks on a chart — although you can still see a list. On Blur, bids and asking prices are displayed much like an order book on crypto exchanges, providing instant clarity to price support for a collection. If bids are stacked up at a certain price, you know the true NFT floor price for the collection.
OpenSea Pro lets you list NFTs for free, but you'll still pay gas fees, which increase as you add additional marketplaces for your listing.
The new platform only supports NFTs on the Ethereum Network. The standard OpenSea platform supports additional networks, including Polygon, Arbitrum, and Solana.
Overall, there's a lot to like about OpenSea Pro, and now NFT buyers can choose between two full-featured marketplaces to find the best NFTs.
Who OpenSea Is Best For
As the largest NFT marketplace by 30-day trade volume, there are plenty of crypto novices and long-time enthusiasts alike who flock to OpenSea to find collectibles and art. Those users who may enjoy what OpenSea has to offer include:
Pro and amateur artists: Unlike other NFT marketplaces, OpenSea does not have a rigorous vetting system for accepting new creators on its platform. Because of its lax artist acceptance requirements, anyone can join and start minting their own NFTs to sell, regardless of status or recognition.
Pop culture enthusiasts: Because OpenSea has so many categories of NFTs, everyone from music lovers to video game players and art collectors should be able to find something that piques their interest or caters to their hobbies.
Cost-conscious Polygon supports: OpenSea also operates on the Polygon, Klatyn, and Solana networks, which makes it more cost-effective to buy and sell NFTs.
Key Features Of OpenSea
Here are some of the best features of OpenSea:
Gas-free marketplace: Aside from the Ethereum, Klatyn, and Solana networks, OpenSea also operates on the Polygon network, which eliminates the buyer's gas fee when purchasing NFTs. As long as users select Polygon as their form of payment and unlock Polygon trading on their wallets, purchases of NFTs on that network are gas-free. OpenSea still uses Ethereum mainnet, however, so be sure to select Polygon-enabled NFTs if you want to avoid Ethereum network fees.
Lazy minting: Lazy minting on OpenSea allows creators to create NFTs on its platforms, off the Ethereum blockchain. The NFTs themselves are not truly minted on the blockchain until they are purchased for the first time. This allows creators to avoid expensive upfront gas fees until the NFTs are sold.
Fees For Using OpenSea
Because plenty of NFT marketplaces operate on the Ethereum network, gas fees are common and you should plan to pay them on OpenSea as well. In addition to gas fees, OpenSea charges a service fee on both the buyer and seller side for trades. Some of OpenSea's fees include:
OpenSea Fees
| Buy Or Sell | List New Item | Purchasing A Fixed Price NFT | Accept Offer As Seller |
| --- | --- | --- | --- |
| 2.5% | Variable ETH gas fee | Variable ETH gas fee | Variable ETH gas fee |
Alternatives To Consider
If you've reviewed OpenSea's NFT marketplace and aren't quite sure whether it should be your go-to place for collecting non-fungible tokens, it may be worth considering these three alternatives to OpenSea:
NBA TopShot: Good For Sports Fans
NBA TopShot occupies a unique corner of the NFT industry: professional basketball game clips. Fans and enthusiasts can collect "Moments" of their favorite players executing exciting plays and hitting crowd-pleasing shots. While it's unclear the exact fees that NBA TopShot charges, you can expect to pay ETH gas fees for transactions and understand that any service fees NBA TopShot collects is spread amongst the NBA itself as well as the players.
Magic Eden: Good For Solana users
Magic Eden skips the Ethereum mainnet altogether in lieu of Solana. With Solana, gas fees for NFT transactions are about $0.00025 on average. If you like Solana and NFTs but hate high gas fees, then Magic Eden may be the NFT marketplace for you. Plus, Magic Eden has a couple dozen games in which players can vie for the leaderboard and earn weekly SOL rewards.
SuperRare: Good For Fine Art Collectors
SuperRare bills itself as a place to "buy and sell NFTs from the world's top artists." As such, SuperRare curates NFTs of a near-museum-quality caliber. If you're tired of sifting through cartoon monkeys to find more thought-provoking NFT art, then SuperRare may be the place to go. Just be aware of its higher service fees — 3% on SuperRare versus 2.5% on OpenSea.
Other NFT Marketplaces To Consider
Want More Options?
Check out our NFT marketplace list for a deep dive on which ones we think are the best.
Is OpenSea Right For You?
Because of OpenSea's average service fees, the wide variety of NFT categories, and gas-free Polygon marketplace, it's a strong contender to become many people's primary NFT marketplace. This rings true for buyers and sellers as well as artists. Plus, OpenSea has almost no restrictions on who can mint and list NFT art, so there's a bevy of creators and artwork waiting to be discovered.
However, there are some downsides to OpenSea to consider — namely its 10% royalty cap for artists. While this may make it more affordable to buyers and sellers, it can stifle opportunities for artists who want to make a living in the crypto space. If you strongly believe in supporting artists and their work, this 10% cap may turn you off from OpenSea.
Final Thoughts On OpenSea
There's a reason why OpenSea is the largest NFT marketplace in the world with the highest monthly trading volume among all marketplaces. Its service fees are average, if not lower than the competition, and it's open for all artists to mint and list NFTs. Plus, its operations on the Polygon network make for a gas-free marketplace for the cost-conscious NFT enthusiast.
Methodology
MilkRoad.com reviews cryptocurrency and Web3 products, services, and companies based on five quantifiable metrics to help crypto users understand how they compare based on similar metrics. For the best NFT marketplaces, our editorial team compared supported wallets, integrated networks, 30-day trading volume, fees, and customer service.
Frequently Asked Questions
Your NFTs are stored in your wallet rather than on the platform, which means they are safe on OpenSea as long as you practice safe DeFi security habits. That said, you should always verify transactions on OpenSea and never open or follow links sent to you by sources that can't be verified.
OpenSea charges a 2.5% fee to the buyer and seller for NFT transactions. Many of the other fees you'd find on OpenSea — like Ethereum gas fees — are related to transactions on the blockchain networks, not the marketplace itself.
There are two main ways to make money on OpenSea: buying NFTs with the hope they increase in value and selling at a profit or creating your own NFTs to sell as an original artist. As an artist on OpenSea, you can get up to 10% royalties every time one of your NFTs is sold.
No, you're responsible for reporting your NFT transactions from OpenSea to the IRS, but the platform provides some help for this.