Uphold Review: What To Know About Fees Rates, & Features
Last Updated:

August 31, 2023
Our Take On Uphold
THE BOTTOM LINE:
Uphold aims to make trading more efficient by removing commissions/fees for deposits, withdrawals, and trading. However, one downside is the platform's hidden spread fees, which might make it hard to determine whether the price is fair or not.
Pros
Over 200 cryptocurrencies, like Bitcoin, Ethereum, and Ripple
Offers other asset classes, including precious metals, fiat, equities
User-friendly interface
"Anything-to-Anything" trading feature
Numerous earning/yield opportunities
Supports dollar cost averaging
Cons
Spread fees can be quite high for some cryptocurrencies
Spread fees are also hidden, meaning users won't be able to see the spread they are paying for a trade
Equity trading isn't available for U.S. or European traders
Lack of advanced trading features
Lackluster mobile app

Via Uphold's Website
Cost
1.5% to 1.8% spread fees
Support
BTC, ETH, XRP +More
Token
Uphold is a trading platform that combines a cryptocurrency exchange, a Forex trading app, and a brokerage firm. It offers users access to an extended list of assets and comes with unique features like the "Anything-to-Anything" trading experience.
Founded in 2014 by Halsey Minor, Uphold seeks to become a digital money platform providing financial services to an international audience. The company was initially named Bitreserve and was focused on cryptocurrencies, but rebranded to Uphold in 2015 in a bid to stretch its offering to other financial services.
As of now, the platform offers more than 200 cryptocurrencies, including Bitcoin, Ethereum, and Ripple, 50 US stocks, 37 fiat currencies, and multiple precious metals. With its extended list of supported digital assets, Uphold best caters to cryptocurrency investors who prefer to have access to a wide range of cryptocurrencies and other tradable coins.
What Is Uphold And How Does It Work?
Uphold is a trading and financial service platform that allows users to securely trade, convert, store, and transact in an extensive list of assets, including cryptocurrencies, precious metals, fiat currencies, yield/credit products, and more.
In a nutshell, Uphold combines a cryptocurrency exchange, a brokerage firm, and a Forex trading app.
Courtesy of its unique "Anything-to-Anything" trading feature, Uphold users can conveniently trade between different assets. In other words, users don't need to convert assets to cash when they want to trade them for other assets. For instance, users can directly swap Bitcoin for gold or other assets and vice versa.
Notably, Uphold does not accept clients from all jurisdictions. According to its support page, the platform currently does not offer services to users from 27 different regions, which include sanctioned countries like Iran and North Korea.
Furthermore, residents of more than 30 jurisdictions, like Russia, Ukraine, and Belarus, are currently unable to open new accounts.
Uphold Benefits And Features
Here are some of the main features and advantages of the Uphold.com platform:
Supports Multiple Assets And Cross-Trades
Uphold supports over 200 crypto assets, including major coins like Bitcoin, Ethereum, BNB, and XRP, emerging and so-called meme coins like Dogecoin, Shiba Inu, and ApeCoin. It also supports DeFi coins such as CRV and COMP, and almost all major stablecoins like USDT, USDC, and DAI.
In addition, the platform allows users to purchase and trade dozens of the more popular US stocks, including Tesla, Apple, Amazon, and Google. Courtesy of its fractional equities service, Uphold allows users to buy stocks worth as little as $1 and even receive partial dividends.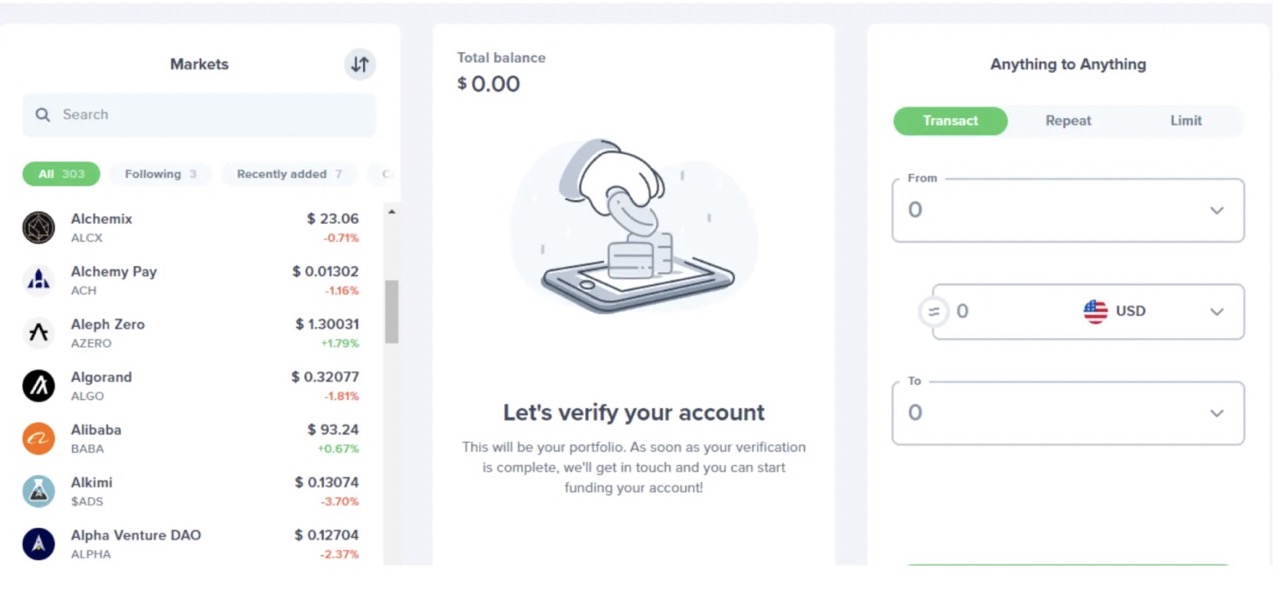 Uphold also supports a total of 37 national currencies and multiple precious metals, like gold, silver, and platinum.
When a user purchases gold or other precious metals on the platform, Uphold holds that precious metal, like gold bullion, in their reserve. Moreover, the platform's vaulting partners audit its precious metal holdings daily.
Numerous Security Measures
Uphold takes several security measures in order to make sure users and their funds are safe. Some of these measures include:
24/7 system overwatch by the Uphold Security Operations Center
Encryption of emails and private keys to make them inaccessible to bad actors
A thorough background check on all employees and staff
Two-factor authentication (2FA) for both employees and users
Furthermore, the platform annually invites independent security auditors to conduct penetration testing and ensure all security measures are in place and effective. Users can also take part in keeping the platform safe by reporting bugs and vulnerabilities via its bug bounty program.
Earning Opportunities And Rewards
Users can make money in Uphold via trading or simply holding their digital assets. However, the platform also offers some passive earning opportunities.
For instance, users can stake their coins and earn high APY rates. The platform currently allows users to stake a total of 31 coins, with KAVA projected to offer the highest APY rate of 13%.
Note: Uphold currently does not support staking for US customers.
Another way to earn rewards in Uphold is by using its crypto debit card. While enabling users to spend their cryptocurrencies across millions of stores worldwide, the card also offers cash back rewards of up to 2%. Users can also refer their friends and earn a $20 reward.
Autopilot For Dollar Cost Averaging (DCA)
Dollar cost averaging (DCA) refers to the practice of dividing up the total investment amount across periodic purchases of an asset at regularly scheduled intervals.
This method can reduce the impact of price volatility and help mitigate the risk of entering the market at peaks. Uphold offers DCA using its AutoPilot feature, which allows users to create continual buy or sell orders.
Anything-To-Anything Feature
Uphold allows users to conveniently trade between different assets using its "Anything-to-Anything" feature. For instance, if a user wants to convert their gold holdings into Bitcoin, they don't need to initially sell their stack of gold for cash and then invest it in Bitcoin. Instead, they can directly swap their gold into Bitcoin.
Uphold Drawbacks
Despite its numerous advantages, Uphold does not come without drawbacks.
Spread Fees
One major disadvantage of the platform is its costly spread fees, which can be especially high for low-liquidity cryptocurrencies.
For major cryptocurrencies like Bitcoin and Ethereum, the spread can vary from 0.8% to 1.8% depending on the location, which is among the highest in the market.
In addition, the platform's spread is 3% for precious metals, 0.2% for fiat currencies, and 1% for stocks. Notably, Uphold does not charge other fees (like deposit, withdrawal, or trading commissions) aside from the spread fees.
It is worth noting that the spread fees are hidden, which means that users won't be able to see the spread they are paying for a specific trade. In order to make sure they are getting a fair price, users are advised to compare the quote with other crypto exchanges.
Reports Of Stolen Funds
Some Uphold users have reported that their funds have been transferred from their accounts without their approval despite having 2FA active. Earlier this year, a class-action lawsuit was even filed against the platform.
Lack Of Advanced Trading Features
Unlike some other crypto trading platforms, Uphold does not offer advanced charting and other analysis tools that could help professional and active traders with the decision-making process.
Uphold's Know Your Customer Verification Process
In order to prevent criminals and bad actors from accessing its platform, Uphold requires all users to complete the KYC process. New users who want to set up an account are required to pass the ID verification process.
Existing users who want to unlock more functionality like bank account withdrawals also need to complete the KYC process.
The KYC process is pretty straightforward. All users need to provide is a valid government-issued photo ID (like Passport, National ID card, or Driver's license) and a selfie.
To start the KYC process, users need to tap "Verify my identity." They will then be required to take a photo of their ID and a selfie. The process usually takes around two minutes.
Available Cryptocurrencies
One major advantage of Uphold is its extensive list of supported digital currencies. As of now, the platform allows users to buy, sell, and trade over 200 cryptocurrencies, which includes a wide range of assets from major coins like BTC and ETH to meme coins and stablecoins.
Here are the top 15 cryptocurrencies supported by Uphold:
Bitcoin (BTC)
Ethereum (ETH)
Bitcoin Cash (BCH)
Solana (SOL)
Aave (AAVE)
Ripple (XRP)
Cardano (ADA)
Dogecoin (DOGE)
Polkadot (DOT)
Polygon (MATIC)
Shiba Inu (SHIB)
Tron (TRX)
Algorand (ALGO)
Atom (ATOM)
Avalanche (AVAX)
Uphold Platform Availability
Uphold does not offer services to clients in certain jurisdictions. Here is the list of non-supported countries:
Iran, Lebanon, Antarctica, Armenia, Azerbaijan, Sudan, Syria, Mali, Mauritius, North Korea, Liberia, Anguilla, Barbados, Bouvet Island, Cambodia, Central African Republic, Chad, Cuba, Eritrea, Fiji, French Southern Territories, Guinea, Heard and McDonald Islands, Palau, Samoa, S. Minor Outlying Islands, Vanuatu.
Moreover, the platform is unable to offer new accounts to residents of these jurisdictions:
Albania, American Samoa, Bangladesh, Belarus, Bosnia and Herzegovina, Bulgaria, China, Crimea, Croatia, Equatorial Guinea, Georgia, Germany, Haiti, Indonesia, Kenya, Libya, Myanmar, Netherlands, Russia, Serbia, Turkmenistan, Ukraine, Venezuela, Vietnam.
There are also some more partial restrictions for users of some supported jurisdictions. For instance, equity trading is unavailable for US residents, while European users need to create an account on Uphold Europe Limited to trade equities. In addition, UK customers can't trade certain assets, like ATOM, FIL, BTG, and more.
Uphold Customer Support Options
Aside from the traditional FAQs, Uphold offers several ways for users to contact the support team and share their problems. The primary way to get in touch with the support team is via the Help Center. Users can submit requests via the platform's Help Center page or by sending a private message to their official Twitter account.
While previously it could take up to two weeks for the support team to solve a ticket, the platform has since sped up the process significantly. Currently, Uphold claims that they respond to requests in a couple of minutes and resolve tickets in a few days. The platform does not offer instant support.
Uphold Mobile App
Uphold offers mobile apps for both Android and Apple devices. Both versions have attracted some negative reviews, with users complaining about lack of functionality, poor UI/UX design, numerous outages, confusing interface, and more. Moreover, the average rating for both is under 3.5 stars.
Uphold Fees And Costs
While Uphold does not charge deposit fees, withdrawal fees, and trading commissions, the platform does charge a spread, which varies based on the asset type. Here is a basic overview of the spread range across different assets.
| Minimum Deposit | Crypto Trading Fees | Fiat Currency Trading | Trading Fee | Precious Metals Trading | Equities Trading | Withdrawal Fee | Deposit Fee |
| --- | --- | --- | --- | --- | --- | --- | --- |
| $10 | The spread is typically 0.8 to 1.2% on major cryptocurrencies, and can be significantly higher for low-liquidity cryptos. | The spread is usually 0.2% between fiat currencies. | $1 for every transaction of less than $100, except those made using the Uphold debit card, automated transactions (recurring and limit orders), and users transferring BAT tokens from a Brave Browser-linked account. This fee applies to U.S., U.K, and U.S. users only. | There is a 3% spread in addition to the bid-ask prices at the platform's supplier. | The spread is typically 1.0%. | $2.99 for crypto withdrawals and $3.99 for bank transfer | 2.49% for debit cards. 3.99% for credit cards. Deposits via bank transfer and Google Pay have no fees, and the listed fees apply to U.S. users only. |
Uphold generally earns its revenue from charging a spread on every trade. For cryptocurrencies, this spread can vary based on the coin and location.
For instance, the platform typically charges a spread between 0.8% to 1.2% on BTC and ETH in the US and Europe, while the spread on these coins is around 1.8% in other parts of the world.
The spread of low-liquidity cryptocurrencies can be significantly higher. For example, the spread on trading XPD, XAG, and XPT can be around 3.05%, 3.65%, and 3.95%, respectively.
Furthermore, for crypto withdrawals, there are also network fees. Notably, the spread fee is hidden, suggesting that users won't know the spread they are paying for a trade.
Other Fees That Uphold Charges Include:
A "Price Protection Fee" of less than 0.75% above or below the market rate. This fee exists because Uphold aims to give users an instant and guaranteed quote regardless of market fluctuations. For instance, if a user plans to purchase $100 worth of Bitcoin, they will be charged a $0.75 "Price Protection Fee" but in return they will get a guaranteed quote even during times of extreme volatility.
A withdrawal fee of $2.99 for crypto and $3.99 for bank transfer
Third-party costs like bank wire costs and crypto network fees
Who Should Use Uphold
Uphold is the best option for traders who wish to have access to a wide array of assets in one place. Moreover, its unique "Anything-to-Anything" feature allows users to trade between different assets, including cryptocurrencies, equities, precious metals, and stocks.
Uphold Alternatives To Consider
While Uphold is one of the very few crypto exchanges and brokerage firms to support this many assets, there are also other options that offer more options, lower fees, and better customer support.
Crypto.com: Good For Active Traders
Crypto.com is best for active crypto traders. With its vast selection of cryptocurrencies (more than 250 cryptos supported) and fees that can be quite low (0.075% and 0.034% for the Spot and Derivatives markets, respectively), Crypto.com allows active traders to constantly swap between different digital assets and pocket a profit even from small moves in the market. On the other hand, Uphold users won't be able to profit from small moves given the spread that can be as high as 3%.
How To Sign Up For Uphold
Step One: Signing Up
Head to the Uphold website or download the mobile app and click on the Sign up button. It'll redirect you to a page where you'll provide credentials.
You can sign up for an individual or business account. Either way, you must select your country and state of residence or business incorporation. Uphold isn't available in all countries, and it'll let you know if you select one it doesn't support. If you're an individual, you'll also need to provide information about your citizenship.
After providing the required information, input a valid email address and choose a password, and you're good to go.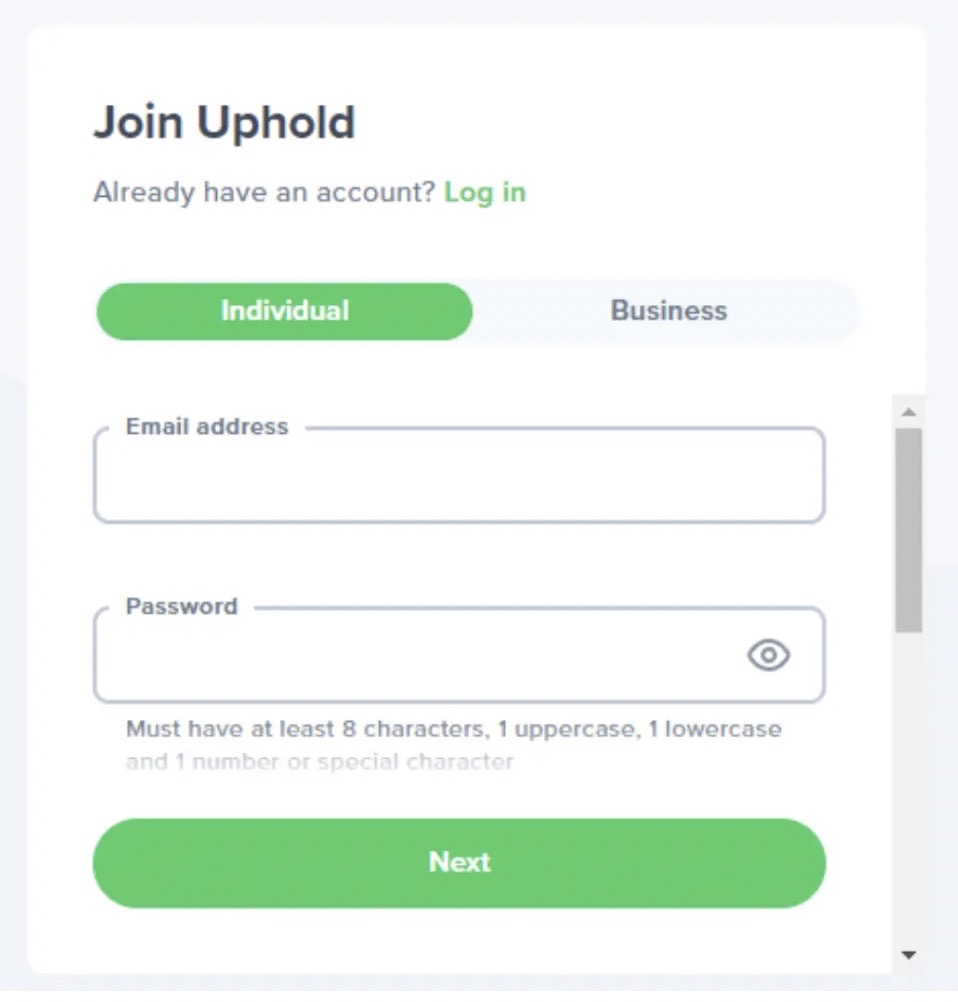 Step Two: Additional Information And Verification
The next step involves providing additional information and verification. Individuals must input their full legal name and date of birth. Afterward, Uphold will ask for a phone number to verify your account– it'll send a unique code via SMS that you'll have to input on the platform. A similar process follows if you're creating a business account.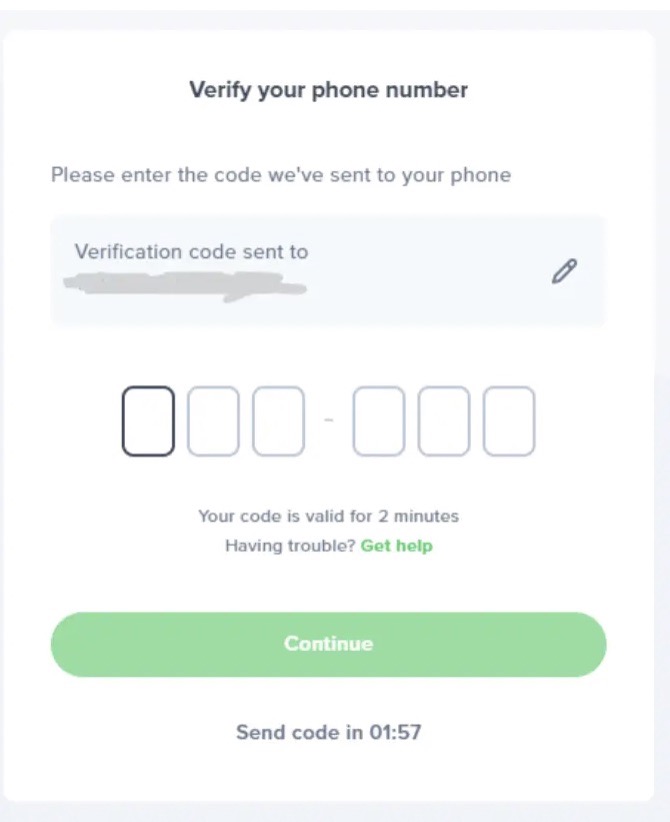 At this point, if you haven't verified your email address, you'll also be required to do that. If you fulfill these steps, you can proceed to your newly-created account.
Step Three: Access Your Account
You can access your Uphold dashboard and explore its features. But, you won't be able to deposit money to trade without further verification. Individuals must provide a photo ID confirming their full legal name and date of birth and businesses must provide documentation that affirms their incorporation.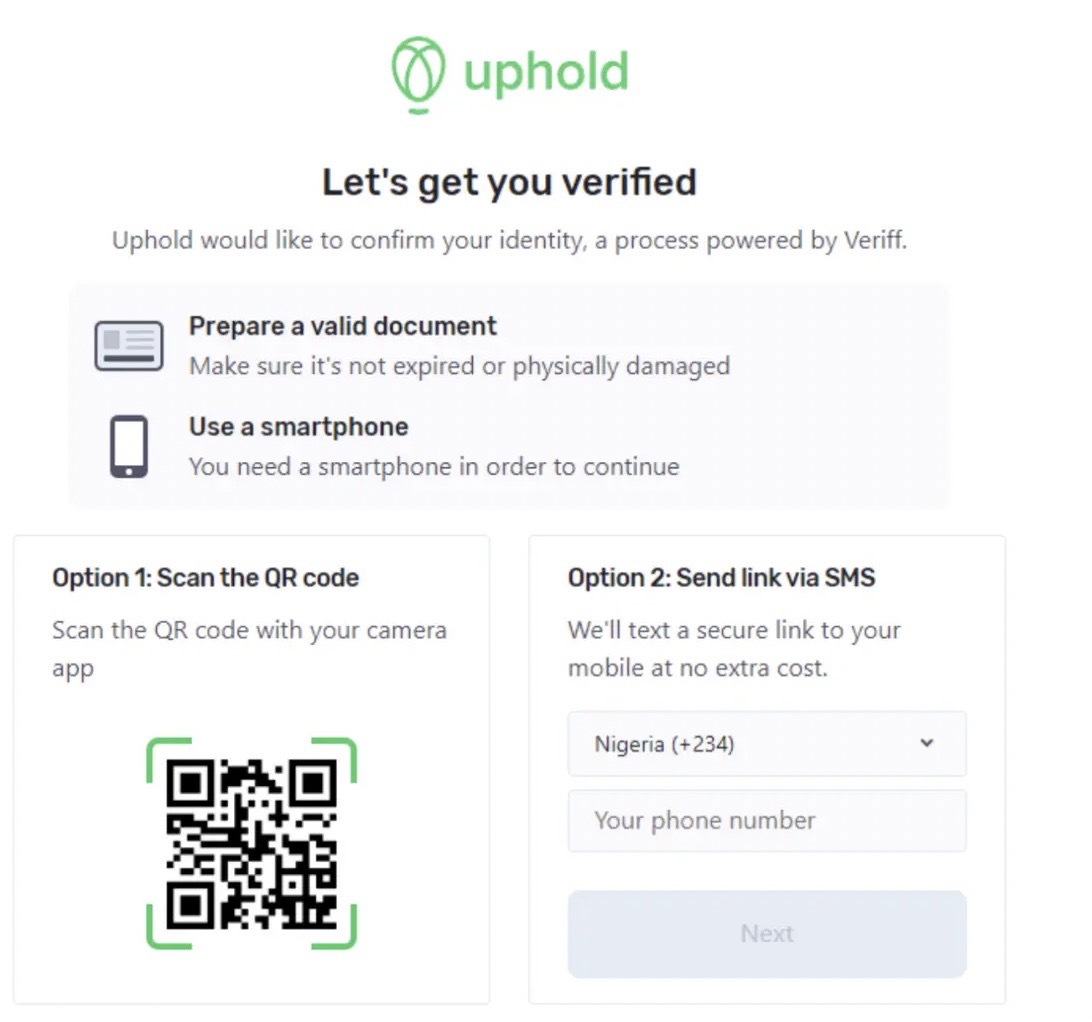 After providing identification, wait a few days for Uphold's authentication partner, Veriff, to approve it. Once it's approved, your Uphold account will no longer have restrictions. You can deposit funds and trade as much as you want or withdraw funds at any time.
Final Thoughts On Uphold
Uphold is among the few financial service platforms that offer access to a wide range of different assets all in one place. Courtesy of its "Anything-to-Anything" feature, users can trade between digital assets, fiat currencies, precious metals, and equities.
While spread can be quite high for low-liquidity assets, the platform is overall pretty cheap and does not charge deposit, withdrawal, or trading commissions.
Frequently Asked Questions
Yes, Uphold accepts US clients.
While there have been reports of loss of funds, Uphold applies robust security measures and adheres to local and international law to protect user funds.
Yes, Uphold supports more than 200 different cryptocurrencies.
Uphold's spread is generally around 1.0%. However, the platform adds a small spread for trading outside market hours.