Top Crypto Subreddits For October 2023
Find the best subreddits for crypto traders, Bitcoin, meme coins, and more.
Last Updated:

June 28, 2023
With over 50 million active daily users, Reddit carves a niche for nearly any topic using subreddits. We explore some of the top crypto subreddits ranging from Bitcoin for beginners to advanced crypto trading strategies.
Reddit hosts some of the largest crypto communities on the web. In this article, we will cover several major subreddits and who they're best suited for.
Top Crypto Subreddits To Subscribe To
| Subreddit | Members | Start Date | Description |
| --- | --- | --- | --- |
| r/CryptoCurrency | 5,800,000 | 2013 | Catch-all subreddit for news and discussion |
| r/CryptoMarkets | 1,200,000 | 2013 | Crypto market analysis and fundamentals |
| r/BitcoinBeginners | 1,100,000 | 2013 | Bitcoin topics for new BTC investors |
| r/CryptoMoonShots | 1,900,000 | 2017 | Low market cap cryptos that just might go to the moon |
| r/Bitcoin | 4,700,000 | 2010 | Bitcoin news and discussion |
| r/Ethereum | 1,600,000 | 2013 | Active community focus on ETH and related projects |
| r/Dogecoin | 2,400,000 | 2013 | Meme-heavy and lighthearted subreddit for DOGE fans |
Best Crypto Subreddits
1. r/CryptoCurrency: Best Large Crypto Community
---
Members: 5,800,000
Subreddit Description: "The leading community for cryptocurrency news, discussion, and analysis."
Official Discord Link: https://discord.com/invite/cryptocurrencyofficial
---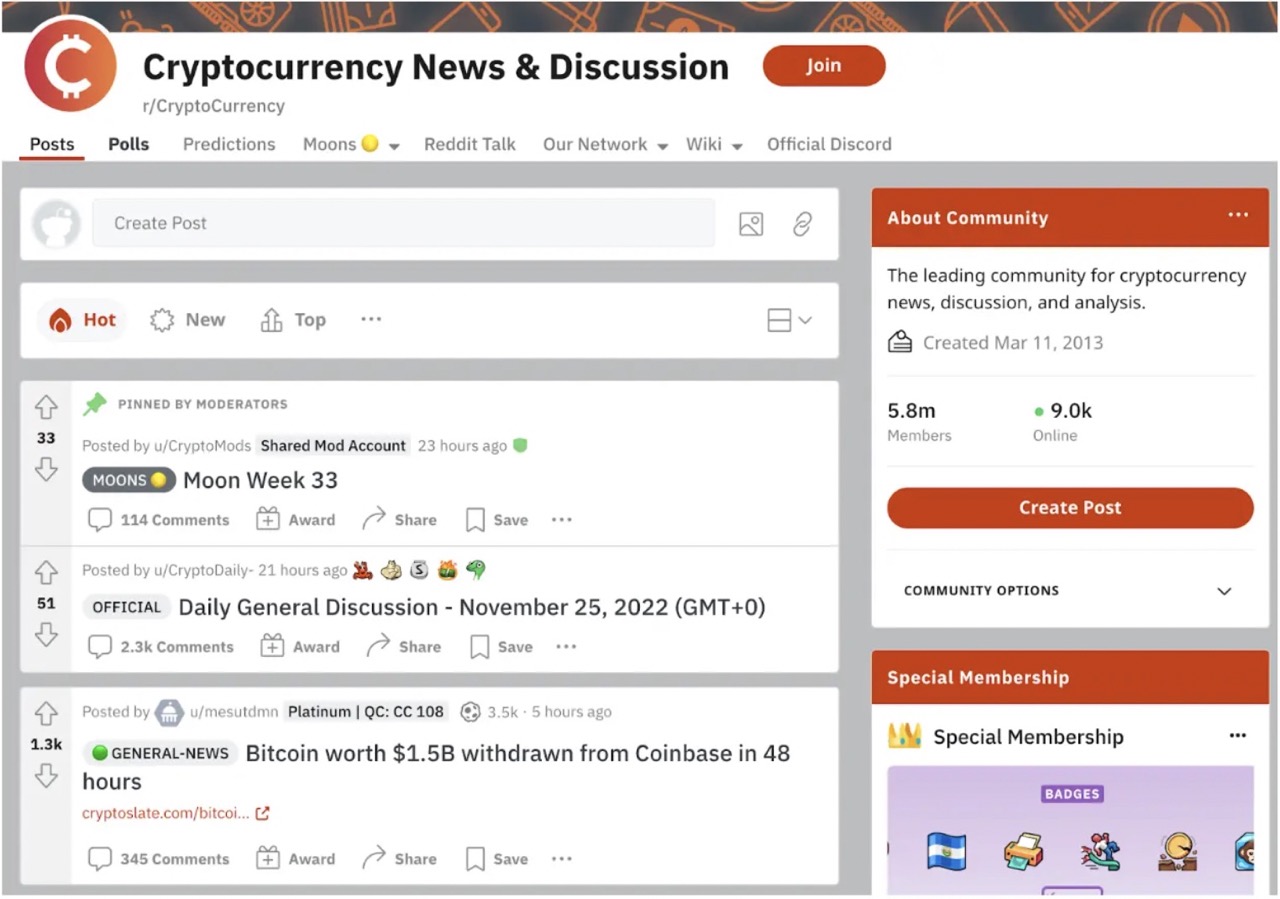 ---
The r/CryptoCurrency subreddit is a one-stop shop for all crypto news and discussions on Reddit. Get plugged in with a vibrant community and participate in discussions on crypto news, price moves, or any other topics that involve crypto.
The types of threads that are most common to r/CryptoCurrency are:
News and announcements
Advice and personal anecdotes
Weekly general discussion threads
Questions and requests for help
The subreddit also hosts an official Discord with close to 40,000 members, a subreddit wiki page that lists a number of related cryptocurrency subreddits, and a "predictions" tab which allows Redditors to vote on future cryptocurrency prices.
---
Top All-Time Posts
As with all large discussion forums, the content that often floats to the top can be negative or indicative of worry. The top posts on r/CryptoCurrency revolve around general trading sentiments such as the disappointment that can sometimes arise when traders don't make money immediately, as well as warnings to stay away from certain centralized platforms like Robinhood and to resist the influence of major figures like Elon Musk.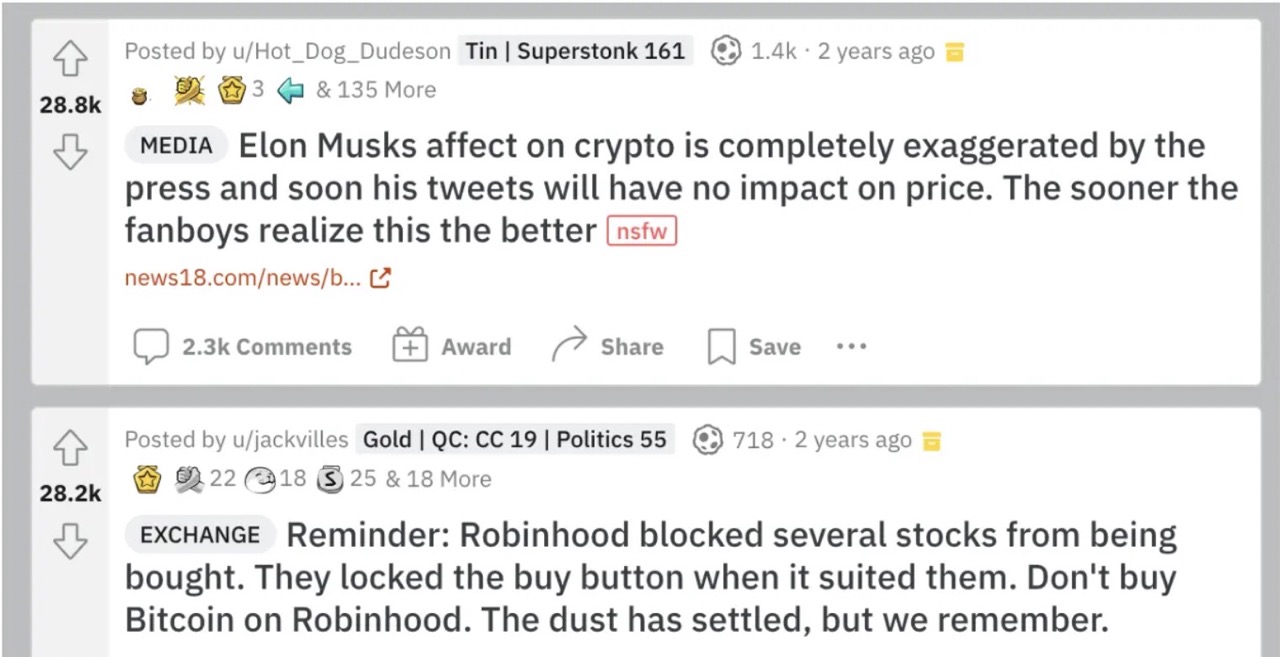 2. r/CryptoMarkets: Best For Traders
---
Members: 1,200,000
Subreddit Description: "Crypto Market Analysis & Discussion."
---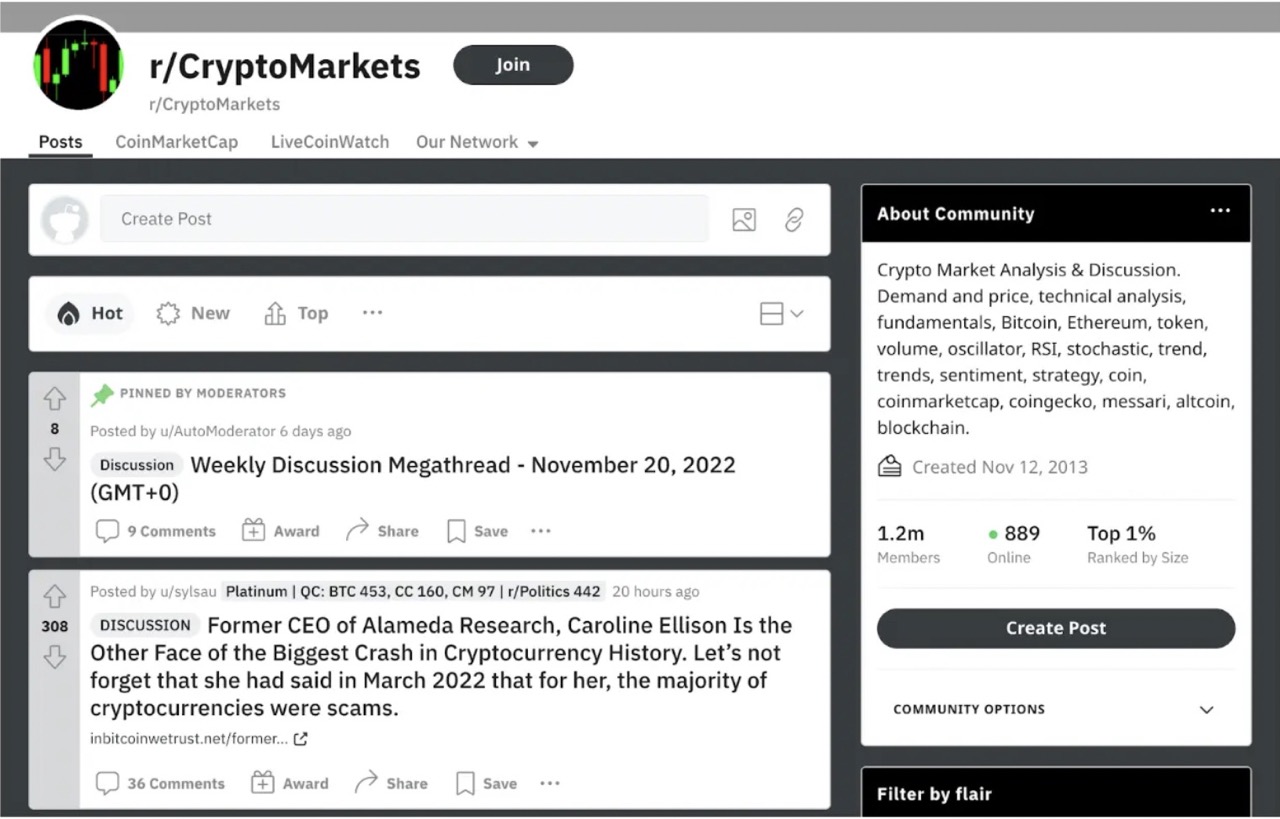 ---
r/CryptoMarkets is a general cryptocurrency subreddit with a specific focus on crypto trading and the crypto markets. The discussions in this subreddit generally assume some beginner knowledge about markets and trading terms. The advice posts and community threads are also oriented toward crypto trading in particular.
The types of threads that are most common to r/CryptoMarkets are:
News and announcements
Discussions on all things crypto markets
Trading fundamentals and strategy
Exchange discussions and new coin announcements
---
Top All-Time Posts
After a long day of trading, the crypto enthusiasts of Reddit like to relax with a few memes and some unserious posts. This is clear by the top all-time posts on the r/CryptoMarkets subreddit. Almost every all-time top post is a meme and the subreddit seems to have a particular penchant for dogecoin and Elon Musk posts.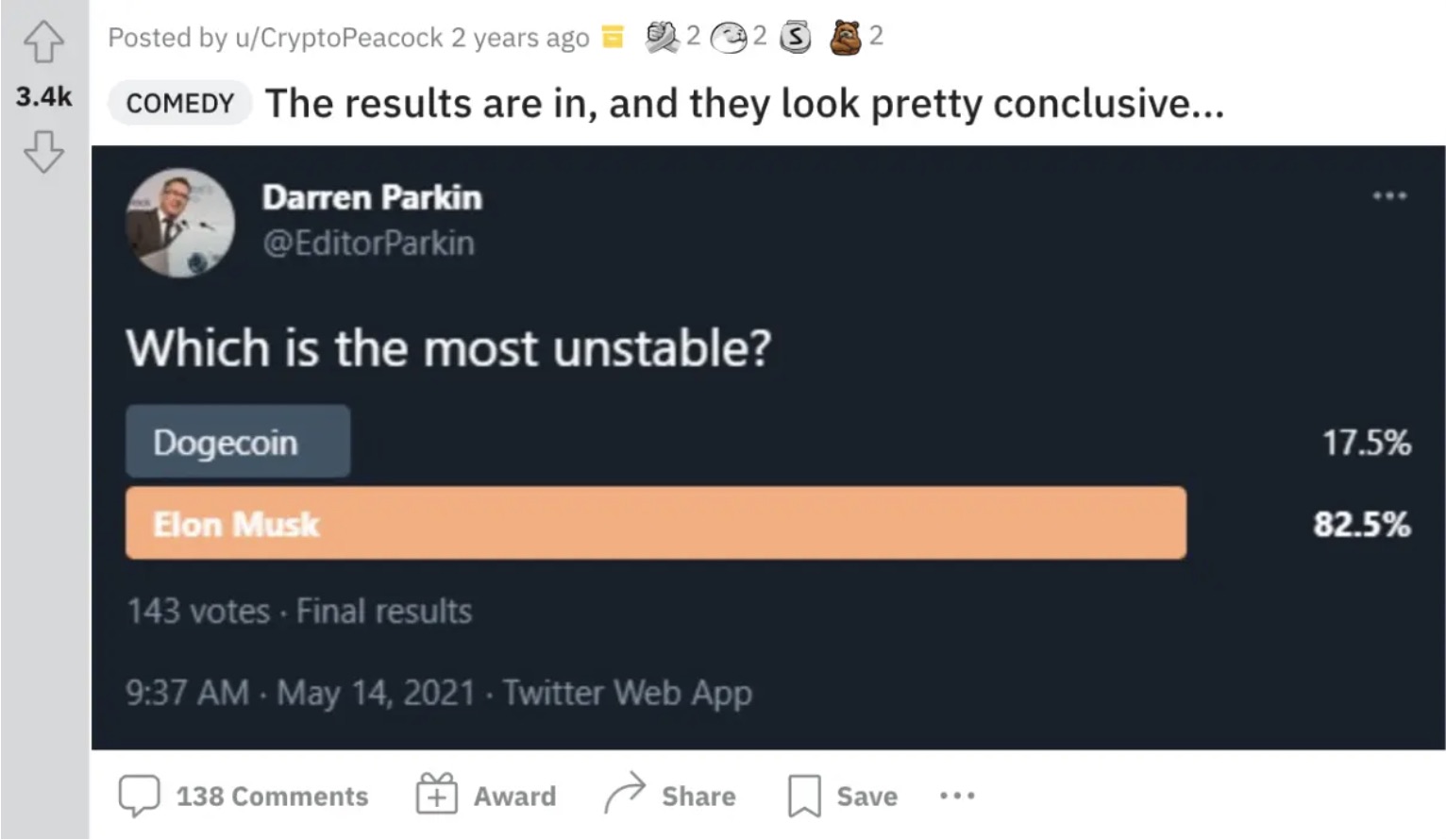 3. r/BitcoinBeginners: Best For New Traders
---
Members: 1,100,000
Subreddit Description: "Bitcoin Beginners is a subreddit for new users to ask Bitcoin-related questions."
---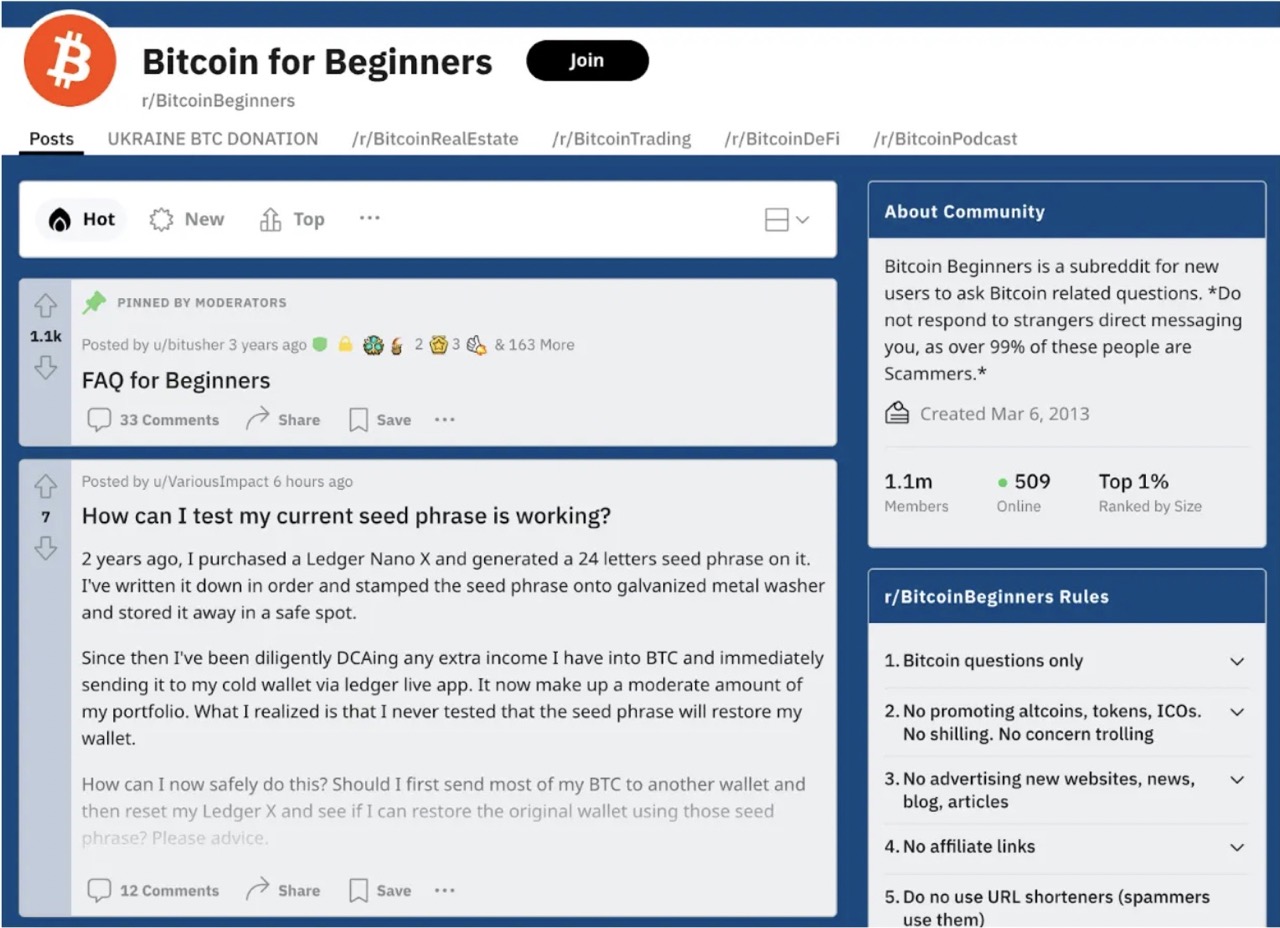 ---
Crypto trading is a complex topic with many nuances around buying, selling, and safe-keeping your crypto. Given the complexity of handling cryptocurrencies, subreddits like r/BitcoinBeginners exist to help newbies get up to speed on how to use crypto. This particular subreddit deals exclusively with Bitcoin, but a lot of the fundamentals taught here are transferable to other cryptocurrencies as well.
The most popular posts on r/bitcoinbeginners include:
Beginner questions about Bitcoin
Advice posts from fellow traders
Subreddit announcement posts
---
Top All-Time Posts
The top posts on r/bitcoinbeginners are usually stories of traders making significant returns on small initial investments, questions about popular topics such as Elon Musk's crypto comments, and general questions that many beginners have upvoted.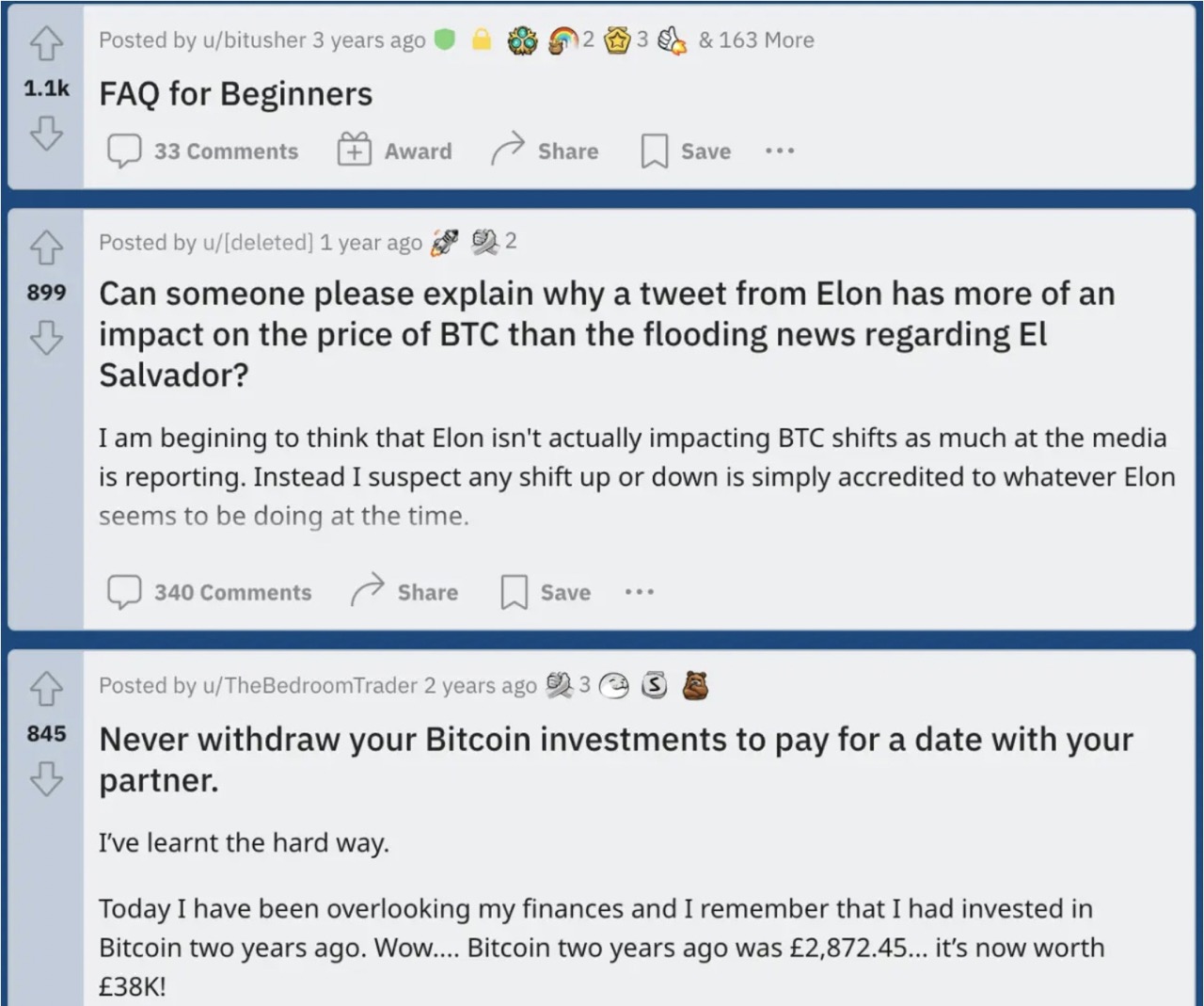 4. r/CryptoMoonShots: Best For Budget Trading
---
Members: 1,900,000
Subreddit Description: "This subreddit is a place to discuss low market cap cryptocurrencies with a moonshot potential. Make sure you read the sidebar before participating."
Official Discord Link: https://launchpass.com/cryptomoonshots/discord-access
---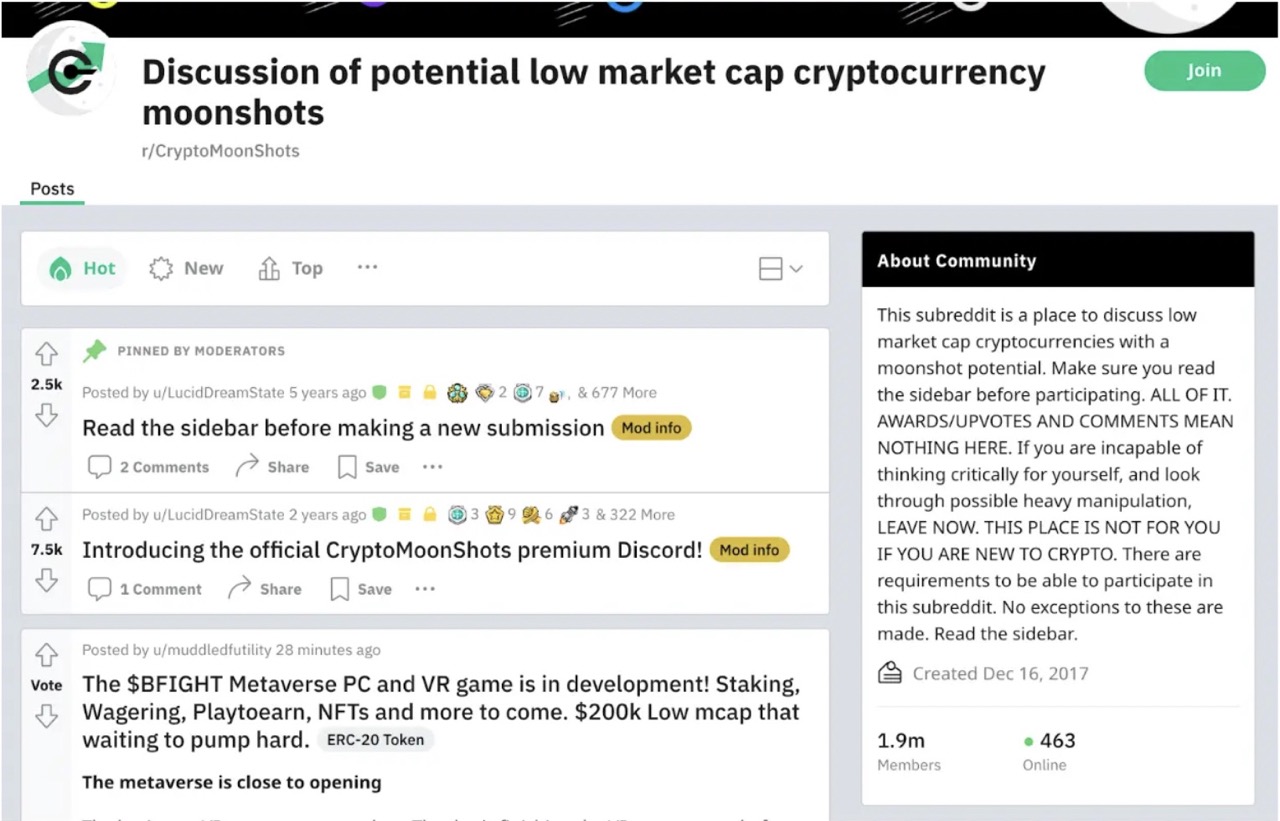 ---
The open-source nature of cryptocurrency projects means many new coins are constantly entering the market. As a result, there are thousands of projects with very low market caps (total value of the coin). Many of these projects cost less than $0.01 per coin — many are thousandths of a cent or even less. For traditional market traders, these coins can be thought of as the cryptocurrency version of penny stocks.
r/CryptoMoonShots is a subreddit for discussions around trading these low market cap coins. The idea is that if you buy $50 or $100 of a cryptocurrency trading at 1 cent or less, you can earn if that crypto goes up by even 1 cent. These unlikely, but highly rewarding, scenarios are called "moonshots" — hence the name of the subreddit. The subreddit is dedicated to finding coins that are poised for large growth while they're still in their beginning stages.
The only types of threads allowed on r/CryptoMoonShots are:
Single-thread discussions of a particular low market cap coin or NFT collection
---
Top All-Time Posts
The top posts on r/CryptoMoonShots are individual low-market-cap coins that have the potential to appreciate in price significantly. Community discussions take place in the comment sections of these threads, which is where subreddit members can ask questions and push back on any questionable claims made by the promoter of the cryptocurrency.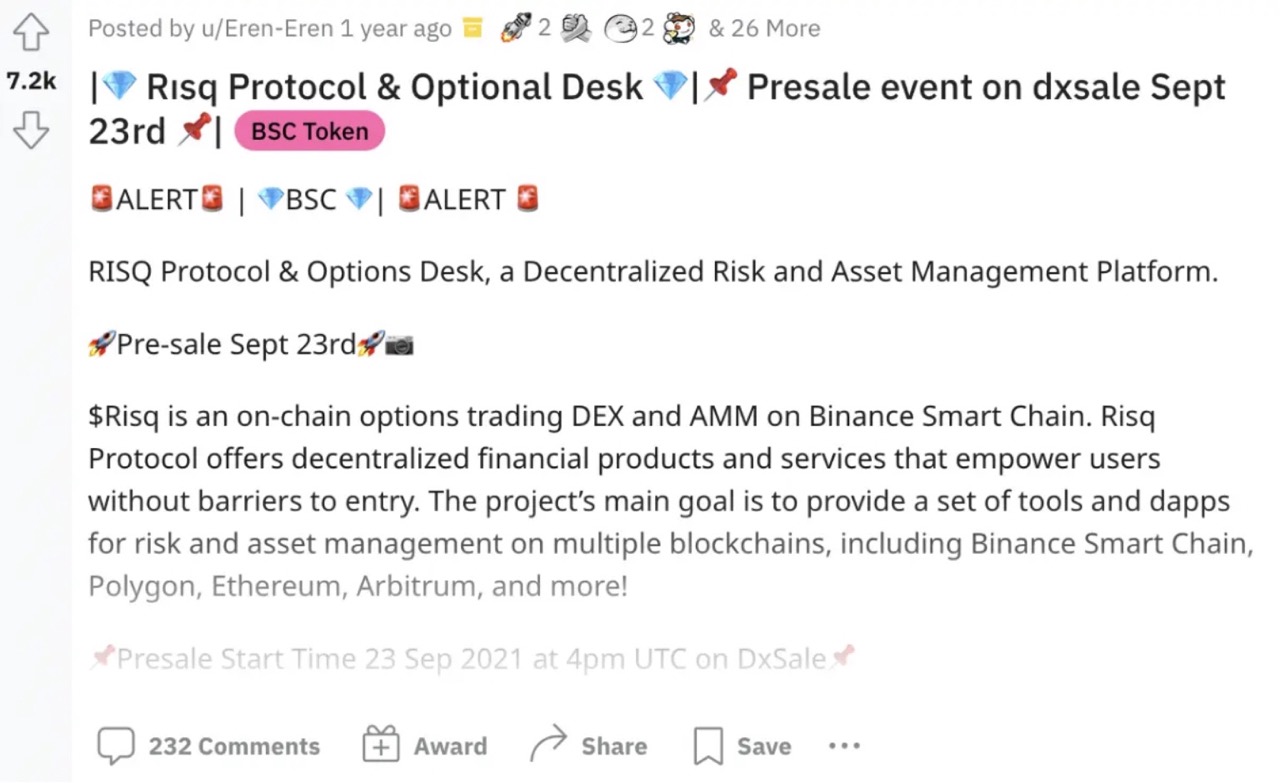 5. r/Bitcoin: Best For Bitcoin Traders
---
Members: 4,700,000
Subreddit Description: "Bitcoin is the currency of the Internet: a distributed, worldwide, decentralized digital money. Unlike traditional currencies such as dollars, bitcoins are issued and managed without any central authority whatsoever: there is no government, company, or bank in charge of Bitcoin. As such, it is more resistant to wild inflation and corrupt banks. With Bitcoin, you can be your own bank."
---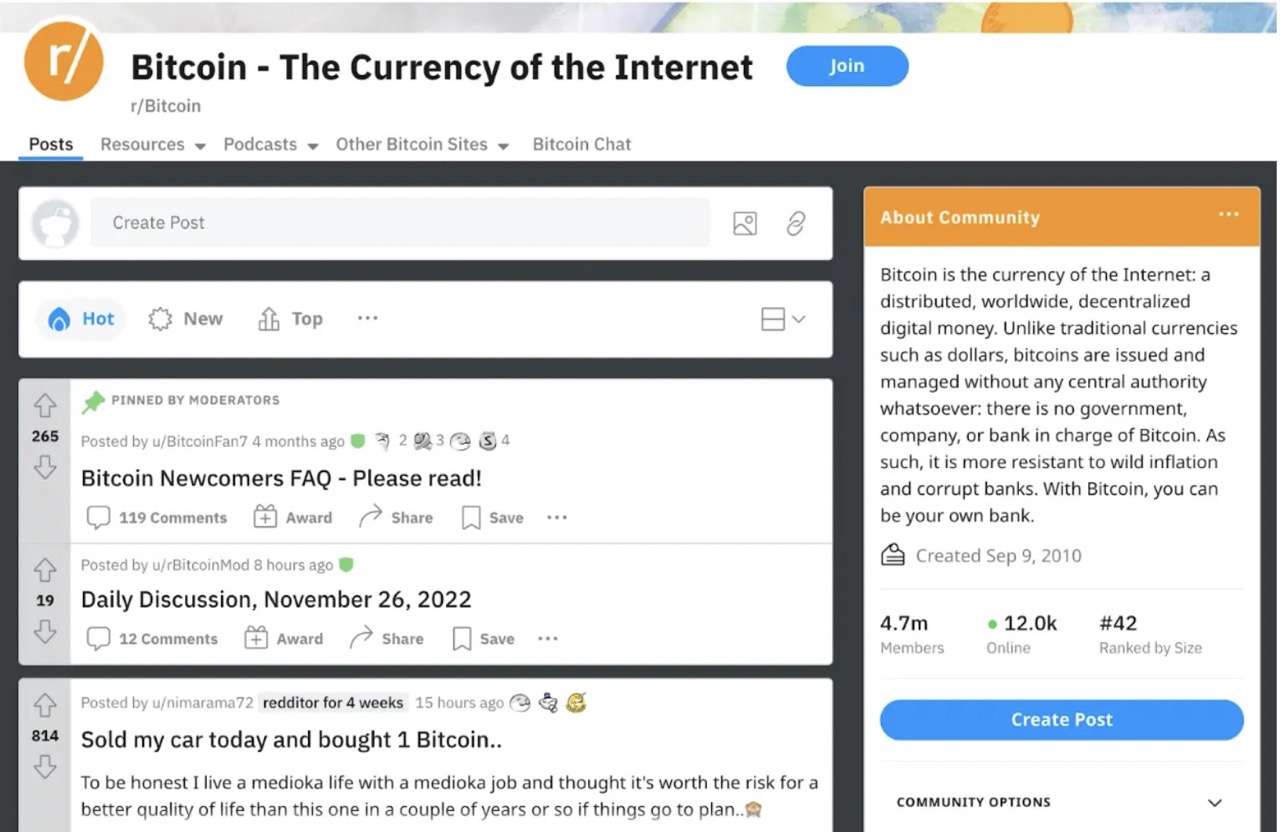 ---
As the very first and most popular cryptocurrency, Bitcoin deserves its own vibrant subreddit where holders can come together. The r/bitcoin subreddit is just that and it features a list of Bitcoin resources, podcasts, and other Bitcoin websites to help traders new and old alike learn more about Bitcoin.
The most common threads topics on r/bitcoin involve:
Bitcoin news and announcements
Bitcoin memes and videos
Discussions around Bitcoin maximalism (going all in on Bitcoin), trading advice, and questions about Bitcoin.
---
Top All-Time Posts
A lot of the top posts from the Bitcoin subreddit are from several years ago. Bitcoin crossing $10k for the first time was an important milestone for the subreddit and was celebrated by many memes and various threads.
More recent posts also exist though, including news about Tesla's announcement of its large Bitcoin purchase and investing app Robinhood's run-ins with retail traders at the beginning of 2021.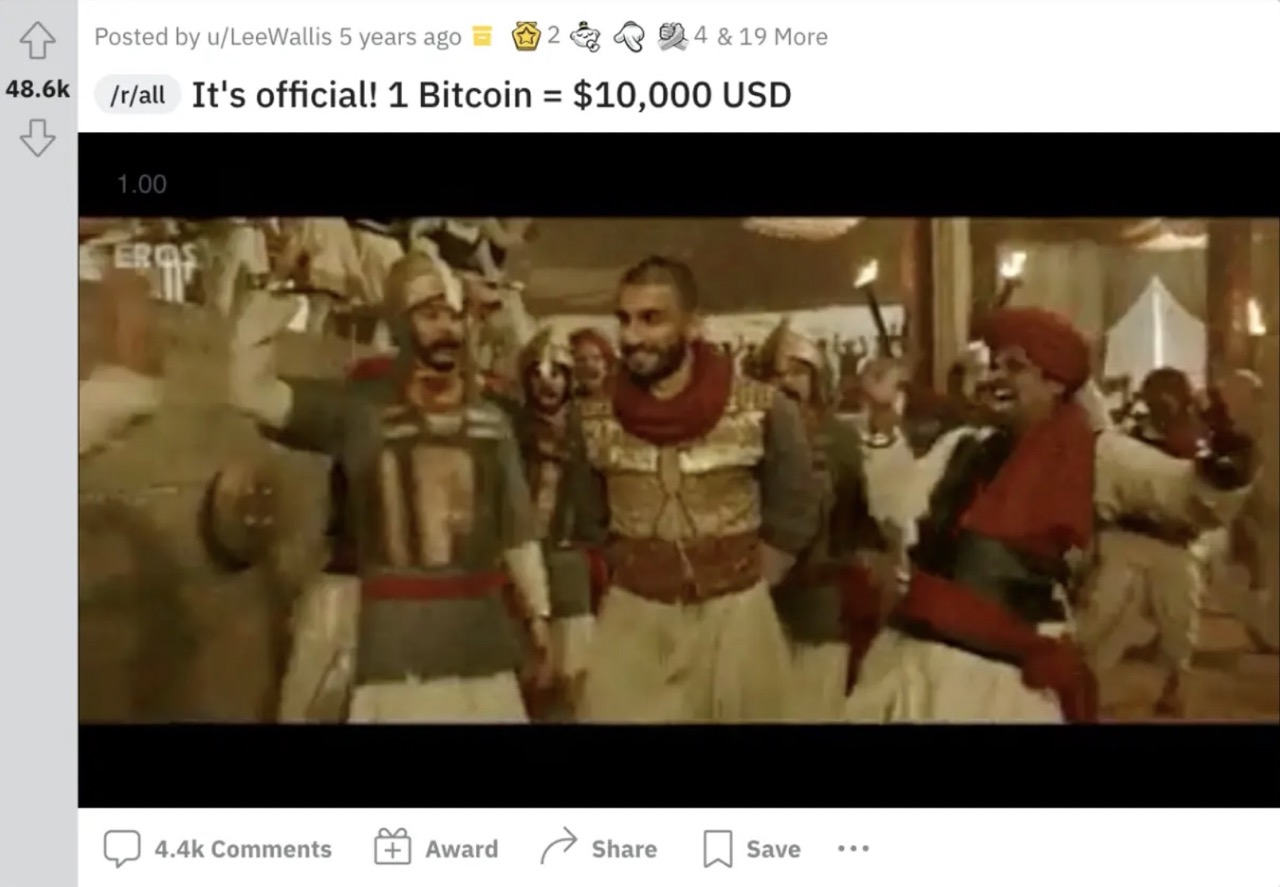 6. r/Ethereum: Best For Ethereum Traders
---
Members: 1,600,000
Subreddit Description: "Next-generation platform for decentralized applications. Dive in at ethereum.org."
---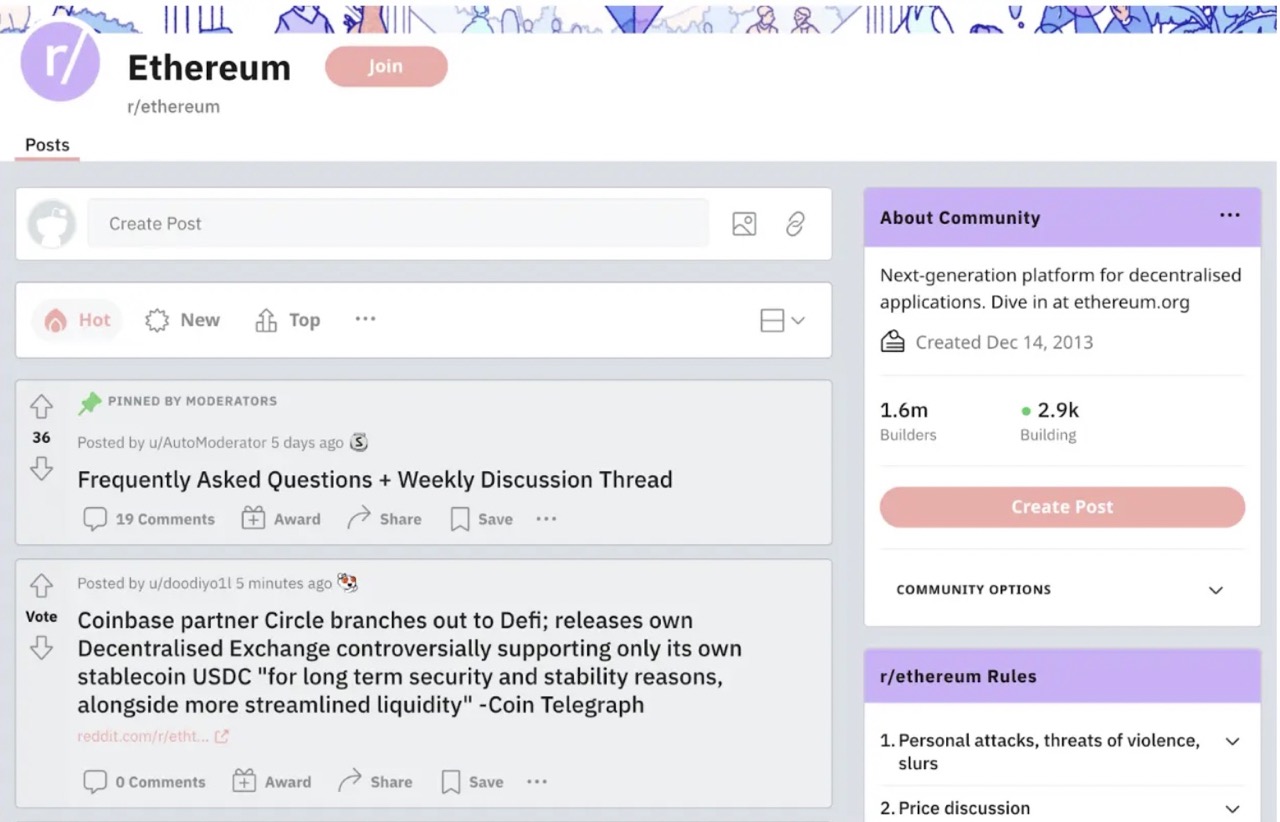 ---
The r/Ethereum subreddit is the place to be for all news and discussion around Ethereum.
The most common threads on r/ethereum include:
Ethereum news and announcements
Quotes from Ethereum co-founder Vitalik Buterin
Questions about the Ethereum blockchain and trading advice
Discussions about NFTs (non-fungible tokens)
---
Top All-Time Posts
The most popular posts on r/Ethereum are a medley of memes, news, and discussion posts. Some examples include: Vitalik Buterin's quote that cryptocurrency should focus less on profit and more on achieving something meaningful, screenshots of buying goods and services with Ethereum, and the announcement of the official partnership between the Ethereum Foundation and Reddit.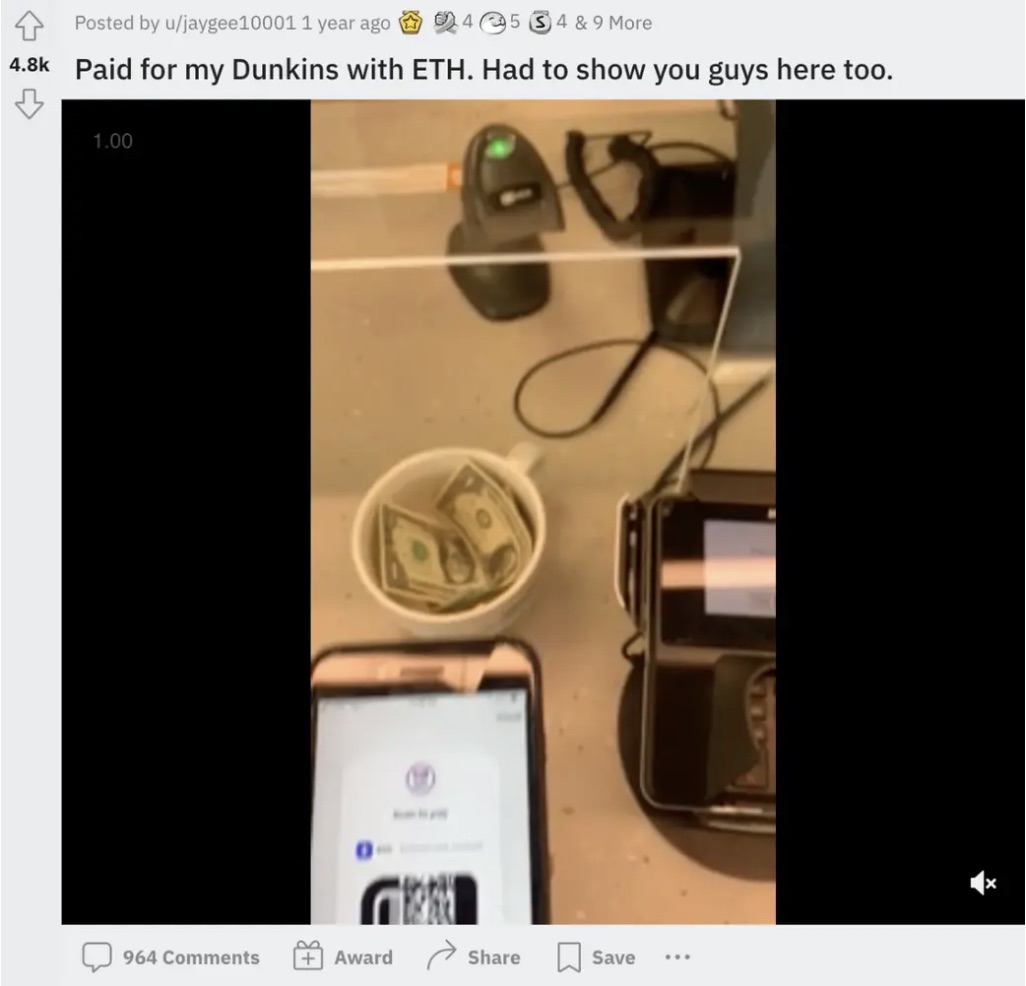 7. r/Dogecoin: Best For Meme Coins
---
Members: 2,400,000
Subreddit Description: "The most amazing place on reddit! A subreddit for sharing, discussing, hoarding and wow'ing about Dogecoins. The much wow innovative crypto-currency."
---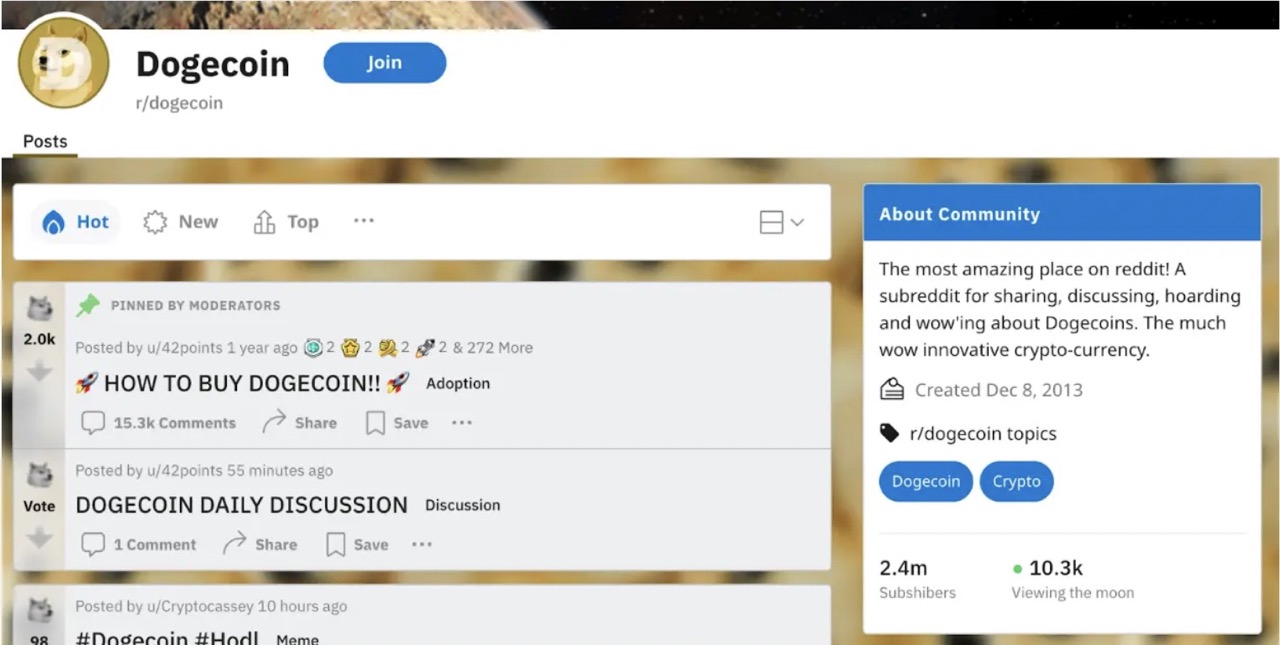 ---
The crypto mania has produced a number of cryptocurrencies with no intrinsic use-value, but with a vibrant community of fans and traders that prop up the price instead. These coins are known as "meme coins" and the most popular among them is Dogecoin.
Based on the popular "doge meme", dogecoin is a low market cap cryptocurrency that trades for around a few cents per coin. This is significantly higher than the $0.00020 price per Dogecoin that the cryptocurrency was trading for in its infancy in 2013. Dogecoin's rise has also been aided by the support of billionaire Elon Musk. His frequent tweets about the cryptocurrency and his announcement that Tesla will take payments in Dogecoin have caused significant price movements on the Dogecoin markets.
The Dogecoin subreddit is the most popular meme coin subreddit and primarily features memes about the coin price, with some discussion posts interspersed.
---
Top All-Time Posts
The most popular posts on r/dogecoin are memes about the price of the crypto. Many memes revolve around the coveted $1 per coin mark that Dogecoin almost hit in 2021. Others express dejection at price crashes and solidarity with fellow traders on the arduous journey of holding Dogecoin.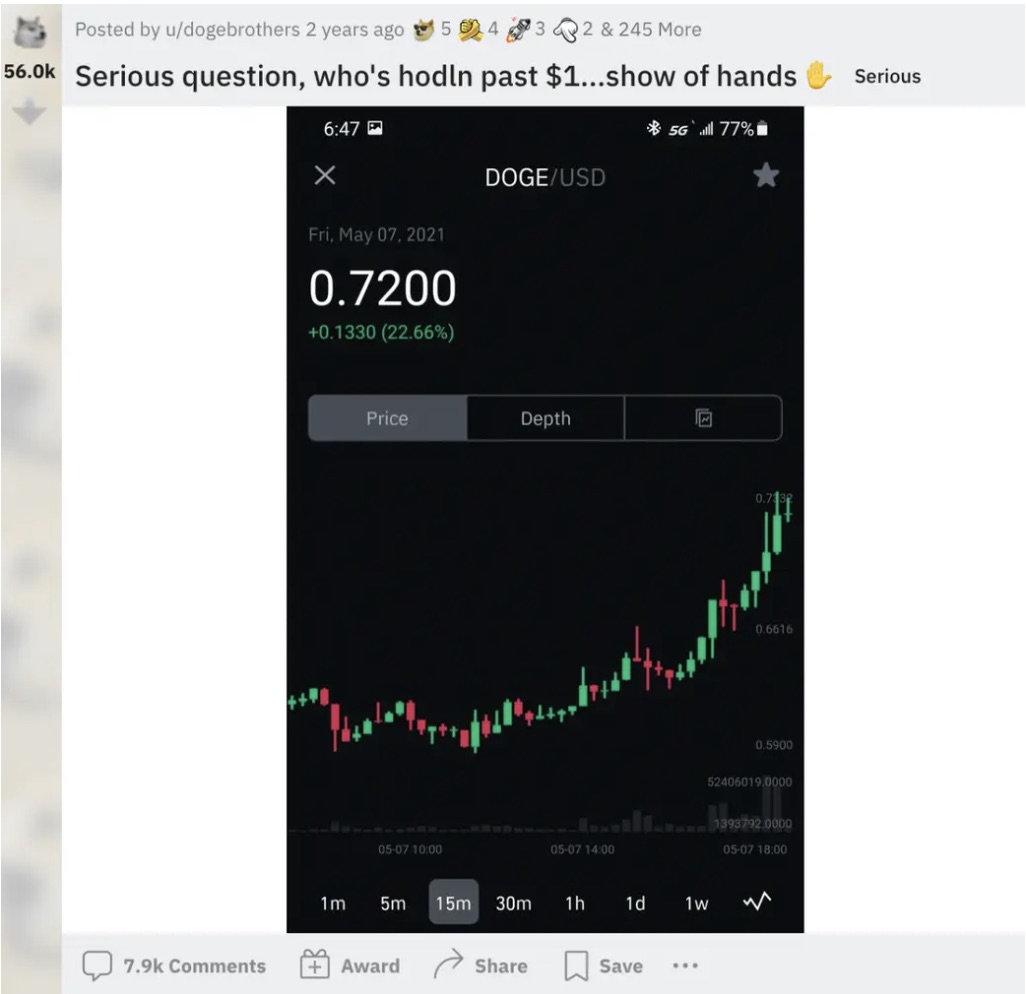 Looking For More?
Check out:
Frequently Asked Questions
There are communities for every major coin (such as BTC and ETH) and also for a long list of smaller coins. Each community has its merits and it's difficult to pick one community that is best.
The Bitcoin and Ethereum subreddits, however, are the most comprehensive because of the high interest in those cryptocurrencies.
The most comprehensive general crypto subreddits are r/CryptoCurrency and r/CryptoMarkets.
There are also a number of subreddits specific to each cryptocurrency. A list of these can be found here.
Yes, there is a vibrant crypto community on Reddit with various subreddits dedicated to crypto coins and crypto topics.
Searching Reddit for crypto-related topics such as Bitcoin and Ethereum can be a good way to find communities. There is also a directory of crypto subreddits that can be found here.