12 Best Crypto Telegram Groups For 2023
A curated list of crypto Telegram groups, plus how to sign up and avoid scams.
Last Updated:

July 6, 2023
Crypto Telegram groups help you learn about crypto investing and even provide analysis on what projects may be good investments. In this article, we'll cover some of the most popular crypto Telegram channels.
What Is Telegram?
Telegram is a very popular instant messaging app. It was launched in 2013 by a Russian entrepreneur named Pavel Durov. The app grew rapidly due to unique features like end-to-end encrypted chats, video calling, file sharing, and group messaging. You can download it on the most popular operating systems, including Android, iOS, macOS, Windows, and Linux.
Telegram crossed 700 million global users in 2022, making it one of the top-ten instant messaging services.
What Are Crypto Telegram Groups?
They are online groups hosted on Telegram where people talk about various topics related to the cryptocurrency sector. These groups discuss and share in-depth information about events in the crypto sector and help traders or general crypto users make the right decisions.
Top Crypto Telegram Groups
1. Learn2Trade
---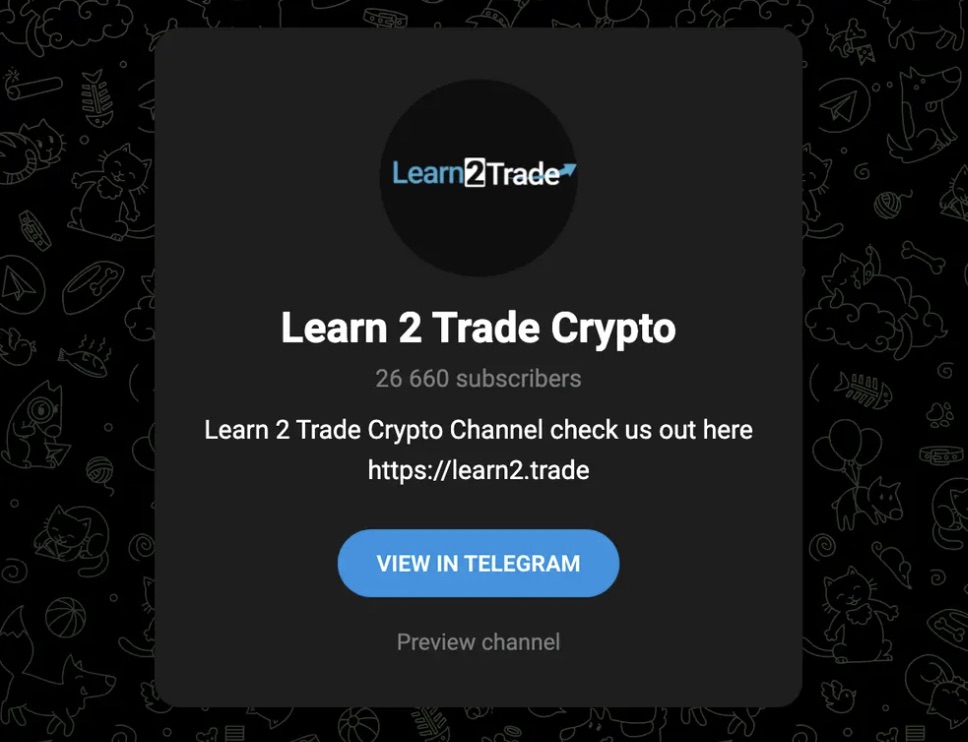 ---
Channel Members: 27,000
Area of Focus: Crypto Signals
Paid Tier: Yes
---
Learn2Trade is a Telegram group focused on providing "crypto signals," — which are indications that a project may do well based on a variety of factors, including technical analysis and advice from industry experts. The group also has a paid tier which hosts more professional traders and has higher quality trading information.
The Learn2Trade Telegram channel features an innovative "trading algorithm." This is a bot that makes crypto trades based on predefined rules and has a decent public track record of investing. Learn2Trade makes this algorithm available to everyday traders — meaning you can use it to make trades on your behalf. Keep in mind, however, that past performance is no guarantee of future returns, and remember to only invest money you can afford to lose.
---
2. Airdrop
---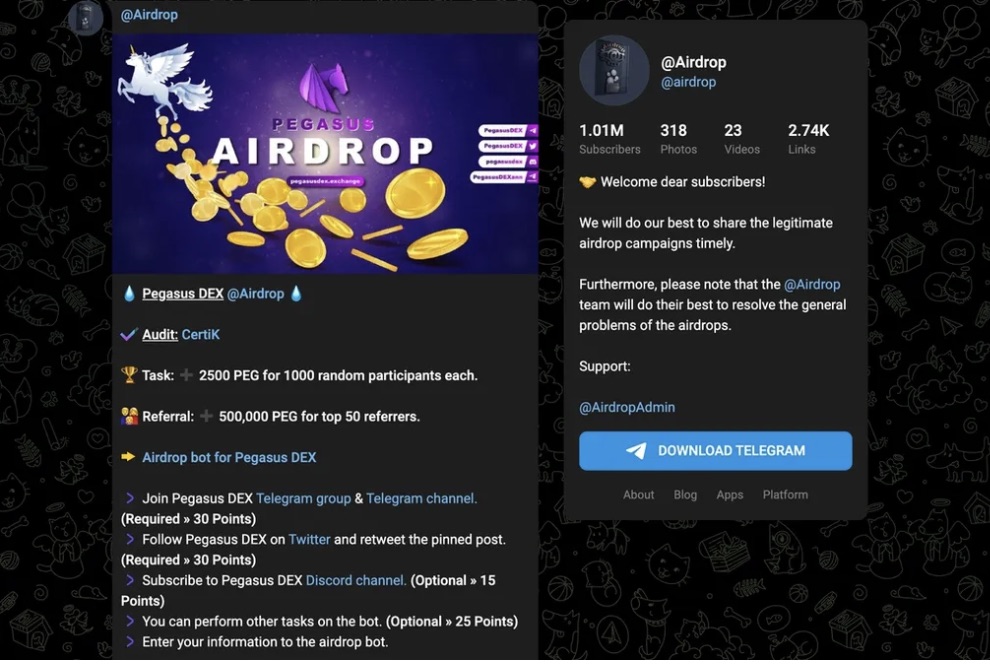 ---
Channel Members: 1,000,000
Area of Focus: Crypto Airdrops
Paid Tier: Yes
---
The Airdrop Telegram group is one of the largest cryptocurrency Telegram groups — boasting over 1,000,000 members. This group keeps track of the latest "airdrops" across the entire crypto industry and announces them to group members in a feed style.
For each airdrop, the group shares information about the project, such as the requirements necessary to claim the airdrop, as well as instructions on how to actually get the tokens. The group will even show off "audits" of the airdrops if they're available. Audits are third-party code reviews done to make sure that airdrops do not have any vulnerabilities.
---
3. Verified Crypto Traders
---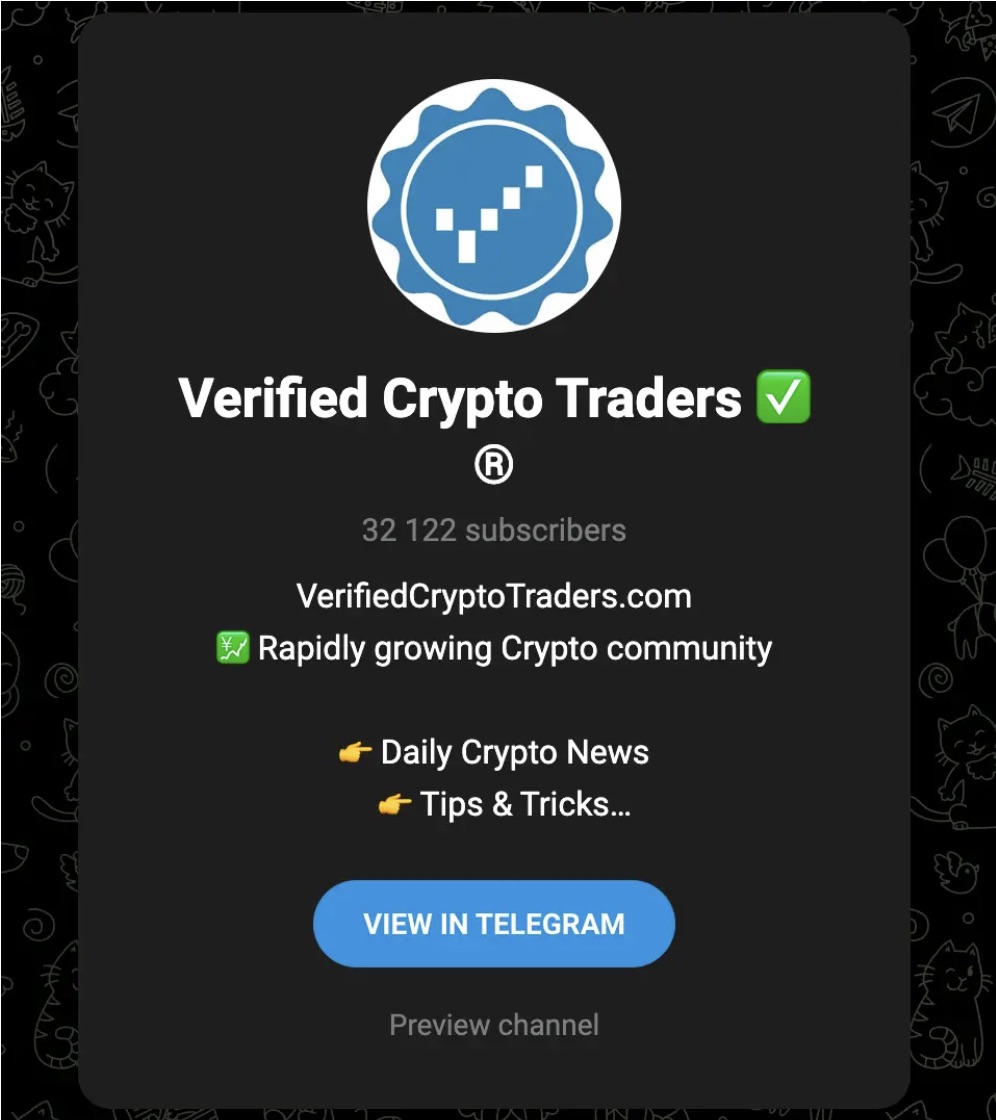 ---
Channel Members: 32,000
Area of Focus: Crypto Signals & News
Paid Tier: Yes
---
Verified Crypto Traders is another popular crypto signals trading group. In addition to project analysis, Verified Crypto Traders provides daily crypto news and even features an additional Telegram trading channel where they post the results of their previous trading calls. This helps to provide some peace of mind that the group's trading signals have a positive track record and are not random.
Keep in mind, however, that past performance is no guarantee of future returns, so take their success with a grain of salt.
---
4. Binance Killers
---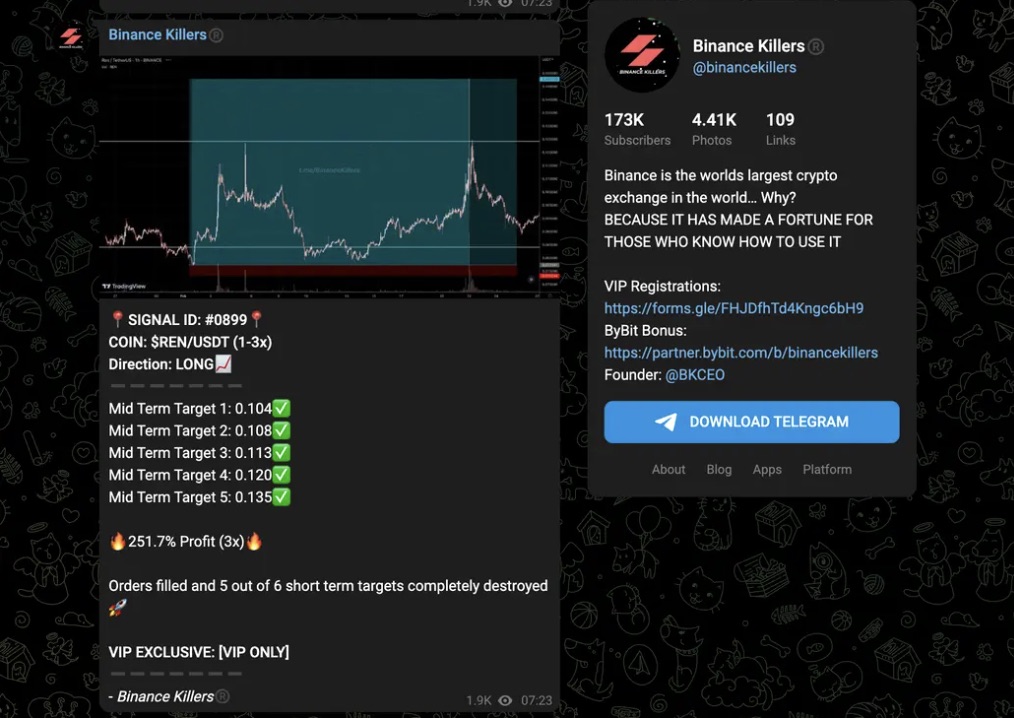 ---
Channel Members: 174,000
Area of Focus: Crypto Signals & Education
Paid Tier: Yes
---
Binance Killers, while named after the popular cryptocurrency exchange "Binance," is not actually affiliated with the exchange. Instead, this is a popular Telegram group for crypto signals and analysis of different types of crypto projects.
Like many other groups, Binance Killers presents crypto signals in a feed style that features "price targets." Price targets indicate how far up or down the given cryptocurrency project could move within a specified timeframe. You can use this analysis to get an idea of when you may want to make your trade.
---
5. Binance NFTs
---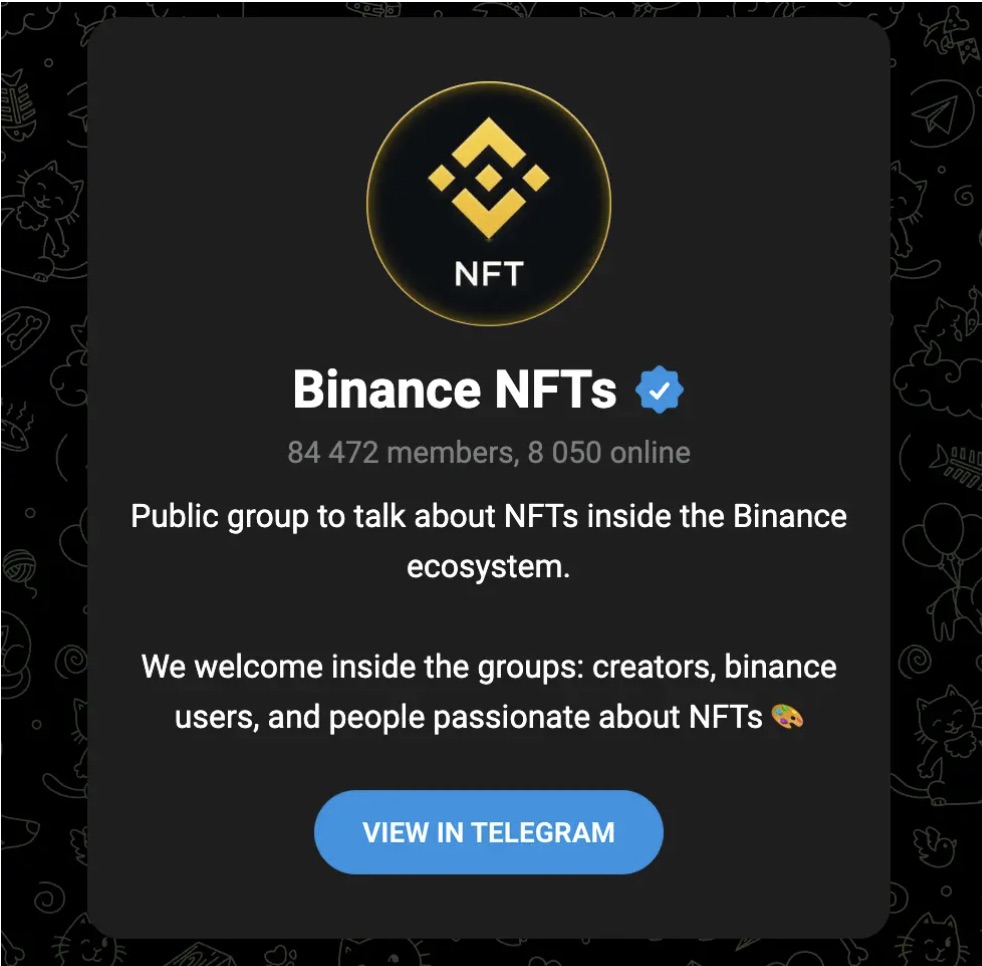 ---
Channel Members: 84,000
Area of Focus: NFT Discussions
Paid Tier: No
---
Binance NFTs is a group dedicated to discussions about non-fungible tokens (NFTs) on the Binance platform. NFTs have been all the rage in the crypto world over the last few years as the values of NFT collections like the Bored Ape Yacht Club have skyrocketed into the hundreds of thousands of dollars.
The Binance NFTs Telegram is a discussion group that focuses on NFTs in the Binance ecosystem, specifically. You can ask about different projects and even find people who are recommending projects to invest in. As always, do your own research and only invest what you can afford to lose.
---
6. ICO Speaks
---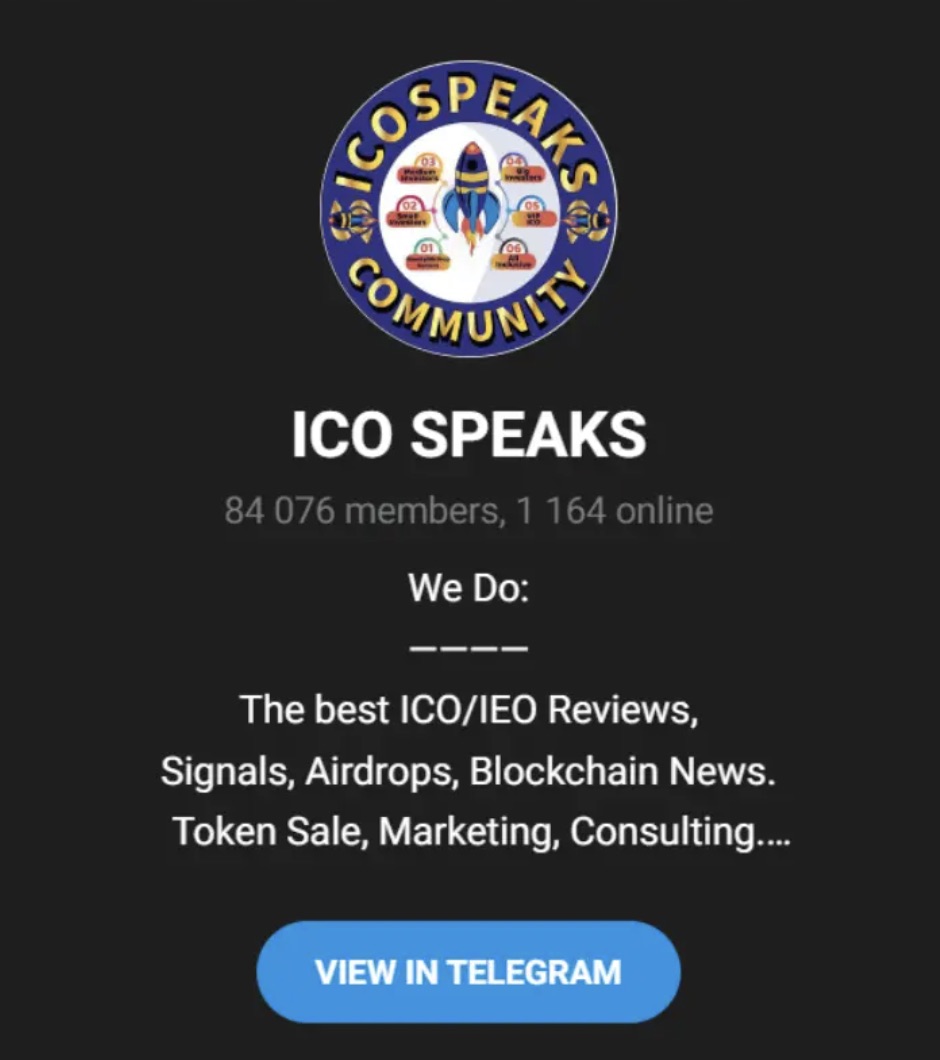 ---
Channel Members: 84,000+
Area of Focus: Initial coin offerings (ICOs) and airdrops
Paid Tier: No
---
ICOSpeaks is a group dedicated to giving people information about upcoming initial coin offerings (ICOs) and airdrops, avenues that give people the chance to get in early on a promising project.
This group provides education for crypto newbies and helps people find promising crypto projects. If you wish, you can also pay for consultation services from crypto industry experts.
---
7. Wall Street Gems
---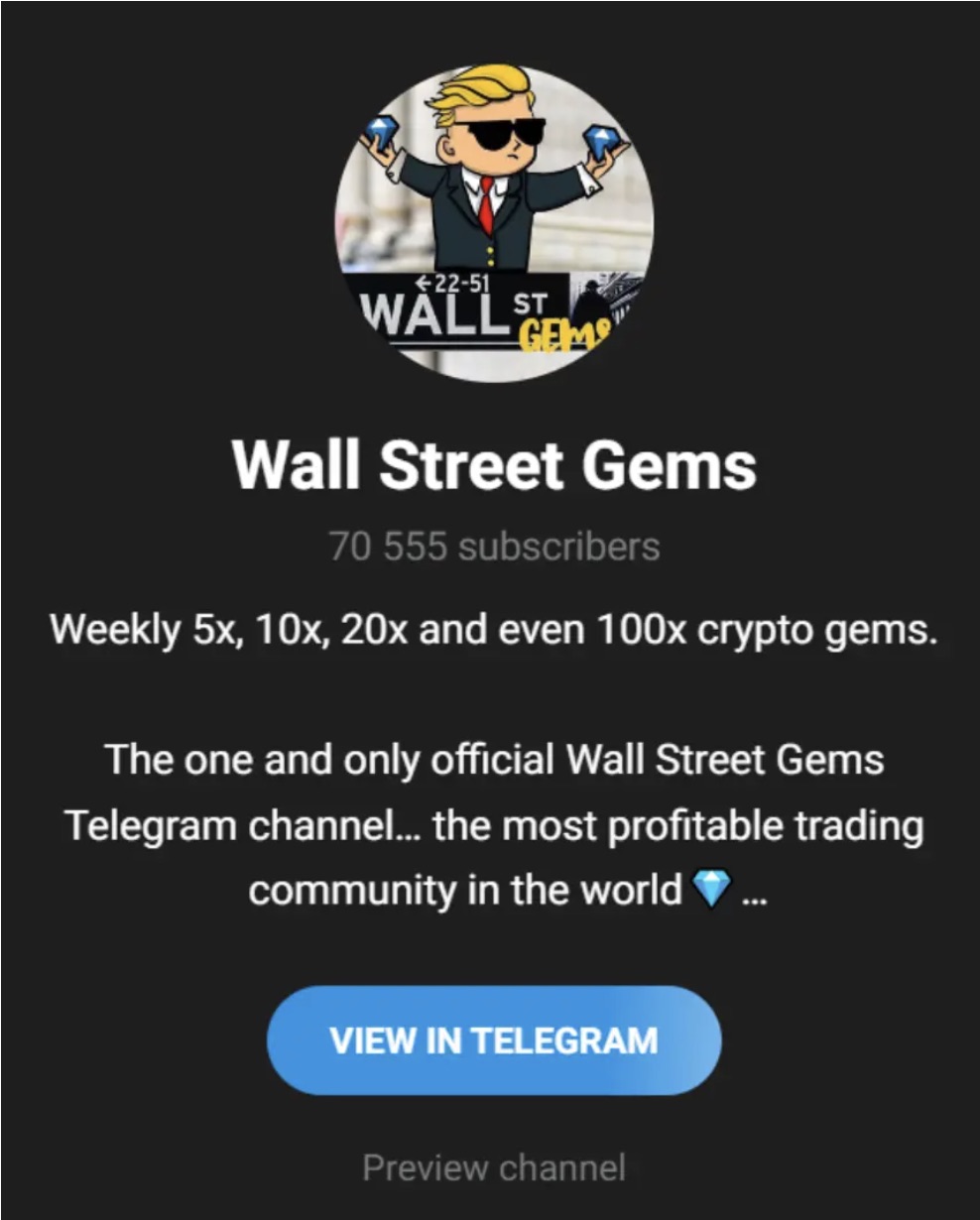 ---
Channel Members: 70,000+
Area of Focus: Crypto Signals
Paid Tier: No
---
Wall Street Gems specializes in providing crypto market signals for traders. You can find information about the latest notable price movements in the crypto sector and possibly profit from it. This channel is good for people who specialize in short-term crypto trading. There's no VIP account, so everyone gets the same information.
---
8. BTC Champ
---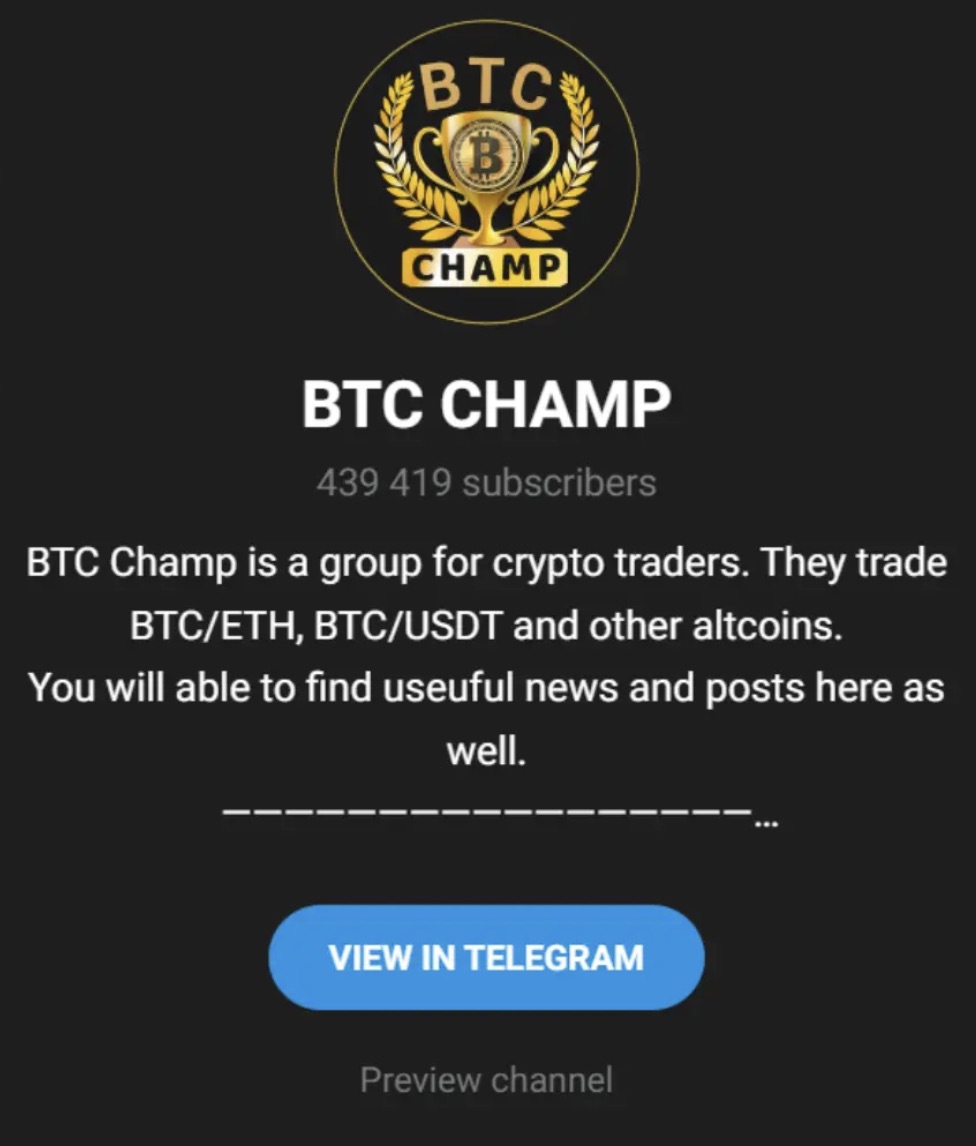 ---
Channel Members: 439,000+
Area of Focus: Bitcoin trading
Paid Tier: No
---
BTC Champ is a dedicated Telegram group for Bitcoin traders. Here, you can find a lot of information about how to trade Bitcoin and profit from price movements while incurring as little fees as possible. You will also get news about the latest events pertaining to Bitcoin. Likewise, you can also access information about new and upcoming crypto projects to benefit from.
---
9. Margin Whales
---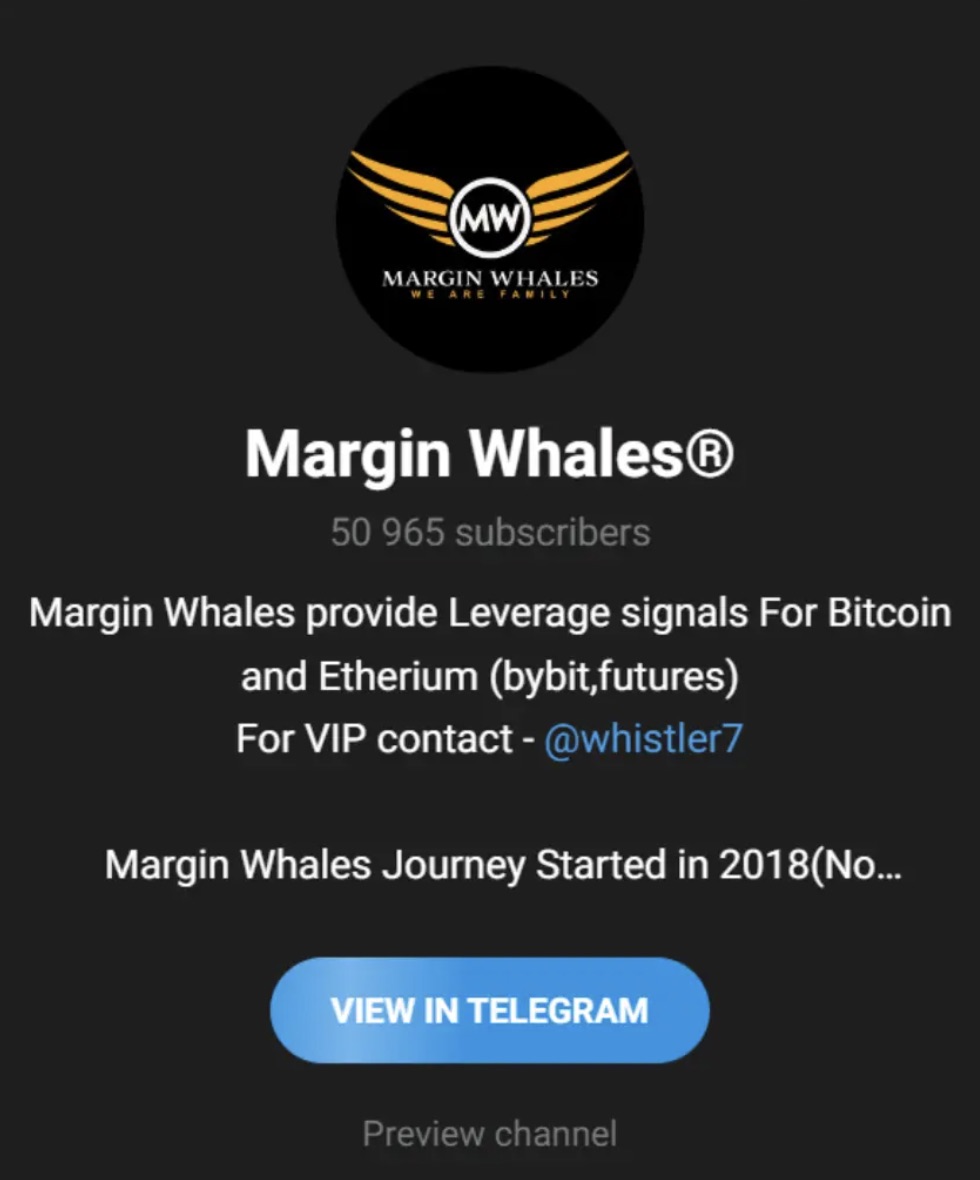 ---
Channel Members: 50,000+
Area of Focus: Leverage trading signals
Paid Tier: Yes
---
Margin Whales focuses on providing trading signals for people who trade Bitcoin and Ethereum with leverage. You can find crucial information about price movements to profit from with leveraged trades and also general news affecting cryptocurrencies. This group has a VIP membership option that unlocks access to more information and communication with a select group of expert traders.
---
10. Rekt Plebs
---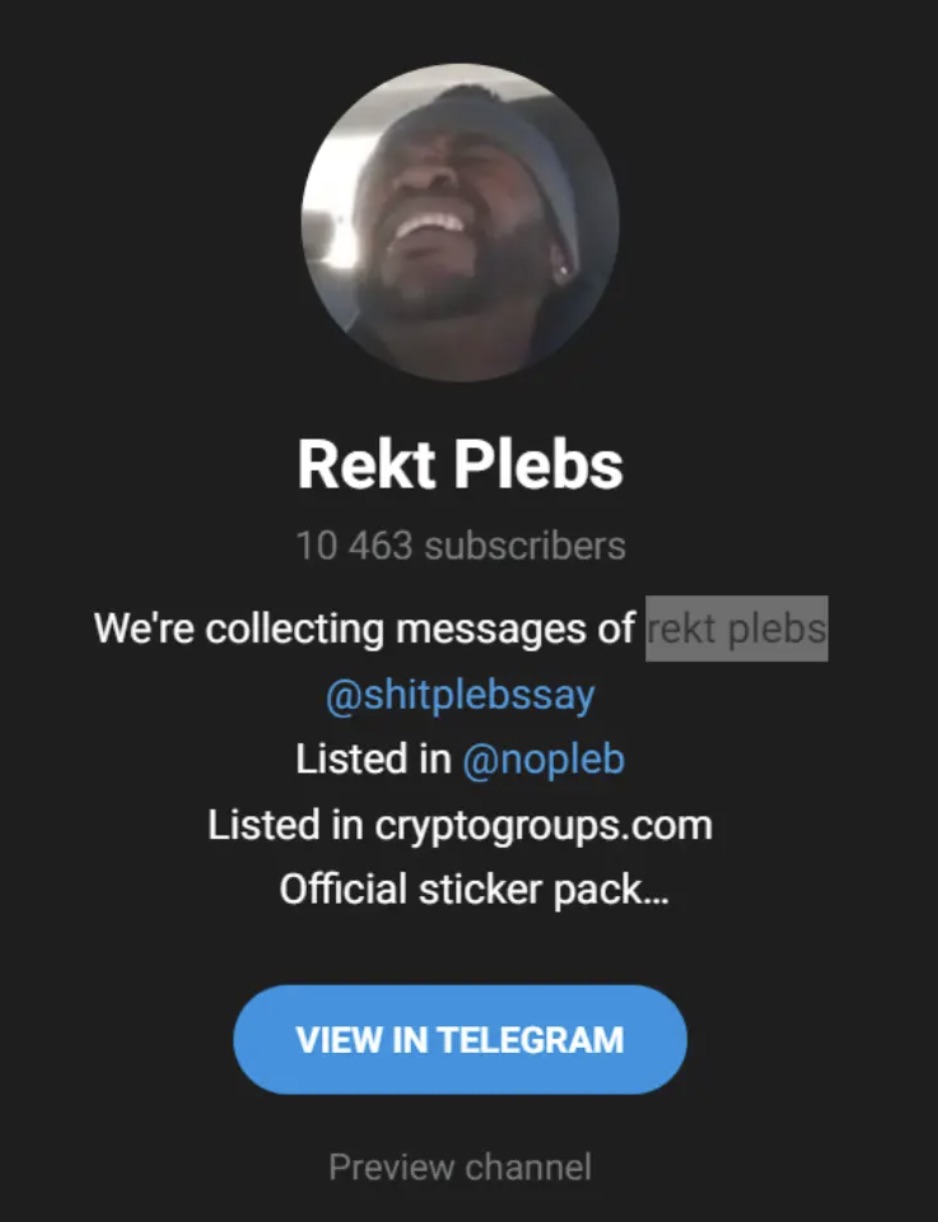 ---
Channel Members: 10,000+
Area of Focus: Failed crypto projects and investments
Paid Tier: No
---
Rekt Plebs is pretty different from the other Telegram channels on this list. It takes a humorous tone; members share stories of themselves or other people getting "rekt", as in, making a bad crypto investment that causes significant losses.
The "Rekt Plebs" channel allows members to find some humor in bad crypto trades. It also serves an important purpose; making you aware of the characteristics of sketchy crypto projects that you should avoid and steps that you should take to avoid losses. Rather than teaching directly, this channel takes the approach of teaching from failures.
You can also find news on the latest happenings in the crypto industry on this channel, although the news skews toward the negative angle.
---
11. CryptoPanicNews
---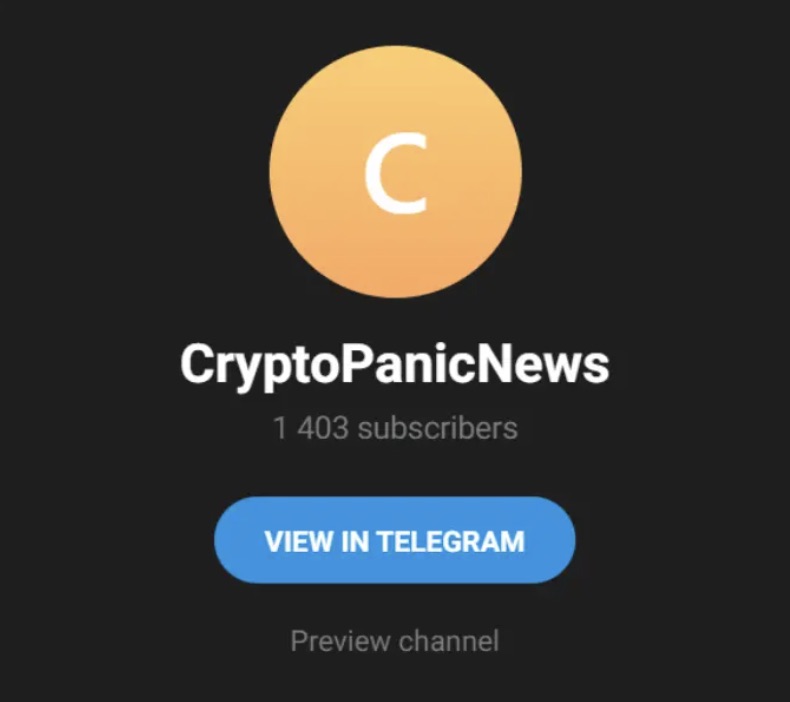 ---
Channel Members: 1,400+
Area of Focus: Breaking news
Paid Tier: No
CryptoPanic.com is a popular news aggregator for the cryptocurrency industry. It gathers breaking news from different sources across the web and delivers them to users in a single webpage. This website has a Telegram group that automatically posts every link added to the CryptoPanic news aggregator. This way, you don't necessarily have to visit the CryptoPanic website to get your breaking news; it's readily available on their Telegram channel.
The CryptoPanicNews Telegram channel is basically a news feed to keep track of the latest events and important occurrences in the crypto sector.
---
12. Whale Alert
---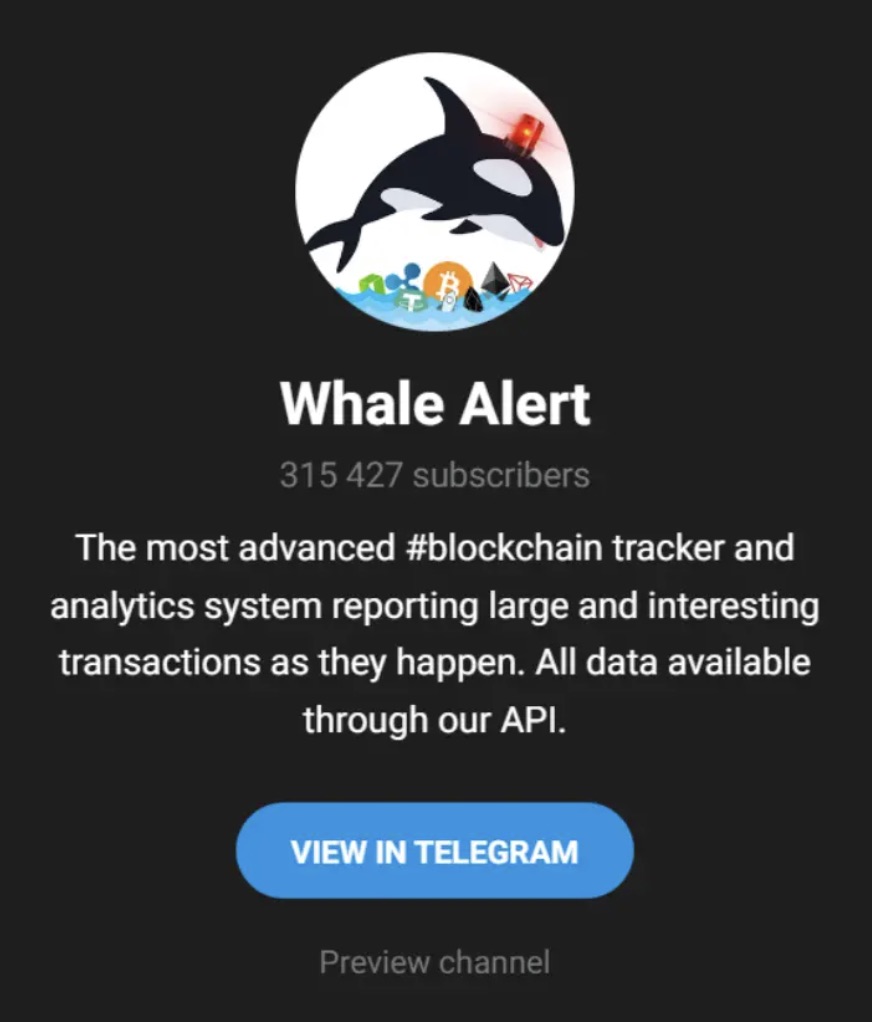 ---
Channel Members: 315,000+
Area of Focus: Reporting large blockchain transactions
Paid Tier: No
---
A "whale" in the crypto industry refers to an individual or corporate entity controlling large amounts of any cryptocurrency. They hold enough tokens such that their transactions can affect market prices, which is why crypto traders always keep tabs on them.
A good thing about the blockchain sector is that every transaction is publicly available on the blockchain. The Whale Alert Telegram channel scours various blockchains for big transactions and reports them immediately. This enables crypto traders and investors to keep track of large-volume transactions that can affect their portfolios.
---
Why Do People Use Telegram For Crypto?
To find crypto signals: Many people who trade cryptocurrency use Telegram to get insights into price movements and possibly profit from it.
Multiplatform availability: Telegram is available on all popular operating systems and is also accessible via a web browser. Thus, it's easy to use it regardless of your type of device.
Crypto news channels: There are many Telegram channels dedicated to reporting on the latest events in the crypto sector, and many people read them to stay informed and updated about the industry.
Price bots: Many developers have built Telegram robots that provide real-time price updates about different crypto assets.
Announcements: Telegram is the go-to platform for many crypto projects to make formal announcements and press releases.
Are Crypto Telegrams Safe?
There are lots of scams in the crypto world. Anonymous messaging services like Telegram and Discord can be particularly dangerous for newcomers. It's important to be very careful when navigating these spaces. Specifically, you should always remember these two rules:
Beware of Direct Messages (DMs): Most crypto scammers will prey on newcomers by sending them direct messages (DMs). If you join a crypto Telegram channel and start getting unsolicited direct messages from people you don't know, you should be very careful — especially if they are asking you to send them crypto, asking for your wallet credentials, or anything else that seems off. These are scams 90% of the time.
Do Not Share Your Seed Phrase: Your crypto wallet will have a special key known as a "seed phrase." This is a sequence of 12 random words that you can use to log in to your wallet — similar to a password. Anyone who knows your seed phrase will be able to log in to your wallet. Do not share your seed phrase for any reason. No legitimate crypto project, exchange, or help desk will ever ask you for it.
How To Download Telegram
For Mobile
1. Head to your respective application store (Play Store for Android, App Store for iOS).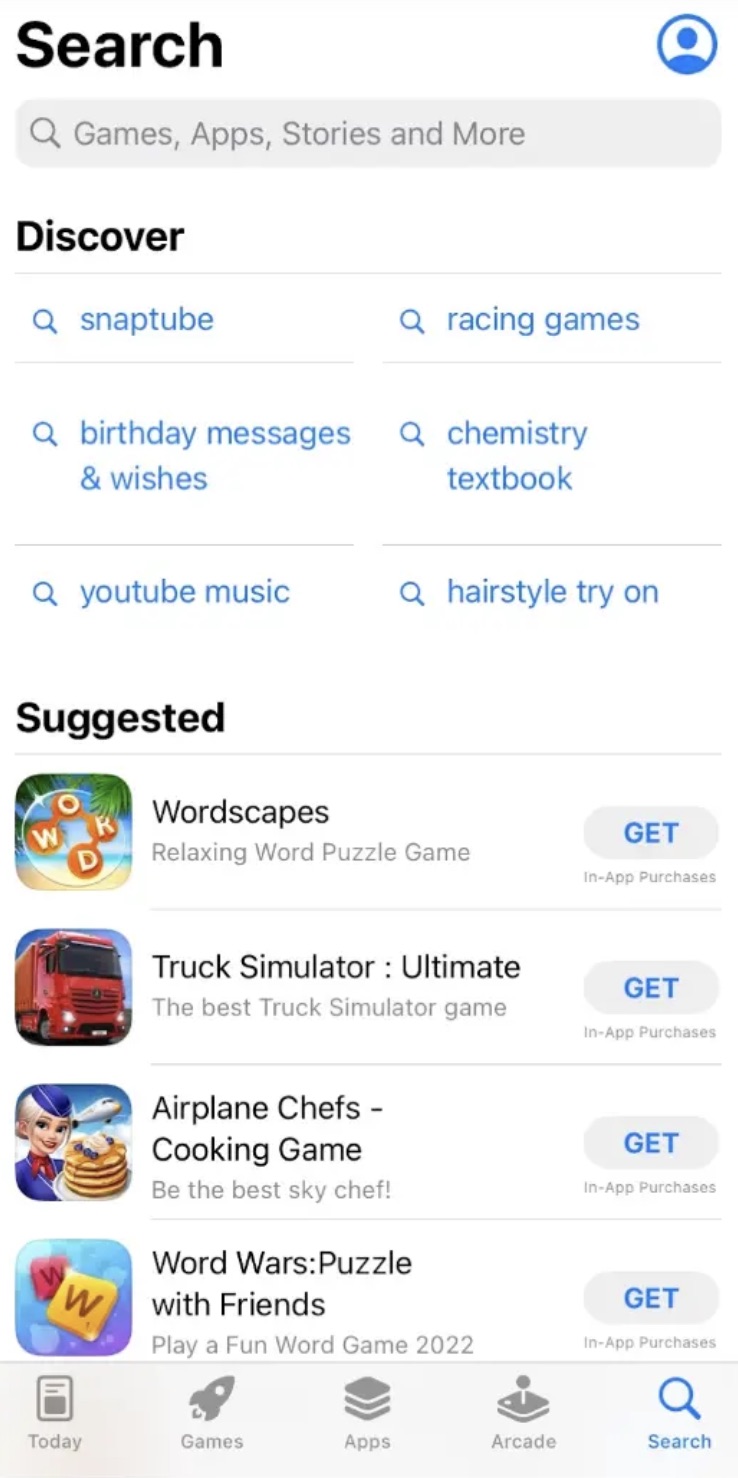 2. Look for the search bar and type in "Telegram." You should see the app's listing after hitting the search button.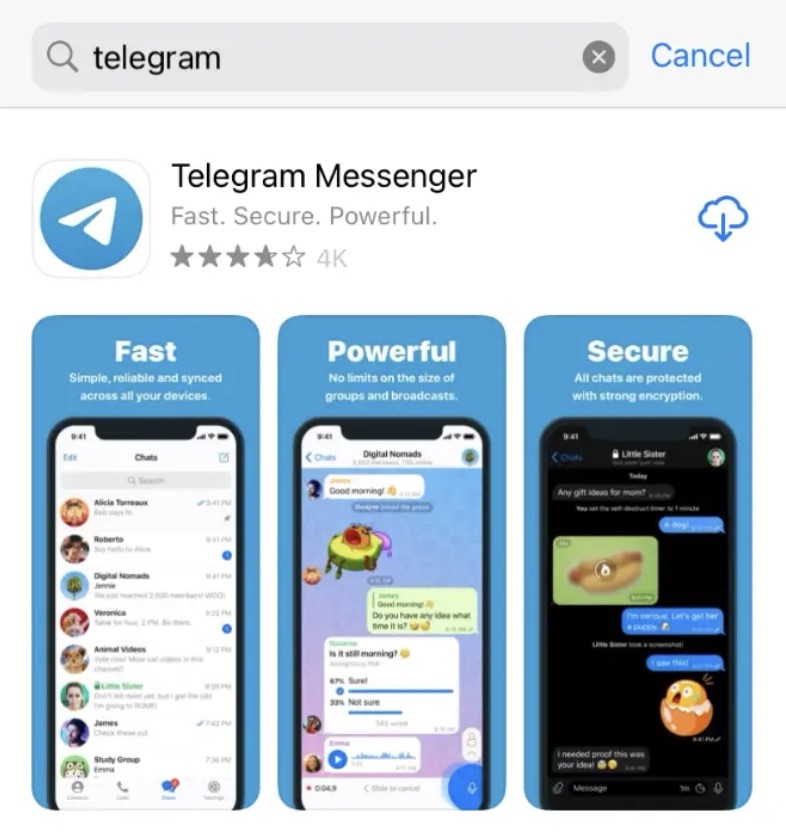 3. Click on the listing and then click the download icon to install it on your smartphone.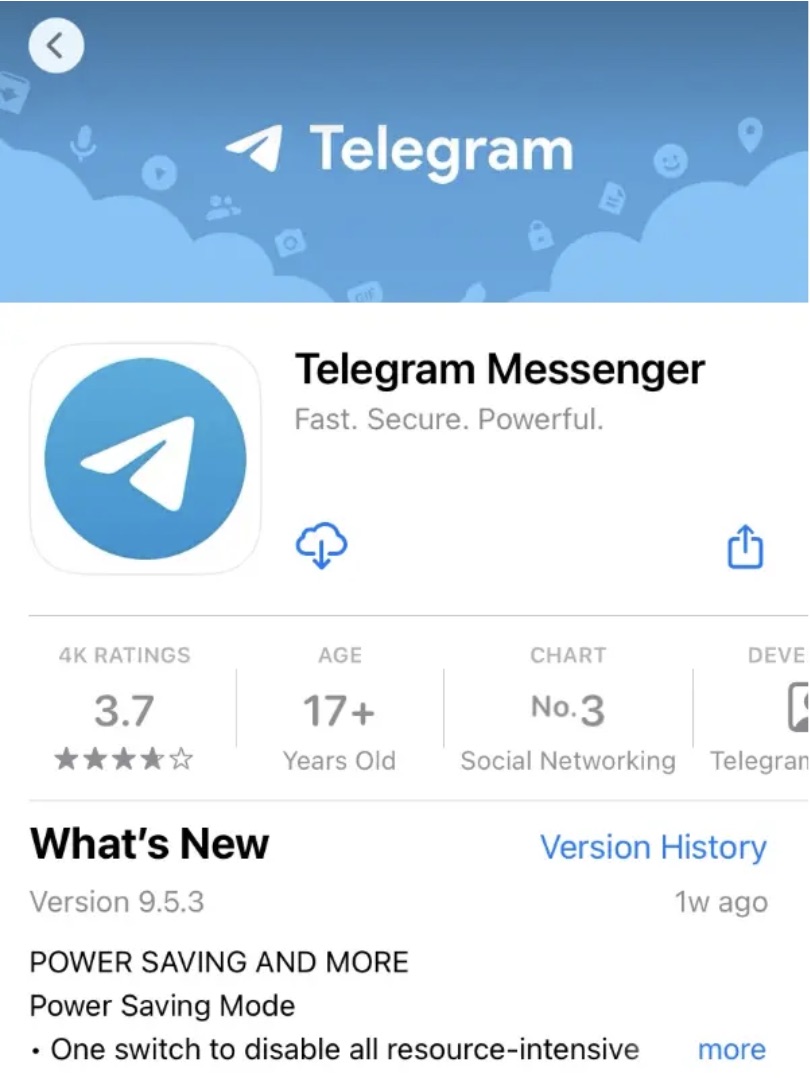 For PCs
1. Visit the official Telegram website (https://telegram.org/). You will find the links to download Telegram for Windows, Linux, or macOS on the home page.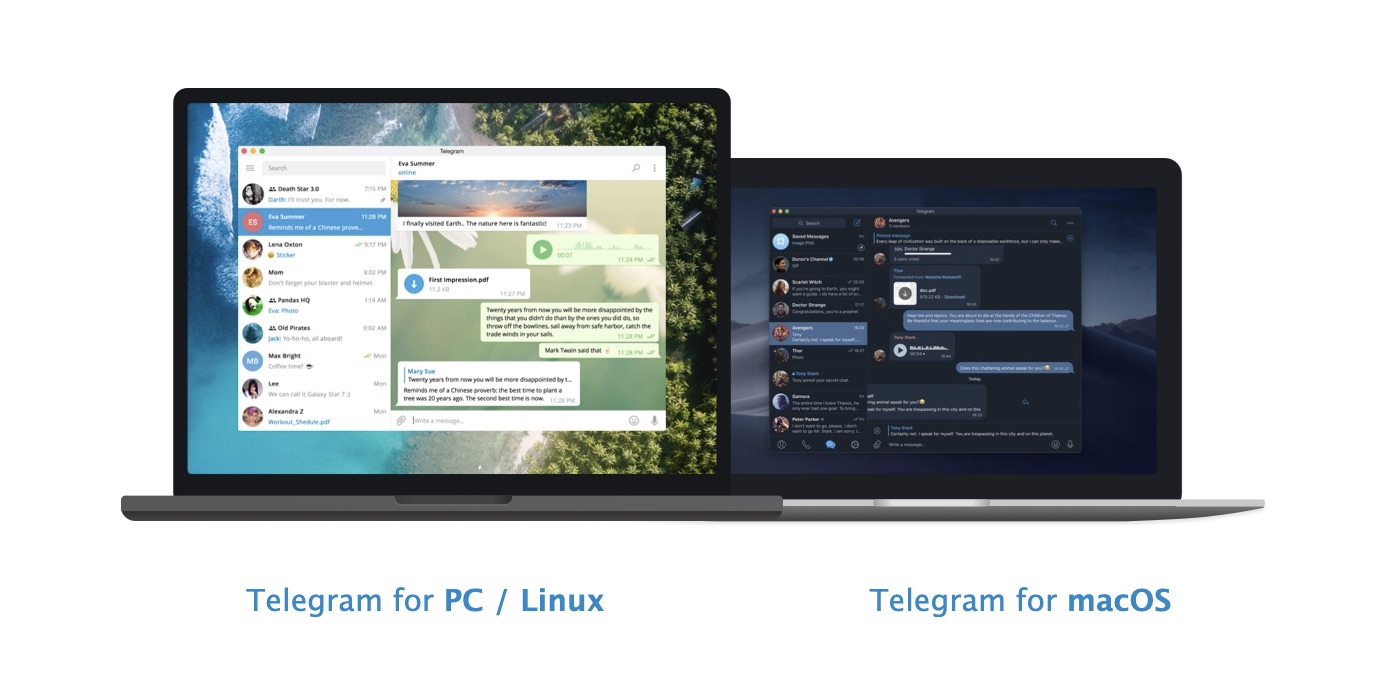 2. Click on the link for your operating system, and you'll be redirected to another webpage. On that webpage, click the download button to download the executable file on your PC.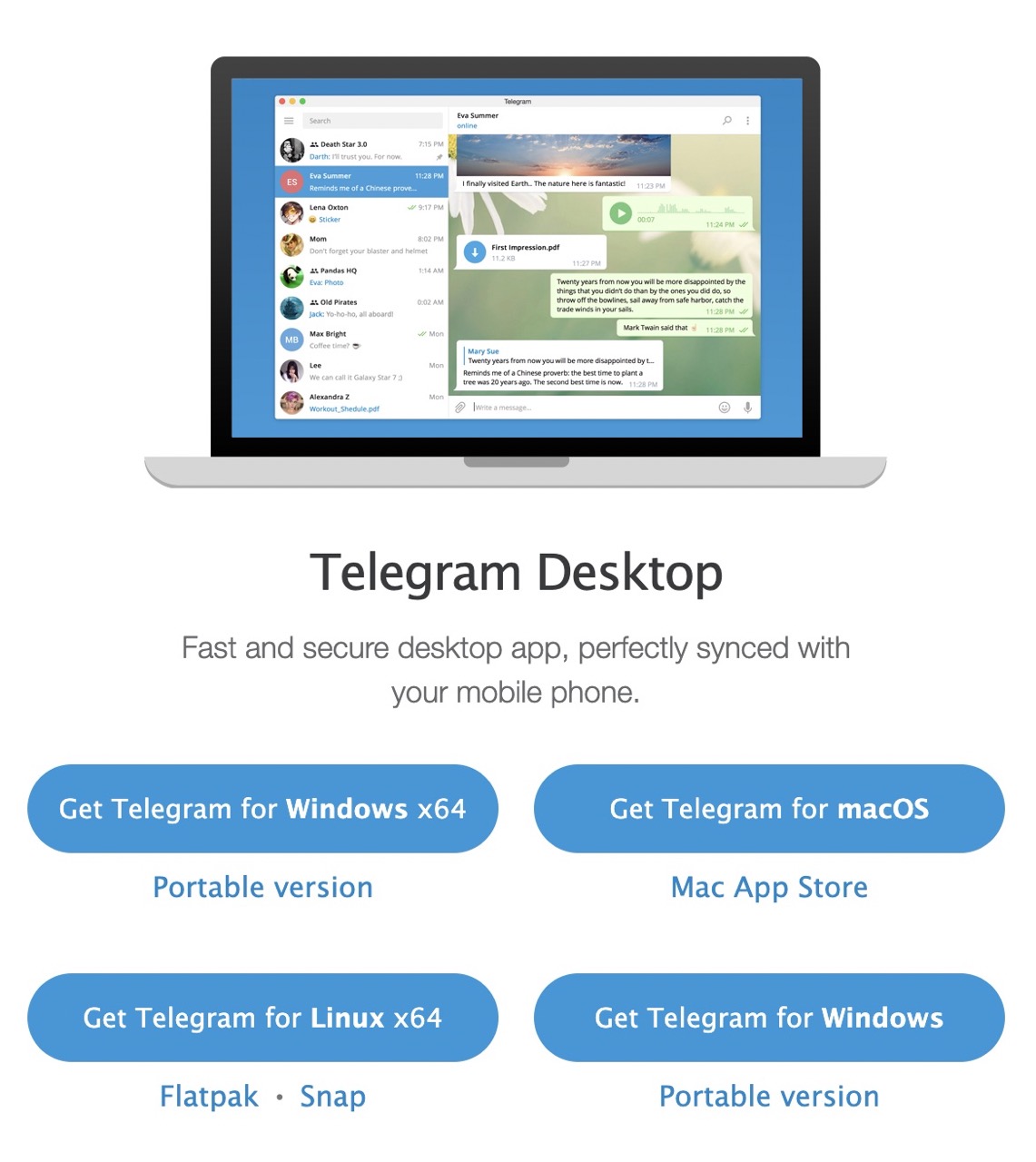 3. Once the file has been downloaded, run the installation process and wait for it to install.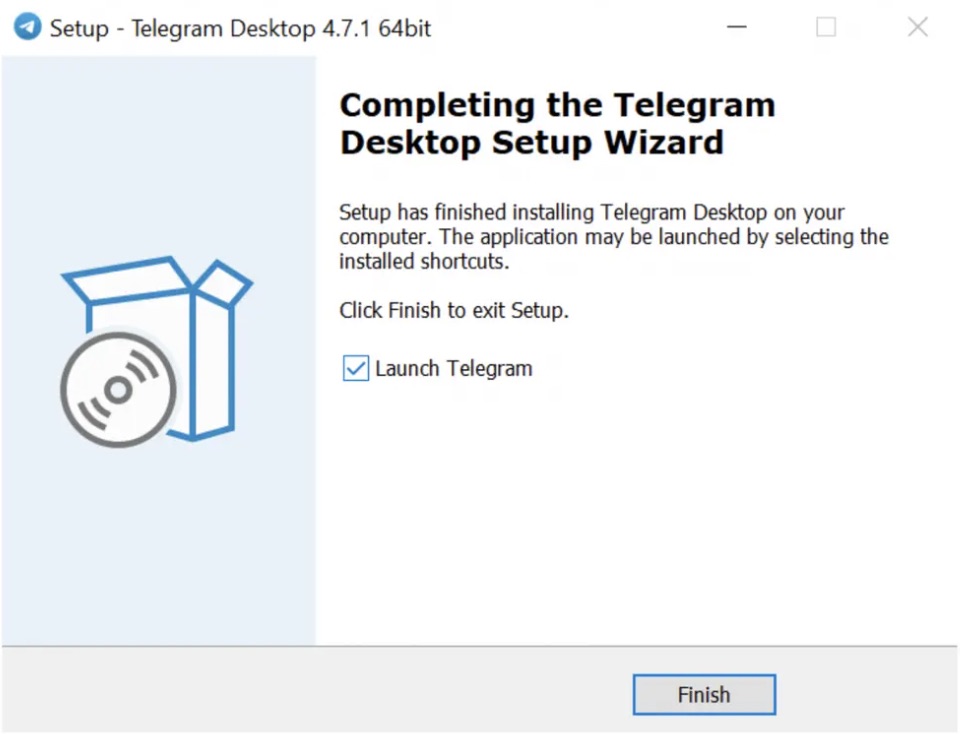 Alternatively, if you use a Windows or macOS PC, you can check the Microsoft Store or the Mac App Store for the Telegram app and download it just like you would on a mobile device.
How We Chose
To identify the best Telegram groups, we looked at the area of focus for members of that group. Some focus on crypto signals, while others focus on non-fungible tokens, specific crypto assets, airdrops, ICOs, etc. We also considered how large the group was; the higher the number of members, the broader the volume of knowledge. We also considered whether a group was totally free or had a paid membership option.
Looking For More?
Check out:
Frequently Asked Questions
Many traders use Telegram because its instant-messaging features allow for high-frequency communication and instant news.
As an anonymous messaging platform, however, Telegram can be dangerous and full of scammers. Be careful when using the platform, and stick to well-known channels in order to get the most out of it.
There are many legitimate crypto trading Telegram channels — such as the ones we list above.
There are also many illegitimate ones who will attempt to trick you or steal funds from you. Always do your own vetting and stick to verified channels or ones with large followings.
There is no single answer to how much you can make from trading crypto based on Telegram signals. Remember that investing is always risky, and it's best done only with money you can afford to lose.
Many traders do well by following Telegram crypto signals, but ultimately, it's impossible to know if an investment will do well or poorly over time.