Blur NFT Marketplace Review October 2023
Last Updated:

June 26, 2023
Our Take On Blur NFT Marketplace
THE BOTTOM LINE:
Built for NFT traders and collectors, Blur cuts the cruft you'll find on other marketplaces — dropping you right into a trading screen. Stats and charts? Check. Collection sweeps? Check. I took Blur for a spin, and here's what I learned: Blur is changing the NFT market by providing better insight into NFT values and an insanely powerful trading platform.
Pros
Find NFTs listed on Blur and other platforms like OpenSea
Sweep collections with filters applied
See new listings in real time
Cons
Limited collections
Ethereum network only
Missing site-wide price search

Via Blur's Website
What Is Blur NFT Marketplace?
Blur is an NFT marketplace focused on traders and collectors rather than entry-level NFT buyers. You won't have to sort through pages of questionable NFTs and distracting banners. Just the best NFTs and the relevant stats, please. So far, it's a smash hit. Blur is growing faster than a fungus, with trading volume nearly double that of OpenSea in the past three months. Over 60,000 NFT fanatics use the platform monthly – and it's still growing
If you're used to shopping for NFTs on OpenSea, here's a switch: Blur is a decentralized protocol. It's an app running on the Ethereum blockchain. Blur also has its own governance token (BLUR), allowing the community to vote on what comes next for Blur.
What also makes Blur a standout from other marketplaces is the ability to track trends, zero in on top projects, cherrypick the best NFTs, and sweep collections in a few clicks. Blur is both a marketplace on its own and an NFT aggregator, bringing over $1.4 billion of premium listings together in one place where you can analyze the market before making a trade. Yeah. No more shrugged-shoulder guesses.
What's with the name? It might have something to do with speed. Blur boasts sweeps (buying all or part of a collection) up to 10x faster than the competition and the ability to snipe (grab it before someone else does) the hot NFTs before they hit other marketplaces.
Put your aviator goggles on. We're going NFT speed-shopping on Blur.
Key Features
Sweeps: Blur lets you sweep the lowest-priced listings in any collection in one fell swoop. Apply filters to fine-tune your sweep.
Bidding: Blur brings transparency to pricing with bidding and the ability to see the bid volume at various price levels.
Trader view and collector view: Traders need charts, and collectors need detail. And sometimes, you need both. Blur lets you toggle views as needed, so you get the big picture before making a big purchase.
Our Expert Review Of Blur
I'm more of a DeFi yield hound (owooooo!) than a diehard NFT person. So, when Milk Road chose me to do the Blur review, I raised a skeptical eyebrow. But in a way, that's perfect. I can provide an unbiased take on Blur without becoming smitten, right?
Here's what happened, though: By the time I was done poking around on Blur, I had my eye on a couple of mustached Pudgy Penguins and three pirate-hat Moonbirds. Yeah, Blur is cool enough to change your take on NFTs.
Blur Interface
Blur begins the experience in hacker black. Swap from the dark theme to a light theme if you want. I found the light theme helpful when viewing the details of darker NFTs. You can also choose between a trader view, which is heavy on stats like bids and a price chart, or a collector view, which brings larger pictures of the NFTs (at the expense of charts). There's a handy toggle right on the bottom.
This is the collector view. Schnazzy. Just hover for traits and rarity.
Trader view brings back the stats, including bids, rarity rating, and last sales. The chart on the bottom-right lets you hover to see which NFTs sold at which price. I switched to the 7-day view to show the price cliff. Wrapped Cryptopunks went on sale for a bit. The new floor: 63 ETH, down from about 74 ETH.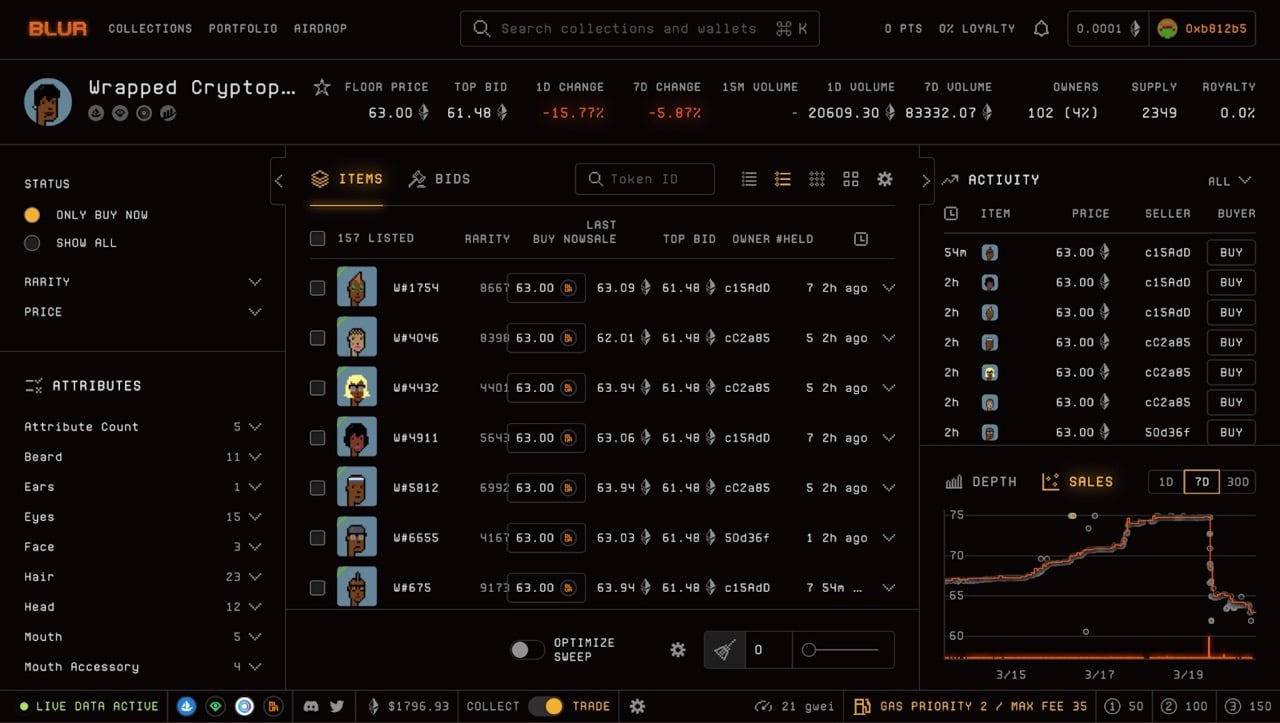 Buying And Bidding
I tried to buy a Blur NFT for you guys. I really did. In fact, it's ridiculously easy to do on Blur. But the ETH gas fees for a clearance-rack Ape knockoff cost more than a large pepperoni pie and a couple of Yoo-hoos. (We all have our priorities.)
You can manage these gas fees to a degree. Blur lets you choose from three gas fee levels if you want to be extra sure your purchase goes through fast, though. Hey, it's competitive out there in NFT-land.
My abandoned purchase brings me to my first minor grumble: Blur only works on the Ethereum network. Connect with the budget-friendly Arbitrum network, and Blur honks at you like an NYC cabbie. By contrast, OpenSea lets you transact on Abitrum or Polygon, assuming the NFTs you're buying are on those blockchains.
Grumbles aside, this all makes sense (sort of) because the NFTs on Blur are on the Ethereum blockchain. And if you're spending thousands on premium NFTs, a $20 gas fee is just a cost of doing business. The key takeaway here is that Blur isn't the place for tire-kicking cheapos like me. It's for serious traders and collectors — like you.
If you're digging for NFT gold, here's what Blur offers all you digital prospectors out there:
Real-time price feeds: Blur pulls pricing from the blockchain for up-to-date prices on NFT listings. If you want the right-now price — not the 30-minute-ago price, check Blur.
Sort by price: While the toggle is fiddly, you can sort NFTs by price. Within a collection, you can search by price range, but you can't do this search sitewide.
Multi-market sweeps: Sweeping (the floor) refers to buying a substantial amount of a collection at once. This removes the lowest cost NFTs in the collection (which set the current floor price) and raises the floor price because only those with a higher purchase price remain. Blur lets you sweep up to 30 NFTs at once and apply filters to your sweeps. Go ahead, flex your muscles, you master market manipulator.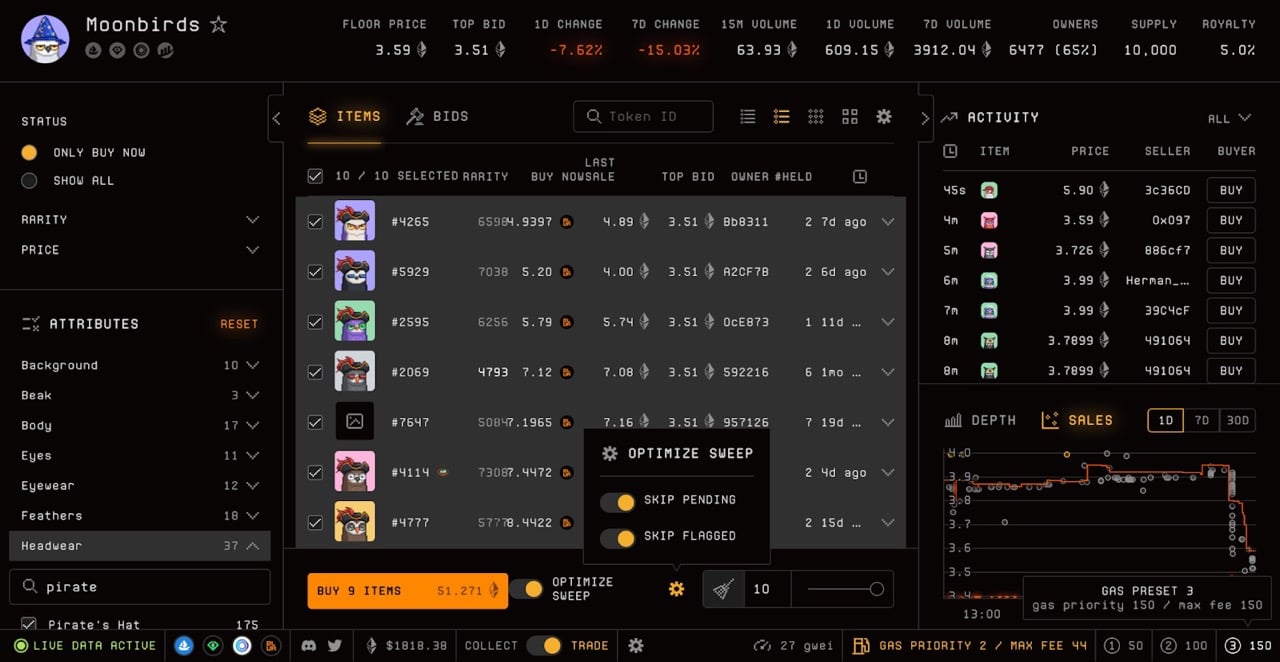 Bidding: By bidding on NFTs on Blur, you might get a better deal, but you might also earn BLUR tokens — the hottest new thing the NFT cool kids are collecting. More on those shiny baubles in a bit. You'll need to deposit ETH to bid. This way, every bid isn't another transaction to confirm in your wallet (which costs yet more ETH). Good news: You can use your deposited ETH toward your purchases.
Open bids: What's an NFT worth? Well, it's worth what someone will pay for it, of course. Prior to Blur, many NFT prices were wild guesses mixed with a sprinkle of wishful thinking. Now, you can see how much others are willing to pay and how many NFTs in a collection they're hungry to buy. That level of transparency is a game-changer for NFTs.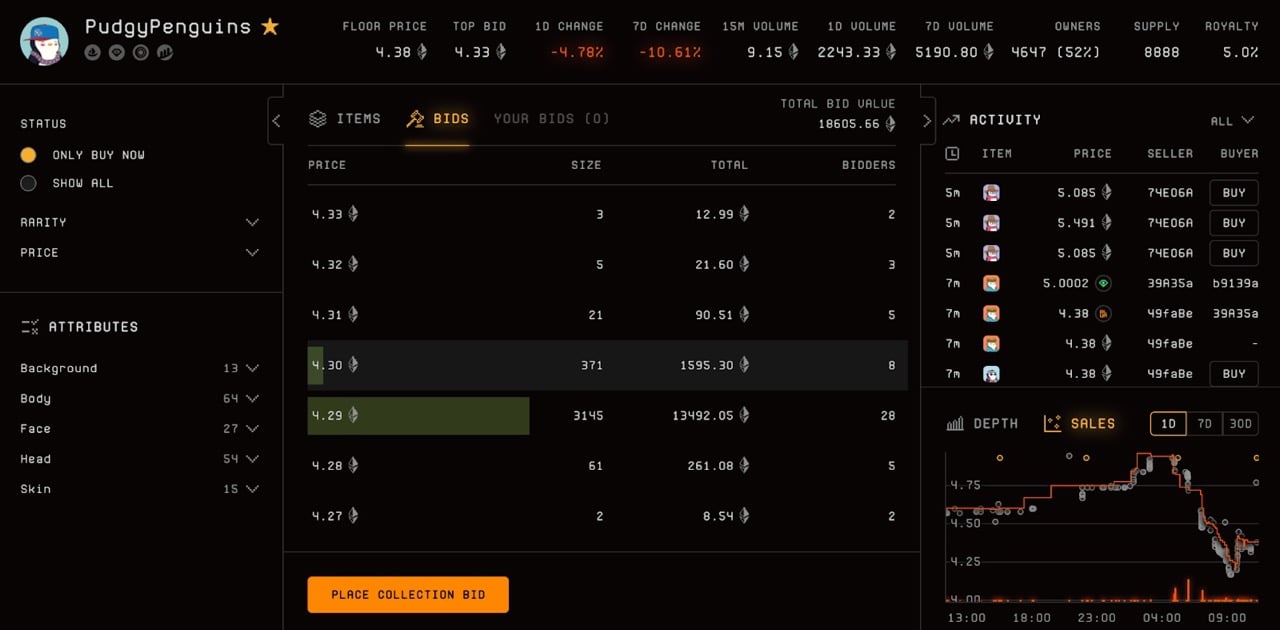 Rarity score: This is pretty cool. Blur looks at the traits for each NFT and their rarity within the collection to compile a rarity score. You'll find it in the trader view.
Filter results by feature: I wanted a Moonbird with a pirate hat. Search. Filter. Find. Arrgh.
No trading costs for NFT sales: Ignoring my previous whining about ETH gas fees, trading is still cheap-ish on Blur because there are no trading fees. Really. Buyers just pay for the NFT and gas costs. How does Blur make money with no fees? Mysterious indeed, but it might have a little something to do with BLUR tokens, which we'll explore in a bit.
Favorites: Keep an eye on collections by adding them to your favorites. Find your favorites again under the collections tab. Simple enough, and handy too.
OpenSea flags: The OpenSea marketplace flags NFTs that are reported as stolen. Blur can show or hide flagged NFTs (there's a toggle). Understandably, a possibly stolen NFT may not be as desirable in the resale market.
Blur is also an aggregator, meaning it shows you listings from other NFT sites in addition to Blur-exclusive listings. You can view stats and buy NFTs listed on other sites without opening a new tab.
You'll find NFTs from the following marketplaces:
OpenSea: Once the unrivaled giant in the NFT space, OpenSea is now an arch-rival of Blur. In some collections, 20% or more of the listings are from OpenSea.
LooksRare: Listings from LooksRare, a competing decentralized NFT platform, are included in collections and search results on Blur.
Listings from X2Y2, another decentralized NFT marketplace, are no longer included. See? The crypto fam is just like a real fam, squabbles and all.
Listing And Selling
To sell an NFT, just click on the portfolio tab to see what you have available to sell. Blur filters out spam NFTs and trading-position NFTs like those pesky critters Uniswap leaves behind. You can see your collection without the clutter. Or — in my case — you can see nothing at all. Don't laugh; it's a zen thing.

Here's the catch: Blur won't display NFTs from collections the platform doesn't support. And, of course, NFTs that aren't on Ethereum don't show either. Nope, you can't sell your Polygon-based Trump NFTs on Blur.
If you have Blur-supported NFTs, you're the Captain now. Blur lets you set the price as well as a floor price for specific traits. The listing screen shows you the current floor for your collection, so you're not shooting in the dark.
Choose from listing durations as short as one hour up to six months. You can also cross-list to LooksRare and OpenSea, so you'll get a few more eyeballs on those spiffy NFTs of yours.
Trading Fees: Blur doesn't charge a trading fee, but it does enforce a minimum 0.5% NFT royalty fee for the creator. When selling, be sure to check the royalty fee settings. Some have a default percentage set much higher, like Bored Apes, which defaults to an 8.0% royalty. If you sell your NFT, the royalty is subtracted from your sales revenue. You'll also pay ETH gas fees for listing.
BLUR Tokens
If you're a trader or collector, there's a lot to like about Blur without even getting into freebies. But there are freebies, and a lot of the Blur buzz is linked to BLUR tokens. Blur has been airdropping these things like that time it was raining fish in Texas.
Blur awards users with points for bidding, sweeping, and listing. Basically, do something to prove you have a pulse (and some ETH) on the Blur platform, and you might earn points. These activity-driven points play a role in how many BLUR tokens you might get in an upcoming airdrop.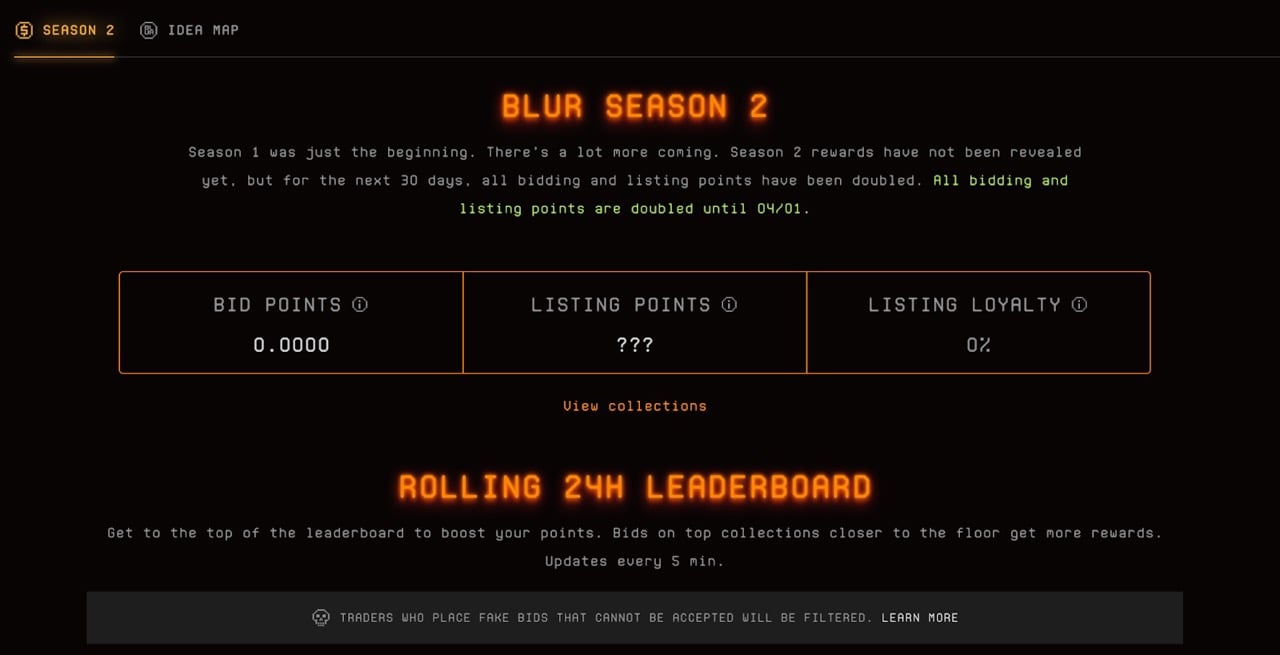 The current Blur airdrop season brings 300 million more BLUR tokens to the market with a maximum supply of three billion. About half of the total token supply ultimately goes to the community treasury for airdrops and such, while the other half is split amongst investors, advisors, and the core team.
There are some people out there making BIG money with BLUR airdrops. The token trades on major exchanges like Coinbase (about $0.60 as of this writing).
The points system is built around loyalty to Blur, encouraging users to participate by bidding and listing. Blur tokens aren't just good for selling to buy Lambos, though. It's also a governance token. If you HODL, you can vote on future changes and improvements to the protocol. In the end, it's your protocol.
Who's Blur For?
People who trade NFTs: If you're an NFT trader or a flipper, Blur will be the best thing since tabbed browsers. Bidding on other sites like OpenOcean just doesn't compare. Blur does a better job of presenting the full market picture. To be fair, Blur has a different target market.
People who collect NFTs: Blur isn't just for traders, but you'll have to compete with hordes of them to get the best NFTs — and a lot of them are only listed on Blur. The great thing is that Blur gives you the tools to find the perfect NFTs to add to your collection. Bids from traders give transparency to the process, so you can gauge market interest and know how much to invest without overpaying, hopefully.
Who's It Not For?
People who are new to NFTs: Sites like OpenOcean are friendlier to newbies. If this is your first rodeo, it's probably better to learn to rope some calves over there first. It wouldn't hurt to peek at blur to see which collections are supported before you buy, though. That way, you'll know what you can list on Blur if you decide to sell later.
People who don't trade NFTs often: If you're not a frequent trader, you might enjoy the experience more on OpenSea or a similar platform. Even Uniswap has a pretty people-friendly NFT section these days. It's powered by Genie, an NFT aggregator Uniswap acquired.
Blur Alternatives
If you've seen the buzz, it may seem like Blur is the only game out there. Not true, although it does have the highest sales volume at the moment. Depending on your needs, another platform might be a better choice for you.
Blur Vs. OpenSea
Blur and OpenSea are the two big fish in the NFT space. Blur's dApp targets traders, while OpenSea may be better suited to retail buyers and people using blockchains other than Ethereum.
| Marketplace | Decentralized | Token | Buyer Fees | Seller Fees | Collection Sales History | Real-Time Prices | Multiple Blockchains |
| --- | --- | --- | --- | --- | --- | --- | --- |
| Blur | Yes | Yes, BLUR governance token | None, gas fees only | Gas fee for listing, 0.5% minimum creator royalty | Yes, detailed charts | Yes | No, Ethereum only |
| OpenSea | No | No | None, gas fees only | 2.5% fee on all secondary sales (excluding promos), 0.5% minimum creator royalty | No, per-NFT sales history only | Yes (beta) | Yes, Ethereum, Arbitrum, Polygon, Solana |
Blur Vs. LooksRare
Blur doesn't charge a trading fee, but LooksRare does. Where do those fees go? Well, they're shared with LOOKS token holders who stake their tokens on the platform. Compared to Blur, LooksRare is a bit easier on the eyes, but you'll have to dig a bit more to find analytics.
| Marketplace | Decentralized | Token | Buyer Fees | Seller Fees | Collection Sales History | Real-Time Prices | Multiple Blockchains |
| --- | --- | --- | --- | --- | --- | --- | --- |
| Blur | Yes | Yes, BLUR governance token | None, gas fees only | Gas fee for listing, 0.5% minimum creator royalty | Yes, detailed charts | Yes | No, Ethereum only |
| LooksRare | Yes | Yes, LOOKS utility token | None, gas fees only | 2%, including 0.5% creator fee, plus gas fee | Yes, new analytics section | Yes | No, Ethereum only |
Blur Vs. Uniswap
You already know Uniswap as the leading decentralized exchange. Now, Uniswap also has a built-in NFT aggregator that pulls listings from LooksRare, OpenSea, and Y2Y2. When you're ready to sell, the same platforms are supported.
| Marketplace | Decentralized | Token | Buyer Fees | Seller Fees | Collection Sales History | Real-Time Prices | Multiple Blockchains |
| --- | --- | --- | --- | --- | --- | --- | --- |
| Blur | Yes | Yes, BLUR governance token | None, gas fees only | Gas fee for listing, 0.5% minimum creator royalty | Yes, detailed charts | Yes | No, Ethereum only |
| Uniswap | Yes | Yes, UNI governance token | None, gas fees only | External platform fees, gas fees | Limited | Yes | No, Ethereum only for NFTs |
Final Thoughts On Blur
Blur offers market transparency, and Blur's innovations are nudging platforms like OpenSea to add new features. Good. That's what's supposed to happen. Blur is a powerful trading tool, which makes it a near-perfect fit for some in the NFT space, but beginners might prefer OpenSea and other platforms that do a better job of onboarding new NFT peeps. There's room for both, and traders are happy to have a place built with them in mind. That place is Blur.
Frequently Asked Questions
The BLUR token has a maximum quantity of 3 billion tokens, of which about half are committed to core developers, investors, and advisors. The remaining tokens are earmarked for the community treasury, which funds airdrops and may fund other initiatives.
The Blur NFT airdrop is a series of airdrops where Blur gives BLUR tokens to active users on the platform. In total, just under 1.5 billion tokens are slated for the community treasury that funds airdrops.
The Blur marketplace is generally as safe as your crypto wallet. Transactions on the protocol are funded through your wallet, and you'll need to authorize these transactions. However, you'll need to deposit ETH to bid on NFTs. Blur runs as a decentralized application on the Ethereum blockchain. It's a computer program, which means there may be bugs or exploits. The Blur documentation published by the Blur Foundation links to the most recent audit of the code performed by Debaub.