How To Restake: Our Experience Restaking On EigenLayer
After setting up a crypto wallet and funding it, we walk through what we've accomplished with the Milk Road Public Wallet and then walk through, step-by-step, how we are restaking using EigenLayer.
We officially re-launched the Milk Road public wallet on August 5th. Now we're ready to start restaking. We're restaking on EigenLayer and want to explain how to do it step-by-step.
It's almost been a full month of us taking Roaders on a backstage tour the blockchain. But we're just getting started.
Powered by

.
Experience the power of real-time market data with MetaMask Portfolio
here
After kicking off with the basics of setting up a wallet for the first time and funding the wallet, we dove right in.
Performance To Date
As we begin to hold positions other than ETH, stETH and USDC, our comparison to our benchmarks will be a lot more meaningful.
For now, here is how the first month has gone:
We kicked off our public wallet with $10,000. Its balance is now $9,590.
Of the $410 of lost value, $155 of that came from gas fees from our transactions.
On our initial purchase of ETH, we paid $1,832 / token. At the time of writing, ETH is currently trading at $1,706.
Continuing to hold ~35% of stablecoins has allowed us to outperform ETH since our inception (minus fees). However, we have underperformed our other benchmark of cash as the crypto market has weakened in the past month.
Crypto Holdings
Here are our current crypto holdings:
ETH: ETH is our biggest holding for two reasons. First off, ETH is the backbone of DeFi and Milk Road feels very strongly about its future potential. Additionally, ETH is the most widely used token in DeFi and allows us to interact with a wide range of protocols.

stETH: This is the tokenized receipt we received for staking a portion of our ETH, which allows us to earn rewards for validating the network. Our ETH was staked with Lido, and a portion of it is being restaked with EigenLayer (more on this below).

Pendle positions – We currently have two positions open:


YT: YT positions on Pendle allow you to separate the yield of an asset from the underlying token. In this instance, we swapped our Lido staked ETH yield for Frax's staked ETH yield in hope it will outperform.
PT: PT positions on Pendle allow you to lock in a fixed rate loan on the underlying principal token. We locked in a fixed rate loan maturing at the end of 2027, but we are able to trade out of the position at any time.


USDC: We are still holding ~$3,400 in stablecoins, which we will be deploying in unique ways over the next few months..
Blockchains Explored
We hold assets across 4 different blockchains:
Ethereum Mainnet: Ethereum is the gold standard of DeFi. It has the most protocols, developers and money flowing around. As a result, the majority (~80%) of our assets are held here.

Arbitrum: Arbitrum is the most popular Layer-2 network by adoption, users and deployed protocols. When you add in fast transactions and very cheap fees, it becomes an exciting place for innovation and experimentation. We see a lot of potential in exploring some of these opportunities.
Optimism: Optimism is Arbitrum's closest competitor and has been in the news due to recent use of its OP Stack by Coinbase and Worldcoin. And since it is a much different ecosystem than Arbitrum, we decided to explore both.

Base: Base is the latest L2 to join the scaling wars. Their rollout has been explosive in terms of metrics, largely backed by the emergence of Friend.tech. And with the backing of Coinbase, it is not a network that we want to ignore.
Fees & Costs
We have paid $155 in total gas fees.
Gas fees are the dark side of Ethereum Mainnet. Because these fees are paid to transact, our portfolio lost 1.55% just entering positions so far.

This is also due to the fact that we are engaging with some complex smart contracts and trying unique things for readers. If you wanted to simply bridge or swap a few times to enter positions, the fees would be significantly less.
Note: The value of the transactions does not impact the fees. Gas fees are based on how busy the network is at the time and the type of transaction.
Public Wallet Goals
It's been an exciting first month, and we can't wait to see how the public wallet does as market conditions (hopefully) recover.
Either way, we want to reiterate our goals for the public wallet initiative:
Give readers a first hand look into DeFi and using a decentralized wallet, while providing step-by-step guides
Find cool opportunities for readers, as well as things that should be avoided
Try innovative and risky concepts that emerge, being the test dummy for our readers
Hope to outperform our benchmarks, but we're more focused on having fun and giving unique insights
Remember that we're taking on risks and messing around. This isn't advice that anyone should follow. Always do your own research and evaluate the risks.
And with that, here's what we were up to last week: We restaked some of our ETH with EigenLayer.
Restaking On EigenLayer
Background
We covered EigenLayer last week in our LSD-Fi guide, so check it out if you want to learn more about restaking and the protocol itself.
In short, EigenLayer allows you to take ETH that you have staked, and restake it to earn additional rewards. These rewards come from being able to secure multiple networks with your holdings. And there's been a ton of demand for their offering.
So much demand that their cap for deposits was reached in an hour when the protocol first launched. And they recently announced they would be raising the capacity by 10x.
The site had some issues based on demand and the capacity filled in about an hour. But we were able to get in on the action right before they filled.
And now, the total amount of funds (TVL) currently deposited with EigenLayer sits at $235M.
Our Experience With EigenLayer
The capacity was lifted at 10am on August 22nd.
Once it hit 10, the site was loading and I was watching the amount of re-staked ETH go up by the minute. But the button to restake was grayed out on my browser.
I began constantly refreshing the page and searching Twitter for updates. Many people (if not everyone) was having this problem. Luckily, I came across a tweet that was spreading with a solution.
We had to right click the "Re-stake" button and inspect it. After that we deleted the word disabled from one line and boom. The issue was fixed.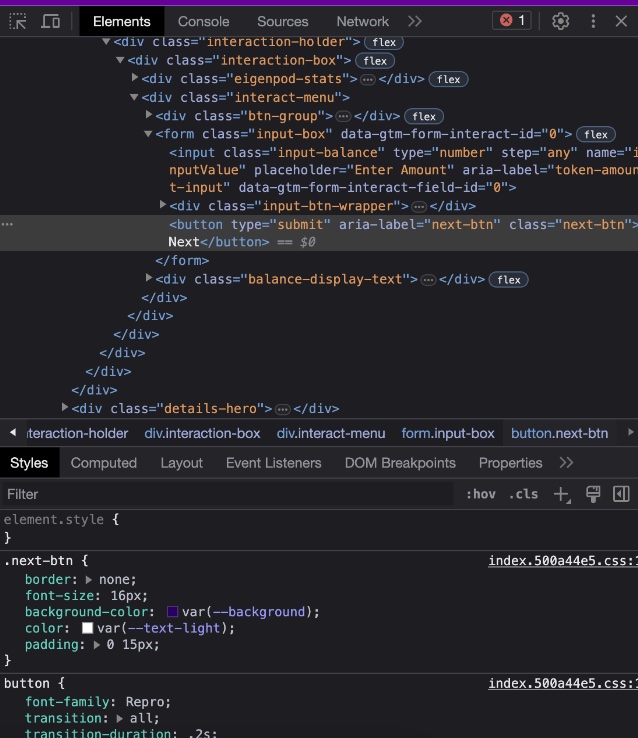 And with the help of Crypto Twitter, we were able to re-stake 1 stETH about 15 minutes before the capacity filled.
Tracking Our Crypto Holdings
Restaking on EigenLayer was as easy as a few clicks. And now that we've deposited, we can track our progress on their site.


You can see above that there is now 140,000 ETH on the platform (TVL). Of the three tokens available, we decided to utilize our stETH from Lido. You can view our Restaked holdings as well as "points", which may hint at a possible airdrop.
Potential Airdrop
In addition to trying out a widely discussed protocol and earning additional yield on our benchmark, we hope our deposit into EigenLayer may make us eligible for an airdrop.
While they have not publicly announced plans for a token, there are many signs that it could happen and early users are often rewarded. And with ~$65M in funding, the token would draw some serious demand.
We look at this as a possible cherry on top, as we were going to use EigenLayer either way.
Wrapping Up
We included how you can prepare for EigenLayer yourself in our previous guide to LSD-Fi.
They will likely be reopening the capacity again in the near future, so if you missed this go at restaking don't sweat it.
We would recommend checking out our guide and following their twitter page with notifications. As well as getting yourself some staked ETH.
Next, we'll be looking into some lending and borrowing platforms on-chain. We're also gonna mess around on the new layer-2 networks that we bridged over to.
Here is the Milk Road Public wallet address:
0x455419210c0E31cC1aDEF14e1c8db81f1Dc80A83
---
This report is for informational purposes only and should not be relied upon as a basis for investment decisions, nor is it offered or intended to be used as legal, tax, investment, financial or other advice. You should conduct your own research and consult independent counsel on the matters discussed within this report. Part performance of any asset is not indicative of future results.
It should also be noted that the writer(s) of this report may hold assets mentioned in the article at the time of writing.